Professional liability is a type of business insurance for anyone who makes a living providing expert services or advice. These individuals face higher risk of negligence lawsuits, and professional liability covers their defense by paying for lawyers, investigators, and court awards or settlements. Most small business owners pay $500 – $3,500 annually for this coverage.
Business owners who need professional liability insurance can get quotes online from The Hartford. The company offers quality coverage with a wide range of coverage amounts, deductibles, and industry-specific endorsements so owners can tailor their professional liability to their unique needs.
What Professional Liability Insurance Is
Professional liability insurance covers your legal defense when clients claim your negligence caused them financial harm. For instance, say a business consultant advises a client to expand, but the plan backfires and costs the client millions. If the client sues, professional liability pays the consultant's attorney fees, court costs, and settlements or judgements.
Other examples of claims professional liability insurance typically covers include:
Misrepresentation: A real estate agent tells a buyer the wrong square footage on a home
Violation of good faith: An insurance agent tells a policyholder a claim isn't covered when it actually is
Mistakes or omissions: An accountant fails to submit a client's quarterly taxes on time
Failure to meet industry standards: An architect designs a building that does not comply with safety codes
Different industries have different names for professional liability insurance. Some are more likely to call the coverage errors and omissions (E&O), including insurance, real estate, and information technology. Others, like lawyers and doctors, get a specialized coverage called malpractice insurance.
Professional Liability Insurance Costs by Industry
| Industry | Coverage Amount | Annual Premium |
| --- | --- | --- |
| Accounting | $1 million per occurrence / $2 million aggregate | $500 – $1,500 |
| Consulting | $1 million per occurrence / $2 million aggregate | $700 – $2,000 |
| Engineering and Architecture | $1 million per occurrence / $2 million aggregate | $1,500 – $3,500 |
| Financial Services | $1 million per occurrence / $2 million aggregate | $700 – $2,000 |
| Healthcare (not including physicians and dentists) | $1 million per occurrence / $2 million aggregate | $400 – $3,500 |
| Information Technology | $1 million per occurrence / $2 million aggregate | $800 – $2,000 |
| Insurance | $1 million per occurrence / $2 million aggregate | $600 – $2,000 |
| Real Estate | $1 million per occurrence / $2 million aggregate | $600 – $1,500 |
| Spas and Salons | $1 million per occurrence / $2 million aggregate | $400 – $1,200 |
Industry has a major impact on how much professional liability insurance costs a small business owner, mainly because some industries see more negligence lawsuits than others. As a result, insurers charge businesses in these high-risk industries more for their professional liability insurance.
Take, for example, the industries with some of the highest errors and omissions insurance costs: engineering and healthcare. Both are comprised of highly trained professionals, but the industries themselves are quite different. However, mistakes made by healthcare providers and engineers can cause a lot of damage, and that increases the likelihood of an injured party suing to recoup their losses.
Errors & Omissions Insurance Costs by Coverage Amount
| Coverage Amount | Annual Premium |
| --- | --- |
| $250,000 per occurrence / $250,000 aggregate | $500 - $1,000 |
| $500,000 per occurrence / $500,000 aggregate | $700 - $1,500 |
| $1 million per occurrence / $2 million aggregate | $1,000 - $3,000 |
| $2 million per occurrence / $2 million aggregate | $2,000 - $3,500 |
| $3 million per occurrence / $3 million aggregate | $3,000 - $5,000 |
| $5 million per occurrence / $5 million aggregate | $5,000 - $7,500 |
Professional liability insurance costs are also impacted by the amount of coverage a business owner selects. Opting for higher limits typically increases the premium by approximately $1,000 to $3,000 for each additional $1 million in coverage.
Many business owners determine how much professional liability insurance to get based on their likelihood of being sued. However, some need enough coverage to meet contractual obligations or licensing requirements. In any case, they need to keep in mind that errors and omissions policies usually have both an aggregate and a per occurrence limit. The aggregate is the total amount an insurer pays over the policy term, while the per occurrence is how much they pay on any one claim.
Other Factors That Determine Professional Liability Insurance Costs
Industry and coverage limits aren't the only factors that impact professional liability insurance costs. Professional liability providers also look at a number of business and policy characteristics, including the business' size, location, and claims history.
Other factors insurers consider when calculating errors and omissions insurance costs include:
Business Size
Business size affects errors and omissions insurance costs in two ways. The first is revenue, which is often the starting point for insurance rates with the insurer assigning a dollar amount per $1,000 in revenue. That number is then multiplied by the projected revenue for the policy period. As a result, more revenue usually translates into higher premiums.
The second way business size impacts professional liability insurance cost is through the number of employees. Most professional liability policies cover your staff, so hiring more employees increases the number of people covered. In general, business owners can expect to pay approximately $500 to $1,000 per employee for professional liability insurance.
Location
Some states require certain professions to carry errors and omissions insurance before they will issue a license. Medical malpractice insurance is a good example of how state laws can impact your costs. In Massachusetts, physicians need $100,000 per occurrence and $300,000 aggregate, while doctors in Colorado most likely pay more for their malpractice insurance because they must carry $1 million to $3 million in coverage.
State law can also impact your rates by allowing higher awards in lawsuits. Insurers need to cover this additional cost, so businesses in these states usually pay more for E&O insurance.
Claims History
Insurers also look at your prior claims when determining your errors and omissions insurance costs because they see this as an indication of whether your business is a desirable risk. Most insurers assess the frequency and severity of at least five years' worth of claims and charge additional premiums accordingly. Businesses without any claims often get a discount, while businesses with multiple claims usually pay more.
Not every claim automatically results in increased costs. Small claims usually have minimal effect, but more severe claims typically cause professional liability insurance costs to go up significantly. The same is true for frequent claims.
Deductibles
Most professional liability insurance policies require a deductible, which is the amount the policyholder is responsible for in a claim. Insurers generally offer deductibles of $1,000 to $5,000 for E&O coverage, but business owners may want to request a higher one. Increasing your deductible can help lower your errors and omissions insurance costs.
Business owners should be careful about opting for higher deductibles, however. While it can help lower your yearly premium, it also means you pay more in the event of a claim. If you have a high risk for expensive professional liability claims or are worried that you won't have cash on hand, then high deductibles may not be right for your business.
Policy Types
Most professional liability insurance is written on a claims-made basis, which means the insurer only pays when the triggering event occurs and is reported while the policy is in effect. The other option is occurrence policies that pay for any covered event that happens during the life of the policy, regardless of when the claim is actually filed.
Professional liability insurance costs more when it's written on an occurrence basis because the policy provides more coverage. However, claims-made professional liability premiums are more likely to increase slightly each time policies are renewed because the reporting period is extended.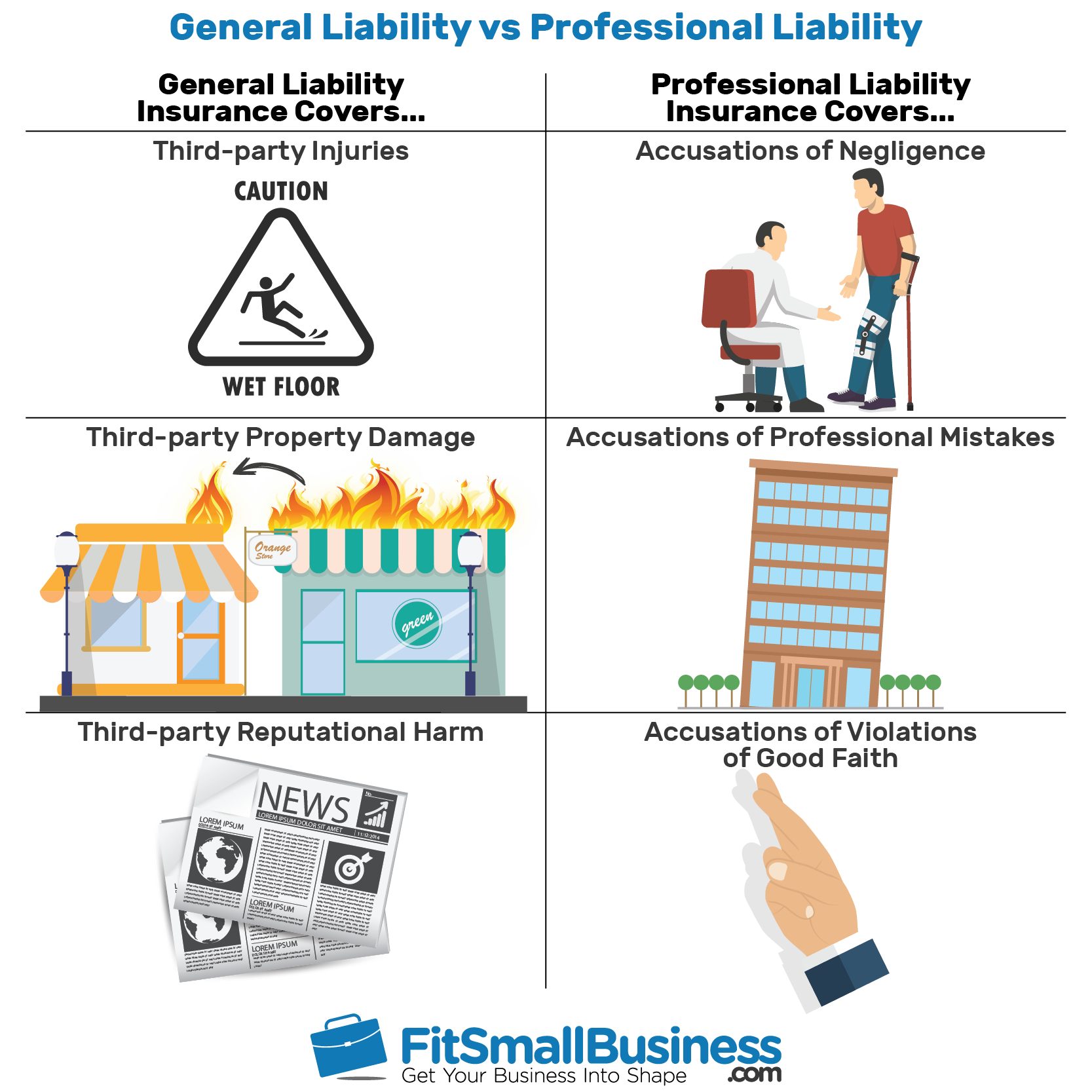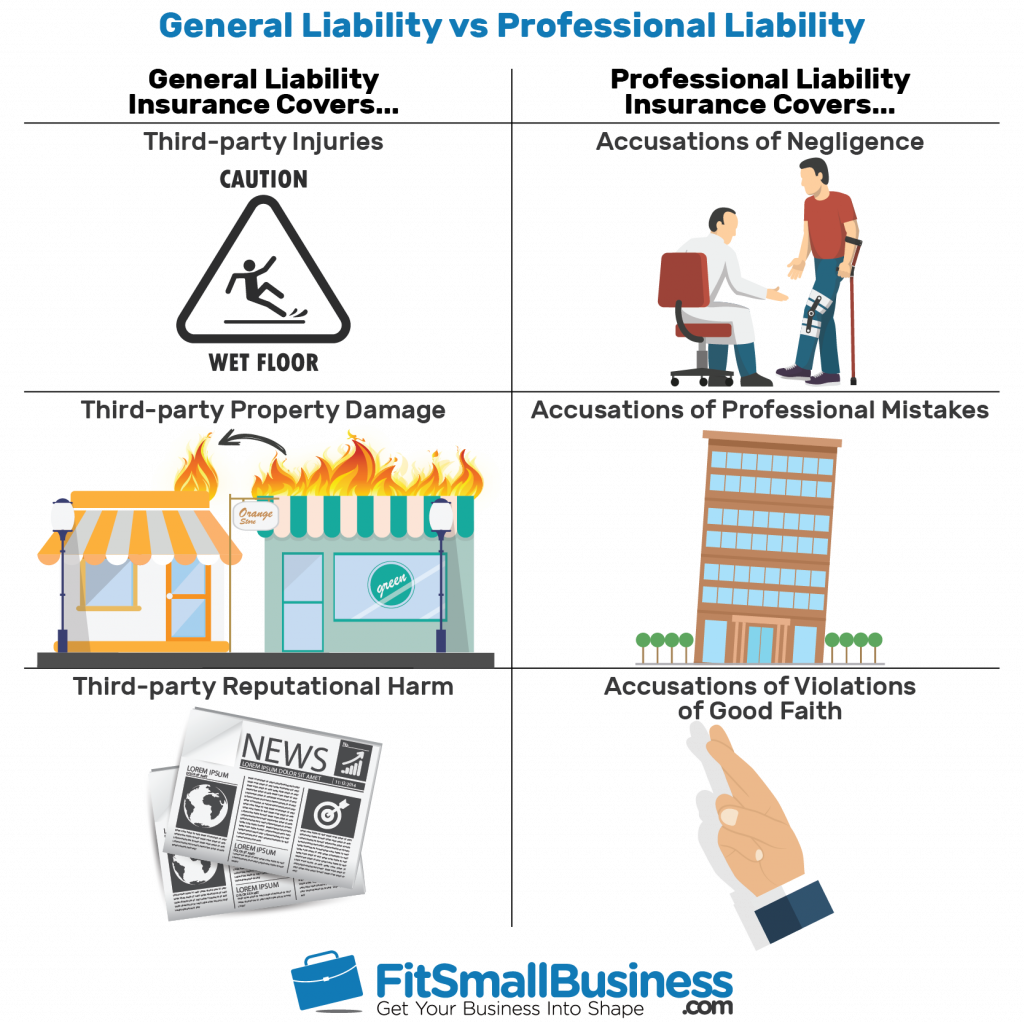 The Cost of Not Having Professional Liability Insurance
Many small business owners balk at the idea of paying for professional liability insurance. That's partly because it's hard to imagine a client relationship going so poorly you end up in court. Unfortunately, data from the Institute for Legal Reform found 43% of small business owners had been threatened with or involved in a lawsuit.
That's a significant number of business owners heading to court, but what might be more notable is the cost of those lawsuits. The most recent statistics from the Insurance Information Institute show the median jury award for business negligence was over $180,000. The average, however, was over $1.5 million. Business owners without professional liability insurance shoulder these costs themselves.
Why Business Owners Need Professional Liability Insurance
The cost of professional liability insurance seldom outweighs the expense of defending your business in court. Take, for example, the case of three Texas lawyers sued for legal malpractice after their client claimed they dropped his case on the last day a key report could have been filed. Because the report wasn't filed, the court dismissed the client's case with prejudice, so the client sued his lawyers for up to $1 million in actual damages.
Lawyers aren't the only ones who can be sued for negligence. Anyone from architects to wedding planners can face accusations of bad faith, failure to deliver on promised services, and other errors and omissions. Professional liability insurance helps defend against these accusations, even when they are frivolous.
Tips to Reduce Professional Liability Insurance Costs
Professional liability is an important part of protecting your business assets, but many small business owners skip getting coverage because the costs seem to outweigh the value. These tips can help you find affordable E&O insurance that fits your business.
Four tips to reduce your professional liability insurance costs are:
1. Be Smart About Your Deductible
A higher deductible may help keep your errors and omissions insurance costs down, but that doesn't mean you can set it at whatever amount you want. Insurers are most likely only going to accept your request if they believe you can cover the cost if there's a claim.
"Choosing a deductible is a business decision by the owner. Some businesses will opt for a higher deductible. By doing so, monthly or annual payments for coverage will be lower. Plus, setting a higher deductible can encourage business owners to do more to mitigate risk, as it acts as an incentive to avoid a lawsuit. That being said, business owners can ask for a certain deductible, but ultimately the carrier decides what they'll offer based on company size and product offering. For example, I recently had an accountant ask for a $10,000 deductible. But because she makes only $25,000 a year, the carrier wouldn't offer anything over a $2,500 deductible. Which makes sense, as in the event of a claim, she may not be able to afford a high deductible."

— Maureen Brogie, Client Advisor, InsuranceBee
2. Work With an Agent Who Knows Your Industry
Business insurance needs to be tailored to your unique needs, especially when it comes to professional liability insurance. An agent who knows your industry can identify coverage that best fits your operations and your budget. Moreover, working with just one agent for all your insurance needs can help you avoid paying too much.
"Find a knowledgeable business insurance agent or broker to help you with all your insurance needs. It is important to make sure there are no gaps in insurance or you pay for double coverage. If you have all of your business insurance with one agent or broker, then they can look at the entire picture. Insurance is like a puzzle—all the pieces need to fit together properly to make sure you have adequate coverage and no overlaps."

— Julie Jakubek, Owner, Allstate Financial Services, LLC
3. Compare Quotes From Multiple Carriers
While carriers generally consider the same factors when they determine your professional liability insurance costs, they weigh each factor differently. Moreover, some have a preference for one industry over another. These differences are often reflected in their quotes, so it's a good idea to compare offers from top-rated errors and omissions carriers. One way to do this is to work with an insurance broker. They typically have access to multiple insurers.
4. Manage Your Risks
Accusations of negligence are surprisingly common for small business owners, but there are ways you can reduce your chances of being sued. Perhaps the most important one is to document everything in writing—that includes contracts, change orders, and invoices. You can even take notes on conversations and meetings. Having these items on hand can stop lawsuits before they start.
Errors & Omissions Insurance Frequently Asked Questions (FAQs)
How much professional liability insurance costs is largely dependent upon your industry, but details about your operations play a role too. The following are some of the most common questions about the cost of professional liability insurance.
Do I need professional liability insurance?
Professional liability is required for some business owners. The most common examples are doctors and lawyers, who are sometimes required by state law to carry malpractice insurance. Federal Acquisition Regulations require professional liability coverage when you contract with the federal government.
Will my professional liability costs increase if I'm sued for negligence?
Policyholders who file a number of E&O claims may see their rates go up, but it usually takes a series of lawsuits or an expensive claim for costs to increase significantly. That doesn't mean you should avoid filing claims. In fact, your insurer can often deny your claim if you don't notify them immediately.
Does professional liability insurance cover independent contractors?
Professional liability insurance covers your employees' actions, but not the actions of the independent contractors you hire. Unfortunately, you can still be sued for mistakes independent contractors make when they're working for you. Many business owners protect themselves by requiring contractors and subcontractors to carry their own professional liability coverage.
Bottom Line
If your business relies on your expertise, then professional liability insurance is critical to your success. Without it, you could be on the hook for expensive lawsuits that can easily drain your bank account. Still, small business owners may hesitate to spend money on a policy that isn't required. This is why it's important to work with a reputable insurance agent who can provide valuable advice on getting the appropriate coverage.
The small business specialists at The Hartford have been helping business owners protect their assets with professional liability insurance for over 30 years. You can get immediate quotes for professional liability and other key coverage when you fill out a short application on their website.