A professional voicemail greeting is one of the easiest ways you can improve the face of your business. In the past, a short greeting could cost up over $100. Today, however, you can get a professional voicemail greeting recorded for as little as $5.
Best Professional Voicemail Greeting Recording Service: Fiverr
Fiverr is by far the most affordable: For $5, you can choose between hundreds of voice actors to record your script. It's also easy to find same-day delivery options, scriptwriting and other advanced services. Despite being a crowdsourcing platform, the large number of user reviews also makes it easy to find reliable sellers.
| | Fiverr | Phone.com | Nextiva |
| --- | --- | --- | --- |
| Starting Price | $5 per month | $79 | $25 (3 recordings free with Office Enterprise Account) |
| Word Limit | 50 to 125 words, depending on seller | 100 words | 2.5 minutes (about 500 words) |
| Overage | Typically $5 for extra 100 words | $0.75/word if you go over 100 | Can't go over |
| Turnaround Time | 1 to 5 days, depending on seller | 3 days | 1 to 2 days |
| Voice Tones | Over 100 voices available, including US, UK, Australian, South African dialects and more | Over 40 voices available, including US, UK and Australian dialects | 4 voices available |
| Background music? | Yes, sometimes costs extra | Yes | Yes |
| Learn More | | | |
Why We Recommend Fiverr as the Best Voicemail Greeting Recording Service

Fiverr is a massive online marketplace where vendors sell many different products and services for $5. Professional voicemail greetings is a popular item, with over 100 different voice talents that will read and record a voicemail script for $5.
Typically, there's a limit of around 100 words, but you can usually go over if you pay an extra $5. Other common add ons include background music, script consultation or same day production, although these vary a lot from vendor to vendor. In the end, you may spend $15 or $20 if you want a lot of extras, although this is still much cheaper than the competition.
Sellers typically deliver your recording as a .WAV file, which you can then upload to your VoIP or auto attendant provider. All the top VoIP services we reviewed accept this format. If you use somebody else, however, you should double check before placing your order.
As a massive online marketplace, you may be weary of quality. With Fiverr, however, unreliable vendors are weeded out with negative user reviews. Vendors have hundreds (some even thousands) of user reviews and turnaround time is always tracked. This makes it easy to 1. find reliable sellers and 2. know exactly what to expect.
Text 2 Speech: A Simple Free Option
Though not ideal for long-term use, there's many free text-to-voice generators that can give you a quick and simple voicemail recording. I tried out all the free services and found Text2Speech to sound the best. You can enter text, preview the audio, then download a file as a .WAV or .mp3.
When to Use Nextiva Voice Recording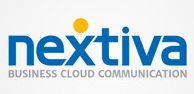 Nextiva, which is our recommended VoIP provider for small businesses, offers free voicemail and auto-attendant recordings to their users. With an Office Pro Plus account, you get 1 free recording. With an Office Enterprise account, you get up to 3. These recordings can be up to 2.5 minutes in length (which is equal to about 500 words) and you can choose between 4 different voices.
The voice studio isn't available to non-Nextiva users and even if you are a user, the price is $25 if you don't have any free recordings left. For longer scripts, however, $25 is actually a pretty good deal. So it's worth looking into if you're already a Nextiva user.
Professional Voicemail Greeting Conclusion
For a quick, affordable and professional solution, Fiverr is the way to go. Being an online marketplace with hundreds of voicemail recording vendors, it's easy to find exactly what you need: whether that's a particular tone of voice, a quick turnaround time or an advanced service like scriptwriting. The user reviews also makes it one of the most reliable options, as you can find many vendors with all-positive ratings.