When investigating a franchise opportunity, the annual revenue is not the only basis for profitability. This article will guide you on how to determine a profitable franchise opportunity, based on important factors such as the franchise's growth, the average sales per unit, success rates, franchisee reviews, and the ongoing support provided by the franchisor.
To help navigate the complexity that comes with reviewing franchise investment, you may benefit from an advisory service like The Franchise Advisor. They have 27 years of experience advising and coaching franchisees and can help you identify franchise opportunities with high potential for profitability. Schedule a no obligation consultation.
The following are 5 important when considering if a franchise opportunity is profitable:
1. Unit Growth
One way to measure how well a franchise is doing is through its overall growth. Check how many units (locations) have been added and lost during recent years. The best place to find this information is on Entrepreneur.com, which allows you to search for a particular franchise or browse by industry. When you click on a franchise, it will lead you to a page where you can find important details, such as unit growth.
For example, Entrepreneur.com will typically have a virtual chart that illustrates a franchise's growth over the past 10 years. It shows the number of units opened during a particular year, how many units are within the USA, how many are located outside the United States, and how many of these units are company-owned. This will help you determine unit growth for the franchise you're considering.
Below is an example of a franchise growth chart on Entrepreneur.com: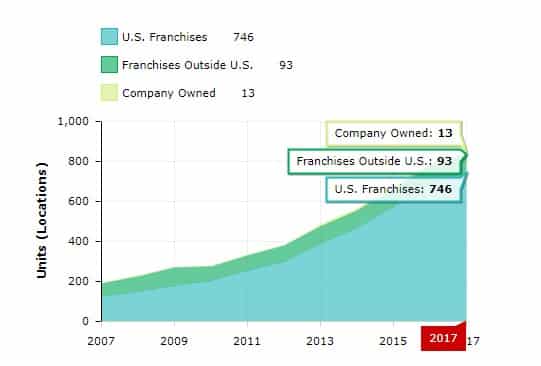 2. Average Sales per Unit
How much money a franchise can potentially make is one of the first things you want to know when considering a profitable franchise opportunity. This is because when buying a franchise, you want to make sure that the franchise you're considering is profitable. However, working out the numbers can be very challenging.
Franchisors are not required to disclose average sales per unit, and many choose not to because inaccurate earnings claims can be grounds for litigation and because proprietary business information is closely guarded. However, you can typically find this information in item 19 of your Franchise Disclosure Document (FDD). Within that section, you should see a table or chart that provides some sales figures for average franchise units.
If you are not yet at a stage where you can dig through an FDD, you can still find some information about the average sales of various franchises through online sources. One example is the FranchiseChatter blog, which focuses on the profit potential of different franchises. You can find a lot of information in their "FDD Talk" posts, although you will need to subscribe to view some of their articles.
For example, unit sales information that FranchiseChatter compiles includes the following: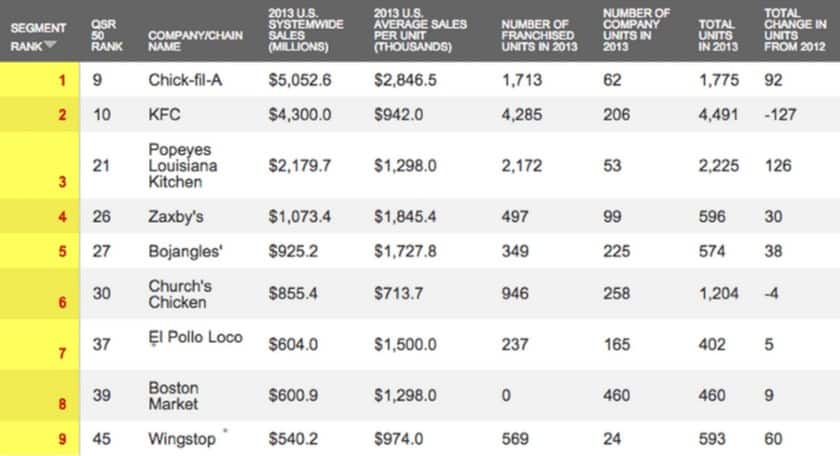 You can also search other franchise directories to see how much gross income franchisors declare if this information is available. Further, you have the option to ask the franchisors directly about their average sales per unit if you cannot find this information online.
3. New Franchisee Success Rates
The success rate of franchisees is another thing that franchisors are not required to disclose. However, the percentage of new franchisees that succeed will help you decide whether a franchise is worth investing in or not. This is usually available in item 20 of the franchise disclosure document (FDD), where you will find tables that identify every unit that has failed, been terminated, or transferred in the past three years.
If you don't have an FDD, one way to find this out is to look at Small Business Administration (SBA) loan failure rates. For example, the table by Blue MauMau (pictured below) compiles the percentage of SBA loans that defaulted for each major franchise between 2001 and 2011. If the failure rate is 50%, it means that half of the franchisors who took out SBA loans were unable to pay them back.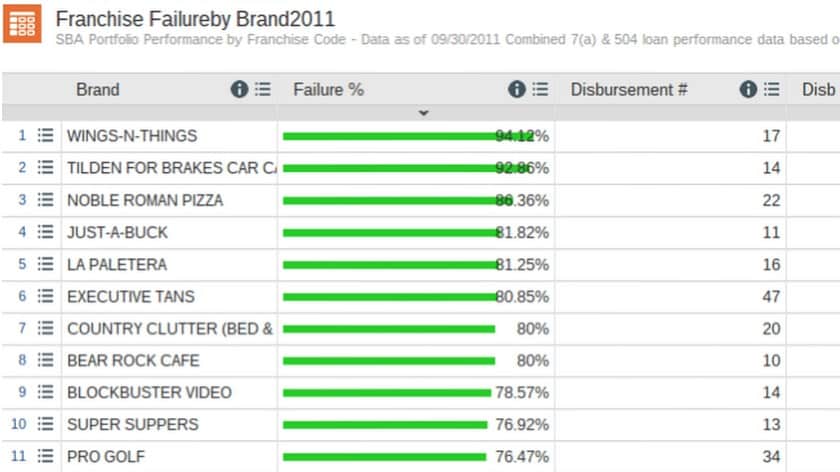 4. Franchisee Reviews
What existing franchisees say about the franchisor is another important factor when considering if a franchise opportunity is profitable. You can see reliable reviews and complaints on the Better Business Bureau (BBB) and Unhappy Franchisees websites. You can also interview some of the current franchisees to get first-hand information, although they might be guarded and political with what they say.
5. Ongoing Support
The level of support you receive from a franchisor is another factor that you must consider because it will define how willing they are to help you succeed. You also need to know what they offer to help you with when times get tough and find out what support they can provide in terms of ongoing marketing, client acquisition, advertising, recruitment, and litigation.
This information is typically all detailed in item 11 of the franchise disclosure document (FDD). You will find a list of franchisor obligations, including training, marketing, advertising, and more. You're only entitled to the support that's actually outlined in the agreement. Verbal promises not included in the FDD and overall franchise agreement are considered unofficial.
You also need to look out for qualifying words like "at our discretion" or "as required." This means it's up to the franchisor when to provide support, and their discretion may not be what you expect. If this is the case, you might have to assume that they won't provide it so you don't expect to strategically rely on something that's ultimately unavailable.
Bottom Line
Although it's truly challenging to find out whether a franchise is a profitable opportunity, you can get a pretty good idea when you consider the factors mentioned above when choosing a franchise. However, the success of a business is not only based on historical data but rather based on how much effort you are willing to put into it.
Once you have identified a franchise opportunity to invest in and are in need of funding, you may want to consider a rollover for business startups (ROBS). A ROBS allows you to use money in a qualifying retirement account to finance a franchise, penalty and tax free. If you have at least $50,000 in retirement funds, you can talk to a ROBS expert at Guidant for more information.