Trying to tell if a franchise opportunity is grime or gold? In this guide we explain how and where to find the hard facts on a franchise. In particular, we'll show you how to figure out:

Growth

– Is a franchise growing or shrinking?

Average Sales per Unit

and how they've changed year to year

Success Rates

among new units

Ongoing Support

you'll receive from a franchisor
Starting or buying a franchise? Did you know that if you have more than $50,000 in your retirement account you can use this money to start or buy a business without paying early withdrawal penalties. Click here to learn more about ROBS or speak with the pros at Guidant.
Growth
One of the easiest ways to measure how well a franchise is doing is to look at their growth: How many units have they added or lost in recent years?
From my experience, the best place to find this information is Entrepreneur.com. There you can search for any franchise and view a profile that details their growth over the last 5 years, as well as franchise agreement terms and other facts.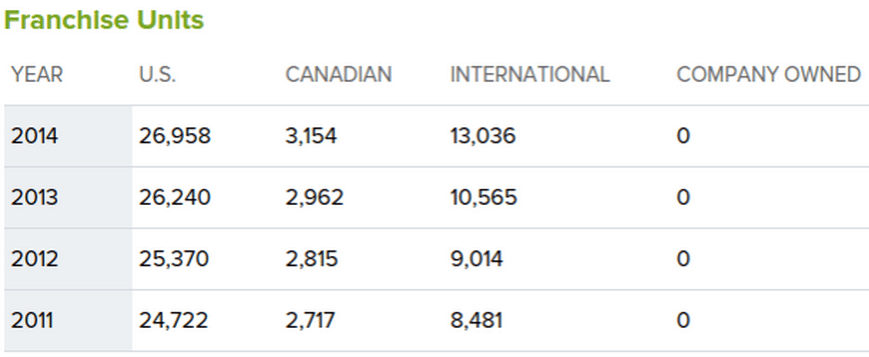 What's nice about their charts (pictured above) is that they show the number of US, Canada and international locations separately. Sometimes when companies expand too much domestically, they'll start shrinking in the US but growing at a faster rate overseas. On their brochures and website they can technically say they're growing, but the reality for US business owners is much different.
Average Sales
Is this going to be a profitable franchise? What kind of profits can I expect?
This is probably one of the first questions you'll be asking when you start your research, although, unfortunately, the answer can be tough to find. Franchisors are not required to tell you the average sales per unit, and many choose not to since inaccurate earnings claims can be grounds for litigation. If they do release this data, however, it will be in Item #19 of your Franchise Disclosure Document (FDD).
Let's say the information is not available, or you're just not at the stage of flipping through FDDs. Where can you go to find sales information? A simple Google search can do wonders. In particular, blogs like Franchise Chatter have a lot of this information, although you may need to subscribe to view some of the articles.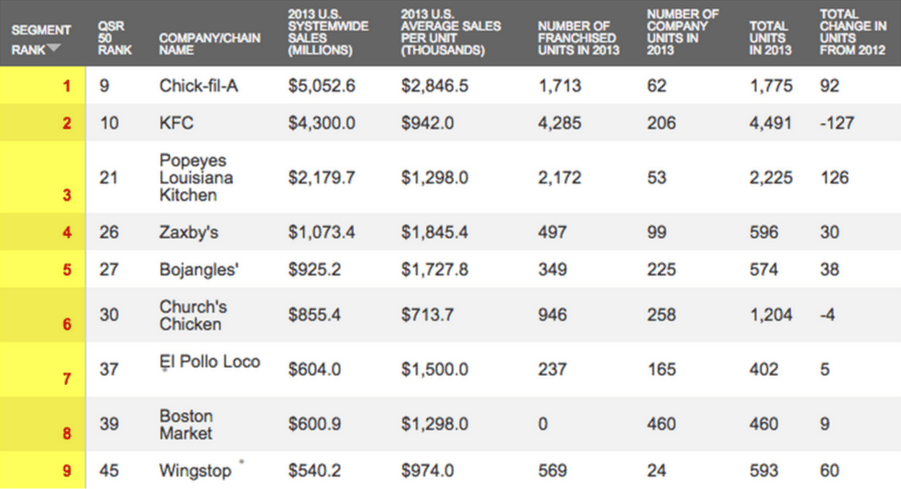 If you're looking in the food industry, QSR Magazine has financial profiles of the top 50 restaurant chains. You can break it down by category (Burger, Sandwich, Chicken, etc.) and compare their average sales per unit, number of units, systemwide sales and other variables (pictured above). You can also look at previous years to figure out if stores have been improving or doing worse.
If all these lead to dead ends, the final option is to simply ask current franchisees – or, in today's digital age, search Bizbuysell and other directories for franchise listings and see what they post as their gross income. It's not exactly a scientific approach, but it does give you a rough idea what to expect.
Success Rates
What percentage of new franchisees succeed?
Again, this is not something franchisors are required to disclose, but it's certainly good to know before you get too far into a relationship. One way to find this out is to look at Small Business Administration (SBA) loan failure rates. This table by Blue MauMau (pictured below) compiles the percentage of SBA loans that defaulted for each major franchise between 2001 and 2011. For example, if the failure rate is 50%, that means half of the franchisors who took out SBA loans were unable to pay them back.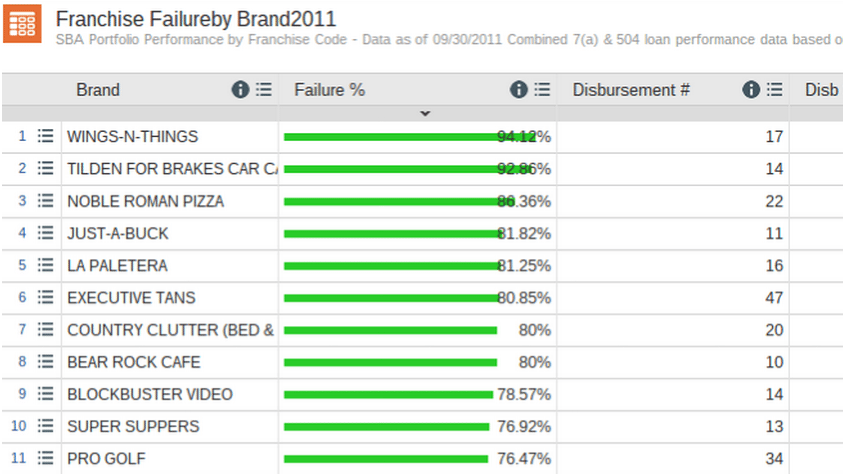 Now, SBA loans are just one type of funding, so don't necessarily get alarmed if you see a high number – especially if the number of loans issued ("disbursement #") is low compared to the size of the franchise. In that case, franchisees who took out SBA loans could be a small, nonrepresentative sample. If the number is above 20 or 30%, however, you should take it as a red flag and at least bring it up with the franchisor.
Support
What's the level of support I'll receive from the franchisor?
In other words, how much training and ongoing support do you get for things like marketing, client acquisition, advertising, recruiting and litigation? Unlike the other questions, this one is not all about the numbers. Nonetheless, it can much a huge impact on the profitability of your business, especially as you're first starting out.
Fortunately this is all detailed in the Franchise Disclosure Document. Item #11 lists franchisor obligations, from training to advertising and more. This is key because you're only entitled to support that's actually outlined in the agreement. Unless present in the document, any promises made verbally during meetings are unofficial. Also, you need to look out for qualifying words like "at our discretion" or "as required." This means it's up to the discretion of the franchisor when to give you help, and their definition may be a lot different from yours.
Bottom Line: Is This a Profitable Franchise Opportunity?
Taken altogether, you can get a pretty good idea of whether or not a franchise opportunity is good or a bust. Once you've identified a great opportunity, it's time to consider financing options. SBA loans offer some of the best rates available but their not the only way to finance a startup. Read our article here. 
Want to avoid paying interest on a loan? Have over $50,000 in your retirement account? you can use that money to start or buy a business without paying early withdrawal penalties by doing a ROBS.  Click here to learn more or visit Guidant.