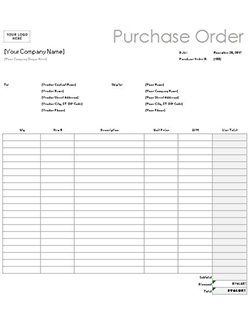 A purchase order is used to request products or services from your supplier. It generally includes the details of the items that you intend to purchase, such as cost, quantity and description. In addition, it allows you to keep track of items ordered but not yet received. This info helps you to determine when you can fulfill your customer orders.
In this article, we provide you with a free purchase order template. In addition, we will discuss the pros and cons of using an accounting software like QuickBooks Online versus a program like Microsoft Excel or Microsoft Word to generate your purchase orders. Get a free 30 day trial of QuickBooks Online.
Free Purchase Order Template
Click here to download the free template to access the free template. This template was created in Excel and has all of the key elements that should be included on a purchase order. It also has fields that will auto-calculate discounts and subtotals. In the next section, we'll discuss what to include in your purchase order.
Purchase Order Instructions: What to Include
In general, you should include the following information in your purchase orders.
Company logo – Insert your logo here. If you don't have a company logo, check out our article on business logo design.
Company Name – For tips on how to name your business, check out our business names guide.
Date – We have included a formula in this field that will auto-populate with "today's date". However, you can type a different date in that field if you need to.
Purchase Order Number (aka P.O. #) – This should be a unique number that you assign manually. If you use an accounting software like QuickBooks then this number will automatically generate for you. If you need to follow-up on the status of an order, it's much easier to do so if you have a unique order # to reference.
To – The contact person who you deal with at your supplier, along with their address and telephone number should all be included in these fields. This info can, again, be helpful when you need to contact the supplier about your order.
Ship to – Include the address where you want your product to be shipped. Having this info handy will help the supplier when they are ready to ship the order out. If you don't complete this field, the supplier will have to contact you for this info, which could delay the order.
Quantity – Enter the quantity of each product that you are ordering.
Item # – Enter the item # (if applicable) for each product that you are ordering. For example, a UPC or SKU number would go in this field.
Description – Enter a detailed description for each product you are ordering.
Unit Price – Enter the cost for each product that you are ordering. This will inform the supplier what you anticipate the cost will be. If there is a discrepancy between what you indicate here and what the supplier charges you, be sure to follow-up to resolve the issue before you pay for the goods.
U/M – This is the unit of measure for each product that you are placing an order for. For example, each (ea), pounds (lbs), box (bx).
Line Total – This column has a formula that will automatically multiply the quantity by the unit cost to get to the total for each line.
Subtotal – This field includes a formula that will sum each number that appears in the Line Total column above. This is the total amount before any discounts and/or taxes have been applied.
Discount (if applicable) – If you want to apply a discount, then you have two options:

Percentage – Edit the formula in this field by entering the percentage discount in the template. The formula will automatically calculate the discount and deduct it from the overall total amount due. For example, in the Total Discount field of the above purchase order, I have a formula that multiplies the Subtotal of the purchase order ($3530) by .10. This comes to a 10% discount. Just change the 0.1 to the discount rate that your supplier has offered you.
Flat amount – Delete the formula and just enter the dollar amount of the discount. For example, you would enter 10.00 if your supplier gives you a ten dollar discount.

Grand Total – The formula in this field will take the Subtotal, minus any discounts to calculate the grand total of the purchase order. This is the amount that you should expect to pay your supplier (not including sales tax, if applicable). Be sure to compare this amount to the bill that you receive from your supplier. To learn more about how to handle discrepancies with vendor bills, check out our accounts payable guide.
Using Accounting Software & Other Methods to Create Purchase Orders
In the previous section, we provided purchase order template in Excel. However, there are other ways to create purchase orders. Below, we will discuss the pros and cons of some of these alternatives.
Creating Purchase Orders with Accounting Software
Pros
The upside to using accounting software to create purchase orders:
Most accounting software programs include purchase order templates already installed in the program that you can customize with your company logo and business contact info.
Accounting software will calculate the purchase order totals for you. There are no formulas or manual calculations required.
Some accounting programs like QuickBooks Online allows you to do extensive customizations like add/remove fields, add color or change the position of your logo. Check out our QuickBooks video tutorial on how to customize forms for step by step instructions.
Easily run reports to see which purchase orders are open versus which have been delivered on and closed.
When you receive products, you can go into QuickBooks and enter the receipt of goods against the purchase order. In the background, QuickBooks will automatically update your account balances so that your balance sheet and profit and loss reports are always up-to-date.
Below is a purchase order that was created in QuickBooks Online for a fictitious company.
Cons
The downside to using accounting software to create purchase orders is:
In general, you are limited to using the existing templates included in accounting software; whereas Microsoft Excel and Word will give you a number of templates to choose from.
Unless you use a free accounting software like Wave, you will have to purchase an accounting software program. However, the benefit to using accounting software is that it can do a lot more than just create purchase orders. With QuickBooks Online, you can create customer invoices, pay your bills and perform all of the bookkeeping tasks for your small business! Read our Best Accounting Software guide to see our top picks.
Creating Purchase Orders in Excel
Pros
Using Excel to create purchase orders allows you to:
Access to a dozen or so customizable templates.
Create formulas to automatically calculate quantities and totals.
Create an Excel workbook for each vendor so that you can keep track of all purchase orders in one file. If you need to contact your vendor, you can quickly pull up their file and immediately access all purchase orders for that vendor.
Eliminate filing cabinets by creating your PO's in Excel and emailing them to your vendor as opposed to faxing or sending them snail mail. For more tips on how to become paperless, check out our Small Business Bookkeeping/Accounting Guide.
Cons
The downside to using Excel to create purchase orders are:
It is a very time consuming, manual process.
You need to understand some Excel basics like creating formulas, worksheets and workbooks.
It's easy to make a mistake when creating formulas and other calculations.
Creating Purchase Orders in Word
Pros
Using Word to create purchase orders allows you to:
Access a gallery of customizable templates.
Customize templates with your business info, company logo etc;
Rearrange fields and columns to fit your business needs.
Cons
The downside to using Word to create purchase orders is:
Similar to using Excel, it is a manual process to set up.
While you don't have to be a Word guru, you need to have some basic knowledge about the program and how it works.
Unlike Excel, there is no way to add formulas that will automatically calculate quantities and totals for you; as a result, you are more likely to make mistakes because you have to do the calculations manually and then type them into the purchase order template.
Bottom Line
Now that you know everything there is to know about purchase orders, I recommend that you use accounting software like QuickBooks Online to create your purchase order templates. By doing so, you will be able to create professional-looking templates in no time, and with minimal errors.
If you decide to purchase QuickBooks Online, check out our free QuickBooks Course. You can sign up for a free 30-day trial of QuickBooks and get your business up and running in no time!