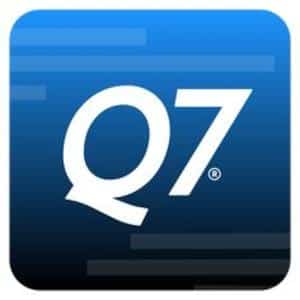 What We Recommend Q7 For
Q7 is ideal for small to mid-sized trucking companies that want an all-in-one solution for their business. It can be customized to your needs, and its cloud-based or desktop versions allow for flexibility. Accounting with trucking-specific parameters and logistics, such as dispatch and fleet management, are its specialty, as well as customer support—Q7 offers free training and support for all customers at no additional cost.
Q7 Is Best for
Small to midsize trucking companies: We rated Q7 as the best trucking accounting software because it seamlessly combines features like A/R and A/P with other operational functions.
Trucking companies that want an all-in-one solution: Q7 handles all trucking logistics such as dispatch and fleet management, as well as accounting and mobile logistics, in one place so that you don't have to log in and out of different modules.
Desktop users: The software can be deployed with a site license to be used on your desktop computer so that you don't have to worry about internet reliability or security issues.
Q7 Is Not Right For
Freight brokers: While Q7 does have the features needed for freight brokers, it also has many unnecessary features which add to the cost. A much less expensive all-in-one option for freight brokers is Tailwind TMS.
Owner-operators: Owner-operators don't need all the features of Q7 and can use QuickBooks Online to bill customers, pay vendors, and track expenses.
Affordable IFTA tracking and reporting: For companies mainly concerned with International Fuel Tax Agreement (IFTA) compliance, TruckingOffice provides an inexpensive management software with good IFTA capabilities.
If you think general bookkeeping software might meet your trucking company's needs, check out our review of the best small business accounting software.
Q7 Pros and Cons
PROS

CONS

Full suite of accounting tools including A/R, A/P, payroll, and general ledger
Pricing is not transparent—you must contact vendor for a quote
Training and tech support are included in the price
The desktop version is not compatible with Mac systems, only Windows 7 or newer
Custom features such as the mileage interface can be added for a fee
No free trial available
Q7 Pricing
Q7 is available as both desktop software and a cloud-based version. The desktop software requires a site license, which gives you full hardware and networking control as well as more options for customization and integration with third-party apps. The cloud-based version is available for a monthly fee and can be accessed anywhere with an internet connection. Pricing for both is quote-based. There is no free trial but you can request a free demo that will be tailored specifically to your company.
Q7 Features
Q7 has a variety of features that allow you to handle virtually every aspect of your trucking business. From a full accounting suite including payroll to dispatch management, fleet maintenance, and management reporting, it is no wonder that we ranked it as the best trucking accounting software.
Accounting
Q7 contains all of the accounting features that you need in the trucking industry and it comes with a complete general ledger that you can customize to fit your business. Accounting is built into all transactions, which promotes accuracy and transparency. For example, invoices are automatically created when a booking is made. When over-the-road costs are entered in the fleet management module, they are recorded in Accounting automatically. Anytime you enter driver deductions for individual purchases, they will show up when processing pay settlements.
You can view payment history for a load directly, or on dozens of report options. The accounts payable (A/P) function allows you to create purchase orders, pay bills, and project cash flow while the accounts receivable (A/R) function tracks customer invoices, payments, and account adjustments. The banking program displays all automated clearing house (ACH), check and deposit transactions in an organized grid so that you can easily view the details of each transaction at any time and reconcile your bank accounts with an intuitive reconciliation register.
The Financial Scoreboard offers a bird's-eye view of all accounting, and you can customize the look and content of any report or create a new one from scratch. Profitability reports specific to the trucking industry are included, and you can use a live reporting tool to catch any accounting mistakes.
Payroll
Q7 payroll is built with the trucking industry in mind. You can create a custom profile for each employee and manage company driver line haul methods and rates with ease. It supports all forms of taxable wages, nontaxable reimbursements, and deductions and every type of pay method—hourly, salary, by mile, percent of revenue, and flat pay. You can even create automatic triggers for load-specific types of pay like detention and extra stop pay. Tax-exempt deductions are fully supported as well as automatic calculation of employer contributions. The Settlement program doesn't just pay settlements for drivers and carriers as it also serves as a batch payroll processing center.
You can use the optional direct deposit feature to upload payroll details to your bank, and fully customize your printed checks. Essential payroll reporting is readily available, and all payroll reports are built-in and fully customizable. The Payroll Journal is used for a summary of one or more pay periods, while the Payroll Tax Audit and 941 Summary is used for tax liability reporting. You can also view your unemployment tax liabilities and employer contributions. At the end of the year, printing complete W-2s for your employees is easy.
Dispatch Management
Q7 Trucking Dispatch Software is the control center for planning and dispatch activities. It is fully customizable and supports truckload, brokerage, and less than load (LTL) dispatch, which are described below:
Truckload dispatch: Q7 maintains and displays current position of tractors, trailers, carriers, and drivers. You can post check calls manually or via GPS systems, and view approaching or expired safety dates.
Brokerage dispatch: The user-friendly dispatch console displays status of load progress and provides access to both customer and carrier contact information. You can send carrier confirmations that detail load specifics including pickup and delivery times and directions.
LTL dispatch: Advance load planning features allow you to match loads to trucks quickly, preassign loads, and manage driver schedules. You also drop manifested loads to a shop or warehouse, consolidate docked loads for outbound resources, and reassign individual load stops to other resources.
Document Management
With Q7 Document Management you can scan, import, and save any type of document like proof of delivery or delivery receipts. You also have the option to assign your own references and other user-defined data to each of the documents. When you pair this feature with the Q7 Email interface, you can attach all documents for the load against the invoice and send them to your customers in one PDF.
Fleet Maintenance
The Fleet Maintenance feature allows you to track services and equipment in Q7 so that you can avoid costly emergency repairs. By first creating a customizable list of equipment services, you can create groups of service or maintenance for efficiency. You can then build default schedules for each type of service. Over-the-road (or long haul) costs and in-house service sales are tracked in accounting. Services are added to equipment profiles for specific tracking. You can schedule service based on a period of time or based on the number of miles driven between services. Q7 also allows you to set a customized advance warning so that you will know when a piece of equipment is due for routine servicing.
Fuel and Mileage
Q7 fuel and mileage tools are thorough and easy to use. You can combine mileage and fuel purchase data for complete fuel tax reports. You can create driver deductions for individual purchases on the spot, which appear automatically when processing pay settlements. Fees, repairs, cash advances, and other purchases can also be included in the entry. Tax miles can be entered by hand or calculated using the optional Mileage interface which tallies miles per load. Q7 also interfaces with leading trucking mileage programs like Rand McNally and ProMiles. All fuel purchase, state mileage, and IFTA tax reports are included, and they are completely customizable.
Freight Billing
Q7's invoicing system is flexible and robust, allowing you to save time and money by batching invoices on your schedule. Invoicing is tied to dispatch to ensure that loads are only invoiced when complete. Invoices are customizable with your company logo and can be exported as a PDF or spreadsheet for upload to other systems. You also can create freight settlements, which are ideal for high load volumes.
Management Reporting
The Q7 management features offer complete control over your operation. The reports calculate detailed data, such as generated revenue and profit based on drivers and equipment. You can also evaluate profit per mile, carrier cost, fuel, and repairs. View your general ledger accounts and use the Real Time Reports dashboard for live custom reporting. Any custom report can be created by connecting directly to your underlying data.
Mobile Logistics
Q7 interfaces with leading electronic logging device (ELD) providers such as Samsara, Omnitracs, and SkyBitz. ELD is intended to be a substitute for driver logbooks, the Q7's integrated communications console allows you to send communication to and from the mobile device.
Pay Settlement
The Pay Settlement software lets you funnel information from other areas of Q7 to create detailed pay settlements and reports for drivers and carriers. It supports all driver pay and deduction methods, whether that is percentage of revenue, hourly or flat rate, tonnage, mileage, or pieces. You can also include weekly deductions and reimbursements such as health insurance or per diem and payroll tax details. Provide your drivers with settlement sheets that summarize pay, deductions, and reimbursements.
Safety
The Safety Console allows you to ensure proper safety compliance for your fleet. You can manage key safety dates to avoid costly violations and keep track of safety-related expiration dates for all types of resources like licenses and registration, inspection, and maintenance. Safety flags are visible to dispatchers at all times, and you can set a color code that is based on how far away an expiration date is. The System Health Monitor alerts you with a count of drivers or equipment with expiring safety dates. When safety alerts appear, you have the option to run the report as a formal safety notice or give the report to the driver or carrier.
Q7 Customer Support
Q7 includes training and support in the software price, and you can contact them via the online support form. There is also a knowledge base of articles that tackle various topics and provide tips and tricks for using the software.
Q7 Ease of Use
Q7 is custom-built unified software that has the same appearance and functionality throughout. Because training and technical support are provided, you can ensure that you have the resources available to assist with any questions. The software can also be customized to meet your company's specific requirements. Because of its complexity, it's recommended to undergo at least 4 to 6 hours of training so that you can become familiar with the different features of the software and how they connect to each other.
Q7 Alternatives
| | | |
| --- | --- | --- |
| Best for: Freight brokers seeking a basic all-in-one option | Best for: Owner-operators | Best for: Companies seeking an affordable IFTA tracking and reporting solution |
| Cost: Starting at $99 per month | Cost: Starting at $25 per month | Cost: Starting at $20 per month for one to two trucks |
Bottom Line
Q7 is a fully integrated trucking business platform that has everything a trucking company could need. From dispatch operations to fleet management tools, the day-to-day operations become easier to manage with this software. Q7 also has a full suite of accounting tools including payroll, general ledger, A/R, and A/P. You can opt for a site license or cloud-based setup, and the price includes both training and technical support. With the help of this software, your business will run like a well-oiled machine, whether you are an independent owner-operator or in charge of a large fleet.