Radio Advertising Guide: How to Get Started Today
As antiquated as radio advertising may sound, it remains a tried-and-true marketing channel for businesses looking to promote a message to a wide audience. In a 30- to 60-second radio commercial, businesses are able to say a lot more compared to an online, text-based ad, and though it comes at a higher upfront cost, it can be a more affordable advertising channel in terms of CPM compared to other video and voice-based advertising.
Pros & Cons of Radio Advertising
Like every advertising medium, there are pros and cons to advertising on the radio to consider. For example, while radio ads can reach a wide audience within a certain geographical area, people aren't tuning in to listen to the radio for ads, so not only does it lack search intent, people may not even be listening to radio ads or they may even switch stations when ads come on.

PROS

CONS

Reach a large audience
Zero buying intent as people are not actively seeking your product or service
Target by geographical area
People are distracted and may not listen to radio ads
Opportunity to target by interest during niche radio shows or genres
Radio listeners are frequently tuning in and out
Capture the attention of a working audience by advertising during standard commuting hours
Limited performance tracking available compared to alternative advertising channels
When to Use Radio Advertising
Let's be frank—radio advertising isn't for everyone. It works best for businesses with a wide target audience, like those that are nationally recognized, or aspiring to be. It can also be a good option for those selling high-ticket, general consumer goods or services, or those whose primary goal is to grow awareness of a newly launched business provided you have a strong marketing message.
That said, you should first consider who your audience is, whether they're listening to radio, and what your radio ad would need to do or say to resonate with them before investing advertising dollars. Generally, if your business is in a niche market, then radio ads probably aren't going to be a good use of your ad budget. And speaking of budget, you also need to have the funds available to create and deploy your radio ad as they're not the cheapest.
Other warning signs that could indicate radio advertising may not be a fit include:
When your marketing message won't resonate with a wide audience
If you don't have a way to share your message with a powerful or compelling story
If you're on a very tight budget
If you're on a short deadline and need to advertise a timely message as soon as possible
For example, if you're a distributor of vegan food products, it is not advisable to do radio ads since only 7% of Americans identify as vegan. So unless your goal is to convert carnivores, you're already starting out with a very small percentage of the audience who will have an interest in your business or brand.
How Much Radio Advertising Costs
Radio advertising consists of two primary costs: production and distribution. The distribution costs are the most expensive portion and can range from $200 to $5,000 per week depending on your location and chosen station. The cost of producing the commercial, including copywriting, voice talent, and audio and visual editing, typically costs around $300 to $1,000.
Other factors that can influence the cost of your radio ad include:
Number of People Listening to Your Ad
The main factor that affects cost is the number of people who will be listening to your ad. Therefore, spots during the morning and evening commute will cost more than spots late at night. Likewise, playing an ad in a big city will cost more than an ad spot in a small town.
Demographic of the Radio Station's Audience
Radio stations that have an audience between the ages of 24 and 54 will also have higher prices. That's because this age group has the highest purchasing power, and therefore many businesses want to advertise to them. You can also expect to pay more for stations that attract a wealthy audience, such as a jazz or classical station.
Demand for an Ad Spot Among Advertisers
A radio advertising spot is not guaranteed, and usually goes to the highest bidder. Therefore, your ads may be knocked off the air if you don't match the astronomical rates that occur during an election, for example. The same may happen during major shopping times, such as around Thanksgiving and before Christmas, where major advertisers may buy up airtime to promote upcoming sales.
Special Events & Occurrences
There is a chance of prices changing depending on what events are occurring around town. This is because prices fluctuate depending on how many other people want to advertise during that time. For example, if there is a highly contested local, state, or national election, campaigns tend to pour money into local radio and TV at elevated rates.
For more information on radio ad cost, view our in-depth guide to radio advertising costs.
When to Advertise
Radio stations split up ad times into day parts. You probably won't be surprised to know that the most popular times to run advertisements on the radio are during the morning and evening commutes. Frequency is the number of times your ad is heard by an individual person, while reach is the number of people who hear your ad.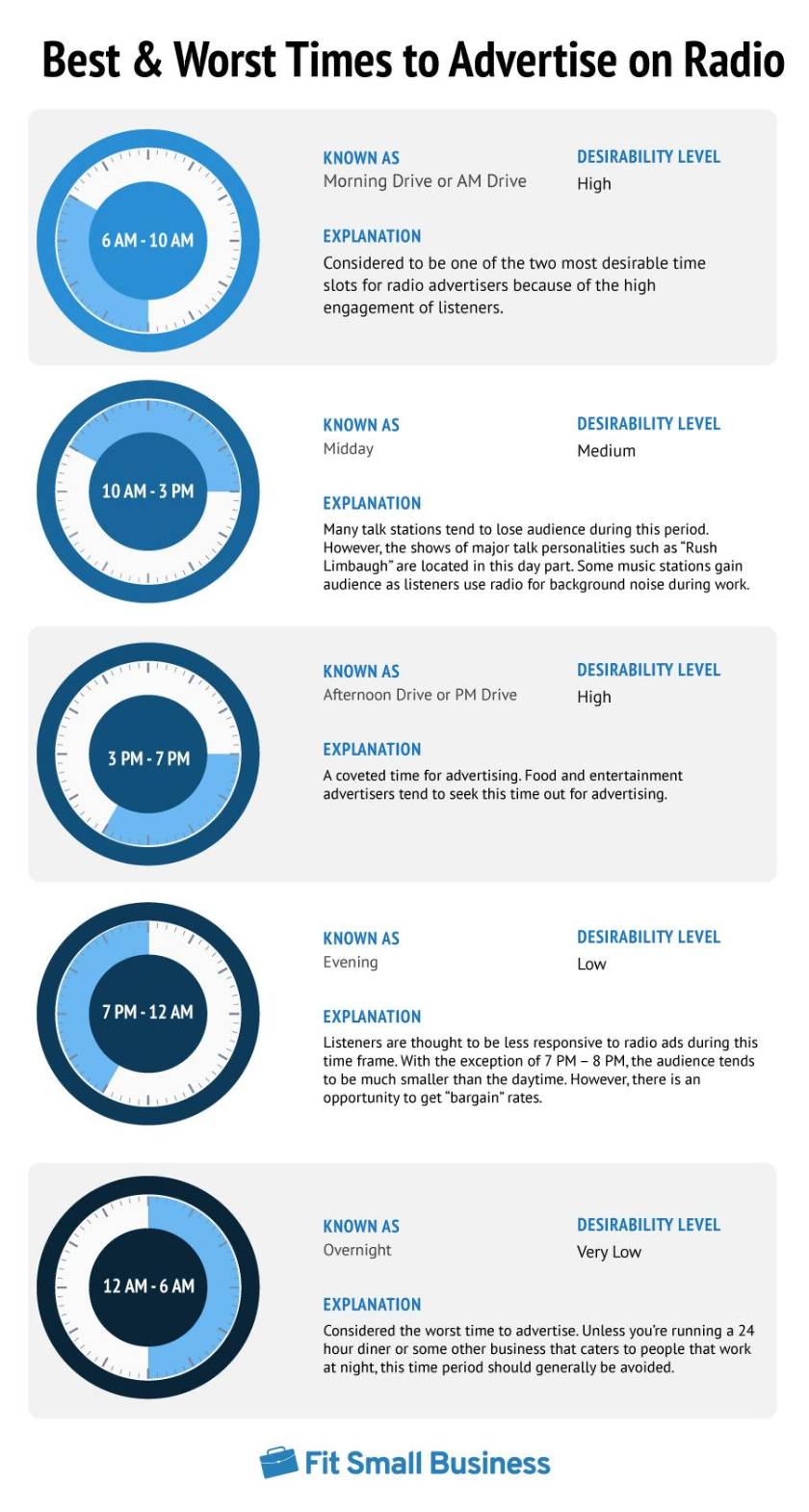 You can choose to have your ads shown exclusively in a certain day spot, or have an equal distribution of your ads throughout the day. We suggest you go with the first option since ads are usually more effective when the same people hear your ad multiple times. It's easier to achieve this when you run your commercial at the same time every day.
Ways to Create a Radio Ad
There are a few different options when it comes to creating your radio ad. While you could create an ad yourself, chances are you should have it produced. It's not uncommon for radio stations to create the ad for you, but you can also maintain more control by hiring a professional production company, or even a freelance producer.
Here are the best ways to create a radio advertisement:
Have the station create the ad for you: Sometimes the station will offer to create your ad for you at no cost. These spots can range in quality from poor to excellent, depending on the people working on the spot. If you go with this option, make sure you are not obligated to use the ad if it is not up to your expectations.
Hire a professional production company: From scriptwriting and selecting a voice to recording and adding effects, a professional production company is your best bet when producing a quality and effective radio ad. In general, expect to pay around $800 to $1,200 per commercial.
Hire a freelancer: If you already have your script, you can hire a freelance voice actor through platforms like Fiverr to record your commercial for you. You can find professional actors for as little as $5, but just make sure to look at the reviews to see which actors perform the best.
What about creating the radio ad yourself? Unless you have experience with voice-over acting, you probably want to steer clear of this option. Conveying a message solely through sound is a difficult task, and in most cases should be handled by a professional.
Ways to Measure Radio Ads Performance
Measuring if offline marketing efforts are successful is considerably more difficult than measuring online efforts. However, there are a few tactics you can employ, including using a vanity web address or phone number, keeping track of sales post-radio ads, and, of course, you can always ask your customers how they found your business.
Here are some of the best ways to measure the effectiveness of a radio ad:
Use a vanity URL: Looking to drive traffic to your site with your radio ad? Then use a vanity URL, which you can purchase from a company like GoDaddy so that you can track the specific website to measure its performance with Google Analytics. You can send people to a landing page on your website that has a URL that is specific to your radio ads.
Use a call tracking or vanity number: You can create a number that is different from your everyday number. If someone calls your business using the tracking number that you use in your radio ad, you will be able to track it back to your radio ad. If you are interested in this option, check out our guide on the best vanity number providers.
Ask your customers: If you are able to consult with customers one-on-one, ask any new clients how they heard about you. Alternatively, use an incentivized survey, such as on a receipt or after online purchases, asking how customers heard of your business (coupon, discount, and so on) to increase the chances that people will actually fill it out.
Track sales: The easiest way to see if your ads are working is to simply see if your sales have gone up over the period of time that your ad was running. Note: You can't attribute an increase or decrease of sales to your radio ad with 100% accuracy, but it can serve as a general indicator.
It's worth discussing creative ways to measure radio ad effectiveness with your chosen radio station. Stations are well-versed in working with advertisers (and depend on advertising money), so they have a stake in helping advertisers understand if ads are working and may be able to further help you come up with ways to track ad performance.
Radio Advertising Terminology
| Radio Terms | Definition |
| --- | --- |
| Average Quarter Hour Rating (AQH Rating) | Average number of people listening to a station for at least 5 minutes during a 15-minute timeline |
| Cost per Thousand (CPM) | The calculated cost to reach 1,000 listeners |
| Gross Rating Point (GRP) | This is one measure of the impact of your ad (it is equal to the percentage of the target market your ad reaches multiplied by the frequency with which they hear your ad) |
| Cost per Point (CPP) | The cost to reach AQH equivalent to 1% of a demographic |
| Net Reach | The number of people a station can reach in a certain time frame |
| Cume Person | Total number of people who listen to a radio for at least 5 minutes |
| Exclusive Cume | Total number of people who listen to only one radio station |
| Rating | The percentage of total listeners for a station divided by the total population in an area |
| Share | The percentage of people in an area who listen to a specific station |
Best Alternatives to Radio Advertising
Radio advertising should be one part of your overall marketing mix, but it shouldn't be the only advertising channel you're utilizing to promote your business. In addition to, or in some cases in lieu of, radio advertising, also consider other channels such as music streaming ads, television advertising, YouTube ads, pay-per-click (PPC) advertising, billboard ads, and newspaper ads.
Here are some of the best alternatives to radio advertising:
Music streaming ads: On-demand music streaming services like Pandora and Spotify are growing in popularity, and like radio, offer voice-based advertising with 15- to 30-second spots with an active user base that spans cities and states. Pricing is similar, with the average cost per thousand (CPM) ranging from $5 to $30.
TV advertising: Sometimes a marketing message is best suited for show instead of tell. In this case, TV ads can be a good alternative to radio advertising. Learn more about television advertising to determine if it's right for your business.
YouTube ads: Similar to TV ads, YouTube ads give businesses a more affordable way to use video advertising campaigns. Unlike TV commercials, with YouTube ads, you pay per view or action, rather than one flat fee to get air time, making it a lot more affordable for businesses with smaller budgets.
PPC advertising: Businesses with more niche products or services may find that a better use of ad spend is on pay-per-click (PPC) search ads, such as Google Ads. PPC ads display in search results. What's great about PPC is that it enables you to connect with people who are actively searching for what they offer. Learn more about how to advertise on Google.
Billboard advertising: Interested in reaching a wide audience within a certain area? Consider billboards ads. They're generally more affordable than radio ads and have a similar audience. The key question is whether using a photo-based ad or a voice-based ad is better for your marketing message. Get more information on billboard advertising.
Newspaper advertising: Last but not least, another good alternative to radio ads are newspaper ads. Typically, you can expect newspaper ads to be more affordable than radio ads, and they come with the added benefit of getting people's full attention as people sit down to read a newspaper. Learn more about newspaper advertising.
In addition to the above marketing channels, businesses should also have a solid online presence with a high-quality website. This will help your business get found online organically (aka for free) and will help make a great first impression. With a professional website, you can take advantage of the many effective website marketing strategies to promote and build your business.
Frequently Asked Questions (FAQs)
Why do radio ads fluctuate in cost so much?
Radio ad pricing varies greatly, and what that ultimately boils down to is how many people are listening. The pricing for a radio ad ultimately comes down to the following equation:
Number of People Listening x Cost to Reach 1,000 Listeners (CPM) = Cost of Advertising per Spot.
What is the daytime radio average CPM?
The average daytime CPM rate is typically in the $12 to $16 range for adults between 18 and 49. If the audience that listens to the broadcast tends to be older than 50, a CPM of $8 to $12 is reasonable for daytime. The evening and particularly overnight should be lower.
How do I find the best radio stations to advertise on?
One of the first steps to radio advertising is deciding what station(s) you want your ad to run on. You can reach out directly to local stations for advertising rates and audience information. If you don't already have stations in mind, use Radio Locator to see the stations that are located in your area and the type of genre they play.
What is the average return on investment (ROI) for radio ads?
Some small businesses fare better advertising on the radio than others, but advertisers can expect an average of 11.8x return per dollar spent on their radio ad, according to a Nielsen study of five industries published in 2017.
Bottom Line
Despite the proliferation of on-demand services, radio is still a very powerful medium to add to your marketing mix in order to capture a wide audience. With an adequate marketing budget and the information detailed in this post, you can use radio to effectively boost your marketing strategy and bring in more business.
You Might Also Like…