Ranking highly in search engines can account for the large majority of traffic (and thus leads) to a small business's website. The two primary factors which determine how high a website ranks in Google's search results are:
On page ranking factors – things like how the website is setup from a technical standpoint, and whether or not the title, text, images, and link of the page contain the keyword you are trying to rank for.
Off page ranking factors – The primary off page ranking factor is the quantity and quality of other websites that link to your website.
In this lesson, we'll talk specifically about on page ranking factors. As part 5 of our 8-Step Guide to Build and Market a Killer Real Estate Website, I'll once again be discussing my father's real estate company, Lake County Realty, as both an example and actual project I am working on. Though the example here is real estate, the steps I am following can be used by any small business owner who has a physical location.
Before we dive into the details on this topic, we suggest you check out Zillow Premier Agent, our #1 recommendation for generating qualified real estate leads. Click here to learn more.
Applying Keywords To Your Website
In the previous lesson, I showed you how to identify a list of the most popular search terms people are using when looking for your product or service. You can see the list of terms I came up with for my father's site, along with their estimated monthly traffic at the bottom of the article.
After going through my list of keywords, I have chosen four main terms I would like to try and rank for initially. However, it is very difficult to rank every page on your site for every term. A better approach is to pick one, or at most two terms, per page that you would like your site to rank highly for. Next to the keyword is the page that I am trying to rank for that term.
Lake Gaston Real Estate – the homepage

Lake Gaston Rentals – the rental homes page

Lake Gaston Homes For Sale  – the property search page

Lake Gaston Real Estate Blog – the blog
The great thing about on page ranking factors, is that they are 100% under your control.  Since I have used the Weebly website builder to build my father's website, I don't have to worry about it being set up correctly from a technical standpoint. Weebly takes care of that for me. They also make it easy to modify the page title, text, images, and meta description (the meta description is the short description that shows up under a link in the google search results).
The 3 Main Steps to Optimize Your Website
Let's look at the on page changes I have made to my father's homepage, to try and rank it for the term "Lake Gaston Real Estate".  The same steps can be followed for the pages on your website.
1. I made text changes to the page to include the term "Lake Gaston Real Estate" (the search term I am trying to rank the homepage for) throughout the page.  You don't want to overdo it here, 3 or 4 times should be good: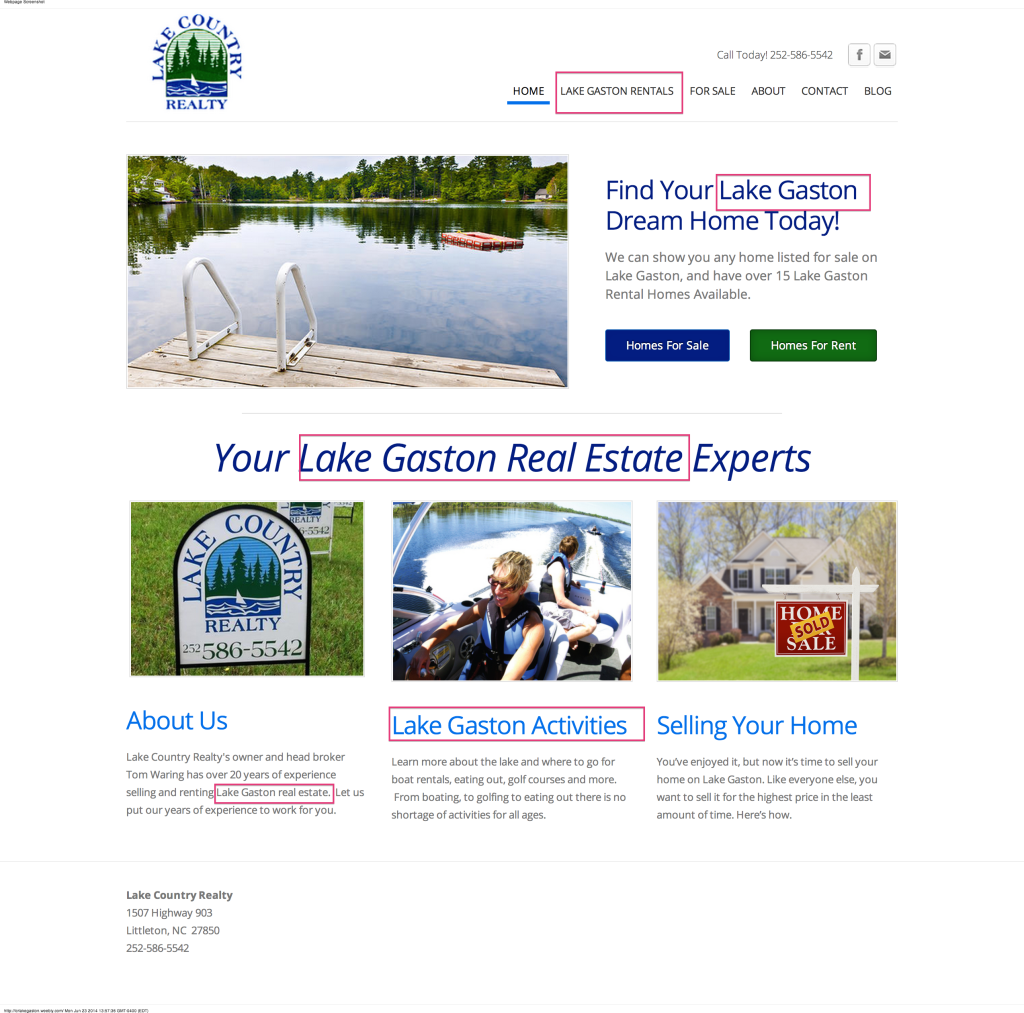 I gave the images descriptive titles and alt texts.

As you can see in the image below, just right click on the image and fill out the relevant sections in the window that appears.  You want to mix these up and not have the same title and alt text for each image.  So, for example, I may use search lake gaston real estate for one image, lake gaston property for another, and lake gaston rentals for another.
I adjusted the title and meta description for the page to include my keywords.

 To do this click the "pages" button at the top of the website builder. This will open a menu where you can click the page you want to edit the title and description for under "advanced settings". For the page title, the maximum number of characters you should use is 70 (otherwise it will run off the page in Google's search results). For the meta description, the max is 156 characters.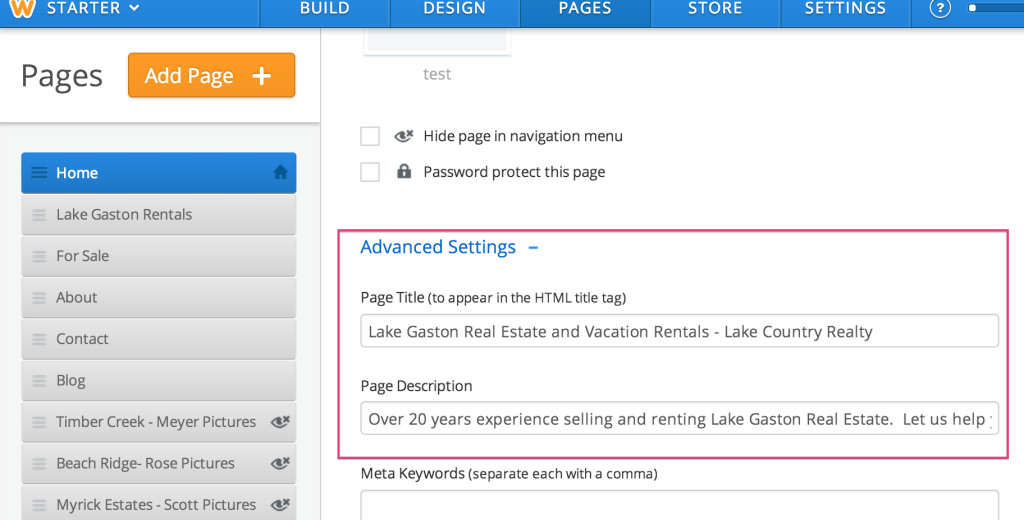 Now that this page is setup correctly for my chosen keyword, I am going to repeat the same process for the other pages and keywords I listed at the beginning of this article. Once you have completed this, your website should ready to launch! You can refer back to our Weebly guide to follow the steps on launching your website.
Three Additional Tools to Start Ranking Highly in Google
The focus of this article was on-site ranking factors, which means changes you can make to your website to help it rank better on Google. There's also off-site factors, which means getting your business listed in directories and linked on other websites. We'll get more into this at the end of this series, although for now I want to highlight 3 quick steps you should be taking to help boost your rank:
Setup Google Webmaster And Submit Your Sitemap

. This free service will check your website for any errors that may affect your ranking. It's fairly simple to setup and can prevent you from making any big mistakes.

Make a Google Plus Page For Your Business

. Sure, it's not a very popular social network. But having a profile for your business makes a huge impact on your Google search rankings.

Setup Google Analytics

. This gives you loads of insight about how your website is performing, including your number of visitors, how many pages they view, how long they stay on each page, how they found your site and much more. Like the other tools, it's completely free to setup.
For a more detailed overview, check out our guide 3 Google Tools Pro Webmasters Use. There, we explain how to setup each of these tools step-by-step. For the next lesson in this series, however, we'll skip ahead to paid advertising on Google.
We asked 50 experts for their best real estate marketing idea. Click here to see what they told us!