35 Examples of Effective & Creative Real Estate Ads
Real estate ads are a dime a dozen—making yours stand out from the competition is imperative to capture leads, convert clients, and build your business. For your ads to be effective and engaging, use stunning images, catchy headlines, and appealing designs that target your intended audience and evoke a response. We found dozens of examples of creative real estate ads from agents all over the country, in all different mediums, to inspire your advertising strategy.
Check out these 35 examples of effective real estate ads and explanations of how they can work for you:
Social Media Real Estate Ad Examples
Cost to advertise: Minimum ad budget of $1 to $10 per day
Time investment: Ad creation can be time-consuming, especially in addition to consistent posting on your feeds at least three times per week
Lead quality: Medium to high
Return on investment: High
It can be difficult to reach your target audience on social media because social media platforms are very saturated. On the other hand, they also have a massive outreach and can be a budget-conscious option for generating leads.
Although it is a saturated environment, according to SproutSocial, 47% of real estate businesses note that social media results in the highest-quality leads versus other sources. These sources can include Facebook, Instagram, LinkedIn, and Twitter, among others. Also, since real estate agent ads can cost as little as $1 per day, you have the potential for a high return on investment (ROI) if you generate even one lead from your ads.
To capitalize on social media advertising, agents should use images that are visually stunning so people will not scroll past your post, but also clever copy to capture your targeted audience. Many people visit social media sites in their free time for entertainment and to catch up with the latest world news. Keep these strategies in mind when designing your post.
Example #1
Why this ad works: It's interesting to the eye and targets sellers to reach out about the sales process. Also, it's obviously seasonal, and could be used during Halloween for further engagement.
Example #2
Why this ad works: This real estate ad displays stunning images of the home's best features to attract buyers. It provides some information but leaves enough mystery about the home to encourage potential buyers to reach out.
Example #3
Why this ad works: This ad is a creative way to provide important knowledge to investor clients. Plus, it demonstrates you can showcase your skills as a real estate agent and introduce yourself to potential leads through video.
Example #4
Why this ad works: It is a fun way to showcase your listing, personality, and brand that will capture an audience's attention.
Example #5
Why this ad works: The tagline is geared toward buyers who are looking for a home using a simple but appealing image. It evokes emotion but also uses humor to bring the point home followed by a call to action (CTA).
If you want a complete brand presence across Google Ads and social media platforms, consider using Constant Contact. Known for their email marketing, they have every product you need to be found online, grow your audience, and engage with valuable traffic. You can get started with a 60-day free trial, and get 20% off your first three months.
Internet Platform Real Estate Ad Examples
Cost to advertise: Dependent on the platform and scope of work, cost ranges from free to hundreds of dollars per month
Time investment: Ads are frequently templated, which makes them easier to create, but still require you to spend time keeping listings up to date
Lead quality: Low to medium
Return on investment: Medium
As a real estate professional, you can advertise on any number of high-traffic listing websites, such as your local MLS, Zillow, Realtor.com, Trulia, and Craigslist (among others) to generate real estate leads. You can also advertise on Google, Microsoft ads, Yelp, and your personal website to showcase yourself and your expertise in real estate to entice potential buyers and sellers. Nearly all of these sites, especially Yelp, can also be a great way to display reviews and testimonials from satisfied clients to secure your brand and value.
The benefit of advertising on real estate listing platforms is that you are directly connecting with active buyers and sellers who are ready to move forward in the sales process. On the other hand, these leads are often contacting multiple agents, so competition to convert these leads is more difficult. That's why, in addition to advertising on listing websites, you should also be advertising your services using your personal real estate agent website and advertising platforms like Microsoft, Google, and Yelp.
Example #6
Why this ad works: Nest Seekers uses a visually stunning image to draw you in and then speaks about the benefits and details of working with their firm.
Example #7
Why this ad works: The real estate agent depicted uses a professional headshot, click-to-call contact information, and a link to their website and the listing. This can prompt buyers to reach out about this listing in particular, but also to speak with her for additional context.
Example #8
Why this ad works: This real estate agent is using Yelp advertisements to showcase her value and success, with an emphasis on 5-star client reviews.
Example #9
Why this ad works: Although this Google ad doesn't display any images, it is still a highly effective internet ad for lead generation. It leverages keywords and (in the top example) the brokerage's 5-star Google My Business profile ratings to generate real estate leads in a specific area.
Example #10
Why this ad works: You can advertise listings on non-real-estate-specific platforms, but you can also focus more on advertising yourself and your real estate services. The example above shows an agent's real estate website with a professional picture, biography, areas of expertise, and downloadable materials to entice clients to reach out about the team's services.
To optimize your real estate website, choose a company that can help you customize your site to your specifications. Placester is a 100% codeless website creator that allows you to connect directly with experts or start your website yourself using premade templates. You can create logo designs, import testimonials, and integrate with IDX feeds and social media. Try it for free today.
Print Real Estate Ad Examples
Cost to advertise: Varies from local to national reach, but can be anywhere from $50 per ad to thousands
Time investment: Ad design can be time-consuming, but will not require consistent posting as with online platforms
Lead quality: Leads are likely to be high quality
Return on investment: Medium due to higher cost for print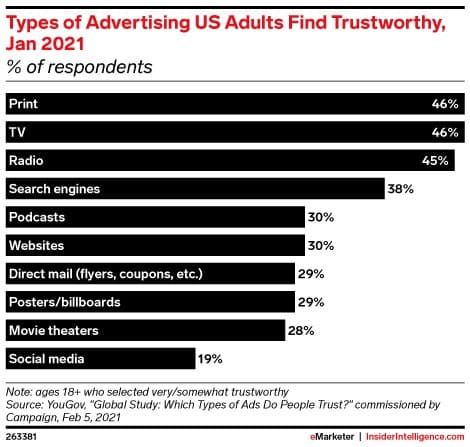 Print ads aren't used as often as they used to be because of the abundance and low cost of online advertising. But as they say, don't knock it until you try it. According to a survey by eMarketer.com, 82% of Americans said they trusted newspapers and magazine ads more than digital advertising, which gained the trust of only 61% of consumers. Print ads appear most commonly in magazines and newspapers, and shouldn't be any less interactive, engaging, or compelling than their digital counterparts.
For example, many print ads include a Quick Response code (QR code) or phone app that directs customers to other media so you can continue to tell your real estate "story" to potential clients. Print ads also reinforce your brand by giving clients a tangible item to hold on to and remember.
Example #11
Why this ad works: Although Douglas Elliman is a well-known real estate brand, they still have to demonstrate their marketing expertise, which this ad does well through color choice and compelling images.
Example #12
Why this ad works: Publishing a local real estate newspaper with helpful knowledge and expertise is a successful way to generate leads in your community.
Example #13
Why this ad works: Developing a brochure is a smart advertising tactic because it can be used to promote your services in multiple situations. Although brochures can be sent as direct mail, most often they are distributed during open houses, networking events, in-office visits, and initial meetings with clients to emphasize your real estate brand.
Example #14
Why this ad works: This free flyer template from Zillow, similar to example #13, can be printed for use as a direct mail real estate ad, but most often is given to clients at an initial meeting or open house. Flyers can advertise a specific listing or highlight your real estate business.
Example #15
Why this ad works: The New York Times has a real estate section, which is a very popular read in NYC. Although it is expensive to have a full-page or multi-page ad, it is a fantastic way to feature your services to thousands of people and position your business as a large, well-funded brand.
To guarantee your print ad jumps off the page, enlist the help of the freelancers at Fiverr for a one-of-a-kind advertisement. Fiverr allows you to preview work from multiple freelancers to decide who will fit your style and assist with ad creation for your real estate business. Prices vary based on expertise and experience but start as low as $5, so you can determine which freelancer to work with based on your ad ideas and budget.
Out-of-Home Real Estate Ad Examples
Cost to advertise: Depending on factors like medium and location, out-of-home ads can range from $3.38 to $8.65 per thousand impressions (for example, billboards can cost anywhere from $750 to $14,000 per month)
Time investment: Low time commitment after ad is created
Lead quality: Medium to high
Return on investment: High, especially for brand recognition
Out-of-home (OOH) advertising can appear to be one of the more expensive options for real estate advertising. But in actuality, the large number of impressions generated compared to the cost has a good return on investment and can yield high results for lead generation. OOH ads can be seen on buses, lawn signs, billboards, subways, park benches, bus and transit stops, vehicles, and so on, reaching a vast audience of potential buyers and sellers.
In contrast to the noise people experience online, OOH advertising can be a great alternative. OOH ads are harder to ignore and you can't click out of them like digital ads. They can also funnel leads toward your digital resources. For example, one study found that consumers were 48% more likely to interact with a digital ad after being exposed to an out-of-home ad first.
One reason they are highly effective is that you are advertising to a captive audience that is stuck in traffic or are commuters taking the same transportation or route daily. Seeing your real estate ads repeatedly builds brand awareness and reputation vs one-time forms of advertising.
Example #16
Why this ad works: This StreetEasy real estate ad works because it is eye-catching as well as funny, especially for those living in metropolitan areas. It is relatable and makes a viewer think about their housing options.
Example #17
Why this ad works: This billboard has a clear headline that targets buyers but also places the agent front and center.
Example #18
Why this ad works: While this out-of-home ad is simple, it is noticeable to anyone who drives or walks by or sits on this bench.
Example #19
Why this ad works: This ad is obviously very visual to anyone it passes by. Unlike stationary ads like billboards or benches, it also has the advantage of mobility, exposing it to a much broader audience. However, the important qualifying factor making it an effective real estate ad is that it directs the viewer back to the "back pocket" mobile app for further engagement.
Example #20
Why this ad works: This car wrap attracts attention with the color and slogan by invoking humor with a play on words.
If you want to begin OOH advertising using billboards as your medium, consider checking out Blip Billboards. Blip Billboards advertises with digital billboards all over the country so you can control the location, times, and frequency that viewers will see your advertisement. Your real estate ad can appear anywhere from 7.5 to 10 seconds and at different times throughout the day to target more traffic for further outreach and lead generation potential.
Direct Mail Marketing Real Estate Ad Examples
Cost to advertise: Ranges between 50 cents to $3 per piece of mail
Time investment: Time to design and execute mailing strategy, but can be fast-tracked with online tools
Lead quality: Medium to high
Return on investment: Medium
Direct mail marketing is an extremely common real estate advertising strategy, most commonly as postcards, flyers, catalogs, calendars, and similar printed content. Although this method of advertising is common, it does not mean that it is any less effective to generate leads.
Three important statistics to note from Murphy Research and PebblePost are that 88% of key purchase decisions across retail, financial, and auto categories are made or discussed at home, and 82% of those involve home purchases. Also, while email has a lifespan of just a few seconds, direct mail's average lifespan is 17 days.
In summation, direct print marketing real estate ads will make you stand out from the competition, hold attention for longer, and have a more influential emotional impact on clients than digital formats. Although it can be more expensive than direct digital marketing ads like email and text messages, it is still a budget-friendly option for real estate agents.
Another bonus of direct print marketing ads is that you can target a specific audience based on, for example, demographics, location, and niche clientele like buyers, sellers, investors, renters, and so forth. This enables you to farm real estate leads in a specific area to generate leads where you can capitalize on your real estate expertise.
Example #21
Why this ad works: This real estate ad works by targeting sellers and giving them social proof of successful sales in the area.
Example #22
Why this ad works: This postcard generates buyer leads by targeting renters. It is exposing a pain point for most renters that their money is not going toward home equity, which will encourage them to think about buying.
Example #23
Why this ad works: A calendar is a useful household item, so by sending out branded calendars that display your information, clients will be able to recall your brand.
Example #24
Why this ad works: This clever direct mail ad postcard targets potential sellers, but the added feature of a recipe causes clients to keep the card primarily to use the recipe, while keeping your contact information as well.
Example #25
Why this ad works: This mailable real estate flyer displays a home in the area with stunning photos to entice buyers to the listing, but also sellers who can see a sample of your marketing materials.
For assistance in creating engaging direct print marketing ads, seek the help of professionals. ProspectsPLUS! will work with you to design and distribute real estate ads via direct mail to prospective clients. You can launch full campaigns that rotate a variety of branded designs to your target audience and schedule them to be sent periodically throughout the year for maximum exposure.
Direct Digital Marketing Real Estate Ad Examples
Cost to advertise: Free for one-to-one or free email and text marketing plans, or from a few dollars per month on up when using paid online platforms
Time investment: Using an online platform can save time with templates; individual email can be more time-consuming
Lead quality: Low to medium
Return on investment: Medium
Another direct marketing strategy is communicating with your target audience and general contacts through digital means, mainly through email and text message advertising. While direct print ads have a higher rate of effectiveness, email and text messaging can be a convenient and effective way to reach potential clients, keep your brand top of mind with your sphere of influence, and nurture leads over time.
Sixty-one percent of consumers trust email as their preferred method of communication with online brands, which helps increase brand recognition and conversion rates. Emails can be sent as follow-ups to past clients or potential leads as well as during holidays, anniversaries, birthdays, or other special occasions where text messaging may be inappropriate.
However, if you are sending shorter, personalized messages, text messaging may be the better option for your advertising campaign. Text messaging does have a higher open rate of 98%, email only being 20%, so texting can be a creative advertising opportunity to remind clients about upcoming events and open houses, services you provide, or a simple check-in.
Both email and text messaging let you target a specific audience and are a significantly lower cost than many other methods of advertising. They also both allow engagement and interaction by including links to your website, landing page, or listings that will advertise your real estate business.
Example #26
Why this ad works: This simple email has a clear headline that poses a question for buyers and in the copy, gives a solution that showcases their real estate expertise and featured listings.
Example #27
Why this ad works: This real estate text advertisement works because it targets buyers who are ready to convert through advertising an open house.
Example #28
Why this ad works: Sending a monthly newsletter is a great way to keep clients interested in your product and provide them with knowledge about the real estate market.
Example #29
Why this ad works: Holiday emails are a helpful excuse to reach out and connect with your clients to reinforce your brand and humanize your relationship.
Example #30
Why this ad works: In addition to simple holiday greetings like example #29, sending an email with holiday tips such as recipes, neighborhood events, or holiday hosting tips will invite viewers to read and appreciate your value.
Emailing and texting contacts individually from your personal accounts is time-consuming and difficult to organize. Employ the services of a client relationship management (CRM) tool, like MarketLeader, instead. MarketLeader combines effective, easy-to-use communication, marketing, advertising, and website creation tools in one robust platform. The platform enables you to streamline communication with email, text alerts, and automated drip campaigns for lead generation.
Branded Promotional Item Advertising Examples
Cost to advertise: Depending on the items purchased, cost can range from 10 cents to $1,000 each, and less costly when purchased in bulk
Time investment: Once the item is designed and complete, no further time is involved; plus, successful items can be re-ordered with no additional design time
Lead quality: Medium to high
Return on investment: High
Branded promotional items are a popular marketing tool for real estate agents for prospects as well as former clients. Promotional items come in a wide variety of options like shirts, hats, totes, cups and tumblers, writing instruments, key chains, small food items, or any other token that you can customize.
According to LiquidScreenDesign, 83% of people like to get promotional products that have an advertising message. So if you haven't invested in promotional items for real estate advertising, it's time to give it a try.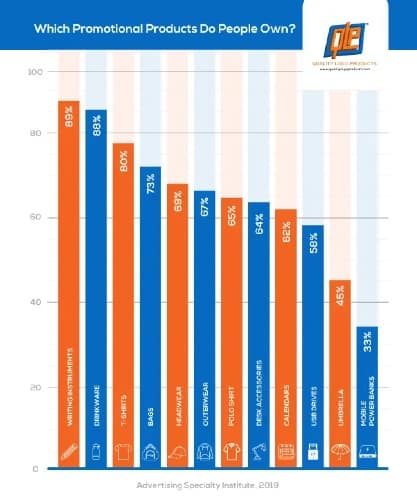 A key benefit to advertising with branded promotional items is that other people, including former clients, are doing your advertising for you by using the item in front of their friends, family, or colleagues. These items act as a walking billboard for your services, and in effect, comprise an endorsement from the person wearing or using the item. Plus, people will often curiously ask about the item, creating brand buzz and formal referrals for your business.
Even more is that 40% of consumers keep some promotional items more than 10 years, which is a longer shelf life than any other advertisement and therefore can have a higher ROI. For instance, the price of a T-shirt may be $10, but the impressions over the course of one to four years may amount to thousands.
Example #31
Why this ad works: On average, people look at their cell phones 262 times a day. That is 262 times that they can see your logo on a cell phone wallet or business card sleeve and remember your real estate business.
Example #32
Why this ad works: There's a reason why the bank always ties their pens to the table, because people are prone to inadvertently pick them up and take them home. By putting your contact information and logo on a pen, you are getting your services and brand out there to a large audience.
Example #33
Why this ad works: With many more people being environmentally friendly, branded reusable bags and totes are very popular. By putting a humorous slogan and your logo on a bag, your clients can become walking advertisements for you.
Example #34
Why this ad works: You can buy branded T-shirts as a gift for your clients after closing on their home. When worn, they are not only functional ads but de facto endorsements for capturing referrals and attention from other potential buyers.
Example #35
Why this ad works: Not only are promotional items like these beverage koozies useful, they're often used when people are sharing beverages with others, so this can be an effective conversation starter between friends, family, or colleagues.
When it comes to promo gifts, Evabot is a creative option, and one that will impress your clients. Evabot's team will create and send your gift with a customized gift box and handwritten card branded with your logo and message of your choice. With an extensive catalog and automated system for collecting your client's preferences, you can send a truly special thank you or pop-by gift that will generate leads and referrals.
Bottom Line
Examples of the best real estate ads show consistent use of memorable taglines, attention-getting and emotion-evoking images, and creative content. It's important not to put all your eggs in one basket, so plan to place real estate ads on multiple channels to expose your brand and real estate services to as many potential clients as possible. Although you'll have to spend money to make some money, advertising is a quintessential part of building a successful real estate business.