Let's face it. Most real estate ads are pretty bad. Dated design, cheesy copy, and awkward headshots are everywhere in our industry. If you want to stand out, you need to up your ad game. That's why we put together this list of 33 aspirational, engaging, and inspiring real estate advertisements from top producing agents and brokerages from around the country.
---
Facebook Real Estate Ads
Before we dive into these stunning and successful real estate ads, let's take a quick look at some simpler, but highly effective Facebook ads.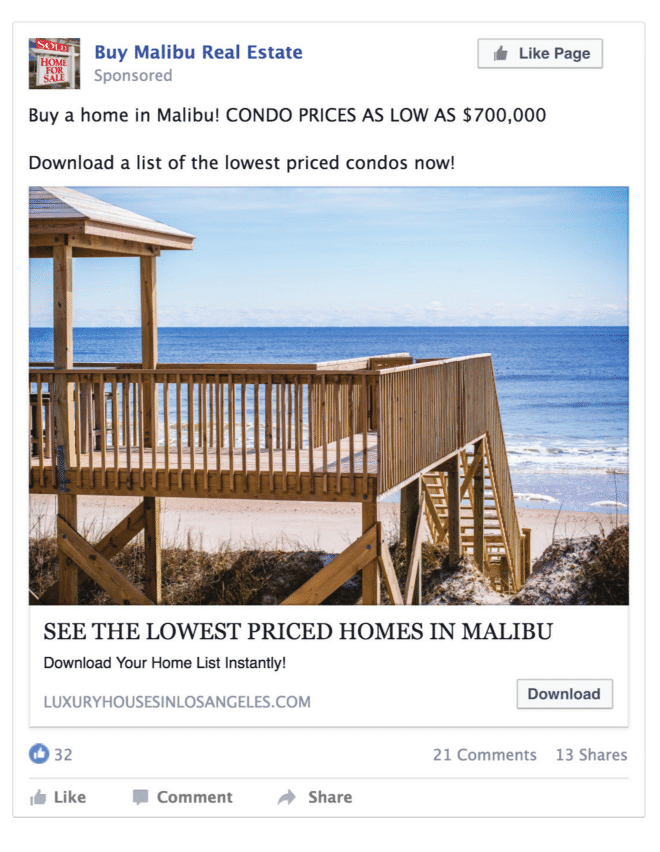 Ventura County Realtor Tristan Ahumada advertised his website on Facebook. The result was an enviable 4% conversion rate that landed him 360 leads in the first month!
Of course, coming up with successful Facebook campaigns and managing them does take some work. That's why I suggest you check out Hibu, a digital marketing solution that helps you create, manage, and monitor social media campaigns and target people in your area on Facebook, Twitter, and Instagram. Click here to talk to a representative today.
---
2. Tom Waring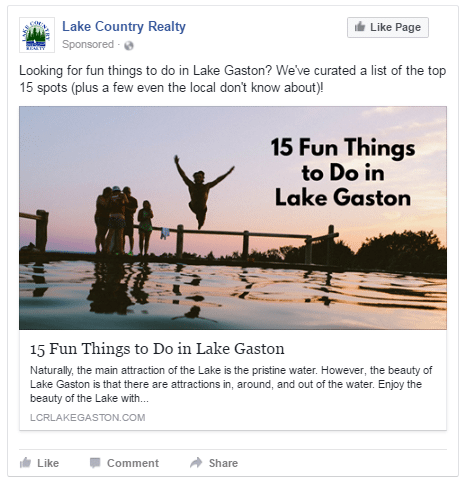 Okay, okay. Full disclosure, we created this Facebook ad for Fit Small Business' founder David Waring's father Tom Waring. If you ever need property in the gorgeous Lake Gaston area, call Tom! He has over 20 years of experience and expert level local knowledge. Also check out this article from our friends over at Point2Homes on 15 places to advertise your website.
---
3. Keller Williams Realty Palo Alto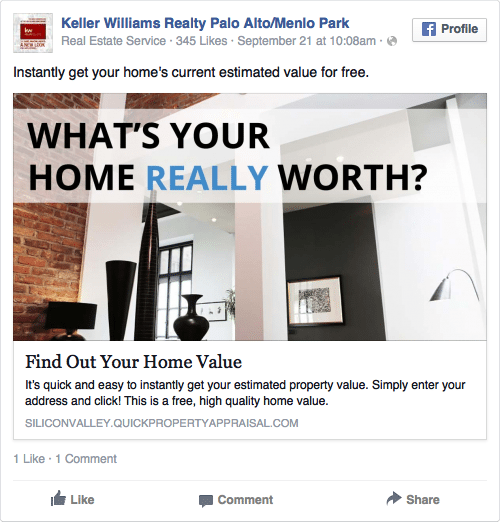 Home valuation ads like this one from Keller Williams Palo Alto are what makes Facebook advertising really shine for Realtors. Finally, a way to get seller leads without cold calling!
If you want to offer home evaluations to capture seller leads, I suggest you check out BoldLeads which offers a home evaluation landing page for your website that you can link to from your Facebook posts. BoldLeads also captures prospects' social media profile info so you'll still get a partial lead if they only enter an address. Click here to create a landing page.
---
Real Estate Brokerage Advertising Campaigns
Okay, I know what you're thinking. You're an individual Realtor on a budget, not a giant brokerage with millions to spend on advertising campaigns. What can you learn from how big agencies advertise? Everything.
Think about it. Are you selling three bedroom ranches or are you selling peace of mind? Are you selling investment properties or in-depth market knowledge and negotiation skills? If you ask any top producing Realtor from the Real Trends 500, they're almost always going to say the latter. And chances are, they're using some great software to make the most of their leads.
Which Real Estate Software is Right for You?
You may not have the budget, you may not have access to a Hollywood producer, world class branding agency, or Magnum quality photographers, but you can and should look for inspiration from those that do! Here's how some of the top players in the industry sell their services.
---
4. Signature Sotheby's "Carpe Diel"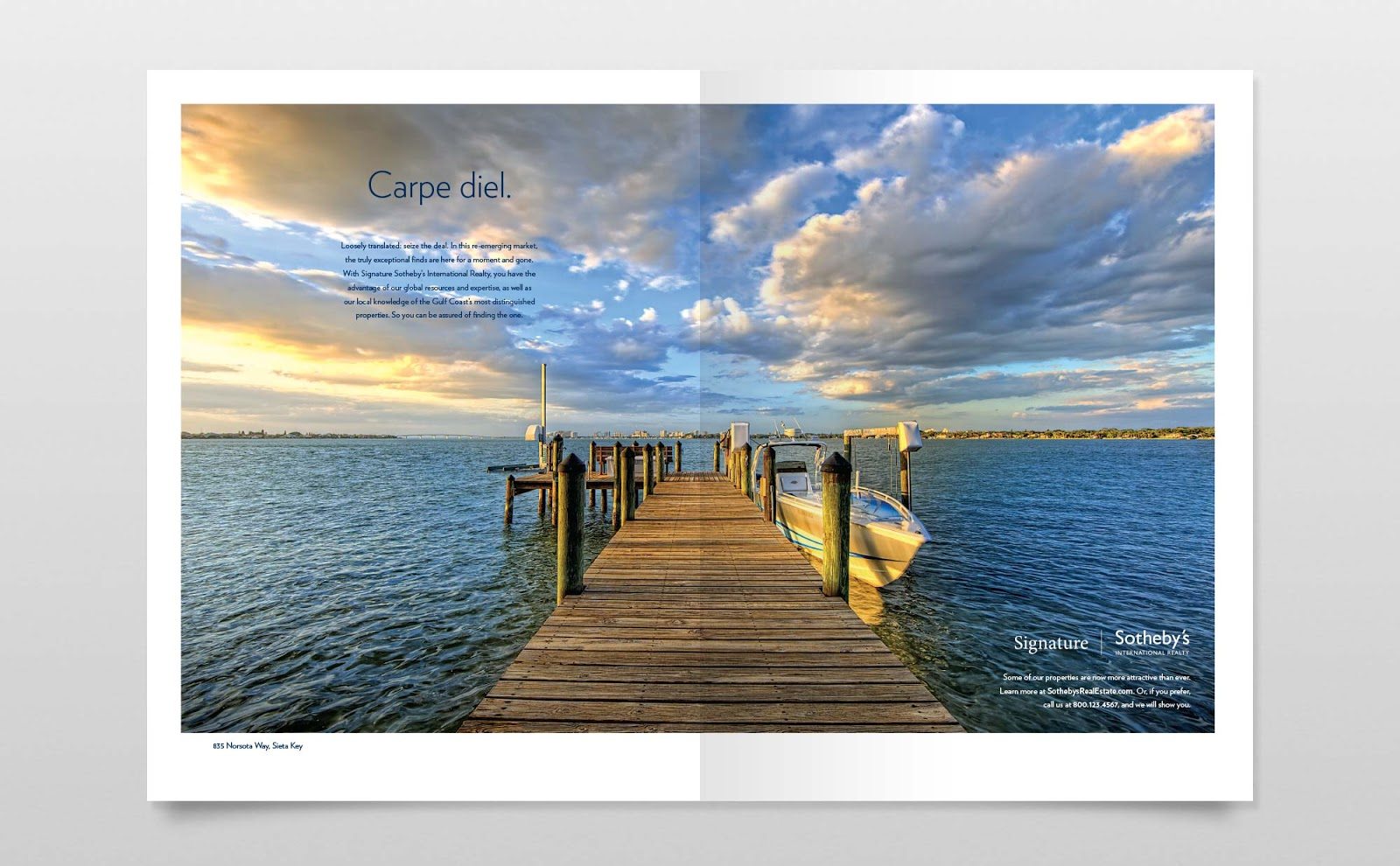 Featuring an envy inducing and daydream worthy shot of of a private dock and speed boat on the Gulf of Mexico, this ad from Signature Sotheby's will stop any page turner in their tracks.
It's also not just a pretty picture. It's clever too. The tagline "Carpe Diel" loosely translates to "seize the deal;" a play on "seize the day." While great deals and multi million waterfront trophy properties might not seem to go together at first, understand that competition for the most coveted luxury real estate is fierce. Remember, the kind of people who compete for these properties have billions, not million at their disposal!
---
Chicago brokerage Baird and Warner has always had engaging real estate ads. Their "Easier" campaign, produced in collaboration with Jacobs Agency is no exception. It hits the nail on the head for both potential buyers and sellers who are looking to hire someone to help demystify the confusing and complicated process of buying or selling a home. Here's Baird & Warner's Vice President for Marketing and Communications Peter Papakyriacou, on the campaign and why it works:
"Our collaboration with Jacobs Agency has resulted in breakthrough creative that brings home our historical point of difference, Very simply we make buying and selling homes easier. Easier for our customers. Easier for our agents. We've worked hard to give our agents the right tools to simplify the process, resulting in more time for both parties to enjoy their lives and less time stressing."
The ad campaign brought to life the message of easier through engaging graphic treatments and simple copy using Baird & Warner's black and yellow logo colors. From showing how easy it is to solve an all yellow Rubik's Cube to finding a giant needle in a haystack, the campaign communicates how Baird & Warner takes a process that is often thought of as challenging and makes it much easier. Baird & Warner also is using the campaign's easier message to reinforce why it is consistently named as one of the best places to work in Chicago.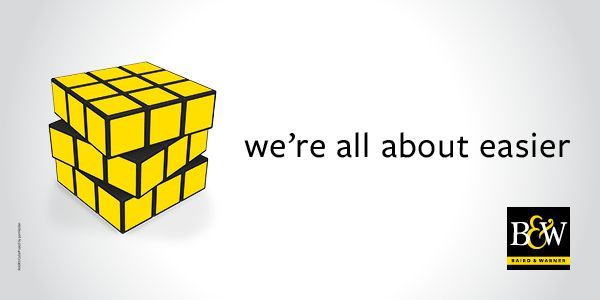 ---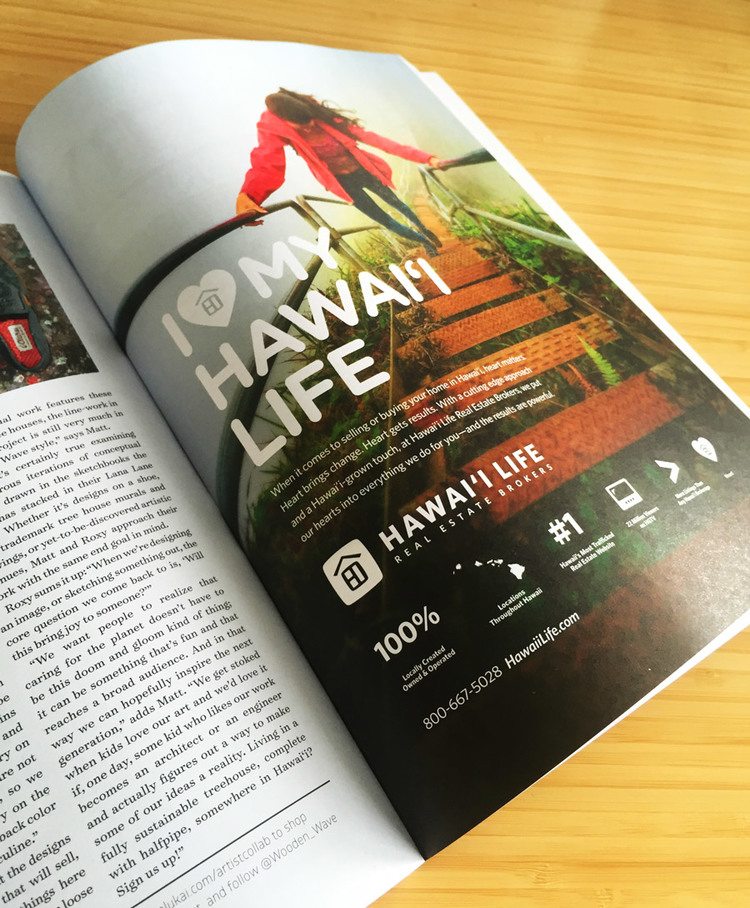 Hawai'i luxury brokerage Hawai'i Life has an amazing brand, and as you might imagine, amazing ads to go along with it. Fresh and clean design, simple, direct copy, and photography that highlights Hawai'i's natural beauty go a long way in helping define the lifestyle people aspire to in Hawai'i.
Since many of their clients are purchasing luxury vacation homes, that lifestyle branding is crucial to helping their audience turn their daydreams about owning an oceanfront Maui property into a reality.
---
7. Sotheby's International Realty: "Houseguest" ft. Kevin Red Star
How do you create a real estate ad for a luxury home with a jaw dropping view? The creative team for Sotheby's International decided to show that the view wasn't just inspiring for the lucky new owners, but for artists as well. After all, if an internationally famous artist like Kevin Red Star was inspired to create beautiful art from the view, that might make gazing at the same view over morning coffee even more awe inspiring.
---
Like Baird & Warner, Texas real estate powerhouse brokerage Ebby Halliday focuses on every Realtor's core competency; helping people navigate the often complex process of buying or selling a home.
---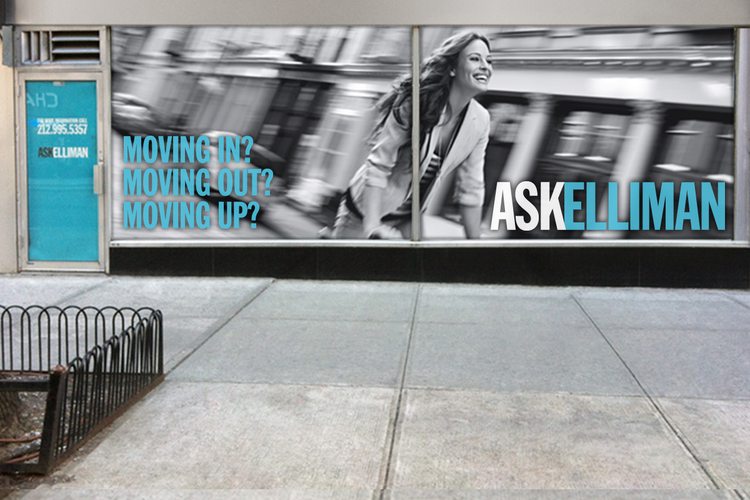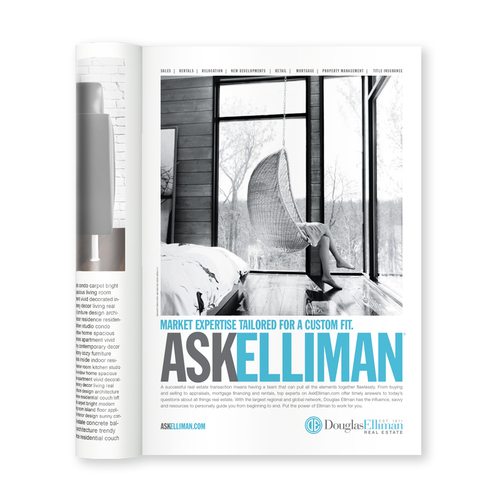 Since we already chose "Ask Elliman" as our favorite real estate slogan, it should come as no surprise to regular readers that we'd feature it here as well. Once again, Douglass Elliman manages to distill the reason why everyone from billionaires to first time homeowners seek out real real estate professionals; market knowledge and expert advice.
As you can see from these examples, the design, taglines and copy for Elliman's campaign work amazingly well for print, digital, and even New York City buses. Even if you're selling homes that are 1/10th the price of their average listing, you can learn a lot from Elliman's campaign.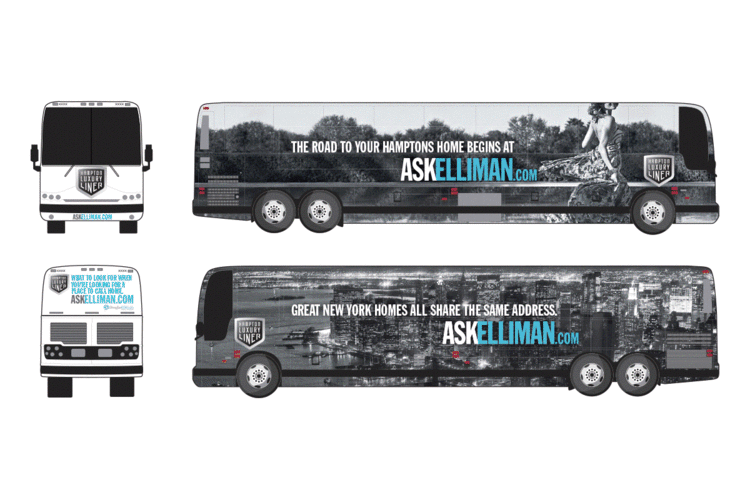 ---
10. Nourmand and Associates "Fools Gold" in the LA Times & "2.0" in LA Weekly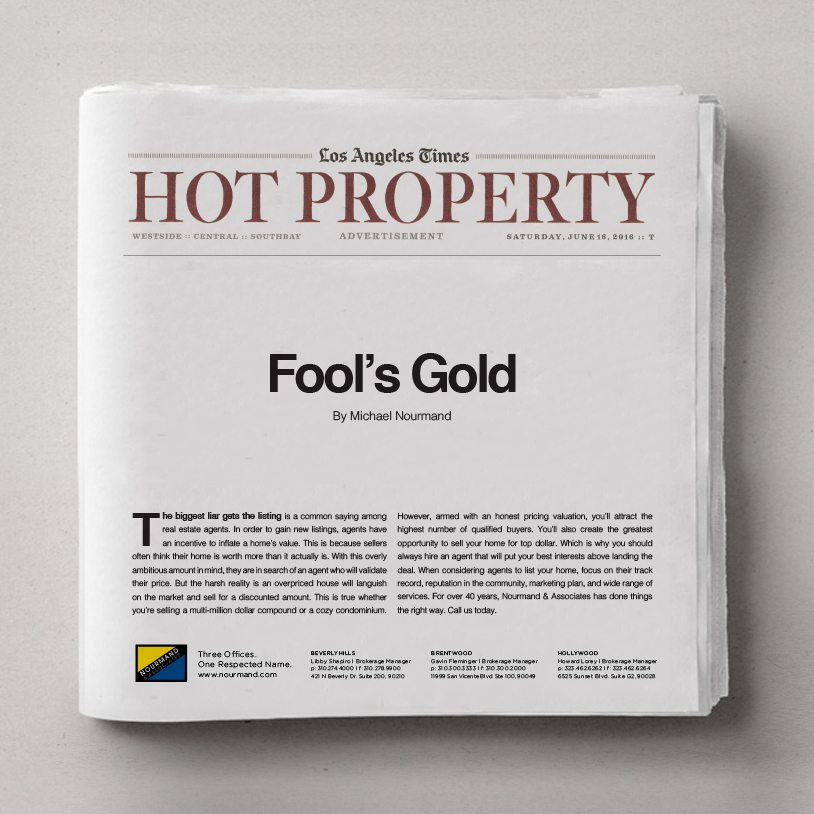 While most Realtors don't associate "advertorials"- the special advertising sections in magazines that mimic articles— with real estate, Nourmand & Associates think outside the box. From skewering the "Fool's Gold" of trusting dishonest Los Angeles Realtors, to highlighting the brokerages storied past, these creative ads help keep Nourmand & Associates in the upper echelons of the cut throat LA real estate market.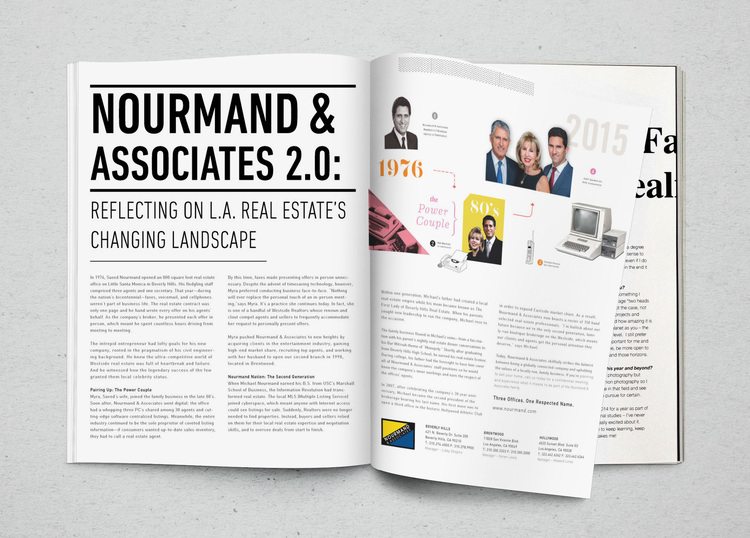 ---
11. Compass: "Guiding You Home"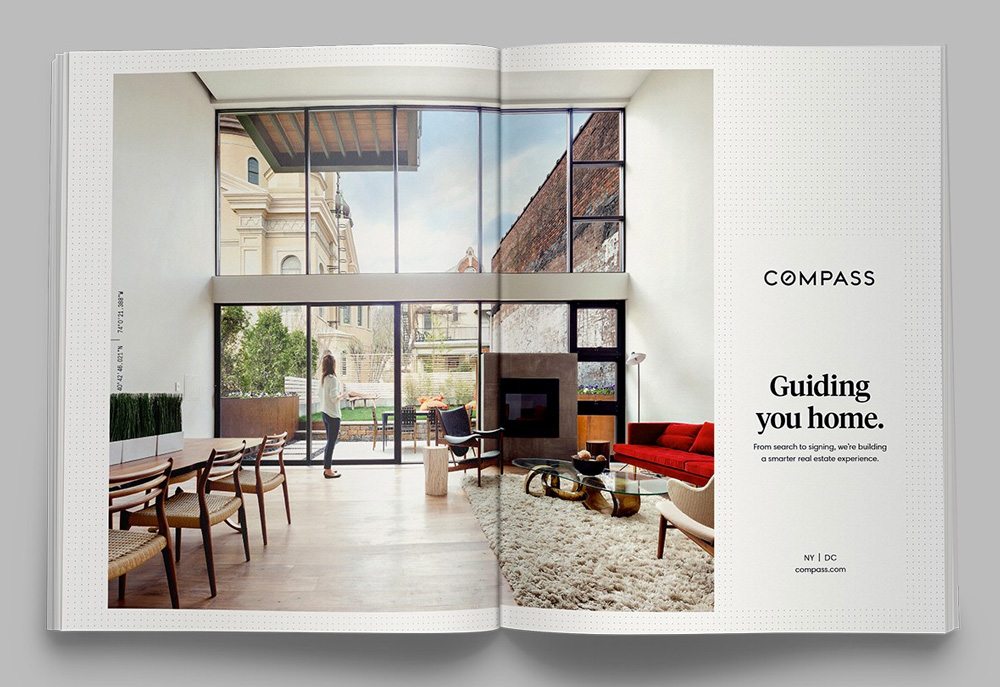 Like Douglass Elliman's excellent ad campaigns, we've always loved Compass' branding and advertising. Since Compass bills itself as more of a disruptive tech company rather than a traditional brokerage, their sleek branding and cutting edge design help them stand out in a sea of boring real estate ads.
Key takeaways here are the minimal design and layout, gorgeous photography, and simple, direct copy that once again boils down the core idea of the value Realtors offer buyers and sellers in 2017. Expert knowledge and guidance. There's a high end lifestyle element here as well that fits their brand and client base like a glove.
---
12. Corcoran: Live Who You Are campaign
Shot by lauded celebrity photographer and art world luminary Annie Leibowitz, Corcoran's "Live Who You Are" ads help underscore that great Realtors aren't just helping you through a complicated transaction, they're helping you find a place to create memories for your family.
Key takeaways here include the idea that your audience will respond well to highlighting them as individuals rather than dollar signs.
---
13. Sereno Group: 1% For Good. "We're Here for Good"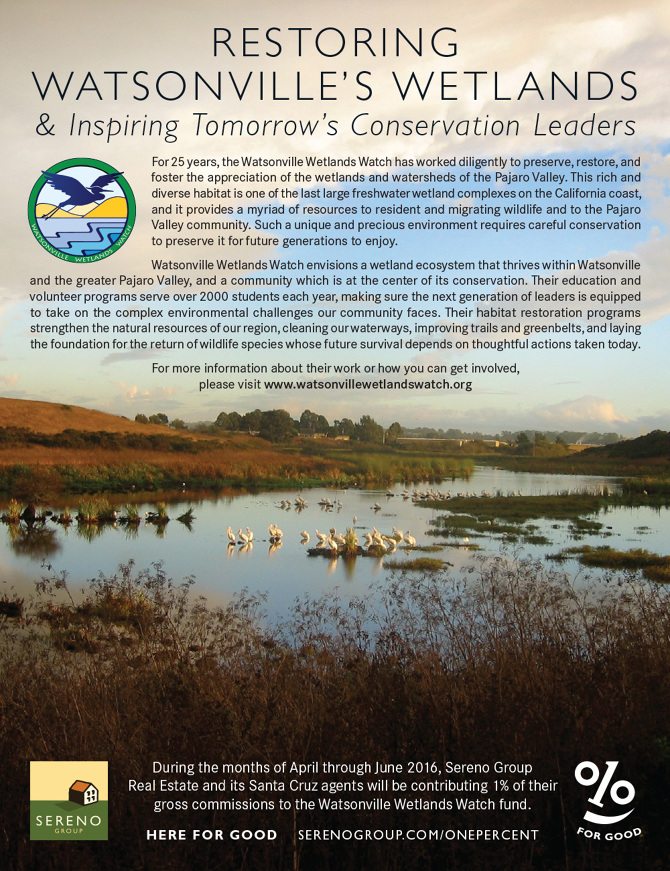 So far we've looked at real estate ads that highlight the core strengths of Realtors and how important lifestyle and individuality are to your potential clients. Both are great ways to draw your audience in and build positive associations with your brand. Showing off your charitable side is another great way to remind your audience that you're in the game for more than just the GCI.
This ad from Sereno Group highlights their charitable contributions to a local conservation agency. Something both Sereno and their potential clients strongly support.
Want to learn more about how important wetlands are to our environment? Check out Watsonville Wetlands Watch to learn more.
---
14. Halstead: Print Ads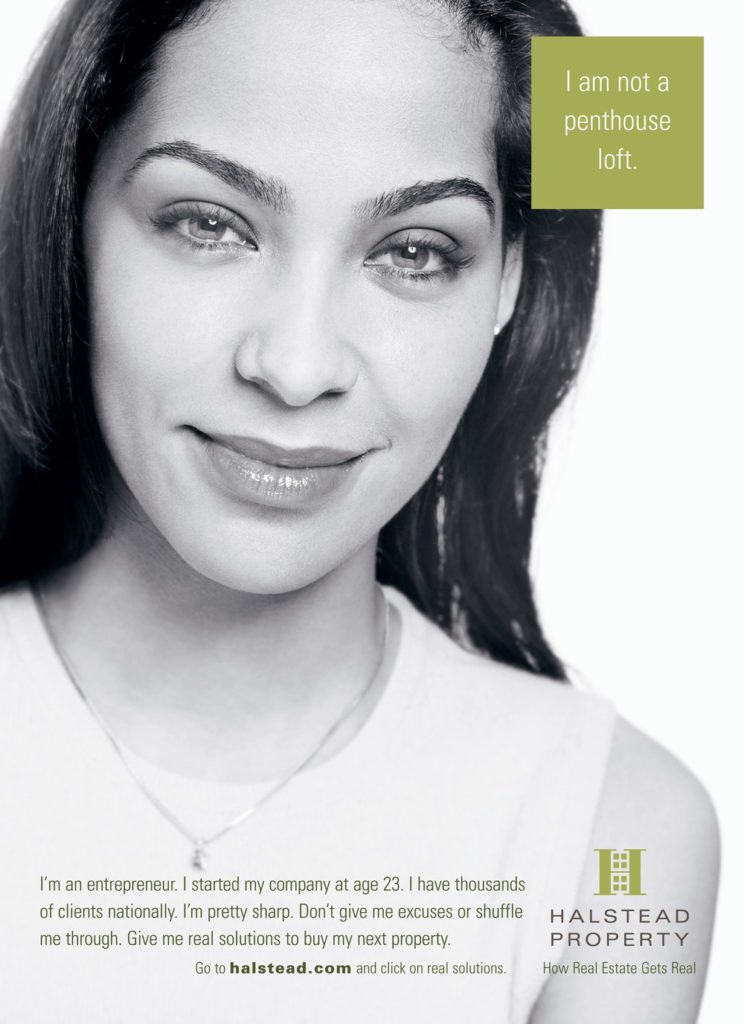 Like Corcoran, luxury brokerage Halstead chose to emphasize the individuality of their potential clients in their ads. This particular example focuses on an entrepreneur who doesn't want to be treated like a dollar sign by her real estate agent. Something anyone who has dealt with pushy luxury salespeople can empathize with.
---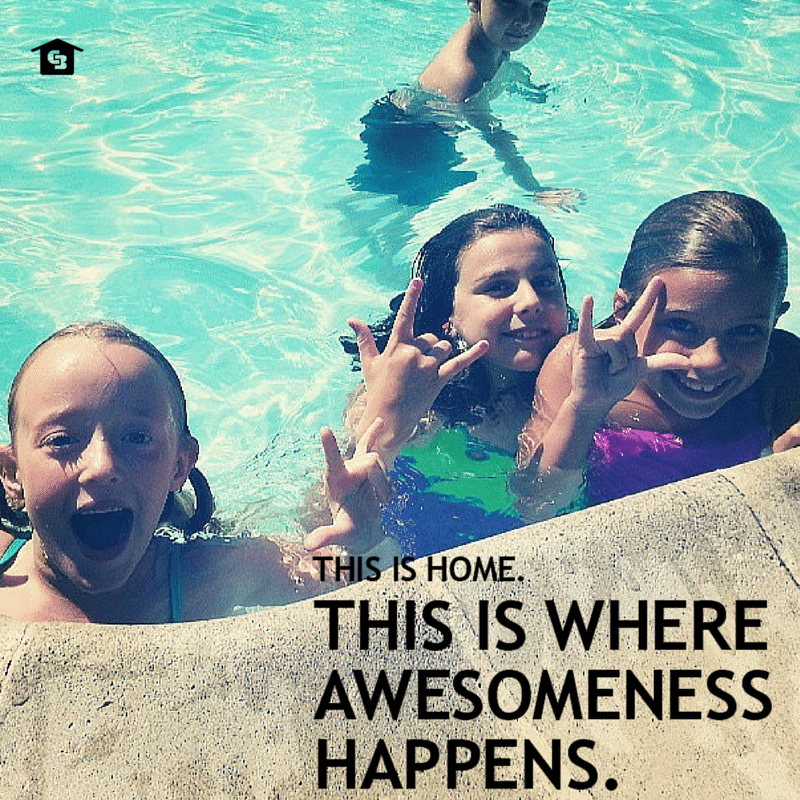 Michigan Realtors Coldwell Banker Schmidt went straight to the core of why most people want new homes; they want a place where their families can grow and prosper. Perfect for their midwestern market, these laid back and often heartwarming ads featuring real family photos are easy for pretty much anyone to identify with. This is what great advertising is all about.
While these ads may not look as sleek or "creative" as many of the others on our list, that's totally besides the point. Great advertising is not meant to impress snooty Brooklyn graphic designers, it's meant to make the phone ring. If there's one thing you take away from this article when designing your own ads, let it be this:
"If it doesn't sell, it isn't creative." — David Ogilvy. Click to Tweet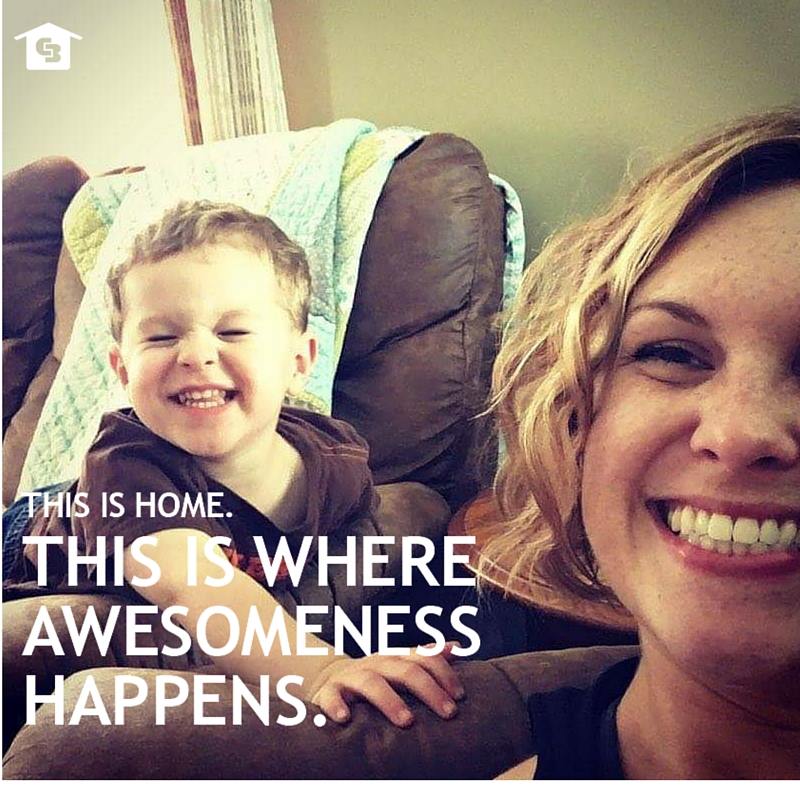 ---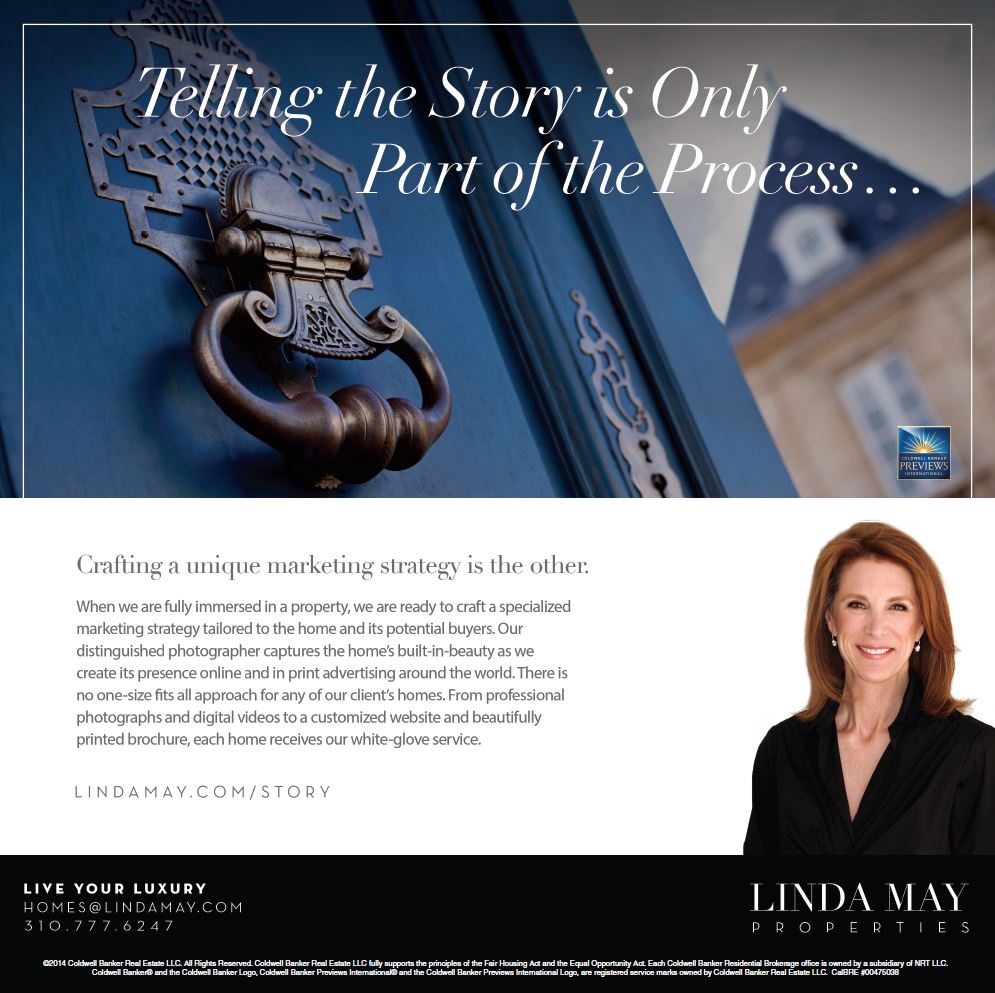 Combining elements from several; of the ads here , Beverly Hills Realtor Linda May went with classic ad copy and design elements to craft these lovely ads highlighting her property marketing skills.
The elegant and timeless layout, great headshot, and concise tagline all help highlight her skills in marketing eight digit trophy properties in Beverly Hills.
---
17. Berkshire Hathaway "Places"
I know, I know. Berkshire Hathaway's ad looks like it was produced by Steven Speilberg and probably cost a few million to make. You have at best, a few grand. Don't sweat it. Instead focus on what you can learn from the message here. You're not just helping your clients through a transaction, you're helping them find a place to create lifelong memories.
---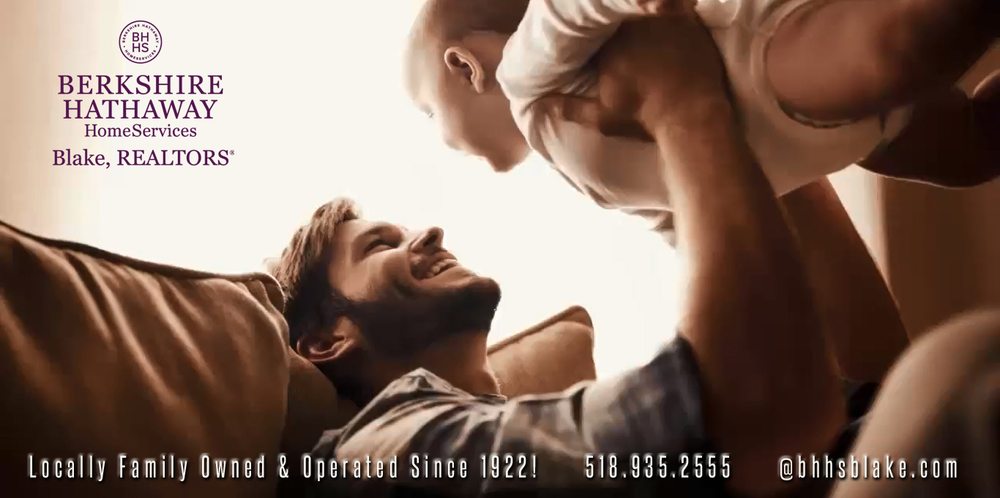 Here's a great campaign from a Berkshire Hathaway franchisee, this time from Blake, Realtors. Once again the focus is not on the transaction but the memories and peace of mind that you''ll help your clients create by helping them find a home.

---
19. Pam Golding Properties: The Best Seat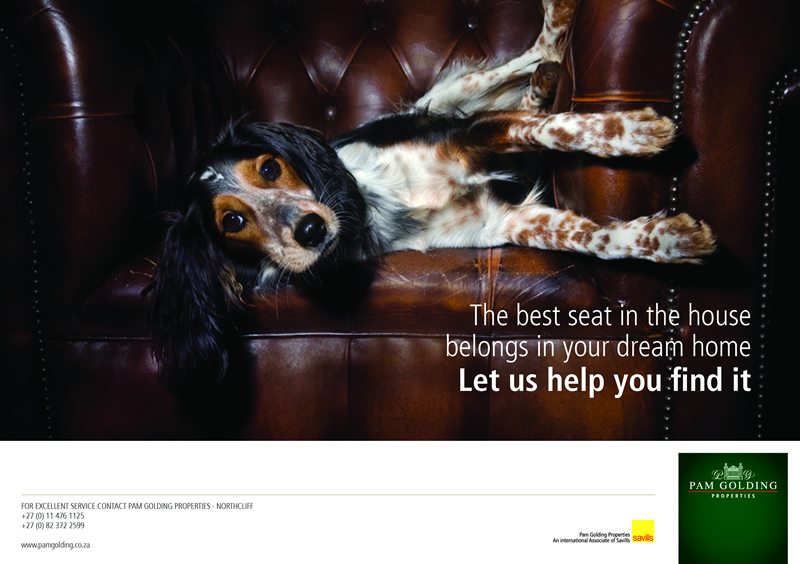 Now let's switch gears a bit and see what we can learn from the top Realtor in New Zealand, Pam Golding. Once again, instead of focusing on the market or the deal, Pam chose to focus on something far more important to her potential clients. Finding home. The tagline, "Discover the Place that Makes You Happiest" sums up that aspirational message perfectly. Good stuff!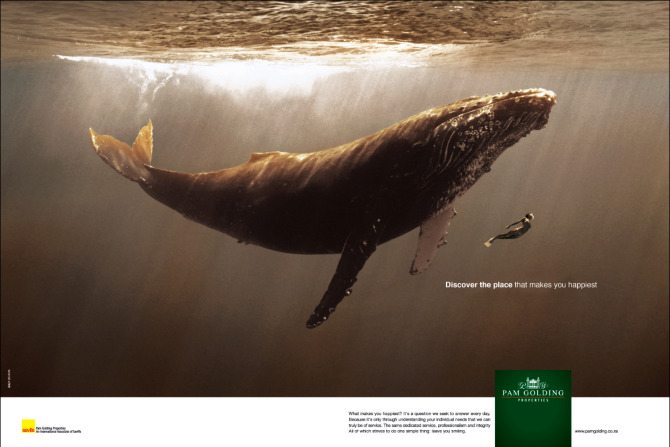 ---
20. Streeteasy: Find Your Formula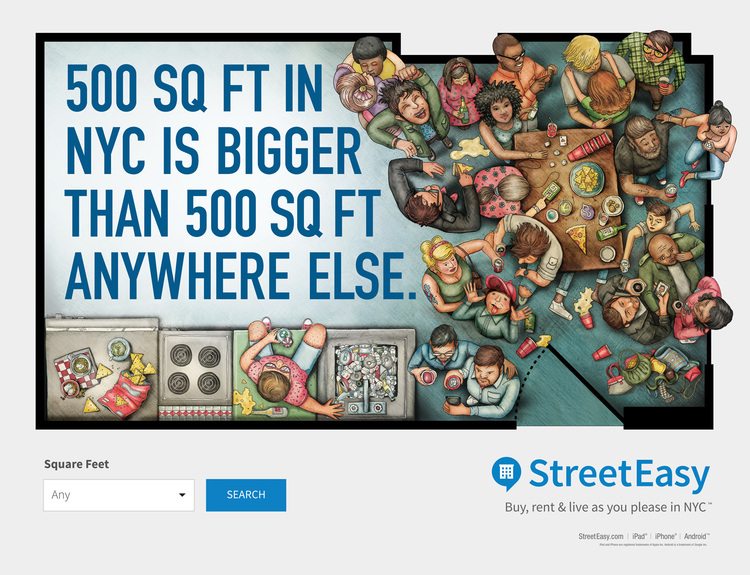 Since they're not really marketing individual properties directly but like Zillow aggregating listings, New York City based Streeteasy can have a little bit of fun at the expense of typical New York City apartments. While these aren't aimed at the top of the market, they're clever enough to get noticed by all New Yorkers, even those with indoor swimming pools and chauffeured Bentleys.
---
21. Ivester Jackson: "Unveil"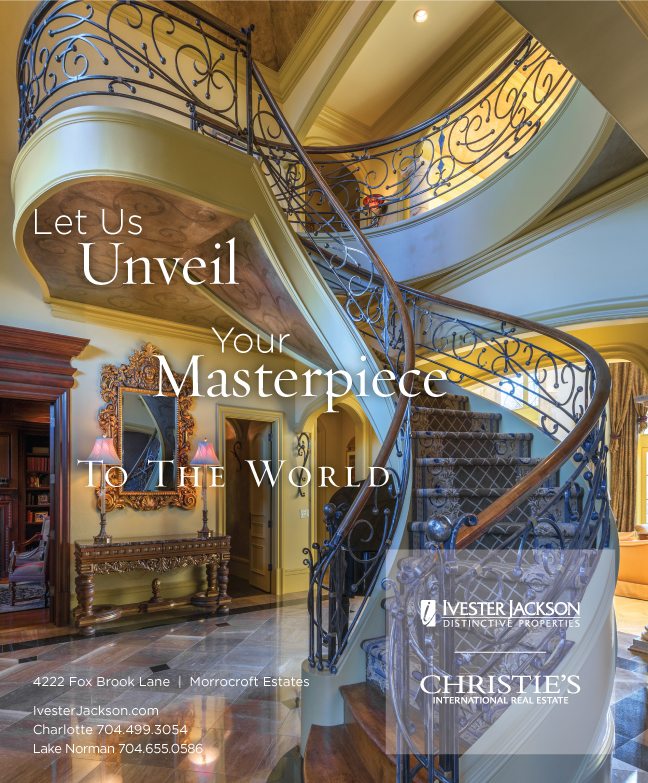 Christie's Ivester Jackson Distinctive Properties chose an elegant and bespoke spiral staircase to highlight how unique and beautiful their listings are. This works for potential seller at all levels of the market. Owners of utlra high end properties are reassured their homes will be marketed well, and mid level homeowners will be impressed by the caliber of listings they've represented in the past.
---
22. Windmere Real Estate: Your Story is Our Story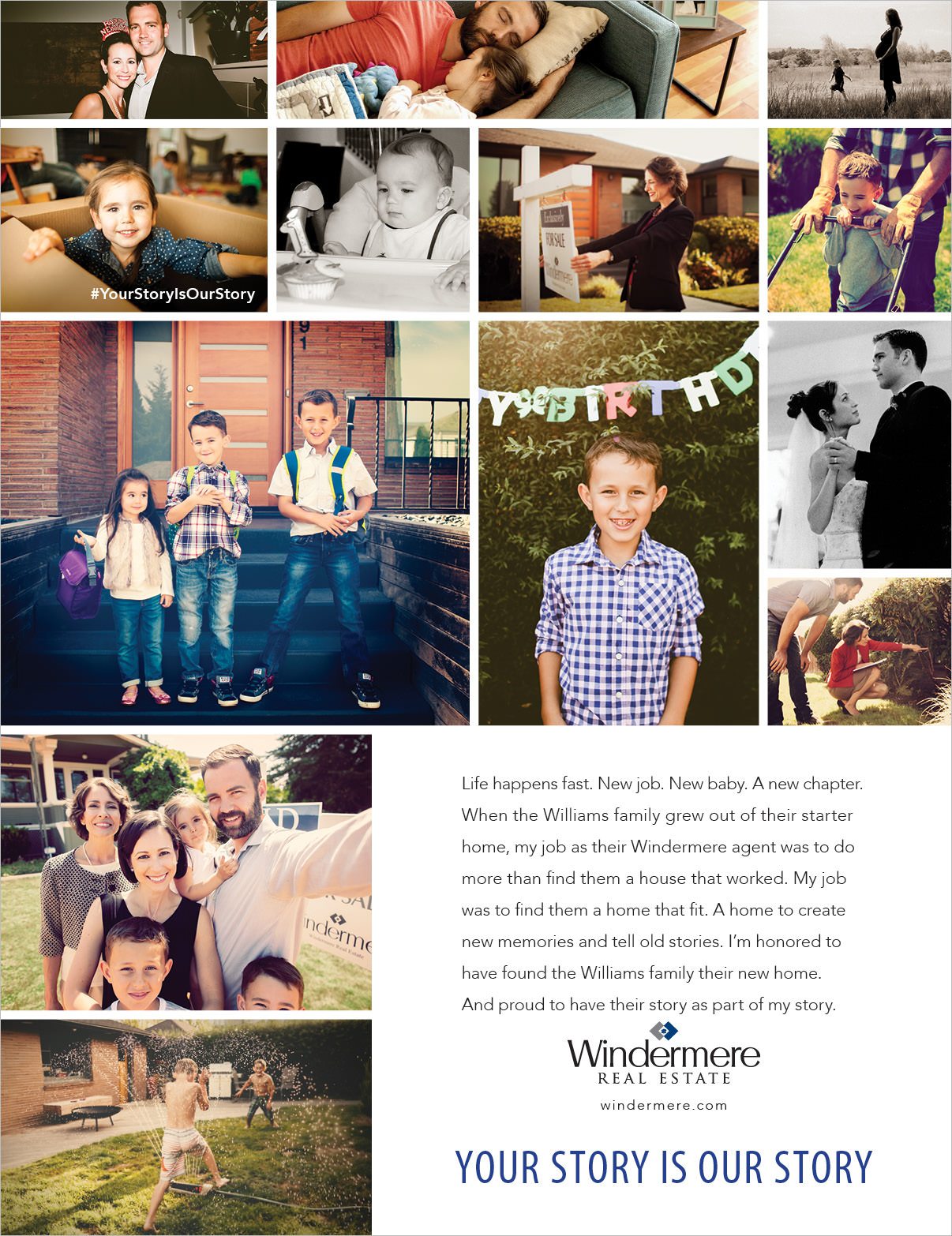 Like Coldwell Banker, Windmere went with a heartwarming and personal take on advertising their services to families young and old.
---
23. 250 North 10th Street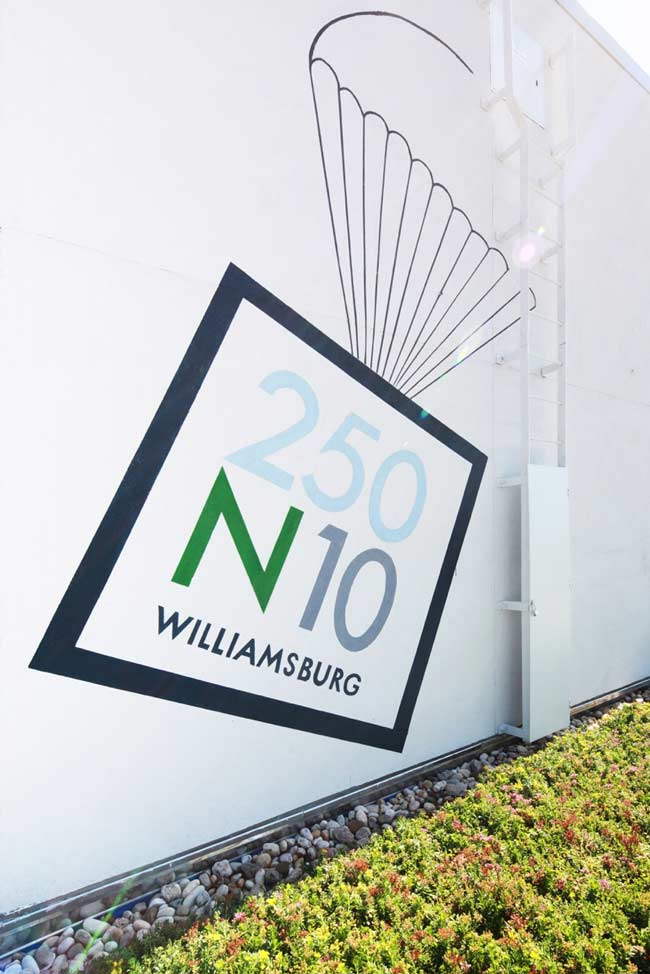 For an amenity laden new luxury development in Williamsburg Brooklyn, luxury developer Greystar went with an irreverent and sleek branding campaign that mirrors the ever changing neighborhood. This fun street art style logo with a parachute exemplifies the great branding and advertising for the building.
---
24. 10 Rittenhouse Square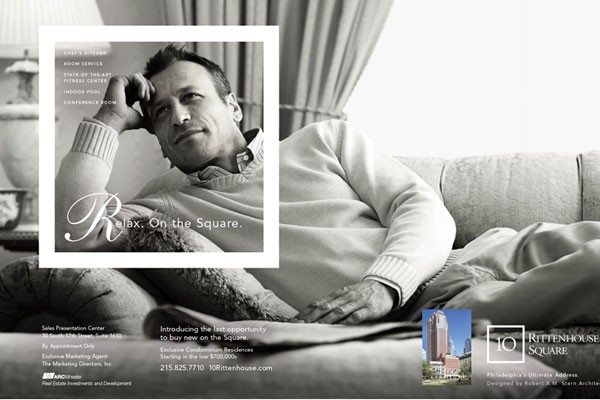 For the record breaking Philadelphia luxury development 10 Rittenhouse Square, agency Kellyco. Wisely decided to highlight the lifestyle that living in a new luxury development offers prospective buyers.
---
25. Kalahari Harlem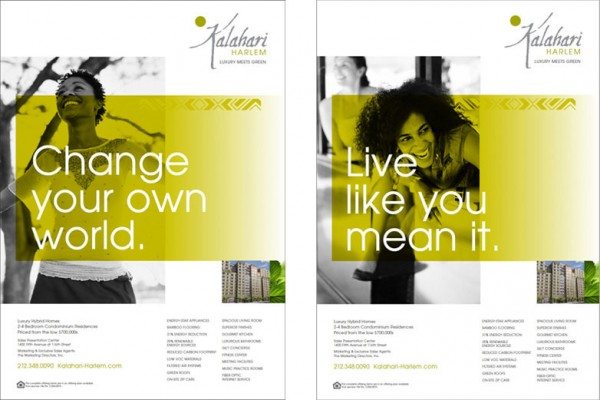 For The Kalahari in Harlem, Kellyco went with a hip, young design that echoed the development itself. Great taglines here as well.
---
26. Realtor.com New York City Campaign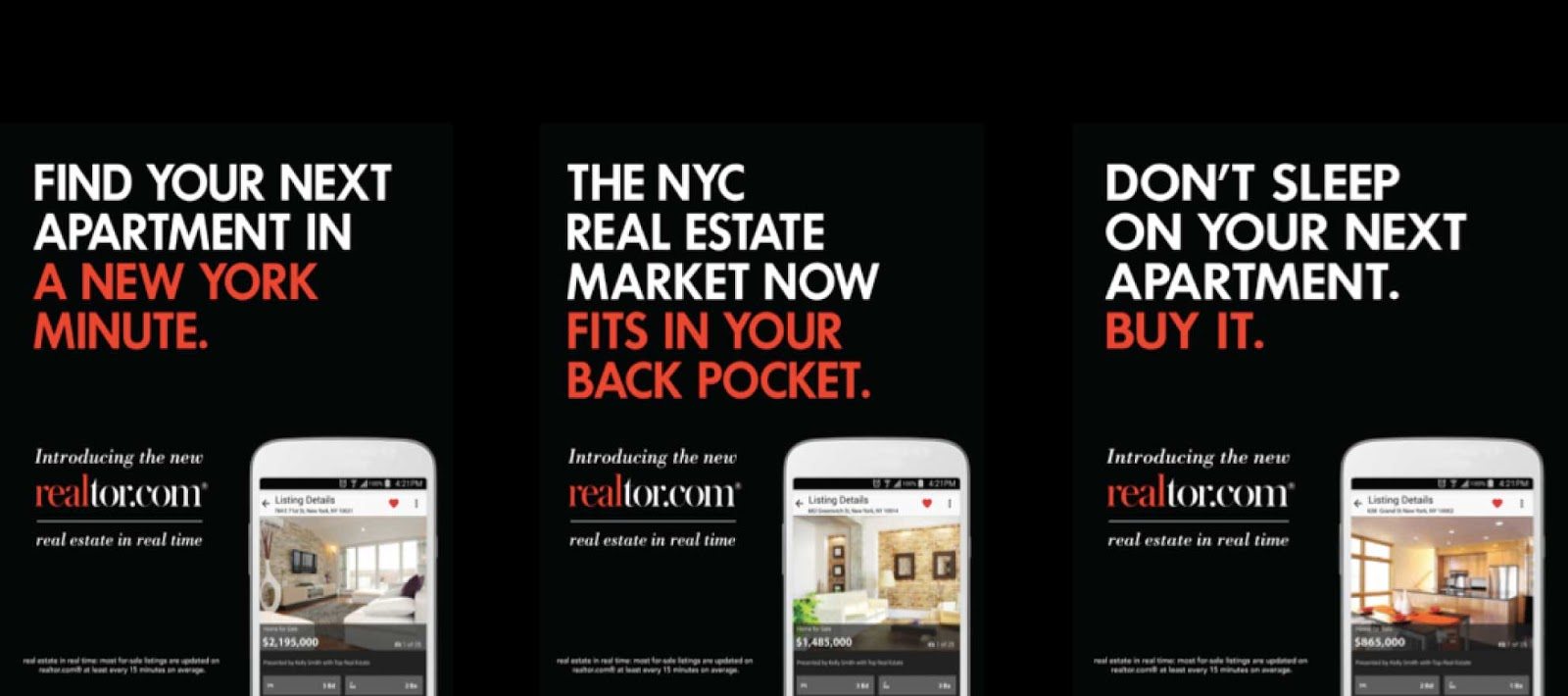 Simple bold design and knife edge cool taglines and copy makes these Realtor.com ads for the New York City market really hit home in a cut throat market. This isn't your grandmother's Realtor.com!
---
27. Park + Garden
Agency: New World Group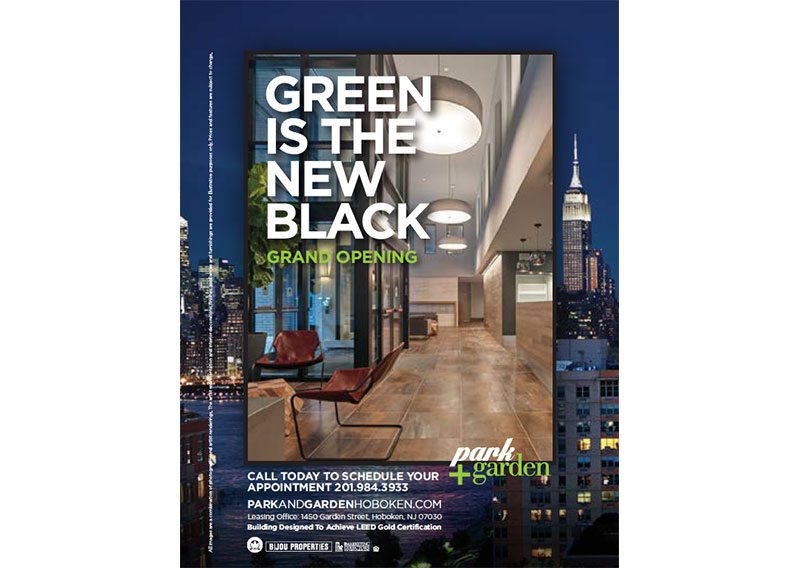 For a jaw dropping new luxury development in Jersey City, New World Group Creative Agency went with a tongue in cheek and memorable tagline, and a layout that shows off the cutting edge design of the building itself.
---
28. Howard Hanna: Home Happens Here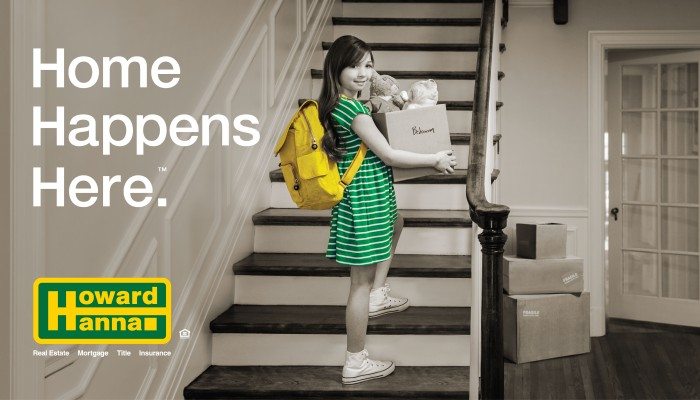 Great tagline with a simple easy to get message, and photography that shows a happy kid moving into her new bedroom in this ad from Howard Hanna. What's not to love here?
---
Bonus: 5 Inspiring Real Estate Video Ads
If you want to learn real estate advertising from the best, there's no better teacher than the big real estate portals. After all, they're selling exactly what you are, only with bottomless pockets and some of the most talented creatives in the country.
If you want to create a great video ad for yourself, or your brokerage, pay attention to the way these ads use emotion and humor to endear themselves to their audience. A lot to learn here.
Worried that recording and uploading videos requires a lot of time, money, and technical expertise? BombBomb is a video marketing tool that lets you create professional videos and insert them into emails and social media posts so you can convert more leads and get more referrals. Click here for a free 14-day trial.
---
29. Nakedapartments.com: Roller Cat
---
30. Trulia: Your Moment of Trulia (like your moment of truth)
---
31. Zillow Family Search TV ad "You're not just looking for a house, you're looking for a place for your life to happen"
Zillow "Family Search" from scott hidinger on Vimeo.
---
32. Apartments.com: Staircase to Your Place
---
33. The Pam Golding Properties TV Commercial
---
Over to You
Have an example of killer real estate ads that convert amazingly well or better yet, made you smile? Let us know in the comments.