Real estate software for teams focuses on streamlining communication, collaboration, and lead routing within an agency. High-producing agencies use team-specific software to maximize their productivity and improve transaction management. We've put together the best software for real estate teams that give you an edge over the competition.
Here are our picks for the 15 best real estate agency software:
---
Placester gives the ability to create and manage websites not just for your team, but for every individual agent on the team through their broker platform features. For $199/month plus a one-time $199 setup fee, this is a phenomenal deal for your forward-facing real estate agency software. With automated email marketing and a CRM that includes lead management, task setting and reminders, everyone can be on the same page.
---
There's no better electronic signature platform for teams than DocuSign, which offers branding and ZipForm Plus integration. If you are a team or brokerage that uses ZipForm Plus, DocuSign provides seamless integration with NAR documents, which is a feature that no other electronic signature platform offers. With additional transaction management features, team leaders can also set up workflows and approvals, and agents can track their documents from beginning to end. DocuSign is an essential real estate agency software that every agent on your team will thank you for. DocuSign for Realtors starts at $20 per month for up to five users.
---
Slack can be used on the desktop and via a mobile app to keep your team connected, communicating, and collaborating. While the basic version is free for your team to use, you can upgrade your service at a cost of $8 per person per month for added features like unlocking your entire message history or working with clients. Slack is a fantastic real estate agency software system to send a quick message to peers, brainstorm on contracts, and collaborate on listings.
---
If you're often on the go and don't want to be tied to your desktop for accounting software, QuickBooks Online gives teams and brokerages the ability to access your accounting in the cloud from any location at any time. It's a practical way to track your expenses, commissions, and banking information, and it can give you visual overviews at a glance. While there are a number of plans available, the QuickBooks Online Plus program at $30 per month is solid for a team just starting out, and allows you to manage 1099 contractors, track projects and create budgets.
---
Freshworks CRM provides an administrator platform that allows you to track deals on the go and have customer data always at your fingertips through the mobile component of their CRM. While there is a free version every agent on your team could use, team features start at $35 with their "Garden" plan. It's here that you have a team lead or "administrator" platform, can organize agents according to expertise or farm area, and can have leads automatically assigned to the proper agents who meet criteria you establish.
---
Cloud CMA gives your team the ability to generate comparative market analysis on the spot that they will be proud to show clients and use in listing appointments. CMAs can be branded for each agent, with a real-time administrative dashboard that allows team leaders to manage agents and track report activity. Cloud CMA pricing for teams starts at $149/month for up to five agents.
---
Centralized Showing Service makes scheduling a showing efficient for your entire team. Using one number, any agent can call a representative or use the app to schedule multiple showings with multiple agents, with homeowners easily able to approve from their phone. Reduce the stress and back-and-forth for your team by offering this easy and succinct way to get the job done. CSS has a $50 setup fee, then charges $55 per month for five listings, and $10 per listing thereafter.
---
Open Home Pro gives your agents the ability to use their digital sign-in sheets more handily for leads with a system that integrates with CRMs such as Freshworks CRM. Open Home Pro has a free version any agent on the team can use, but with paid versions starting at $25 per month, you have access to more features such as branding ability and automated seller reports, as well as automated emails and texts to visitors.
---
Streamline transactions for your team with Dotloop. For teams, Dotloop provides a customized dashboard that allows a team leader or administrator to see closings, deals in process and other transaction elements by team members. Dotloop allows collaboration, transparency in the process, and even charts areas for each member's improvement if you wish. When selecting real estate agency software, Dotloop is a solid investment. Dotloop's premium plan is available for $29 per month, with exact pricing for teams determined by team membership and features selected, according to sales representatives at the company.
---
Zillow provides teams exposure and leads in their farm area. As the largest real estate marketplace on the internet with over 160 million visitors per month, not utilizing Zillow's advertising through Zillow Premier Agent leaves qualified leads on the table. As you can see from the image above, being a premier agent allows teams to get their agents positioned in the local listings of non-Premier Agents. Ads through Zillow Premier Agent are between two and 30 cents an impression; the cost varies by zip code and the market you operate in. Be sure to have agents download the Zillow Premier Agent App to have the ability to automatically follow up on those leads!
---
REDX helps you source leads for your team and sends them daily to your inbox. Rather than pouring over hours of research, simply distribute leads via email to various agents and their contact information is ready to go. Calling FSBOs and Expireds is a numbers game, but as you can see above, converting even a small number of leads makes this real estate agency software easily worthwhile. Get your agents cold-calling with leads that have potential. REDX charges for various types of leads, with expired listings alone being $59.99 per month, FSBOs at $39.99 per month, and pre-foreclosures at $39.99 per month.
---
12. RPR Mobile (Real Estate Property Resource, Property Reports)
RPR mobile allows agents to send branded property reports to buyers or sellers anywhere, anytime, and is a great feature for teams to have. For agents to have a fast, easy way to look up property information lends professionalism and authority. This real estate software is offered free to Realtors (NAR members) and has a "Broker Tool Set" at no additional cost. Teams will find the Broker Tool Set useful because it has additional features like specialty branding and market intelligence that help your business gain recognition and insights.
---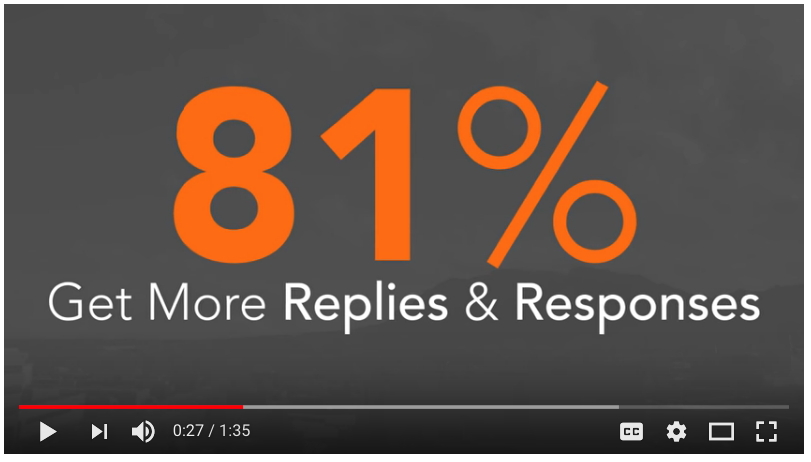 BombBomb allows your team to create personal videos and send them to clients. According to BombBomb, including videos in the text of your emails results in 81 percent more replies and responses, which can be fruitful when you are emailing potential leads or previous clients. Including video in the text of the email, and not as an attachment, makes the video far more likely to be viewed.
BombBomb offers a free 14-day trial, and pricing then begins at $49 per month for users to email up to 2,500 contacts. There is no distinct pricing for agencies, so you may want to base the plan you select on how many contacts you anticipate your team emailing.
---
14. Zumper Pro (Rental Listings & Screening)
Zumper makes it easy to post rental listings and screen applicants. If your team has rental agents or simply deals with a lot of rentals, Zumper Pro can be a game changer for your business. Zumper Pro has a two-fold process: it syndicates the listings you have to places like Facebook and runs Experian credit reports and rental applications for your prospective tenants. There is no fee for any of your realtors to use Zumper Pro because the $30 per screening is charged to the potential tenant in their application fee.
---
BoxBrownie helps your team enhance interest and bring buyers to those empty homes at a fraction of the cost of traditional staging. At only $32 per staged photo, you can lead your listings with an image that wows every time. BoxBrownie offers quick turnaround times for team needs and can handle sizable request volume with over 40 designers on staff. Get your photos enhanced for $1.60 per photo, day-to-dusk editing for $4 per photo, or your rooms virtually staged with this service that is sure to wow your customers.
---
The Bottom Line
Having the best real estate agency software can skyrocket your team's productivity, keep communication solid, and help your business close more deals. For a minimal investment, your team can see significant returns and be able to maintain momentum in even competitive market spaces.
While you may want to do everything yourself, don't hesitate to outsource some of your work to save time. Hibu offers the ability to outsource the time-consuming process of social media while keeping your brand consistent and in front of the right audiences. Check out their social media services that can help your team maintain the image it deserves without the hassle you'd expect.