The median real estate agent salary was $33,750 in 2016, according to the National Association of Realtors. This may seem a bit low, but factors like the number of hours worked or years of experience can significantly impact income. For example, the 2017 NAR report showed that 56 percent of agents who work less than 20 hours per week make under $10,000 a year.
Ready to jump into the world of real estate? Although it's a fairly short process, you'll need to take pre-licensing courses and pass your state's real estate exam before you can even start working as a real estate agent. Try using Real Estate Express, a national online real estate school, for both pre-licensing courses to prepare you for the real estate exam and continuing education for you to stay on top of your game. It even gives you your money back for exam prep courses if you don't pass the real estate exam on your first attempt. Click here to get started.
Median Real Estate Agent Salary and Considerations
The inclusion of part-time realtors really changes the overall numbers of how much real estate agents make, and can't be compared to those who take on real estate as a full-time career. If you're planning on becoming a full-time real estate agent, don't fret. Once you become a full-time real estate agent with experience and a roster of clients, you'll likely make a lot more than the median. As we'll explain in more detail below, a real estate agent's salary varies widely, depending on their experience, hours worked, and other factors.
How Real Estate Agents Earn Money
Almost all real estate agents work as independent contractors within their brokerages and earn income by collecting money on a commission basis. A real estate commission is the fee a brokerage collects for the service of helping a buyer purchase a property or a seller to list and sell a property.
All transactions run through the brokerage, and a real estate agent will collect a portion of this overall commission depending on their agreement with the brokerage.
For the sake of this article, it's important to understand that real estate agents earn a commission on homes they sell or help buyers to purchase, rather than a fixed annual amount like a traditional salary. So, when we talk about salary, we are talking about the amount that a real estate agent makes from their commissions. To learn more about commission, feel free to read our guide on how real estate commission splits work.
What Factors Affect a Real Estate Agent Salary?
Two of the biggest factors that affect how much real estate agents make are their experience and number of hours they work per week. Data suggests that your salary increases both with number of hours worked and the more years you practice. Let's look at how the median number of hours worked per week affected the median gross income.
Median Annual Income of Realtors by Number of Hours Worked
| Median Gross Income | All Realtors | Less than 20 hours | 20-39 hours | 40-59 hours | 60 hours or more |
| --- | --- | --- | --- | --- | --- |
| | $42,500 | $8,930 | $29,170 | $65,630 | $100,000 |
| Less than $10,000 | 24% | 56% | 28% | 14% | 10% |
| $10,000 - $24,999 | 13% | 21% | 17% | 8% | 6% |
| $25,000 - $34,999 | 8% | 6% | 12% | 7% | 4% |
| $35,000 - $49,999 | 10% | 5% | 12% | 11% | 8% |
| $50,000 - $74,999 | 13% | 4% | 13% | 16% | 12% |
| $75,000 - $99,999 | 9% | 3% | 7% | 12% | 10% |
| $100,000 - $149,999 | 10% | 2% | 6% | 14% | 18% |
| $150,000 - $199,999 | 5% | 1% | 2% | 7% | 11% |
| $200,000 - $249,999 | 3% | n/a | 1% | 4% | 7% |
| $250,000+ | 6% | 1% | 1% | 8% | 15% |
Source: NAR 2017 Member Profile
As the number of hours worked per week increases, so does the median gross income. For example, 59 percent of Realtors who earned less than $10,000 worked less than 20 hours per week. On the other hand, only 11 percent of Realtors who worked 60 or more hours per week earned less than $10,000. That's good news. If you put in the hours, the income seems to indicate that it pays off.
Many agents work in real estate part-time. Although we see a lot of young agents out there, the median age for a real estate agent is actually 53 years old. We know that many agents have had former careers and do real estate part-time as they approach retirement, while some younger agents have current full-time jobs and simply do their real estate work for additional income. Whatever the reason for part-time agents, this drives down the median income for real estate agents overall, compared to those who work full-time.
Agents who work more than 40 hours per week make a median gross income of $60,100 or higher. Those who work more than 60 hours per week make a median gross income of $93,400. Whether an agent in their 50s or one in their 20s, the more hours you put in, the greater your financial rewards seem to be. Hustle helps your bottom line.
Another important variable that affects your income is experience. The graph below shows how much experience impacts real estate agent salary across the board.
Median Annual Income of Realtors by Number of Years of Experience
| Median Gross Income | All Realtors | 2 years or less | 3-5 years | 6-15 years | 16 or more years |
| --- | --- | --- | --- | --- | --- |
| | $42,500 | $8,930 | $42,500 | $63,240 | $78,850 |
| Less than $10,000 | 24% | 56% | 17% | 11% | 9% |
| $10,000 - $24,999 | 13% | 17% | 16% | 11% | 9% |
| $25,000 - $34,999 | 8% | 8% | 10% | 9% | 7% |
| $35,000 - $49,999 | 10% | 9% | 14% | 10% | 9% |
| $50,000 - $74,999 | 13% | 6% | 15% | 17% | 14% |
| $75,000 - $99,999 | 9% | 3% | 10% | 11% | 13% |
| $100,000 - $149,999 | 10% | 1% | 11% | 14% | 15% |
| $150,000 - $199,999 | 5% | n/a | 4% | 6% | 8% |
| $200,000 - $249,999 | 3% | n/a | 1% | 3% | 5% |
| $250,000+ | 6% | n/a | 3% | 7% | 10% |
Source: NAR 2017 Member Profile
Realtors with more experience made significantly more money than those with less experience. For example, 56 percent of Realtors with two years or less experience made less than $10,000. Only nine percent of Realtors with 16 or more years' experience made less than $10,000. How much time you spend in your field matters, especially in how much real estate agents make.
Developing leads and keeping your pipeline full, as well as knowing "what works" and what doesn't, helps create far more income down the line. Note the sharp rise from two years or less experience, with a median gross income of only $8,930, to a Realtor with three to five years of experience with a median gross income of $42,500. It's often why mentorship, when you're first starting out, is important in your career development.
When looking at the median income for real estate agents, notice from the chart how many relatively new agents are working in the field. A whopping 56 percent of all agents have been in the industry for two years or less. Many of these agents won't stay in the industry very long, and many will continue to work part-time, both of which impact real estate agent salary statistics significantly.
A final factor that skews the median income of real estate agents is the fact that many people work other jobs in addition to working as a Realtor. Here's a quick breakdown of the percentage of Realtors whose sole occupation is real estate compared to the number of years they've worked in real estate.
Percentage of Realtors Based on Experience Level Whose Sole Occupation Is Real Estate
As you might have guessed, the percentage of Realtors working solely in real estate increases as the number of years in the industry increases. As you can see from the table, only a little more than half (60 percent) of agents with two years or less of experience work in real estate as their only occupation. Unfortunately, these are the same people reporting that their income is $8,930, and as you can see, this can really throw the numbers off.
We see agent median reported incomes go up as soon as they go full-time, and then further increase with the years they put in. With 16 or more years in real estate, 84 percent of agents are working full-time in the field and reporting median earnings of $78,850. It's easy to see how part-time agents skew median gross incomes when we're examining how much real estate agents make.
Number of Referrals/Repeat Clients
One more factor that affects real estate agent salary is referrals and repeat clients. As you might expect, agents who earn more money get a much larger percentage of their income from the same clients over and over, or through referrals from those same clients. What you might not realize is just how stark the difference is between low and high-income Realtors: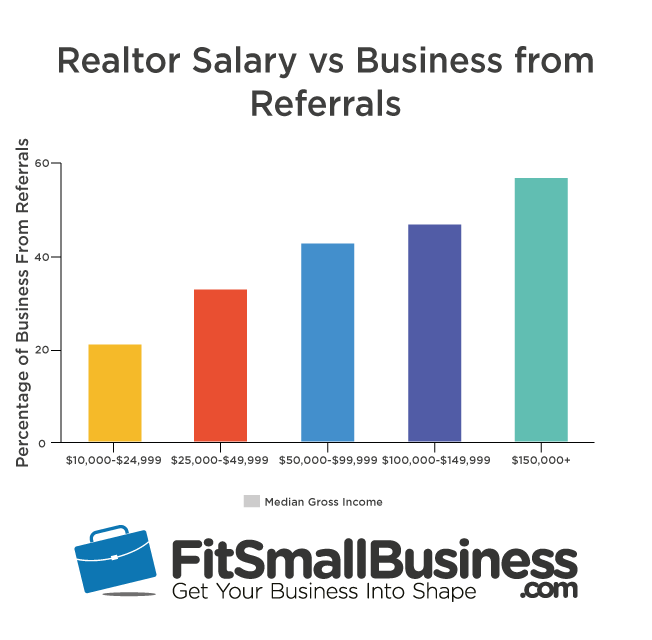 This is another result you'd probably expect: top-earning agents tend to generate more business from referrals and repeat clients. What's startling, however, is the width of this gap.
The longer you're in business, the more clients you have and the more those clients become important to your bottom line. Based on data published by NAR in 2016, low earning agents receive a mere 20 percent of their business through referrals. For top-earning agents, that number is closer to 60 percent. There is a reason that top agents treat former clients like gold.
Earning money in real estate is something like rolling a snowball down a hill. It may start out small, but after a few years, it will grow much larger. The more deals you close, the more satisfied clients you'll have which will lead to a large increase in both repeat clients and referrals. Pipedrive CRM lets you send, receive, and track emails, and get reminders, mobile notifications, and alerts to help you nurture those relationships. Click here for a free trial.
As you progress in your career, generating new leads will become less and less important, as you will get the bulk of your income from repeat and referral clients. It is why starting off in a brokerage that can help provide you leads, and provide mentorship on how to generate leads, is so important. Going to a 100 percent commission firm might sound fantastic, but how much does keeping your commission money matter if you have no clients?
What Expenses Do Real Estate Agents Have?
According to the 2017 NAR Member Profile, Realtors (sales agents and real estate brokers) spent a median of $6,000 on various expenses related to their business. This includes marketing, training, technology, automobile expenses, and more.
Realtors who earned higher incomes generally had higher expenses. Generally speaking, the more money you can invest in your career, the more money you can make. For example, the median expenses for Realtors earning $10,000 or less per year was only $1,640. The median expenses for Realtors who earned $150,000 or more per year was $35,220.
Here's a quick breakdown of where the expense amounts are allocated.
Median Expenses for Realtors
| Expense | Median Cost |
| --- | --- |
| Total: | $6,000 |
| Administrative Expenses (office supplies, equipment, phone bill) | $720 |
| Affinity/Referral Relationships | $350 |
| Marketing and Promotion (online ads, print ads, email marketing) | $560 |
| Professional Development (real estate coaching, seminars, continuing education, etc.) | $740 |
| Business Promotion Expenses | $720 |
| Technology (website, CRM) | $590 |
| Vehicle Expenses | $1,380 |
Source: NAR 2017 Member Profile
When you add up all of these expenses, the total is $5,060 – slightly lower than the median of $6,000. That's because some agents pay additional expenses for things like office rent and lead referral fees that can drive up the median overall, while the majority of agents do not pay for these expenses or pay far less.
We recommend that new agents spend the bulk of their budget on marketing. Investing in growing your customer-base early on can pay off tremendously down the line. Top-earning agents receive a lot of business through referrals and repeat customers that can take years to build up, so spending money developing your pipeline can often hasten that process.
How to Maximize New Real Estate Agent Salary?
New agents face a certain "chicken and egg" problem: without a network of past clients to give you referrals, it's tough to make new sales. Without new sales, however, it's impossible to build a network. When we look at how much real estate agents make, we can increase that bottom line (and the timeline for increased referrals) by using technology currently available.
While there is no one-size-fits-all solution, we generally recommend new agents use online marketing to find new leads. Three sources that are fairly low cost and help get you on your way are social media, email marketing, and establishing an increased online agent presence in your neighborhood.
Social Media
If you do not have an online presence as a real estate agent, you're already behind. You have to be where the people are, and most of them are on some form of social media, particularly Facebook and Instagram.
Start setting up your social media accounts now, and use resources that will help you through the process. Thankfully, we give you two free guides that help agents to navigate both Facebook and Instagram, designed specifically for realtors to help increase their leads. First, we offer Facebook for Realtors that includes everything from setting up your page to running ads. Secondly, we also provide an Instagram for Realtors guide that helps you navigate how to use hashtags, what types of photos to post, and what kinds of content to post for maximum results.
Using social media can seem daunting to someone who hasn't had to use it before for business, but with a few tips and tricks, how you nurture and develop leads through social media will become second nature.
Email Marketing
One great way to remain top of mind is through a periodic email. When you help clients purchase or sell a home, you want to keep your name fresh in their minds. As we've seen above, the future real estate needs of your previous clients, as well as referrals for friends they may have, will end up being one of your primary income sources.
Email marketing software is readily available, inexpensive, and easy to use. While you are building your roster of clients, services like MailChimp are free. Do some investigation and see what email marketing services might be right for you.
Increased Neighborhood Agent Presence Online
Everyone wants to be seen as the go-to agent in their neighborhood, and it used to be that you had to be well-known or someone who has lived in the area forever. With technology, you can still break in to some of the more crowded markets by having your name established digitally.
Using Zillow Premier Agent is the primary way to increase your neighborhood agent presence online. We offer a free course on How to Crush It on Zillow for those new to the platform. From establishing reviews to getting seen and marketing yourself, there are both free and paid options that allow you to remain in front of the right audience.
The Bottom Line
Real estate is an industry that rewards hard work and experience, with real estate agent salary reflecting that. According to the 2017 NAR report, agents who have been in the industry for 16-plus years earned a median gross income of $78,850, while those who put in 60 hours per week or more earned $100,000, regardless of experience.
There are tools you can use that can increase your real estate agent salary and increase the amount that real estate agents make moving forward. Some tools discussed are free, others are paid, and all require an investment in your time.
While initial estimates of real estate agent salary look to be low, the good news is that the ceiling offers unlimited potential. Getting started in your real estate career can be the best decision you ever make, and using Real Estate Express can help get you to your goals. Online learning can take place just about anywhere and fit into almost any schedule, allowing you the freedom to scale your income from the convenience of home. Click here to get started.