14 Real Estate Agent Tips to Achieve Business Success
Success in real estate depends on an agent's ability to utilize real estate tips that propel your business to new heights. Those include creating and following a written plan, thinking big, and building successful habits. It's critical to increase your marketing budget to grow with the business, enlist help from others, and stay on top of industry news and trends. These actions will generate a constant stream of high-quality leads to grow your real estate business.
Read our 14 tips for real estate agents to succeed in business in the coming year and throughout their careers.
1. Create a Business Model Canvas
An excellent real estate tip is to ditch the business plan for a business model canvas, a one-page business plan showing how you will deliver value and make money. It differs from traditional business plans since it doesn't go deep into financial forecasts, company descriptions, and market analyses. While a traditional business plan is extremely useful, a business model canvas is an excellent tool for busy real estate agents that is easier to create and use. It visually represents how you intend to manage and grow your real estate practice.
Because your succinct canvas focuses on what's most important with your clients, daily activities, and future plans, you can use it as your goal-setting guide. Because it streamlines your focus, you'll see your time wasters, like low-priority tasks, and which clients need to be dropped or referred elsewhere.
The nine blocks of a business model canvas include the following:
Key partners: Lenders, inspectors, other agents, teams, principal broker, attorneys, and your sphere of influence that will be your points of contact for information and networking.
Key activities: The crucial actions you must perform to succeed, like cold-calling, listing appointments, purchasing leads, showings, and open houses.
Key resources: The physical, financial, and human resources you require to grow your business. Essential resources include your customer relationship management (CRM) databases, the knowledge you intend to keep private, and your brand.
Value proposition: The products and services you provide to solve prospects' and clients' problems and encourage them to choose you over the competition.
Client relationships: The relationships you have with past and current clients.
Channels: The channels you are using to reach prospective clients, like online marketing and advertising, direct mail, and email.
Client segments: The markets and niches you will serve. For example, choose a specific community and/or type of real estate client (buyers, renters, sellers) you'll focus on.
Cost structure: Your projected expenses for operating your business, such as dues, continuing education and license renewal fees, marketing, taxes, and travel.
Revenue streams: The deals you close, referral income, and broker price opinions you prepare for lenders.
Download our business model canvas template to help you start creating your plan.
2. Invest in a Quality Client Relationship Manager (CRM)
One of the most important real estate agent tips is to invest in quality real estate client relationship management (CRM) software. A CRM lets you manage client relationships via one platform and is accessible from most devices. It helps you capture new leads and stay on top of your client's needs so you can respond quickly.
The best CRM software helps manage your real estate pipelines and captures the details of your listings in one place. Another remarkable thing about a CRM is that you can funnel your contacts into channels to automate targeted outreach based on segmented audiences. In addition to organizing your contacts, many CRMs also offer marketing and advertising features to efficiently manage your brand and generate leads.
Here is a list of some of the best CRM tools for real estate agents:
Software

Best For

Real estate brokers and agents looking for a scalable CRM with sales automation and a sophisticated built-in phone dialer

Real estate agencies looking for multi-channel communication capabilities

Real estate professionals who need an easy-to-use CRM with visual sales pipeline tools

Real estate agents looking for third-party integrations and comprehensive customization tools

Key Features

Pipeline management
In-app phone
Sales reports and analytics
Workflow automation

Contact and transaction management
Lead distribution
Drip campaigns
Artificial intelligence (AI) lead follow-up
Task management

Visual sales pipelines
AI sales assistant
Workflow automation
Lead management
Deal management
Mobile app

Social media
Marketing app integrations
Email marketing

Starting Pricing

Free

$33 per month

$21.90 per user, per month

$20 per user, per month

Learn More
There's a CRM for every budget, but you will want to upgrade to something more robust as you expand your leads and increase sales. Check out our article, 8 Best Real Estate CRM Software, to find the right fit if you're on a tighter budget.
3. Grow & Nurture Your Network
Another one of the best tips for real estate agents is prioritizing your network. Your best lead and referral sources are your friends, family, and past clients because you already have a relationship with them, and they can attest to your integrity, skills, and trustworthiness as a real estate professional. When you nurture these relationships, it returns tenfold, and they will keep you top of their minds when they're ready to buy or sell their home too.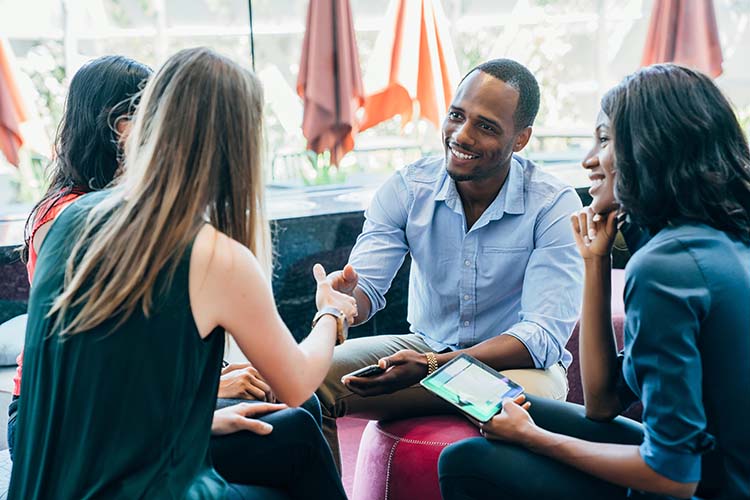 Send your buyers a humorous or sentimental greeting card with a handwritten personal note that brings them back to when you handed them the keys. Pop-by gifts don't have to be lavish, for example, a plant or a gift certificate for an experience shows you're thinking of them. Agents typically do pop-by gifts around holidays, but it would be unique to drop by with a gift that says, "I'm thinking of you," for no other reason.
A convenient way to send customized messages to your network is by creating custom postcards and sending them via direct mail. ProspectsPLUS! can do this with its occasion mailing campaign that lets you schedule a full year of postcards in just a few minutes. You can choose from dozens of occasions and mix and match to create the perfect greeting.
4. Build Your Online Presence
You've probably heard advice for real estate agents about the importance of having a website to build your online presence, but it's not enough. Your website must be active to build confidence and engage readers. Share regular content like blog posts, testimonials, and new and closed listings. Offer free downloadable content like a spring cleaning checklist or tips for home staging to capture email leads.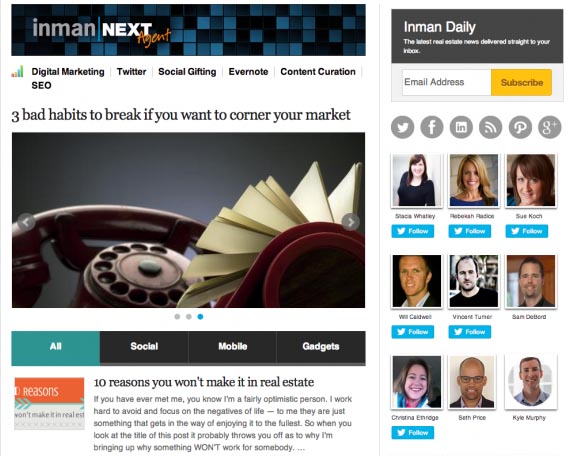 ---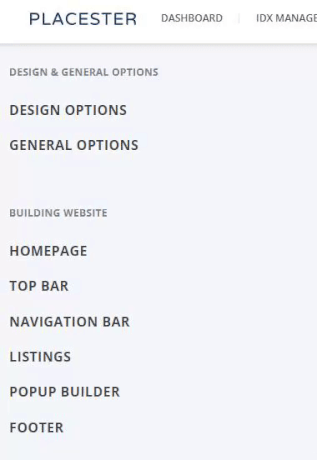 ---
When you began as a new real estate agent, your brokerage likely provided you with access to a website. However, you're likely to outgrow it because you will need something more powerful to display your personal brand.
Placester is a real estate marketing platform that helps you take control of your online presence. It offers beautiful websites that are easy to set up. Its affordable packages grow with your business and offer CRM and Internet Data Exchange (IDX). Its more advanced package also provides social media posts, reports, and Google Analytics setup.
5. Develop a Niche
Being a specialist in a real estate niche helps you streamline your work by breaking down parts of the industry into channels—becoming the authority in your niche. It fits seamlessly into your business model canvas, so you can create a strategy to dominate your space.
Your niche can be a property or client type or situations like relocation, empty nesters, and first-time homebuyers. Choosing a specialization doesn't mean you are constrained to just one. But, it makes it easier for your target market to find you and increases your odds of succeeding. Once you have a chosen niche, direct your marketing message to that specific audience.
Pro tip: Your specialty lays the foundation for knowing who you need to connect with and the information you must gather to become an expert in that arena. It also focuses your marketing and makes it more straightforward. Here are the 10 Most Profitable Real Estate Niches & Why They Work to help you get started.
6. Diversify Lead Generation
Agents often look for new tips for real estate leads to grow their businesses and must consistently pursue them. You can generate real estate leads organically through your network or by purchasing lead generation services. Using various real estate lead generation strategies ensures a steady stream of prospective clients. Some lead generation realtor tricks and tips include hosting neighbors-only open houses and creating social media friends lists with content for their eyes only.
Send personalized letters or postcards to For Sale By Owners (FSBO) and older expired listings because every agent calls on the recently expired listings. You can also pull tips for real estate leads out of the real estate investors' playbook by contacting absentee owners of rental properties and seeking out owners of distressed properties. Many Registry of Deeds offices provide property records online that are searchable by address. A little sleuthing on your part can help you find the leads that aren't on other real estate agents' radars.
While organic methods for lead generation, like the ones listed above, are effective, they do cost you time and effort. Instead, consider buying real estate leads to more quickly increase your opportunities. Here are some of the most popular lead generation services available:
Providers

Best For

Automating lead generation and marketing for busy agents

Lead generation with artificial intelligence (AI) insights for agents who want to predict future buyer and seller behavior

Agents who need help with identifying niche leads

Brokers and agents who want centralized lead generation, nurturing, and marketing

Key Features

CRM integration
Marketing automation
Branded IDX website

Seller data collection
Real estate territory builder
Customizable templates

Easy-to-use platform
Cold-calling scripts
Power dialer to quickly connect with leads

Client drip campaigns
Market reports
IDX website

Starting Price

$25

5 cents

$39.99

$500

Learn More
7. Do Something Every Day That Scares You
This doesn't mean do something that will jeopardize your personal safety, but rather, taking calculated risks to stretch yourself and develop new skills and self-confidence. For example, if you're nervous about joining social groups, try easing in by joining a local real estate Facebook group. This will encourage you to get out of your comfort zone, but also open up new opportunities for your business.
Here are some other examples:
Open a street directory and cold-call homeowners to find new listings.
Invite someone you met at a networking event for coffee to see if you can help each other with referrals.
Ask friends and family for referrals.
Be a guest speaker at an event to position yourself as an expert.
Attend a conference and utilize a real estate elevator pitch.
Start with minor changes. Once you've succeeded in a few things, your confidence will grow and you'll be motivated to continue. Don't worry about doing new things perfectly and letting perfection hold you back. The more frequently you do the things that scare you, the more likely you are to create opportunities to increase your business.
Just for fun: These 13 Real Estate Horror Stories may not increase your self-confidence, but they can help you look on the lighter side of life and hopefully make you smile.
8. Build Successful Habits & Be Consistent
It was said that forming a new habit takes over two months. You increase the odds of real estate success when you create new habits. One way to develop new habits is to attach them to existing ones. For example, if you want more real estate agent tips to expand your knowledge, make it a daily habit to read books and articles while drinking your morning coffee or listen to podcasts while working out. If you want new seller leads, schedule prospecting calls for the first two mornings of the workweek.
The key to habits is consistency. Some days we don't feel like doing what we need to succeed. An easy way to overcome that is by choosing the smallest part of the task. For example, if you don't want to call expired listings, decide to make a minimum of three calls on Monday morning to get the task out of the way. Before you know it, you'll be gathering phone numbers and making more calls regularly. Habits help maintain positive actions when your motivation is low, make you more productive, and can replace bad habits.
Pro tip: Habits have a domino effect and lead to other good habits. Develop habits and routines in your real estate career now and watch your success soar.
9. Increase Your Marketing Budget as You Earn Money
It feels great when you start earning a salary from your sales, and you might be tempted not to reinvest in your business while you're just beginning to grow. However, now is when you must start strategically investing in your marketing to expand your visibility and increase leads. Start by setting aside 15% of your gross sales commissions for marketing and advertising, and gradually increase as you make more money. You can have a much broader reach if you reinvest 25% to 30%.
Randomly placing ads and haphazardly spending your marketing budget will rapidly eat through your money, and you'll see few results. It's much wiser to pay for all-in-one tools and automation resources that do it for you. Later is a social media management platform and link-in bio tool for every social network. It helps you plan, analyze, and publish content in advance, saving you time and money.
Later.com is reasonably priced compared to others, with three package options based on your budget and the tools you wish to employ. Register for a free account and try its two-week free trial to get started right away and decide if you want to keep it. It's a great way to take advantage of two weeks of free advertising. If you're unhappy with the service, simply cancel your account before the end of your trial period, and your credit card won't be charged.
10. Enlist the Help of Others
Another tip to enhance business and reduce your workload is to hire a personal assistant. If it's not in your budget to put an employee on payroll, find a virtual assistant who bills by the minute and use their services as needed.
Fiverr has freelancers for every service you need at various price points so that you can find someone affordable with quality work. Use Fiverr to find a virtual assistant who can set up a website, automate your marketing, organize CRM software, design graphics, write ads and blog posts, manage your direct mail, provide tech support, and respond to your live chat. You can hire someone to manage your books and pay taxes too. There's no cost to join, and you can start browsing freelancers who can take on many of your tasks.
11. Read Trade Journals, Books & Articles
In this digital era, it's necessary to stay on top of what's happening in the real estate industry as a whole, not just the housing market. This will give you the knowledge you need to speak with clients to give insightful information and display your value.
If you're a member of the National Association of Realtors (NAR), read their updated research, statistics, trends, articles, courses, and real estate books. Also, read magazines, such as:
Being "in the know" helps position you as an expert in the field and gives you first access to cutting-edge lead generation and online tools to grow or pivot your business. Staying on top of the industry also gives you endless content to write about and share on your social media pages, website, email campaigns, and in conversation.
Continuing education (CE) is another opportunity to expand your knowledge by choosing CE classes where you learn something new. Choosing an accredited online real estate school that offers a large variety of classes from which to choose provides state-approved education and fits conveniently into your busy schedule. Check out the 5 Best Accredited Online Schools for Real Estate 2023 to compare CE courses between them.
12. Look at the Big Picture
It's easy to get caught up in our daily minutiae when we have so many tasks and must respond to urgent concerns between buyers and sellers. However, looking at the big picture of where we are heading in our real estate careers and life goals is critical. Periodically looking at the big picture keeps you on target and allows you to adjust your course when needed.
Big-picture thinking is a skill that needs development. It teaches you to think creatively and maximize your output. Schedule a weekly time to re-evaluate your goals, assess your strategy, and fine-tune projects and tasks, focusing on your priorities and how you plan to achieve your goals. While you want to look at the big picture, also fine-tune what hasn't worked and create a new detailed path that brings you closer to your goals. You must balance the end goal and the smaller steps to achieve it.
Mind mapping is another way to create your big picture and the activities needed to reach your outcomes. It's a fantastic visual brainstorming tool that you can use to color-code and sort out your ideas. One of our favorites is the free Canva mind map creator that provides drag-and-drop templates and graphs. It's easy to use and customize.
13. Take Time Off
Often overlooked among the tips for real estate agents is to take time for relaxation. Being at the top of your real estate game and avoiding burnout requires you to step away from work occasionally. You want a career you love and to enjoy the fruits of your hard work. If you're all work and no play, it won't be long before you're ready to quit.
Research shows people who take time off from work have lower stress levels, lower risk of heart disease, and are highly motivated to reach their goals. Your travels, and even your "staycations," give you opportunities to let your network get to know, like, and trust you because they see what interests you. Sharing vacation stories with new prospects allows them to know you more. Spend time in nature and doing the things you love. Take a trip off the beaten path. Use your staycation to explore unknown places in your town.
14. Practice Realtor Safety
Realtor safety is not often discussed in the real estate profession, but you must learn a few safety tips to protect you and your clients from danger and harm. Agents meet strangers frequently, are alone with people regularly, and often drive and walk in locations they are unfamiliar with. These situations can put agents in a vulnerable position, so you need to be prepared.
Here are some tips that help keep you and your clients safe:
Screen your clients: Before meeting a new client, research them on social media like LinkedIn or Facebook to confirm they are the person you are meeting with.
Meet in a public place: Just like with a date, meeting in a public place is a great way to meet a new person, but does not leave you vulnerable since you're surrounded by people. Meet your new clients at a coffee shop, restaurant, or office to ensure your safety.
Do not provide property access without your presence: When you are showing properties, always be present at the location. Unsavory clients may cause damage to properties, or the property may be hazardous and put others in physical danger.
Create a buddy system: Enlist a colleague as your buddy so you can look out for each other's well-being. If you or your buddy are going on a showing, let them know the location and time you will return. Consider sharing your location via mobile so that if you or they don't return in the allotted time frame, you can check in on them.
Have a distress call ready: There are many phone apps available that will automatically send a distress call to the authorities or select contacts if you are in danger. For example, Homesnap Pro allows you to set a safety timer when you go on a showing with an unfamiliar client. If the timer expires, a text message will be sent to your emergency contacts to notify them that you are in distress.
Take a self-defense class: Self-defense classes will give you the necessary skills and tools to protect yourself or your clients if there is physical danger.
Wear a hard hat: Often with commercial properties, investors, and developers, you will visit properties that are under construction. To avoid any physical danger, wear hard hats (which should be provided to you) and pay attention to your surroundings.
While you might think "that would never happen to me," it's better to be prepared for any situation that can cause you or your clients harm. When in doubt, get out of the situation and alert the authorities.
Bottom Line
Gathering real estate agents' tips, even for experienced agents, is essential to improving your business. By incorporating the tips above into your existing business model, you'll be able to increase your brand presence, organize your lead generation, and manage your time more efficiently.
Frequently Asked Questions (FAQs)
The hardest part of being a real estate agent is eliminating or reducing the fear of rejection. It's human nature to want to fit in and be liked. Hearing "no" daily can be disheartening. If you can overcome your fear of rejection, you can become unstoppable.
Another big challenge for new agents is to keep working without an income. If you're committed to succeeding, you will find a way to overcome this. You can work part time until you earn enough or sell items you no longer need. Not having enough money can be a powerful driving force to commit to your success, so go for it.
---
One of the most important things for realtors is knowing how to price a listing. This will ensure the property sells, the homeowners are happy, and you accomplish your goals.
Another important thing is to consistently follow up with prospects. You don't have to hound people, but you can create a follow-up strategy that includes occasional calls and emails or sending something in the mail like a greeting card or postcard of a just sold listing. Consistency is crucial in nurturing and following up with leads.
---
The three most important factors for succeeding as a real estate agent are commitment, knowledge, and self-confidence. With commitment, you'll be determined to succeed and overcome obstacles no matter what. Knowledge is power, so you will ensure you continue to learn from your mistakes and stay up-to-date with what works and what doesn't. Lastly, self-confidence assures you that you're willing, capable, and deserving of the success you crave.
---
How much you pay in federal and state taxes depends on your household income from all sources, taxable deductions, business loss, where you live, and if you have to pay state taxes. Your federal real estate agent taxes need to be paid quarterly. It's wise to set aside 30% of your gross income, but this doesn't mean you will pay 30%. If you overpay, you will get a refund and avoid late payment penalties.
---