Real estate agent websites — the primary online presence for a real estate agent — use straightforward navigation, attractive images, and clear calls to action to ensure visitor engagement. We've compiled a list of 32 examples of the best real estate agent websites that use these elements to bring in buyer and seller leads, maximizing agent sales.
Real estate agents can waste hours trying to create the ideal design for their websites. Fortunately, Placester gives agents customizable, mobile-friendly website templates that are easy to edit and extremely attractive. Sign up to get the NAR price for Placester of $99 per month plus a $99 one-time setup fee.
Here are the 32 best real estate agent websites and tips about what makes each business website work.
---
Cotton & Company uses a clean layout that mixes attractive images and dynamic features — like virtual tours, preferred vendors from their farm area, and buyer/seller resources — placed prominently above the fold. Also, website visitors can easily start their property search in the header. The placement of these tools gives visitors the ability to view expert content and listing information quickly.
---
The Ormsby Real Estate website uses a single, impactful image of Lake Tahoe to give buyers a feel of what it is like to own property in the broker's farm area. This single picture instantly conveys a message instead of using text to say the same thing. Consider using a large image on your own site to convey something about the lifestyle of your community.
---
3. Appeal to a Visual Audience — Middleburg Real Estate
Most buyers want to see a property before reading the description. While visitors to Middleburg Real Estate can use the central search functionality of its website, the property images provide a true "shopping" experience for a visual buyer who loves to browse. Buyers who want a property with a great view, attractive features, or stellar curb appeal will appreciate this visual property presentation.
---
No Bedrooms is a great example of how adding a tool to your site can increase visits and engagement from buyers. Because most buyers check out mortgage rates before buying a house, this simple calculator lets visitors input data into four fields to come up with a monthly payment amount. This encourages site visitors to stay on the site longer, which might lead to them viewing multiple listings in their price range.
---
A website has to be ready to display on any device — mobile and desktop — so visitors can browse properties wherever they are. Select Realty Group made their design mobile-first, allowing buyers to see listings via an easily navigable map, expand listings to see property details, and conduct searches by address — all on their smartphones. A prominent chat button in the upper-right of most screens allows users to contact an agent about available listings quickly.
---
Featuring events prominently on your website encourages visitor engagement and shows you're active in the community. Tim Pierson Home Sales Team plans events — like movie nights and March Madness parties — throughout the year to keep buyers engaged with their agents. Highlighting these events and asking for sign-ups or RSVPs through their website, Tim Pierson Home Sales Team brings buyers back to their real estate site constantly.
---
Lead capture magnets, like market sales reports, are an effective way of collecting site visitor information. Artisan Sotheby's International Realty, for example, provides online access to market information to entice leads interested in their million-dollar properties. This information — offered for free — not only serves as a great lead generation tool but inspires buyer trust and confidence.
---
Professional photography gives each website visitor a feel for a property and, when done especially well, creates a breathtaking rendering of its many features. Nest Seekers' professional photos do more than showcase static property elements — they capture a lifestyle and aura. Even if you can't secure professional photos, consider getting the photos you have touched up. With basic effects, even uninspiring photos can shine, drawing in interested buyers.
---
If you have a promotional product like a book or videos, then spotlight it on your website to promote your personal brand. Egypt Sherrod Real Estate Group does an amazing job of promoting their brand to buyers and increasing leads through ebook offers. The title of their book, "Keep Calm, It's Just Real Estate," encourages buyers to think of Egypt Sherrod as the no-stress path to home ownership.
---
The best real estate agent websites show off industry awards and recognition. Susan Breitenbach does a great job of listing her awards for sales and agent excellence on her homepage, building confidence with potential buyers and sellers. Her recognitions span years of service and come from prestigious sources like The Wall Street Journal, inspiring the utmost trust from site visitors.
---
Ricardo Olea does a good job of using images to capture the vibe of the community. Header images are often throwaway stock photos that don't convey any sense of an agent's community. Olea, however, includes an image he took of a nearby bar to convey a sense of community and fun. Consider doing the same with your own real estate website.
---
Use a clean design, eye-catching images, and interesting headlines to engage the buyer with fresh content. Corcoran often posts articles on trending topics — like how to grow a veggie garden in an apartment or room design tips — mixed with event and open house announcements that promote them as experts on New York living. Also, the website has a cozy feel that invites visitors to browse listings, blog posts, and event calendars.
---
Brokers should consider highlighting specific agents on their franchise or brokerage sites; this creates a personal connection. RE/MAX PRODIGY, for example, highlights individual agents in their hero image, then explains their approach to real estate at the bottom of the header. Jason Wetzel (featured above) is focused on treating buyers like family. While this could have been implied by the image, the highlight on the banner makes it clear to the visitor.
---
As most buyers consider multiple neighborhoods within a city, agents should think about adding listing pages for neighborhoods or development areas in and around the city closest to their farm area. For example, RubyHome includes a surrounding local search area on their homepage and a "find a neighborhood" page. Expanding the search to multiple areas increases the chances of a website visitor turning into a lead.
---
15. Showcase Your Best Properties — Aumann Bender
Some real estate agent websites use stock photos or incredible landscape shots of a community feature instead of using a homepage slider to showcase their best properties. As this slider is the first thing visitors see, use it to highlight your best listings. Aumann Bender does this with a beautiful shot of a luxurious outdoor courtyard. Not only does this create interest in the property, but also makes it clear than Aumann Bender represents high-end properties.
---
Use the top space of a website to address the pain point of readers and share your personality. The messaging on Collin Bray's site encourages the client to breathe easy, reducing homebuyer stress by clearly showcasing Bray's experience and dedication. It's also easy to reach out directly or learn more about Collin before making contact.
---
If potential clients like the listings they see on your site, they should have the ability to connect with you easily for more information and share their favorite listings with others. Tory Keith makes that process easy by prominently displaying social media buttons throughout his site. This gives visitors an opportunity to learn more about his services, see other listings, and interact with him directly.
---
Lead gathering should be a balance; agents should offer multiple means of contact on their site without being too aggressive. Tracey Hampson uses lead capture methods throughout her website but doesn't overdo it. When you enter the site, there is an immediate popup that engages the visitor with a fun message rather than a typical solicitation. There is also a search field and a traditional contact form.
---
In many parts of the United States, having multilingual agents is a huge advantage — and increases your potential client base. Brown Harris Stevens captures non-native English speakers by including a list of multilingual agents on the brokerage's site. This makes it easy for leads of countless linguistic backgrounds to reach out about listings that meet their needs. Consider advertising this asset if you speak multiple languages or work in a brokerage with multilingual agents.
---
A virtual tour is an attractive website feature because it allows visitors to "walk" through a property without leaving their home. The real estate agent website for Michael Kelczewski is a terrific example of this in action. His site showcases some of the finest properties of the Brandywine Valley in Pennsylvania via virtual tours. Visitors get more than just a static image to spark their interest — they get the feel of living in and experiencing properties firsthand.
---
Showcasing what sets you apart on your website is one way to capture attention. City Home Collective, a Salt Lake City agency, does this by highlighting their unique blending of design and real estate work. For the right client, the unique selling proposition of purchasing and decorating a home with one agency makes City Home Collective stand out.
---
Highlighting the benefits, features, cultures, and amenities of each neighborhood can be a great service to those looking for a home in the area. The Harrelson Group goes the extra mile to share information about the Carolina Forest community with website visitors. Potential clients value information that helps them make the right buying decision and by offering this upfront, you are establishing yourself as an expert and "agent in the know."
---
23. Highlight Your Team — Skye Louis Realty
Highlighting your team is an effective way of giving your agency personality. While some brokerages place their team on the front page, others include a separate page with bios for each agent employed by the brokerage. Skye Louis Realty makes sure that the whole team — agents and support staff members — is represented on their homepage. Whatever approach you take, making your team approachable and professional is key to securing leads.
---
Client testimonials, prominently placed on your website, inspires visitors' trust in an agent, which can make it easier to acquire them as a lead. Glendale Diggs does this with snippets of testimonials and former client stories on their homepage. It is immediately apparent that Glendale Diggs values meeting client needs and that its clients are thrilled with the services provided to them.
---
The best real estate agent websites are simple, functional, and give visitors several ways to find the right information. Nathan Garrett has mastered this on his website, where he offers users multiple ways to search for a property. With a search bar at the top followed by clickable map/area below, visitors can access listings quickly and easily.
---
26. Focus on SEO — The Duplex Doctors
Search engine optimization (SEO) is an important element of real estate agent websites because it improves your site's ranking in search engine results, ensuring more people find you. The Duplex Doctors reports that its real estate website ranks on the first page in Google for multiple keywords, which drives leads to their site. SEO optimization has been so successful for The Duplex Doctors that it ranks between market-dominating Zillow and Realtor.com.
---
27. Ask a Question — Atlas Real Estate Group
A question directed at a visitor on the homepage is a great way to get their attention — while also highlighting a topic of interest to them. Providing the answer further shows that you are an expert and have the visitor's interest/needs at heart. The Atlas Real Estate Group grabs visitors' attention with a simple question about real estate, leading information more information about they help visitors with home-buying, property management, and investment property management.
---
28. Use Pop-ups to Guide Visitors — Bond Real Estate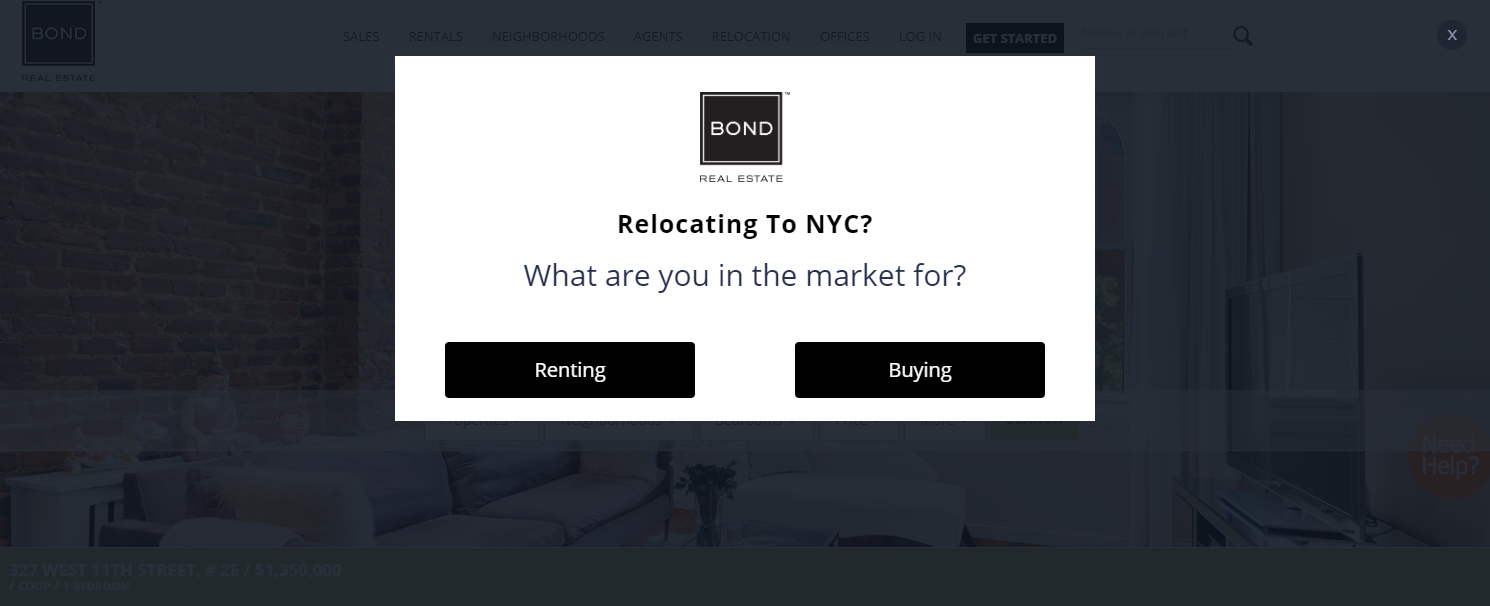 Using pop-up windows to help guide visitors to the right listings can increase leads. When you visit the Bond Real Estate website, for example, you are greeted with a popup screen that helps route you to the right property types. Additionally, Bond uses a simple "Get Started" button with a bold black background to help potential clients find what they're seeking.
---
One way of capturing interested visitors is by offering a wealth of content on your site about the home-buying or selling process — including all of the forms needed to complete a transaction. The Williams Team showcases all of this and more in their unique "Client Portal," which shows site visitors that they are organized, experienced, and have clients' interests in mind.
---
Chatbots can generate leads by quickly engaging site visitors in conversation — as long as they're not too clunky or distracting. KoenigRubloff features a chat plugin on their site, but it doesn't detract from site design. When users click on the chat feature, they have to give their contact information to continue — contact information that is funneled right into a customer relationship management (CRM). This gives real estate agent an opportunity to answer questions while easily collecting lead information.
---
Showcasing your brand and local knowledge are important ways to personalize your business on your real estate agent website. Eileen Beddinghaus shares her knowledge of the St. Petersburg, Florida, with a homepage video and blog topics about the area, home décor, and the local scene. She capitalizes on her experience and love of the area by becoming a forward-facing local expert willing to answer questions and show clients around.
---
If you've been featured or quoted in well-known publications, promoting those inclusions on your website can create significant buzz and add credibility to your brand. John and Melissa Steele make sure visitors know that they are recognized industry experts with prominent media citations on their website. Seeing a notable logo from a trusted source of information builds trust with a potential buyer and helps real estate agents stand apart from the competition.
---
Bottom Line — Real Estate Agent Websites
The top real estate agent websites include vivid professional photography, enticing virtual tours, direct and personal copy, and plenty of calls to action. Adding these elements to your real estate website will increase the leads you generate through your site and likely increase sales. Just as important, an effective real estate agent website will build client trust and help spark new relationships that will be the core of your business for decades.
Creating a dynamic website with all of the right features can be time-consuming and expensive, however. Placester gives NAR members an easy-to-use platform with customizable templates and mobile optimization for only $99 per month. Find out more about the NAR member price break and how you can start building your Placester real estate agent website today.