19 Real Estate Brochures to Impress Clients (+ Free Templates)
Real estate brochures use high-definition photos, beautiful designs, and engaging copy to grab the attention of prospects. The quality of your brochures establishes your professionalism and differentiates you from competitors. Ensure all of your brochures include basic information like logos, company names, and contact details, and provide direction so potential clients will respond and contact you with further inquiries.
Download our two free brochure templates below and then continue reading to see the top 19 brochure templates and ideas on how to use them:
---
Single & Double-sided Brochure Templates
Single and double-page real estate brochures are printed on high-quality paper with various thicknesses and weights so colors don't bleed, and you can maximize listing appeal. Single-sided brochures are best for listings with few images, whereas double-sided brochures are excellent for listings with more details, images, and a floor plan.
Use them for open houses or inside brochure sign boxes, so passersby can get information from the property brochure before calling for a showing.
1. Basic One-sided Brochure
A one-sided brochure is good for highlighting a listing distributing at an open house, or posting on a bulletin board at locations where many local people visit. It provides space for listing details, sharing the best photo, and showcasing the agent and company. It's inexpensive to create and useful in numerous ways.
Created by: Snapflyers
Size: 8.5×11 inches
Price: $39.99
Edit with: Adobe PDF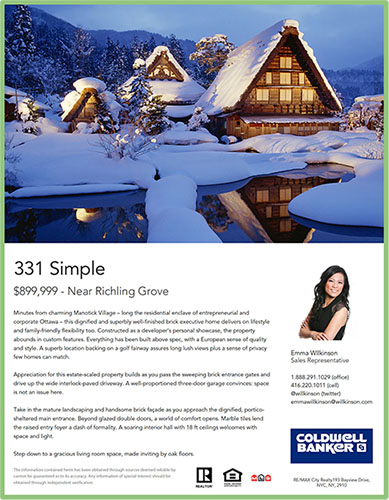 2. Double-sided Listing Brochure
Use this double-sided real estate listing brochure for images and floor plans, keeping it uncluttered and easy to read. It includes a QR code that you can use to capture leads by directing people to your website, other listings, or an open house sign-up landing page. An open house brochure works for single- and double-sided templates, depending on how much information you want to display.
Created by: Envato Elements
Size: 8.5×11 inches
Price: Starting at $16.50 per month
Edit with: Adobe Illustrator, Adobe Photoshop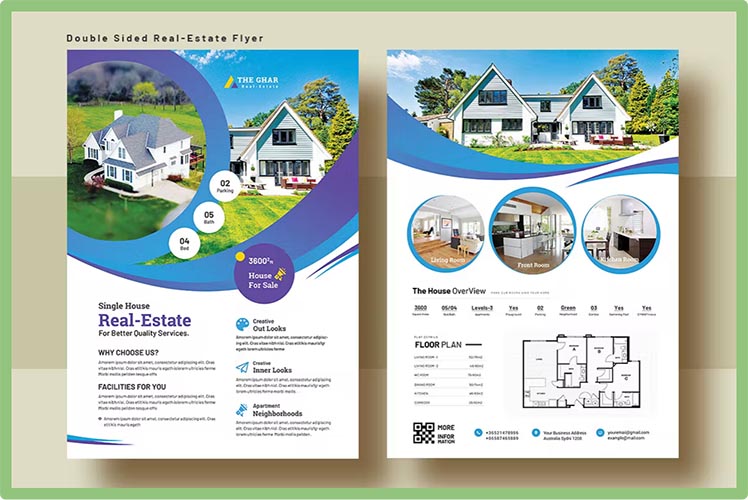 3. Photo-focused Real Estate Listing Brochure
A photo brochure is useful for subdivisions, gated communities, and condos because it contains numerous high-resolution photos. Keep the brochure simple and include property details, like the location, house size, and the number of bedrooms. You can use them in your listing packet and leave them in waiting rooms, bank lobbies, and model homes if they're building the property in that development.
Created by: Xara
Size: 8.5×11 inches
Price: Free or paid plans ranging from $12.95 to $16.95 per month
Edit with: Xara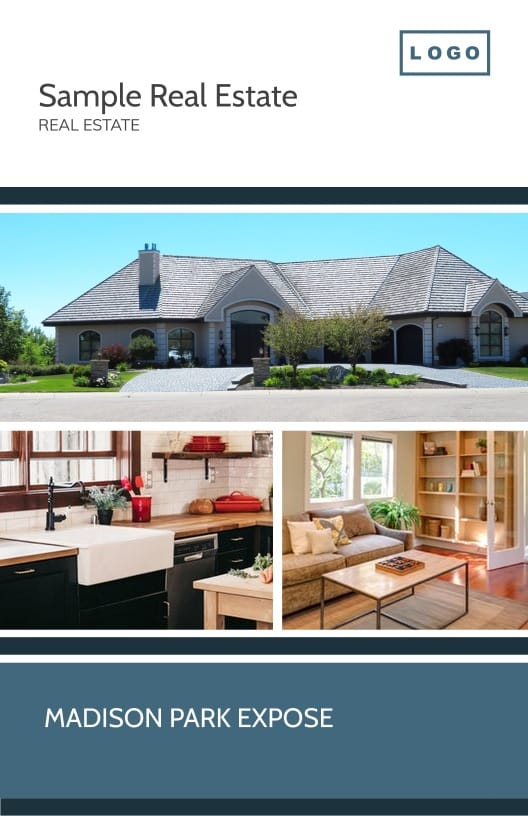 Bi-fold Real Estate Brochures
On a bi-fold brochure, you get four different design spaces where you can break up information to get a clean, high-end look. Items to add to your brochure include property descriptions, floor plans, and agent and brokerage information. They're great to use as a realtor brochure to showcase your professional services or utilize to feature real estate listings.
4. Brokerage Bi-fold Brochures
Use this bi-fold brochure for information about your brokerage. There's room on both sides for photos, logos, and company details. The editable icons add visual appeal and make it less text-heavy. You can use these brochures for new agent recruitment, listing presentations, networking, and meet-and-greets with prospects. They sit nicely in rack card holders in your front office.
Created by: Template.net
Size: 8.5×11 inches and A4
Price: Subscription-based from $3.99 to $16.50 per month
Edit with: Adobe Photoshop, Adobe InDesign, Adobe Illustrator, Apple Pages, Microsoft Word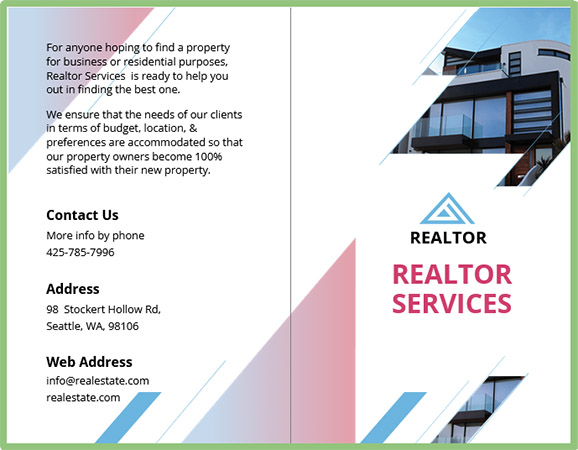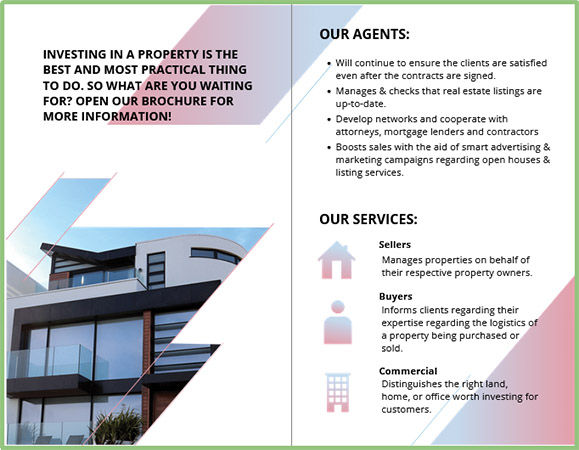 5. Featured Properties Bi-fold Mailer
With this drag-and-drop bi-fold mailer, simply add your photos and descriptions and either print the brochures yourself or have them printed and shipped to your business. They're also helpful when hosting events and open houses. These brochures provide space to showcase luxury listings or commercial properties with room for interior and exterior photos and more complete descriptions.
Created by: ProspectsPLUS!
Size: 8.5×11 inches or 8.5×5.5 inches
Price: Download-only for $19.95; printing starts at 93 cents for 25 to 49 pieces
Edit with: ProspectsPLUS!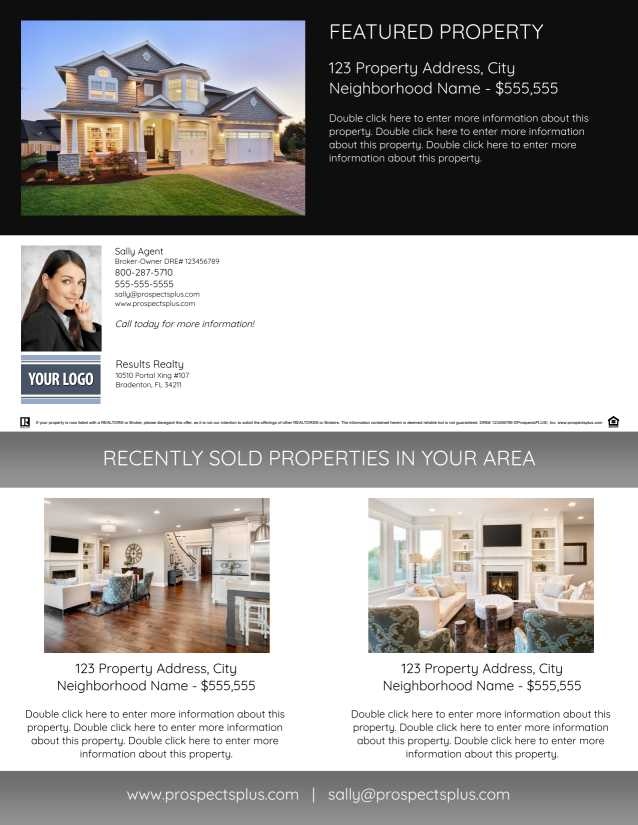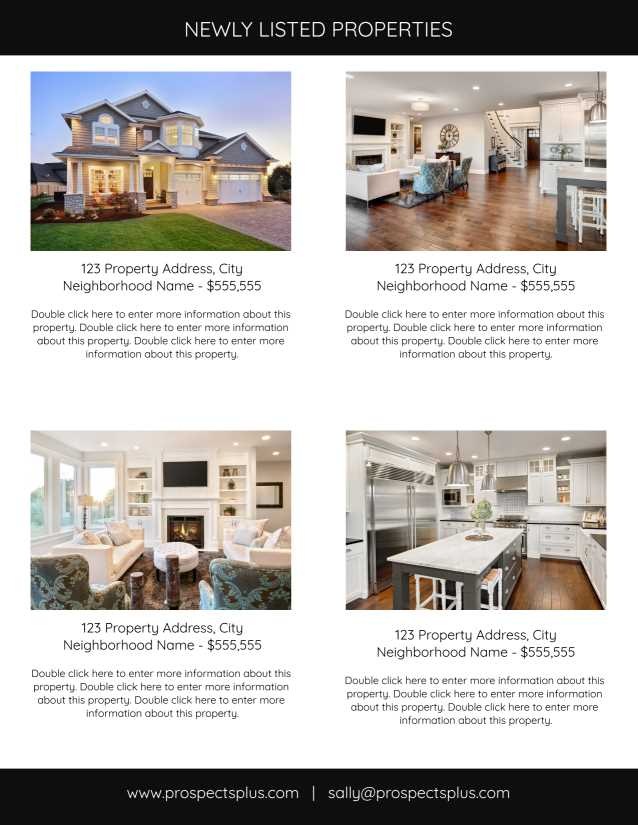 ProspectsPLUS! Is a leading direct mail service that can ship to your chosen location or provide a territory based on demographics, geography, and lifestyle. Its mapping tool zeroes in on the addresses within your farm area so every home is reached. Its products are designed exclusively for real estate agents, with dozens to choose from.
6. First-time Buyer Bi-fold Brochure
This fun brochure has a bold, youthful design with bright colors and graphic text with cartoon-style images. It includes a spot for client testimonials, a special offer, and photos of listings or your realtor headshot. These are great for answering buyer questions and first-time homebuyer tips during their first transaction. Use them in brochure holders at real estate expos and in your front office.
Created by: VistaPrint
Size: 8.5″x11″, 9"x8", 11"x17"
Price: Starts at $38.05 for 25 brochures
Edit with: VistaPrint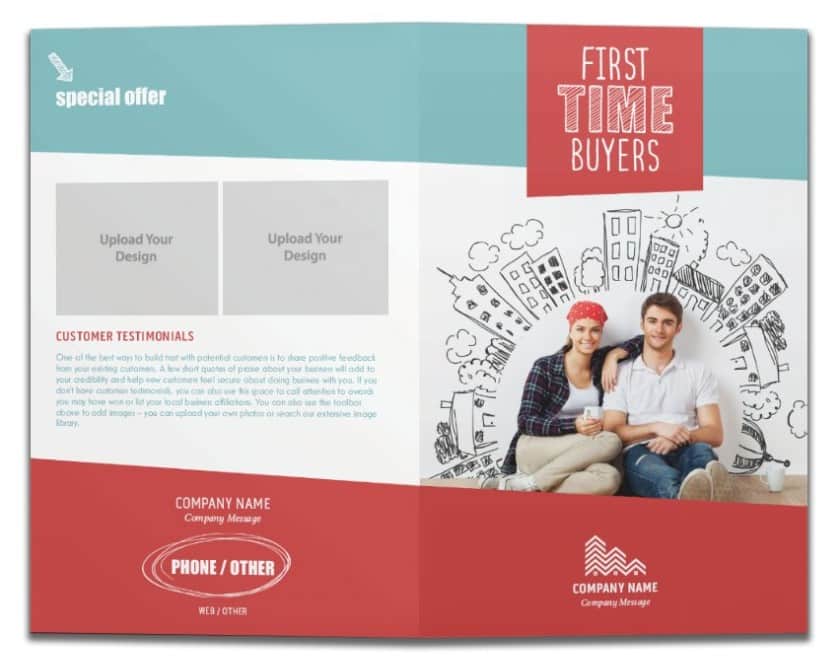 Find and create unique brochures like this one that is highly targeted to your potential clients on VistaPrint. It offers endless customization options, with fonts, colors, images, logo design tools, and sizes to make your brochures stand out and attract leads.
7. Modern Corporate Brochure
This modern corporate brochure is excellent as a calling card for architects, real estate developers, corporations, and commercial real estate agents. These prospects are very busy, so instead of leaving a simple business card, wow them with your brochure and follow up a few days later. It provides a professional advantage over an ordinary business card and is more likely to create a call to action from your corporate leads.
Created by: Overnight Prints
Size: 11″x17″
Price: Starts at $99.48 for 25 pieces
Edit with: Overnight Prints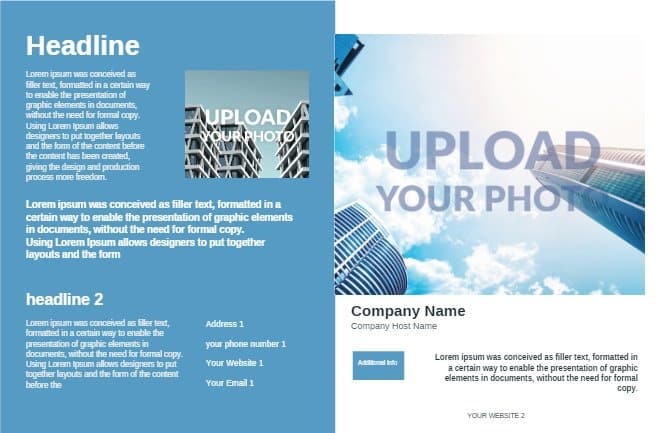 Tri-fold Brochures
Tri-fold brochures are twice-folded, creating six narrow columns. They're affordable to produce and distribute and provide opportunities to promote your brand. Their small size makes them easy to send through a direct mail service while reducing costs. Use them when you want to convey a lot of information in a colorful display that someone can easily fit into their shirt pocket. They keep information in order and create an immediate impact.
8. Commercial Real Estate Brochure
These tri-fold brochures promote commercial real estate services. They're excellent for commercial property managers, leasing agents, and commercial brokerages. The columns allow you to convey information about a commercial real estate listing or business without looking cluttered. If you're a property manager, they're an excellent tool to give to property owners to promote your services.
Created by: Marq (formerly Lucidpress)
Size: 8.5×11 inches
Price: Subscription starting at $10 per month
Edit with: Marq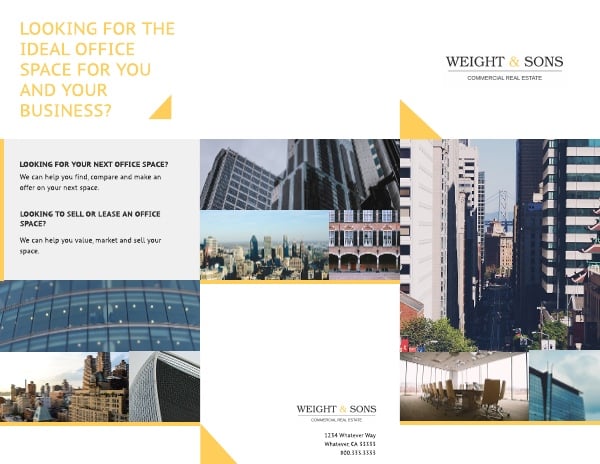 9. Minimalistic Property Brochure
With its clean design, this minimalistic brochure template is ideal for a property with architectural or modern features. It's also suitable for a modern condominium listing. It's recommended for these modern-type properties to fit their trendy styles and let the images showcase the home with minimal text. Brokerages can use it in marketing with high-resolution images of their office and its details.
Created by: Canva
Size: 8.5×11 inches
Price: Free
Edit with: Canva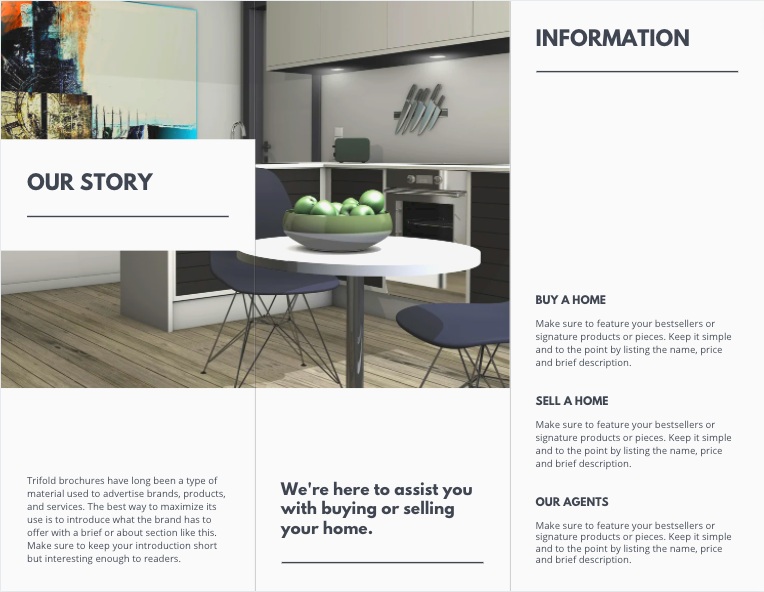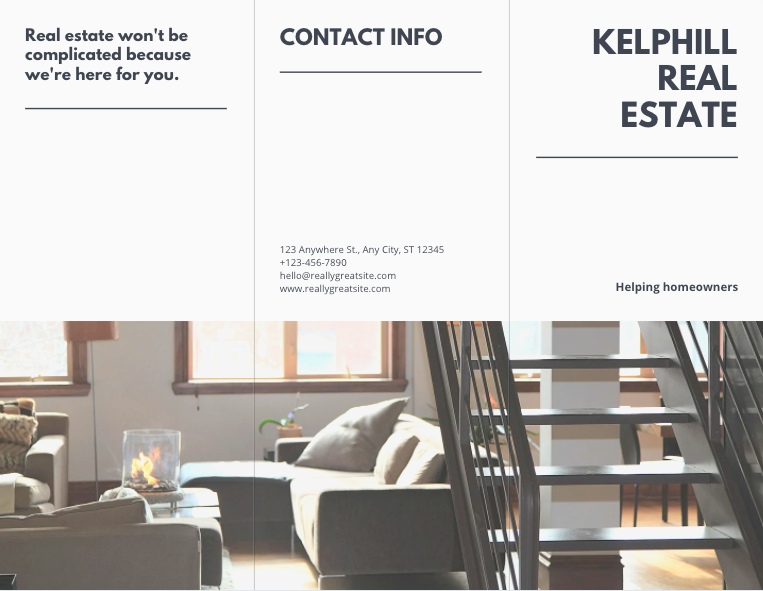 Canva is an online platform that provides ready-made templates or create-your-own tools where you simply add your brand, images, texts, and shapes. All ready-made templates are completely customizable and offer dozens of options for brochure types and sizes.
10. All-purpose Real Estate Tri-folds
Use these modern, simple real estate brochure templates for listings, brokerage information, or for agents to promote themselves. Everything is customizable so that agents can include their headshot and information about their work history, testimonials, or market to a specific niche, like rental properties or luxury real estate.
Created by: VistaPrint
Size: 8.5″x11″, 8.5"x14", 9"x16" inches
Price: Starts at $38.05 for 25 pieces
Edit with: VistaPrint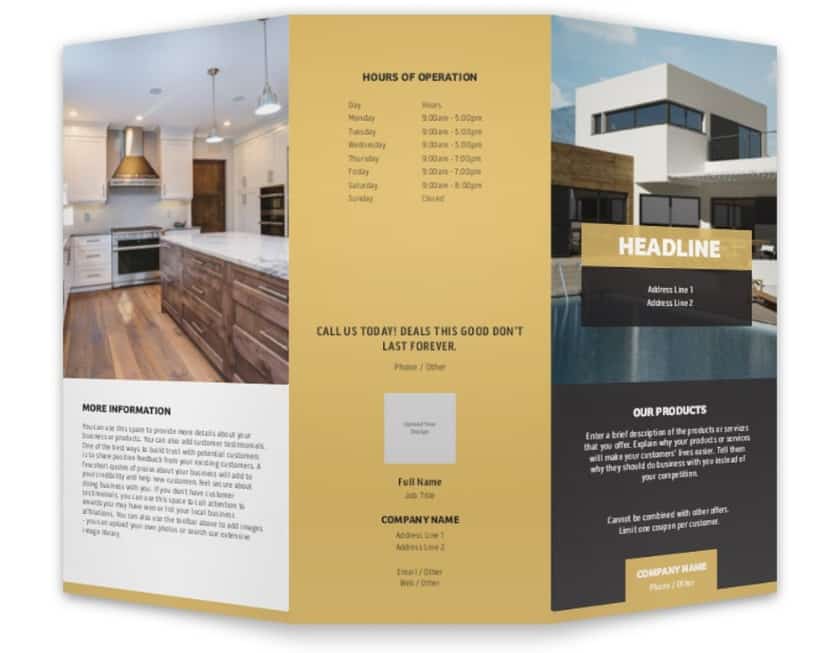 11. Graphic & Colorful Tri-fold Brochures
With bright, energetic colors, this tri-fold brochure stands out better than neutral or muted tones. Hence, these are excellent for leaving at various locations with competitor brochures. Yours stand out first, so it will likely get picked up first and generate new leads. It's also helpful in marketing new construction projects. The brochures are easily customizable for property listings, open house invitations, or brand promotions.
Created by: Envato Elements
Size: 8.5″x11″
Price: Subscription-based via Envato Elements from $16.50 per month
Edit with: Adobe Photoshop or Illustrator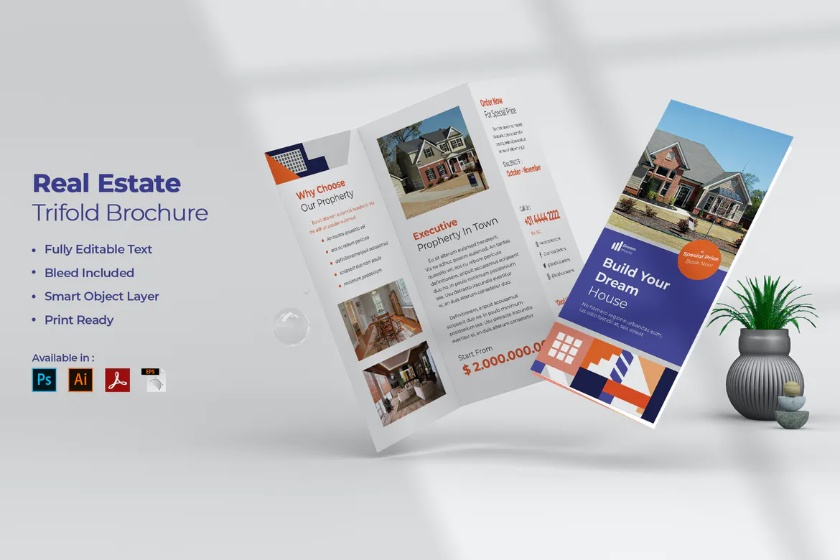 For more open house tips and ideas, check out these articles:
12. Vacation Rentals & Over-50 Communities
These tranquil brochures promote vacation rentals, resorts, and over-50 communities with amenities. The hand-painted design is unique but can also be replaced with photos. Give them to travel agents and leave them in rack card holders in the lobbies of resorts and senior communities. They could also be left in hotel and motel lobbies if allowed. Someone may pick them up and book their next vacation at your listing.
Created by: Canva
Size: 8.5×11 inches
Price: Free
Edit with: Canva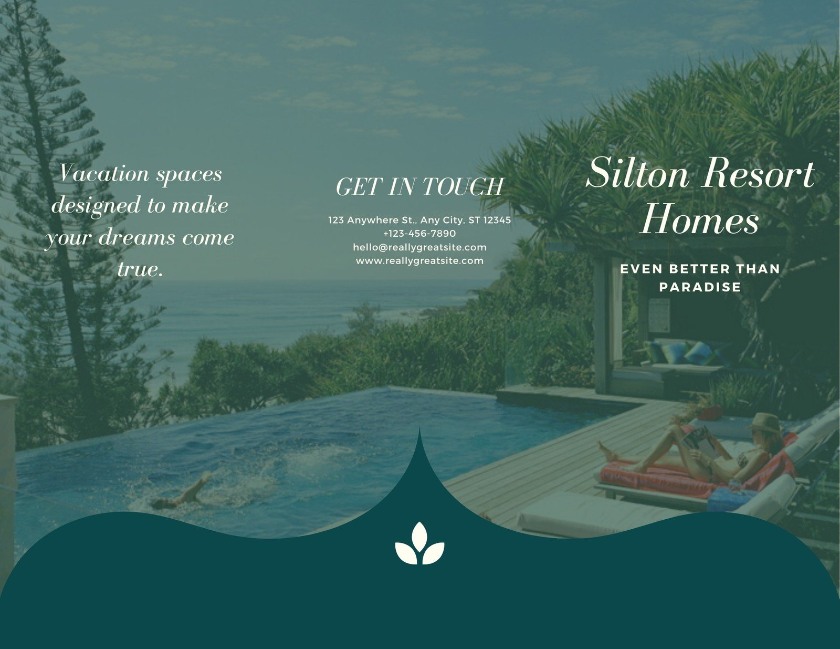 13. Highlighted Photo Brochures
This real estate brochure showcases one image across the width of the brochure and leaves space for a headline, logo, and bulleted list. This versatile brochure works well for property management companies, apartment complexes, commercial properties, or real estate brokerages. Its bold design highlights the listing or company information and offers equal space for the types of images in this context. Adding an aerial photo can appeal to many types of prospects.
Created by: Overnight Prints
Size: 8.5″x11″
Price: Starts at $28.56 for 25 pieces
Edit with: Overnight Prints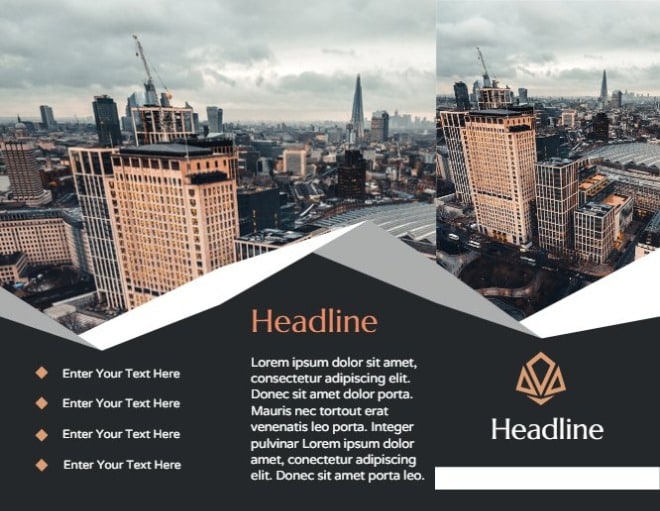 Multi-page Brochures
Depending on the size and quality of paper used, multi-page brochures are similar to magazines. Because of this format, multi-page brochures are not generally used for individual property listings. However, they are excellent for multi-unit buildings or new construction development so agents can showcase the entire property. They're also excellent for telling the history or a story about luxury real estate listings.
14. Minimalistic 28-page Brochure
This multi-page real estate booklet features a horizontal orientation for high-quality photos with a clean, modern design. It's a superb choice for showing building plans or as a pitch deck to generate commercial real estate leads. There are up to 28 pages with layout variations, automatic page numbering, and customizable backgrounds.
Created by: Envato Elements
Size: 8.5″x11″, A4
Price: Subscription-based via Envato Elements from $16.50 per month
Edit with: Adobe InDesign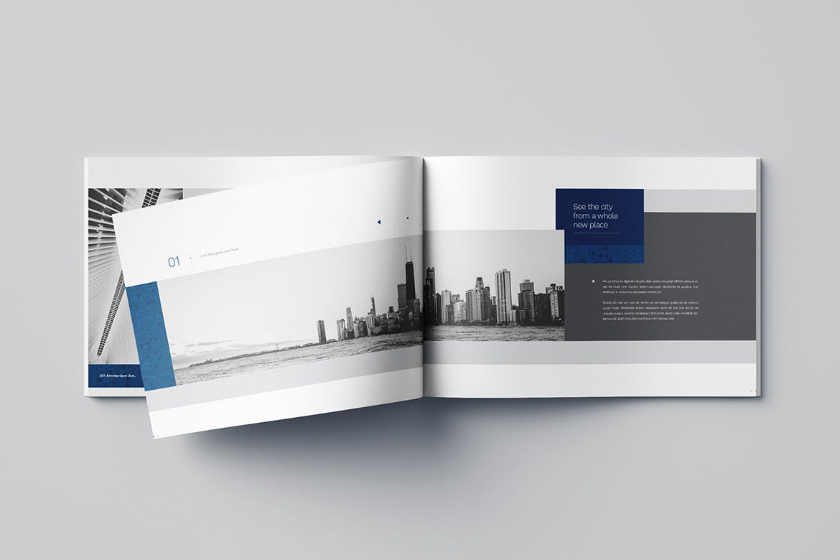 15. Detailed Company Brochure
This 16-page brochure template has ample space to communicate details about your real estate business. It's ideal for meeting with investors, leaving in your office waiting room, or for commercial real estate clients. This guide is something potential clients will likely keep rather than throw out, which extends its usefulness.
Created by: Freepik
Size: A4
Price: Premium subscription for as low as 5.25 EUR per month
Edit with: Adobe Illustrator

16. Origami Square Brochure
Grab your potential client's attention with this unique, square (when folded) six-page brochure. The square shape provides a space for photos and text without the bulk of an extensive catalog. The unique layout and size also make it stand out from competitors. All you need to do with this template is to insert your pictures and text. You can also change the brochure's scale to fit your needs quickly.
Created by: Creative Market
Size: 23.65×8.05 inches
Price: $14
Edit with: InDesign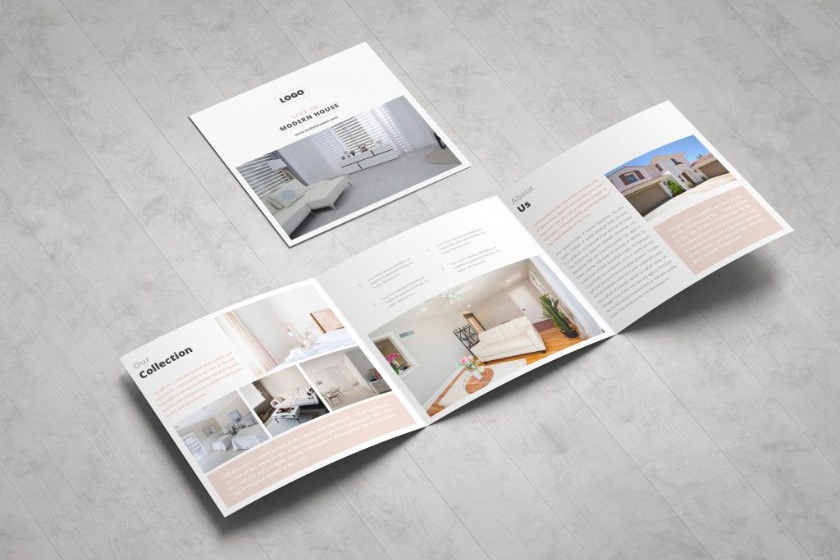 17. Corporate Real Estate Magazine
This custom-made corporate brochure is ideal to leave behind after sales pitches. It will help you get noticed by commercial developers, real estate agencies, and property management companies. The ultra-professional, versatile template is customized to your specifications by the Fiverr freelancer. Use it to tell your company's story or to feature one or more listings. Successful real estate agents can also use it to promote themselves to high-end clients.
Created by: Fiverr
Size: Custom
Price: $165
Edit with: Fiverr Seller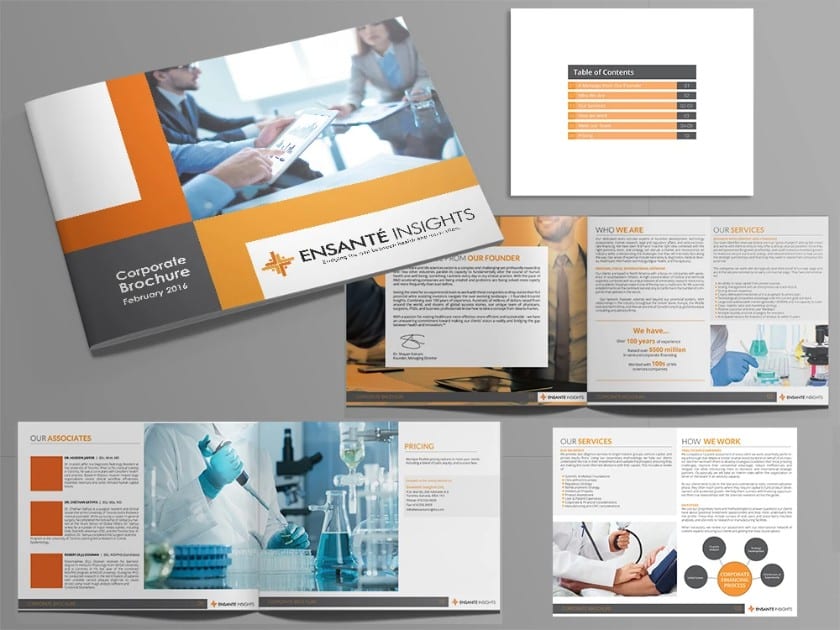 Fiverr is an online marketplace that connects freelancers with people needing their services. You can find a brochure designer for as little as $5 and have them create custom brochures built to your specifications. In addition to brochures, they offer digital services in over 500 categories.
18. Multi-page Listing Brochure
Show off your listings by using this as a luxury listing brochure and send it to luxury homeowners in your farm area. Suitable for boutique brokerages or teams, the modern brochure template features fully customizable, magazine-style pages with clean graphics. When using a luxury real estate brochure to market high-end homes, you're selling a lifestyle, not just real estate, so use it to highlight images and the story about the home and include your information.
Created by: Etsy
Size: 11×17 inches
Price: $25
Edit with: Microsoft Word, Apple Pages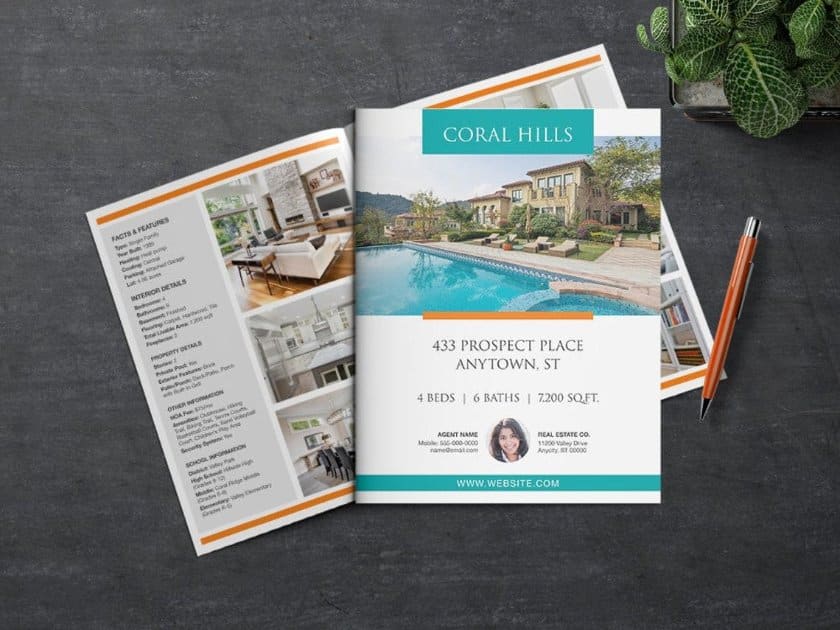 19. Modern Magazine-style Brochure
With various premade layouts and customizable colors, photos, and fonts, and there are many ways to use this real estate brochure. Its simple and elegant layout works for commercial projects, new developments, or modern luxury homes. It relies heavily on photography, so fill it with professional, eye-catching images to spotlight how visually spectacular a particular property is. It's ideal for waiting areas, listing presentations, or a monthly real estate newsletter.
Created by: Envato Elements
Size: 8.5×11 inches
Price: Subscription-based via Envato Elements from $16.50 per month
Edit with: Adobe InDesign
What to Include in Your Real Estate Brochure
To customize your real estate brochure templates, decide on which elements you want to include. All brochures have the same basic features but differ by the brochure type and the visuals you use. Here are some key aspects to add to your brochures:
Your contact information
Company name and logo
Realtor headshot and professional bio
Company tagline and a call to action for what happens next
Listing information
Services offered
High-quality home, brokerage, or agent photos
Where to Buy Real Estate Brochure Templates
Although many real estate brochure examples include a flat fee or one-time cost, the total cost varies depending on the graphic design services for editing, printing, mailing, and paper quality. Brochures range from a few cents to over a dollar per piece in printing, but starting with a free brochure template will help save on overall costs.
| Companies | | | | |
| --- | --- | --- | --- | --- |
| Design Services | ✓ | ✕ | ✓ | ✕ |
| Delivery Options | Overnight, first-class, standard, and EDDM | Download and print | First-class, standard, and EDDM | Download and print |
| Brochure Pricing Starting At | 62 cents | Free | 11 cents | $16.50 per user, per month |
| Learn More | | | | |
Bottom Line
Professionally printed, high-quality real estate brochures are a terrific way to elevate open houses and featured listings. They showcase you as a professional and build credibility and trust. You can use different brochure templates for marketing real estate agents, brokerages, niches, and every property type. High-quality real estate brochures will help you stand out among your competitors and generate leads.