Top 23 Real Estate Brochure Templates to Impress Your Clients
The best real estate brochure templates let you easily customize marketing materials to impress your target audiences, achieve your business goals, and control your costs. You can use them to showcase a wide variety of valuable information like neighborhood breakdowns, recently sold or just-listed properties, open houses or first-time buyer seminars, and real estate market reports. Use the 23 real estate brochure templates below for inspiration and ideas to attract and nurture clients to grow your business.
One-page Real Estate Brochure Templates
Single-page brochures, aka real estate flyers, are one of the most classic real estate marketing tools because they are fairly easy to create and yet contain the valuable information potential leads want to hold onto. For example, it's easier to create and edit a one-page real estate brochure design compared to the layout skills needed to produce a bi- or tri-fold real estate brochure.
They may be single-sided or double-sided. If double-sided, you will want to ensure sufficient paper quality and weight so that colors don't bleed through, distorting the design of one side or the other. However, double-sided printing enables you to include far more information, such as a property listing on one side and your real estate business details, strengths, client reviews, and other marketing information on the other.
1. Basic One-page Real Estate Brochure
Created by: Snapflyers
Size: 8.5×11 inches
Price: $39.99
Edit with: Adobe PDF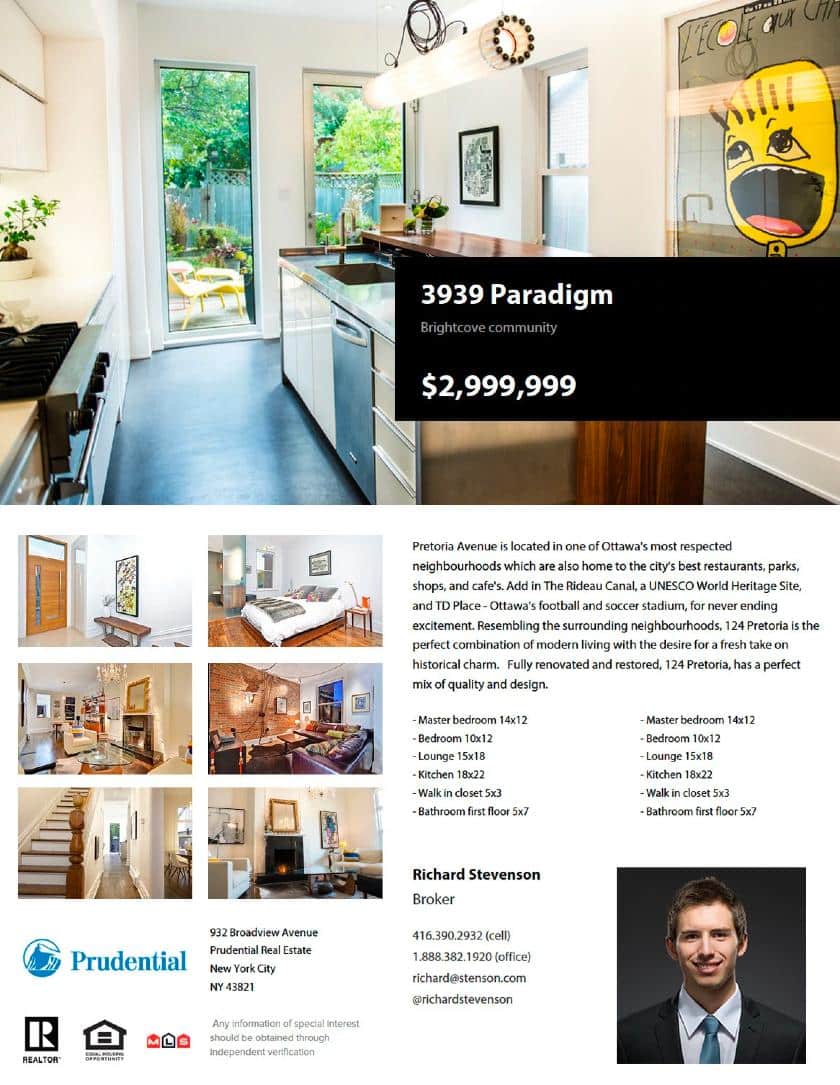 The modern, clean design of this one-page real estate brochure provides plenty of space to showcase photos, a property description, a bullet list of features, your logo, required icons and disclaimers, and your agent headshot and contact information.
You can edit everything on this real estate brochure template, including text, images, logos, and more using Adobe Reader, which can be downloaded and used for free. This means you don't have to spend money on premium graphic design software like Adobe Photoshop or InDesign.
2. Double-sided Property Auction
Created by: Envato Elements
Size: 8.5×11 inches
Price: Subscription-based via Envato Elements from $16.50 per month
Edit with: Adobe Illustrator, Adobe Photoshop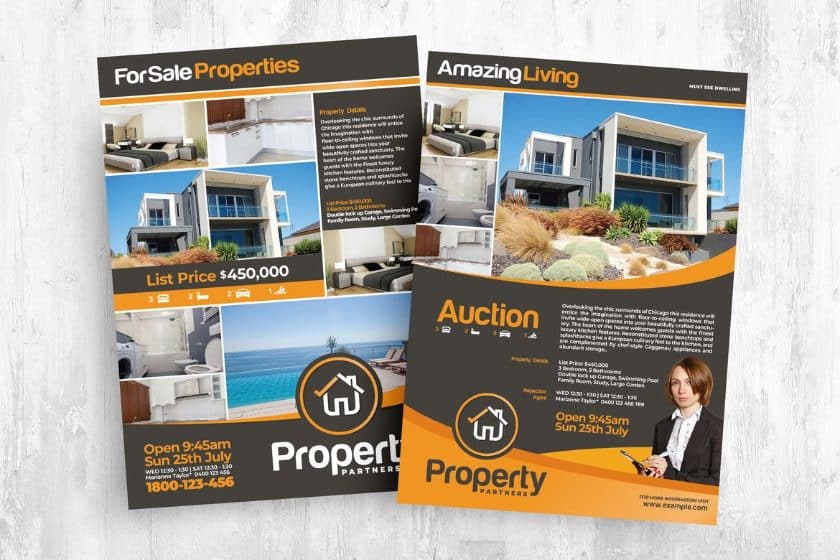 This double-sided real estate brochure template is ready-made for properties being sold via auction. The professional, visually appealing design uses colors and shapes to separate and highlight important information like photos, price, description, your contact information, and the date and time of the auction. This provides all the information a potential buyer needs to decide whether to participate in the auction or contact you to use your services for similar types of transactions.
3. Cartoon Image Brochure
Created by: Canva
Size: 8.5×11 inches
Price: Free
Edit with: Canva's free online graphic design editing tools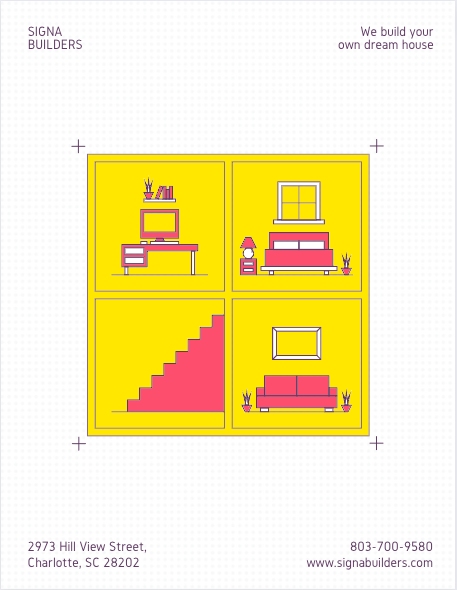 With plenty of white space, this free real estate brochure template has a simple yet highly effective design. Though designed for homebuilders, it can easily be adapted by real estate agents. Whether handed to you or posted on a bulletin board, the bright colors and graphics make it likely to catch your eye. This is a perfect example of how you can include all the most essential marketing information without using too many words or taking up too much space.
4. Photo-focused Real Estate Listing Brochure
Created by: Xara
Size: 8.5×11 inches
Price: Free or paid plans ranging from $12.95 to $16.95 per month
Edit with: Xara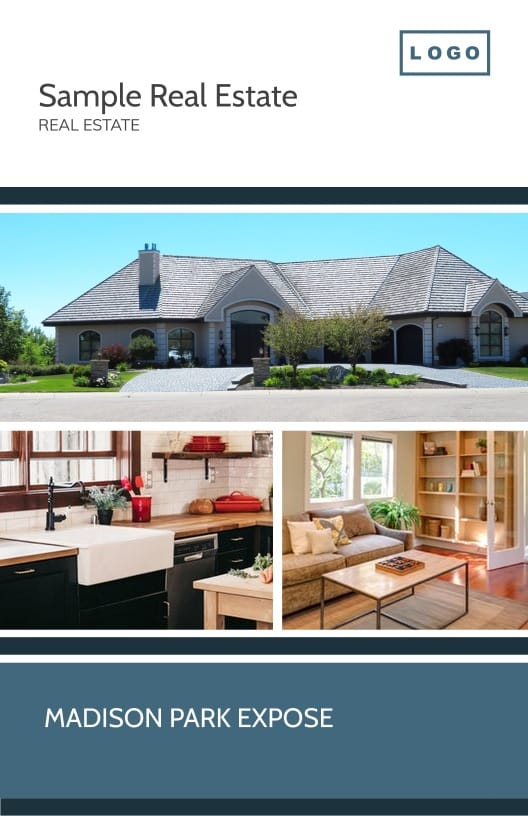 Use this bold, contemporary real estate brochure template design when you want to highlight property photos. There is some room left at the top where you can add important details about the property, like its location, general size or number of bedrooms, as well as your logo and contact information. Alternatively, you can add details to the back of the brochure.
This could work well for a property with standout features that deserve a large space to show off. It could also be ideal as a door hanger within the neighborhood where potential buyers likely already know the location and size of the listing. In addition, it could be used when producing a buyer's report or offered as a free download on your property listing's landing page.
5. Modern Shapes & White Space Listing Brochure
Created by: Behance
Size: 8.5×11 inches
Price: $75
Edit with: Customized by the Service Provider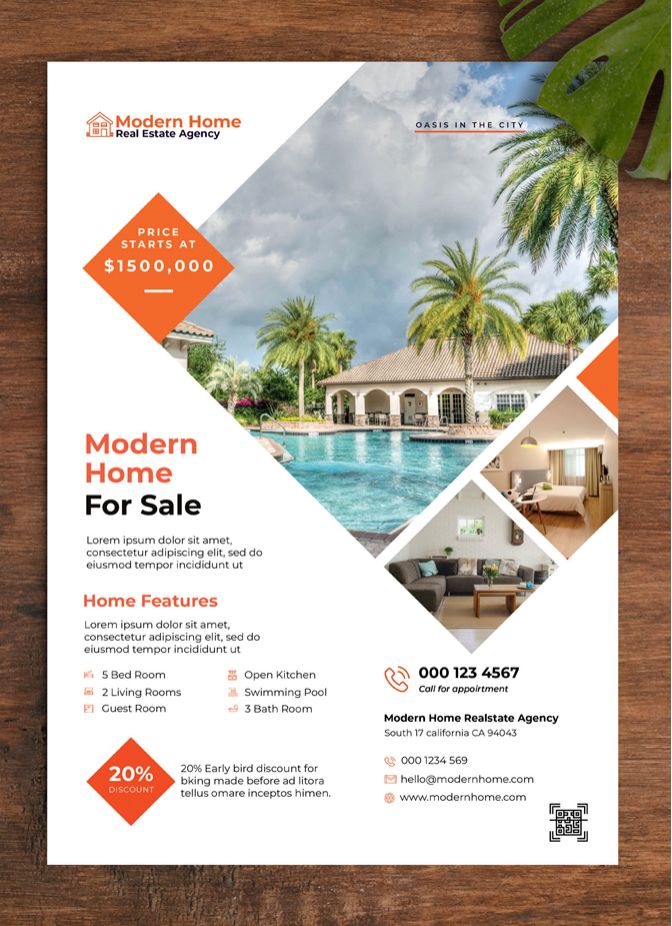 This real estate listing brochure uses plenty of white space to make it feel clean and modern and uses shapes strategically to fit in a large number of property details and descriptors. This brochure will catch a potential client's attention and ensure that they can have all the necessary information required to move on to the next steps of the homebuying process.
---
Bi-fold Real Estate Brochure Templates
By using a bi-fold brochure, you significantly change the way you will use the space available to add content and images. With just one fold, you actually get four different spaces to design. Plus, the column space for bi-fold brochures is much wider than that of tri-folds.
As you'll see in the real estate brochure examples below, there is a wide variety of design possibilities. Bi-fold brochures are often used when you want to break up information like property descriptions, floor plans, or brokerage information. Depending on paper size and type, using a bi-fold layout can make a brochure feel higher-end, such as using a 17" wide by 11" high paper size, which essentially provides four 8.5"×11" design spaces.
6. Real Estate Company Information Bi-fold
Created by: Template.net
Size: 8.5×11 inches and A4
Price: Subscription-based from $3.99 to $16.50 per month
Edit with: Adobe Photoshop, Adobe InDesign, Adobe Illustrator, Apple Pages, Microsoft Word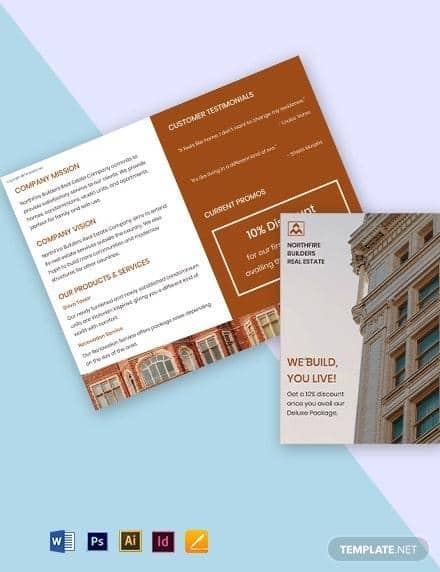 This bi-fold real estate brochure example is designed to showcase your real estate brokerage to potential buyers and sellers, landlords, property managers, and other real estate professionals. It includes space for a large photo on the cover and options to change your logo, contact information, and more. The inside of the brochure can be used to highlight features of your real estate business, like its mission, vision, products, services, and testimonials.
Having each feature separated by a headline makes it easy to read and digest. Brokerages can use a brochure like this during the recruiting process, as part of listing presentations, when networking, and in general meet-and-greets with potential new clients. Newer agents using this design can adapt it to showcase their brokerage's resources, while more experienced agents can include testimonials, market information, and success stories or statistics.
7. Featured Properties Bi-fold Mailer
Created by: ProspectsPLUS!
Size: 8.5×11 inches or 8.5×5.5 inches
Price: Download only for $19.95; cost of printing starts at 93 cents for 25 to 49 pieces
Edit with: ProspectsPLUS!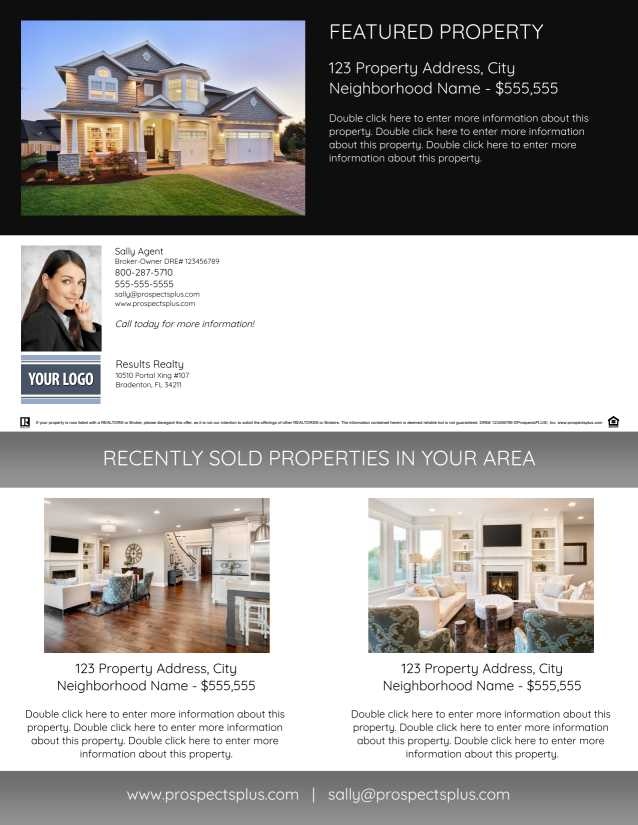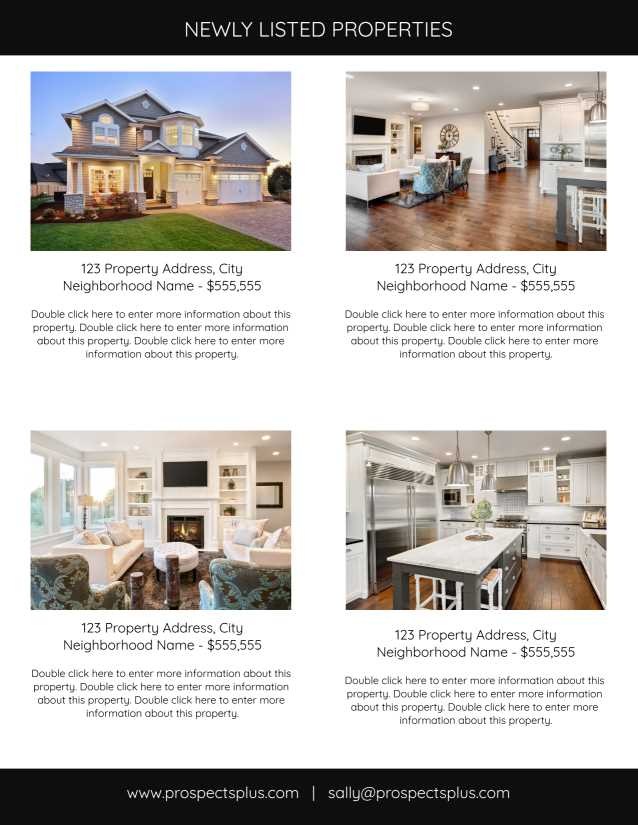 This bi-fold direct mailer brochure template can be used to highlight a selection of your listings in order to attract buyer clients, similar to real estate postcards. The layout makes it easy for interested buyers to scan the properties and get essential information on which ones may fit their needs.
Another reason this template is such an effective choice for real estate is that it comes from ProspectsPLUS!. You can easily drag-and-drop photos and add descriptions in the user-friendly interface. In addition, you have options―print the brochures yourself and get them shipped to your business or have them mailed directly to your audience. Start editing your ProspectsPLUS! brochure now.
8. First-time Buyer Bi-fold Brochure
Created by: VistaPrint
Size: 8.5×11 inches, 9×8 inches, 11×17 inches
Price: Starts at $38.05 for 25 brochures
Edit with: VistaPrint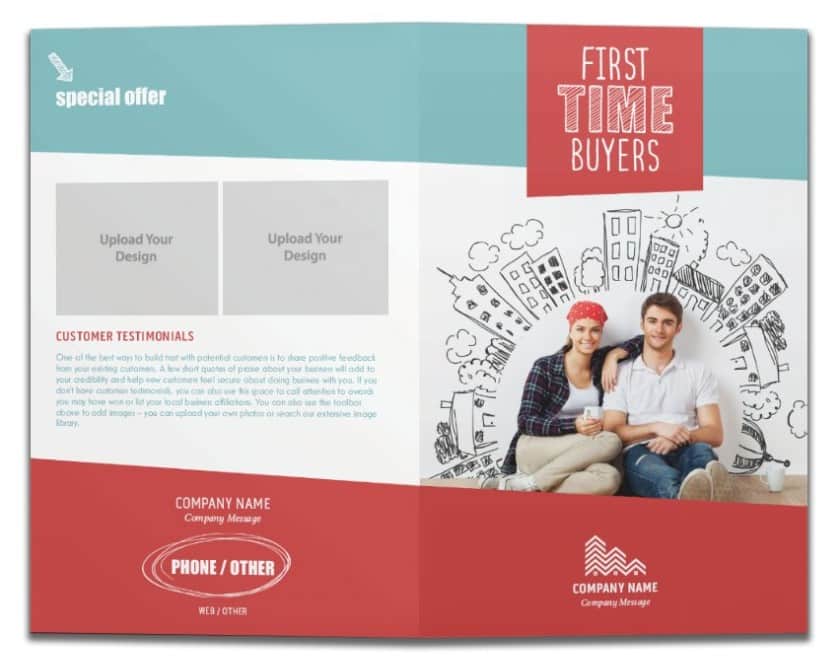 When you want to create a marketing campaign specifically for first-time homebuyers, this brochure will be a natural fit. The more specific you can get about the needs of your audience, the more likely you are to get responses. Tackle commonly asked questions, add customer testimonials, and contribute tips that first-time homebuyers need to know during their first transaction.
This brochure has a bold, youthful design with bright colors and graphic text. It includes a spot for a client testimonial, a special offer, and photos, such as for property listings or your headshot and logo. Send this to make it easy for first-time buyers to get closer to purchasing a home.
9. Modern Company Brochure
Created by: Envato Elements
Size: 8.5×11 inches, A4
Price: Subscription-based via Envato Elements from $16.50 per month
Edit with: Adobe Photoshop, Illustrator, or InDesign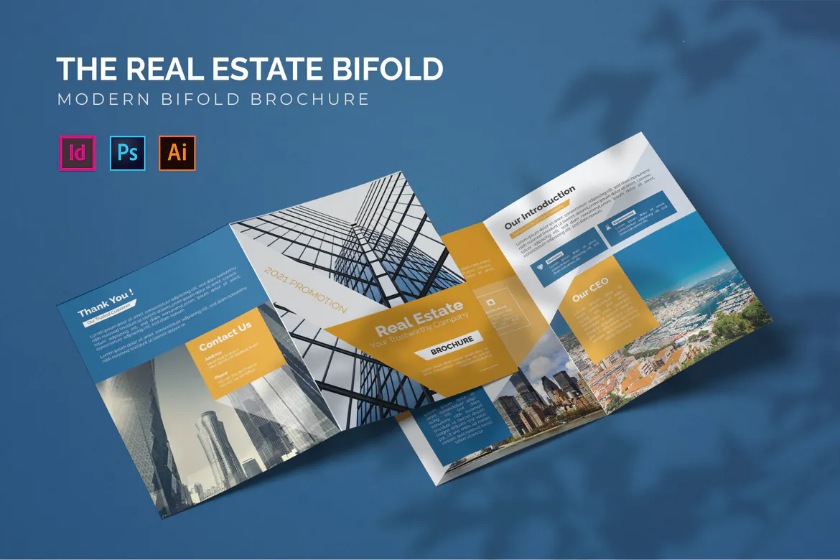 When big and bold is necessary, this bi-fold real estate brochure gets the job done. Its form is ideal for a commercial real estate marketing brochure, but everything from imagery to text can be changed to customize it for your needs. It could be perfect for a deep-dive into a single listing, multiple listings, or agency information.
10. Real Estate Agent or Company Brochure Template
Created by: Overnight Prints
Size: 11×17 inches
Price: Starts at $99.48 for 25 pieces
Edit with: Overnight Prints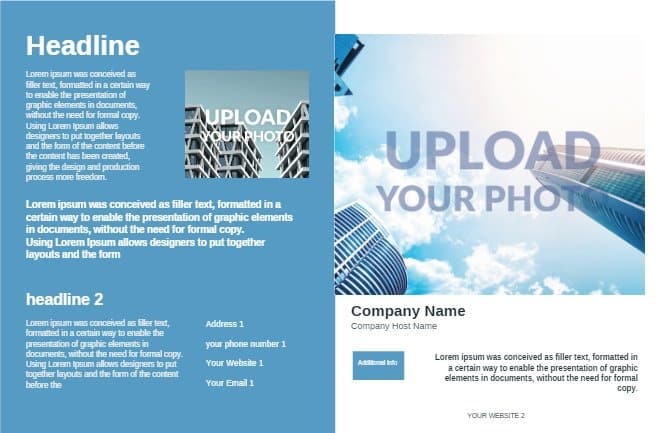 Simple is often better than complex, and this brochure template could easily be adapted to serve a variety of real estate marketing ideas. It could become a marketing pamphlet for individual real estate agents, teams, or, with a little tweaking, a property brochure.
The template features space for one large photo and one smaller image inside. There's plenty of room for text for property descriptions, your business and mission statement, testimonials, statistics or past successes, and more. This could also be a good template to use for events, such as events for first-time homebuyers.
11. General Information Brochure
Created by: Overnight Prints
Size: 8.5×11 inches
Price: Starts at $28.56 for 25 pieces
Edit with: Overnight Prints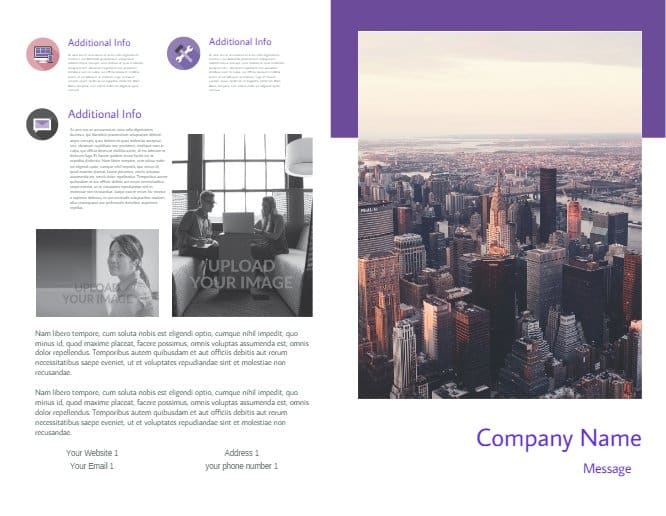 This template from Overnight Prints offers a great balance of information and photos. The layout is ideal for property management companies since there is space to show photos of the properties and describe additional features like appliances and amenities. Paragraphs are divided with headings and small graphics, making it easy to read and highly customizable for a variety of real estate marketing materials.
---
Tri-fold Real Estate Brochure Templates
Tri-fold brochures are among the most traditional type of brochures. With two folds in a single sheet of paper, they are affordable to produce and distribute and provide six different areas that can be organized with images and text. Tri-fold brochures can be distributed in person or sent affordably through a direct mail service since they are small in size but can still convey a large amount of information about a real estate listing or business.
12. Commercial Real Estate Tri-fold Brochure
Created by: LucidPress
Size: 8.5×11 inches
Price: Subscription starting at $10 per month
Edit with: LucidPress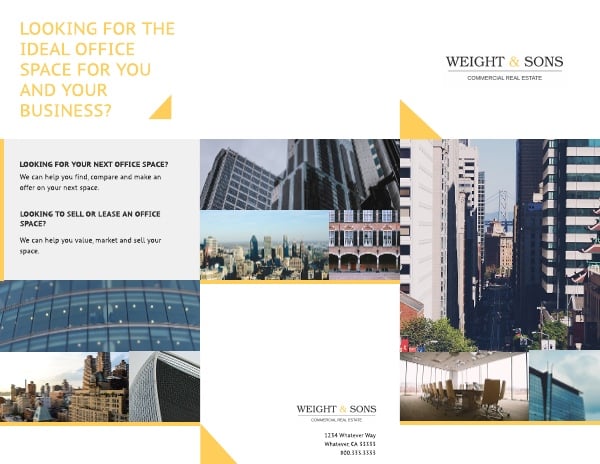 Tri-fold real estate brochures are small, portable, and draw the eye of buyers and sellers to the images and information you most want them to see. With this template from LucidPress, commercial real estate companies can feature either a single property or their overall services. There are two separate spots for your logo so it's a great way to build brand recognition while highlighting a commercial property or service.
13. Minimalistic Property Brochure
Created by: Canva
Size: 8.5×11 inches
Price: Free
Edit with: Canva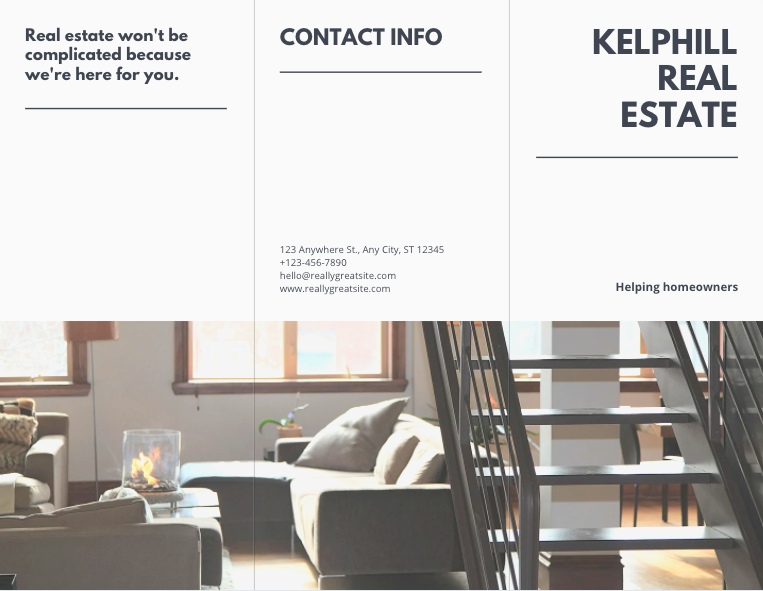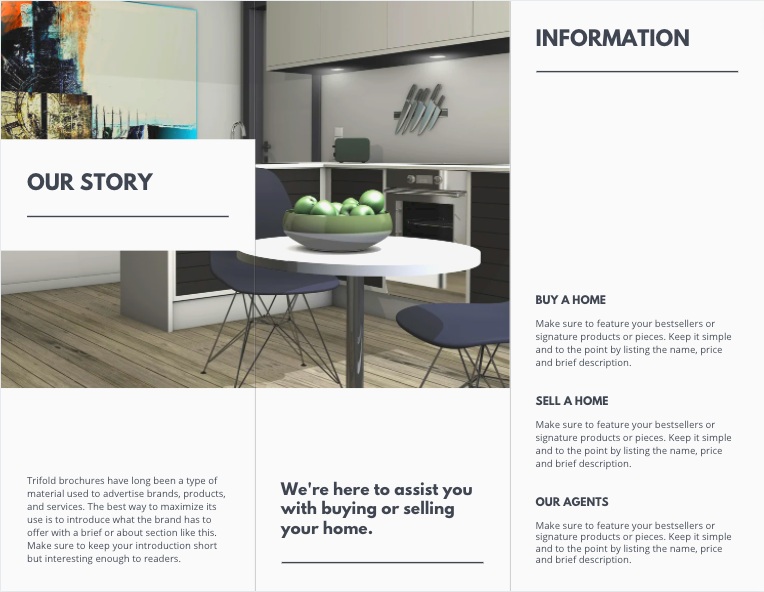 On the front and inside of this modern, clean tri-fold template, there are images spanning the length of the entire pamphlet if laid flat. The inside layout can be used to communicate all the information needed by potential buyers, like commonly asked questions, prices, or agent information. This template is ideal for showcasing a property with beautiful features through photography or highlighting your modern brand.
Since this template is free with Canva, everything is completely customizable, including fonts, colors, size, layout, and spacing. Canva also has thousands of elements that are available to add for free, which include shapes, drawings, fonts, and even images. You can adjust everything to perfection and then download and print this on your desktop printer or get it professionally printed with a company like VistaPrint.
14. Property Listing, Agent, or Brokerage Tri-fold Brochure
Created by: VistaPrint
Size: 8.5×11 inches, 8.5×14 inches, 9×16 inches
Price: Starts at $38.05 for 25 pieces
Edit with: VistaPrint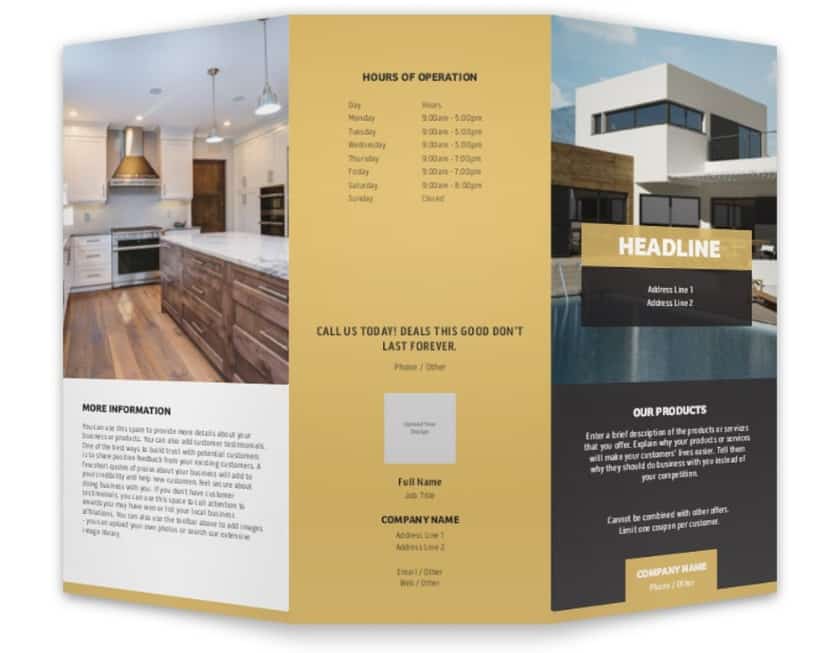 This is another modern, simple, professional brochure template that will change in style depending on which photos you choose for the front and back. Although it can be customized, the space on the back for office hours, logo, and company information makes it ideal for brokerages and real estate agents. You can customize it in no time using VistaPrint's design tools and have it professionally printed at an affordable price.
To become successful in real estate, you should always have information ready for potential clients and deals. This brochure would be an important piece to keep on hand when you meet prospective clients. Use it to showcase your business and services and add photos that speak to your farm area or niche real estate market client types. You can even use it to market individual property listings or as open house invitations.
15. Graphic & Colorful Tri-fold Brochure
Created by: Envato Elements
Size: 8.5×11 inches
Price: Subscription-based via Envato Elements from $16.50 per month
Edit with: Adobe Photoshop or Illustrator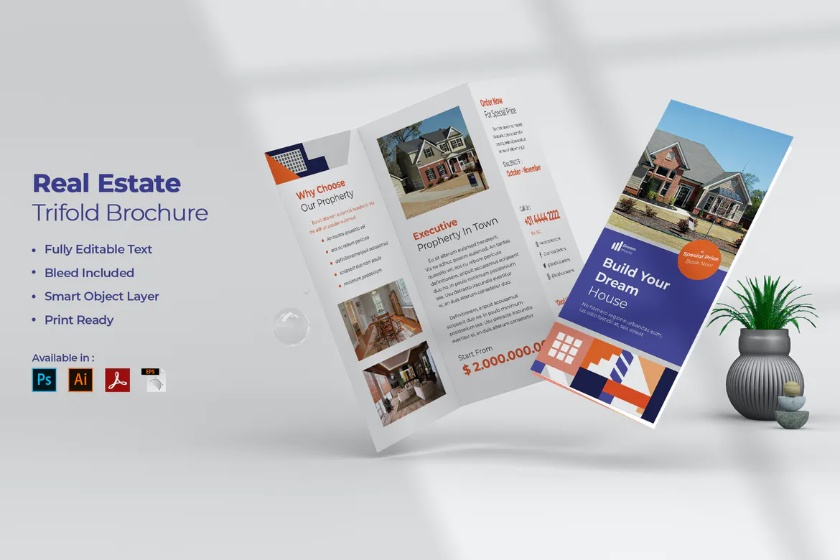 With bright, energetic colors like cobalt blue and orange, this tri-fold real estate brochure template is a bold and stylish choice to use when you want a prospect to take action. In the example, it's used as a company information brochure for a construction or homebuilding company. However, it could be easily customized for property listings, used as open house invitations, or to promote your real estate business.
16. Tranquil Photography for Luxury Real Estate Property
Created by: Canva
Size: 8.5×11 inches
Price: Free
Edit with: Canva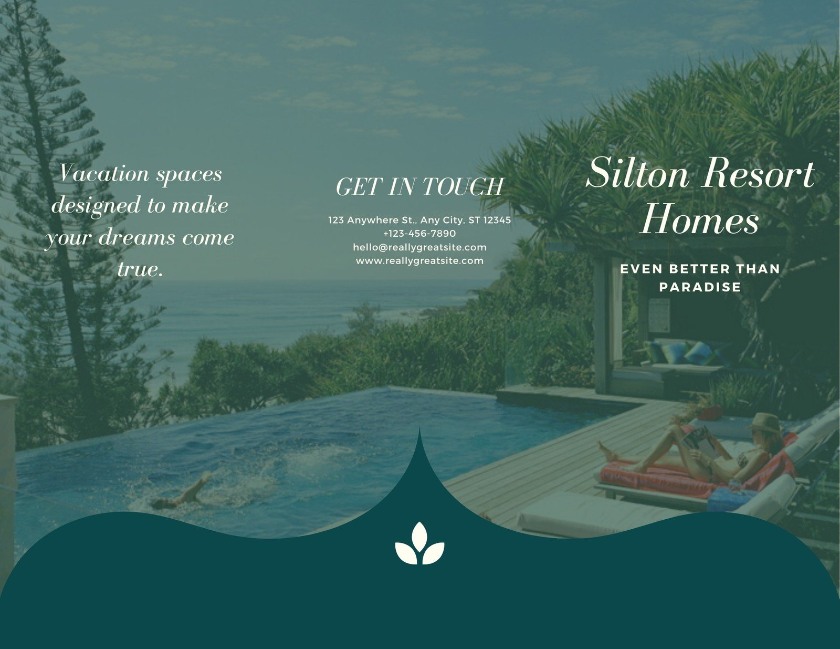 By using just one photo across the entire length of the brochure (if laid flat), this template communicates a luxe, tranquil feeling. It's ideal for luxury properties, resorts, or property management companies. Canva's free graphic design editing tools make it easy to change everything from photos to fonts and colors.
The example photo shows an escape from the hustle and bustle of city life, but you can choose a photo that more accurately describes your specific location. Plus, the interior of the brochure has extra room for property information and additional listing photos to draw homebuyers in before they've even seen the property in person.
17. Photography Highlight Tri-fold Brochure
Created by: Overnight Prints
Size: 8.5×11 inches
Price: Starts at $28.56 for 25 pieces
Edit with: Overnight Prints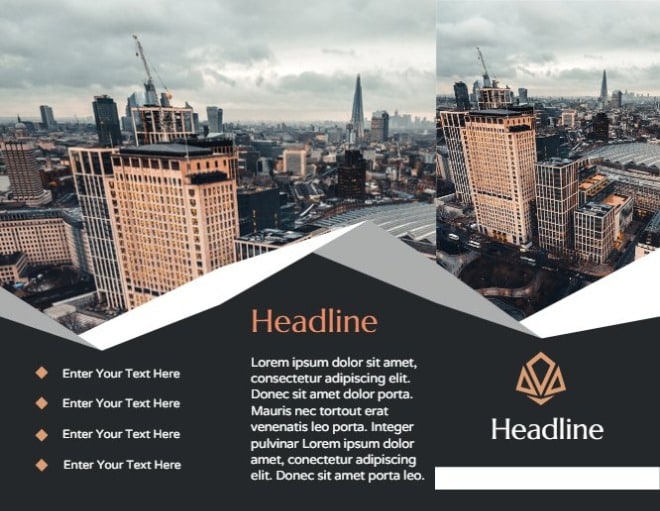 This real estate brochure template offers a different way to showcase one image across the width of the brochure while still leaving space for a headline, logo, and bulleted list. It's an alternative way to communicate the feeling of your property or business, and also add a modern, almost three-dimensional (3D) feel with the graphic separating the top and bottom parts of the design.
This brochure example is highly versatile. It could work well for property management companies, apartment complexes, or real estate brokerages. By adding a panoramic or landscape photo of your area, you can appeal to many types of customers in the area. Alternatively, you could showcase a few property photos, focus on a listing, or highlight your services.
---
Multi-page Real Estate Brochure Templates
Brochures with multiple pages can be the equivalent of magazines depending on size and quality. They are generally not used for individual properties unless you are representing a multi-unit building or new construction neighborhood.
They can be perfect, however, for companies or businesses that want a marketing piece to impress prospects, vendors, and potential partners. For example, property management companies or real estate brokerages can fill these brochures with large images, portfolio style projects, and details about their company.
18. Minimalistic 24-page Brochure
Created by: Envato Elements
Size: 8.5×11 inches, A4
Price: Subscription-based via Envato Elements from $16.50 per month
Edit with: Adobe InDesign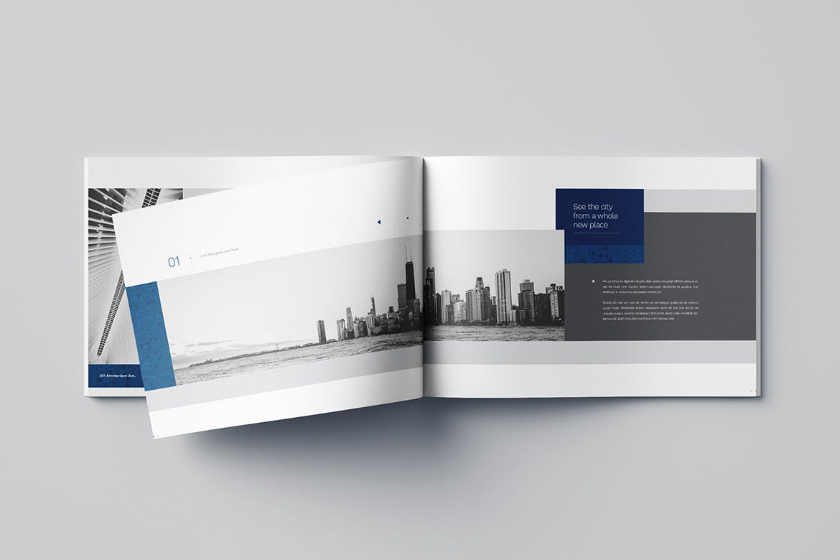 This multi-page real estate brochure template features a horizontal orientation to showcase high-quality photos in a clean, modern design. It would be a superb choice for showing new construction building plans, for use as a success portfolio, or as a pitch deck to generate commercial real estate leads among landlords and investors. There are 24 pages with layout variations, pages are automatically numbered, and you can customize the light or dark backgrounds.
19. Detailed Company Brochure
Created by: Freepik
Size: A4
Price: Premium subscription for as low as 5.25 EUR per month
Edit with: Adobe Illustrator

This 16-page brochure features bold colors and shapes, layout variations, and an extensive amount of space to communicate details about your real estate business. This is ideal for meeting with investors, leaving in your office waiting room, or for commercial real estate clients. Given its professional appearance, this guide is something potential clients will likely keep rather than throw out, so be sure to pack it full of information about your agency and contact information so prospects can get in touch with you.
20. Origami Square Brochure
Created by: Creative Market
Size: 23.65×8.05 inches
Price: $14
Edit with: Adobe InDesign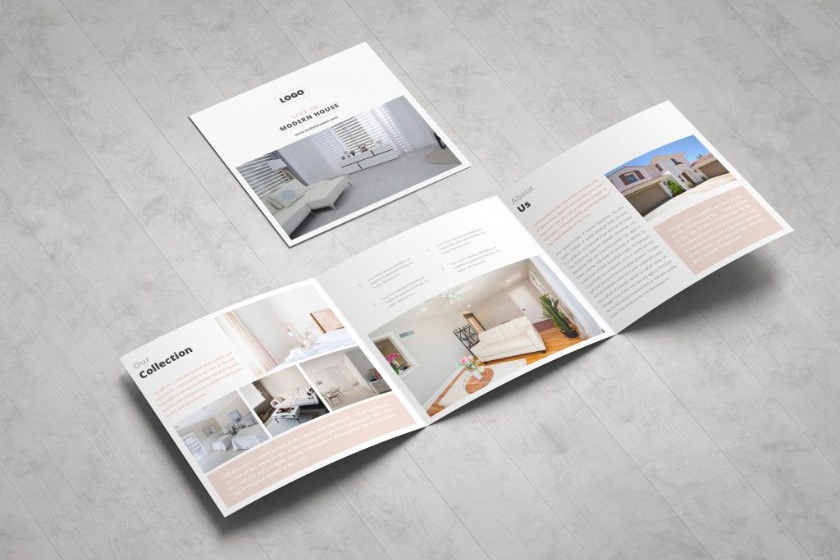 Grab your potential client's attention with this unique, square (when folded) six-page brochure. The square shape provides a modern-feeling space for photos and text without the bulk of a large catalog. The unique layout and size will also make it stand out from competitors. All you need to do with this template is to insert your own pictures and text. You can also change the scale of the brochure easily to make it fit your needs.
21. Corporate Real Estate Magazine
Created by: Fiverr
Size: Custom
Price: $165
Edit with: Fiverr Seller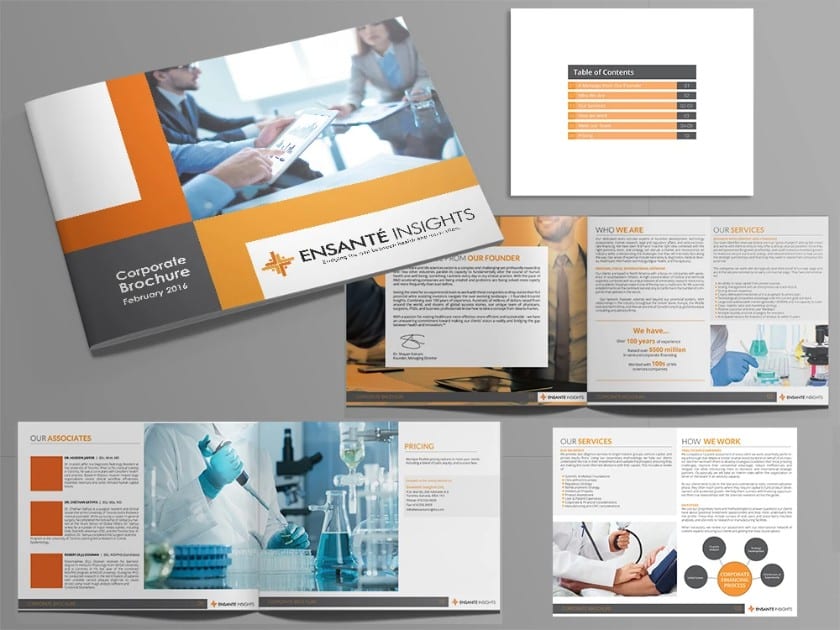 This custom-made corporate brochure is ideal as a leave-behind after making sales pitches and will help any commercial developer, real estate agency, or property management company get noticed. The super professional, versatile template will be customized for you by the individual Fiverr freelancer.
Alternatively, if you favor this design but want to use it for a different purpose, you can work directly with the freelancers on Fiverr to make changes or completely customize it to each of your needs. You can search for a graphic designer on the platform and view each freelancer's past work and customer reviews before interviewing them. It's a great way to get an original, custom-made brochure at a price that works for you.
22. Real Estate Property
Created by: Etsy
Size: 11×17 inches
Price: $25
Edit with: Microsoft Word, Apple Pages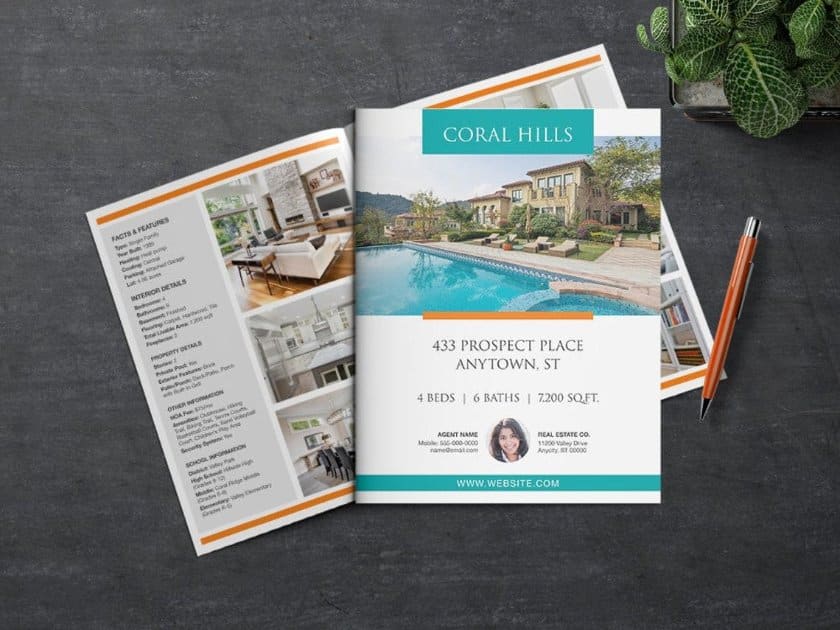 This drop-dead-gorgeous four-page real estate brochure is an ideal way to show off luxury listings in your farm area. Suitable for boutique brokerages or teams, the modern brochure template features fully customizable, magazine-style pages with clean graphics. When you're selling a luxury property, you're selling a lifestyle, not just real estate, and this brochure template will help you do that.
23. Modern Property Real Estate Magazine
Created by: Envato Elements
Size: 8.5×11 inches
Price: Subscription-based via Envato Elements from $16.50 per month
Edit with: Adobe InDesign
With a variety of premade layout variations and the ability to customize everything from colors to photos and fonts, there are many ways to use this Envato Elements real estate brochure template. Its sleek, simple, and elegant layout will work for commercial projects, new developments, or modern luxury homes. It relies heavily on photography, so fill it with professional, eye-catching images to spotlight how visually spectacular a particular property is.
How Much Real Estate Brochures Cost
Although many of the real estate brochure examples included here show a flat fee or one-time cost, the total cost of your brochures will depend on additional factors like graphic design services needed for editing as well as printing, mailing, and paper quality. Brochures have a wide range of prices, from just a few cents to over a dollar in printing per piece—but starting with a free brochure template will help save on overall costs.
A few different ways to design and print your real estate brochures are:
How to Customize Real Estate Brochure Templates
The brochures included on this list can be edited using an online platform or with editing or graphic design software. However, some require the use of advanced graphic design software like Adobe InDesign or Photoshop, or outsourcing customization to a graphic design pro, like one of the freelancers on Fiverr. Regardless of software or whether you do it yourself or outsource, the editing process is generally the same.
Here are three steps to edit your real estate brochure design and content:
Select a template design: Choose a design with your specific property or goals in mind. Find a design that will highlight the strengths of your listing or your company with the right coloring, branding, image spacing, and property detail formatting.
Add images and text: Make your brochure feel custom by adding details and information, uploading your own images, and changing the font style.
Include your company branding: Always include your logo, business details, and contact information so that potential clients know exactly who to contact.
Bottom Line
Professionally printed, high-quality real estate brochures are a terrific way to elevate open houses, networking events, and more. Our list of ideas for real estate brochures and the customizable templates for each one gives you everything you need to take your real estate marketing to the next level with customizable content and clean graphics.