According to the NAR 2019 member profile, the median real estate broker salary in 2018 was $70,400. Although that's the average, a real estate broker's income potential is unlimited, and 36% of brokers made over $100,000. That said, there are many factors that can influence the average real estate brokers' income potential.
How Much Is a Real Estate Broker Salary?
The first thing to note is that the majority of real estate brokers do not actually make a salary. In fact, only 1% of NAR brokers report receiving a flat salary. For the rest, their income is dependent on commission from their own real estate transactions or those closed by agents under them, a share of the firm's profits, production bonuses, or some mixture of all three. However, for the sake of simplicity, we'll use the term salary for this discussion.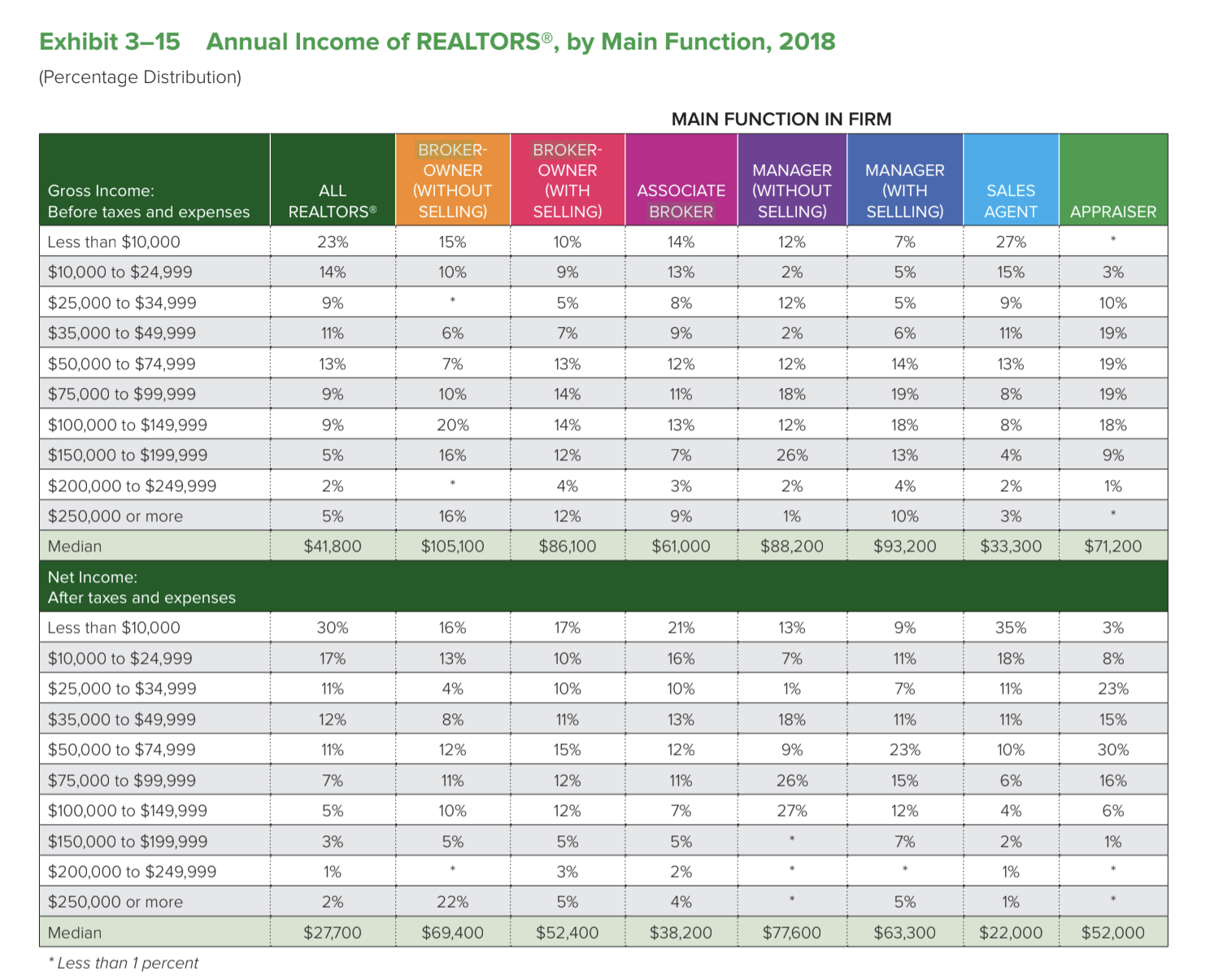 The median salary of licensed real estate agents in 2018 was $31,900 according to NAR data. This is less than half of the median salary of real estate brokers. A major reason for this variance can be explained by the difference in experience, as most states require professionals interested in becoming a real estate broker to have at least two years of working experience prior to taking their licensing exam.
In addition, the number of hours individuals work is another reason why brokers make more than agents. It is not uncommon for real estate agents to work part time, lowering the median, while many real estate brokers treat real estate transactions as their full-time source of income. This, plus their existing industry experience, also means they get a larger amount of repeat and referral business.
While the average real estate broker's salary is typically higher than an agent's, the role the broker serves in a firm also affects income potential. For example, a managing broker, by definition, is in charge of a team. These brokers receive a portion of their agents' commissions and may, in some cases, still be engaged in direct selling themselves. An associate broker, on the other hand, may not have a team of agents under them to supplement income potential.
For this reason, those who hold a real estate broker license may be tempted to start their own firm so that they might grow out their own team of agents. However, this strategy is not without its own risk and while there may be more income potential, there are more expenses involved in running your own firm too.
How Many Real Estate Brokers Own Their Brokerages?
As of the 2019 NAR report, approximately 36% of all real estate brokers have sole ownership of their brokerage, which means they started a small boutique firm that they own outright. Another 14% had partial ownership at a larger firm. However, the majority, 50%, of brokers reported they had no ownership stake in a firm. These are associate brokers working essentially as agents, or managing brokers working under another broker-owner.
The number of reasons so many brokers work under the supervision of a broker-owner or managing broker rather than try to start their own firm varies as much as the factors that can influence their salary. Location is one such factor, as not every market will support multiple brokerages. Newer associate brokers may also wish to learn from their more experienced colleagues or build up their sphere of influence before taking that next step.
Common Real Estate Broker Expenses
While running a brokerage offers more salary or commission potential, running a brokerage can also cut into a broker's income. From advertising to equipment, technology, automobile expenses, and more, associate real estate brokers spend a median of $7,650 per year to keep their business going. Median expenses for broker-owners who also sell were $10,670 in 2018.
Here are some examples of real estate brokers' typical expenses:
Typical Expenses for a Real Estate Broker-Owner (Who Also Sells)
| Expense | Median Cost (2018) |
| --- | --- |
| Administrative Expenses (office supplies, equipment, phone bill) | $1,170 |
| Marketing and Promotion (online ads, print ads, email marketing) | $900 |
| Professional Development (real estate coaching, seminars, continuing education, and so on) | $930 |
| Business Promotion Expenses | $990 |
| Technology (website, CRM) | $880 |
| Vehicle Expenses | $2,310 |
| Total: | $7,180 |
Source: NAR 2019 Member Profile
There is a wide range of expenses for real estate brokers, whether you're a broker-owner or an associate real estate broker. If you're a broker-owner, you may have to pay office and technology costs, such as fees from lead generation providers, for your entire team of agents as well as expenses for recruiting and training new agents.
Average Real Estate Broker Salary & Hours Worked
An interesting finding of the NAR 2019 report is that broker-owners who did not sell their own properties made the highest median income, but worked less hours than managing brokers. The majority of all types of real estate brokers worked between 40 and 59 hours per week, but their incomes varied drastically.
Sales agents had a median workweek at 35 hours, while the average broker reported a workweek of 40 hours. While most brokers worked between 40 and 59 hours a week, managing brokers worked the most and reported incomes evenly from $50,000 to $200,000. A real estate broker's salary does not depend on their title, but on how they run their business.
Cost to Become a Real Estate Broker
When you're reading about real estate brokers' salaries, it can be easy to focus on income potential and forget that there are additional costs to consider associated with the role. Each state has very different first-time and on-going licensing requirements, and costs will depend on what type of real estate broker career you choose.
For example, in order to become a real estate broker, you will need to pay for the following:
Prelicensing education: Approximately $300 to $2,000, depending on your state.
State application and exam fees: Approximately $150 to $200, depending on your state.
Costs associated with starting a brokerage (optional): Approximately $500 to $50,000 or more per year (this includes the cost of office space, hiring agents, marketing, and so on). Brokers who open their own brokerages are called managing brokers. You can also choose to be an associate broker and work for a brokerage, broker-in-charge, or principal broker.
It's important to be aware of the costs involved with the next step in your career before getting started, so be sure to research the costs and requirements in your area.
Cost to Become a Real Estate Broker by State
State

Course Fees

State Fees

Total Cost

California

Home study course package at Kaplan (360 hours): $448
Al la carte live and on-demand courses at Kaplan: $1,112

Exam fee: $95
Application fee: $300

From $848 - $1,507

Texas

Costs range from $350 - $2,000+ based on:

Your college degree
CE credits
Post-licensing credits

TREC application fee: $305
Background check: $29.75
Paper processing fee: $20

From $644.75 - $2,344.75

New York

Online course at Kaplan: $349

Exam fee: $15
Application fee: $150

$514

Florida

Bob Hogue School of Real Estate: $395

Application fee: $91.75

$486.75

Illinois

Real Estate Institute: $350

Application fee: $150

$500
Bottom Line
Although there's a pretty wide income range for real estate brokers when comparing medians, they generally make significantly more than real estate agents. This, and the added freedom to operate independently that the broker license provides, can make it an attractive option for real estate agents ready to take the next step in their professional career.