If you snuck into my home office and opened my desk drawer, you'd find at least two dozen real estate business cards. While most are from agents I've done deals with in the past, you'd find at least a handful of my old business cards. Why did I keep them? Because each one is a reminder to maintain a relationship.
Top 28 Real Estate Business Cards We Love
---
1. Mercer Vine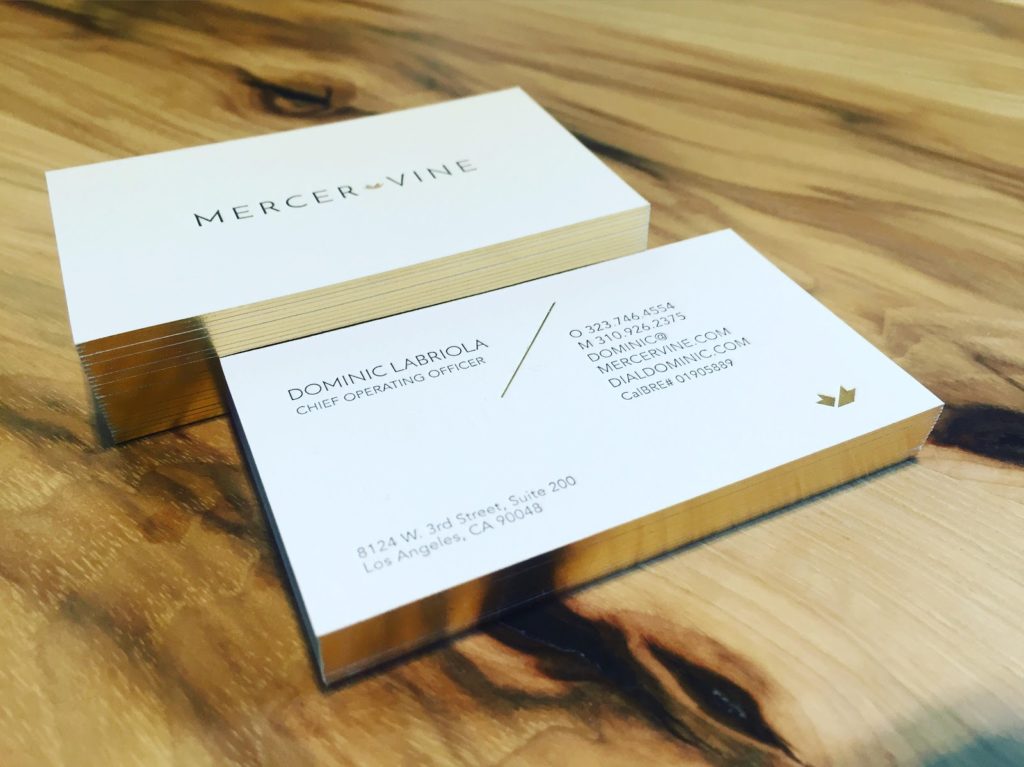 These drop dead gorgeous letterpress real estate business cards with gold embossment and edges were made in-house by luxury Los Angeles real estate firm Mercer Vine. What I love most about these cards is that they're opulent and luxurious while still being understated. That's a very fine line and one that many luxury firms butcher with their branding efforts. Even more amazingly, these were designed in-house by someone with some pretty serious design chops. These are way too nice for my office junk drawer…
---
2. Climb Real Estate
Recently named Most Innovative Brokerage by RESAAS, it should come as no surprise that San Francisco's Climb Real Estate takes branding seriously. Minimal without being pretentious, clean and highly legible type, and very subtle pops of red really make these cards stand out.
---
3. Stribling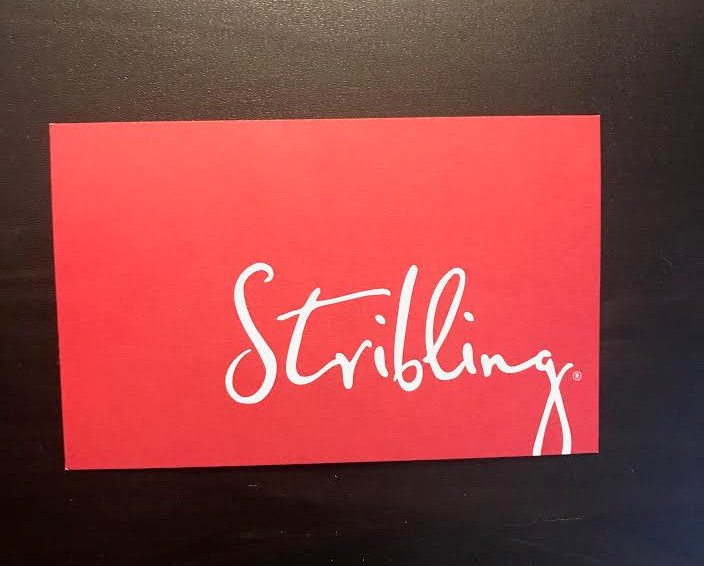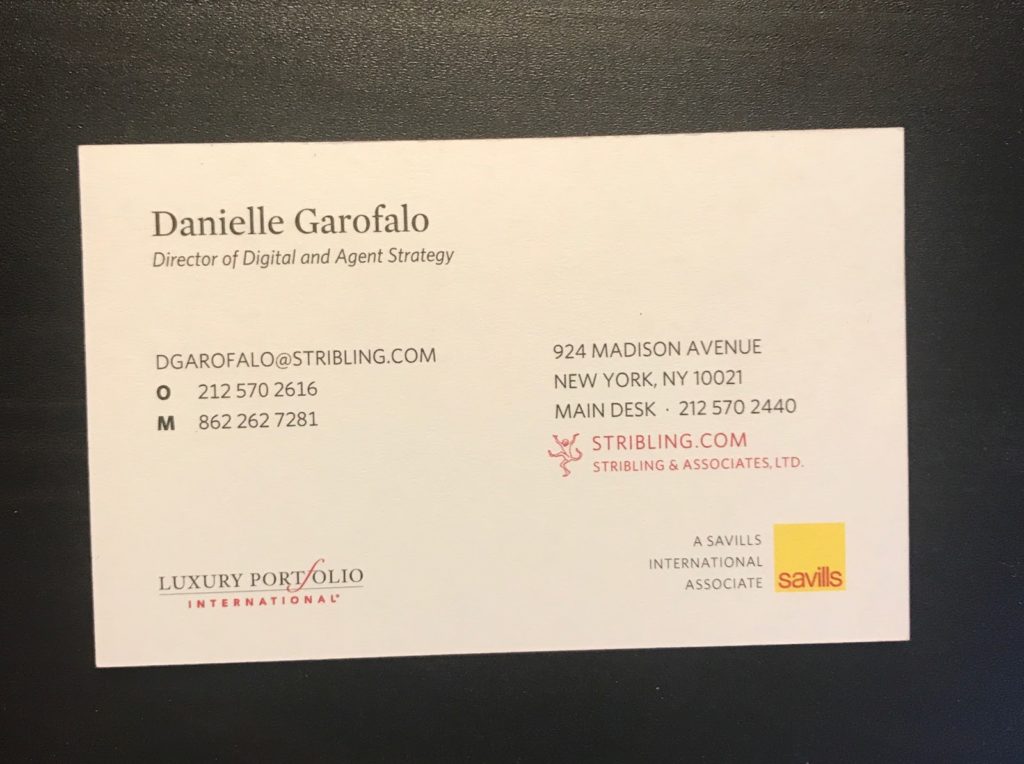 I always loved Stribling's pen and ink logo and bold red signature color. There's just something timeless and elegant about it that seems to be sorely lacking in real estate branding today. It's also cropped in a somewhat playful way, which immediately brings to mind Pentagram's refresh of the iconic Saks Fifth Avenue logo. Timeless, casually elegant, yet still playful, what's not to love here?
Even better, think how that bold red card will stick out in a pile of bland cream-colored cards a buyer might collect after shopping for an agent…
---
4. Bond St. Partners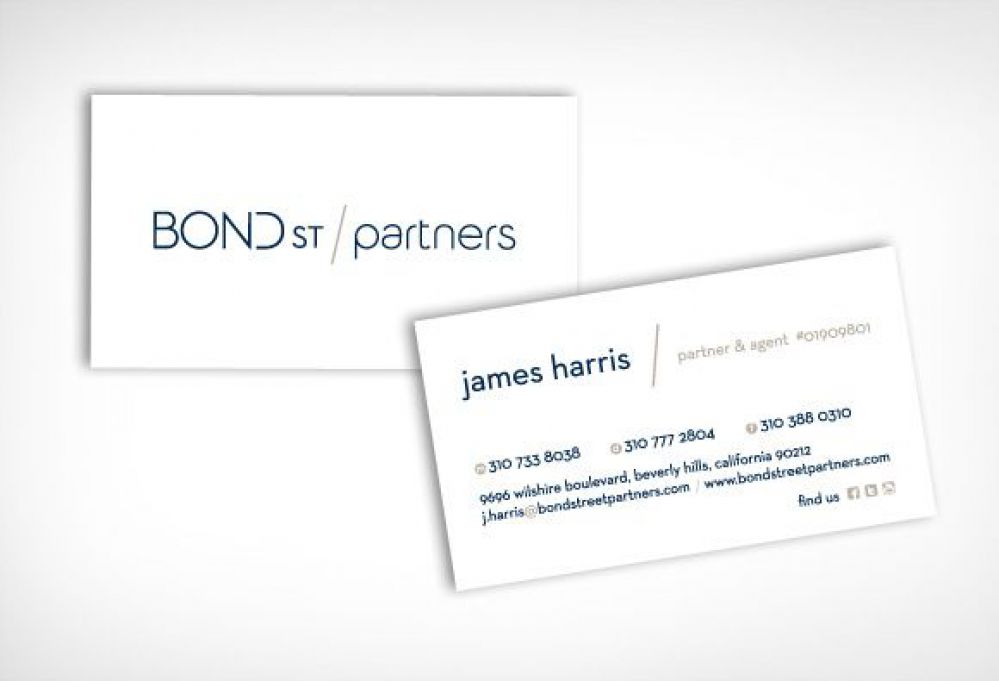 Like Mercer Vine, Bond St. Partners is another super high-end Los Angeles Real Estate firm with killer business cards. Instead of designing in-house, they chose real estate branding company SM Sold to dream up these lovely design purist cards. The modern elegance on display here is proof positive that you don't (always) need gold to make something luxurious!
P.S. If the name sounds familiar, you might remember Bond St's David Parnes and James Harris from Bravo's Million Dollar Listing.
---
5. Compass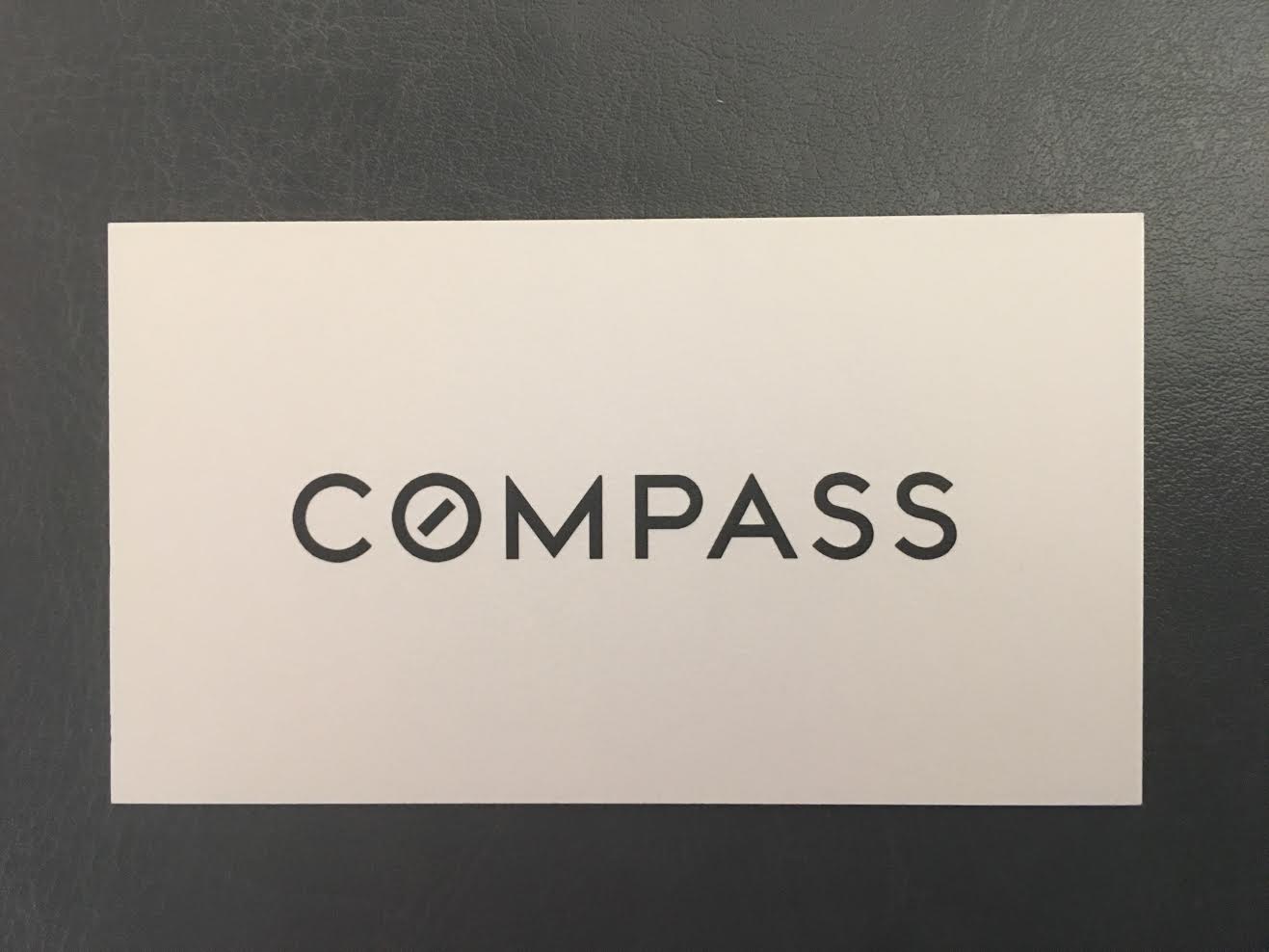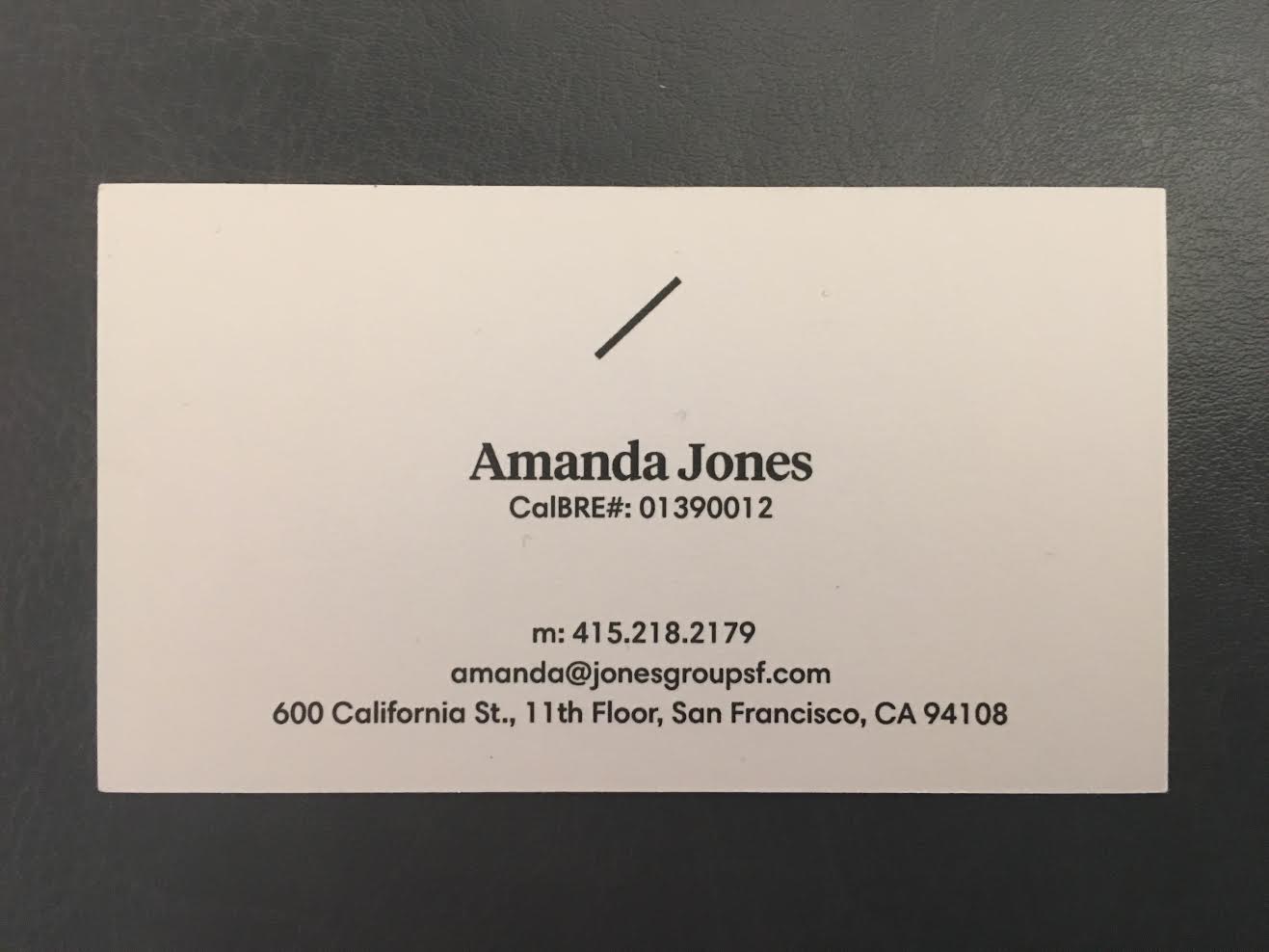 Tech-focused brokerage Compass has made a big splash in the real estate industry is just a few short years. Starting out as an investor-backed startup in New York City, today Compass is a leader in luxury real estate across the country. As you might imagine, their branding and business cards are top-shelf.
Conceived by San Francisco based Global Brand Works, their cards proof positive of the seminal graphic design principal that less is more. Instead of repeating the compass logo on the back of the card, they use the "needle" from the minimalistic compass in their logo. This helps associate the agent's name with the benefits they deliver their clients, as Global Brand Works Shannon Riordan put it, " wayfinding to achieve your goals".
---
6. Sereno Group Real Estate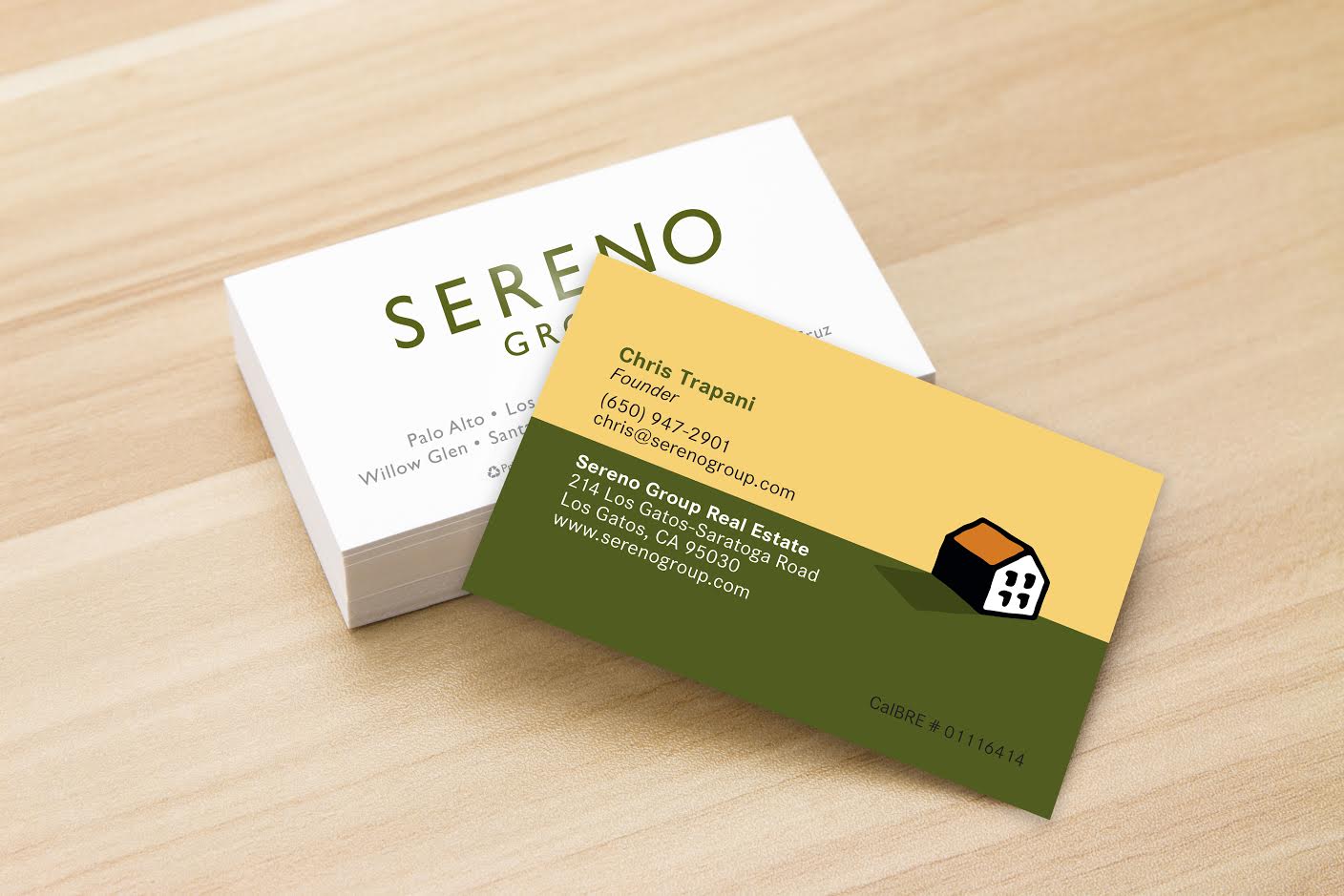 Silicon Valley brokerage Sereno Group's real estate business cards manage to combine the natural beauty of the region with an artistic flair that wouldn't look out of place at the hip startups they work with. Although the color theme is calming and almost pastoral, Sereno's branding looks bold and brash in the sea of traditional branding in the industry today.
---
7. Hilton & Hyland Christie's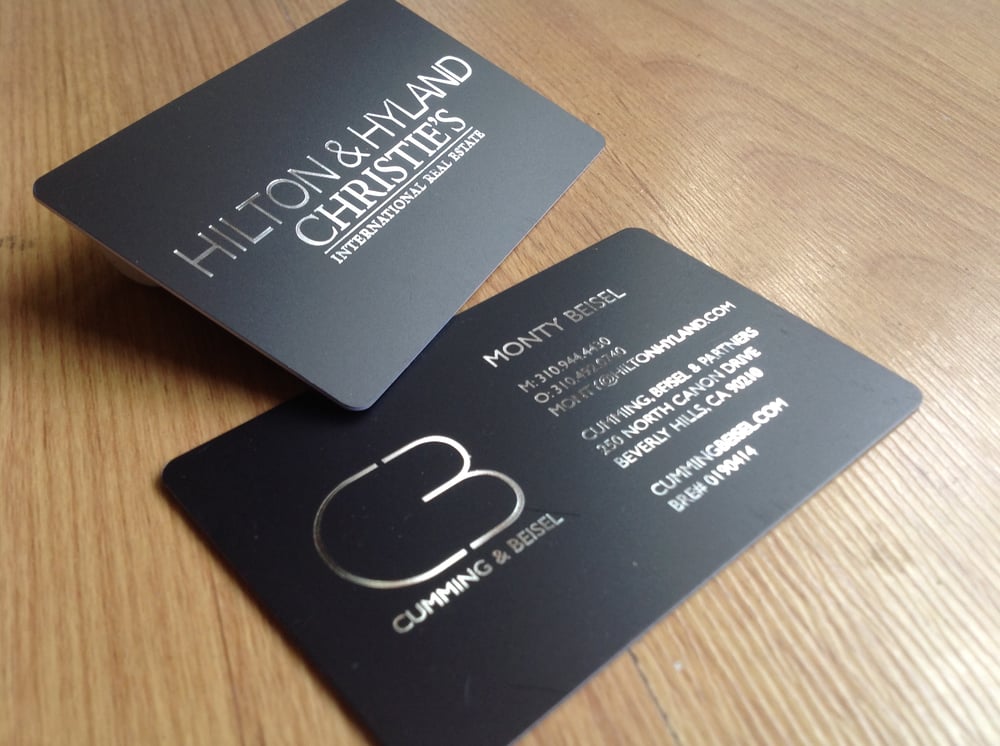 Back to Beverly Hills to check out these too cool for school business cards for the Cumming & Beisel team from Hilton & Hyland Christie's. Black background, foil-stamped silver design, and elegant typography make their cards look more like passes to some exclusive club rather than business cards. Perfect for their market.
---
8. Philly Living Team at Keller Williams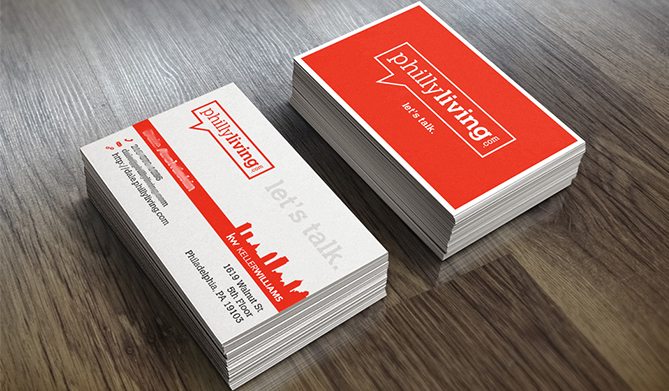 Let's switch gears a bit and take a look at great real estate business cards that mere mortal agents are using. The Philly Living Team at Keller Williams might not see eight and nine-figure listings very often, but that doesn't mean they don't take branding seriously.
Philly Living worked with Brand Revive to well, revive their brand into the friendly, clever iteration you see here. The chat bubble logo along with the simple, on target slogan "let's talk" work amazingly well on their cards. The bold, primary red also dovetails nicely with Keller Williams' iconic branding. That means they're not only showing off their own clever branding, but are reinforcing the fact that they're backed up by one of the most powerful names in the business.
Interested in learning how to craft a killer real estate slogan? Check out our list of the 25 best slogans in the industry along with instructions on how to come up with your own here.
---
9. L'Atelier Miami Beach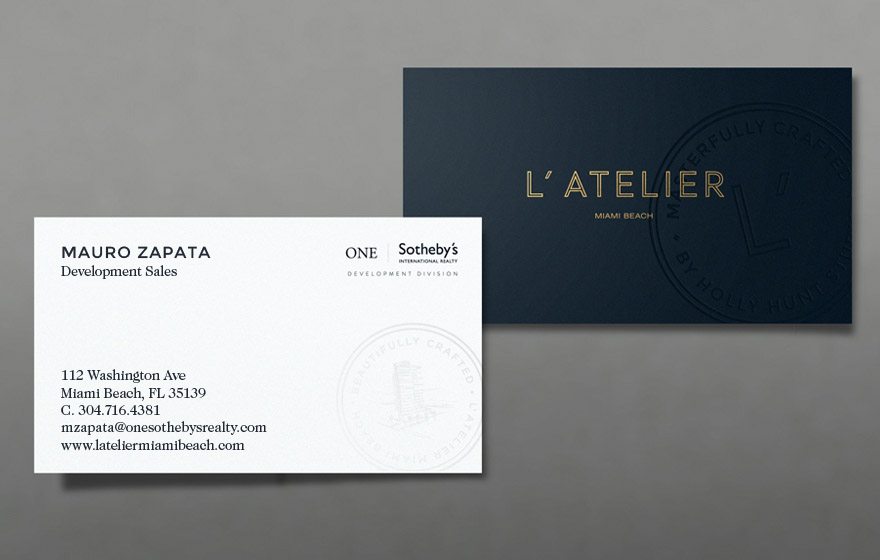 Another great example of real estate branding by Conway+Partners, this time from a development in Miami beach. Love the gold font and stamp in the background. One Sotheby's International Realty had the exclusive.
---
10. Tirelli & Partners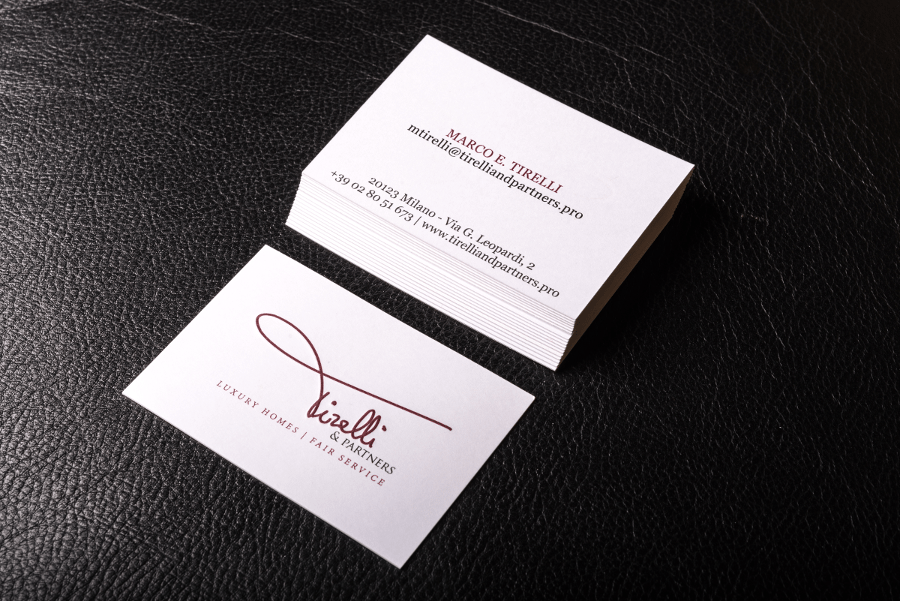 If you're looking for understated elegance, you could do worse than look to Milan, Italy for inspiration. Printed on heavy card stock with an embossed red signature, these cards from luxury real estate brokerage Tirelli & Partners certainly make a statement.
---
11. Lee Mintz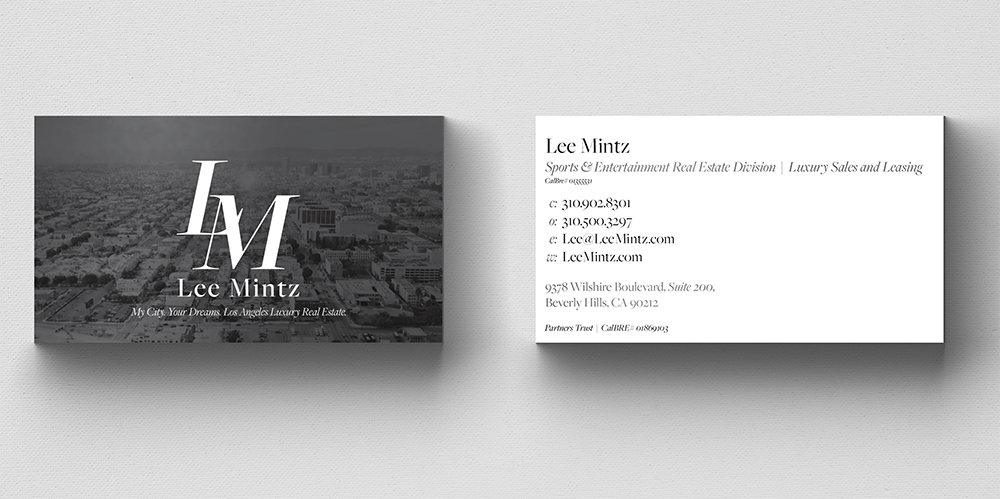 The award-winning and skilled branding experts at Robyn & Robyn created this particular card design. Note how the L in her initials crosses the M to spell out "LA". Pretty clever branding for LA-based real estate agent Lee Mintz. It's also reminiscent of a sports logo that works well as she's lucky enough to have professional athletes among her client list.
---
12. Katie Tyler Luxury Real Estate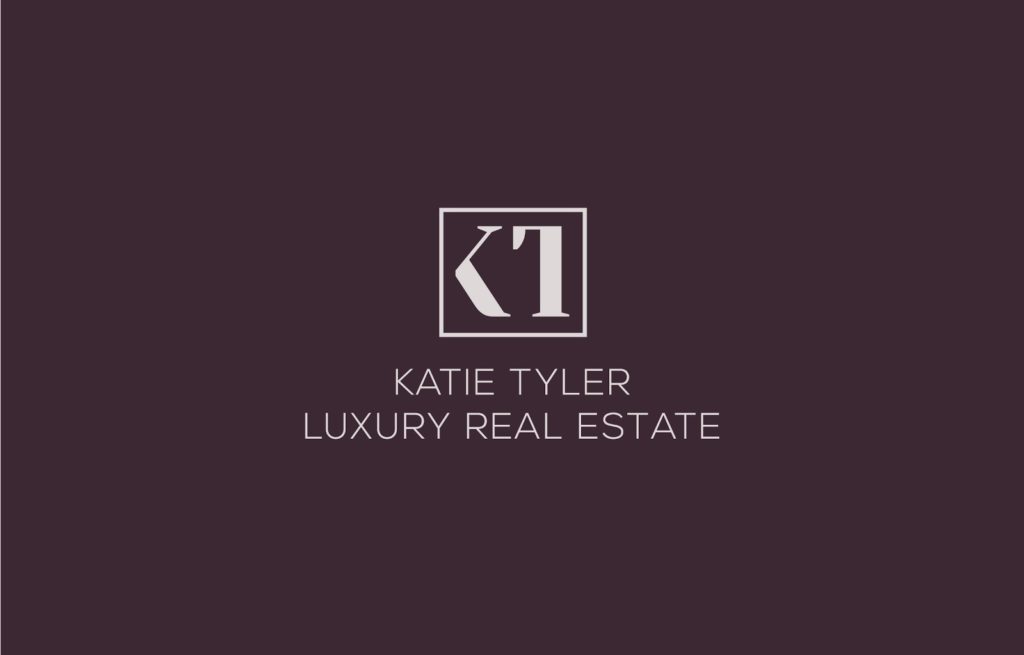 Great branding by branding agency Olab makes this royal purple card for Tahoe-based real estate agent Katie Tyler really pop. P.S. if you want to see some jaw-dropping rustic vacation homes in breathtaking settings, check out the incredible listings on Katie's site by clicking her name above.
---
13. Asha McDowell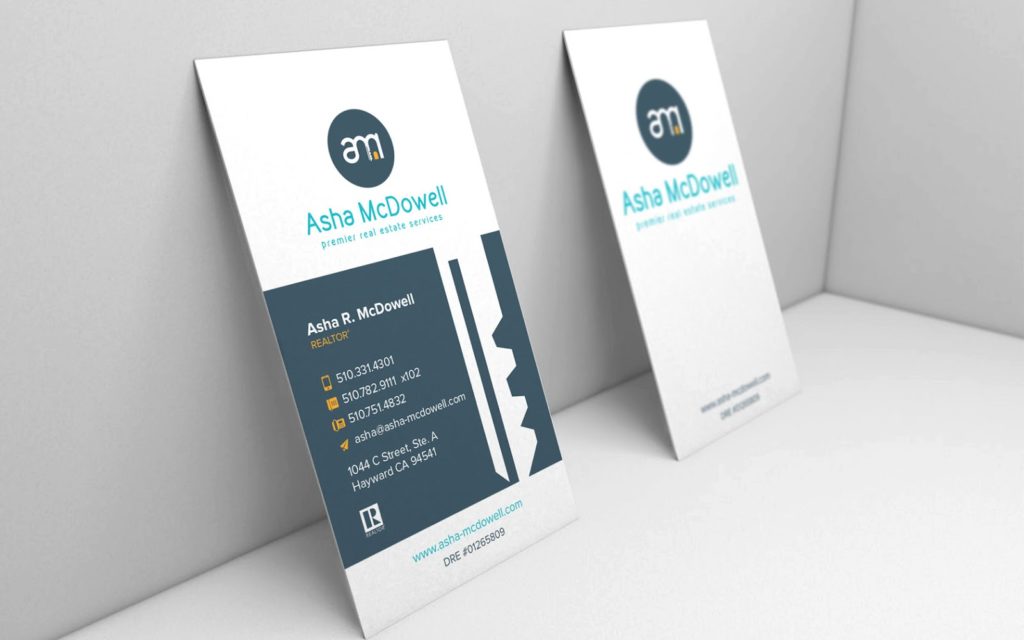 Creative firm Izoky Design came up with some lovely and effective real estate business cards for Hayward, California real estate agent Asha Mcdowell. The key motif, colors, logo, and modern and attractive color theme make these custom cards to be proud of.
---
14. Jon Gilman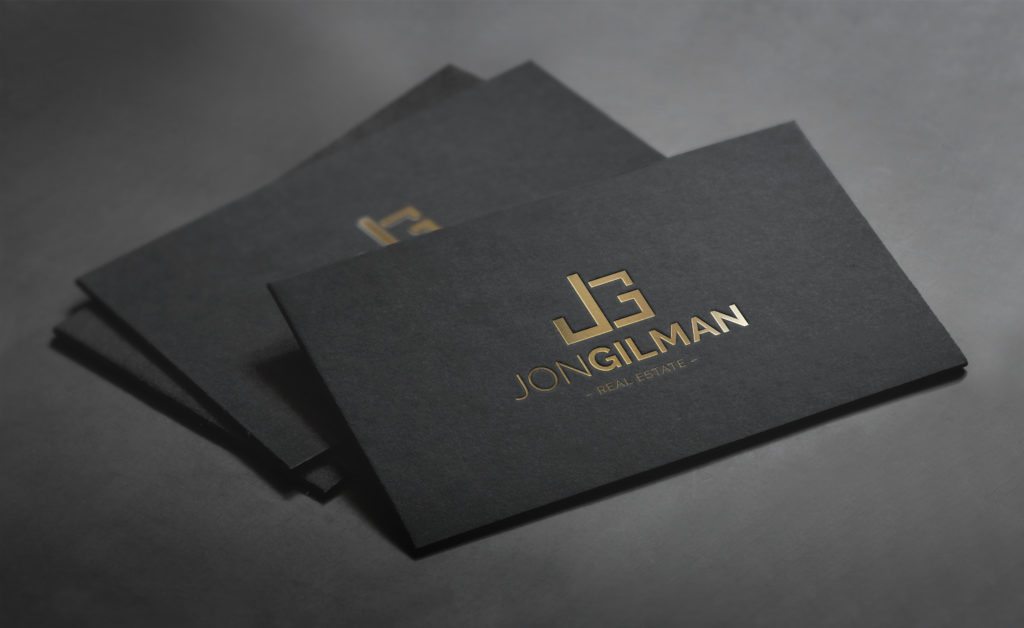 Miami real estate agent Jon Gilman went with an elegant art deco inspired logo and business card that is perfect for working in Miami. Here's a situation where gold leaf can knock it out of the park. These were designed by Miami design firm The Brand Collective. Nice work!
---
15. Pacific Luxury Group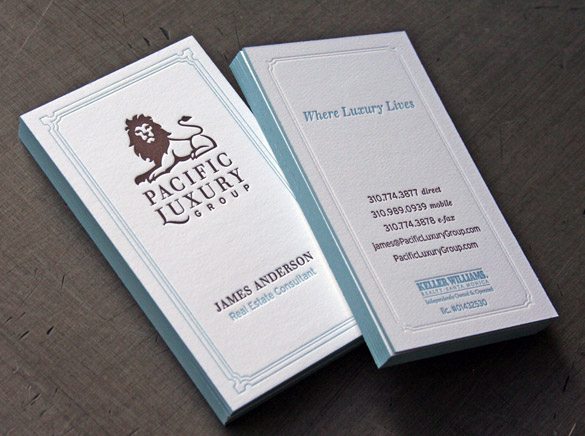 Once again proving you don't need gold leaf to look luxurious, these award-winning cards from Pacific Luxury Group are understated, modern, and classic all at the same time. The edge coloring, embossing, and vertical layout all work perfectly together.
---
16. Daniel Sanchez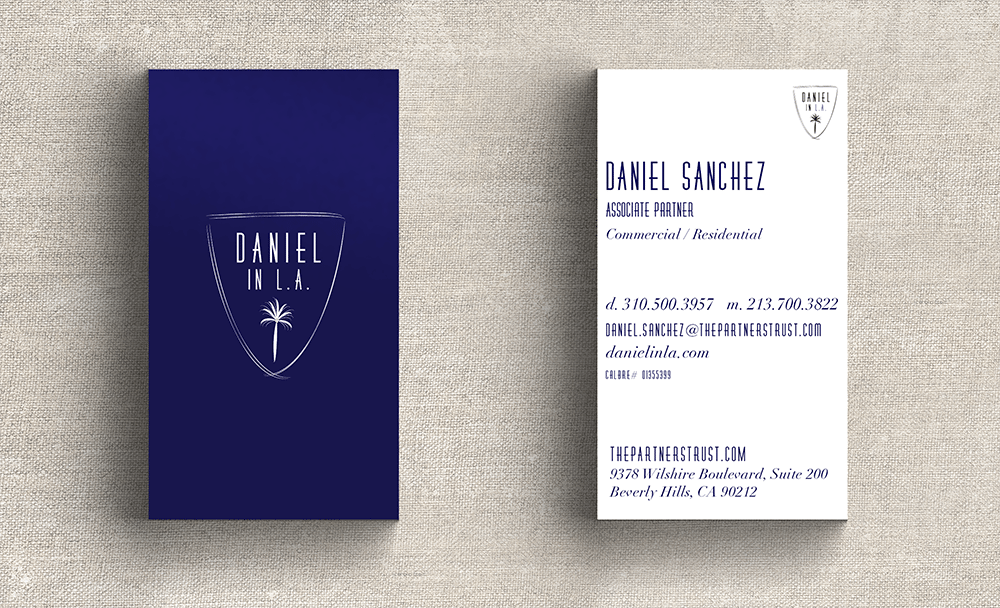 These gorgeous Yves Klein blue cards were created for Beverly Hills commercial broker Daniel Sanchez by creative team Robyn and Robyn. Since Daniel loves exotic sports cars and sports, they designed him a logo that's reminiscent of the badge of an Italian supercar. In a city as car-obsessed as Los Angeles, this is sure to resonate with fellow car aficionados.
---
17. The Fauver Group at Keller Williams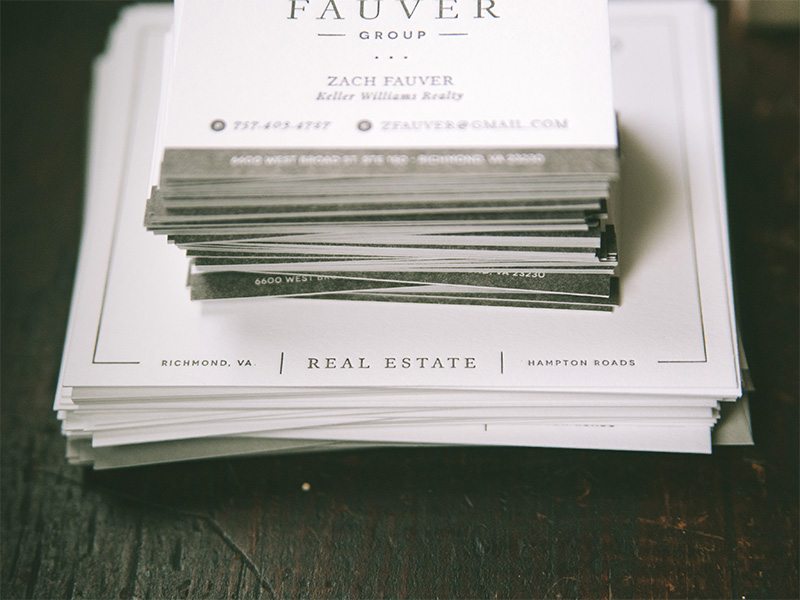 Hampton Roads, Virginia based team the Fauver Group went with a classic, elegant typeface and layout for their lovely real estate business cards. Designed by Portland-based graphic designer Rayvyn Stadick at Three Fifteen Design, the timelessly stylish design on display here works extremely well for a historic area like Hampton Roads, Virginia.
---
18. Sarah Marsal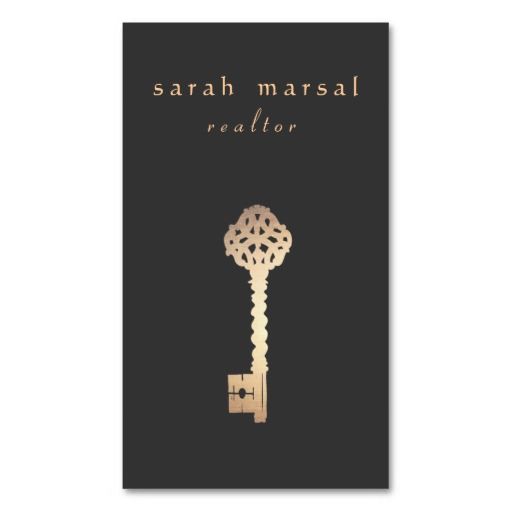 Lovely typography, the ubiquitous gold foil stamp, and a key on a black background all work incredibly well for Sarah Marsal's business card.
---
19. Brandt Realty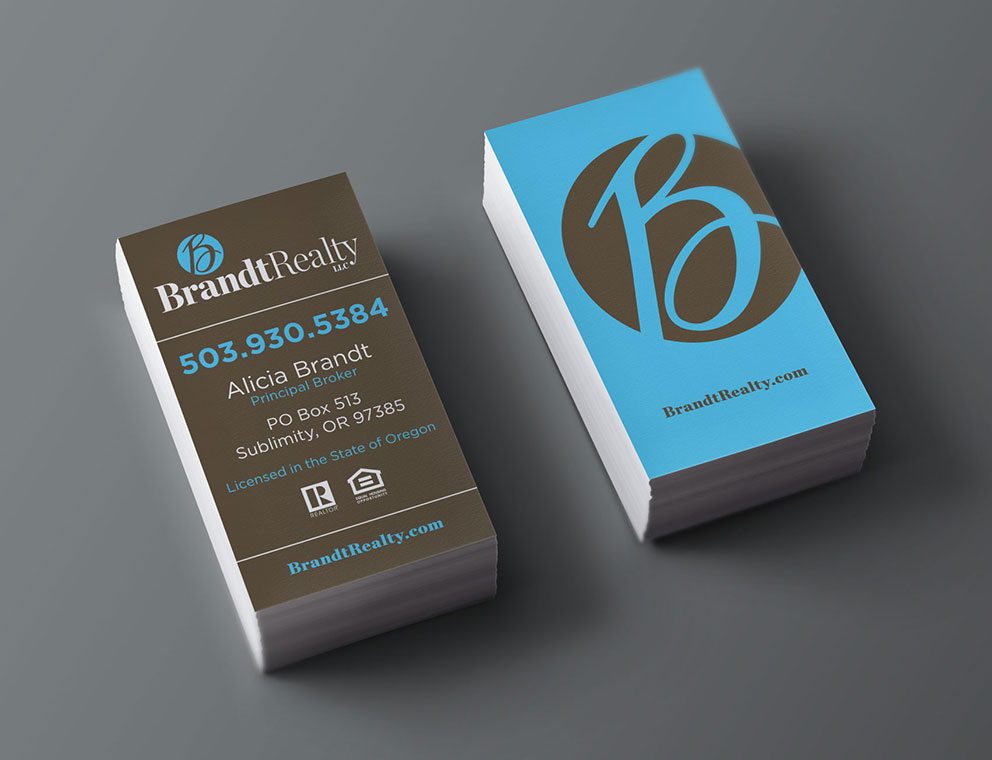 Love the cyan and chocolate brown color theme happening on these cards from Oregon based real estate agent Alicia Brandt. Again, the portrait style layout is pretty trendy this year.
---
20. Michelle Lohman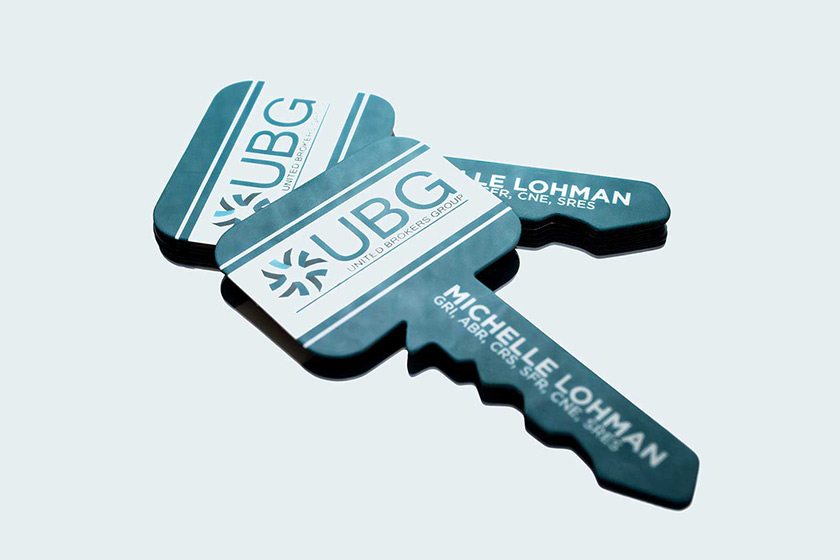 Don't be afraid to think outside the box! Sure, your CMA needs to be all about the numbers, but that doesn't mean your real estate marketing collateral needs to be as serious as your appraiser. Arizona based real estate agent Michelle Lohman went with these quirky key-shaped cards in order to stand out from the crowd. Very clever.
---
21. The Boutique Real Estate Group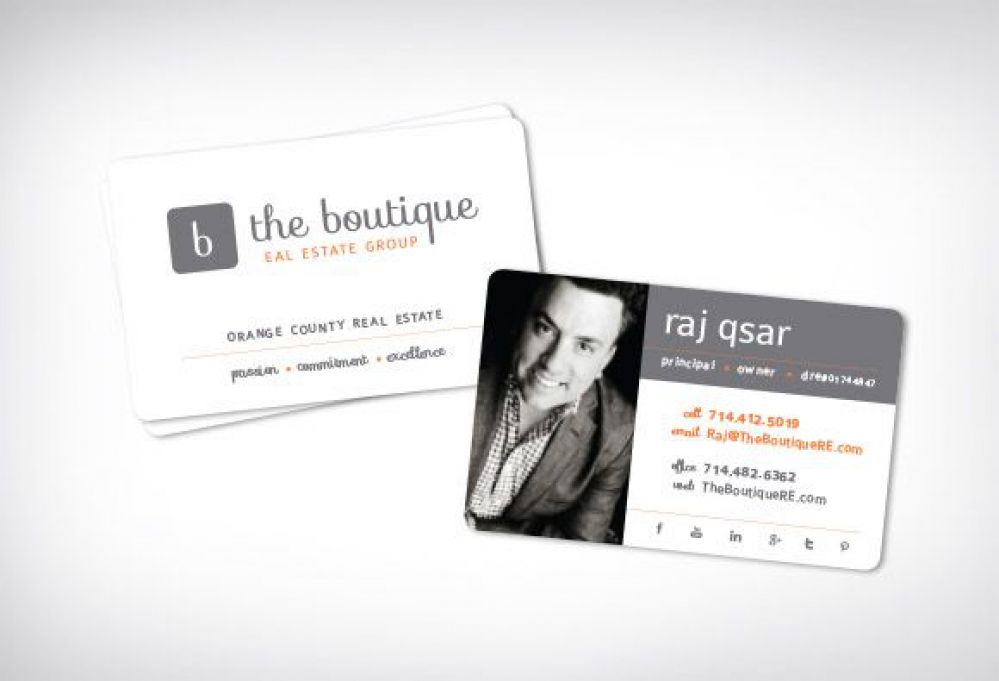 Like their amazing website, The Boutique Real Estate Group went with a clean, hip, modern look for their business cards from SM Sold. The grey with orange accents screams cool, young, tech-savvy company, and the black and white headshots only underscore it. It seems like every other agent is using the monochrome headshot (including myself…) these days, but when they work, they just WORK.
---
22. Ryan Lavergne Real Estate
With typography that would work on a modern jazz album as well as a real estate agent's card, Washington based real estate agent Ryan Lavergne's business cards designed by Kanani Miranda are sure nice to look at. Along with the typography, the layout and color theme work very well together. As an added bonus his slogan, Onward, Upward, & Homeward, is pretty great as well.
---
23. Zazzle
This sample business card comes from designer marketplace, Zazzle. This design features a slick, minimal house brand mark that wouldn't look out of place on a hip real estate tech startup's website. It also has a textured linen finish that shows clients you mean business.
---
24. Rock Design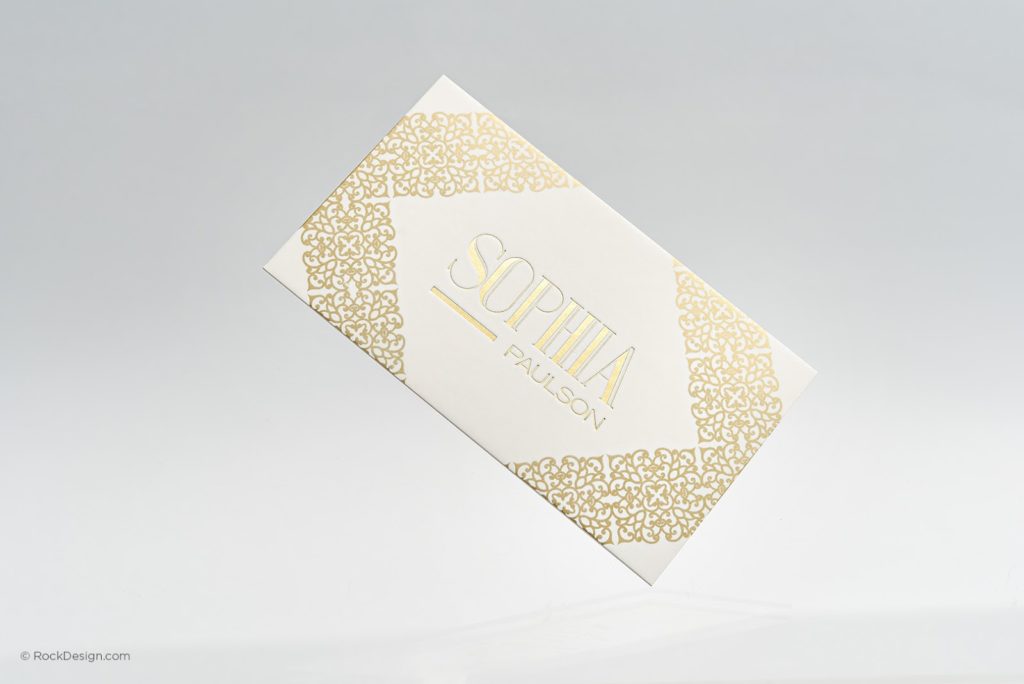 Rock Design is a high-end custom card design company that offers cards made from laser-etched aluminum, leather, steel, plastics as well as other exotic and unusual materials. Their "Sophia Paulson" line is just cardstock, but I love the intricate foil stamped gold design and layout.
---
25. The Perry Apartments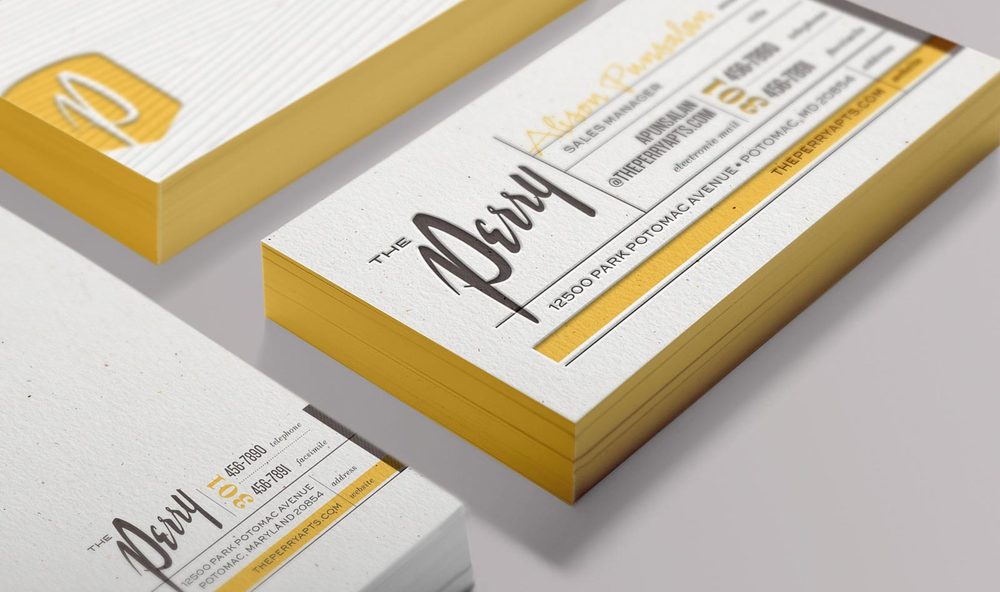 The Perry apartments is a luxury development in Potomac Maryland that wouldn't look out of place in Williamsburg Brooklyn. High-end finishes, sleek modern design, and luckily, gorgeous retro themed branding to match. The layout, colors, and typography here all work perfectly for their brand.
---
26. DeBianchi Real Estate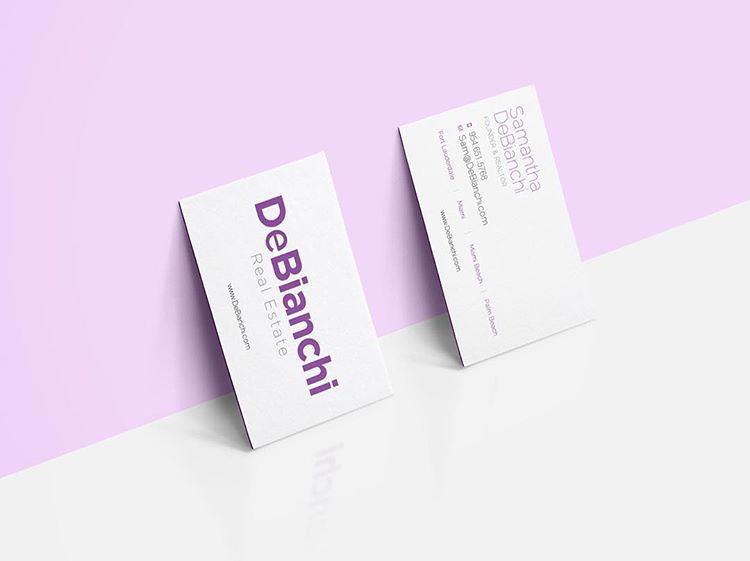 Fort Lauderdale real estate agent and Million Dollar Listing Star Samantha DeBianchi's real estate business cards have a great clean layout, and a typography and color theme that work amazingly well for her brand and Fort Lauderdale.
---
27. Alterman Commercial Real Estate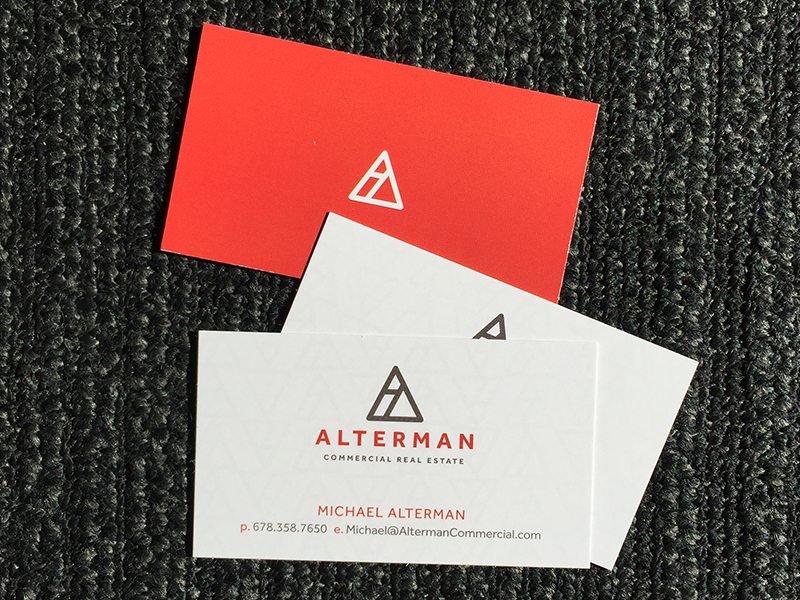 Loving the vibrant red background and minimal brand mark for Alterman Commercial's business cards. Designed by Creative Juice, these cards really make an impact.
---
28. West + Main Homes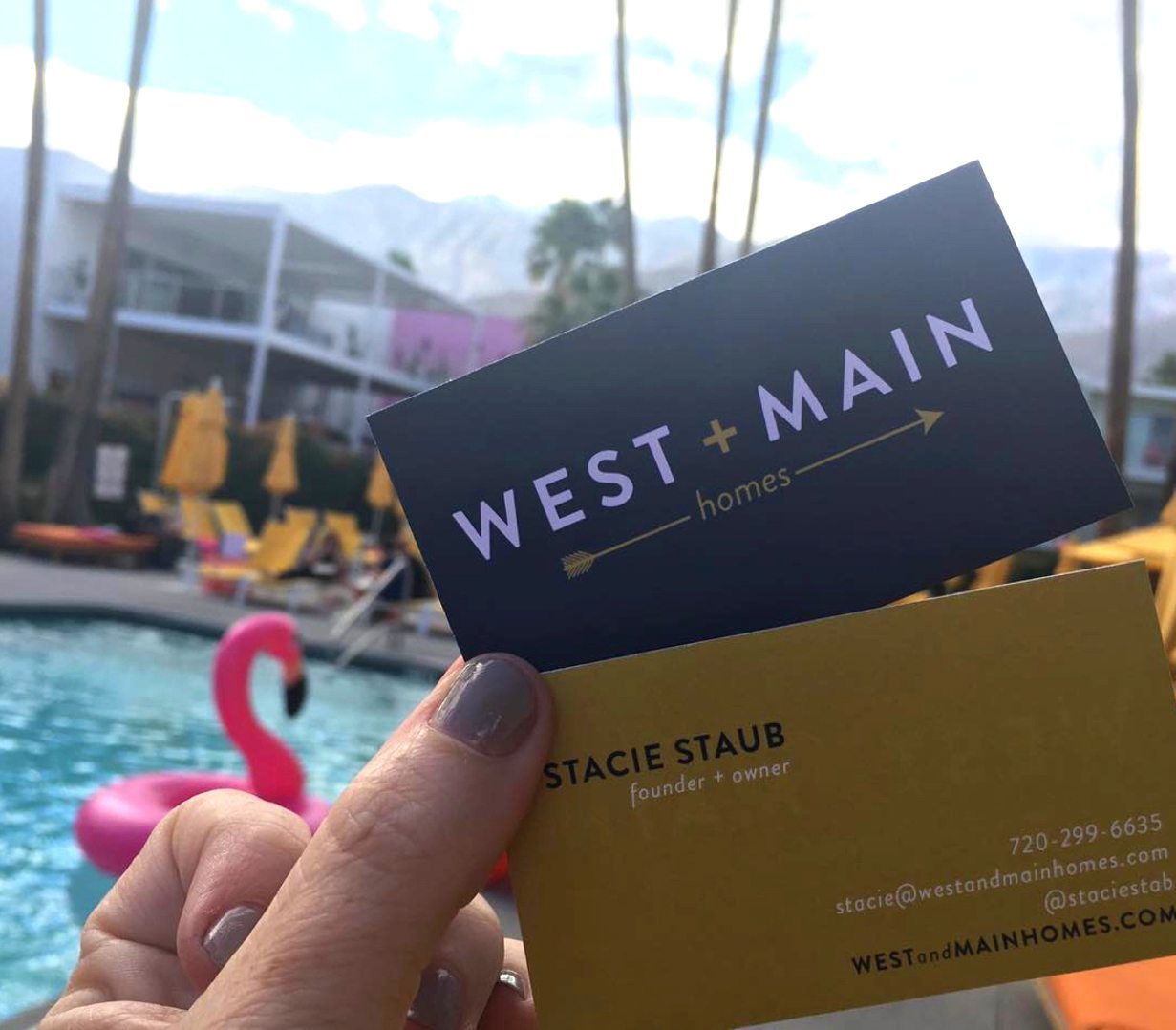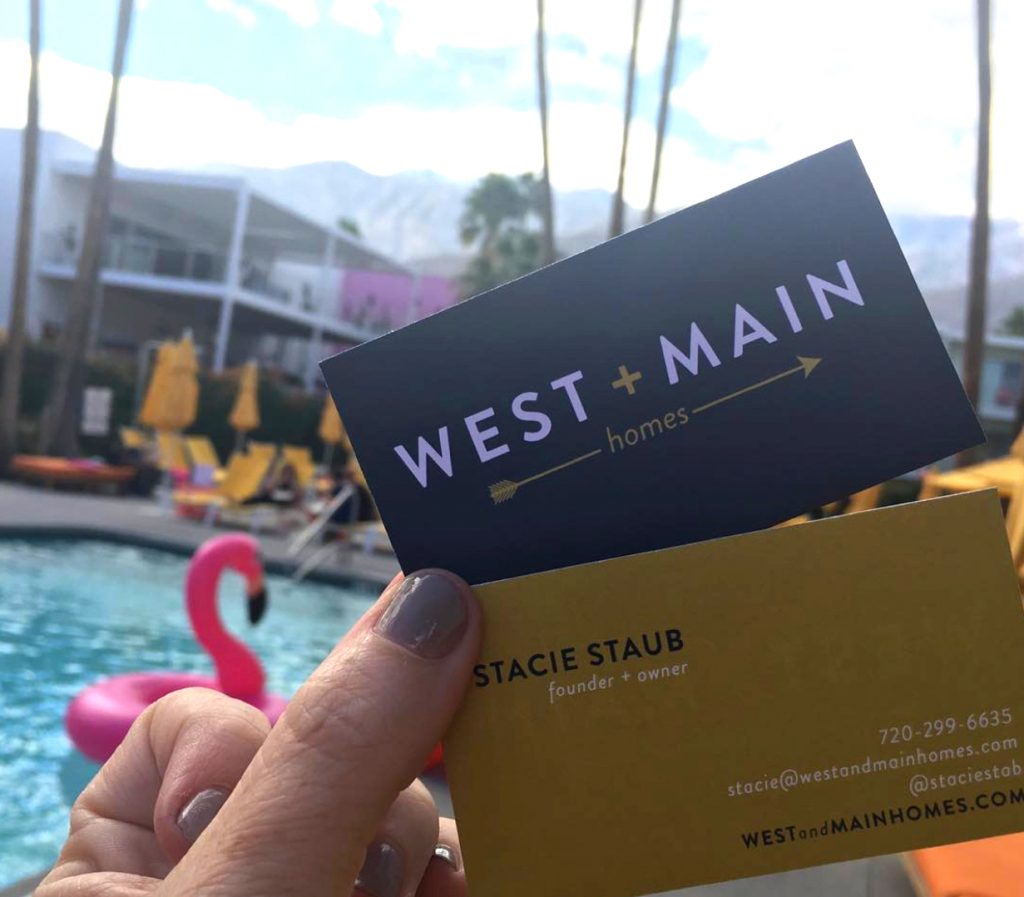 Really digging these cards from Denver boutique brokerage West + Main Homes. Part of a brand identity that founder Stacy Staub finished in under nine months, they're a perfect example of the importance of nailing down a solid visual identity early on in the real estate branding process.
---
Business Card Design Resources
If these designs have you inspired to redo your real estate business card or create your first one, check out the following business card design resources: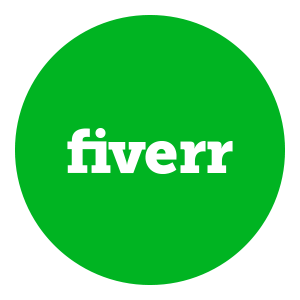 Fiverr – As one of the most affordable place to find design talent, Fiverr gives you access to dozens of freelancers who can provide you with a professional business card design for as little as $5.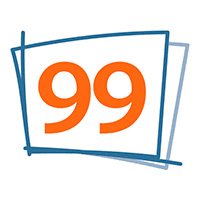 99designs – Local design agencies can charge a fortune just to design a business card. With 99designs, you can have 30 creative minds compete to offer you the best design for just $299. Choose your top favorites, and only pay for the one you want.

Tailor Brands – If you're more of the DIY type, you can use logo design software like Tailor Brands to create a custom business card. You just answer a few questions and then get a selection of logos to choose from. Once you pick one, you can then lay it out in one of their beautiful business card templates.
---
Over To You
As you can see, the best cards act as great real estate marketing material for you or your brand. Think your brokerage or team real estate business card belongs here? Email me a clear picture of your card to be considered for the list.