20 Real Estate Business Cards (+ Examples & Templates)
Real estate business cards are your first line of defense when introducing yourself to prospective clients. They need to showcase your personality and establish your brand, and must also include all of your contact information so clients can reach out to you for your services. Take a look at the top 20 real estate agent business card examples as well as tips on what to include and avoid on your cards, templates, and where to buy business cards.
For a one-stop shop for designing, printing, and shipping business cards, check out VistaPrint. It has premade templates you can customize with your logo, picture, information, quick response (QR) code, and other elements to make modern real estate business cards. It also offers bulk discounts to ensure you have enough business cards for everyone you meet.
Use Promo Code: FSB15 to take 15% off Cart plus Free Shipping over $75
Here are 20 ways your real estate business card can make you more memorable with examples and templates for inspiration when creating your own:
1. Highlight Your Value on Your Real Estate Business Cards
Why we like it: This real estate business card design is unique and exudes confidence about your abilities as a real estate agent. While it is the same size as a traditional business card, the cut-out of the word "sold" shows your clients you are in the business of making sure transactions are completed. In addition, a link to your website is displayed so clients can visit to learn more about you and your services.
2. Stand Out With Color
Why we like it: Unique real estate business cards can be simple, as this example shows. The white background with blue and red lettering packs a big punch, and this contrast makes the agent photo stand out and highlights the popular brokerage, RE/MAX, with a similarly colored logo. The agent also changed the size and color of specific letters and numbers to draw your attention to those details. The effect is modern and energetic.
3. Keep It Simple
Why we like it: For some real estate agents, traditional and simple business cards are the best fit to showcase their brand. Real estate business card examples like the one shown above include all the necessary information someone would need to get in touch, like a cell and work phone number, name, email, address, and website. The logo is prominently displayed on both the front and back of the card with an inverse color design.
4. Reinforce Your Target Niche
Why we like it: If luxury real estate is your niche clientele, your business card should reflect that. This real estate business card example provides all the necessary contact information to your target audience, but the design is what grabs attention. Including a foil and sheen in your business card is reminiscent of luxury real estate, which attaches your branding to your target client base.
Zazzle allows you to choose from premade business card templates or create your own from scratch. The premade designs are highly customized and will appeal to agents who are targeting a specific audience or who want to stand out from the competition with their personalized design. Take a look at their unique options today.
5. Make Use of Uncommon Materials
Why we like it: Out-of-the-box business card examples show how to make yours stand out. These are perfect for real estate agents working with new construction, stylized homes like log cabins, or within a location with forests and other wooded landscapes.
However, carrying a stack of these wooden business cards might be rather heavy and expensive. Instead, save these when you want to impress at important meetings, listing presentations, or VIP client visits, and carry similar paper cards to supplement.
To help design specialized business cards like these, seek out the assistance of a freelancer from Fiverr. Fiverr allows you to choose from a list of qualified freelancers to create your logo, business cards, and other marketing materials. It is a great way to get an individualized touch to add to your business branding.
6. Attract Attention With Die-cut Business Cards
Why we like it: Most business cards are rectangular, so this example automatically attracts attention. The colors and contact information are understated, but adding the condo cut-out design to the top gives the card a bit of flair. It also includes a "King of Condos" tagline to support the card's design. The card will showcase your style and luxury condo real estate niche to any client that receives it.
7. Use Humor to Introduce Yourself
Why we like it: Use humor on your business cards to highlight your personality to potential clients. This card focuses on real estate referrals and can be used in conjunction with traditional business cards. Referral business cards can be given to past clients or someone you meet who is not interested in buying or selling at the moment but has a friend, colleague, or family member looking for a real estate agent.
8. Make Your Realtor Business Cards Pop
Why we like it: Pop-up or standing business cards, as shown in this example, mix a traditional business card and a real estate postcard. They can be used when you have more to say than what can fit on a 3.5×2-inch business card. If you'd like to send real estate farming postcards to a particular location, this is a clever idea, but you also want the recipients to have the business card as a takeaway that they can keep in their pockets.
9. Upgrade Your Cards by Rounding the Edges
Why we like it: The rounded edges of these sample real estate business cards give them an elegant look that goes along with the black and white coloring of the card. The logo is depicted prominently on the side but also magnified on the right for additional brand recognition.
If you're looking for a unique touch for your business cards, logo, website, and more, 99designs can help you with the marketing materials for your real estate business. 99designs allows you to look through graphic designer portfolios to pick the style of business card you want to represent your brand. You can also create a contest and choose the design that is the best fit for you.
10. Include a QR Code
Why we like it: Adding a QR code to your business card, like the example above, is a savvy strategy for generating real estate leads. A QR code can be easily scanned on any smartphone device and linked to your real estate website or landing page. From there, use lead capture forms to gather contact information or people to your listing websites.
Along with the
client relationship management (CRM) tools
HubSpot provides, they also have a QR code generator to add QR codes to your business cards, flyers, newsletters, and other print materials. By directing prospective clients from your print materials to your online sites and forms, you will more easily and efficiently be able to convert leads into clients.
11. Make Your Business Cards Worth Keeping
Why we like it: This clever business card leaves your clients with your contact information and a promotional item to carry with them to promote your business. The key cut-out in the middle of the metal card can be punched out and added to a keychain, which will continue to market your company whenever it is seen. The additional catchy and inspirational slogan of "Opening new doors" is a hopeful tagline for new homebuyers purchasing a home.
Eighty-one percent of people
keep customized promotional products for more than a year, which greatly increases your chances of generating more leads over time without additional work on your end. Invest in real estate-related promotional products with AnyPromo. It has hundreds of products to choose from, and you can personalize your products with your logo, slogan, and contact information.
12. Add Your Headshot
Why we like it: Adding your realtor headshot to your business cards, as shown above, creates a welcoming invitation for clients to reach out for your services. By providing a picture, you connect personally to the card recipient by giving them a face to put to the name. Choose a confident image that will make a client feel comfortable working with you.
Pro tip:
Smile, have a relaxed pose, and wear professional clothes to appeal to the recipients of your business card and target audience. For other tips for your headshot, visit
The Perfect Realtor Headshot
with 32 ideas and tips from other real estate pros.
13. Use a Black Background
Why we like it: The example above has a sleek, elegant black background that draws attention to the text on a business card. This example also uses white text to highlight the real estate business' name, brokerage, and contact information. It includes the agent's credentials from the National Association of Realtors and Equal Housing Opportunity, adding to their credibility but not crowding the card with extra text.
14. Use Transparent Background
Why we like it: Since Douglas Elliman is a large real estate firm nationwide, it may be challenging to stand out against your fellow real estate agents. Put a spin on the classic business cards by adding a transparent window, like the example above. The pertinent contact information is still included, but you are highlighting the company's reputation and simultaneously standing out with a unique design element.
15. Mimic Your Real Estate Goal
Why we like it: Besides helping clients, every real estate professional's goal is to complete transactions to become more successful in real estate. Emulate that success in your business card design with key-shaped cards. Not only are these cards attention-grabbing, but they also let your clients know that you have the skills to get keys to their dream homes.
16. Promote Your Pet
Why we like it: According to the American Pet Products Association, 90.5 million U.S. households own pets: 69 million own dogs, and 45.3 million own cats. By including a picture of your pet on the design of your business card, like the example above, you are likely to gain favor from this significant portion of the population. You will also be displaying your personality and finding commonalities with prospective clients.
17. Include Your Real Estate Tagline
Why we like it: Business cards are small but can still include multiple effective design elements like contact information, address, website, logos, a property listing photo, and QR code. In this example, the tagline "Home is the nicest word there is!" is strategically placed on the back. A marketing tagline or brand slogan is excellent for highlighting your brand and business style, and this one, in particular, shows the agent's eagerness to find his clients a wonderful home.
18. Highlight Your Properties
Why we like it: This business card is a perfect choice since some real estate agents do not work independently but instead choose to work for a specific building as a leasing agent or property manager. In addition to the traditional business card items, including a stunning picture of the property will encourage potential buyers to reach out to inquire about the building.
19. Go Vertical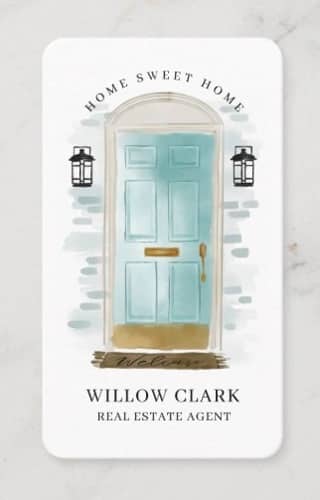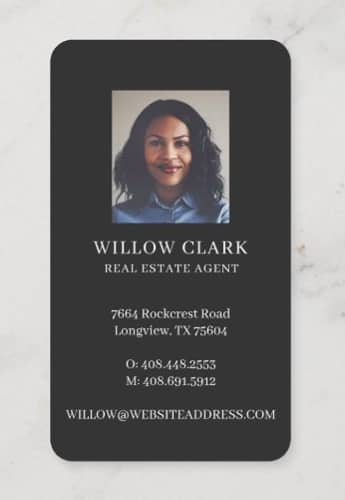 Why we like it: Styling your business cards vertically rather than horizontally is a beneficial way to stand out from other business card designs. In addition, this agent uses the juxtaposition of black and white on either side of the card to interest the reader in the content included on the card.
20. Don't Be Afraid to Be Bold
What we like: This Keller Williams real estate business card example immediately jumps out to the recipient with bold colors and unique shapes. The card does not highlight a particular agent, so it wouldn't be the best design for personal use without adding an agent's name and contact information. However, these are excellent cards to display at the brokerage office or to hand out during meetings that concern the brokerage overall.
What to Include on Your Business Cards
Fitting your entire real estate resume on a 3.5×2-inch card will be impossible, so focus on including the elements that will promote your business and encourage potential real estate leads to reach out for your services. Don't clutter your card, and keep fonts simple so it is as readable as possible.
Here are items to consider featuring on your business cards:
Your name: Your name should obviously be on your business cards, but decide how you want your professional name to appear. For instance, if your full name is Susan Smith, but would like to go by and be introduced as Sue, Sue Smith is the name that should appear on your card.
Contact information: This includes the phone number, email, and website address you use for business. Some agents have a business and personal or mobile phone, and others use their personal number for business. The main number that is on your card should be the most accessible number for clients to reach you. The same goes for your email address and website.
Brokerage affiliation: Real estate agents must be sponsored by a brokerage in order to practice in the industry. Display the name of your brokerage to show your qualifications, further your branding, and show that you have an entire team working with you.
Real estate agency or team name: If you're part of a smaller team working for a larger brokerage, you may want this on your team's business cards to build additional local recognition.
Your business logo: This can be a personal logo or your brokerage logo. It should be recognizable and pertain directly to your style, and accompany all of your real estate marketing materials.
Official title and MLS: In many states, you are required to have your official title on all of your materials and online content. This may be "real estate salesperson," "real estate associate," "broker-in-charge," "associate broker," or others dictated by your location. You may also be required to list your MLS (multiple listing service) numbers—check with your state's real estate commission to see its specific requirements.
Optional things to include: Slogan, tagline, headshot, call to action, QR code, and social media usernames or icons.
Mistakes to Avoid
While there are many items that you need to include on your business cards, there are several items that should not be on your cards. The common pitfalls to avoid when designing and creating realtor business cards are the following:
Keep all images related to real estate: Ensure that only high-quality, professional-looking photos are included. While your interests and hobbies can help you connect with clients more personally, you don't have to highlight them on your business card.
Avoid visual clutter: Less is more in graphic design. A business card with too many design elements may appear cluttered. Prospects are less likely to get in touch with you if they have to search for your contact details.
Don't use fake backgrounds: Avoid using Photoshopped or simulated backdrops because they can look tacky and unprofessional. Instead, choose between an image of a house and a picture of yourself.
Use concise wording: Business cards are very small, so including too many words will make your card too busy. Focus on highlighting essential details like your contact information since that is the primary purpose of the business card.
5 Best Real Estate Business Card Templates
Now that you have ideas for your business card from these examples, it's time to create your own. Premade templates save you time, money, and energy in developing your personal design. Many platforms offer free templates ready to print and ship after you've customized them, while others charge a fee to download customizable templates.
Here are five real estate business templates below to help you get started right away:
Source: Freepik.com
Size: 3.5 x 2
Price: Free or $5.93 per month subscription
Editing tools: Adobe Illustrator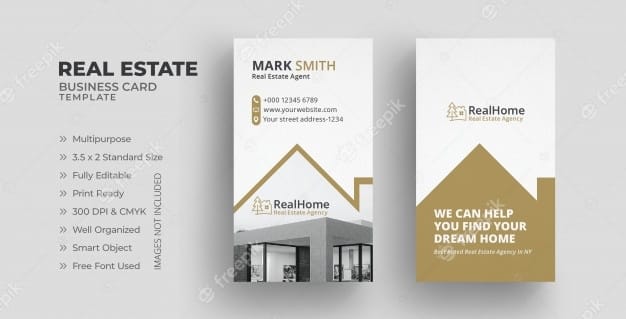 Similar to example number 19, this real estate business card template is vertical and has a memorable tagline. The colors can be changed to match the real estate branding of your brokerage and you can incorporate a logo. Also, this template takes full advantage of both sides of the business card to space out the content.
---
Source: Canva
Size: 3.5 x 2
Price: Free
Editing tools: Canva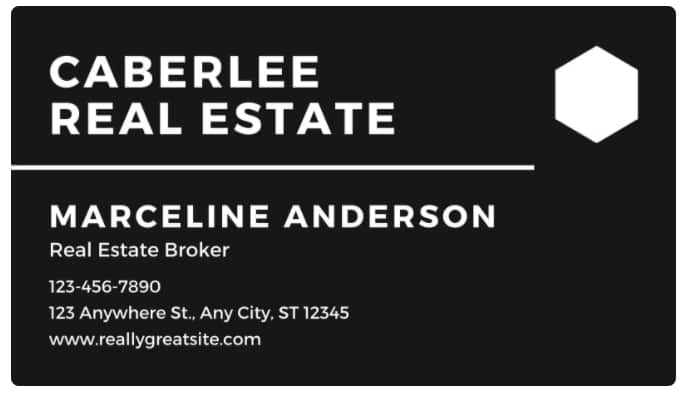 This traditional and simple design works perfectly for any real estate agent. These can be used as your primary business card or in conjunction with a more non-traditional design. If you are not particularly handy with do-it-yourself graphics, consider Canva to help you design your business cards. Start with a template and use Canva's easy-to-use, drag-and-drop editor to customize your business card design and make sure your branding is on point.
---
Source: Etsy
Size: 3.5 x 2
Price: $5
Editing tools: Canva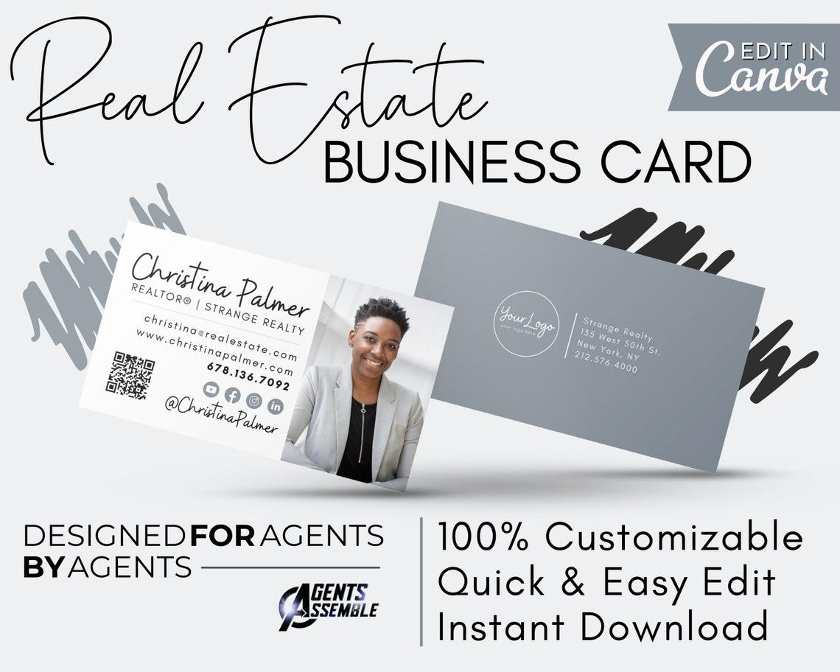 Like example number 12, this template includes the agent's headshot to gain trust and build a relationship with potential clients. The addition of a QR code sends leads directly to your website or landing page to collect contact information. The cursive writing and soft color palette also serve to make the cards more personable. This template is available on Etsy, but is then easily editable by uploading it to Canva's free platform.
---
Source: Lovepik.com
Size: 3.5 x 2
Price: Free
Editing tools: Photoshop CC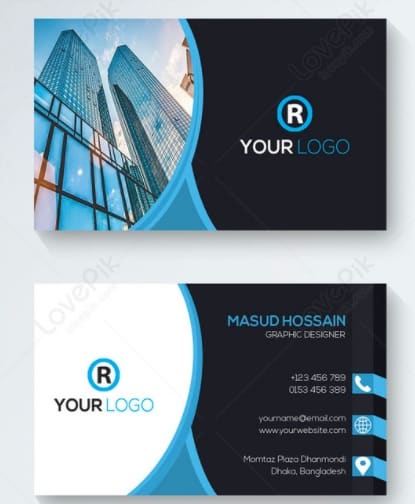 This business card template is a perfect option for commercial real estate agents as the image highlights a commercial property. Its sleek and modern design uses bold colors and shapes to draw a reader's eyes to the important information on the card. If you like this design but don't have Adobe Photoshop (or know how to use it), you can hire a freelance graphic designer to customize this design for you on Fiverr for as little as $5.
---
Source: Envato Elements
Size: 3.5 x 2
Price: $16.50 per month subscription
Editing tools: Adobe Illustrator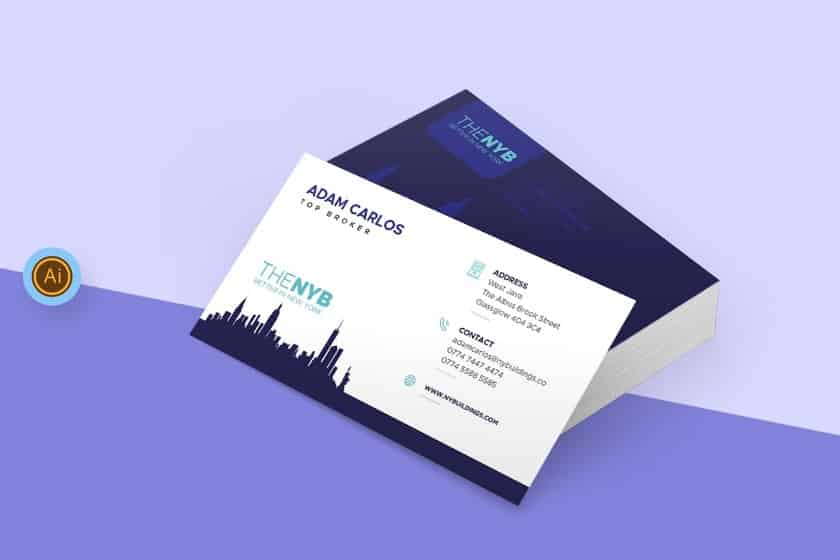 If you are targeting a specific location, especially a metropolitan area, this template is perfect for you. The silhouetted skyline showcases your expertise and the colors of the card make the content easily readable. Envato Elements is a great resource for real estate assistants who are constantly creating marketing materials like flyers, brochures, and more. There are premade templates for a variety of marketing collateral, including logos, as well as standalone graphics, professional photos, icons, and more.
---
Best Places to Buy Real Estate Business Cards
Once you've nailed down a design for your business cards, the next step is ordering them. Most agents start with at least 250 to 500 cards, but if you consider how often you'll be distributing them at networking events, in direct mail pieces, and so on, you may want to order more (and save in the process with volume discounts).
Realtor business cards generally range from $20 to $40 for 250 cards. However, the actual cost varies on several factors, including how many you purchase, special shapes, features, die-cutting, and finishes, such as paper weight, specialty ink, and gloss vs matte.
Here are some of the best places to buy business cards:
Company

Best For

Affordable and easy to find a template and customize it yourself, then order printed cards

Professionals looking for more traditional real estate-specific design options

Real estate agents looking to purchase business cards in bulk

Key Features

Hundreds of premade templates
Unique finishes and looks
High-quality paper
Pro design services if you need help

Simple designs
Upload your own business card design to print
Other real estate-specific materials available

Minimum order of 5,000 cards
Printed on high-quality cardstock
Professionally designed

Starting Price

$5 for 10

$35 for 250

3 cents per piece

Read More
Bottom Line
The best real estate business cards generate leads by showcasing an agent's personality and brand, but also include necessary information like their name, contact information, website, and brokerage details. Gain inspiration from the sample realtor business card ideas above to discover your style and get started on your business card purchase today.