A real estate chatbot is an automated program that allows agents to simulate conversation with site visitors via a chat interface on their website. This program—or bot—helps answer common questions about properties and services without agents spending their own time interacting with visitors. This often results in new leads and, eventually, sales.
If you're ready to incorporate a chatbot into your real estate business but aren't sure what tools to look for, consider Freshchat first. The platform offers a range of messaging services, including a live text option from $0 to $15 per user per month and bot tools ranging from $24 to $79 per user per month. Plus, it's easy to set up on your website—even if you're not tech-savvy. Click here to start exploring Freshchat for free.
How Real Estate Chatbots Work
In general, chatbots are live chat website plugins that engage clients and leads with targeted dialogue. Bots are programmed to answer questions in natural language like a real person. When a client or lead asks a question, the chatbot responds using a knowledge database filled with predefined scripts and information generated by an agent. Additionally, decision-tree logic or artificial intelligence (AI) is used to help tailor each response to site visitor needs.
Real estate agents can use full-service chatbot software, install a chatbot plugin, or build a chatbot themselves using templates like those available through MobileMonkey. Once a chatbot is installed, agents add questions and corresponding answers to provide site visitors with needed information. Then, it appears in the bottom right-hand corner of your site. Users can click on it to begin a conversation.
Once clicked, the bot will begin interacting with your website visitors by either initiating a conversation or responding to inquiries in real-time. Agents can then step in and take over the conversation or allow the chatbot to continue providing relevant information; often, lead contact information from these conversations is funneled into a customer relationship management (CRM) for future lead nurturing.
The three types of chat tools, including chatbots, are:
AI chatbot: With an AI chatbot, website visitors speak to a preprogrammed bot and can request to be contacted by the agent.
Basic live chat: While not truly an automated chatbot, live chat connects real estate agents with visitors to their site in real-time. It's important to note that this type of plugin does not facilitate a hands-off approach for agents who want the chatbot to qualify leads before taking over the conversation.
Hybrid model: A hybrid chatbot prequalifies site visitors and then patches the licensed agent into the conversation. This saves agents time and energy while providing leads immediate and personalized assistance.
There are many use cases for chatbots in business.
Who Real Estate Chatbot Software Is Right For
Real estate chatbot software lets agents and brokers assist clients and leads without having to spend time on a computer or cellphone. This makes chatbots an excellent option for new agents who want to build their business online while simultaneously spending time face-to-face with clients. Chatbots are also an ideal marketing solution for agents, brokers, and teams that have more interest in their properties than they can personally respond to via phone or email.
Real estate chatbots are best for the following real estate professionals:
New agents: Chatbots are especially helpful for new agents who want to build their business online while also engaging in networking and community events, and spending time with potential sellers at listing appointments.
Experienced agents: Agents who want to increase lead generation and sales can use their time more efficiently by providing site visitors targeted properties and qualifying those leads with a chatbot.
Brokers and team leaders: Brokers and agents can use chatbots to qualify leads and import contact information into a CRM. This simplifies the lead assignment process and ensures team members are pursuing high-quality leads first.
Benefits of Using Real Estate Chatbots
Chatbots benefit real estate professionals by reducing the time agents have to spend on responding to online messages. Not only do chatbots respond immediately, but they are available to provide information 24/7. Agents can also use chatbots to better serve clients with filtered property results and automated follow-ups that keep leads engaged. Finally, chatbots are an excellent way to manage client contacts, qualify leads, and assign leads to agents.
As assets to real estate marketing and sales efforts, real estate chatbots offer:
Real-time client support: Real estate agents and brokers frequently find themselves too busy to stop and respond to online messages in the middle of the day. By using a chatbot, agents can provide clients real-time support even when they're hosting an open house or attending listing appointments.
Client assistance 24/7: Homebuyers and sellers often have real estate questions during nonwork hours. Chatbots enable agents to provide timely responses to leads 24/7.
Time-saving lead qualification: By connecting with leads via chatbot, you can qualify buyers and sellers before assigning them to your team. This cuts back on time agents spend following up with disinterested leads.
Targeted and tailored service for clients: Chatbots can assist clients when you are out of the office or otherwise unable to provide immediate assistance. Plus, bots can send targeted properties based on real-time feedback from leads. This enables real estate agents to assist clients in a more targeted way using filtered results.
CRM integration: Chatbots generally record lead conversations and can upload them to your CRM automatically. This simplifies lead assignment and helps to enrich lead profiles so you can create highly targeted nurturing campaigns depending on where leads are in the sales funnel.
Follow-up automation: Many chatbot platforms can also automate lead follow-ups, which saves your agents time and increases the likelihood of a sale or listing.
Ways to Use a Real Estate Chatbot
Chatbots can help real estate agents and brokers connect with leads and clients in several ways. In addition to responding to website visitor questions, the bot can initiate a conversation regarding the visitor's interests, purchasing timeline, budget, and more. In doing so, a real estate chatbot can build a lead's trust while providing helpful, customized information 24/7 and in real-time.
Real estate agents can use chatbots in the following ways.
Link to Your Website
A real estate bot can connect to leads through your website, Facebook page, or other online platforms to provide targeted support. By linking with your internet data exchange (IDX) website or the local multiple listing service (MLS), you can use a real estate chatbot to send leads specific properties that may be of interest and, where appropriate, schedule appointments with you or another agent on your team.
Build Trust
Most homebuyers and sellers want an agent they can trust to represent them throughout the entire real estate transaction. However, it can be challenging to earn the trust of potential clients with IDX websites and online submission forms alone. Real estate chatbots can help build a lead's trust by both soliciting and supplying key information before you reach out via phone so that they are more likely to be receptive to your calls.
Showcase Properties
Real estate-specific chatbots can integrate with your MLS, IDX website or other real estate websites to provide leads property recommendations that fit their exact needs. Use your chatbot to ask leads about their housing needs, including price, square footage, bedroom and bathroom count, and other qualifications. Real estate-specific bots like Structurely can then search properties and send homes that meet the lead's individual needs.
Capture Tech-savvy Leads
The National Association of Realtors estimates that about 55% of buyers who find their house on the internet are age 36 years and younger. Using a chatbot can help capture more of these computer-savvy buyers; many younger customers find it more convenient to speak with agents via text chat than to call your brokerage on the phone.
Qualify Leads
Real estate chatbots help agents qualify leads using conversational touchpoints that can determine information about their current address or neighborhood, purchase timeline, and property interests. Interactive forms can solicit some of the same information from website visitors but do not help you build trust as chatbots can.
Qualifying questions you can program your chatbot to ask include:
How long have you been looking for a home?
How soon do you need to move?
Are you already working with an agent or broker?
Have you been prequalified for a mortgage? If so, how much?
How willing would you be to buy right now if we found the right home?
Do you currently rent or own your home?
Answer FAQs
Potential clients frequently have many of the same questions when they begin the process of buying or selling a home. Chatbots enable agents and brokers to answer these questions 24/7 and in real-time without having to take time away from their other appointments and lead generation opportunities. Also, chatbots provide more immediate responses and personalized attention than basic contact forms do.
Transition to Live Chat
Most automated messaging software allows agents to pause the chatbot and take over when a prospect would benefit from chatting with an actual agent. This let agents save time by using the chatbot first to qualify leads and learn about their interests, budget, and timeline for buying or selling a home. Once the chatbot has collected relevant information from a lead, an agent can step in to provide more personalized information or to set up a one-on-one appointment.
Real Estate Chatbot Providers
Real estate agents can choose from a variety of chatbot providers that are real estate-specific or intended for sales and marketing professionals. Chatbot platforms generally range from free to about $500 per month and offer users the ability to answer common questions, send targeted listing information, and qualify leads before assigning them to an agent. We reviewed some of the top chatbot providers to help you choose the platform that's right for you.
Some of our favorite chatbot providers are Structurely, Roof.ai, Freshchat, and LiveChat.

Structurely is real estate-specific software that uses AI to qualify leads with a proprietary chatbot named Aisa Holmes. Aisa helps build trust with potential clients by messaging leads within a minute of contacting you through your website or Facebook. Aisa then asks qualifying questions and, when appropriate, offers to schedule an appointment with an agent. Structurely also has a mobile app for staying on top of lead generation outside the office.
Additionally, Aisa provides a personalized client experience by letting you pause the conversation and take over at any time. Alternatively, you can let the chatbot complete the qualification and set up a meeting without any work from you. Structurely packages range in cost from $179 to $499 per month, and custom packages are available for large agencies that need services for 225 or more leads each month. Click here to learn more about the platform.

Roof.ai is an AI-powered virtual assistant for real estate agents that includes a chatbot for capturing, qualifying, and routing leads to agents on your team. The platform connects with your MLS data, matches potential buyers with appropriate properties, and schedules showings autonomously via two-way conversation.
Pricing for Roof is not available through their website. Interested agents should contact a customer service representative for more information. You can reach out via their home page by clicking on the "Contact" button.

Freshchat is messaging software that lets users provide real-time support to customers browsing their website. The platform is not real estate-specific but includes features like triggered messages, automated email campaigns, and chatbots to help agents and other sales professionals qualify, nurture, and convert leads. Plus, Freshchat lets you learn more about your leads using information like how they got to your site and how they behaved once on your site.
The live chat platform offers a free plan and increases to $79 per team member, per month, for a year of access to the most advanced enterprise plan. Plans that include a chatbot start at $24 per month. Click here to register for free.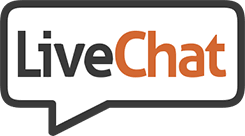 LiveChat is online chat software that lets users communicate with their customers directly through their website or other messaging apps. Like Freshchat, the software was not designed specifically for real estate agents. However, it features the ability to see what visitors type into the search box before they send it and send canned responses accordingly, route chats to team members, and share files.
LiveChat costs between $16 and $50 per logged-in agent, per month, and also offers a custom enterprise package for large teams. If you're ready to get started, click here to visit the LiveChat website.
Bottom Line: Real Estate Chatbots
Real estate chatbot plugins let agents, directly and indirectly, interact with their current and prospective clients. Whether you choose to use an AI-powered chatbot or a live chat-AI hybrid, chatbots can reduce the amount of time you spend at your computer interacting with and qualifying leads. Chatbots are also a terrific way to build a rapport with leads by sending targeted listings on a timeline that works with their schedule.
To add a chatbot to your lead generation strategy, we recommend starting with industry-leading Freshchat. You can begin with an agent-led live chat tool using the platform's free option—the best way to get started for budget-strapped agents—or upgrade to a paid, bot-led messaging tool for between $24 and $79 per user, per month. Click here to start your free trial.