10 Real Estate Cold Calling Scripts (+ Free Templates & Tips)
Real estate cold calling scripts are preplanned phone conversations that help you communicate your services clearly with potential buyer and seller leads. Whether you're responding to an online form, speaking with a ready buyer, or reconnecting with past clients, scripts organize your thoughts so you can make meaningful, human-to-human connections. To be effective, personalize and modify them to address the specific needs of each potential client.
While our cold calling scripts for real estate we feature in this article help you establish an effective method of talking to new potential leads, you can also use software that connects you with homeowner data, like REDX. In addition to lists of vetted leads for expired listings, FSBOs, and preforeclosures, REDX provides free script practice. Start today and waive the $150 setup fee.
Read our 10 best real estate cold calling scripts below to understand how they work and download all of the scripts here to help ensure you foster meaningful connections with every call.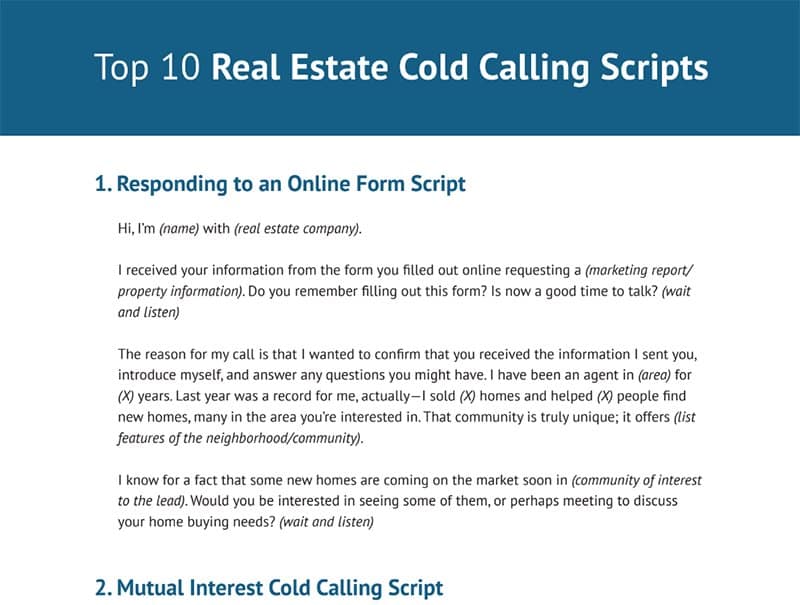 Thank you for downloading!
💡 Quick tip:
REDX helps you obtain curated lists of leads for expired listings, FSBOs, and pre-foreclosures for as low as $39.99 per month and provides tools to support prospecting and lead management. It also offers free phone scripts that you can practice to sound natural on the phone.
Visit REDX
1. Responding to an Online Form Script
Hi, I'm (name) with (real estate company).
I received your information from the form you filled out online requesting a (marketing report/property information). Do you remember filling out this form? Is now a good time to talk? (wait and listen)
The reason for my call is that I wanted to confirm that you received the information I sent you, introduce myself, and answer any questions you might have. I have been an agent in (area) for (X) years. Last year was a record for me, actually—I sold (X) homes and helped (X) people find new homes, many in the area you're interested in. That community is truly unique; it offers (list features of the neighborhood/community).
I know for a fact that some new homes are coming on the market soon in (community of interest to the lead). Would you be interested in seeing some of them, or perhaps meeting to discuss your home-buying needs? (wait and listen)
Why this script works: The goal of this real estate cold call script is to move the call from a lead's online inquiry to a face-to-face meeting. Since the lead already reached out, briefly remind them that you are following up on their inquiry for information or details about a listing. Make sure to follow up within an hour from the time the lead reaches out for higher chances of conversion.
Leads often submit several requests while browsing, so they might not remember all of the agents they've reached out to. Introduce yourself and tell them where you got their contact information, so they know you're not contacting them out of the blue. This gives you a point to connect with them and relieves the tension of a cold call. If they are unavailable to speak at the moment, offer to call back at a set time or schedule an appointment in the future to discuss the information you shared.
2. Mutual Interest Cold Calling Script
Hi (contact name), this is (name).
We know each other from (child's parties, neighborhood events, religious organizations, and so on). How have you been? (Engage with questions and information about what you've been doing.)
I was calling because, as you might know, I'm a real estate agent for (brokerage), and I'm just touching base with friends and family to see if they've thought about upgrading, downsizing, or selling their home. Have you considered it, given the market right now? Buyers are really hungry for places like yours! (wait and listen)
Why this script works: Sharing a mutual interest makes it easy for you to connect with your lead. It keeps the mood casual but still remains productive. This cold calling script for real estate tells your lead how you know each other through association and how you can service them.
Based on statistics, 67% of homesellers have listed their homes with an agent who was referred to by friends or family. Referrals were also the primary method most younger millennials (55%) and older millennial buyers (48%) found their agent. By calling this contact, you stay top of mind if they need a trusted real estate agent to handle the sale of their home. Also, connecting with this contact gives you access to their network.
3. Recent Nearby Sale Cold Calling Script
Hi, I'm (name) with (real estate company). Is this the homeowner?
I recently sold a property down the street from you (details about the sales price) at (address). That's (dollar amount) more than the average sales price in your area, which means buyers are really wanting to buy in (contact's development/community).
I was wondering: Have you thought about selling your home, and if you knew you could get a fantastic price for it? (wait and listen)
Why this script works: When you sell a home for a great price, you can call other homeowners in the neighborhood using this script to potentially get a slew of new leads. Your lead may not want to sell their home because they don't know how much they could sell it for. By leveraging a recent sale, you show homeowners the potential value of listing their home and your ability to make a profitable sale. You can use this as a real estate prospecting script to find new leads.
Expect a response to this script to be muted since most homeowners will likely not have considered selling. Still, make sure you talk about the sale you just completed—how quickly it was done, how high the price was, and how many offers the homeowner received. You can also share market trends in their neighborhood to convince them why it's the best time to sell their home. Lastly, close the call with an offer to do a complete home valuation free of charge—with no strings attached.
4. Home Valuation Cold Calling Script
Hi, I'm (name) with (real estate company). Is this the homeowner?
As you know, our neighborhood market has gotten really hot. For example, one house sold for (insert details). The house at (property address) sold for (insert details).
I was wondering if you have considered listing your home now that the values are higher than they've ever been. There is a lot of demand for homes like yours, and there aren't many for sale right now. (wait and listen)
Why this script works: People don't often stop to consider that their home could sell for significantly more than its value. This real estate cold calling script is a prompt for them to consider selling their home so they could take advantage of the market in their area. Using this script, you can also show them what the market trend could mean for them in real dollar amounts.
Potential responses to this script will vary. While some might be aware of how "crazy" their neighborhood prices have gotten, others might not realize the value of their own home. Your goal is to emphasize the potential sale of their property and that the current market conditions won't last forever. Also, aim to schedule an appointment to give them a free and quick pricing assessment.
If you're looking for a real estate marketing platform with a home valuation tool, try Real Geeks. Create unlimited home valuation landing pages and direct your leads to your website so they could check how much their property is worth. Real Geek also provides customizable Internet Data Exchange (IDX) websites, a client relationship management (CRM) platform, and lead generation tools for an all-in-one sales and marketing solution.
5. Ready Buyer Cold Calling Script
Hi, I'm (name) with (real estate company). Is this the homeowner?
The reason for my call is that we have buyers currently looking for homes in your neighborhood. In fact, some have indicated they would gladly pay as much as 20% above asking prices so they could move in quickly. Would you consider selling your home if you had someone lined up to buy it? (wait and listen)
I know choosing to sell your home is a big decision, so I understand if you need to take some time to think about it. At the very least, can we schedule a meeting to talk about your thoughts and concerns? When would be good for you? (wait and listen)
Why this script works: In this script, you are suggesting a sales opportunity to a homeowner who hasn't considered it yet. Sharing insights as to the current homebuying demand in their neighborhood and the potential to sell at a high price will pique their curiosity. If they do show interest, offer to do a quick pricing assessment and book an appointment.
These homeowners will likely say they are not interested in the call, because the idea seems like a shock. Be understanding, but leave them with a stat about their neighborhood prices and make it easy to contact you. They may reach out to you after considering this new idea. Either way, be sure to follow up after several days to gauge interest.
6. Neighborhood Expert Cold Calling Script
Hi, I'm (name) with (real estate company). Is this the homeowner?
I know it might be odd getting a call out of the blue, but I've been selling a lot of properties in the neighborhood and was wondering if you knew when you might be putting your home on the market. (wait and listen)
What would you be looking for when you hire your next agent? (Listen, and start a conversation about buyers you have, how many listings you've sold in the area quickly, and what makes you different.)
Why this script works: This script connects you with homeowners in the neighborhood and offers your service as their agent in the future. At some point, most homeowners will show interest in selling their home, so take advantage of this eventuality in advance. Listen to their responses and tell them how your skills can help address their real estate needs.
Treat your phone conversation as you would a job interview. You must quickly and succinctly explain why the prospect should trust you to be their agent. The ultimate goal is to schedule a meeting so you can assess the value of their home or discuss a strategy for selling it. To ensure success, prepare a real estate elevator pitch that will showcase your expertise and how you will put it to work for them before you get the listing.
7. For Sale by Owner (FSBO) Cold Calling Script
Hi, I am calling about your home. Are you the primary homeowner?
I'm (name) with (real estate company). I see that your house is for sale, and I'm wondering if your asking price matches my research about the possible sale price of your house. How much are you asking? (wait and listen)
Ah, I think you can actually get more for your home. I've compiled marketing data that shows houses in your area with the same features are selling at (insert price) and take an average of (insert days) to sell. A good real estate marketing plan can increase the possibility of sale and decrease the number of days on the market—both while ensuring a higher sales price.
Would you be interested in discussing how I can help you make this happen? (wait and listen)
Why this script works: Most FSBO leads don't use a real estate agent because they don't believe it will save them time, effort, or money. This script will enable you to show homeowners your unique value and offer them a solution to their problem—selling their homes faster for the most money.
Share some research about the property early in the conversation to address the homeowner's hesitation. Keep in mind that the ultimate goal of your call is to schedule an initial appointment to build on your connection and close the sale.
Get contact information for For Sale by Owner (FSBO), For Rent by Owner (FRBO), and foreclosure, as well as geo-targeted and expired leads through a service like REDX—for as low as $39.99 per month. REDX also offers tools like power dialer, multiline dialer, brand builder, and Vortex so you could make cold calls and manage your leads more efficiently.
8. Expired Listing Cold Calling Script
Hi, I'm (name) with (real estate company). Is this the homeowner?
The reason for my call is that I noticed your home listing expired on (insert date). Have you decided to relist your property with the same agent? (wait and listen)
(If no or undecided) When I reviewed your property listing, I noticed one thing that we can do to improve your sales approach. Would you be interested in finding out how we can correct that one thing? I'd love to discuss the possibility of listing your property with me and how I can help attract more interested buyers. (wait and listen)
(if yes) Well, I'm glad you've decided to relist. If you find that your agent isn't getting you the offers you want or need, I'd be happy to step in and offer a different approach. Feel free to call me anytime to discuss a different marketing strategy that can help increase buyer offers.
Why this script works: The ultimate goal of this expired listing script is to become the homeowner's new agent and relist the property. You can use this script to show the solution you have for their expired listing and how you'd approach the sale of their home differently and successfully.
The seller might be distrustful of agents, as their previous agent failed to sell their property. To make the homeowner feel encouraged and hopeful, focus on one improvement you can make during the call. You can then suggest having a meeting to review the efforts of the last agent and highlight how you would promote their listing.
9. Probate Lead Cold Calling Script
Hi, I'm (name) with (real estate company). Is this the homeowner?
I understand from (name) at (company) that you have experienced a loss in your family. I am sorry for your loss. I know the last thing you need to deal with right now is the logistics of managing that family member's home. I am contacting you to see if you have considered selling the property and if there is anything I can do to help.
I understand this might not be a good time to talk, but could we set up a time to discuss your needs and how I can help you? (wait and listen)
Why this script works: Probate leads are in the middle of emotional, legal, and logistical difficulties, so be mindful of these when making a call. It will be easier to use a connection they already know—such as a lawyer, family member, or friend—as a reference to build trust. This script will remind you to be gentle in your approach and understanding of their grief. If the seller sounds upset or disconnected, then call back another time. You can gently offer yourself as a resource without trying to push a sale.
To find probate leads, use an event-driven predictive analytics tool like Catalyze AI. The platform specializes in farming exclusive motivated seller leads. For as low as $120 per month, you can get 10 exclusive inheritance listing leads within 50 miles radius. Moreover, its event-driven data, historical data, behavioral analytics, and real-time data results will help boost your success in converting leads.
Cold calling is not the only way to connect to new leads. If you're hesitant to make a cold call, try sending prospecting letters instead. While you do have to print and mail real estate prospecting letters, they stand out from more commonplace calls and emails, increasing the likelihood of a response. Check out some of our free real estate prospecting letter templates.
10. Reconnection Script
Hi, (insert buyer name). It's (name) from (real estate company). I helped you buy your home in (neighborhood/community) in (date/season). I recently sold a home in your area and thought about you. How are things going? (wait and listen) (After chatting for a few minutes) It is so good to hear that you are happy with your home purchase. I thoroughly enjoyed working with you and would love to help you if you need any real estate guidance in the future.
Also, would you mind if I send you a review link so you can share your experience? I know other homebuyers want to know how I work as an agent and prefer to hear from clients. (wait and listen)
Why this script works: This script is effective in asking your previous buyers or sellers for a review or referrals. Since these leads are already familiar with your service, they can boost your credibility and reputation with new prospects. However, your past clients may not have thought of you in a while. This unsolicited call is a perfect opportunity to build on your relationship and remind them of your expertise.
Calling your past clients every six months or reaching out on special occasions via email maintains a mutually beneficial relationship: they can introduce you to their network, while you offer ongoing real estate advice and guidance. When asking for a review, be sure you send a thank-you note or real estate gift after the review is completed.
Cold Calling Statistics
Increase your chances for lead conversion by knowing the best day and time to make your cold call. Based on a 30-week study conducted by CallHippo, the best time to make sales calls is from 4:00 p.m. to 5:00 p.m., as they are high connection times. You can still expect good responses between 11:00 a.m. and 12:00 p.m. since most businesses and prospects are on lunch break and have time to answer your call.
The study also found that Wednesday generated the most phone conversations on the first attempt, making it the best day to make your cold call, followed by Thursday. Since Monday is usually the busiest day of the week and post-lunch Friday is when some usually enter weekend mode, we recommend not making cold calls during these days.
Consider the following cold calling statistics to improve your chances of securing a meeting:
Tips for Using Real Estate Scripts for Cold Calling
Cold calling can be one of the hardest (and most intimidating) real estate lead generation strategies for agents to execute successfully. Even with a good real estate script, you still have to personalize the message, communicate your value proposition clearly, and move the sellers toward a decision. With this in mind, here are nine pieces of advice on cold calling.
Practice your script: Practice your script every day for at least 30 minutes to increase your confidence. This will make you sound more natural and create a genuine connection with your lead.
Personalize the script: Even the best script will fall flat if the delivery is not personalized, believable, and engaging. Use the script as your guide, but make sure the wording and tone are true to your personality.
Make adjustments in the conversation: No matter how much you practice, you can't predict how each lead will respond to you. Be ready to go off-script and make adjustments in the conversation as necessary.
Believe what you are saying: If you don't genuinely want to help your leads solve their problems, this can be conveyed through your tone during your call. Cold calling is like making a new friend and offering a service they truly need.
Define the outcome you want: Having a goal makes your calls more productive. Set a simple goal like setting up a virtual meeting or getting the name of a neighborhood lead.
Stay consistent: By consistently making cold calls, you'll gain more confidence and increase your chances of contacting leads who are ready to convert. According to statistics, 30% of sales reps report 50-plus dials per day, 25% of them 30 to 49 dials per day, and 20% of them 20 to 39 phone calls daily.
Use your sphere of influence: It's much easier to make a cold call feel natural when you know your lead through a mutual connection. Based on statistics, 90% of buyer leads would recommend their agent to others. Check in on your friends, family, and previous leads to get some referrals that will drive your future pipeline.
Call during slow real estate seasons: By consistently making cold calls, especially during traditionally slow real estate months, you can secure a constant flow of leads in your funnel.
Find a point of connection: When making a call, find a commonality with the lead. Having a point of contact or familiarity will make your leads feel more comfortable during the call.
Bottom Line
Using real estate cold calling scripts will boost your confidence and develop your skills even before the call takes place. These scripts make you sound more prepared and enable you to lead the conversation. To avoid stumbling over words or sounding robotic during the call, practice reading from your script several times before picking up the phone. Take advantage of a service like REDX to help you with role-playing until your message sounds natural and genuine.