A real estate commission split is the fee a brokerage collects for the service of helping a buyer purchase a property or a seller to list and sell a property. Average real estate commission splits traditionally range from 50/50 to 70/30, largely depending on the brokerage you work for and the market you are working in.
This guide will help you to navigate the tricky world of real estate agent commission splits and learn more about which commission structure might work best for you.
Real Estate Commission Split Basics
All transactions of any type run through the broker and, in working on behalf of a broker, a real estate agent is given a negotiated commission split of that earned money. The commission amount will be an agreed upon percentage of the gross commission — that is, the amount prior to taxes or other deductions of any sort.
A commission is typically shared by a number of people. In a typical transaction there is a real estate agent (representing a broker) working for the seller and a real estate agent (representing a broker) working for the buyer with each of these four parties getting a cut of the commission. All commission money in the transaction goes through the respective brokers who then give a split to the agents working on their behalf.
The share of the commission you receive as a real estate agent will depend largely on the brokerage you work for. Commissions range from a straight forward 64/30/6 with Keller Williams, to the 100% real estate agent commission model where you pay fees, but get to keep the commissions you make.
There are a number of elements to consider before choosing a brokerage, such as leads provided, mentoring opportunities, and so just remember that while real estate agent commission splits are pretty important, they do not always tell the whole story of where you will earn the most. The support some brokerages provide in leads, mentorship, and education can bring far more transactions leading to more money earned.
One company we like for new agents is Keller Williams. While many companies seem to have splits that are unclear until you walk in the door, Keller Williams is very straight forward with their splits, offers fantastic education, and also includes profit sharing. It's our pick for real estate companies to work for in 2018 because of the caliber of training they offer as well.
Fixed Real Estate Commission Splits
Fixed real estate commission splits occur when the percentage of the commission that is distributed to the agent and broker remains constant (or fixed) and does not change with production goals or sales like other structures might. While a fixed split could come in a variety of amounts, a typical split is 60/40.
In a fixed real estate commission split structure, it does not matter how many homes you sell or purchase for clients, or the dollar amount you bring into the company, your commission percentage remains the same.
Having a fixed real estate commission split means that you will be getting the same percentage of the commission for every transaction in the foreseeable future with that agency unless your agreement with that agency changes. While some agents truly love this predictable arrangement, higher producers can sometimes feel they are not as adequately compensated by larger commission checks as they can be with other arrangements.
An average real estate commission structure will divide the commission to pay the various parties involved in the transaction according to their agreement with their broker. While in 2016, according to the NAR, 35% of agents received a fixed real estate commission split (under 100%), there are other structures gaining popularity that we will also be reviewing here.
No matter what the commission model your agency is using, all real estate commission splits begin at a certain agreed upon split amount that should be clear for you to calculate.
Below is an illustration of a typical 60/40 split on both the buying and selling sides of the transaction, wherein the agent receives 60 percent of the gross commission and the brokerage receives 40 percent.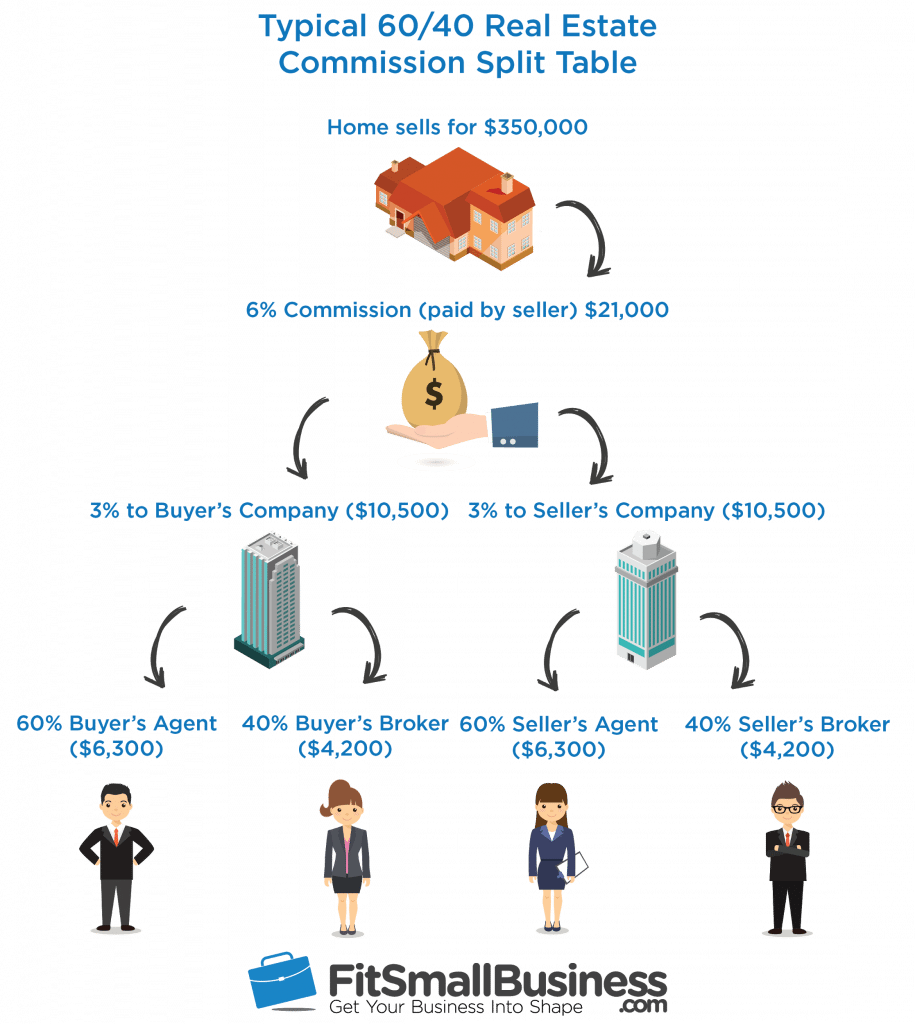 While real estate commission splits with your brokerage may be fixed or graduated, calculating them usually starts by utilizing the basic framework shown above. Be sure to confirm that franchise fees that brokers often pay are taken after the agent/broker split occurs from the broker side.
Graduated Real Estate Commission Splits
Capped graduated commission splits are arrangements that become more favorable for the agents and they reach specific monetary or production goals over time. For example, an agent starting at 50/50, then hitting goals to progress to 60/40, and then further reaching goals to progress to 80/20.
To further illustrate the example given above, a traditional graduated real estate commission split might be that a broker agrees to split commissions 50/50 up to $30,000 of an agent's share of earnings, then give them a 60/40 split from $30,000 to $40,000, and then maybe go even further to 80/20 or 90/10. Graduated real estate commission splits reward high producing real estate agents, and depending on the potential in your area, the ability to keep more of your earnings can be a true incentive to get out there and close deals.
The Capped Graduated Real Estate Commission Split
Some agencies use the graduated real estate commission split system but set a limit, or cap, to the amount of revenue they can collect for company commissions. After they reach a certain commission revenue amount, they allow the agent to keep the rest.
Most companies that offer these caps will also establish a transaction fee that occurs at the time the cap is reached. Although you are now receiving significant commission money, the company charges a transaction fee because the company costs of every closing remain. The transaction fee is usually a minimal fee that simply covers the company administrative costs that continue with closings.
The Graduated Real Estate Commission Split Rollback Policy
Although graduated real estate commission splits are common practice these days, the rollback policy — which resets the commission split to a standard level at the beginning of each calendar year — is often a standard feature.
In these arrangements, every agent "rolls back" at the beginning of every year to the initial graduated commission split amount — typically a 50/50 or 60/40 split.
Most agencies benefit greatly from the graduated real estate commission split policy with rollbacks. Agents have an incentive to produce as soon as possible, and in doing so, the brokerage can be sure that they are covering their own operational costs and taking in a bit of profit as well.
It might also be noted that if you roll back to start these fees at the beginning of the year, the peak of the real estate season is just around the corner with plenty of homes available to get where you need to be. It is a smart set up to allow real estate agents to have their highest volume during months of higher agency commission splits, while motivated to keep the commissions coming (because of more generous amounts) in some of the more difficult times of the year to buy and sell inventory.
How 100% Commission Works
While it may sound like a dream to have no real estate commission split, many 100% commission arrangements involve numerous administrative fees that can be both costly and confusing to a new real estate agent. There are a lot of variables to consider when deciding to go this route. We list many common fees below.
These fees do not apply to all brokerages but are a place to start a conversation. Some of these fees are often rolled together, while others may be broken apart. Be sure to ask about these areas if considering joining a 100% commission model agency.
5 Fees and Areas to Ask About if Considering the 100% Commission Model
Monthly Fees are usually a flat fee for things such as the use of offices, phones, and copiers
Administrative Fees are a flat fee for basic elements such as maintaining transaction records
Transaction Fees are a flat fee added at the time of closing
Risk Reduction Fees are usually toward errors and omissions insurance that helps to protect you, the brokerage, and your clients
Level of Support from the office to help you go the extra mile in closing transactions, or in advertising the property
The Pros and Cons of No Real Estate Commission Split
While the fees often involved in not having a real estate commission split can appear daunting, there are certainly times that all (or some) of these fees can be worthwhile.
The pros of not having a traditional real estate commission split is that you can earn a great deal more money if you work in the right neighborhood, have a solid reputation, and an existing roster of clients. Selling in a high net worth area where you have good connections, high volume, and homes that move quickly can make these fees seem well worth it. In 100 percent commission agencies, fees are usually fixed, while the amount of volume you can do is limited only by your time and ambition.
The cons of a no real estate commission split model are many, especially if you are a new real estate agent. New agent growth and mentorship is typically not as much of a priority in 100 percent commission firms, because the majority of your fees are not contingent on your success as an agent. Even though the fees charged cover a range of areas, many agents offhandedly refer to the fees in this model simply as "desk fees" simply because your support outside of the provision of a place to do business is often very limited.
If you are in a situation where you have no real estate commission split, you will have to be sure to have your technology in check, and line up all the assistance you can. Brokerages that offer 100% commission may vary widely in how much assistance they will provide, and what equipment and technology they offer. For example, If you are still looking for a way to store and manage customers to continue to build your business, feel free to check out our review on customer relationship management (CRM) software. Nurturing leads will be perhaps one of the biggest and most challenging aspects of what lies ahead.
While firms offering more traditional real estate commission splits utilize part of their commission money on infrastructure and support, the amount of money out of pocket that you would be expected to pay is far more with a 100 percent commission agency, and these fees can add up quickly. For a new agent who recently spent money on coursework, books, licensing, and getting set up, having a traditional company structure with far more limited fees and some mentorship often works best in giving them a head start.
The Bottom Line
While all real estate commission splits have their positive and negative aspects, it is important to understand clearly how they can work to your advantage, as well as what structure might benefit you moving forward in your career. As you evolve in your contacts and production, some real estate commission splits might seem more advantageous to you than others.