For most of the last two years, real estate drone photography has been the darling of industry bloggers and marketers. There were endless articles and blog posts about how this technology would change our industry, but very little came of it because the FAA made operating a drone for commercial purposes virtually impossible.
As of August 2016, the FAA relaxed drone operator restrictions making it far easier to use drones for real estate. This means two things:
Those bloggers and marketers are about to release a flurry of drone-related articles; and 

Your homeowners are going to read them and want to use drone photography for their listing.
Drone photography is fabulous for showing the outside of a house, but what about inside? A 3D virtual tour does for the inside of the house what a drone can do for the outside of the property. Not only will a virtual tour help you sell your existing properties, but it will impress potential listings as well. Learn more about 3D technology with a free webinar from Matterport, "Top 10 Ways to Use VR to Win Listings in Real Estate."
Potential ROI: Landing and Marketing Listings
Since there is so much buzz (no pun intended) around drones these days and the FAA just relaxed their strict rules, your clients WILL probably at least ask about using a drone for your listing. We'll go over which types of listings benefit most from real estate drone photography and which don't next, but for now, we're going to focus on the potential value add for marketing.
Here's what drone photography can add to your marketing efforts:
1. Novelty (For Now)
Like most real estate journalists I would bet my life savings that this is about to change dramatically, but for now, drones are hot. There are going to be articles in newspapers, fluff pieces on the evening news, and a ton of coverage on blogs. This means that drone photos and videos are a novelty. There is still a "wow" factor to drone videos and I don't think that's going away any time soon. Since home buying is a largely emotional decision, novelty sells.
Brian Dougherty ($23 million sales volume in 2015), co-owner of Boston and Cambridge-based real estate firm Robert Paul Properties leveraged the novelty factor of drone video to sell a property sight-unseen:
"Recently, a cash buyer from overseas purchased one of my properties sight unseen after watching a video shot partially with drones.  Drone video footage adds an exciting dimension and a unique perspective that standard marketing photos can't convey. 

Drone photos and videos also help us secure listings and prospective sellers realize that we are offering a tool and resource that not all of our competitors do."
2. You Can Show the Entire Property
If there is one universal truth about home buyers, it's that they are terrible at visualizing space. Most listing photography does little to help. For example, say your listing has a huge 3 acre backyard, but 75% of it is obscured by trees. The photo on your listing makes it look tiny. With a drone shot, you could capture the entire yard in one picture to show them just how big a space it really is.
For a great example of how well a drone can show off a large or unusually shaped property, check out this video by Open Homes Photography: Note how the house and outdoor space look radically different from almost every angle.
2201 Bywood Drive, Oakland – Presented by: Kelly Deal & Marvin Deal from Open Homes Photography on Vimeo.
3. Potentially Viral (People WILL Share Drone Videos)
Home hunters share listing photos with friends and family all the time. They may tell you they're asking for a second opinion, but a lot of the time they're just sharing something pretty.  My cousin, a successful attorney from Atlanta, posted dozens of listing pictures on her facebook feed when she was hunting for a house. If any of those listings had well-shot drone videos I guarantee she would have posted every single one of them.
4. Use It As a Prospecting Tool – Most people only see real estate drone photography as a way to market their listings, but you can use them for a lot more. Can you imagine pitching a FSBO or expired listing by offering to show them the gorgeous aerial footage of their house and neighborhood you shot last weekend? Can you imagine showing up to your pitch with a picture like this?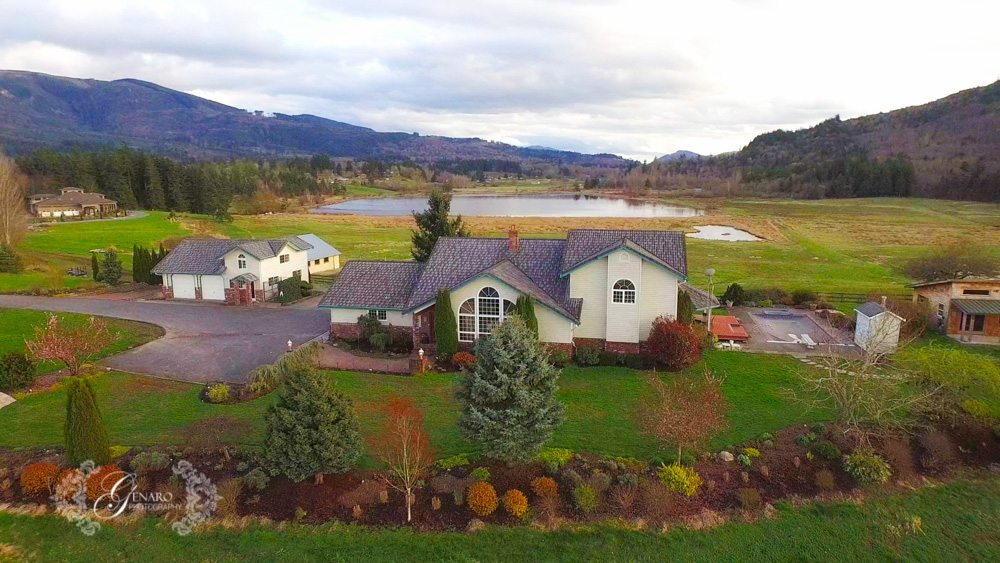 5. You Can Capture the Entire Neighborhood
Instead of just shooting houses, you can create drone videos of the local neighborhood. These videos can make amazing "stock" footage to use on your website, and general videos about your services. Check out his amazing video by Aerobo for Halstead Property to see what I mean:
Alabama-based realtor Justin Dyar used drone footage in his marketing video about the beautiful area he works, Lewis Smith lake.
6. You Can Show Distances to Amenities
Is there a beautiful little park or nice beach close to your listing? Again, most home buyers are terrible about estimating space or distances. How long does it take to walk 1000 feet? With drone photography instead of telling them you can show them. Here's a great example of using a drone to show distance shot by michigandronepros. Look at how large that open field is compared to the house and how close lake Michigan is. You would need to shoot 10 normal pictures to get the same effect.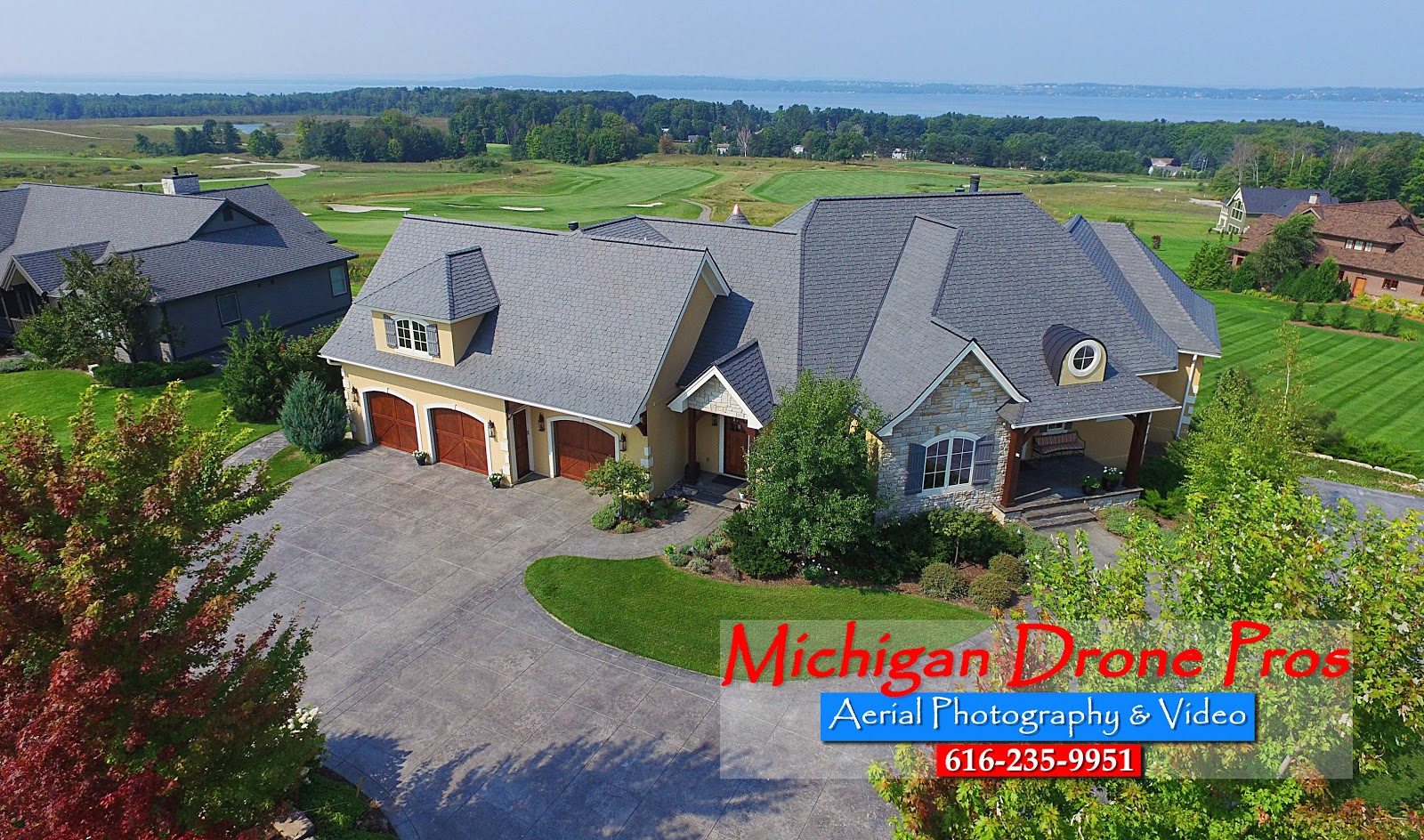 7. Roof Access
Did your seller just spend $20,000 on a new roof? With aerial photography, you can show off that expensive work and put potential buyers at ease.
8. It Helps You Sell Land
While real estate drone photography is indeed great for marketing houses, the real benefit is in land sales. Instead of a blurry google map or illustration, you can show clients what the property looks like today.
How Much Should You Pay for Real Estate Drone Photography?
Like most creative services, pricing for drone photography can vary wildly. Your location, the skill and reputation of the photographer, the amount of editing needed, and the difficulty of what you want to shoot all affect price.  
As a general rule of thumb though, you should expect to pay around $150-$300 for 1-10 aerial still photos, and around $300-$1000 for a 1-5 minute video. Editing and revisions may or may not be included in the price so always ask before hiring someone.
The Wine List Rule
Since pricing can differ so wildly, you should think of hiring a drone photographer like ordering wine in a restaurant. You should probably steer clear of the cheapest on the list, and once you get past the mid-range, there is generally diminishing returns in quality and you should only order it if you really, really need to impress. If you do come across a company that charges much less or much more than the average in your area, put in a little extra time to vet them thoroughly.
How to Hire a Drone Photographer: Why You Should Hire a Pro
Jon Ollwerther, CEO of New York City-based drone company Aerobo, recently had a meeting with the CEO of a major Manhattan developer. According to Ollweather, the CEO asked him why he should hire Aerobo when his nephew just bought a drone that could seemingly do the job just as well. Ollwerther pointed out that his nephew probably had an iPhone as well but he still hired professional photographers for his buildings.
"A good drone operator will be able to show the listing in the best literal and figurative light."

-Jon Ollwerther COO of Aerobo, America's largest drone service provider.  
Where to Find a Good Drone Photographer
There are several ways to find a good drone photographer. If available in your city you can hire a professional drone photographer from Aerobo who has a national network set up in a few dozen states.
If there is not a large drone service provider in your area, you can either see if your current real estate photographer offers drone photography, or search online for a nearby service.
When vetting an aerial photographer, make sure that they either specialize in, or have extensive experience with real estate marketing. A company that primarily shoots for insurance companies will probably not have the skills you need to show you listing in its best light.
DIY Options
For all the aspiring Amelia Earharts out there, here's a quick guide on buying and getting certified to operate your very own drone camera rig.
For around $1500 you can by a DJI Inspire 1, which features an incredibly high resolution 360 degree 4k camera (4x the resolution of 1080p video) and with a little practice you will be able to produce Hollywood quality drone stills and videos.
If you plan on hiring a drone photographer for more than a few listings per year, and want to take the time and effort to learn a (fun) new hobby, than it might make sense to buy a drone like the DJI Inspire 1. Added bonus: you may even be able to start a small side business doing aerial photography for coworkers and colleagues.
Central Florida realtor Tania Matthews and her team just bought their very own DJI Phantom 3 to create drone videos in-house. Wish them luck!
Learn the FAA Guidelines for Real Estate Drone Photography
In order to use a drone for commercial purposes, you need to understand and follow the new FAA guidelines. Read about them here before purchasing a drone.
Know the Risks
Even a relatively small drone can do a significant amount of damage to property and potentially cause injuries. Before even considering using a drone professionally, talk to your attorney about insurance and liability issues.
The Bottom Line
With the new FAA regulations in place, you should expect to see real estate drone photography popping up in more and more real estate marketing. In order to stay ahead of the competition, you should take the time to learn how to integrate drones into your current marketing efforts.