I didn't think I'd need real estate exam prep. After all, I went to an (almost) Ivy League school. Piece of cake right? Well… not really. I ended up pulling an all-nighter and just barely passed the test. That's why I wrote this guide to inexpensive real estate exam prep to help you pass your real estate test on the first try.
Need help fast? After looking closely at all the options, we chose Real Estate Exam Scholar as the best real estate exam prep service.
Visit Real Estate Exam Scholar
What You Need to Know to Pass the Real Estate Exam
There are three types of questions on the real estate exam in every state.
Questions about federal real estate law
Questions about state real estate law
Questions about federal and state fair housing laws
Questions covering federal real estate law will be on every test, while questions about state real estate law will be unique to every state's exam. Generally speaking, the free practice exams available online only cover federal topics. Paid options cover both. If you are looking for free resources to brush up on state topics, Google real estate exam prep + your state.
How Long Do You Need to Study?
Ideally, you should start studying for the real estate exam when you begin taking your real estate courses. I suggest studying for an hour or two every night of your class, and then for several hours the night before to refresh your memory. If you haven't studied every night (something tells me that, since you're reading this article, you haven't…) or feel like your course wasn't thorough enough, real estate exam prep can make all the difference.
While the real estate test in most states is no cake walk, you may be more prepared than you think. What you need is a tool to assess your current knowledge and figure out where you need help. Luckily, there are quite a few practice real estate exams available online that will do just that. Next, we'll tell you some free and paid options for real estate exam prep.
Best Practice Real Estate Exams and Prep Materials – Free and Paid Options
Quick: what are the six fiduciary responsibilities of a real estate agent? You don't need to be able to recite them on command, but you should know them well enough to pick them out in a multiple choice question. This is why practice tests are such a great way to strengthen your knowledge. They make you familiar with the types of questions that will be on your test.
Our Recommendation for Best Overall Real Estate Exam Prep
After testing dozens of sites, we recommend Real Estate Exam Scholar as the best overall site for real estate exam prep.
We chose them because they offer a massive number of questions (over 1,000) and cover topics from all fifty states. At $29.99, they are also far more reasonably priced than a lot of the other options.
To learn more, read our Buyer's Guide on Best Real Estate Practice Exam.
The Best Real Estate Exam Prep Options for 2017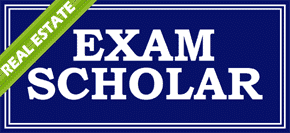 Price: $29
Questions: Up to 1,000,(all 50 States)
Real Estate Exam Scholar gives you 1,000 multiple choice practice questions. The questions are broken up into smaller online quizzes, sorted into different categories. This means you can practice at your own pace and focus more intensely on the areas you need the most improvement in. When you finish a quiz, Exam Scholar scores it and provides a 2-3 sentence explanation for each answer.
In addition to practice questions, Exam Scholar gives you online flashcards to practice definitions, as well as a glossary and printable reference guides.
Price: Free—$79.99
Questions: 20 questions (federal)
Real Estate Study Aids offers free practice questions and a paid option that offers a full practice test, 80 training videos, webinars and crossword puzzles. They also offer a money back guarantee.
Price: Free
Questions: 25 questions (federal)
The price is right and there are 25 questions that appear on the real estate exam in every single state. Why aren't you taking this right now?

Price: Free
160 user submitted flashcards (mostly federal)
Cram offers 160 user-submitted flashcards you can use to study for the test. You can sift through the flashcards online – by random or in order – and click to "flip" and view the answer.
Price: Free—$29.95
Questions: 21 questions (federal)
Free questions cover varied topics and the paid option is very affordable while covering questions from all states.

Free! 75 questions (federal)
Paid option: $49.99 (federal and all 50 states)
Real Estate Prep Guide has a free 75 question practice test on topics that are common to all states. They also offer study guides and more practice questions with topics unique to each state for $49.99. Like Night Before the Exam they offer a 90 day money back guarantee.
Paid only: $59 (federal and all 50 states)
A little bit on the pricey side, Night Before the Exam offers updated practice tests, study guides, videos, and training to help you pass the real estate test in every state. We haven't tried this program, but they do have good reviews on their website and offer a money back guarantee. If you're really pressed for time or think you'll need lots of help, this could be a good investment.
Price: $39-79
Questions: (federal and all 50 states)
Compucram offers an entire system of practice tests and study aids to help you pass your real estate sales exam. They offer a pre-assessment that lets you know what topics you need to focus on as well as flashcards, practice tests, and a simulated exam. They also have great reviews and offer a money back guarantee.

Price: $159
Questions: (federal and all 50 states)
Brightwood offers hundreds of questions in their real estate exam prep course presented on an interactive web site.
Find Out If Your Practice Exam Covers Federal & State Law
One mistake real estate students make is to rely on practice tests that cover federal topics only. If you do that, you will miss out on practicing for all the state questions on your test.
Before you try a free or paid practice exam, you need to find out if it covers federal real estate law, or is specific to your state, or both. If you're strapped for cash, you can always use free online sources to brush up on federal law and then your course materials to study state topics.
7 Tips and Tricks to Help You Pass the Real Estate Exam
1. Stop Procrastinating
The kids are asleep, the kitchen is clean, and you SHOULD be studying, but instead you're on Netflix… why? Because you're focusing on the end result instead of the process. To stop procrastinating, use the Pomodoro technique: set a timer and study for 25 minutes, then take a five minute break. During the study time, focus entirely on studying and during the five minute break reward yourself with ice cream, a youtube video, or a short walk. You should also take one long break after working for more than a few hours.
2. Leave the Laptop at Home
Studies have shown that taking notes longhand instead of typing them out on a laptop can help you learn more effectively. A Princeton University study found that students who took notes on laptops did significantly worse on tests than students who wrote their notes longhand. The reason is simple. When people type their notes they have a tendency to write down what the lecturer says verbatim, while people who write are forced to only write down what's important.
3. Study a Little Bit Every Day
You're busy. We know. But instead of pulling your hair out after a sleepless night and possibly failing your real estate exam, you need to study a little bit every day. Studies have shown that studying a little bit every day is much more effective than cramming.
4. Make Flashcards
Flash cards are still one of the best ways to learn a large amount of information. Studies have shown that students who use flash cards do better on exams. Part of the reason flash cards work so well is that they force you to remember information without the context of multiple choice questions. Even making them helps you remember your study materials. Just writing down the right answers will help you remember. They're also portable so you can study anywhere.
If you want an online option, Quizlet let's you make your own free flashcards and saves them so you can study anywhere you have an internet connection. Even better, you can use archived flashcards that other students made. I found over 500 sets of flashcards for the California real estate exam.
Goconqr is another great app that lets you make free flashcards, custom quizzes, and mindmaps.
5. Read Out Loud to Improve Memory
Sure, people may look at you funny, but reading things out loud can improve your memory. The key is to only use this trick on the terms or concepts you're having a hard time remembering. If you read them out loud, it will help create a "distinct" memory that is easier to recall.
6. Take a Walk Before Your Real Estate Exam
Research conducted by Dr. Chuck Hillman has shown that 20 minutes of moderate exercise can boost memory and brain function. If you have time, taking a quick stroll before the test can improve your performance.
7. Use Mnemonic Devices to Make Memorizing Easier
Remember these from elementary school? ROYGBIV? My Very Educated Mother Just Served Us Nine Pizzas? Well, the reason that you used them and kids today still use them is that they work. It's much easier to remember ROYGBIV for the colors of the rainbow than it is to remember Red Orange Yellow Green Blue Indigo and Violet. Here are a few clever mnemonics to help with your real estate exam prep:
Even if a lease is silent on the topic, the landlord H.E.A.R.S. these implied covenants:
H – Habitability
E – Quiet Enjoyment
A – Assignability of the lease
R – Good Repair (this covenant is made by commercial landlords)
S – Minimal Security Precautions
A.C.R.A.M. will extinguish an easement
A – Abandonment
C – Condemnation by state's exercise of eminent domain
R – Signed writing, Releasing the easement
A – Adverse Possession of a servient estate in a hostile manner, preventing use of the easement
M – Merger by common ownership of all (100%) dominant & servient estates, because one can't possess an easement, covenant, or profit on her own property
Negative easements are limited to LAWS
L – Light Easements
A – Easements of Air
W – Easements regarding Water use
S – Easements of Support
8. Turn off the TV
A few of my college friends swore that having the television on helped them study, but nothing could be further from the truth. It is literally scientifically impossible to "multi- task." All you're doing is making it harder to study, not easier. Study for a while with no distractions, and then reward yourself by watching your favorite TV show.
Best Practices for the Day of the Real Estate Exam
After all the practice you've done coupled with a restful night's sleep, you should be in great shape to pass the exam. Most of the questions will seem very familiar and shouldn't be difficult at all.
If you find yourself getting into trouble, here are a few tips and tricks from Real Estate Study Aids to help you pass anyway:
Temporarily skip the questions you simply don't know the answer to. Instead of getting yourself stressed out over one question, save the hardest ones for last. There is nothing worse than spending so much time on the hardest questions that you don't have enough time to answer the questions you do know.
Work Backward to the Correct Answer. See if you can pick out answers you KNOW are wrong and cross them out. If you have to guess, it's better to have 50/50 odds than ¼ odds!
Once you've answered a question, don't change your answer. Studies have shown that you are far more likely to change a right answer to a wrong answer than vice versa.
If you start to feel anxious during the test, take a deep breath or a sip of water to calm your nerves. It will be over soon, and you will be a licensed realtor!
The Bottom Line
The real estate exam in your state is probably a little bit harder than you think, but there are great options for real estate exam prep. There are a lot of concepts and facts to memorize in a relatively short period of time. To up your chances of passing, take lots of practice tests, and be sure to follow our tips and tricks above. Remember, luck favors the prepared!
If you'd like to learn more about your options for real estate practice exams, check out our in-depth article here.