Whether you're a buy-and-hold or fix-and-flip real estate investor, the best time to plan your real estate exit strategy is before you buy your first property. Planning your exit strategy before you invest can lead to greater profits because you're thinking and planning with the end in mind and working toward that goal. There are many types of real estate exit strategies, including succession planning and selling your properties.
In the chapter, Why You Need a Real Estate Investing Business Plan, we discussed writing your exit strategy into your business plan. Your business plan is a key part of your real estate investing, acting as a roadmap, and guiding you toward your goals. Your business plan and exit strategy allow you to make critical business decisions ahead of time.
What Is a Real Estate Investing Exit Strategy?
A real estate investing exit strategy is a predetermined plan of how you will exit your real estate investing business. Real estate exit strategies include selling the business, selling the real estate (business assets), succession planning—leaving the business to heirs when you retire or pass away—and exiting a business partnership by liquidating the assets and closing the business or selling your interest in the business to your partners.
Why Is a Real Estate Exit Strategy Important?
Real estate exit strategies are important because they provide direction for investors to reach their goals. For example, if the goal is to build wealth and retire early, the exit strategy would include the retirement date and the steps investors need to take from the beginning of their investing career that lead to the retirement goal.
Real estate exit strategies are also important because they reduce risk, maximize profits, and limit losses. To do so, they should be flexible. For example, if the goal is to retire in 10 years and the real estate market is in decline in year 10, a flexible exit strategy would allow the investor to either wait for the market to rebound or would allow him or her to still sell for a profit.
Real Estate Investing Exit Strategy Case Studies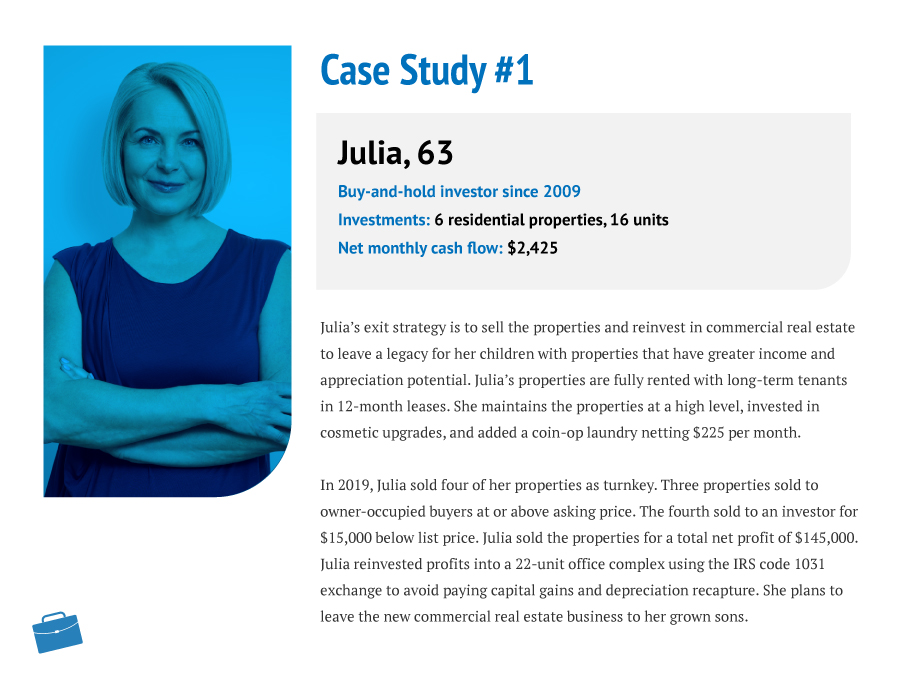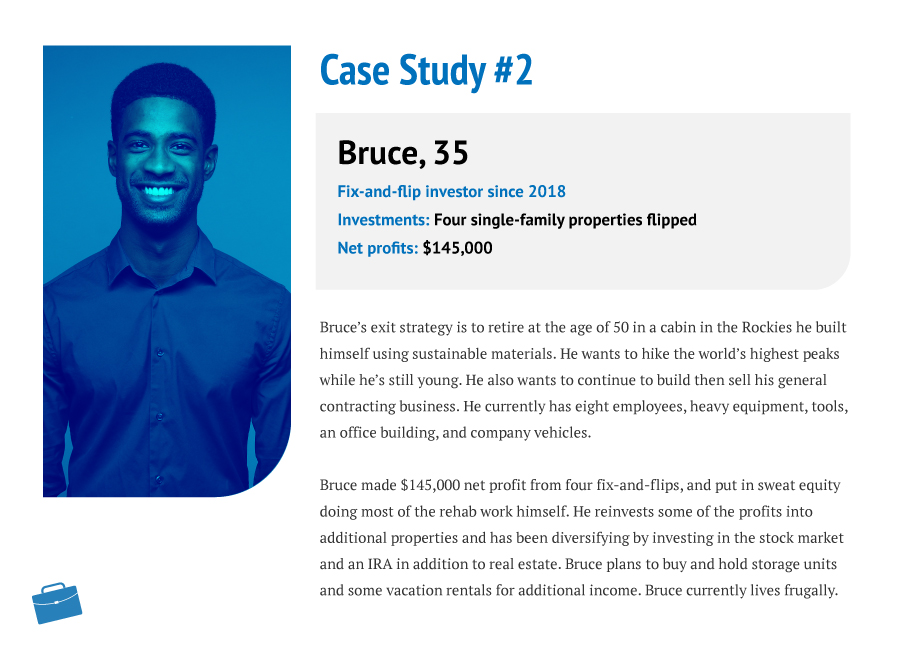 Types of Real Estate Exit Strategies
We've identified six different types of exit strategies for investors in a broad range of situations. Some investors have exit strategies for individual properties and their real estate investing business. Other investors have exit strategies that move them from investing in residential two-to-four-unit properties to apartment complexes or commercial real estate. Which strategy you choose will depend on your short-term and long-term goals and your business plan.
Although an exit strategy is determined before buying a property, it is executed based on the investor's short-term and long-term goals.
| Real Estate Exit Strategy | When to Execute | Who It's Right For |
| --- | --- | --- |
| Seller Financing | When sellers have paid off mortgage. | Investors who want to earn interest income |
| Lease Option | Within 1 to 3 years of tenancy | Investors who plan to sell within three years |
| Wholesaling | When in need of quick cash | Investors who don't want to do repairs or want a quick sale |
| Selling Rental Property & Business | When property values increase | Buy-and-hold and fix-and-flip investors with good timing |
| Succession & Estate Planning | When investors retire or expire | Buy-and-hold investors wanting to leave a legacy |
| Exiting a Partnership | Following what's outlined in the partnership agreement | Real estate investment partners |
| 1031 Exchange | When selling property and reinvesting | Investors who reinvest and avoid some taxes |
Seller Financing
Seller financing is when a property owner acts as a lender to a buyer. Seller financing can cover the entire purchase price minus the down payment or acts as a secondary lien on the property when a buyer gets a primary mortgage for a portion of the purchase price. Being a first or primary lienholder is always a better position.
Instead of giving the buyer cash, the seller extends credit to the buyer for the purchase amount minus the down payment. The buyer makes mortgage payments to the seller with interest. The buyer and seller negotiate the interest rate and terms. For example, a seller might give a buyer a 10-year loan amortized over 30 years with a balloon payment at the end of the 10th year, where the buyer pays off the balance.
Seller financing is a good option for investors who no longer want to manage rental property and want to earn interest income for a period. Seller financing works best when sellers either no longer have a mortgage or have substantial equity in the property. With seller financing, sellers assume the risk if a buyer defaults on payments and will need to foreclose to take back the property.
Lease Option
A lease option is when an investor rents the property to a buyer until the investor is ready to sell. Although they're often confused, a lease option is not the same as a "rent to own." With a rent to own, the buyer will become the property owner if they don't default on the rental agreement, and all of their rent is typically applied toward the purchase.
With a lease option, the buyer-tenant is given a "first right of refusal," meaning the buyer-tenant may purchase the property before it is opened to other buyers, or to refuse the purchase. With a lease option, some sellers count all or a portion of the rent toward the purchase price. The lease option agreement includes the purchase price and terms and is executed at the beginning of the lease period.
A lease option is a good real estate exit strategy for sellers who plan to sell within one-to-three years while collecting rental income. They may give a lease option to an existing tenant who needs time to save a down payment, or to a prospective buyer who plans to buy a property within a couple of years. When renting to a lease option tenant, treat it as any other tenancy by performing a full background check.
Wholesaling
Wholesaling is when an investor finds a property well below market value to sell to another investor at a (slightly) higher price. Wholesaling is illegal in some states, so check your state's laws. Wholesaling is a good exit strategy for sellers with distressed properties who want to sell quickly for a profit below market value. Wholesaling is also a good strategy for investors whose properties have deferred maintenance, and they want to sell doing no repairs.
Selling Rental Property & Business
Selling rental property may seem like a simplistic real estate exit strategy, but another common way to exit real estate investing is to list the investment properties on the market and sell them to the highest bidder. The key to making this a profitable strategy is timing. It's best for buy-and-hold investors whose properties have increased in value over time and fix-and-flip investors who have timed their purchase, rehab, and sale for maximum profit.
Investors also want to consider if they've built a business that can be sold. Some investors start property management companies and manage other people's rental properties in addition to their own, or they start a real estate brokerage. While a real estate comparative market analysis can determine selling prices for rental properties, a business needs to be evaluated differently to determine its value.
Succession & Estate Planning
Succession planning is when an investor passes their real estate investing business on to future generations for them to continue growing and managing the business. Estate planning is leaving all the assets in the investor's estate to heirs, including any ownership interests in their real estate investing businesses, whether they operate their businesses alone or with partners.
Investors need to talk with the next generation when creating their exit strategies about both the succession and estate plans if they choose this strategy to make sure the next generation desires to carry on the business.
Many businesses close because future generations have chosen other career paths and don't want to run the family business. If heirs don't want to run the business, the investor would then create an estate plan exit strategy so heirs can liquidate assets and sell any business interests.
Exiting a Partnership
Real estate investing partnerships are often created between partners who each bring different skills and resources to the partnership. For example, one investor may have cash and little time to work on the business, and the other investor may have more time or have skills of a general contractor and plan to invest sweat equity. Some partnerships develop because of the size or structure of the deal.
Before investing in property together, investors need to create a limited liability company (LLC) operating agreement or other partnership agreement that includes exit strategy planning. The partnership agreement needs to include what will happen if one partner wants to exit sooner than others, or if a partner passes away, who will inherit his or her share of the business.
A partnership agreement needs to be reviewed by an attorney to ensure all parties understand and are in agreement with how the business will operate during its lifetime, including how partners will exit. When investors enter a partnership with no written legal agreement, it can create an exit strategy nightmare, so getting appropriate legal counsel cannot be understated.
1031 Exchange
IRS code Section 1031 Exchange (1031E) allows investors to use profits from the sale of investment property and reinvest it in another investment property, avoiding paying capital gains and depreciation recapture taxes on the profits from the sale. The government created this tax code to encourage investing in real estate.
Investors can sell their rental properties and reinvest profits in other investment properties and never pay tax until they sell and take the profits out. It requires investors to hold the property for a minimum of 12 months, so this is not a strategy for fix-and-flip investors who rehab and sell properties in less than a year.
The property has to be "like-kind," meaning it has to be another investment property. An investor can sell a residential rental property and purchase commercial real estate using 1031e, but they cannot buy a primary residence. 1031 exchange is a great real estate exit strategy for buy-and-hold investors who want to build wealth over time, create a succession plan, or leave a legacy to heirs.
Capital Gains
A 1031 exchange allows investors to avoid paying capital gains tax on the sale of investment property when they reinvest the profits from the sale. If an investor doesn't want to use section 1031e, they need to plan their exit strategy for paying a capital gains tax on any profits earned from the sale. How much capital gains tax an investor will pay is based on their income tax bracket.
Depreciation Recapture
Each year you file your taxes, the IRS allows you to take a depreciation deduction on your investment property. Rental property depreciation is calculated using a "useful life" of 27.5 years for residential investment properties and 39 years for commercial investment properties.
If you sell the property, the IRS may assess a depreciation recapture tax, which gets reported in your tax filing as ordinary income. When the sale price of your investment property exceeds the purchase price minus the accumulated depreciation, you may be assessed the depreciation recapture fee. Depreciation recapture can be avoided by doing a 1031 exchange. If you'd like to learn how to calculate depreciation recapture, try this useful depreciation recapture calculator.
Which Real Estate Exit Strategy is Right for You?
Your investing goals will help determine which real estate exit strategy is right for you. A fix-and-flip investor needs an exit strategy for each property in addition to an exit strategy for the real estate investing business. Buy-and-hold investors should first develop their long-range exit strategy, consider how many properties they intend to buy, and decide how long they plan to hold each property.
If your goal is to build a specific amount of wealth and leave your rental properties for your heirs to sell, you want to consider what percentage of your estate could ultimately go to capital gains and estate taxes and how that will impact their inheritance. If you choose succession planning, you want to identify and develop the next generation of company leaders.
The most important aspect of determining which exit strategy is right for you is to begin with the end in mind, review your goals periodically, and adjust as needed.
Plan Your Real Estate Exit Strategy
Plan your real estate exit strategy as part of your business plan. Review your goals, the various real estate exit strategies covered, and write the steps of your business or strategic plan with the exit strategy as the outcome of that plan. Starting your business plan with the end in mind will keep you on track. However, you must remain flexible since the future is not guaranteed. Real estate markets shift. Businesses fail. Staying flexible will help you be ready for all potential outcomes.
Some questions to consider while planning your exit strategy include:
Have you developed your timeline for leaving an active real estate investing company? If so, when will you exit, and what steps do you need to take?
If you're succession planning, have you identified and spoken with someone who will replace you? Do they need training or other development to do so?
When you're ready to implement your exit strategy, do you plan to transition quickly or slowly?
Do you have a backup plan? Have you decided what's next after leaving your real estate investing company?
What knowledge and resources do you need today to help you reach your goals?
Real Estate Exit Strategies Mistakes to Avoid
The most common mistake in developing a real estate exit strategy is not having one in the first place. Some investors think it is unnecessary since the future real estate market can't be predicted now, and they can't guarantee their real estate investing activities will be a success. However, having a clearly defined exit strategy is critical for success. Creating a goal-driven exit strategy will result in maximizing profits.
Five real estate exit strategy mistakes to avoid are not keeping up with maintenance and repairs, filling vacancies with unscreened tenants, not having leases, security deposits, and proper documents, poor recordkeeping and bookkeeping, and overestimating the property's fair market value.
1. Not Keeping Up With Maintenance and Repairs
Rental properties require routine and preventative maintenance and repairs. Busy investors sometimes overlook fixing something right away because they either don't want to spend the money, or they wait because it is not an emergency.
Failing to maintain your property may impact its sale value when compared with well-maintained properties, reduces the property's value in a sale due to how the property competes with well-maintained properties, and contributes to costly repairs or having to sell at a reduced price. Avoiding repairs, investors either pay now or pay later, so it's best to keep on top of maintenance and repairs.
2. Filling Vacancies With Unscreened Tenants
When some investors are selling rental property and have vacancies, they sometimes rent to the first tenant that comes along without proper screening so they can show more rental income. However, this is a huge mistake that can result in lost rent, property damage, and tenant issues.
Additionally, some buyers want to hand-pick their own tenants, so having a vacancy is OK as long as the landlord can show rental history for the unit and comparable market rents. Investors should continue to rent vacant units to maximize their profits but should avoid skipping tenant background screening to fill a vacancy quickly.
3. Not Having Leases, Security Deposits, and Proper Documents
If you spent an afternoon in housing court, you would see eviction after eviction where the landlord handed keys to a tenant with no lease or rental agreement and asked only for first month's rent. Think of thoroughly screened tenants in 12-month leases as money in the bank to a potential buyer. Leases need to be renewed annually. Tenancy-at-will agreements typically only renew if there is some change to the rental agreement like a rent increase or adding tenants.
Some landlords don't want the hassle of setting up separate escrow accounts for last month's rent and security deposits, but having signed leases, security deposits, security deposit statements, signed lead paint notification, and statements of condition for each unit shows a diligent landlord and adds value to the property.
4. Poor Recordkeeping and Bookkeeping
It's important to keep records of all investment property income and expenses, property repairs, and upgrades. If the property has certificates that show lead has been removed and other hazardous materials mitigation, investors need to pass this on to a buyer so they can evaluate which repairs are needed and if the property is worth the price.
Mortgage expenses don't need to be reported to a prospective buyer since a new owner will have a different mortgage payment. However, property taxes, municipal expenses, utility bills, routine maintenance, such as snow and leaf removal, and any inspection reports should be offered.
5. Overestimating the Property's Fair Market Value
In most cases, the reason a property doesn't sell is that it is overpriced. An investor who has put a lot of time and money into caring for their properties may let emotions rule when it comes to pricing at fair market value. Inexperienced real estate agents may accept whatever price a seller dictates so they can secure the listing.
Investors might think if the agent advertises their property where homes sell significantly higher, they will attract a buyer willing to pay their hefty price tag. This is a big mistake. Most buyers need to get a mortgage to buy a property, and a lender will not lend above appraised value. Typically, they'll only loan 70% to 80% of the appraised value for a nonowner-occupied buyer.
Summary & Quiz
In this chapter, you learned what a real estate investing strategy is and the importance of writing one before buying an investment property. You also learned about several different types of real estate investing strategies, how they work, and who they're best suited for. Developing an exit strategy in advance reduces risk and maximizes profits.
Key Points to Remember
Your real estate exit strategy should be based on your goals.
Fix-and-flip investors should have exit strategies for each property plus a business exit strategy.
Real estate exit strategies are part of the business plan.
If doing a succession plan exit strategy, have a conversation with the next generation of leadership and offer training when needed.
Seller financing and lease options allow investors to earn income during property transition.
Wholesaling is a good option for a quick sale without doing repairs.
Investors can avoid capital gains and depreciation recapture with a 1031 exchange.
REI Exit Strategies Quiz
Answer a few questions about your business, and we'll give you a personalized product match.