Along with your IDX website, your real estate Facebook page is one of the most important cornerstones of your online presence as a Realtor. After all, Facebook has more than one billion daily active users. More importantly, most people come to Facebook to relax and socialize which means they may be more willing to engage with you on a personal level.
Once your page is built, you can enlist the services of Hibu to get it in front of more viewers and thereby increase your lead generation. They are one of a select few official Facebook Marketing Partners in the US who also specialize in supporting small businesses. As a full-service digital solutions provider, they also offer many services that will boost your overall online presence. Click here to get a free consultation.
In this guide, we'll walk you through step-by-step directions to setting up a real estate Facebook page that will help you build out your sphere, get more leads, and close more deals. We also provide some example real estate Facebook pages from Realtors, teams, and brokerages for inspiration.
The 3 Huge Benefits Realtors Get From Creating a Real Estate Facebook Page
Before we dive in, let's take a quick look at the three huge benefits a properly set up real estate Facebook page has for Realtors in 2017.
Your Facebook Page Can Help to Quickly Build Your Sphere of Influence to Land More Referrals
Since our industry is built on relationships, growing and nurturing your sphere of influence will have a better ROI than almost any other lead generation strategy. To get started, you need to focus your marketing efforts on building relationships rather than just fishing for leads. This is called relationship marketing and is the primary way top producing agents get referrals to close more deals.
Since Facebook is the most popular social media site in 2017, it's an ideal place to build, educate, and entertain your sphere.
A Facebook Page Allows You to Reach Your Target Audience for FREE
Let's face it. If you've worked in real estate for more than a year or so, you know that lead generation can get very expensive, very quickly. There are literally hundreds of companies selling leads, software, CRM, or swiss army knife combinations that promise to do everything except wash your car. The old adage that the best way to get rich in real estate is to sell things to Realtors is more accurate today than ever before. Your Facebook real estate page on the other hand lets you reach your target audience for free. That's huge.
You Can Use Your Real Estate Facebook Page to Drive Traffic to Your Website
Most digital marketing experts (myself included) agree that your IDX website is the cornerstone of your online presence. There's a very simple reason for this; you own it. That means it's the one digital asset that you should nurture and grow for your entire career.
If you set your page up with this in mind, it can be a great place to build traffic to your website.
7 Steps to Setting Up Your Real Estate Facebook Page to Get More Leads
Now that you know a little more about the amazing benefits of setting up a Facebook page for your real estate business, let's walk through the 7 steps to build your own. We didn't leave anything out, so if you open up Facebook in another tab you can knock this out in the next 15 minutes.
Step 1: Sign up For Facebook
Okay, unless you've been living on a deserted island, chances are you probably already have a personal Facebook page. If you don't, go ahead and set one up and then come back to follow the next steps. Just be sure to share all your best cat pictures with us once you sign up: https://www.facebook.com/FitSmallBusiness/
Here's the information Facebook asks for when you sign up. If you're over say, 45, you're going to find this a bit intrusive. You're not wrong, but this is par for the course these days.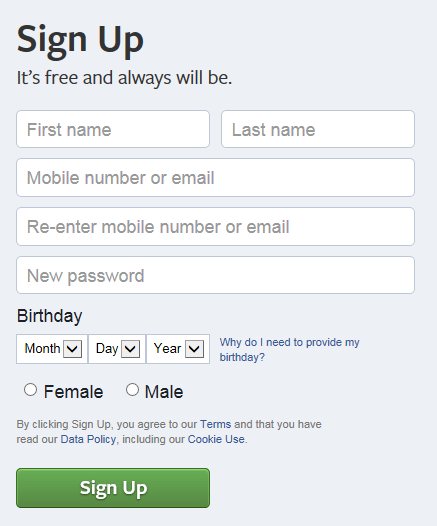 Step 2: Create a Facebook Small Business Page
While personal pages are great and many Realtors have used them in the past to build a following on Facebook, a small business page will work much better. It will offer more features and benefits than a personal page. More on this later.
To create a small business page for your real estate business, click on the little arrow in the top right corner of Facebook. In the drop down menu, select "Create Page."
Next, choose a category for your real estate Facebook page. Since you're probably working a geographic farm area, you're going to want to select "Local Business or Place."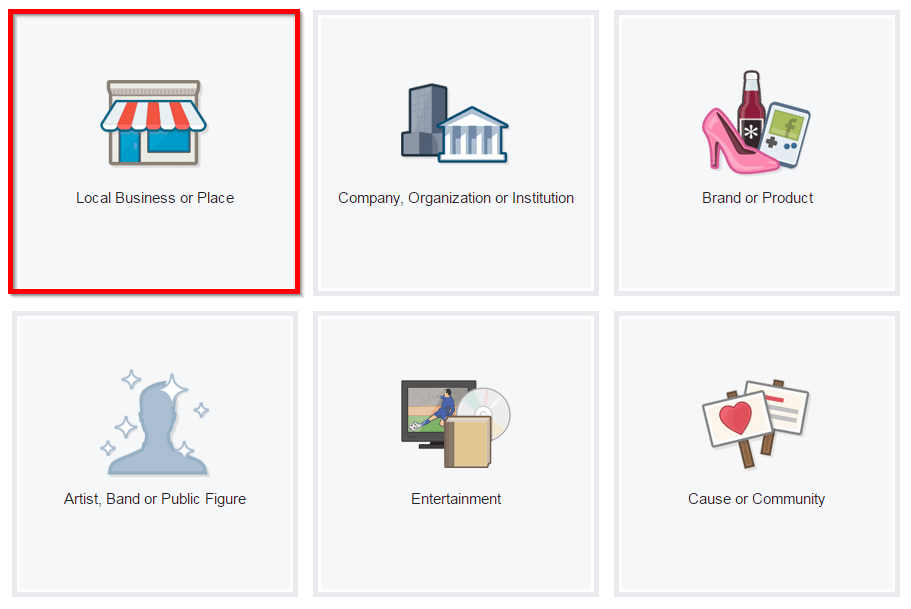 Step 3: Enter Basic Information About Your Real Estate Business
Okay, now that you've selected the right category, you will need to enter the information about your real estate business.
First choose a category. Since there is (strangely) no real estate category, just choose "property" for now. Don't worry, we'll go over how to change this later.
Now add the name of your real estate business, your address, and phone number. If you haven't named your business yet, you might want to take the time to come up with a good name as you won't be able to rename your page after you create it.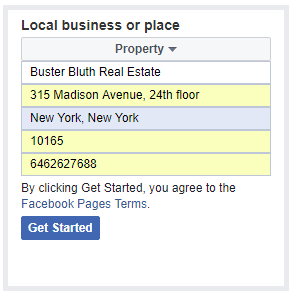 If you need some help coming up with a great name, check out, 24 Real Estate Company Name IdeasFrom The Pros, or Real Estate Team Names: How to Build a Brand That Lasts if you're creating a Facebook page for your team.
As far as what address to use, there are two schools of thought here. Some people suggest using your brokerage's address and some suggest using your home address. Personally, I would go with your home address as your brokerage and other agents from your office will also be listed under your brokerage address.
Once you've entered your basic business information, you'll be taken to your new page. Next, we'll cover how to build out your page.
Step 4: Upload Your Headshot and Cover Photo
Now you're going to want to add your headshot and choose a cover photo. Click on the small square in the upper left hand corner to change you headshot, then click on the larger rectangle to change your cover photo. Make sure you use a professional headshot, and choose a cover photo appropriate for your local market.
For our example real estate Facebook page, we're using our Marketing Editor Maggie Aland's headshot and a New York City skyline shot. What do you think?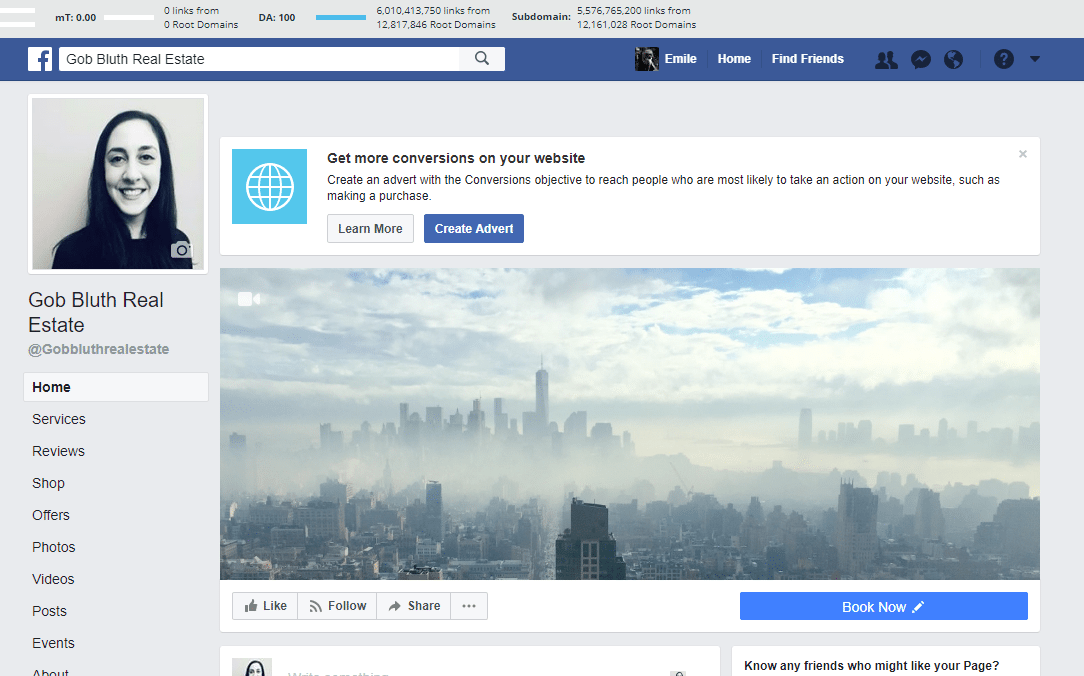 Step 5: Enter Your Business Description, Hours, & Create a Username
Now that you have your headshot, cover photo, and basic business information on your page, you're going to need to add some more information that's helpful for your audience.
In order to get started, click on the "…" link right below your cover photo and select "edit page info" from the drop down menu.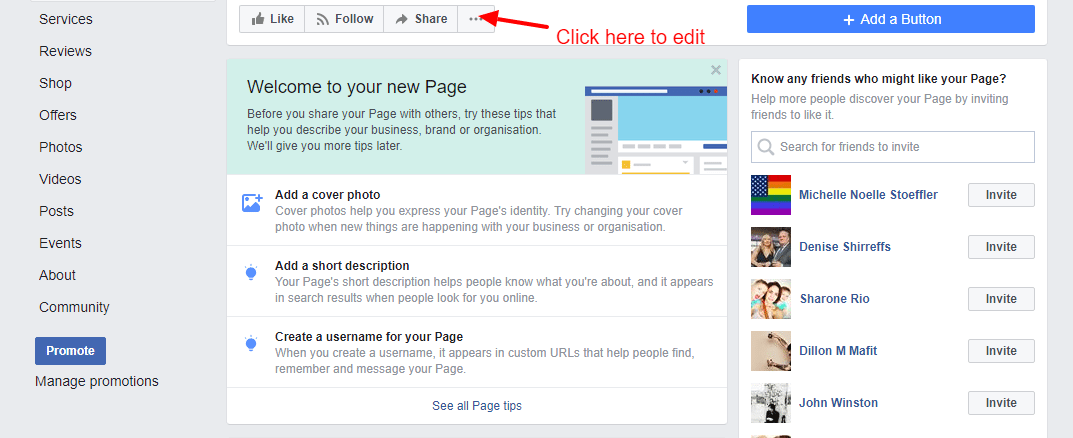 Categories
You can now change your business category to something more appropriate than "property." Unfortunately (and strangely) Facebook does not offer a "real estate agent" or even a "real estate" category to choose from. They closest thing they offer is the British term "Estate Agent." Since there are not any better options, choose this.
Description
Write a short description for your real estate business. You should use this space to tell your visitors what areas you work in, and anything that will help you stand out from the competition.
Other Information
Next, make sure the phone number and address you entered earlier is correct, then add your website, email address, and business hours.
Username
Since your username will be in the URL of your Facebook page (e.g. www.facebook.com/examplerealtycompany/), make sure it's short, and easy to spell and remember.
Step 6: Add a Call to Action Button & See How Your Page Looks to Visitors
One of the coolest features that a Facebook business page offers is a customizable call to action button. To set one up, click on the blue "+ Add a Button" link right below your cover photo: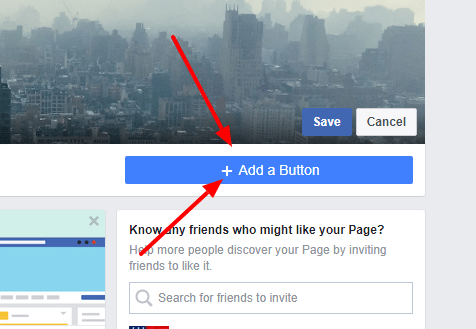 Facebook offers five categories of call to action buttons for you to choose from with subcategories for each one. Here are the ones you should choose for your real estate Facebook page:
Book Services
Book services allow your site visitors to book time with you via Facebook. There are two options relevant to your real estate business here:
Book Now:
Links out to your website.
Request Time:
Has your visitors fill out a (customizable) contact information form which is sent to you via Facebook Messenger.
Get in Touch
As you can imagine get in touch allows visitors to your page to contact you. Here are the options that are most useful for Realtors:
Call Now
Lets site visitors call you with a tap on their phone. This is the option that many Realtors will prefer.
Contact Us
Links out to your website.
Send Email
Lets page visitors email you with a single click or tap on their phone.
Learn More
Learn more either links out to your website or a video on Facebook. Here are the options you'll most likely want to use:
Watch Video
Lets you link to a video on your website or Facebook Video.
Learn More
Links out to your website.

Not sure what to pick? Facebook expert and founder of Facebook and Instagram advertising agency ND Marketing Nathan Dadosky, encourages his real estate clients to use the "send message" button:
"As a good rule of thumb, you should try to eliminate any friction that might discourage a lead from reaching out to you. That often means eliminating the number of steps a lead needs to take to actually get in touch with you (it also means limiting the amount of information a lead needs to give you to initiate a conversation). Keeping that in mind, I recommend that business agents use the "Send Message" button on their Facebook page. That way, all a lead needs to do to initiate a conversation inside Facebook Messenger is click a button."
See How Your Real Estate Facebook Page Looks to Other Facebook Users
Okay, now that your page is mostly set up, take a minute and see how it looks for other Facebook users. To do this just click on the same "…" link you did to edit your page. This time instead of selecting "Edit Page Info" click on "View as Page Visitor."
Step 7: Create an Introductory Post and Share With Your Sphere
Okay, you're almost there! The last step in building your real estate Facebook page is to create an introductory post that will welcome visitors to your new page. Click on the box below your cover photo that says "Write Something." Write up a quick introductory post, or better yet, record an introductory video.
Invite Your Friends to Like Your Page
If you build it… they won't come. Unless you invite them that is. Now that you have a brand new real estate Facebook page, you need to share it with your sphere. In order to get started, click once again on the "…" link just below your cover photo and click on "Invite Friends" from the drop down menu.
Next Steps: Adding Content and Promoting Your Page
Having a well designed real estate Facebook page is great for your online presence, but without a steady stream of traffic it's not that useful for lead generation. That's why you need to continually add fresh content to your page as well ad think about promoting it. Here's a quick walkthrough:
Adding Content to Engage Your Sphere & Get More Leads
While there are no real rules about what kind of content you should create for your page, you need to have a content strategy in place if you want to get more leads. Here's what you should think about when creating content:
Educating Your Sphere
Think market reports, infographics on the buying or selling process, local or national news that might affect the market, or anything else you think would be of value for your audience.
Entertaining Your Sphere
Share funny pictures or videos (make sure they're work appropriate) cheer on your favorite baseball team, or share a cool instagram album from a local photographer.
Promoting Your Listings or Bragging Closed Deals
You can talk about cool new listings, post pictures/video of new listings, brag about recently closed deals that went well (e.g. you negotiated a great deal for a buyer), or talk about career milestones or your favorite service providers or coworkers.
Just remember to keep these posts to a maximum of one per week. Even your BFF from elementary school will get tired of hearing about your business pretty quickly if you don't spice it up.
Promoting Your Page
In order to promote your page, wait until you have a decent amount of content (10 or more good posts), then add your page to your email signature, forum profiles (ActiveRain etc), and maybe even your business cards.
You may also want to think about Facebook advertising. The learning curve can be a little steep and you're going to want to have a great website, but the ROI can be awesome. Get more for your money by signing up for the services of an official Facebook Marketing Partner, such as Hibu. They'll optimize your Facebook page and advertising parameters to bring you more buyer and seller leads. Click here to reach out to a representative.
Great Examples of Real Estate Facebook Pages
Still not sure what the heck your site should look like? Here are a few examples of real estate Facebook pages from brokerages, teams, and top producing agents for inspiration.
Example Real Estate Brokerage Facebook Pages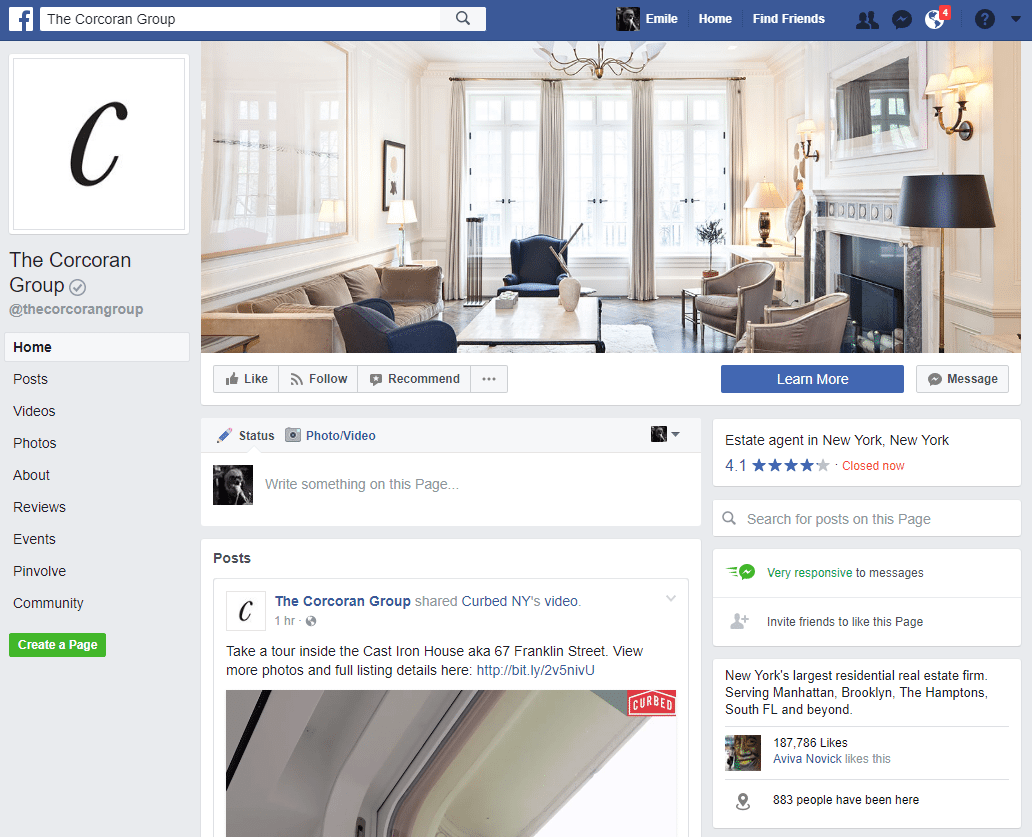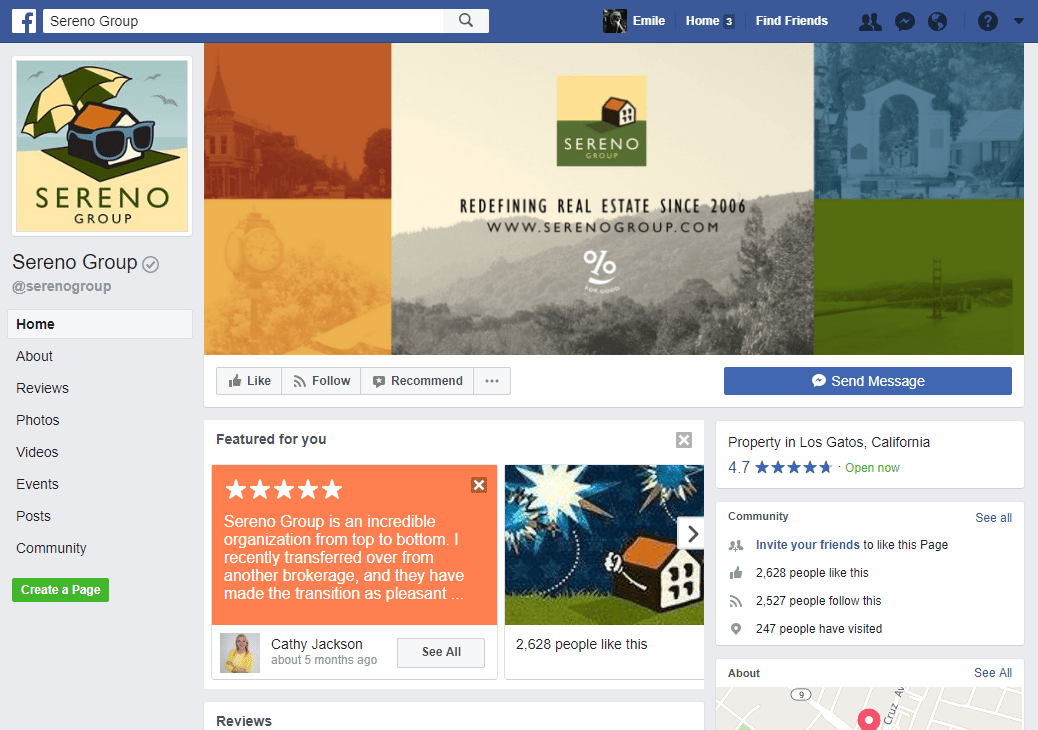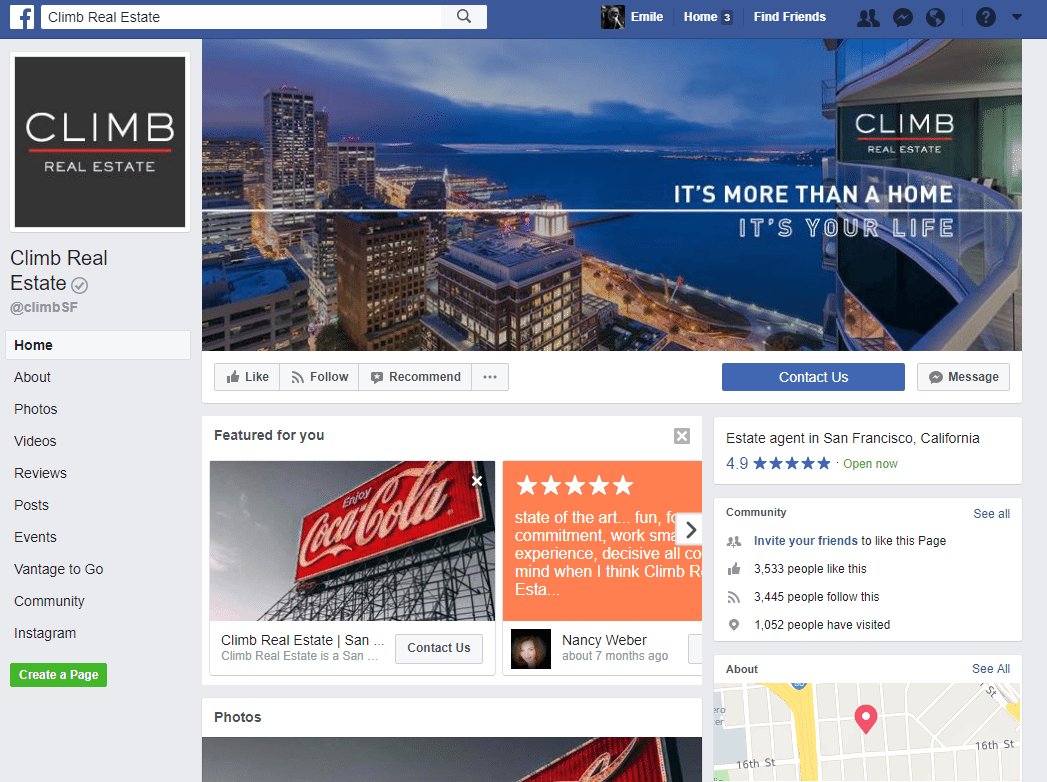 Example Real Estate Team Facebook Pages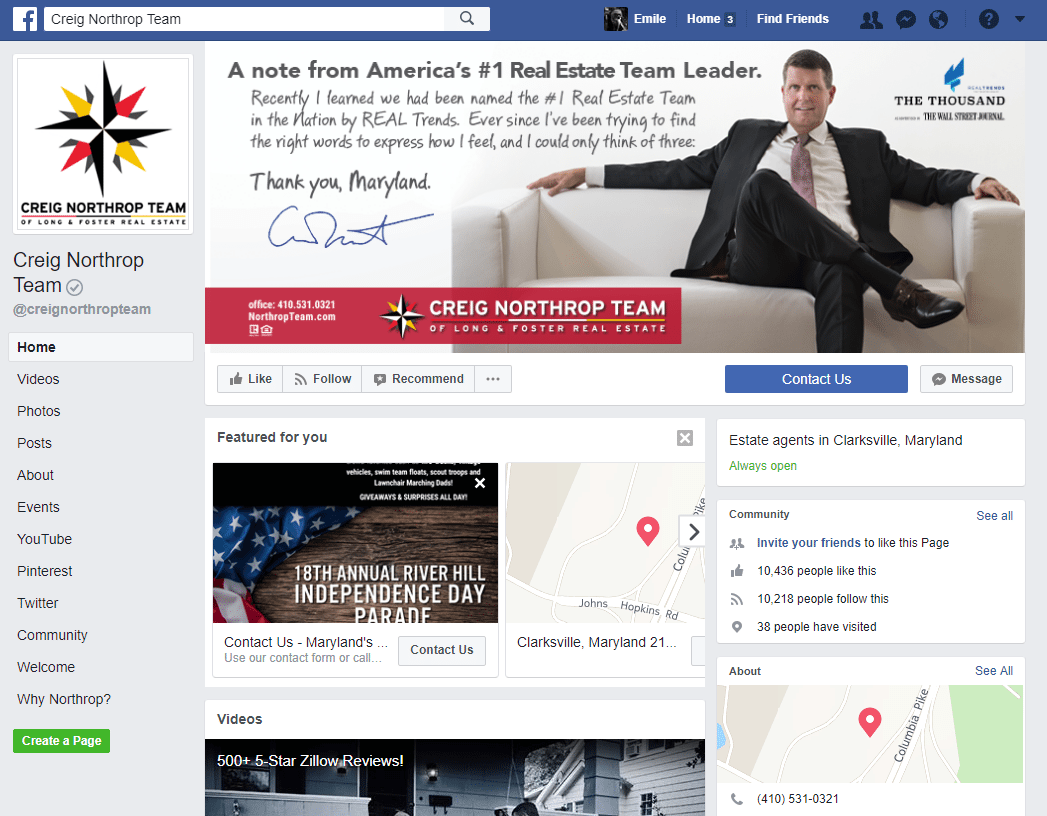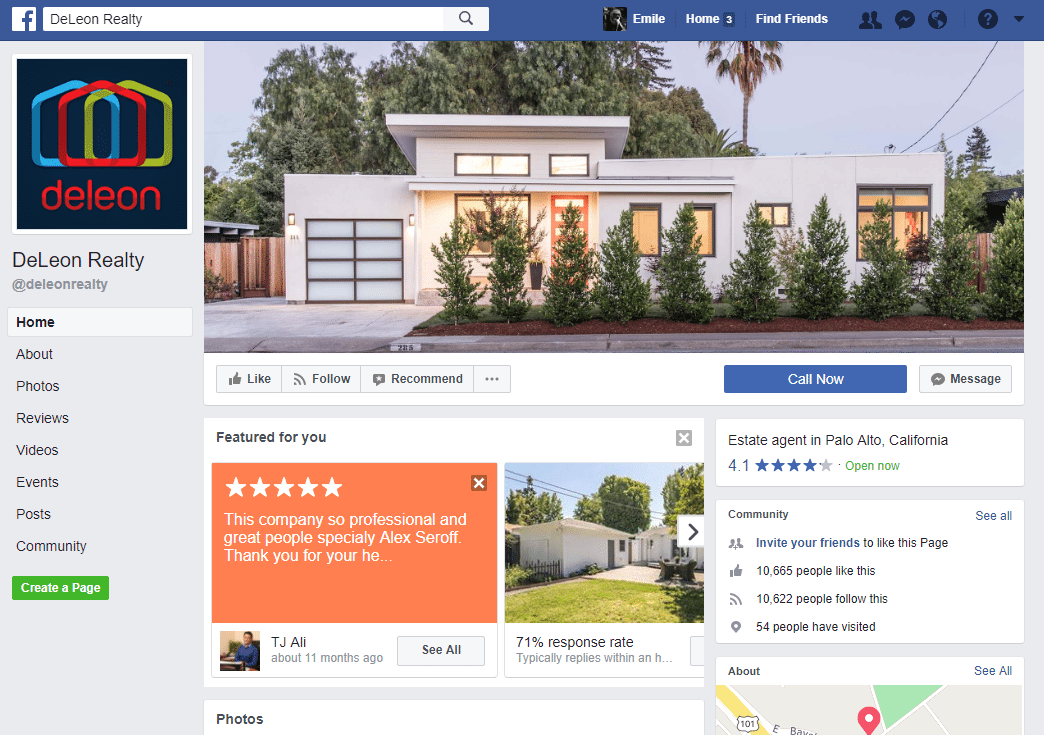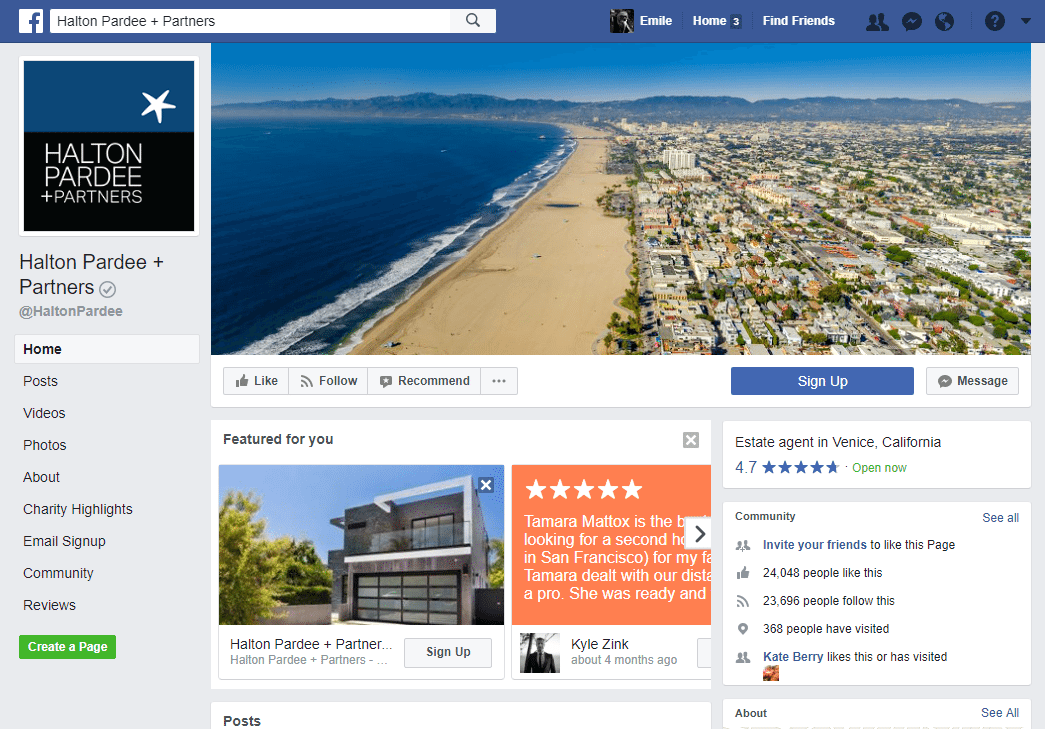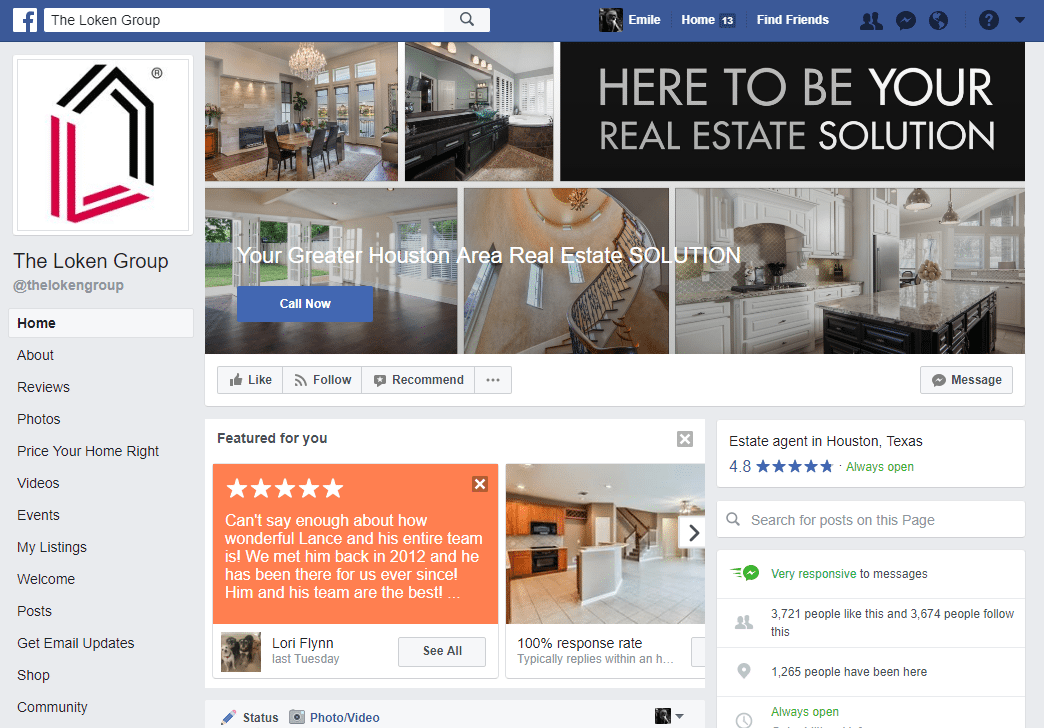 Example Real Estate Agent Facebook Pages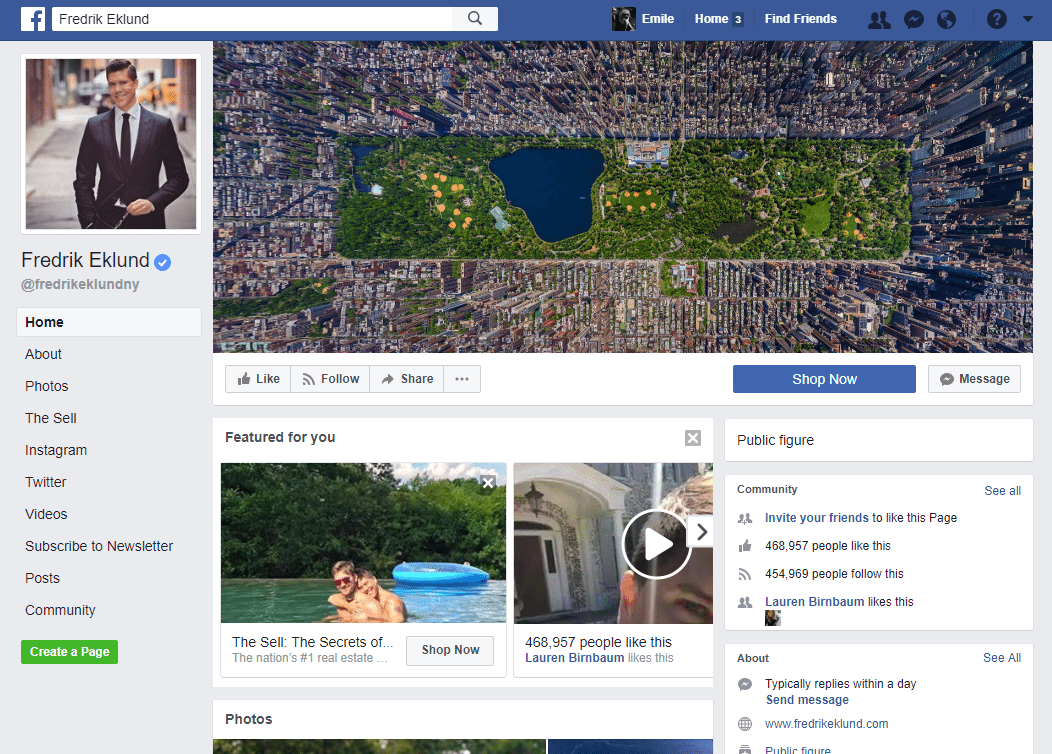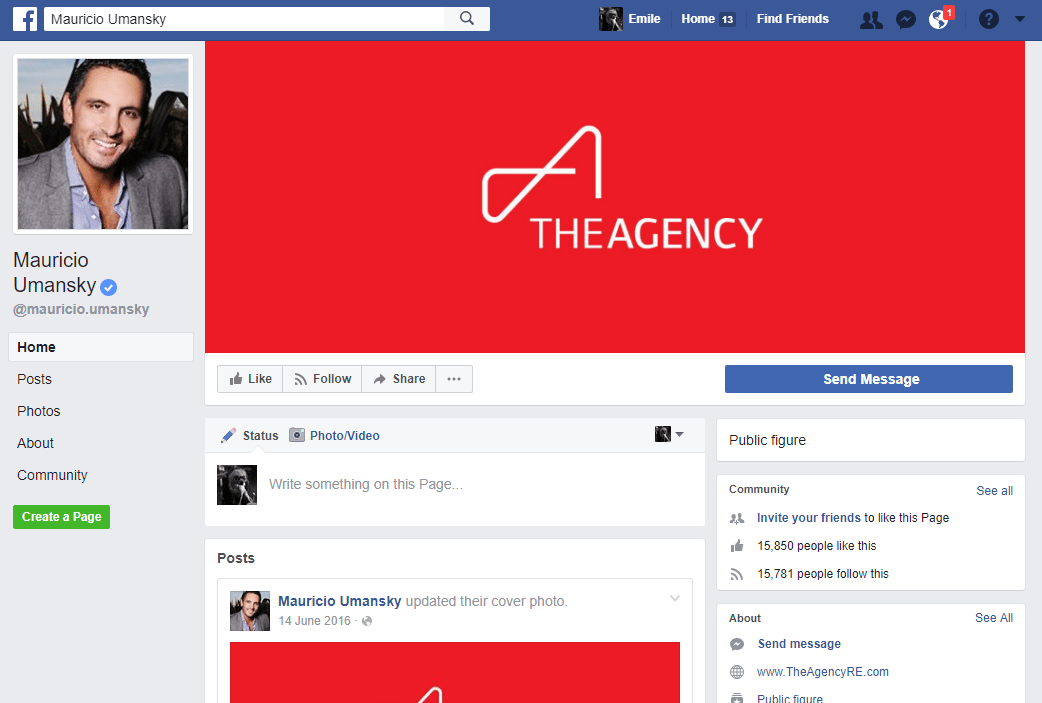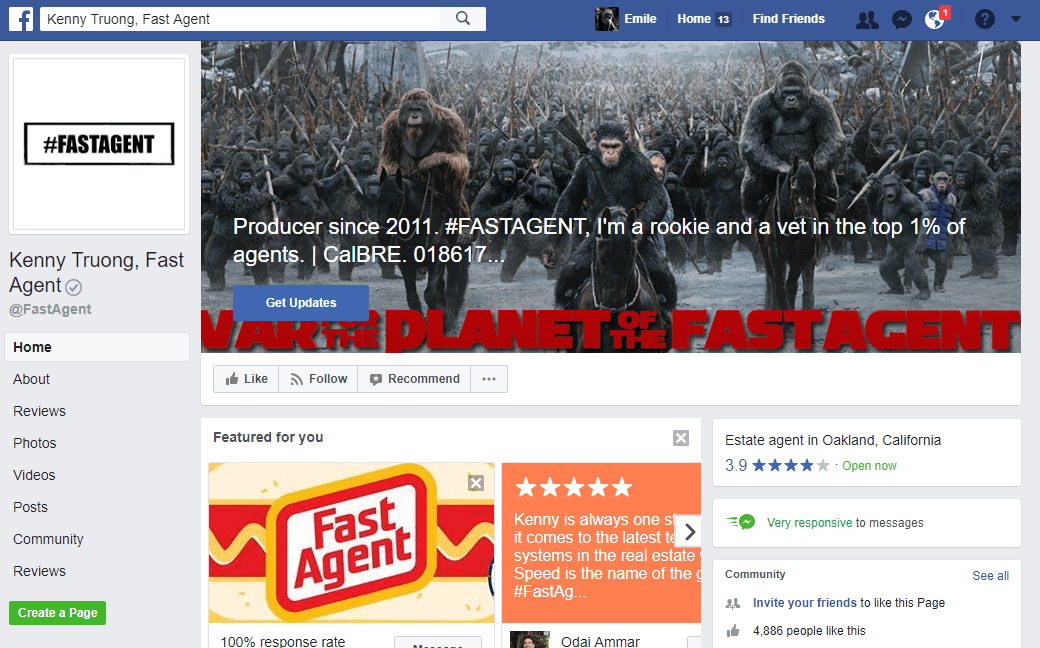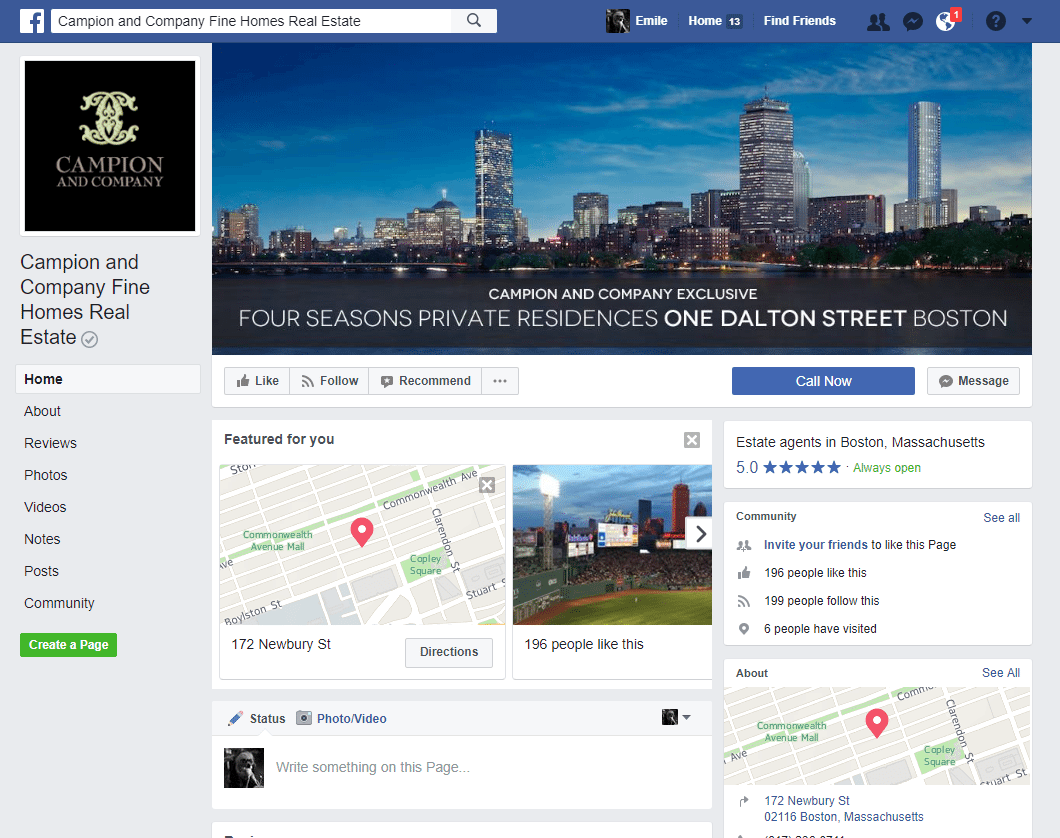 The Bottom Line
Creating a Facebook real estate page is essential to build your online presence in 2017. It will help you educate, entertain, and sell to your sphere to get more referrals and close more deals. Just remember to take the time to design it properly and you will have a great (and FREE) lead source!