How to Set Up a Real Estate Facebook Page in 9 Steps (+ Examples)
Your real estate Facebook page is a key contributor to Facebook marketing success. By creating a Facebook business page with a captivating title, description, and professional images, you'll draw the attention of potential clients and build your brand. In addition, adding a call-to-action button, customizing your page's tabs, and mastering the Business Suite tools will help you generate real estate leads to grow your client base. Follow this step-by-step guide on how to set up your real estate Facebook page and optimize it for engagement.
1. Sign Up for Facebook
To create a Facebook business page, a personal Facebook account is necessary because business pages are directly linked to personal accounts. If you already have a personal Facebook account, this step is already done and you can move forward to the next step and create a real estate Facebook page for your business.
If you don't already have a personal Facebook account, creating one is easy. Go to Facebook.com and click "Create Account." On the next screen, enter your name, email or phone number, password, and date of birth to complete the sign-up process. You don't need to actively post on your personal account if you prefer not to, but having one is required to set up a real estate Facebook page for your business.
2. Create a Facebook Business Page
Once you have a Facebook account, go to the menu on the left-hand side and click "Pages."
From there, click "Create New Page" to start setting up a Facebook page for your real estate business. The next screen will ask for a page title, category, and description. These are the only three elements you need in order to officially publish your Facebook business page, and you can change them at any time in the future.
Optimize Your Real Estate Facebook Page Title & Description
Your page's title is particularly important because it is the first thing people see and it's displayed when you post or comment on other posts. Realtors often simply use their first and last name as the page title. However, it's preferable to also add a real estate-related word like "Realtor" or "Real Estate Agent" to establish your industry and area of expertise and increase your chances of being found through searches.
Your real estate Facebook page's description is also extremely important even though it is not as prominent. The description should clearly communicate your expertise and appeal to your ideal client types. Write about what you do as a real estate professional that provides value to clients and how you contribute to real estate transactions―and let your personality shine through. Prospects want to know they are in good hands, so use your description to highlight results showing how your approach directly benefits your clients.
Choose a Category for Your Facebook Real Estate Business Page
There are hundreds of available categories for business pages, but only about 10 for real estate. Search for real estate to see all the available choices, and select those most applicable to your business. Keep in mind that there are also categories for commercial real estate as well as general or residential realtors.
Facebook allows you to choose up to three categories to describe your real estate business page, but you are required to choose at least one. For instance, individual real estate agents would likely choose "Real Estate," "Real Estate Agent," or "Real Estate Service," whereas brokerages are more likely to choose "Real Estate Company."
3. Upload a Professional Profile Image & Cover Photo
After you click "Create Page," you'll be guided through the process of filling out information about your real estate business. The next steps prompt you to upload a profile picture and a cover photo (or image).
Your headshot should be formatted to be displayed as a 170×170 pixel size, and Facebook crops it to a circle shape. Keep in mind that the profile picture is not very large when users view your page, but it does appear alongside your comments and posts in the Facebook news feed. A brokerage will often use a logo as the profile image for brand recognition, while agents will generally opt to use their professional realtor headshot.
The space for your cover photo is much larger. It grabs more attention on your page but isn't shown anywhere else on Facebook. Even though your headshot and cover photo will display in different sizes, these photo sizes provide optimal impact across all devices. If you need some inspiration, check out a few examples of great real estate cover photos.
The cover photo should be sized appropriately to fit the 851×351 pixel display space provided. Facebook also recommends that cover photos be in JPG format, with RGB color, and less than 100KB in size for fastest loading. However, if there is text on your cover image, a PNG format will likely provide better resolution.
Facebook also allows you to upload multiple photos and images for your cover that will display as a slideshow. This could be a helpful way to draw attention not only to your business but to results, such as an image with stats pointing to your success. You can also upload images that speak to your ideal client types, areas served, active listings, and more.
The photos you select impact your prospects' first impressions and long-term brand awareness, so be sure to choose images that support your brand's personality and professionalism. To reinforce your branding, avoid changing your profile image or logo repeatedly—make sure your images can be displayed for the long haul.
If you don't have a logo or well-defined brand style, find a professional graphic designer on Fiverr to work with. The first impression of your business is worth the $5 to $20-plus you will need to spend for professional, high-quality images. Fiverr has freelancers who specialize in Facebook marketing for real estate and can be key to setting you up for success.
4. Enter Basic Information About Your Real Estate Business
Once you have completed the basic building blocks of your real estate business page, there are still a few more steps to set your page up for success. Fortunately, the setup process walks you through these with prompts so that you can fully optimize your page for visitor engagement and lead generation.
Complete those tasks by adding your:
Real estate website link
Business hours
Phone number
Messaging preference (Facebook Messenger or WhatsApp)
Call-to-action button
After you've completed the prompts, navigate to your "Page Info" and add details like your email address, location, username, service area, or a link to your privacy policy. Add as many details about your business as possible to make it more likely for your profile to be found in search. Plus, with more information on your page, you're more likely to generate real estate leads because visitors are able to easily understand who you are, where you are located, and how to contact you.
5. Add a Call-to-Action Button & FAQs
No matter what platforms you use, an important element of real estate social media marketing is your call to action (CTA). On Facebook, the default CTA is "Send message," but you can click "Add a Button" to choose something other than the default option. Facebook gives you a wide range of options, like sending them to your website's contact page or listings, calling you with click-to-call functionality, signing up for your newsletter, or simply following your page.
Since the default CTA option is relatively open-ended, another option is to add frequently asked questions (FAQs). This allows viewers to get instant answers to specific questions with just one click. For example, "How do I schedule a showing?", "Why should I work with an agent?", or "What is the average median home value in (town, state)?" These questions give you the opportunity to interact with potential clients and showcase your expertise, and they encourage further discussion and engagement.
6. Customize the Menu Tabs of Your Real Estate Facebook Page
Facebook business pages can be made for nearly any type of business, and what your page needs to generate real estate leads on Facebook is very different from what a restaurant or boutique needs. One of the simplest ways to customize your page is by editing the tabs that appear on the page. For example, you most likely will not need a "shop" or "offers" tab, but will want tabs that display positive reviews and draw attention to your local or virtual events.
When editing tabs, you can select, deselect, and rearrange which tabs appear. There are some tabs you can't delete from your page, like Photos, Videos, About, and Community. However, there are also optional tabs you can add to showcase your real estate business, like:
Services
Reviews
Offers
Events
Jobs
Groups
Live videos
To get professional guidance, use the Facebook marketing tool from Real Geeks. It makes it easy to create ads to generate leads, promote properties, or completely outsource your Facebook real estate marketing.
7. Get Familiar With the Facebook Business Suite
As you're editing your page, you'll notice options in the menu on the left-hand side for the Facebook Business Suite. You don't need to use this in order to set up a real estate Facebook page, but it's an important feature as far as your overall Facebook marketing strategy. The Business Suite is where you access important tools like automated messages, post planning, cross-posting to Instagram, page insights, and Facebook real estate advertising.
Here are the Business Suite tools that are most effective for realtors:
Connect to Instagram
Through the Business Suite, you can connect your Facebook and Instagram accounts. This is the most efficient way to create one post and automatically cross-post to share content on both platforms. This is also the centralized place to manage Instagram advertising, which is a great place to run a variety of ad types if you're looking to grow your email list, generate leads, or build an audience.
Set Up Automated Replies in Facebook Messenger
When users reach out to you through Facebook, you don't want to leave them waiting long for a response. One way to help leads feel you are readily available is to have an automated response. Customize this response to feel personal and to assure the user on the other end that you'll get back to them as soon as possible. In order to adjust your automated message, go to the "Inbox" setting in the Business Suite.
Content Planner
As a business owner, Facebook provides you with a built-in content planner. You can create posts, stories, or ads through the planner and set the date and time for them to be published. This is a highly valuable tool that can allow you to plan ahead for weeks of content, which will be a vital element in any content marketing strategy.
In addition, pair this functionality with a website and contact management system, like Placester, that is built specifically for real estate content marketing. You'll see a much bigger impact with much less time and effort. Placester includes built-in search engine optimization (SEO) tools and all plans allow you to create an unlimited number of pages and posts, setting your content up for success. Additionally, you can choose to create your own code-less website or have a Placester professional design it for you.
Create Real Estate Facebook Ads
Facebook ads are a popular and highly effective method of generating real estate leads, driving traffic to your website, building your email list, or reaching other goals for your business. The Facebook Ads manager is part of the Business Suite, and this is where you can create, target, and run your own real estate ads. The Ads manager does walk you through the process, but it can be complex since it has in-depth targeting capabilities and ads can be displayed in multiple formats, including images, carousel slideshows, videos, and more.
If you lack the time or expertise involved to manage and perfect Facebook ads, work with a real estate marketing company like Artur'In. They are one of the few marketing companies specializing in real estate and Facebook marketing. Their automated Facebook ads help you get results with the maximum return on investment without having to manage settings at all.
8. Invite Friends to Like Your Page
Give your page some initial momentum by sending friends and family an invitation to like your page. You can do this with a click of a button when you create your Facebook real estate page. Your sphere of influence is one of the most powerful tools you have in your real estate business, so make sure that you use it to kick off your Facebook marketing efforts.
Plus, page engagement is a key factor in which posts are displayed in user feeds. By having more page followers, you have more potential for post engagement, which in turn increases your posts' reach.
9. Add Content to Your Real Estate Facebook Page
One of the final prompts you'll see as you complete your real estate Facebook page setup is to publish a welcome post as an introductory post for new visitors. However, you may want to use the opportunity to plan ahead and establish your strategy for all of your real estate Facebook posts. Instead of creating one-off posts inconsistently when you remember and have the time and ability, establish a content posting strategy that helps you stay consistent and supports your marketing plan and goals.
Those who are successful in real estate know how to interact with leads at every stage of the sales process, and social media marketing requires the same knowledge and understanding. Good content is a mixture of material that informs, entertains, promotes, and ultimately builds your trust and authority. The best real estate Facebook posting strategy also balances post types with a mix of text, images, and video content, and offers content for all stages of the sales funnel, from brand awareness through to becoming a real estate client.
Here are some examples of effective real estate Facebook pages and what makes them special:
Examples of Real Estate Facebook Pages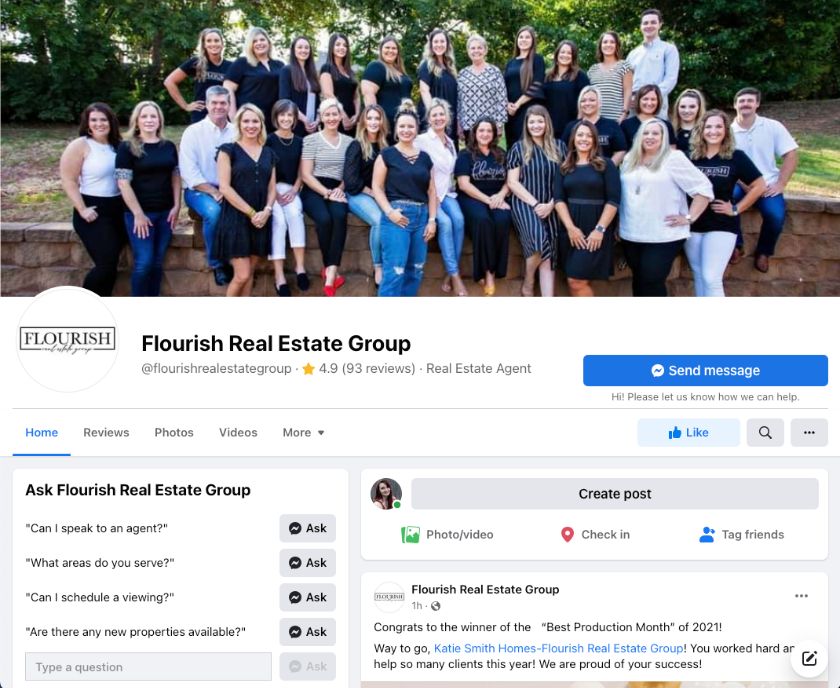 Flourish Real Estate Group is a classic example of how to successfully set up your real estate business page on Facebook. The profile picture shows their logo and their cover photo is used to display a beautiful group picture of every member of their team. The call to action (Send message) is clearly visible at the top of the page, and they've enabled FAQs for visitors to instantly ask questions like "Can I schedule a viewing?"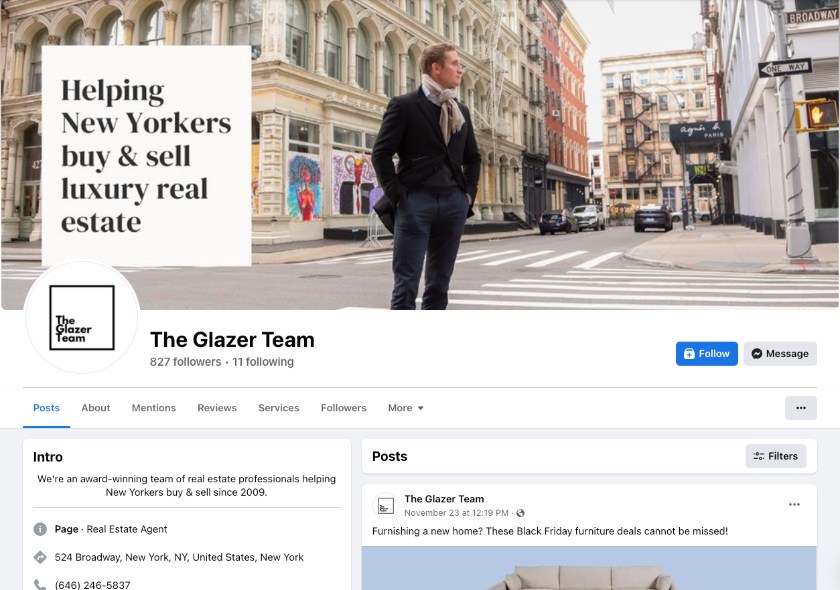 The Glazer Team uses their cover photo to display an on-brand image of the area and the people they serve, as well as a clear sentence that states exactly what they do and the clients they assist. New Yorkers don't have to scroll or even click one more time to know exactly who the Glazer Team is. In addition, their address and phone number are visible on the first screen.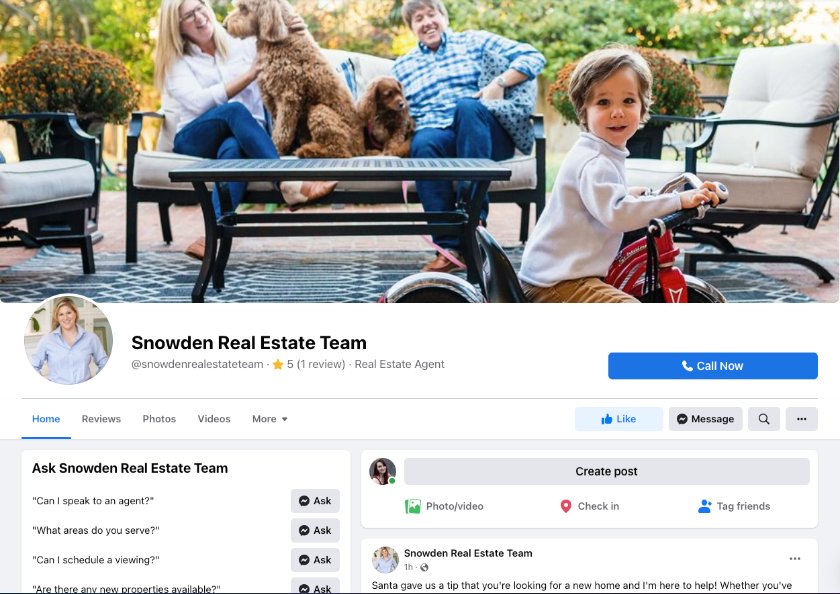 Snowden Real Estate Team has a Facebook realtor page set up with a specific call to action and FAQs, but they take a slightly different approach to their Facebook marketing. For instance, the profile photo shows the team leader's headshot, and the cover photo highlights her home and family.
This shows her audience that she is family-oriented and gives them a better idea of who she is and what she values. In addition, her posts include educational content, entertaining content, and pictures of her family. Her branding stays consistent from the top of the page through each of her posts in order to appeal to families in her area.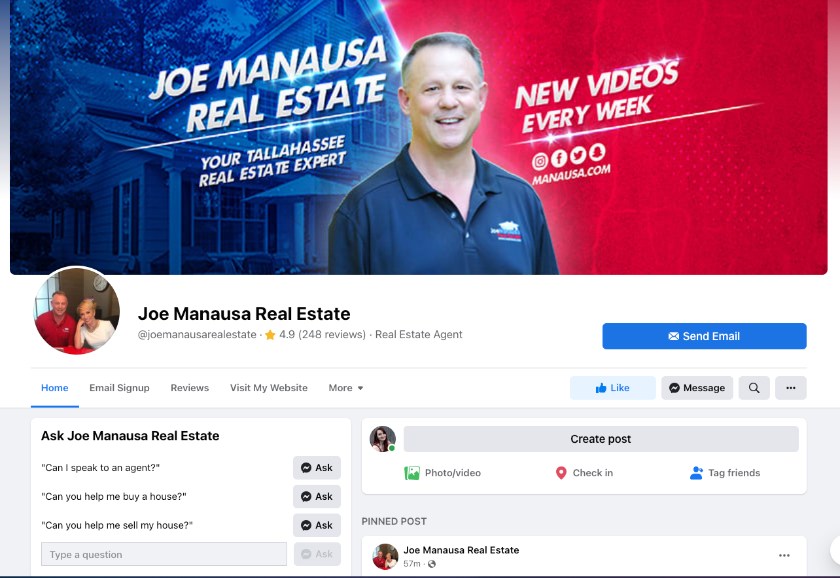 Joe Manausa Real Estate is another effective example of using the cover photo to clearly express what he does as a real estate agent. Plus, the tabs are customized, with "Email Signup" and "Visit My Website" as two of the main options. As soon as a visitor lands on this realtor's Facebook page, they know the location he serves and can easily watch the agent's videos, subscribe to a newsletter, visit the website, or send the agent a message.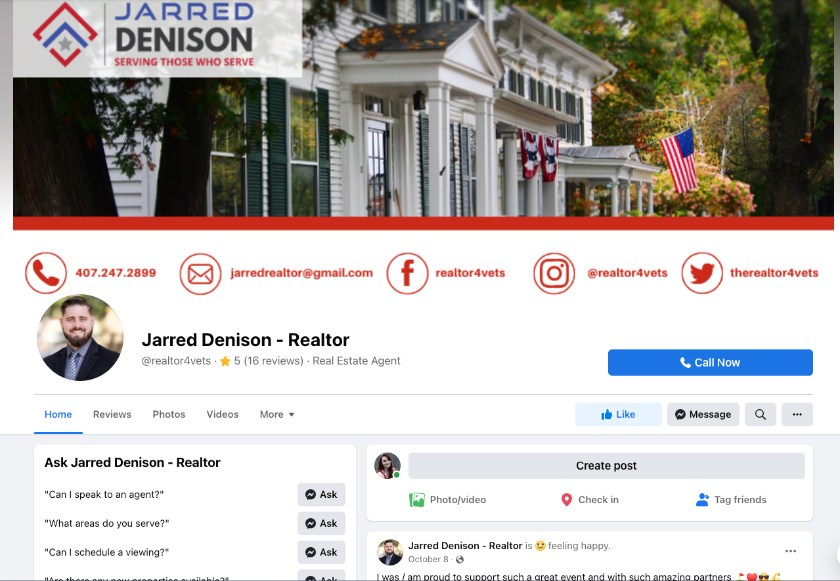 Jarred Denison is a great example of a realtor who serves and markets to a niche audience. His username across all social media channels is "realtor4vets," and his Facebook cover photo and logo clearly describe his niche as an agent who works primarily with veterans. Jarred also uses his "About" section very well by adding a short biography and more detailed information in the "More info" section. He makes it easy for new visitors to find more details about how he works and whether or not they should reach out to him.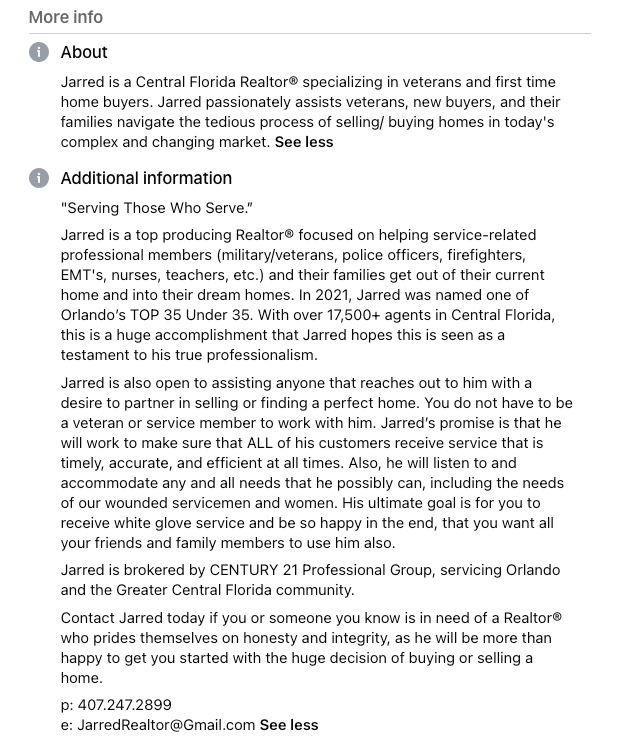 Bottom Line
Having a complete and optimized real estate Facebook page is essential for real estate marketing success on Facebook. The information you add to your page's title and description is an important way to build trust and gain authority with potential clients in your area. By using the tips above and mastering the business tools Facebook provides, you'll be ready to generate real estate leads and engage prospects on the platform.