Real estate graphic design companies help agents and brokers produce visual marketing materials in collaboration with outsourced design specialists. To help realty professionals find the best, we reviewed more than a dozen companies and chose the top six based on price, features, turnaround time, revisions, and customer service.
Top 6 Real Estate Graphic Design Companies 2019
| Real Estate Graphic Design Companies | Best For |
| --- | --- |
| DesignHill | (Best Overall) Agents needing comprehensive design packages including branding and print/digital materials |
| | Professionals wanting unlimited real estate graphic design work for a membership fee |
| DesignBlendZ | Brokers and real estate developers seeking graphic design for new or pre-construction marketing |
| InMotion Real Estate | Agents and brokers needing graphic design for commercial real estate marketing |
| | Agents seeking affordable real estate graphic design for one-off projects |
| | Agents seeking templates for DIY design of social posts on YouTube, Facebook, and Instagram |
How We Evaluated Real Estate Graphic Design
Many agents and brokers waste time trying to learn graphics programs in an effort to create their own real estate marketing materials. Outsourcing this work to real estate design companies saves agents time and money while ensuring professional final products. That's why we considered more than a dozen design services based on price, features, turn-around time, reviews, and customer service.
Here are the criteria we used for evaluating the best real estate graphic design services:
Price: The price for graphic design ranges from $5 to $500, depending on the types of graphics design services needed. Some companies offer unlimited designs and revisions for a higher price while lower price tag designs are for smaller projects. Given these variances, we did not select a set baseline for price but instead noted project costs throughout.
Features: Outsourced graphics solutions should include the ability to get print/digital designs completed in a timely fashion and allow for multiple types of design. In our review, then, we favored companies that offer multi-faceted design services.
Ownership: We required each inclusion to give users full ownership over final designs. This means that native graphic files are delivered to the agent by the designer in case further revisions are needed.
Turn-around time: While turn-around times for projects depend on the extent of the design needs, timely delivery of a final product is key to agent marketing success. That's why we favored providers that offer a turn-around time of four days or less.
Reviews: We considered customer reviews of each company as part of our ranking to help readers get a better sense of companies' past performance.
Customer service: Each company on our list was required to offer customer support via at least once channel; we preferred those that offer support via email, phone, and chat.
Given the above criteria, we recommend DesignHill as the best overall real estate graphic company due to their mixture of digital, print, and branding design services. DesignHill offers graphics services for agents who want to work with one designer or get a group of freelancers to bid on a project. DesignHill is ideal for those who need real estate design services for all size companies and projects.
DesignHill: Best Overall Real Estate Graphic Design Company

DesignHill is the best overall real estate graphics company on our list, offering comprehensive design packages for digital and print marketing or real estate branding. The services offered by DesignHill are unique because agents can work with one individual designer or get quotes from several designers to find a package that meets their needs. DesignHill is right for agents that want a solution for any graphic design need they may have—now or in the future.
DesignHill Pricing
DesignHill is priced according to your graphic design needs and budget, and is based on a bid system. For example, agents can set up a project for 10 proposals, set a budget between $1-$99, and a timeframe to get proposal. These parameters will produce up to 10 design proposals for $99 or less.
To submit a bid, agents fill out a project request for digital or print graphic design services with the number of proposals they want to receive, the amount they want to spend, and their timeframe. DesignHill professionals respond with price quotes for packages that meet the agents requirements. The agent hires the designer that they feel best fits their price and delivery points.
DesignHill Features
DesignHill is a one-stop-shop for outsourced graphic design; real estate agents can get a logo and branding services with digital/print marketing to attract buyers and sellers to their properties. Also, DesignHill makes it easy for agents to hire a designer directly for a set price or get proposals from several designers for a project to meet their marketing needs.
Digital Services
From websites to social media graphics, DesignHill is the one-stop real estate graphics design solution to help agents build a digital presence. Agents can get a logo designed or a website built with DesignHill by hiring separate designers or get a package price for both. DesignHill allow agents to customize their digital services to only pay for what is needed—like Design Pickle, but without the membership.
Print Services
DesignHill has a robust offering of print branding and marketing services; common services include logo, brochure, and print ad design. Print materials come with high-resolution files ready to submit to a printing service. Design Pickle offers the same services with a membership fee for unlimited use. Alternatively, Fiverr allows you to hire a specific designer to create print materials for one-off projects.
What DesignHill is Missing
DesignHill is missing a clearly defined pricing structure. Users can buy a fixed price package of several services combined, submit their graphics design project for bid, or hire a freelancer directly through the platform. These different pricing methods are often confusing for first-time users.
DesignHill Customer Service
DesignHill offers customers 24/7 live support through chat or phone. Users can also submit a support ticket online with attachments to help customer service understand their issues. It is unknown how long it takes for customer service to respond, but reviews noted that support is one of the standout features of DesignHill.
What Users Think About DesignHill
Over 1,400 reviewers on TrustPilot rated DesignHill highly due to turn-around time, project quality, and customer service. One reviewer noted that it was hard to pick one design because there were so many good choices.
Where to Find DesignHill
DesignHill is the overall best real estate graphic design solution due to its one-stop-shop approach to providing all branding and marketing materials agents need. Find out more about DesignHill by visiting its website and check out their portfolio of designs.
Design Pickle: Best Membership Real Estate Graphic Company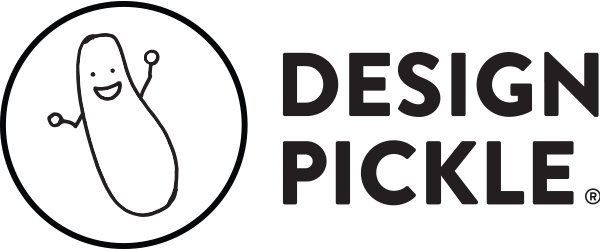 Design Pickle is a real estate graphic design company that offers membership pricing for $399 per month. The design services offered by Design Pickle are unique because agents can submit unlimited projects during the month with unlimited revisions. Design Pickle is right for brokerages with agents or real estate teams needing many designs each month.
Design Pickle Pricing
Design Pickle costs $399 per month for unlimited requests and revisions. Each subscription includes 24-hour turn-around with a 14-day satisfaction guarantee. Monthly subscriptions include free stock photos and native files so you can edit/change them later if needed.
Design Pickle Features
Design Pickle is the membership choice for agents who need lots of projects completed each month. While the breadth of choices is not as expansive as PlaceIt, Design Pickle houses teams of graphic designers that can create a multitude of digital and print marketing materials—including branding. Design Hill offers the same without a membership and unlimited projects. Fiverr offers the same services with one-off hiring of freelancers.
Digital Services
Design Pickle can easily design digital marketing materials like infographics, banner ads, social media posts, and websites because its graphics designers are versatile. The advantage of Design Pickle is the membership for unlimited project submissions. Instead of paying for each project, agents and brokers can get all of their projects handled by a professional graphics designer on an ongoing basis.
Print Services
The print services of Design Pickle include all types of marketing materials, including brochures, business cards, signs, newspaper ads, and posters. If you need collaterals like mugs or pens for tradeshows or leave-behinds, then PlaceIt is a better choice because they offer these specific services.
What Design Pickle is Missing
Design Pickle is missing a lower price point for agents that might want just a few project designs. Because Design Pickle costs $399 per month, agents will pay the same for months with only a few designs as they do for heavy design request months.
Design Pickle Customer Service
Design Pickle offers customers the ability to chat with an agent 24/7 with an average response time of five to seven minutes. Customers can also submit a trouble ticket for email follow up. Additionally, customer service is available through phone 9 a.m. – 6 p.m. Eastern time.
What Users Think About Design Pickle
Almost 70 reviewers on TrustPilot note the benefits of Design Pickle for unlimited, top-notch design services. Some users noted that it can be hard to keep one graphic designer, so style might fluctuate over time; however, the overall quality is high.
Where to Find Design Pickle
Design Pickle is best for agents with a large number of design projects who want a flat fee for unlimited designs. The monthly membership of Design Pickle works out great for multi-agent offices or teams. Find out more about a Design Pickle membership on its website.
DesignBlendZ: Best for New or Pre-Construction Marketing

DesignBlendZ is a design firm that creates 3D renderings, floorplans, and pre-construction graphics for marketing efforts starting at $500. The services by DesignBlendZ are unique because the renderings depict what the actual build-out will look like for potential buyers. DesignBlendZ is ideal for agents and developers who sell properties before construction is finished.
DesignBlendZ Pricing
DesignBlendZ residential interior and exterior renderings are priced at $500/image. Commercial exterior renderings are $1,000/image and apartment buildings are $1,500/image. Floorplans are $75 per 2D image and $350 per 3D image. DesignBlendZ can quote customized real estate graphic design plans for agents and developers that need several concepts.
DesignBlendZ Features
DesignBlendZ creates marketing materials for agents who sell commercial or residential space before it is completely built; the interior and exterior renderings of DesignBlendZ are unique to this specific audience. While Fiverr, Design Pickle, and Design Hill might be able to complete these design tasks as one-off projects, DesignBlendZ is knowledgeable in the field and known in the industry.
Digital Services
DesignBlendZ creates 2D and 3D video walk-throughs for websites, social media, property listings, and blogs. These services are unmatched by the inclusions on our list. You may be able to get these items through Fiverr freelancers or Design Hill designers, but DesignBlendZ specializes in this type of graphic design.
Print Services
The DesignBlendZ print services are limited to graphics produced for high-end brochures or presentations. While DesignBlendZ can create these types of graphics, agents will probably need to use a service like Fiverr to create ads, postcards, or flyers. Design Pickle and Design Hill are good options for brochures or posters using graphics created by DesignBlendZ.
What DesignBlendZ is Missing
DesignBlendZ is missing mainstream services for smaller agencies or individual agents. DesignBlendZ is a boutique niche real estate graphic solution aimed at the pre-construction market. If you want a more mainstream solution, then DesignHill or Design Pickle are better choices.
DesignBlendZ Customer Service
DesignBlendZ answers emails within 24 hours. Clients can call DesignBlendZ during regular office hours from 9 a.m. – 5 p.m. Eastern time. Customer service requests and quotes are handled through email.
What Users Think About DesignBlendZ
Reviewers on Google note that DesignBlendZ produces fast rendering and listens to feedback to produce great results. Customers state that DesignBlendZ exceeded expectations and created excellent marketing graphics for their pre-construction properties.
Where to Find DesignBlendZ
DesignBlendZ creates digital and print marketing and branding materials for pre-construction properties. If you need 3D renderings and extensive conceptualizations of new properties, check out DesignBlendZ online to find out more about its services.
InMotion Real Estate: Best Commercial Graphic Design Company

InMotion Real Estate is a graphic design team focused on meeting the marketing needs of commercial real estate agents. Given the variability in needs, pricing for InMotion is based on quotes for specific projects. That said, InMotion Real Estate is the best for creating print materials and websites for commercial agents and brokers.
InMotion Real Estate Pricing
InMotion Real Estate bases its pricing on individual quotes for specific projects. Because different commercial real estate graphic projects require different results, InMotion Real Estate requires agents to contact them directly for pricing. However, InMotion offers a free project proposal to agents.
InMotion Real Estate Features
InMotion is focused on providing commercial real estate agents with complete graphic design solutions. This includes design services for websites, social media, brochures, logos, and business cards. Agents might be able to get one-off projects like these completed through Fiverr, Design Pickle, or Design Hill, but InMotion knows the commercial real estate industry better.
Digital Services
The digital services offered by InMotion Real Estate are unique to this list because of the commercial niche; its designers create websites and designs that appeal to the buyer seeking business or industrial space. InMotion uses images, layouts, and branding that address business needs—including designs focused on spaces like board rooms, offices, and event centers.
Print Services
InMotion Real Estate includes print marketing graphic design services like brochures, presentation boards, and seller portfolios to help commercial agents attract buyers. The print services provided by InMotion Real Estate are not unique, but its approach to and knowledge of commercial property sales is unique to our list. Fiverr, Design Pickle, and Design Hill might have issues delivering print commercial marketing materials that meet agents' expectations.
What InMotion Real Estate is Missing
InMotion Real Estate is missing a service aimed at residential real estate agents. Like DesignBlendZ, InMotion Real Estate focuses on its niche audience and appeals specifically to the commercial agent or broker. If you want commercial graphics design services for a smaller part of your sales efforts, then DesignHill, Design Pickle, or Fiverr might be better for one-off projects.
InMotion Real Estate Customer Service
Customers can connect with support weekdays during office hours between 9 a.m. – 5 p.m. Eastern time. The channels for connecting with customer service are email, phone, and trouble tickets on the website. It is not clear how long it takes to get a response.
What Users Think About InMotion Real Estate
The only reviews for InMotion Real Estate are on its website. Clients note that their partnership was successful and InMotion Real Estate possesses a deep knowledge of the commercial real estate industry.
Where to Find InMotion Real Estate
InMotion Real Estate focuses on helping commercial real estate agents reach their audience with focused digital and print marketing materials. You can get a free InMotion Real Estate proposal through its website to find out more.
Fiverr: Best Real Estate Graphics Company for One-Off Projects

Fiverr is an online database of freelancers who specialize in a wide variety of industries and project-types. Notably, the platform includes a collection of graphic designers who have extensive experience in creating real estate marketing collateral like brochures, logos, and social media graphics. Fiverr is unique because agents can find a freelancer with a variety of graphic design skills to meet their marketing needs starting at $5 each for one-off projects.
Fiverr Pricing
The Fiverr marketplace gives agents access to freelancer graphics designers with a real estate background for $5 and up per project. The specific prices are listed in each designer profile, along with a portfolio.
Fiverr Features
Fiverr is the best real estate graphic design option for agents who need one-off projects for digital and print marketing. From brochures and logos to websites and social media posts, single projects can easily be completed by Fiverr freelancers who have a diversity of styles, service options, and costs. Design Pickle offers the same services for a membership price.
Digital Services
It is easy to find a freelancer who specializes in digital real estate graphic design on Fiverr. Agents can look through profiles and portfolios for freelance designers to find one that matches their needs, or find one by searching keywords related to their specific project. From website design and social media posts to infographics and banner ad creation, Fiverr can help agents complete almost any digital design project.
Print Services
As noted in the digital services, the vast network of freelancers gives agents the ability to connect with brochure, business card, and logo designers in one place. The service offerings for print graphic design are similar to Design Hill and Design Pickle with a more affordable price range for one-off projects. Agents can simply search through the print design services offered by Fiverr freelancers and hire the agent with the best portfolio and prices to match their needs.
What Fiverr is Missing
Fiverr started out as a platform where all services were one set price of $5. However, costs are variable; projects currently run between $5 to $200 depending on your graphics design needs, quality expectations, and completion timeline. With this variability, the best results are not guaranteed.
Fiverr Customer Service
Fiverr customers can report poor freelancer performance by creating a report ticket in the project hire dashboard. Customer service usually responds within 12 hours to requests and facilitates additional work or refunds. Alternatively, agents can work directly with their freelancer to resolve any issues.
What Users Think About Fiverr
Reviews note that Fiverr makes sense for one-off projects at a much lower cost than hiring an agency. Some users state that they had trouble getting projects delivered on-time and had to connect with customer service to get resolution.
Where to Find Fiverr
Fiverr is an affordable, one-off project forum for real estate agents seeking low-cost graphic design solutions. Find out more about the real estate graphic design services from Fiverr freelancers by visiting its website.
PlaceIt: Best DIY Real Estate Graphic Design Company for Social Media

PlaceIt is a DIY real estate graphic solution with professionally designed templates for social media posts and print materials; the service costs $14.95 per month. The PlaceIt service is unique because the templates are easy to edit via a click-and-drag editor, allowing editors to supplement outsourced design with DIY marketing material creation. PlaceIt is right for agents who want to control the design of their own marketing collateral.
PlaceIt Pricing
PlaceIt is $14.95/month for unlimited templates for social media and banner ads. The price decreases to $8.33/month with an annual subscription—which saves 44% off on the monthly subscription. Subscriptions include a 50% discount on logo designs; this means that a logo costing $39.95 decreases to $19.95.
PlaceIt Features
PlaceIt offers a selection of digital and print mock-ups or templates that allow agents to easily design everything from social media posts to coffee mugs. The PlaceIt platform stands out for the ability to create "mock-ups" to see what designs will look like before posting or printing. Logo design is extra with PlaceIt, so DesignHill and Design Pickle are better choices if you need branding.
Digital Services
PlaceIt excels in the ability to quickly create a social media post or design graphics for digital use. With templates for YouTube, Facebook, Twitter, and SnapChat, PlaceIt allows agents to create standout graphics for profile images, posts, cover photos, and banner ads quickly. You can hire a freelancer to create these on Fiverr and Design Pickle, but the selection of professional templates on PlaceIt makes it preferable for the DIY agent.
It's important to note that templates are preset with sizes, images, fonts, and sample text to fit the corresponding channel or medium (such as Instagram stories). The agent needs to only drag and drop their own images and click to change the text to customize the mockup. Once the editing is done, the agent can download the graphic or share it directly on social media.
Print Services
Because PlaceIt is template-driven, agents can easily pick from a large selection of starter projects to do everything from designing a logo to creating a brochure. Print offerings are extensive for PlaceIt; they include shirts, mugs, and business cards, among many other options. Agents can create a design using a template or create their own design from scratch.
What PlaceIt is Missing
The PlaceIt website needs to be streamlined to keep users from being unnecessarily distracted. In an effort to be a comprehensive marketing tool, PlaceIt tries to offer associated products for branding like shirts and mugs. It can be confusing for agents who want to just use their site to create interesting social media posts for potential buyers.
PlaceIt Customer Service
The only method of contact for PlaceIt is email. If customers have an issue with their service or subscription, then PlaceIt requires them to send an email to customer service for resolution. It is unclear how long it takes to get a response.
What Users Think About PlaceIt
Reviews on TrustPilot indicate that PlaceIt is an easy-to-use service with lots of great social media templates. Some users expressed concern that PlaceIt sells email addresses to third-party companies and sends too many upsell emails.
Where to Find PlaceIt
PlaceIt offers thousands of professional templates agents can use to design their own digital and print materials. Check out their portfolio of templates for YouTube, Facebook, Twitter, and other social media channels on their website.
Bottom Line – Real Estate Graphic Design
A good real estate graphic production company can help agents design print and digital marketing materials quickly and easily. We ranked the best six according to price, features, turnaround time, reviews, and customer service. These six graphics design companies can save efforts and frustration trying to create marketing materials.
Based on the criteria mentioned above, DesignHill is our pick for the best overall real estate graphic company. Agents can hire a specific designer for virtually any project or create a project listing to get bids for a proposal. Learn more about DesignHill and book a free design consultation today.