Whether you're planning to buy your first rental property or your 15th, you need a real estate investing business plan. Skipping this important step is a huge mistake. Your real estate business plan outlines your investing strategy, the steps needed to grow a profitable business, and a path for acquiring and managing multiple properties or fix-and-flips.
Not having a plan is like throwing spaghetti at the wall and hoping it sticks. When things go wrong, you'll spend a lot of time cleaning up messes instead of planning for profitable growth.
The research for your real estate investing business plan gives insight into the markets where you'll invest. It also provides the financial framework to succeed. A well-written business plan is a living document that acts as a roadmap to direct you to the goals you set in the opening chapter of this introduction to real estate investing. Write a simple plan and put more effort into evaluating deals and doing research.
Why You Need a Real Estate Business Plan
Without a business plan, you may wind up wasting a lot of time and money. Researching and writing your real estate investing business plan might feel like a lot of work, but once it's completed, it guides you on your real estate investing journey. It doesn't have to be super complicated with charts and graphs. Real estate investing financials can be straightforward and include projected rental income, expenses, and vacancy rates.
Your business plan can reduce some risks associated with real estate investing by addressing risks upfront, such as how you'll manage vacancies, recessions, and unexpected major repairs. The financial section of your business plan shows how you'll make money, with detailed cash flow projections outlining anticipated income and expenses. If you plan to finance multiple investment properties, some lenders will probably require a business plan.
You can also use your plan to navigate a future recession by determining how you'll remain profitable if property values drop. In the 2008 housing crash, investors who planned and invested for positive cash flow and not just future equity fared better than investors who relied on property appreciation.
Don't Be a Phil
Phil didn't think he needed a business plan. In 2007, right before the real estate market tanked, he cashed out his 401(k), bought a four-unit residential building, and planned to kick back and collect passive income all the way to Easy Street. A tenant stopped paying rent.
After a couple of months, Phil filed eviction paperwork in housing court. It took four months to get the tenant out. He had rented the vacancy without screening tenants.
The building's heating unit failed. Phil was already house poor with negative cash flow, so he borrowed on credit to replace the boiler. He thought he could rely on future equity through property value appreciation. When the market crashed in 2008 all the equity in his property vanished. He now had an underwater mortgage, so he couldn't sell. He worked overtime at his day job to cover mounting rental property expenses.
Phil stopped paying his mortgage, and the bank foreclosed. If Phil had a business plan, he could have avoided or planned for these occurrences. The moral of this story is: Don't be a riverboat gambler like Phil―write your real estate investing business plan.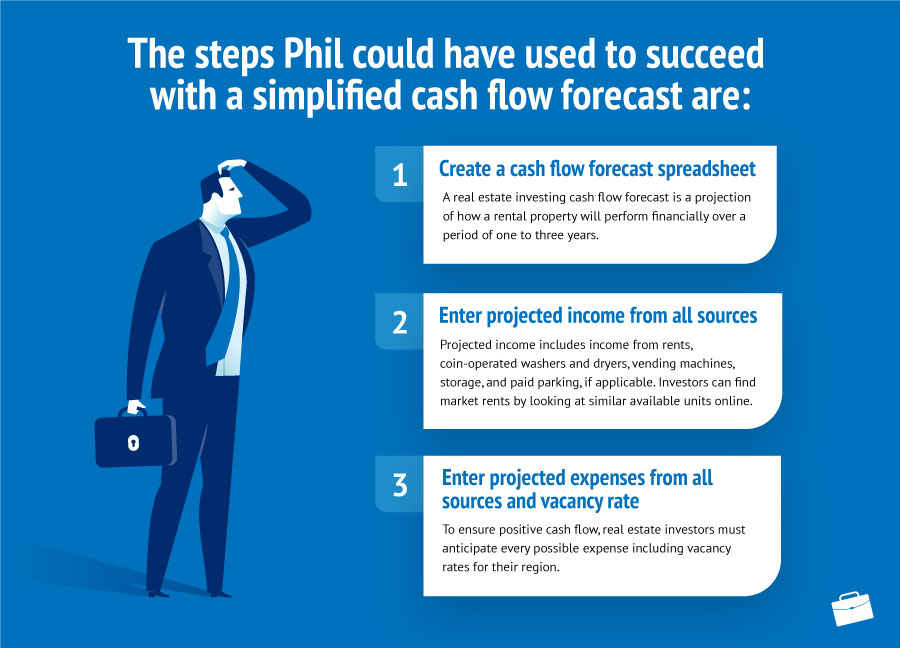 Real Estate Investing Business Plan Timeframe
Many small business owners I've worked with wrote a business plan and filed it in a drawer, later proclaiming the business they ultimately created looked nothing like the plan they initially wrote. Since your real estate investing business plan is a living document, it should be useful and evolve with your business as it grows.
Your initial plan can span the first one to five years. You want to revisit the plan regularly and keep it flexible in the event you need to revise or pivot. However, don't get caught up in "analysis paralysis" through ongoing revisions. Write your plan, start investing, and iterate if needed.
Write your plan for the intended audience. If your lender requires a rental property or fix-and-flip business plan, include how you plan to pay back the loan. Bankers like that. If you're writing a plan for investors to partner on a deal, explain what the partnership structure is, how everyone profits, and how the exit strategy works. However, the most crucial piece is writing the plan as a strategic roadmap to reach your goals.
8 Real Estate Investing Business Plan Must-have Items
Your real estate investing business plan is made up of multiple chapters or sections. How detailed each section should be depends on the scope of your real estate investing goals and the audience. A real estate developer who is building a residential housing subdivision and needs a business plan for lenders and investors requires a more comprehensive plan than an investor buying five multifamily buildings over three years.
The real estate investing business plan includes the following:
REI Business Plan Template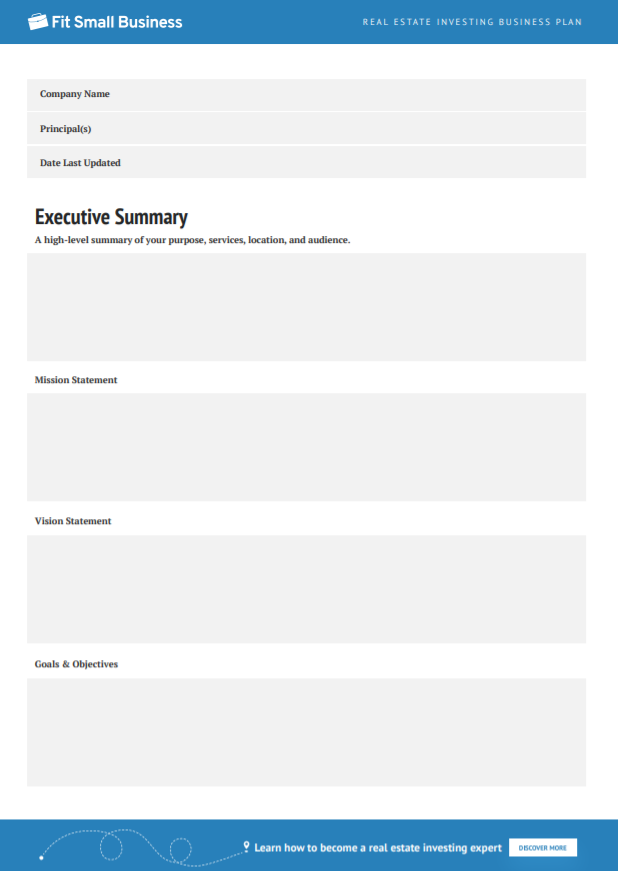 Don't worry―you don't have to write a novel. Some sections are just a few paragraphs while others can be a bit more detailed but should also be kept simple. You don't have to do it from scratch. Download our real estate business plan template to get started. So, pull up a chair or desk, pour yourself a glass of wine or a cup of coffee, and let's get business planning.
Download REI Business Plan Template
Executive Summary
Although it is the first page that readers encounter in a business plan, the executive summary is typically written last, after all other sections are completed. The executive summary is usually one page or less and gives a high-level overview of what is to follow in the rest of the business plan. It discusses the mission, vision, goals and objectives, and the keys to success, or how the business will survive and profit.
The executive summary includes:
Business overview: A high-level summary of what follows in your business plan
Mission: Your reasons why you're in business, who you serve, and what you intend to accomplish
Vision: Your big picture for your real estate investing business and its future
Goals & objectives: Includes estimates for how and when you'll become profitable, and how you plan to grow and sustain the business
Keys to success: Your top two or three key priorities that will show you're on track to reach your goals, which is similar to key performance indicators (KPIs)
Company Summary
The company summary is typically the shortest section of your plan, consisting of just a few paragraphs. (Don't we love it when something is easy?) In it, you'll include a brief overview of your background and experience as it relates to your real estate investing business, your business legal structure or entity, and information about partners when applicable.
Your legal entity or business structure is the company you'll create and register with the state in which you conduct business. Examples of legal entities include limited liability companies (LLCs), sole proprietorships, corporations, and partnerships. What you choose depends on the type of business you create.
In the company summary, mention the types of rental properties you'll invest in, their locations, and your team of professionals like your real estate agent, lawyer, mentors, property manager, and accountant. We cover how to find and create your real estate dream team in the next chapter of this guide.
Real Estate Investing Services
The real estate investing services section includes information about the services you offer to the types of tenants you'll rent to, such as residents, businesses, vacationers, or tenants of storage units. If you're a fix-and-flip investor, include the typical buyers of properties you'll rehab as part of the services you'll offer. Remember Phil? He didn't take the time to think about who his ideal tenants were and how he served them and wound up with some real characters.
Mention amenities you'll offer and what you anticipate collecting in rental income or property sales. If you plan to have on-site vending, such as coin-operated laundry facilities, discuss that in this section. This section is a good place to talk about competition for rental units and investment properties.
You might think you don't have competitors, but you'll compete with other investors buying the same types of properties as you. You'll also compete with homebuyers wanting a fixer-upper that you plan to flip, or who plan to buy a duplex, triplex, or fourplex, living in one unit while renting the others. You'll compete with other landlords for the best tenants, so you want to have a plan to attract and keep ideal renters.
Real Estate Market Analysis Summary
In the real estate market analysis summary, include the market where you plan to buy investment property and explain the feasibility of your plan. Expect to invest some time in doing the upfront market research and evaluating properties, which we discuss in detail in The 5 Phases of Real Estate Due Diligence. Ideally, you should always be evaluating properties. The more properties you evaluate, the more skilled you become at spotting deals.
If you're investing out of state, to reduce financial loss, you need to gain a solid understanding of that real estate market. You also need to know what local market rents are, what homes sell for if you flip properties, and what service providers typically charge in those locations.
Additional topics covered in the real estate market analysis include:
Regulations: Are there any specific laws or regulations that will impact your investment? Check with federal, state, and local landlord-tenant laws.
Projected rents and selling prices: How much is rent in that location? Is there any projected growth or development for the region that will impact rents or home sales?
Access to schools, transportation, and amenities: What is the neighborhood like? Is the property in an area where people want to live? How accessible are schools and transportation?
Neighborhood conditions: Is the property in a low crime area? What types of properties are in the neighborhood? Apartments, single-family homes, offices, or mixed-use properties?
Cost of living: High cost-of-living areas typically command a higher rent or sales prices, but professional services also are typically more costly. Nicer areas also can have higher property tax rates.
Available investment properties: Provide a brief overview of how many properties are available for sale, rent, and how long properties stay on the market.
Most of your market research can be done online. Use Realtor.com or Zillow to evaluate properties for sale, for rent, and that have recently sold for. With HomeAdvisor, you can look up location-specific costs for service providers.
Strategy and Implementation Summary
Earlier in this guide, you decided on business strategy. In this section of your real estate business plan, you'll explain which strategy you chose and how you'll implement it. Include your process for finding properties. We'll cover strategies for finding investment properties in a later chapter.
Include how you'll market your rentals to tenants or your rehabbed properties for sale. You can include tables and charts showing annual rental income forecasts for three years, other income, or property sales forecasts for fix-and-flips. You can also include a table for strategic milestones you reach.
Sample Milestones for a Houseboat Rental Business
Real Estate Investing Management Summary
In the management summary, take a two-pronged approach to how you plan to manage the business of real estate investing and how you plan to manage the properties you invest in. The business side includes administrative duties and tasks, filing taxes, paying bills, and working with lawyers and accountants. It also includes your plan for marketing yourself as an investor.
Two-pronged Management Summary
| Real Estate Business Management | Property Management |
| --- | --- |
| Administrative tasks | Handling rentals |
| Bill-paying | Tenant management |
| Working with attorneys and accountants | Repairs and maintenance |
| Marketing yourself as an investor | Managing vendors and service pros |
The property management side includes whether you plan to self-manage your rental properties using
online property management software
or if you'll outsource management to a property management company. If you self-manage, cover how you'll handle rentals, tenant management, repairs, maintenance, and manage vendors service professionals. Our friend Phil thought property management was keeping units rented and getting checks in the mail. Because you're reading this, you're way ahead of the Phils of the world.
Financial Plan or Storytelling the Numbers
The financial plan is where most people struggle. Math anxiety is real. With so many formulas like the 70-Rule, cap rates, return on investment (ROI), cash-on-cash return, and gross rent multipliers, it's no wonder investors become overwhelmed easily. It's about changing the way we think about the numbers.
A simple way to conquer anxiety is to shift thinking from financials as doing math to telling a story. Who doesn't love a good story? The business financials may tell a story of drama, comedy, romance, horror, or could be inspirational. By changing the way we look at our financials and addressing them head-on, we choose the story's plot and ending rather than it choosing us.
How to Tell the Story of the Numbers (Cash Flow Forecasting)
The math you need for real estate investing is not rocket science. If you can add, subtract, multiply, and divide, you have everything you need to create a simple cash-flow forecast and determine if your business is profitable. In its simplest form, you're just adding projected monthly income and subtracting the projected carrying costs, monthly rental property expenses, and the vacancy rate.
If the numbers don't stack up, reevaluate and change the story by evaluating different properties, decreasing expenses, or finding ways to increase rental income. You might question why you should forecast if you can't predict the future with 100% accuracy. Are you just making up numbers? Real estate investment finances are straightforward, and you can find reasonably accurate data for your projections online. If you skip this, you could end up like our friend Phil.
The steps to create a simplified cash flow forecast include:
Create a cash flow forecast spreadsheet.
Enter projected income from all sources.
Enter projected expenses from all sources and vacancy rate.
Projected rents can be found on Zillow, Craigslist, in newspapers, LoopNet, and anywhere rental properties are advertised. Selling prices and recently sold prices of homes can also be found on Zillow, Realtor.com, and LoopNet. Vacancy rates for specific locations can be found through an online state, county, and city search.
You can get property expenses from sellers, utility companies, local tax collector's or assessor's offices, insurance companies, lenders, property managers, and by asking plumbers, electricians, handymen, and other service professionals you will use.
Here is an example of a cash flow forecast for a commercial healing arts center.
Cash Flow Forecast Example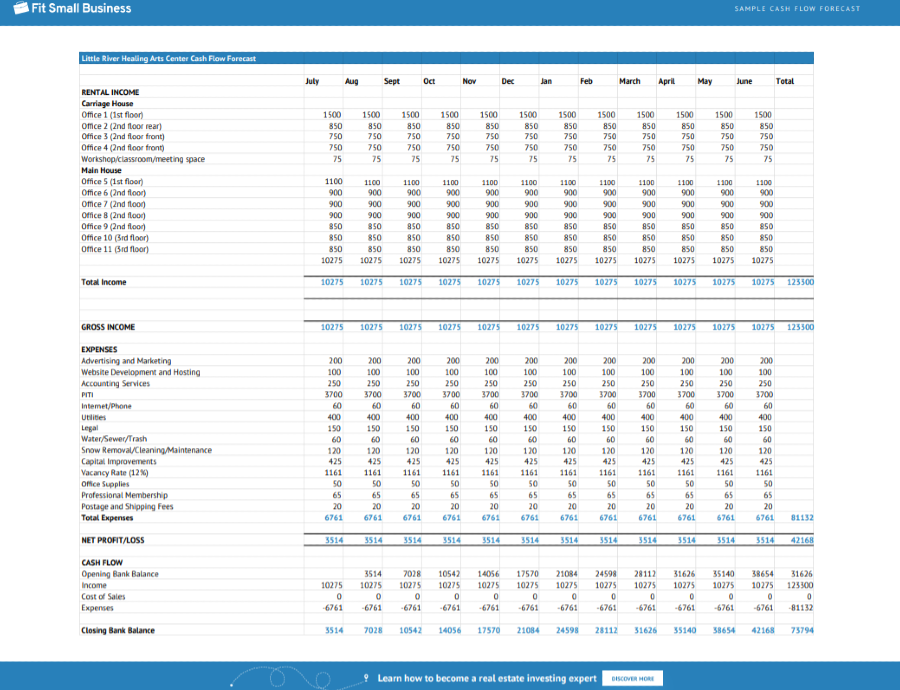 Download Cash Flow Forecast Example Template
In this example, gross income from rents is $123,300 per year. Expenses, including a 12% vacancy rate, are $81,132, leaving this investor with an annual net positive cash flow of $42,168 or $3,514 per month. The excess cash flow acts as a buffer for any unanticipated events like what Phil encountered when the furnace failed. The Little River investor is prepared to weather any unexpected issues, including vacancies.
Net positive cash flow is calculated differently from calculating net operating income (NOI). The difference between them is net operating income doesn't include mortgage principal and interest payments, capital improvements, or rental property depreciation. Rental property depreciation doesn't go in your forecast. It's considered a "paper loss," so there is no actual dollar amount to deduct. Include any depreciable expenses, however, such as costs to buy and improve your rental property.
Real Estate Investing Exit Strategy
The most common mistake in developing a real estate exit strategy is not having one in the first place. (Remember our friend, Phil?) Investors need to plan for eventually leaving a real estate investing business. We'll cover seven real estate investing exit strategies to help you plan your escape in a later chapter.
When you've chosen your real estate investing exit strategy, detail it in this section of your business plan. For example, if you're planning on exiting a partnership, your business plan will have included the nature of the partnership relationship, percentage of ownership, and who is responsible for what aspects of the business. In the exit strategy section, you'll explain how you plan to dissolve the partnership and what will happen to the assets (investment property).
Seven real estate investing strategies to consider:
Seller financing: A property owner acts as a lender to a buyer
Lease option: An investor rents the property to a buyer until the investor is ready to sell
Wholesaling: When an investor finds a property well below market value to sell to another investor at a higher price
Selling rental property: Listing investment properties on the market and selling them to the highest bidder
Succession and estate planning: When investors pass their real estate investing business to future generations to grow and manage the business or leave the estate to heirs
Exiting a partnership: How investors plan to divide assets and end the partnership
1031 Exchange: IRS tax code for reinvesting profits from selling investment property, thus avoiding capital gains and depreciation recapture
Real Estate Business Plan Appendix
The real estate investing business plan appendix is where you include supporting documents not included in the body of the plan. Although a business plan appendix is not required, it is a good place to provide supporting documents that show the feasibility of your real estate investing. If you're seeking private money funding, the appendix can make your plan shine.
Items you may want to include in your business plan appendix are:
A copy of your business entity in good standing
Tables and charts not included in the body of the plan
Detailed monthly cash flow projections
Credit history, if required by lender
Contracts with vendors and service providers
Leases and rental agreements
IRS Schedule E for the past two years if already in business
IRS 1031 Exchange information, if in progress
Market and feasibility studies
Contact information for your attorneys and accountants
Building permits, delead certificates, and building code certificates
Don't worry. You don't need all these items. This is just a place in the business plan to "show and tell" with additional information of your choosing. If the idea of creating a business plan appendix is as thrilling to you as going for an appendectomy, and no one is requiring it of you, by all means, skip it. We just wanted to make sure you are aware of it.
Summary & Quiz
You now have the knowledge and tools you need to begin drafting your real estate investing business plan, and you're 100% ahead of Phil and other real estate investors who skip this important step. Don't worry about Phil, though. He found our articles, learned from his mistakes, created a business plan, and is back in the rental property game and making decent monthly positive cash flow.
Key Points to Remember
A well-written business plan is a living document that acts as a roadmap to guide you toward your goals.
A real estate investing business plan doesn't have to be long and complicated.
Take a two-pronged approach to management—managing your real estate investing business and managing your properties.
Real estate investing financials are straightforward, and data is easy to find.
Think of your financials as writing the story of your business where you get to create and control the outcome.
Create an exit strategy for when and how you plan to leave real estate investing.
Don't be like Phil. Write your real estate business plan.
REI Business Plan Quiz
Answer a few questions about your business, and we'll give you a personalized product match.