How to Write a Real Estate Investment Business Plan (+ Free Template)
A real estate investment business plan is a guide with actionable steps for determining how you'll operate your real estate investing business. It outlines your mission and vision statement and lets you conduct a SWOT (strengths, weaknesses, opportunities, and threats) analysis. The business plan should indicate how you'll measure your business' success. It's similar to a business plan for any business, but the objectives are geared toward how you will grow your investment, manage the business, and secure funding.
Advertisement: Banking Built for Landlords
Being a landlord is not easy. Whether you own 1 unit, 1 building, or are looking to scale your business to the next level, Baselane can help. Baselane is a new banking platform built specifically for independent landlords. It offers FREE banking, FREE rent collection, and FREE bookkeeping and reporting tools all from 1 simple to use platform.
Right now, Baselane is offering 5% cash back on all home improvement spend and 4.25% interest on all deposits.
Opening an account is a quick 2-minute process, so get started with Baselane today
We've created a real estate business plan template for you to download and use as a guide as you read through the article and learn how to make a business plan for real estate investing: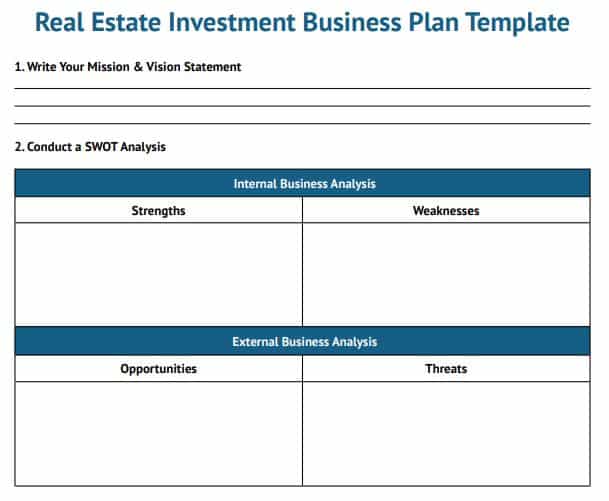 Thank you for downloading!
💡 Quick tip:
In addition to the template, investing in property management software like TenantCloud will set you up for success. The free plan from TenantCloud will help you list apartments, collect rent payments, and screen applicants to maximize profits and minimize vacancies.
Visit TenantCloud
Let's dive into the nine essential steps to creating your real estate investment business plan:
1. Write Your Mission & Vision Statement
Every real estate investment business plan should begin with a concrete mission statement and vision. A mission statement is a declaration of actions and strategies the organization will use to serve as its North Star to achieve its business or investment objectives. A strong mission statement provides a real estate business with direction, keeps teams accountable, inspires customers, and helps you measure success.
The example above provides the mission statement of Oak Tree Capital. As a real estate investment business, it's clear what its ultimate business objective is and how it will approach investing with integrity to maximize profit. Essentially, the investment company will drive monetary results—while maintaining its moral principles.
Vision statements differ slightly from mission statements. They're a bit more inspirational and provide some direction for future planning and execution of business investment strategies. Vision statements also touch on a company's desires and purpose beyond day-to-day operational activity.
A vision statement outlines what the business desires to be once its mission statement is achieved. In the example above from Sila Realty Trust, it hopes to be the best investment option for its vendors and partners, specifically in healthcare property investments.
2. Conduct a SWOT Analysis
The section following the mission and vision statements in our real estate investment business plan template is the SWOT analysis. A SWOT analysis helps identify a business' strengths, weaknesses, opportunities, and threats. This tool helps real estate investors identify internal areas of improvement within their business through their strengths and weaknesses.
The opportunities and threats can assist with motivating a team to take actions that keep them ahead of an ever-changing real estate landscape. For a real estate business investor, the SWOT analysis is aimed at helping grow and protect investments over time.
Specifically for real estate investing, strengths and weaknesses correlate with the investment properties' success and touch on items that will help drive investment growth. In the SWOT example above, the strengths and weaknesses are a property's location, condition, available amenities, and decreased vacancy. All of these items contribute to the success of a property.
The weaknesses can be small unit size, low rents, low cap rates, etc. These weaknesses indicate less money is being collected and a lower overall return on investment. The weaknesses are all factors that limit cash flow into the business and are internal factors that an investor has the ability to change. They can raise the rent or renovate the units to accommodate more tenants.
---
Opportunities and threats are external factors that can affect an investment business. You don't have control over these items, but you can maneuver your business to take advantage of the opportunities or mitigate any long-term effects of external threats. Opportunities relating to investment properties can be receiving certification with a city as a preferred development or having excess equity (like in the SWOT example above).
However, threats to an investment property do not need to be particularly connected to the property itself. They can be factors that affect your overall business. For example, interest rates may be high, which cuts your profits if you're obtaining a mortgage during that time frame.
---
After creating your analysis, an investor can use these factors to develop business goals to support your strengths and opportunities while implementing change to combat the weaknesses and threats you anticipate. It also helps investors prioritize what items need to be addressed to succeed. These factors in a SWOT can change as the business grows, so don't forget to revisit this portion and continuously reevaluate your SWOT.
3. Choose a Real Estate Business Investing Model
The core of real estate investing is to purchase and sell properties for a profit. How to make that profit is a factor in identifying your investment model. Different investing models are beneficial to an investor at different times.
For example, when interest rates are low, you may consider selling your property altogether. However, when interest rates are high, and it's harder for people to obtain a mortgage, you will want to rent out your properties. Sometimes you have to try a few models to see what works best for your business given your area of expertise.
We've identified some investment business models to consider:
Holding on to an investment: This strategy mostly involves renting out the property and earning regular rental income. This is also considered the BRRRR method: buy, rehab, rent, refinance, and repeat until you have increased your portfolio.
Flipping properties: Flipping a property entails purchasing a property, adding value, and selling it higher than the investment costs. Many investors have a set profitability number they would like to hit, but should consider market fluctuations on what they're realistically able to receive during the sale.
Owner-occupied: Investors can live in the property while renting out extra units to not only reduce their housing costs but have rental income coming in at the same time. This model is best if you own multifamily units, especially duplexes, triplexes, or fourplexes. It's also a great way to understand the complexities of being a landlord. When you want to move, you can transition your unit to another renter.
Wholesaling: This method involves finding good deals on properties and quickly selling them for a small markup to another buyer. The process isn't as laborious as renovating the property, and you can find and close multiple deals in a short period of time.
Investors don't have to stick to one model, and they can have a few of these investment models within their portfolio, depending on the amount of effort they would like to put into each property. Before choosing an investment model, consider which will help you meet your investing goals most efficiently.
To support your chosen investment model, Roofstock offers a platform that makes investing accessible for new and experienced investors. Its marketplace lists individual properties, short-term rentals, or you can pick from curated portfolios that all list cap rates, gross yield percentages, and a neighborhood rating for each property. The site also assists with offloading your properties or finding new buyers if you're not looking to hold on to the investment.
4. Set Specific & Measurable Goals
The next step to completing a real estate investment business plan for real estate investing is to set SMART goals. SMART is an acronym that stands for specific, measurable, achievable, relevant, and time-bound. Creating goals that contain all of the criteria of SMART goals results in extremely specific goals, provides focus, and sets an investor up for achieving the goals. The process of creating these goals takes some experience and continued practice.
An investor's goals can consist of small short-term goals and more monumental long-term goals. Whether goals are big or small, ideal goals will propel your business forward. For example, your end goal could be having a specific number of properties in your portfolio or setting a specific return on investment (ROI) you want to achieve annually.
Keep in mind that the SMART goals you set forth don't always have to be property-related just because you're an investor. They can be goals that help you improve your networking or public speaking skills that can also add to a growing business.
Example of improving goals with SMART in mind:
Begin creating SMART goals with an initial goal. Then, you take that initial goal and break it down into the different SMART components. SMART goals leave no room for error or confusion. The specific, measurable, and time-bound criteria identify the exact components for success. However, the relevant and achievable parts of the goal require a little extra work to identify. The relevancy should align with your company's mission, and extra research must be performed to ensure the goal is attainable.
Initial goal: Receive a 5% return on investment from the property
Smart goal:
Specific: I want to achieve a 5% return on the 99 Park Place property.
Measurable: The goal is to sell it for greater than or equal to $499,000.
Achievable: The current market value for a two-bedroom in Chicago is currently selling for $500,000 and growing 1% each year.
Relevant: I'm aiming to meet my overall portfolio returns by 20%, annually.
Time-bound: I want to offload this property in the next three years.
5. Write a Company Summary
The company summary section of a business plan for investors is a high-level overview, giving insight into your business, its services, goals and mission, and how you differentiate yourself from your competition. Other items that can be included in this overview are business legal structure, business location, and business goals. The company summary is particularly helpful if you're looking to involve outside investors or partners in your business.
A company summary is customizable to your target audience. If you're using this section to recruit high-level executives to your team, center it around business operations and corporate culture. However, if you're looking to target funding and develop investor relationships for a new project, then you may want to include investor-specific topics relating to profitability, investment strategy, and company business structure.
Partners and outside investors will want to take into account the specific legal business structure of your company to know what types of liabilities are at hand. Legal business structure determines how taxes are charged and paid along with what legal entity owns the assets. This information helps determine how the liabilities are separated from personal assets. For example, if a tenant wants to seek legal damages against the landlord and the property is owned by an LLC, personal assets like your personal home will not be at risk.
6. Determine Your Financial Plan
The most important part of creating a real estate investing business is the financial aspect, since much of the business involves purchasing, managing, and eventually, the sale of real estate. To initially purchase real estate, you'll have to determine where funding will be coming from. Funding can come from your own personal assets, obtaining a line of credit, or involving external investors that can provide funding.
When obtaining a loan to purchase properties, a few options are available to real estate investors. Some of these lending options are a better fit than others based on your investing model. For example, if you're wholesaling, it might not be worth obtaining a mortgage to just quickly sell to another investor or end-buyer.
The lending options available to most real estate investors include the following:
After funding is obtained to purchase property, financial projections help investors understand their financial standing. These projections can tell you potential income, profits, and when you may need additional funding in the future. Similar to lending options, these calculations are specific to your investing model. If you're not planning to rent out the property, then calculations like gross rent multiplier are not applicable.
Additional Investment Calculations
In a rental property business plan, it's important to use a rental property calculator to find out a property's potential return on investment. The calculator takes into account various factors, such as purchase price, operating expenses, monthly income, or vacancy rates, to determine whether a property is a good investment.
Additional calculations all investors should be aware of when purchasing and managing rental properties:
Gross operating income (GOI): The GOI calculates the amount of rent and income received from a property minus any vacancy. It doesn't take into account other expenses. It tells an investor how much income they'll make after some assumed losses with vacancy.
GOI = Total rent + Other income – Vacancy losses
Capitalization (cap) rate: Calculates the return on investment (ROI) of a property. This equation is used to compare the return of one building to another. The higher the cap rate, the better, since the purchase price is low.
Cap Rate = Net operating income / Purchase price
Gross rent multiplier (GRM): This is a factor that helps determine a property's potential profitability. Can be used to compare perspective buildings to determine which one is the better deal.
GRM = Property price / Gross annual income
Vacancy rate: Calculate the vacancy percentage of all your investment properties during a specific time period. Percentage helps an investor determine how their property performs given current market conditions. If you have a high vacancy rate, you must determine the cause. Perhaps your asking rents are too high for the current housing market.
Vacancy Rate Formula = # of Vacant Units x 100 / Total # of Units
Cash flow: Cash flow is the movement of money in and out of your business, also known as net operating income. In an ideal scenario, investors will bring in more income than expenses, thus showing profit and a positive cash flow. Positive cash flow allows investors to make decisions on how they would like to use that profit. They can invest it in growing their portfolio or increasing their cash reserves for unexpected expenses.
Cash Flow = Gross rental income – Total expenses
Investors can use their current cash flow to forecast future cash flows, which will give you an idea of how much profit you will see over a specific period of time. A scenario where you'll want to estimate future cash flows is if you want to have enough cash reserves for a down payment on a new property.
First, use past cash flow information to determine if there are any trends. For example, perhaps during the summer months, your water expenses increase, or possibly every few months, you see an increase in property repairs. Consider these trends when estimating future cash flows. Forecasting cash flow is just an estimate. If you do project your future cash flow, compare that to actual numbers to determine if your forecasting is accurate.
Use the template below to forecast future cash flow for six months and determine how much cash flow reserves you will have: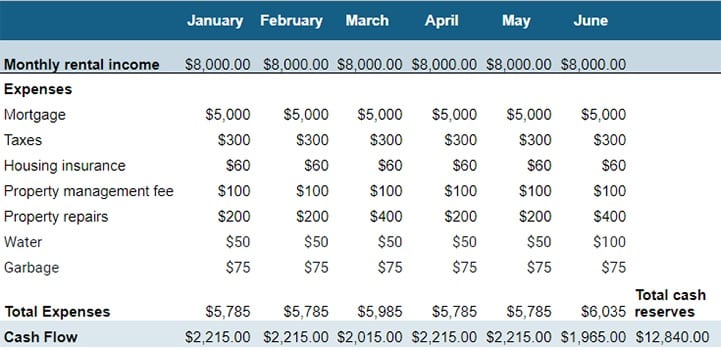 Thank you for downloading!
💡 Quick tip:
In addition to the template, investing in property management software like TenantCloud will set you up for success. The free plan from TenantCloud will help you list apartments, collect rent payments, and screen applicants to maximize profits and minimize vacancies.
Visit TenantCloud
7. Perform a Rental Market Analysis & Create a Marketing Plan
While determining what properties to purchase, investors should perform a rental market analysis (RMA) to gauge the investment potential of a rental property. The rental market analysis consists of running comparables against current units on the market and collecting data that may affect your rental rate to understand if the rental property in question is a solid long-term investment. The analysis helps determine the average rental rate and future rent if you want to make any property upgrades.
Using our RMA template and example above, we identify the subject property and compare it to five to seven nearby rental properties on the market. Investors can use resources like Zillow to pull comparable property information to gather information on unit layout, building amenities, rental concessions offered, or listing price.
Once the information is gathered, the spreadsheet itemizes the average, median, highest, and lowest rent. When such information is available, it also provides an average price per square foot compared to the subject property. With this information, investors can decide whether the subject property is worth the investment.
Once you determine which property to invest in, investors should identify a marketing plan to list the vacant units. Some investors offload the marketing and advertising to real estate agents and brokerages, which will also collect a fee for renting out the property. It's not entirely impossible to market the units yourself. However, it will take additional time and effort. You can refer to some of the best real estate marketing materials to help you get started.
Although you can market the properties yourself through your own website and direct mailers, listing available units on third-party lead generation sites like Zillow can assist with reducing your vacancy rate. Zillow is one of the largest real estate search engines, with millions of visitors each month to help provide exposure to your available listings. Once leads are received, investors should have a thorough tenant screening process to place quality tenants in their units to protect their investments.
8. Build a Team & Implement Systems
If you're starting out as a new investor, you may need to wear multiple hats to manage the day-to-day of your business. In the beginning, you may not be able to hire a full team of employees to help perform research, assist with running analysis, property management, accounting duties, etc. Hence, you can implement systems that relieve you of manually performing daily duties to keep your investments profitable.
Regardless if you're new or experienced in investing, it is best practice to have a list of vendors you will need to rely on to assist with purchasing, rehabilitating, and buying or selling your investment properties. You'll need real estate attorneys and agents to assist with the buying and selling process, while also having contractors, plumbers, property managers, and accountants to help with the renovations and daily management of tenants.
Find vendors you trust, so you can free yourself from having to micromanage them, and know they have your best interest and the interest of your investments in mind. In addition, many platforms on the market can help with different aspects of your business and can even help manage your maintenance vendors:
Software

Best For

All-in-one property management solution

Receiving online payments

Running tenant screening reports

Listing marketing for vacant units

Key Features

Ability to manage maintenance requests and vendors
Tenant portal provided
Automatic account reconciliations

Rent payment reminders and notifications
Mobile application available
Automatically deposit rent payments into a bank account

Available agents to assist with interpreting reports
No signup fees or annual contracts
Quick report turnaround time

Free for exclusive listings
Largest real estate marketplace
Helps with providing comparable data

Starting Price

$50 per month

Free; paid plan costs $7 per unit, monthly

Staring at $21 per month

Free to add and claim your listings

Learn More
9. Have an Exit Strategy
Since an investor's money is tied up in the properties they own until they choose to sell, deciding when to sell or liquidate to get access to your money is part of the overall exit strategy of an investor. The exit strategy for a real estate investment business simply is a plan for when an investor would like to remove themself from a deal or the business altogether. It helps weigh the different scenarios to minimize business risks and continue to maximize the total return on investments.
The factors that an investor should consider when devising an exit strategy are minimizing financial loss, recouping as much of their original investment, and avoiding any unseen fees that will cut into profits like tax consequences. An investor's plan should always be to grow their original investment, but unforeseen circumstances may occur that will require you to plan on when to cut your losses as well.
Here are examples of the most common exit plans for investors:
Sell the property: Involves putting the property up for sale for a higher price than you purchased it for. The property is often sold or assigned to another owner before you even finalize your purchase. This provides for quick profits in an extremely short period of time.
Passing along the investment to heirs: This involves creating trusts and wills to ensure the property gets into the right hands after your death. Since one of the benefits of investing in real estate is its appreciation over time, many investors choose to purchase real estate with the hopes that it will increase in value by the time their family inherits the asset.
Bringing in another investor: To minimize their risk, investors can cash out on a portion of their investment by selling a portion of their share to another investor.
Choosing the right exit plan will reduce your risk and increase your profits, but not all exit strategies are alike. Each property should have its own individual exit strategy. The strategy also comes with experience as an investor. Newer investors should take their time doing research and selecting the right plan for them. The exit strategy should be set before your initial investment, so you set yourself up for success and not go into the investment blindly.
Bottom Line
Before launching a successful real estate investment business, you must have an efficient business plan to align your strategies with your business objectives. Our real estate investment business plan template can help get you started. These plans act as a roadmap to help you focus on the steps required to grow your business. Business plans also evolve over time, so continuously revisit and improve your strategies. There is no right or wrong way to write a real estate investment business plan as long as it is used to achieve your goals.