Let's face it, a few hours of cold calling can sometimes make you want to run for the hills and never look back. While living in the forest may sound VERY appealing right now, it's not exactly viable for long term growth (no wifi!). Instead, grab a cup of coffee (or a vodka tonic…you're an independent contractor, right?), kick your feet up, and check out our compilation of the 25 silliest, craziest real estate jokes.
If you're not feeling better after our 25 real estate jokes, there's a top secret bonus picker-upper at the end of our list. Warning: this is to be used in emergencies only!
---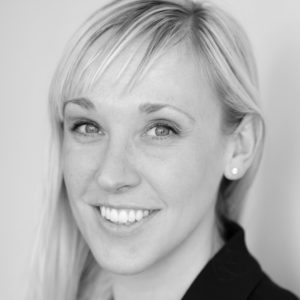 ---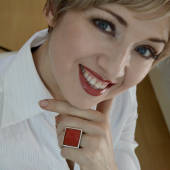 ---
3. The Appraiser's Wife
"What does an appraiser's wife say if she can't sleep? 'Honey, tell me about your day at work.'"
---
4. Genie in a Bottle
Via Reddit
A top producing real estate agent was strolling down the beach when he found an old lamp. Ever the optimist, he started rubbing the lamp and lo and behold a genie appeared before him.
"I will grant you three wishes, but since you're a real estate agent and need to learn humility for every wish you are granted, your biggest rival agent will get double whatever you wish for."
The agent thought long and hard and finally accepted the genie's offer.
"I wish for $10,000,000!!"
"Your wish is granted. You now have $10,000,000 and your rival now has $20,000,000"
"I wish for a vintage Ferrari!"
"Your wish is granted. You now have a vintage Ferrari and your fiercest rival now has two vintage Ferraris".
"You have now used two wishes and only have one left. Choose wisely. What is your final wish?"
"I wish I could donate a kidney!"
---
5. Stress? What Stress?
– Allison James, Allison James University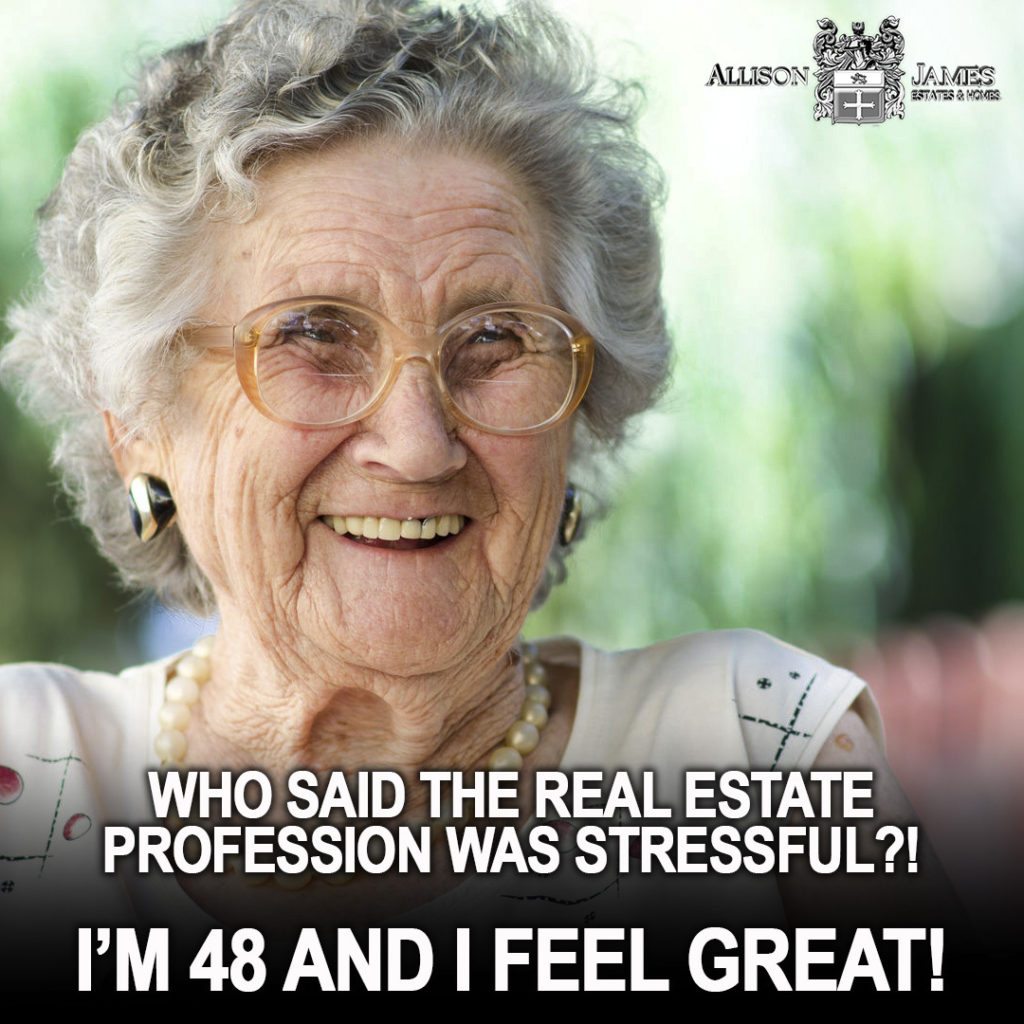 ---
6. Stay off the West Side!
---
7. I Want You to Sell my House
-Miguel W Maria, Century 21
---
8. The Crazy Buyer
TheBrokeAgent.com
---
9. How to Make a Million Dollars
Via Reddit
"I finally figured out how to make a million dollars in the real estate business. You start out with two million."
---
10. The Balloonist and the Appraiser
– Chris O'Connor, Charles Rutenberg Realty, Inc.
A newbie balloonist is blown off course and is forced to land. He is in a field close to a road, but has no idea where he is. He sees a car coming along the road and hails it. The driver gets out and the balloonist says, "Howdy! Can you tell me where I am?"
"Yes, of course," says the driver. "You have just landed in your balloon, and with this wind you have obviously been blown off course. You are in the top field on John Dawson's farm, 10 miles from Charlotte.
John will be plowing the field next week and sowing wheat. There is a bull in the field. It is behind you and about to attack you."
At that moment, the bull reaches the balloonist and tosses him over the fence. Luckily, the balloonist is unhurt. He gets up, dusts himself off and says to the motorist, "I see you're an appraiser."
"Good grief," says the other man, "you're right! How did you know that?"
"I employ appraisers," says the balloonist. "The information you gave me was detailed, precise, and accurate. Most of it was useless, and it arrived far too late to be of any help."
---
11. Real Estate Agent Infestation
If you work in an area with lots of turnover and more yard signs than trees, you'll appreciate this one.
---
12. What They Think I Do…
-David Zarett, David Zarett Properties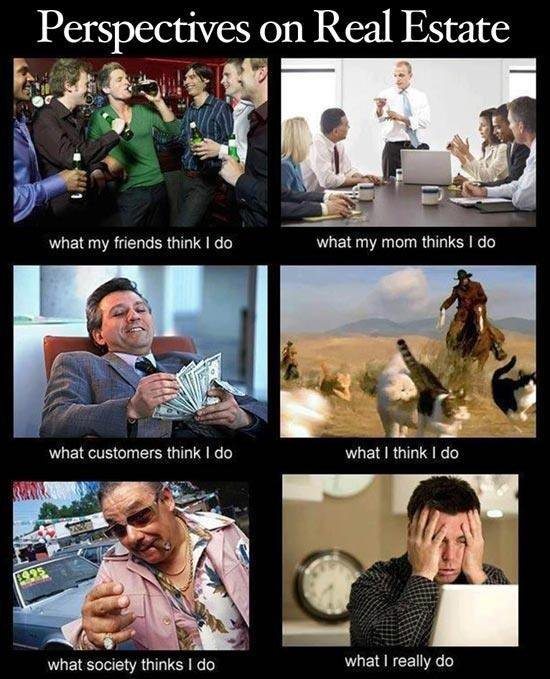 ---
13. Happiness
Tim Dulany, RE/Max (via Lighter Side of Real Estate)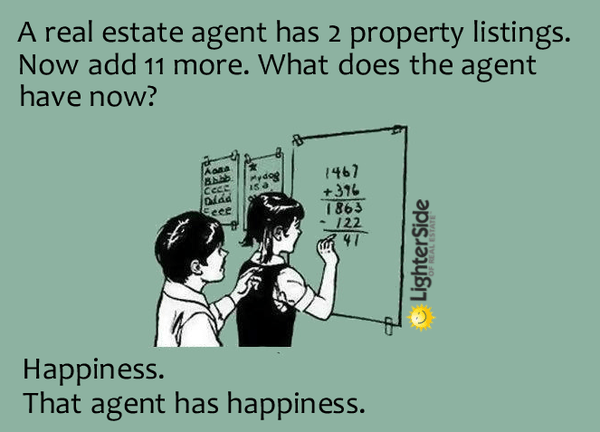 ---
14. The Smartest Kitty in the Room
Via Quickmeme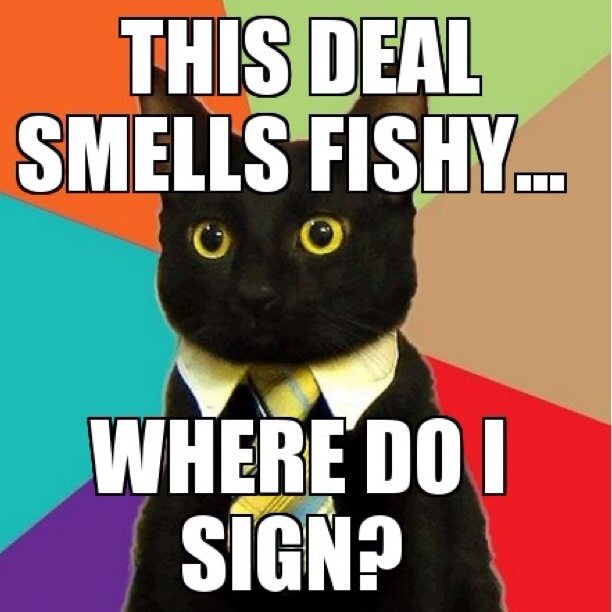 ---
15. The Neighbors
Via LaffGaff.com
"The neighbors always leave their sprinklers on which is a little bit annoying. It's a source of constant irrigation."
---
16. But I Have an All Cash Buyer!
Via LaffGaff.com
"When negotiating with a seller's agent on an apartment, always ask them if their listing price is the "condo-minimum" offer their seller is willing to take."
---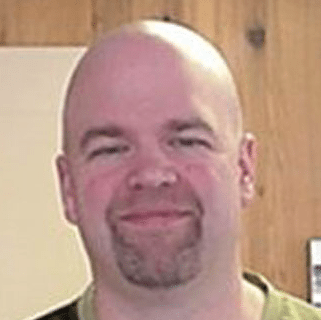 ---
18. Jeff Knox, Knox & Associates Real Estate Brokerage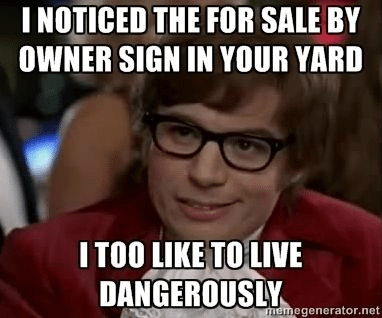 ---
19. I Always Wondered That…
"Why do buyer's agents always give their clients bees to put in their pockets? So they can tell them beauty is in the eyes of the bee holder."
---
20. Why Doesn't Everyone Do This?
Via Reddit
A real estate software sales rep was on a pitch to a new agent:
"Our new combination CRM, lead generation, and transaction management software will cut your workload in half!"
"Sounds great. I'll take two."
---
21. The Open House
---
22. $30,000
-Via Reddit
"An old man was on his deathbed. He wanted badly to take some of his money with him. He called his priest, his doctor, and his real estate agent to his bedside. "Here's $30,000 cash to be held by each of you. I trust you to put this in my coffin when I die so I can take all my money with me."
At the funeral, each man put an envelope in the coffin. Riding away in a limousine, the priest suddenly broke into tears and confessed, "I only put $20,000 into the envelope because I needed $10,000 for a new organ."
"Well, since we're confiding in each other," said the doctor, "I only put $10,000 in the envelope because we needed a new MRI machine at the hospital which cost $20,000."
The real estate agent was aghast. "I'm ashamed of both of you. I want it known that when I put my envelope in that coffin, it held my personal check for the full $30,000."
---
23. California Highway Patrol
-Casey Fleming, Loanguide.com
A California Highway Patrolman pulls over a speeding motorist. He walks up to the window, and says
"Can I see your real estate license, please?"
The driver responds "Don't you mean my driver's license?"
"No," says the patrolman. "Not everyone in California has one of those."
---
24. How to Sell Land
Via Reddit
What do you need to know to become a great vacant land salesperson?
Lot's.
---
25. How's the Market This Year?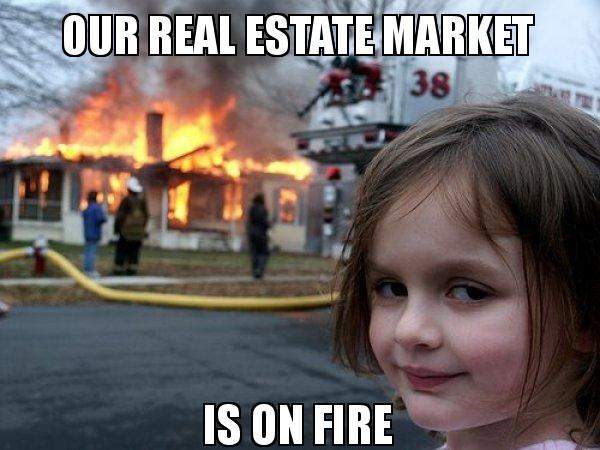 ---
26. That Feeling…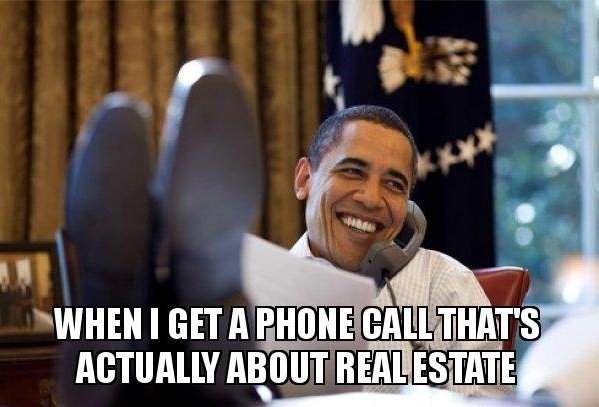 ---
27. Fantastic!
–Amy Chrisman-Williams, Huff Realty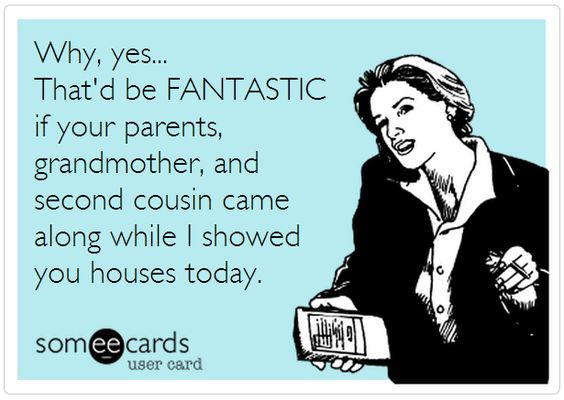 ---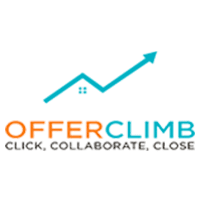 ---
Over to You
Have some great real estate jokes to add to our list? Let us know in the comments.
BONUS: Emergency Kittens and Puppies!