With the right real estate keywords and search engine optimization (SEO) strategy, you'll generate traffic and attract high-quality leads from Google searches. We've broken down what real estate SEO is, identified the top real estate keywords (e.g., "realtor" and "real estate housing market"), and provided the best tips to improve your SEO and build your real estate business online.
To help you find and determine keywords most specific to your target audience, Semrush provides extensive SEO tools. It identifies the best keywords for your audience and provides tips to further optimize your website. The platform has one of the largest keyword databases and offers tools for competitor analysis, social media management, and overall content strategy.
What Is SEO?
Real estate SEO is the practice of optimizing your website pages for search engines, primarily Google. Optimizing your website helps search engines understand the content presented on each page of your website and rank your site on search results, which helps you generate a high volume of targeted traffic.
In order to master SEO, you need to understand keywords, be able to choose the right ones, and know the difference between on-page and off-page SEO tactics.
Understanding & Choosing SEO Real Estate Keywords
SEO real estate keywords are notable terms that your ideal customer is searching for when they type into Google or other search engines. They can be as general as "real estate" or as specific as "new houses for sale in Houston under $150,000" (also called short-tail and long-tail keywords).
To determine the best real estate SEO keywords for your website, you need to identify two primary keyword metrics:
Search volume: The average monthly search volume for a particular keyword
Keyword difficulty: How competitive a keyword is, i.e., the measurement of effort needed to rank on the first page of Google search results
In general, realtor SEO keywords with a high search volume also have a high keyword difficulty. This means it will be extremely difficult to actually rank or generate traffic from a keyword like "real estate listings," which has a difficulty score of 98. Therefore, when searching and evaluating keywords for your real estate website, it's important to find a balance between keyword search volume and difficulty. Choosing keywords with a lower difficulty will help you get into search rankings more quickly.
For example, the above image shows keyword analysis for two keywords. The term "homes for sale" is a general term, and therefore has a high search volume of 253,000 and a high keyword difficulty rate of 94. However, when you add a location to the keyword to make it more specific, you find a keyword with over 1,000 monthly searches and a much lower difficulty rate of 18. This would be an ideal keyword to target because you have a higher chance of landing your website in search results and attracting targeted leads.
Short-tail Keywords vs Long-tail Keywords
In addition to keyword data, it's important to understand the difference between short-tail and long-tail keywords. Short-tail are general searches that, as the name implies, use only a few terms. Long-tail keywords, on the other hand, include more terms and are more specific. Long-tail keywords are ideal for real estate agents to target a specific audience to certain pages or posts within their websites.
Short-tail Keyword Examples

Long-tail Keyword Examples

Real estate
Houses for sale
Real estate market

How to buy a house for the first time
Condos in South Kansas City
2023 Real estate market trends Phoenix Arizona
On-page vs Off-page SEO
Search engines use a variety of metrics to determine how to rank websites, and on-page and off-page SEO strategies reflect the tasks needed to boost your overall ranking power. On-page SEO covers optimizing your website for SEO, including optimizing individual pages for keywords, ensuring your website loads quickly, and making navigation easy for users.
Off-page SEO means getting other high-quality websites to link to your website. This is how Google and other search engines determine that your website content is trustworthy. Off-page SEO helps build your domain authority (DA), which is a number that search engine tools use to rate your overall ranking power. The higher your DA, the more likely you are to rank for competitive keywords.
Why Is SEO Important in Real Estate?
By strategically using real estate keywords for SEO, you can target users actively searching for your expertise and listings. When they search for an agent or a relevant real estate term and you're using high-quality keywords, they will land on your website. This will expose them to your brand, expertise, and services.
If they sign up on your website, they believe you are a solution to their needs and they are much more likely to pick up the phone or answer your texts or emails. Additionally, having a strong SEO presence makes your real estate listings more visible to buyers. You've also automatically proven to them that you have marketing know-how and have begun to build a foundation of trust.
To further prove the importance of SEO in this industry, here are a few important real estate SEO statistics:
Although this guide will cover the ways to find the best keywords for real estate, outsourcing your SEO to a digital marketing company might be the most efficient way to harness the power of search. Hibu's search engine marketing services can increase traffic to your site and help you generate more business. The team will take care of your entire online presence and improve your search ranking both organically and through paid advertisements, optimizing both on-page and off-page SEO to increase the visibility of your website throughout the web. Learn more about Hibu on its website.
82 Real Estate Keywords & Ideas
The best keywords for your unique real estate business, also known as real estate search keywords, will be specific to your target customer, including specific terms that relate to your location and type of property. However, to help you start effectively optimizing your website for search, we've compiled a diverse range of the best SEO keywords for real estate to help you optimize your website and improve your SEO efforts.
To have keyword ideas on-the-go, download all of the following SEO keywords for real estate below.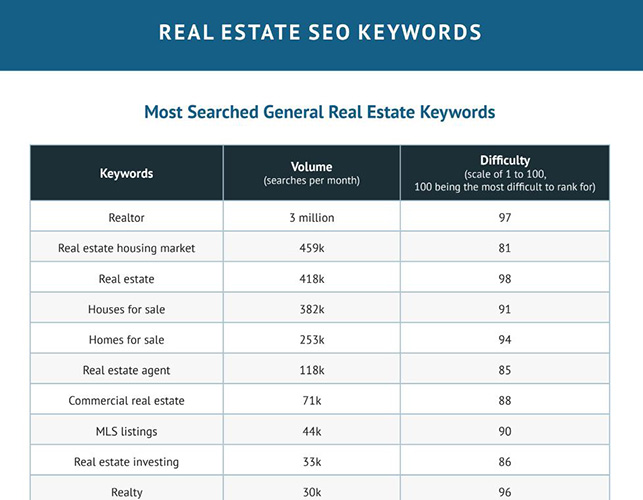 Thank you for downloading!
💡 Quick Tip:
Semrush is a keyword research tool that allows you to search, analyze, and identify the most relevant and competitive keywords. Use these keywords to increase your online visibility and bring exposure to your real estate business.
Visit Semrush
Most Searched General Real Estate Keywords
General real estate words are generic one- to three-word phrases related to the real estate industry. These short-tail keywords are some of the most searched real estate keywords with high monthly search volume and are typically hard to rank for. However, it's important to know which keywords in real estate are ranking nationally, so that you can make adjustments and find more specific versions of these to include on your website.
The top real estate agent keywords include:
Keywords

Volume

(searches per month)

Difficulty

(scale of 1 to 100, 100 being the most difficult to rank for)

Realtor

3 million

97

Real estate housing market

459k

81

Real estate

418k

98

Houses for sale

382k

91

Homes for sale

253k

94

Real estate agent

118k

85

Commercial real estate

71k

88

MLS listings

44k

90

Real estate investing

33k

86

Realty

30k

96

Real estate broker

28k

62

Real estate market

28k

82

Real estate near me

23k

93

Real estate news

16k

81

Real estate for sale

8.7k

97

Real estate websites

7.9k

98

New homes

6.2k

93

Real estate listings

3.9k

98
Pro tip: As you look through this real estate keywords list, keep in mind that keyword data is an estimation, not an exact calculation or a guarantee of traffic or ranking. Every SEO tool provides different estimations, and the numbers change constantly. Having the keyword data is extremely important, but don't expect your traffic to perfectly match the estimations you see online.
Most Searched Real Estate Lead Generation Keywords
More of the top real estate search words are lead generation terms, which use transactional terms like "for sale." These are essential keywords for lead generation because they attract users who are most likely to want to make a purchase. Therefore, you'll want to use these terms on the same page alongside a listing search form. For instance, if their search keywords are "houses for sale," agents should have an IDX website where visitors can perform their own property searches in a specified area.
Take a look at the top real estate lead generation keywords:
Keywords

Volume

(searches per month)

Difficulty

(scale of 1 to 100, 100 being the most difficult to rank for)

apartments for rent

991k

92

Houses for rent

571k

80

houses for sale near me

391k

79

houses for sale

382k

91

Land for sale near me

174k

43

land for sale

122k

38

For sale by owner

86k

81

Realtor near me

80k

91

vacation rentals

66k

94

condos for sale

45k

25

New construction homes near me

32k

80

New construction homes

22k

75

property for sale

18k

95

we buy houses

13k

60

luxury homes

9.9k

79

top real estate companies

5.8k

47

home buying

3k

92

how to find a realtor

1.7k

64

how to find a real estate agent

1.7k

65

first time home buying

1.2k

77

How to find a good realtor

600

61
Real Estate Long-tail Keywords
In general, the most powerful keywords for real estate SEO are going to be long-tail keywords. Long-tail keywords are more specific key phrases that appeal directly to searchers in your area or real estate niche. Although they have a lower search volume than general terms, they also often have a lower difficulty rating. In addition, long-tail keywords also help you attract a certain type of client, like first-time buyers or investors.
Here are some examples of long-tail real estate keywords:
Keywords

Volume

(searches per month)

Difficulty

(scale of 1 to 100, 100 being the most difficult to rank for)

how to invest in real estate

14k

74

Real estate investing for beginners

14k

51

How much is my home worth

10k

73

What is my home worth

9.6k

75

steps to buying a house

9.3k

81

How to invest in real estate with no money

2.2k

39

How to sell your house

2k

50

how to find a realtor

1.7k

64

how to find a real estate agent

1.7k

65

How to find a good realtor

600

61

Ways to invest in real estate

600

65

where to buy rental property

250

43

how to get a house for cheap

200

24

Steps to buying a house with bad credit

200

25

first time home buying guide

60

66

step by step guide to buying a house

60

75

what are realtors commissions

20

N/A
Location & Property-specific Real Estate Keyword Ideas
Arguably, the best real estate keywords to attract your target audience are specific to your location and property types. When you simply add a city, town, or county to a general keyword, the difficulty rating automatically decreases—providing you with a valuable opportunity to attract leads.
For instance, if you're looking to become a luxury real estate agent, you'll want to use the term "luxury real estate" as part of your SEO content strategy. However, you should adjust the term to be more specific to your audience, like "Luxury homes Utah" or "Luxury homes Park City."
Here are some ideas to help you find the top real estate keywords for your local audience:
Keywords

Volume

(searches per month)

Difficulty

(scale of 1 to 100, 100 being the most difficult to rank for)

2 bedroom apartments for rent

25k

7

Land for sale in Colorado

17k

30

3 bedroom apartments for rent

17k

4

Land for sale in Florida

16k

18

Land for sale in Tennessee

15k

21

Houses for sale in Texas

10k

39

Houses for sale Wichita KS

8.2k

26

Houses for sale Lincoln NE

7.9k

23

Houses for sale Erie PA

7.5k

13

Myrtle Beach homes for sale

6.5k

50

Land for sale in Ohio

5.6k

14

Myrtle Beach real estate

5.1k

43

Apartments for rent Bakersfield

4.2k

26

New construction homes NJ

2.3k

26

Vero beach homes for sale

2.1k

18

Homes for sale vero beach FL

1.3k

18

Beach homes for sale

1k

45

Waterfront homes for sale Lake Norman

1k

12

New construction homes Dallas

600

28

Luxury homes Utah

300

16

New houses for sale in Houston under $150 000

300

4

Luxury homes for sale in Utah

200

5

New York City real estate market

80

37

Mesquite Nevada homes for sale with pool

80

0

Arconia New York apartments for sale

50

17

Luxury homes for sale in Nevada

70

4
8 Tips to Improve Real Estate SEO
Creating a strong SEO strategy that consistently generates targeted traffic and new leads does not happen overnight or without effort. It takes time and consistency to build a website that ranks well in Google and converts traffic to leads, and the process can be confusing.
Here are eight tips to help you create a strong real estate SEO website:
1. Perform Keyword Research
SEO is extremely powerful, but also highly competitive. You cannot choose a few keywords that sound good and expect any significant results. In order to help search engines understand your website and show it to relevant users, you must research a variety of keywords and strategically determine the best ones to target.
To start your SEO journey with the right knowledge, use a reputable tool like Semrush. Although there are hundreds of SEO tools on the market, many of them are limited, inaccurate, and don't provide the additional SEO and keyword data you need to be successful. Semrush provides extensive details on every keyword you search, including search volume, competition, search intent, trends over time, and even pay-per-click (PPC) data. It also automatically generates additional keyword ideas so you can easily evaluate and compare different keyword options.
2. Consider Keywords' Search Intent
Search intent defines the purpose behind every online search. It is an extremely important element of keyword research and SEO strategy but is commonly missed by real estate professionals. In order to publish content that ranks well in search engines and successfully generates leads, you need to identify the search intent of each keyword you target.
Semrush defines four types of search intent:
Navigational: Searches for a specific page (e.g., "Keller Williams find an agent")
Informational: Searches looking for information (e.g., "how to buy an investment property")
Commercial: Users doing research in order to make a purchase (e.g., "types of homes in Tucson")
Transactional: Searches made to make a purchase (e.g., "real estate buyer's agent Tucson")
Based on the user's search intent, you should format your website page appropriately. For example, someone who searches "how to buy a house in Connecticut" is probably not looking for an IDX page with all your listings. Instead, they are looking for information about the process.
On the other hand, if the keyword is "Homes for sale east Hartford CT," it's likely that the searcher is either ready to buy a house or in the early stages of considering their options. They are most likely looking for real estate listings, so you know how to best format your website to fit their needs.
3. Publish Useful Real Estate Content
Once you've chosen the right keywords to target and you've established their search intent, you must create website content that effectively addresses the searcher's questions, topic, or concerns. Each page of your website should provide valuable information pertaining to the specific query and be original and different from your competitors.
Many successful real estate agents optimize long-form content for SEO, which is typically around 2,000 or more words. This is ideal for many types of content, like blog posts, neighborhood guides, and real estate market analyses. Make sure your content layout is well-optimized, with your target keyword in the title, well-organized headings and subheadings, and short, easy-to-read paragraphs and bullet points.
Alternatively, you can also incorporate different types of media and content to stand out from your competition. For example, embed videos from social media, create detailed infographics or charts, or even add an audio recording of an interview or podcast. Consider using Canva to easily create unique visual content. It has thousands of templates that are easy to edit and customize with your branding. You can even repurpose your graphics for email and social media. Plus, Canva is free to use.
4. Add & Optimize Images
Images are important to your website's overall SEO, both from a technical and user-friendly point of view. Placing images on your pages makes your content more engaging and easier to read. In addition, images present an opportunity to incorporate more keywords and even rank in Google image searches.
Make sure to add alternative text, or alt text, to every image on your site. The purpose of alt text is to provide a description of the image for accessibility. It allows visually impaired individuals to gain an understanding of the image, and is also used if your images don't load. Your alt tag descriptions should be clear and should include keywords.
In addition, using appropriate photo captions engages readers and allows search engines to understand what the photo is and associate the image with your selected keywords. The image example above contains a property listing, and the alt tags include the specific property address that will help the webpage show up in search engine results if anyone searches for the property address directly.
5. Improve Your Google My Business Page
Agents can use their Google My Business (GMB) profile to get in front of more prospective clients. Make sure your contact information is up to date, but leverage the ability to use your keywords in the description of your profile to help improve your ranking. It'll help searchers better understand what you do and increase click-throughs to your website.
A well-managed GMB page can indirectly increase your website rankings. It also increases the chances that you'll be shown in Google's Local three-pack, the search result Google shows to users who are looking for an agent.
6. Optimize Your Website for Mobile Users
Recent studies show that approximately 60% of all online searches are conducted on a mobile device. Make sure your website is optimized for mobile users so that you don't lose this much of your traffic. In addition, Google ranks websites that are optimized for mobile over those that aren't.
If you don't know how to optimize your website for mobile users, consider using a website builder like Real Geeks. It provides fully responsive and mobile-optimized websites with IDX capabilities to ensure that your traffic is set up for success. Learn more about Real Geeks today.
7. Check for Broken Links
Broken links are links on a website that no longer work. Links can be broken due to an invalid website URL or if the website no longer exists. These broken links harm your website SEO by increasing website bounce rates and decreasing time on websites. It can also lower your SEO rankings because Google may see it as an indication that your website is outdated. To help you manage your links, use Semrush's Site Audit tool.
8. Maximize Your Website Speed
Google wants to ensure that users get quick access to their searches, so it considers the speed of your website in its rankings. In fact, 47% of online consumers expect websites to load in less than two seconds. Longer loading times increase your website's bounce rate, which means that visitors don't stay on your website or engage with your content.
There are a few changes you can make to increase your website speed, like:
Choose a website hosting option that supports high-volume websites
Upload appropriately sized images
Allow page caching
Minimize the number of plugins
Utilize a content delivery network (CDN)
If you don't want to manage the technical parts of your website, Placester is an ideal fit for your needs. It's a website platform built specifically for real estate professionals and optimized for SEO and content marketing. It also provides a complete services marketplace, so you can outsource ongoing website management tasks to a professional. Start using Placester for free.
Bottom Line
Selecting the best keywords for real estate agents to use in your SEO strategy will help improve your website's visibility on search engines. Including quality content tailored to your target audience will support your website's keywords and phrases, and it will also help you rank high on search engine results. It will help boost your overall brand's engagement, generate high-quality leads, increase awareness, and increase your revenue.
Frequently Asked Questions (FAQs)
Generating leads through search engines requires strategy and consistency, but it can be incredibly powerful for agents, teams, and companies. SEO helps real estate professionals connect with thousands of leads who are actively searching for answers to real estate questions.
---
When choosing your real estate SEO keywords, it's important to select some common real estate terms but combine them with additional terms specific to your audience. For example, some common real estate terms include closing, homebuyer, home for sale, and listing. These terms alone would not be ideal keywords for SEO, but they could be adjusted to reach a specific audience.
For example, common terms in real estate could be turned into good quality keywords like this:
Closing: "Closing on a house checklist"
Homebuyer: "First time home buyer Florida"
Home for sale: "North Scottsdale homes for sale"
Listing: "Real estate listing websites Oregon"
MLS: "What is MLS in real estate"
---
Selecting the right keywords to target is a crucial part of developing your SEO strategy. Start by using a powerful keyword research tool like Semrush, then evaluate keyword possibilities based on their search volume, keyword difficulty, and search intent. Use the tips above to find keywords that target your ideal audience and have a good balance of search volume and keyword difficulty.
---