Are you using the most effective real estate keywords on your website or blog? If you're reading this article, chances are you're not. It's not your fault though–the amount of bad keyword advice pushed on Realtors by companies trying to sell them websites is staggering.
Luckily, we're here to help. In just three short years, we built up traffic to our site, FitSmallBusiness.com, from zero visitors a month to over 800,000 almost entirely through writing articles based on thorough keyword research. In other words, we researched the most effective keywords, wrote great articles around them, and got other people to link to them which helped our articles rank higher on Google.
In this article, you'll learn how to come with the best real estate keywords for your website, blog, or social media account. Then, we'll walk you through the keyword research tools that the pros use so your site continues to rank highly on Google. Let's get started.
The Best Real Estate Keywords for 2017
Below, you'll find the most-searched-for 25 real estate keywords in 2017. This data comes from Google AdWords Keyword Planner and a keyword tool called Moz which we talk about later in this article.
Please keep in mind that these keywords are based on national search results. After the list, we'll explain how to modify these keywords to target your local farm area. And if you want to go really in-depth, we'll also explain all the keyword research tools that our in-house SEO team uses.
These are the top 25 real estate keywords nationally.
To download the full list (150 best real estate keywords 2017) as a PDF file, click here.
Best Real Estate Keywords for 2017
| Keyword | Average Monthly Searches |
| --- | --- |
| Houses for sale | 673000 |
| Real estate | 450000 |
| Homes for sale | 368000 |
| MLS | 368000 |
| For sale by owner | 165000 |
| Houses for sale near me | 90500 |
| Land for sale | 90500 |
| Condos for sale | 90500 |
| Commercial real estate | 60500 |
| Foreclosed homes | 60500 |
| Foreclosure | 60500 |
| Home for sale | 60500 |
| Real estate agent | 49500 |
| MLS Listings | 49500 |
| Real estate license | 40500 |
| For sale | 40500 |
| Real estate school | 33100 |
| Homes for sale by owner | 33100 |
| FSBO | 33100 |
| Townhomes for sale | 27100 |
| Buying a house | 27100 |
| Realty | 27100 |
| Houses for sale by owner | 27100 |
| Homesearch | 27100 |
| MLS Listing | 27100 |
The keyword list above are general real estate keywords. In other words, these are the keywords that the most people are searching for nationally.
You most likely are not going to able to rank nationally for these keywords because of the level of competition, but you wouldn't necessarily want to either. You want to rank for these keywords when people located near you search for them. So how do you modify this keyword list to target your local farm area?
There are two answers to this question:
Using location modifiers to adapt our list above for yourself (e.g. not "homes for sale," but "homes for sale Brooklyn" or "homes for sale Williamsburg")
Google knows the searcher's location, so sometimes you can use general keywords and still rank in your area.
We'll explain more about how these work and look at some examples.
Hyper local keywords > Local keywords > General keywords
In order to understand how Google ranks pages in search results, you have to think like a home buyer. When it comes to real estate keywords, hyper local usually beats local, and local always beats general. Here's an example.
Let's say you're looking to buy a brownstone in Northern Prospect Heights, Brooklyn. You're NOT interested in condos or co-ops, though there are likely hundreds on the market. Take a look at the following list of keywords.
We start out very general with "real estate for sale" and add on increasingly specific location modifiers (e.g. "Prospect Heights real estate"). Notice how the more specific we get, the search volume goes down, but so does the keyword difficulty. Keyword difficulty is a simple numerical ranking for how hard it is to beat the competition and get on the first page of Google for a given keyword. The lower the difficulty number, the easier it is to rank for that term. So, you're much more likely to be able to rank your website or blog for "Prospect Heights real estate" than you for "real estate for sale" or "New York real estate." This also works to your benefit–you want to reach out to people who are looking for homes in your farm area–Prospect Heights, Brooklyn in this example.
You can use location modifiers to try to rank for almost any of the keywords included in our list above of the 25 most popular real estate keywords. For instance, if you're a realtor in Charlotte, NC, try "houses for sale Charlotte" instead of "houses for sale," and try "condos for sale Charlotte, NC" instead of "condos for sale." Using local and hyperlocal modifiers are the key to ranking your site or blog.
Real Estate Keywords – From general to local to hyper local
| | Keyword | Search Volume | Difficulty |
| --- | --- | --- | --- |
| General Keywords | "Real estate for sale" | 11.5k-30.3k | 83 |
| | "New York real estate" | 4.3k-6.5k | 75 |
| Local Keywords | "New York City real estate" | 851-1.7k | 72 |
| | "Brooklyn real estate" | 2.9k-4.3k | 59 |
| | "Prospect Heights real estate" | 101-200 | 39 |
| Hyper Local Keywords | "Prospect Heights Townhouse" | ND | 40 |
| | "Prospect Heights townhouse for sale" | ND | 38 |
Combine Local Keywords and General Keywords to Rank Higher on Google
While best practice is to use local and hyperlocal keywords whenever possible, Google will still recognize general real estate keywords and rank your page in local search results. The reason for this is that if you're searching for a service, Google automatically assumes you want to find a service nearby.
For a great example of this, if you search for "real estate school," Google will display local results (i.e. schools in your area) even if the pages only rank for the general term "real estate school." Try it.
That means that you don't always need to use local or hyperlocal keywords for your blog posts, especially if they don't add value for your readers. For example, if you're writing a blog post about curb appeal ideas, you don't need to use "curb appeal ideas in Huntington Beach" as your keyword unless there are unique trends in curb appeal in Huntington Beach. An article titled "25 Awesome Curb Appeal Ideas for Under $500" will probably help your site rank locally as well.
For your website itself on the other hand, combining general keywords with high search volume (homes for sale) and local keywords (Huntington Beach) will generally give you the best results. For example, naming your site "Huntingtonbeachhomesforsale.com" will more than likely help you rank higher than "homesforsale.com" or even "Californiahomesforsale.com."
We'll talk below about ways to do keyword research on your own, but if you're reading this and feeling that SEO optimization is going to take too much time, Hibu can help. They are a Google Premier Partner that will examine your site and offer strategies to improve your rankings on search engines, boost your social media posts, and get your site in front of more readers. Get a free consultation today:
The Best Tools for Researching Real Estate Keywords
The framework above should give you what you need to select some good keywords for your website or blog. However, to go to the next level, you need to know how to do keyword research on your own.
Researching real estate keywords can be a bit tricky and to do it properly, you will have to use several different tools. Here's a rundown of the pro tools you'll need to know about and that we use here at Fit Small Business.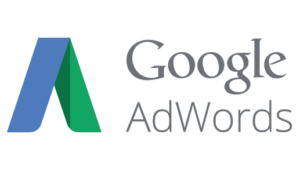 Research Popular Keywords and Search Volume in Your Area With Google AdWords Keyword Planner
Since you're trying to get your site to rank highly on Google, Google AdWords Keyword Planner is a great place to research what keywords will work best for your site. Out of all the keyword research tools online, Google Google' Keyword Planner gives you the most accurate average of monthly searches (called search volume) for your keyword.
Google recently limited access to search volume data to people who have active paid advertising campaign. If you don't have a campaign, they only show a very wide range instead of an average. For example, the keywords "houses for sale" gets a monthly average of 673,000 searches. If you don't have an active campaign, they show the search volume as 100,000-1,000,000 searches per month. Not very useful.
If you're interested in advertising on Google, starting a campaign will have the added benefit of giving you much more precise search volumes. To learn more about advertising on Google, check out our in-depth guide here.
Here's how to get started researching keywords on Google Google AdWords Keyword Planner:
Go to https://AdWords.Google.com and open an account,
Click on "tools" then "keyword planner."
Once you're on the Keyword Planner Page, click on "find new keywords and get search volume data."
If you click on the "targeting" option, you can even get search volume for keywords people are using in your state. For now, stick to the entire US. You can add local identifiers if needed.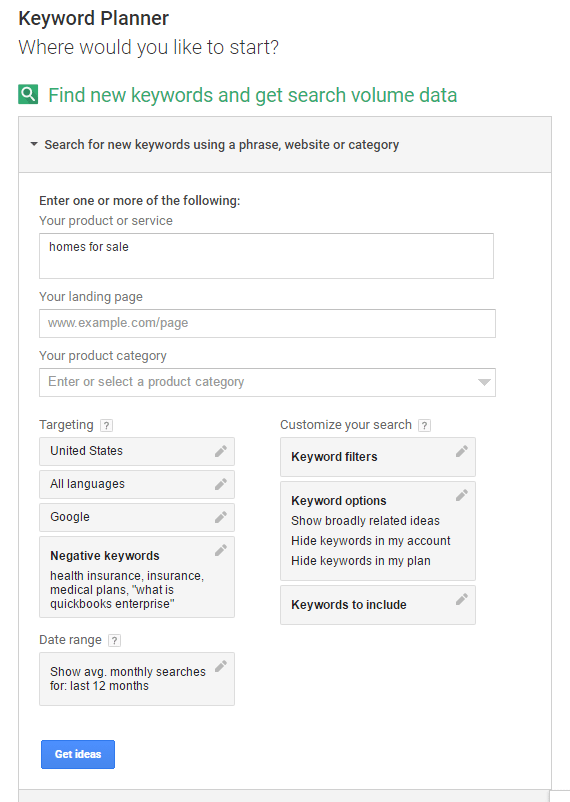 Once you get to the results page, you'll be shown keywords, average monthly searches (search volume), competition, and suggested bid. You can sort by average monthly searches to get to the most popular keywords for your area, as well as see a list of suggested related keywords. While it's not a perfect science, you generally want to stick with keywords that have at least 500 searches on average per month.
The "competition" rating is a measure of how competitive (low, medium, high) a particular keyword is to bid for to buy advertising on Google. Generally speaking, if the competition is low, it might mean it's easy to show up in the search results. Here's what a typical Google AdWords Keyword Planner results pages looks like.

Find More Keyword Ideas and Keyword Difficulty on Moz

After looking up local real estate keyword ideas and finding accurate search volume on Google AdWords Keyword Planner, your next step should be to look up more keyword ideas and search keyword "difficulty" on Moz Keyword Explorer.
Keyword difficulty is a ranking Moz uses that measures how difficult it is, on a scale of 1 being very easy, to 100 being very difficult, to make it onto the first page of Google for a given keyword. While it's not a perfect science, people who are just starting out should try to rank for keywords with a difficulty of less than 40.
Like Google's Keyword Planner, Moz is not entirely free. However, they allow you to research 2 keywords per day without an account.
Alternatively, you can sign up for an account with Moz Pro. On a month-to-month basis, Moz Pro is $99 per month with a free 30 day trial. If you pay the year in advance, that goes down to $50 per month.
Though you may be tempted to stick with Moz for search volume, keep in mind that Moz and AdWords sometimes have conflicting data on search volume. When in doubt, always trust Google over Moz when it comes to search volume.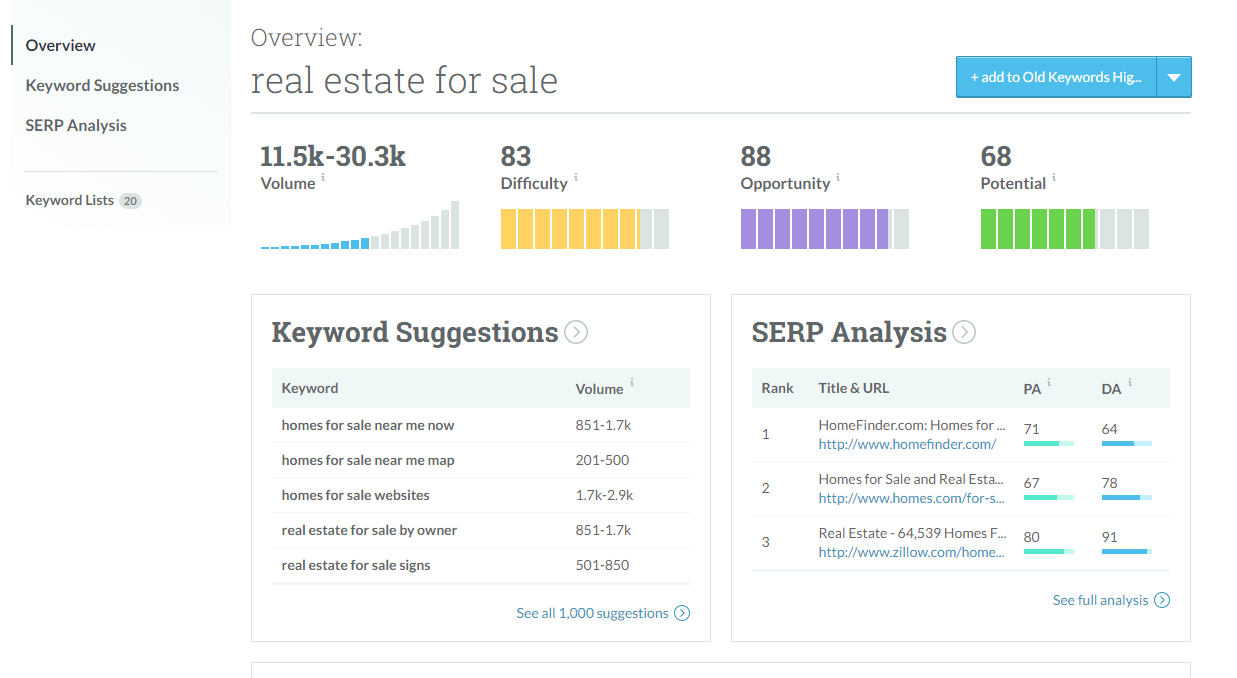 As you can see from the screenshot above, according to Moz, the keyword "real estate for sale" gets 11.5k-30.3k searches per month with a difficulty of 83. While there are a ton of people searching for this every month, the high difficulty means that there are also a ton of other websites (many of them more established than yours) trying to rank for the same keyword.
Keep drilling down and checking different local keywords that you found on Google AdWords Keyword Planner until you find something with a decent ratio of searches to difficulty. As you find new keywords, add them to a spreadsheet along with search volume and difficulty.
"Open House Ideas" is a great example of a keyword with relatively high search volume (1300) and relatively low difficulty (31). That makes open house ideas a great keyword to use for a blog post.
Find Out What Real Estate Keywords Your Competition Ranks for Using SEMrush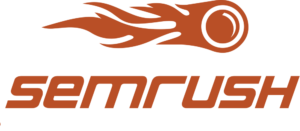 Another great (and sneaky) way to find good real estate keywords to rank for is to plug your competitor's website into SEMrush to see what keywords they rank for. SEMrush will also tell you how much of their traffic comes from Google organic searches and how much comes from Google paid advertising. If most of their traffic comes from advertising, it could mean they put very little effort into SEO and might be easy to outrank on Google.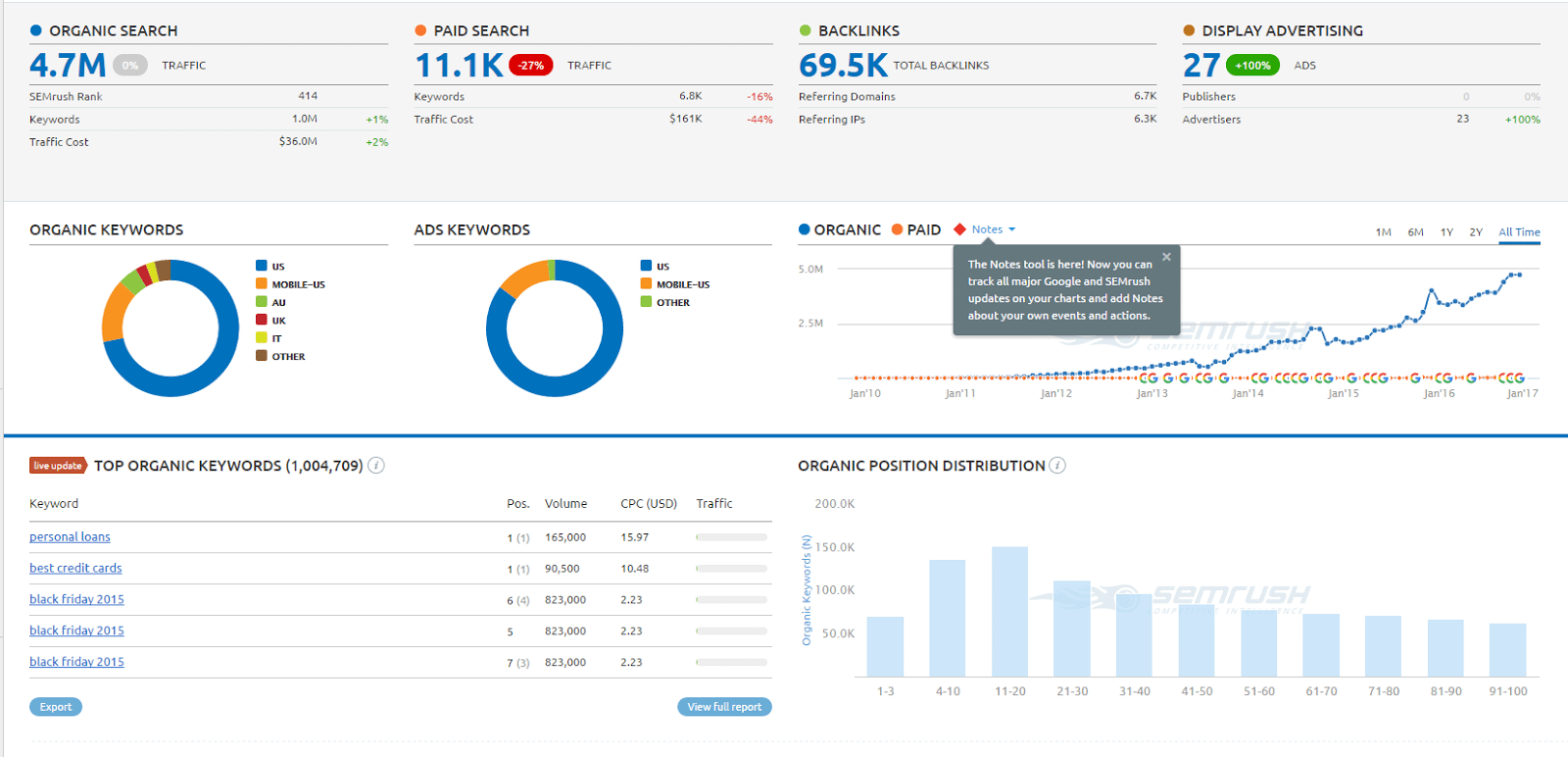 If you don't have a SEMrush account ($69 per month), then you will be limited to only the top few keywords your competitors rank for. While this can still be very useful information to help come up with keyword ideas, if you want more data you'll need to sign up for an account.
Real Estate Keyword Research Tips from the Pros
Pick a Topic, Then Drill Down to Find Long Tail Keywords
Eric Siu, CEO at Single Grain
"The search pattern over the years has shifted and has become topical in nature. Picking a topic and then breaking it further down to long tail keywords work better. The other thing is to look at backlink profiles of the ranking pages in order to evaluate competition and to come up with a strategy to surpass those links before you pick that keyword"
Want to learn more? Check out Single Grain's deep dive on effective SEO techniques for 2017 here. 
Find Questions Your Leads May Ask Early on
John Clark, Founder of Fuze SEO
"Realtors should look for searches users might be doing at the top of the funnel – when they are just beginning to consider buying a home or doing research on the process. A tool like Answer The Public can help identify strings of questions that are typically asked when "buying a home."
While warm leads are always better than cold leads, the more traffic you drive to your site, the higher your site will rank in Google. If you don't have a cold lead nurturing strategy in place, consider using software like Zurple, which can nurture your leads automatically until they're ready to buy.
Organize Your Keyword Lists
Spokane Washington Realtor Stephanie Butler recommends organizing your keyword lists after you finish researching.
"After doing keyword research, realtors and real estate agencies should organize their keywords into different groups. Each group should include a primary keyword as well as related terms that are synonyms or slight variations of the primary keyword. This is an important strategy for structuring the architecture of your website and avoiding keyword cannibalization."
While "keyword cannibalization" may sound like a slasher flick written by a software developer, it's actually when you use the same keywords over and over again on multiple pages on your site. You should always try to use different keywords, or at least synonyms for your keywords on each page.
Don't Overuse Real Estate Keywords on Your Site or in Your Blog Posts
Here's a great tip from our in-house SEO Director Michael Heiligenstein.
"Don't follow the 'if a little is good for me, a lot should be great for me' mentality while using keywords on your site. If you use too many keywords, you risk getting penalized by Google. Worse, your posts will sound unnatural and spammy. Try to use keywords sparingly and in natural sentences, Around 5 keywords per post should do it."
The Bottom Line
Doing thorough keyword research is one of the most important things you can do to get your site to rank on Google. You need to focus on local and hyperlocal real estate keywords to drive interested leads to your site. While free keyword research options are very limited in 2017, there are free or cheap ways to get great data and keyword ideas.
If you decide to enlist some help with your SEO optimization, we recommend working with Hibu. As a Google Premier Partner, they have an excellent track record when it comes to boosting website rankings. Click here to get a free consultation.