Real estate landing pages generate leads by collecting contact information. The best landing page examples have three things in common: effective copy, simple and focused design, and an engaging call to action (CTA). These elements encourage your audience to provide contact information and result in higher conversion rates. Check out these real estate landing page examples and follow our tips for designing effective landing pages that generate and convert leads.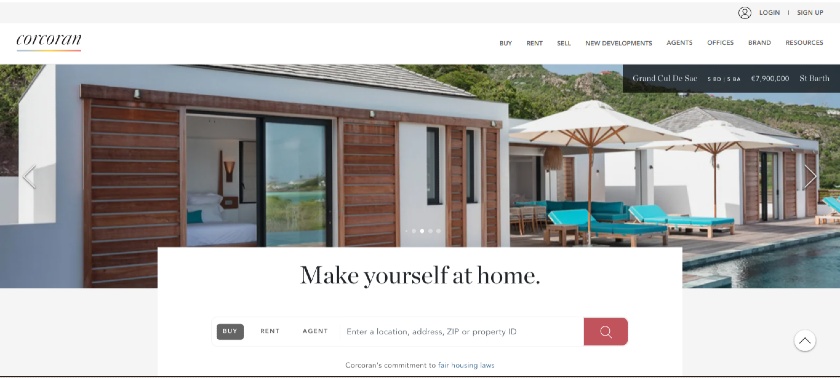 This is an example of a home search landing page targeted to generate leads from buyers and renters. The headline is simple and encourages the site visitor to find a home with the help of Corcoran. The page has rotating pictures showing different types of homes, all of which are clear and eye-catching. The picture in this example is great for people wanting to buy vacation rentals, in particular.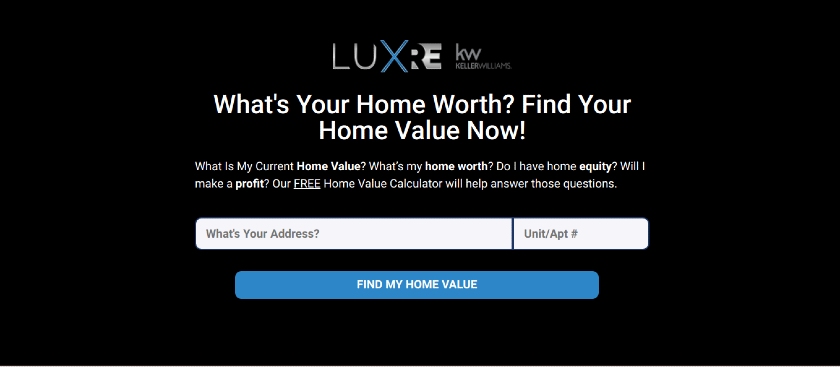 When it comes to page design for a luxury audience, less is often more. Although this home valuation landing page lacks photographic images, it's a great example of a direct headline and call-to-action (CTA) button that appeals directly to homesellers. If you want to attract sellers, home valuation pages provide an instant and valuable resource that encourages sellers to exchange their contact information for your knowledge.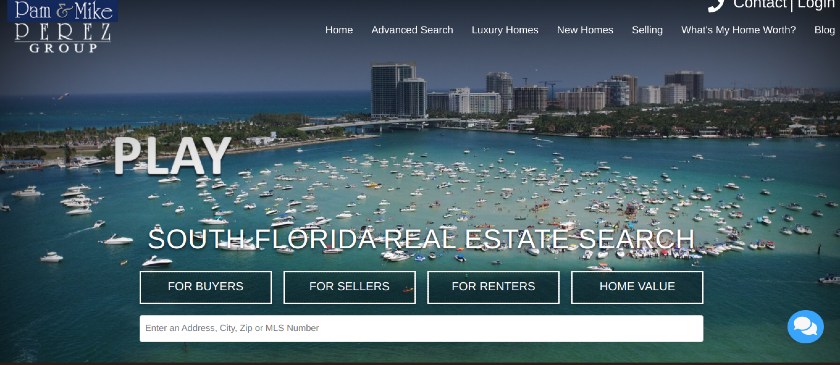 The example from Pam & Mike Perez Group showcases Florida real estate and, similar to the first example, contains stunning rotating pictures in the background that target all types of clients specific to the Florida area. Keep in mind that many real estate teams employ multiple landing pages, especially if they specialize in a variety of different client types.
For example, sellers can click on "For Sellers" or "Home Value" to go to a seller-targeted landing page that may offer to give a home valuation or comparative market analysis in exchange for the seller's information. Likewise, selecting the "For Buyers" or "For Renters" buttons directs visitors to a free content or home search landing page that captures lead contact information in exchange for access to listings or downloadable guides, checklists, market studies, e-books, or similar types of buyer-targeted resources.

Opendoor takes a simple approach to their landing page with a straightforward picture, catchy headline, CTA, and copy targeting sellers. While basic, this is an effective way to capture leads because it provides the needed information of a home valuation to sellers at the easy, low "cost" of their contact information. This further allows the agent to identify the prospect's neighborhood and budget before contacting the lead to start a conversation about the sales process.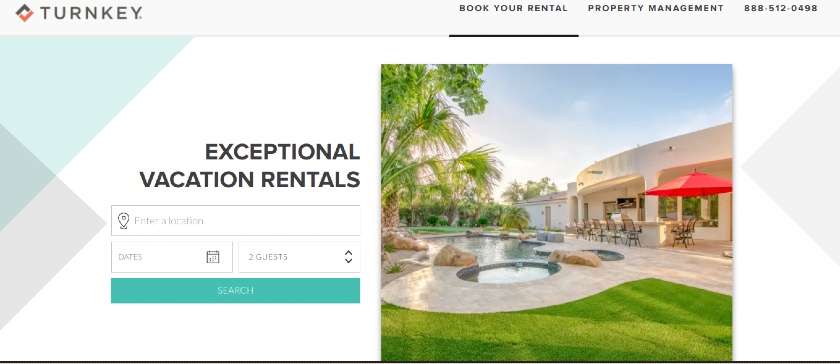 This landing page example sends a direct message to luxury vacation property renters by inviting them to enter their search criteria. This then directs the site visitor to results where they can explore the rental listings that fit their criteria.
It's worth noting that for vacation rentals, they added a search criteria section that specifies the time period in which the individual is traveling to help narrow down their search for available results. This improves search result quality for the site visitor and avoids unnecessary disappointment should the visitor be interested in a property only to find out it's unavailable during their desired vacation time.
How to Design High Conversion Real Estate Landing Pages
While these real estate landing page examples give you a nice starting point and ideas for creating your own landing pages, it's important you remember to include all the necessary components if you want to maximize lead generation and conversion. Your written copy, visuals, and CTA must all be on point to attract visitors and encourage them to share their contact information on your lead capture form.
We analyzed the above real estate landing page examples as well as additional examples below with five key tips for making sure your landing page is ready to generate real estate leads:
1. Create Engaging Copy
The most important thing to consider when writing copy for your landing page is to always keep the goal of lead conversion top of mind. Your copy should clearly outline the service or resource the page is offering and how it solves the client's problem. This not only generates more leads, it also encourages potential clients to work with you after visiting your landing page.
Here are three key elements that contribute to engaging copy on your real estate landing page:
Use a Direct Headline
A direct headline is your first—and sometimes only—chance to captivate visitors who come to your real estate landing page. Very often, people will read only your headline before deciding to stay on your page and read more or move on to a different site. Your headline, sometimes called a page title, should be a short sentence or phrase that grabs the attention of the reader in simple language that directly conveys to the reader why they are on your page.
When creating your real estate landing page, keep in mind the types of leads you want to generate and how you can interest them in working with you, starting with your headline. Take a look at the example above to see the use of a bold and direct statement. "Find out what your home is really worth" stands out visually from the rest of the page in both color and size, and lets the reader know they are visiting the page to receive a home valuation before selling their property.
Keep Page Content Simple & Break Up Text
To optimize your copy, keep the language simple and break up the text. Remember that most site visitors have a short attention span. Studies tell us you have just eight seconds to capture their interest, so keep your copy short and to the point.
Use short declarative sentences. Complex sentences tire people out quickly, and if they get bored or overwhelmed, they might leave your page. Avoid large words and make your copy easy to read and understand. Finally, don't use real estate industry jargon and acronyms because you are not speaking to other real estate agents—you're speaking to potential clients who may not be familiar with industry terms.
The image above from Unbounce shows a real estate landing page example with short sentences and short paragraphs. Its copy is further broken up with white space, subheadings, icons, images, bullet points, and valuable testimonials, with less important information placed lower on the page.
A visitor should be able to skim your landing page easily to get the information they need. Before adding more copy to your page, ask yourself if it will help convince your lead to fill out the form and give you their contact information. If the answer is no, leave it out.
Use Statistics & Provable Statements
You don't have much time to grab a potential client's attention and get them to convert. For that reason, you need to pack as much punch into your words as you can. One way to do this is by using statistics and measurable (or provable) statements in your real estate landing page copy.
Here are some examples of impactful and measurable copy:
Mediocre: "There are lots of great three-bedroom ranches in your area."
Better: "There are 97 three-bedroom ranches in West Cucamonga on the market right now."
Best: "There are 17 three-bedroom ranches under $400K that came on the market yesterday. See them before they get offers!"
Unfortunately, sometimes real estate agents have a bit of an uphill battle with prospects who think agents are willing to be sneaky or dishonest just to bring a client in the door. Make your language transparent by using measurable phrases and then proving that they are true.
For instance, if you mention you have "17 three-bedroom ranches under $400K," that information should be accurate, honest, and provable. At the first hint of untruth, intentional or not, it will be difficult to convert that lead into a client. Your leads need to trust you through your words if they're going to become your client.
2. Employ Inviting & Creative Real Estate Landing Page Design
With food, you eat with your eyes first, and your real estate landing page is no different. Obviously it's important that your written copy is concise and directly speaks to your potential clients, but appealing visual design draws your visitors in even before they read what's on the page. The visual design and layout of your landing page should be simple, attractive, persuasive, and make it easy for site visitors to give you their contact information.
Here are a few tips and examples of how to optimize the visual design of your real estate landing pages:
Use High-impact Visuals That Don't Distract
Your visuals need to be engaging, but should not distract from your purpose. As a real estate agent, you're selling a lifestyle and image of someone's dream property, so the images you choose for your landing page should reflect that, based on your target audience. Images also need to be high resolution so they're not pixelated or grainy; otherwise, it gives a cheap look to your entire landing page and website.
If you choose overly complicated or poor resolution images, your leads will be distracted by the images rather than interested in what your website is saying to them about their property journey. You can use professional photos from your own listings or get high-quality stock photos from websites like Shutterstock or Canva.
Canva's professional photos can bring your landing page to life or you can use their photo editor to edit and add your own. You can try it out for free, and then get access to more by subscribing to a premium Canva package for images and templates for landing pages as well as other marketing collateral, like direct mail, email, and social media.
Images Should Speak to Your Target Audience
While creating a real estate landing page, you want to think about who your target audience is and make design choices to market to that audience. You may be targeting a certain demographic, location, or type of real estate transaction (buyers, sellers, vacation rentals, foreclosures, commercial properties, and so on). Your landing page's images should appeal specifically to the clientele you want to work with.
For instance, the real estate landing page example on the left (above) shows content that applies to commercial property purchasing—the image even depicts an office building with people carrying briefcases. Also, you can derive that the company operates in a large metropolitan area from the cityscape background. This landing page is not only targeting commercial property buyers, but most likely individuals looking specifically for office or retail space in a city.
In contrast, the real estate landing page example on the right sends a completely different message of at-home relaxation, luxury, and a property more likely to be located in a suburban or rural area. This could be perfect for targeting people selling properties that are ideal for use as vacation rentals or who want to sell a luxury home. The image and headline of "What is your home worth?" makes it obvious this landing page is targeting seller listings rather than buyers.
Mobile & Web Responsive
In today's increasingly mobile world, it's necessary for your real estate landing page to be both mobile-friendly and responsive so it looks good on both desktop computers and mobile devices of all sizes. Keep in mind that ensuring that your landing page looks great on mobile as well as desktops and tablets may require the need to create two separate versions.
Luckily, you can work with landing page builders like Placester, which assist you with creating responsive landing pages. Placester offers affordable options to drive visits and capture real estate leads. Not only does its platform and real estate landing page templates make it easy to start lead generation, but Placester's social media widgets also enable visitors to easily share your page with their social media connections to potentially bring in even more leads.
3. Optimize Your Call to Action (CTA)
The most important element of any great landing page is the call to action (CTA). A call to action encourages your visitor to take a specific action on your site by providing their contact information. With the combination of great copy and appealing, relevant imagery, you should receive many clicks on your CTA to finalize a lead's commitment to working with you.
Make Your CTA Button Stand Out With Text
Just like the copy on your landing page, you want your landing page CTA to be direct and concise in order to be transparent with your intentions. This differs from the headline in that the CTA is imploring the visitor to take the next step, while the headline communicates the purpose of your landing page.
Your CTA should include phrases and action words that foster engagement but don't sound like a lifetime commitment or an invitation for spam. Try phrases like "click here to speak with an agent," "get our free first-time buyer e-book," "access your free home valuation," or "connect with us today for listings." These phrases use action-based terminology (click, get, access, connect) to tell landing page visitors what they will gain from submitting their contract information.
On the other hand, avoid friction words that conjure negative associations and make users think they have to do work, e.g., words like "submit," "buy," "sign up," or "give." Take a look at the chart above from HubSpot, which found that "register" performed substantially worse than any other word for CTA buttons.
Choose Color Strategically
Similar to your landing page's images, the colors on your site can either deter or foster engagement. Your button should draw the eye and be the first thing people notice when looking at your page. To craft a CTA button that converts, choose colors strategically, and choose colors that are enticing to potential leads.
According to data from OptinMonster, the psychology of color in your CTA plays a very important and direct role to human emotion and action. For instance, restaurants often use the color red because it stimulates feelings of hunger, financial institutions often use blue to evoke feelings of trust and security, and luxury brands use classic colors like black and gold.
This plays into your CTA because color can increase the number of clicks you get and leads you may be able to convert. OptinMonster suggests using complementary colors, which are colors that are the opposite of your dominant page color on the color wheel. This will help your button stand out and increase clicks.
4. Follow Your CTA With a Lead Capture Form
When it comes to lead capture forms, this is the make or break to capture your lead's contact information and make it possible to convert them to a client. Many agents who design real estate landing pages don't put enough thought into their lead capture forms. This is a huge mistake that could cost you leads.
Just like with your visuals and copy, simple and direct is the best way to go. Instead of requesting a large volume of information, give your visitors only one or two questions to answer. For example, you could ask the site visitor to enter one thing, such as, "What is your home address?" and then send them to a secondary page to request additional information.
Avoid intimidating site visitors by requesting too many details upfront. If you give your prospect a laundry list of items to fill out, it will automatically deter them from moving forward to signing up on your page.
Looking at the example above from Real Geeks, you can see the form only asks for minimal information: name, email, and phone. It also gives the option to sign in using Facebook, making it even easier for the lead to fill in the form. Real Geeks can be a valuable resource and tool to build your real estate website and landing page. They have customizable templates, multiple landing page format options, and market reporting to determine where your leads are being generated.
5. Integrate Your Landing Page With a CRM
After your real estate landing page starts generating leads, you need a system in place to respond and convert your leads into clients. Utilizing a client relationship management (CRM) tool is your key to real estate success because it will capture and organize contact information and enable you to easily communicate with your new leads.
After a lead completes the capture form on your landing page, the site visitor's information is automatically entered into your CRM. From there, you can automatically send an email marketing message, launch a series of drip email campaigns, or automatically respond with a text or email so you can start catering to their needs as soon as a lead presses your CTA button.
Consider using a company like BoldLeads that offers landing page creation, real estate marketing ideas, automation, and CRM capabilities all-in-one. Their service provides live support, coaching, and software training in order to get your landing pages up and running fast. Also, depending on your target audience, BoldLeads can focus your pages toward buyers or sellers. Visit their website for more information and pricing.
Bottom Line
As a real estate agent, creating effective real estate landing pages is fundamental to a successful lead generation strategy. No matter what type of audience you are targeting with your landing page, remember to keep it simple, direct, and laser-focused on your target market. As our real estate landing page examples have demonstrated, by keeping the copy and visuals simple, yet impactful, you will attract and convert more leads.