15 Real Estate Landing Page Examples & How They Convert Leads
Effective real estate landing pages use a call to action (CTA) to collect visitor information and increase lead generation for your real estate business. Landing pages contain a focused headline, an offer to the visitor (like a home valuation report or newsletter), visually appealing photos, and a simple capture form to collect contact information. We've identified 15 real estate landing page examples to help you design optimized landing pages that will turn website visitors into real estate leads.
The real estate landing page examples below showcase various strategies to ensure your website visitors will convert into leads:
Example 1: Corcoran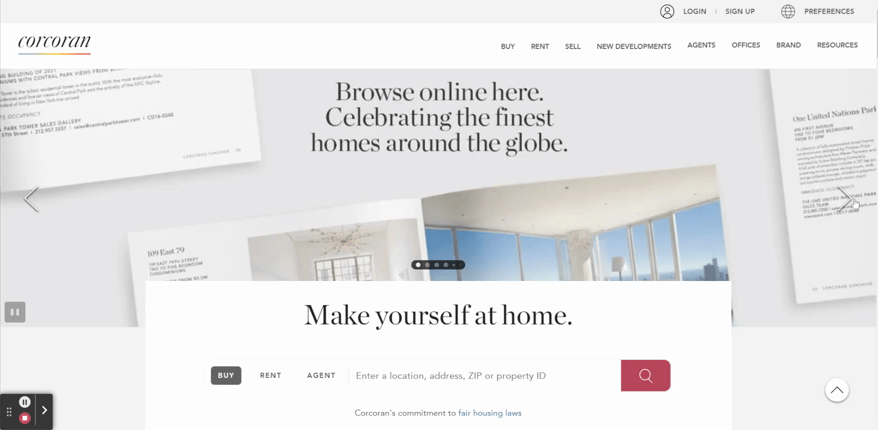 Corcoran is an example of a home search landing page targeted to generate leads from buyers and renters. The headline "Make yourself at home" is simple, encouraging site visitors to find a home with the help of Corcoran. The page has rotating pictures showing different types of homes, all of which are clear and eye-catching.
The photos are also representative of the types of properties represented by the brokerage. They showcase homes located in different areas, like a large apartment in a downtown metropolitan area or secluded homes in the forest. The picture in this example is great for people wanting to buy vacation rentals, in particular. This strategy, although quite simple, can really drive leads focused on specific niches.
Example 2: LuxRE Keller Williams
Although this home valuation landing page from LuxRE Keller Williams lacks photographic images, it's a great example of a direct headline and CTA button that appeals directly to home sellers. Using lighter-colored text and a brightly colored button on the plain black background focuses the visitor's attention to those form fields.
The button color is a strategic choice to draw attention to the copy located in the button and reiterates the CTA of finding your home's value. It's also the same color as the brand's logo, so it's familiar to the visitor. If you want to attract sellers, home valuation pages provide an instant and valuable resource that encourages sellers to exchange their contact information for your knowledge.
Example 3: Pam & Mike Perez Group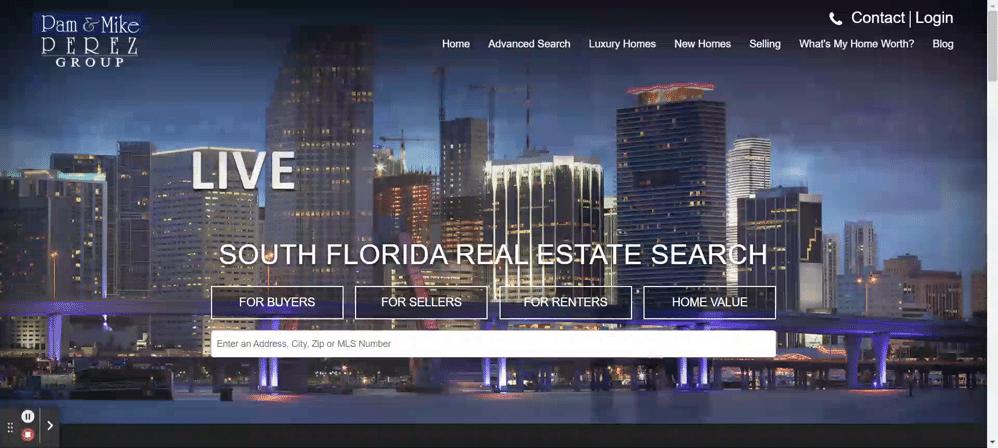 The example from Pam & Mike Perez Group showcases Florida real estate and, similar to the first example, contains stunning rotating pictures in the background that target all types of clients specific to the Florida area. Keep in mind that many real estate teams employ multiple landing pages, especially if they specialize in a variety of different client types.
For example, sellers can click on "For Sellers" or "Home Value" to go to a seller-targeted landing page that may offer to give a home valuation or comparative market analysis in exchange for the seller's information. Likewise, selecting the "For Buyers" or "For Renters" buttons directs visitors to free content or a home search landing page that captures lead contact information in exchange for access to listings or downloadable guides, checklists, market studies, e-books, or similar types of buyer-targeted resources.
To launch multiple landing pages, agents can use a sales and marketing platform like Real Geeks. It has customizable landing pages to capture leads on any page in your website and also provides preset landing pages for market reports, property landing pages, home valuation reports, and even an agent landing page. All leads captured via the landing page and website will automatically flow into the provided customer relationship management (CRM) software.
Example 4: Opendoor

Opendoor is one of the real estate landing page examples that take a simple approach using a straightforward picture, catchy headline, CTA, and copy targeting sellers. While basic, this is an effective way to capture leads because it provides the needed information of a home valuation to sellers at the easy, low "cost" of their contact information.
This allows the agent to identify the prospect's neighborhood and budget before contacting the lead to start a conversation about the sales process. The copy used within landing page headlines can also help with overall search engine optimization (SEO), so that clients can find your website better within search engine results.
Example 5: Turnkey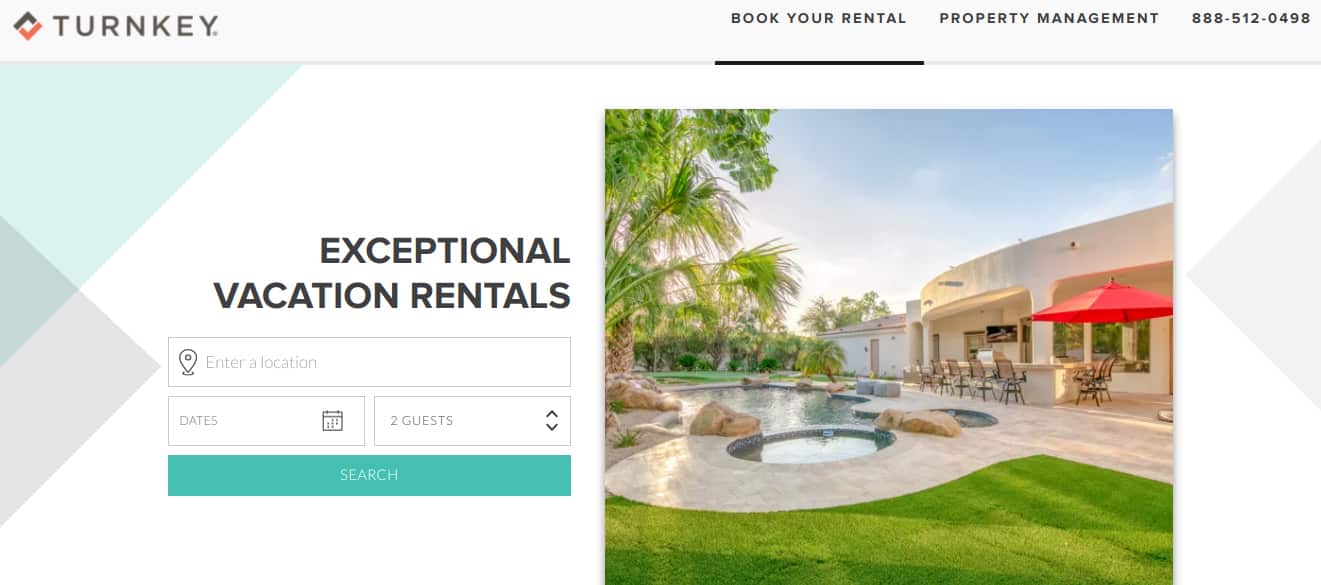 This landing page example from Turnkey sends a direct message to luxury vacation property renters by inviting them to enter their search criteria. This then directs the site visitor to results where they can explore the rental listings that fit their vacation home preferences.
It's worth noting that for vacation rentals, they added a search criteria section that specifies the time period in which the individual is traveling to help narrow down their search for available results. This improves search result quality for the site visitor and avoids unnecessary disappointment should the visitor be interested in a property only to find out it's unavailable during their desired vacation time.
Example 6: Campion and Company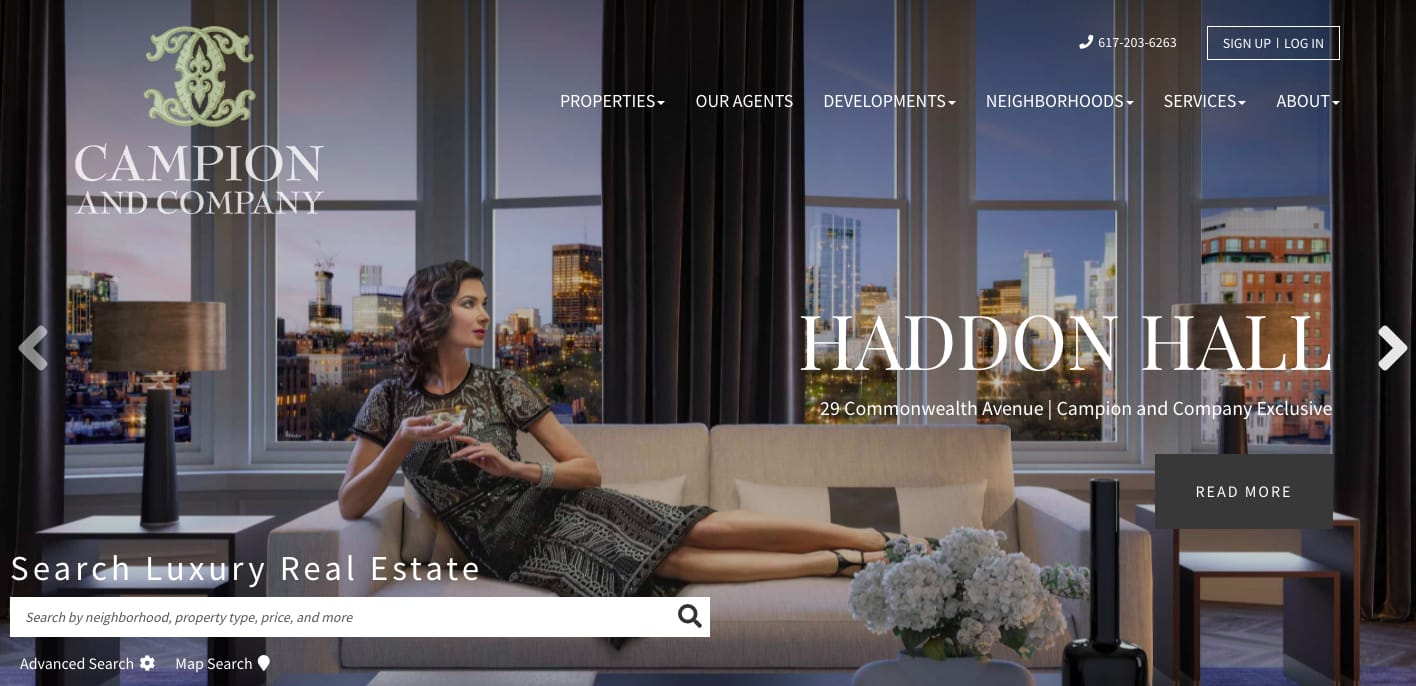 When it comes to landing page designs for a luxury audience, you want to use images and keywords that speak to a luxury lifestyle. Landing page visitors want to know that the agent understands the amenities and property types that appeal to someone with a luxury budget.
The photo from Campion and Company contains a woman drinking a martini in a large apartment with a gorgeous view. In this example, the combination of the company logo and branding along with the photo used showcases a lifestyle that is aspirational. Furthermore, it can convince visitors who want that lifestyle to reach out for your services or process a search within the search form.
To learn more about the luxury real estate market and tips to break into it, visit our article 10 Tips to Become a Luxury Real Estate Agent.
Example 7: Pardee Properties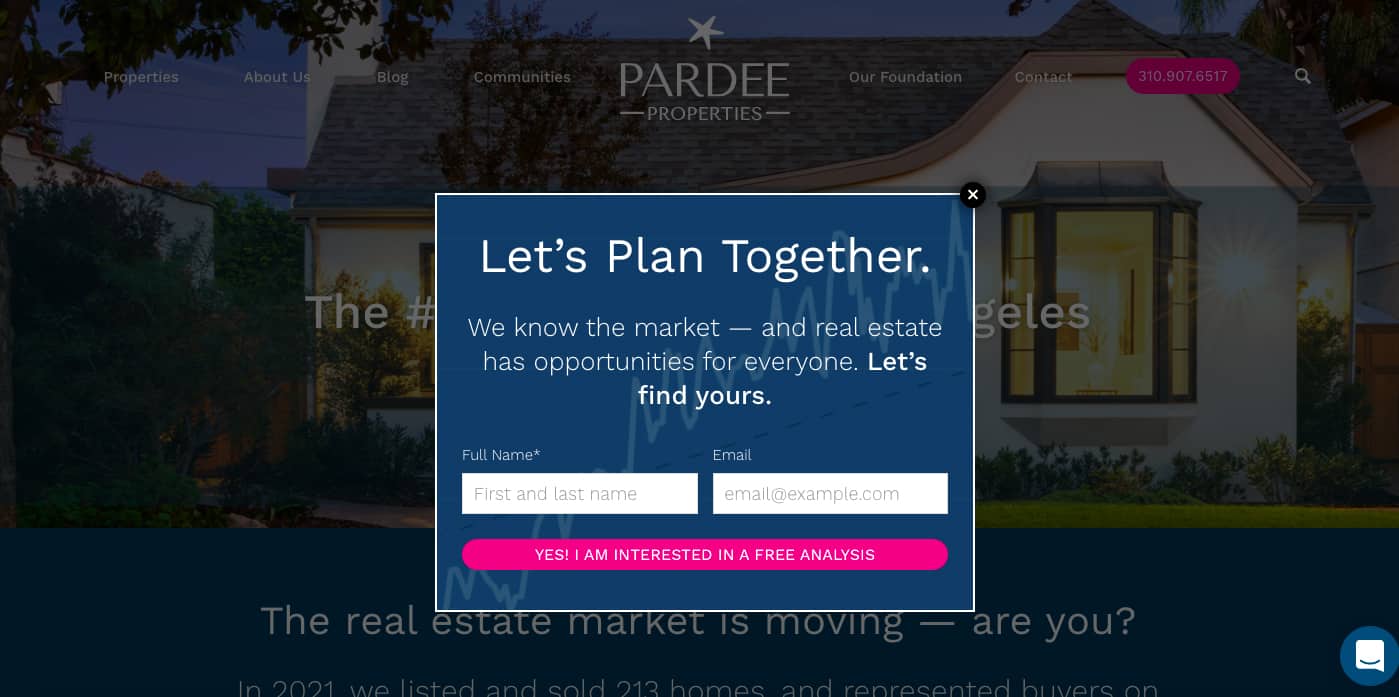 The CTA on this real estate landing page example from Pardee Properties is not only catchy, but also speaks to a collective effort between agent and prospective client. Providing a free market analysis in return for contact information not only allows an agent to connect directly with prospective leads, but also gather email addresses for future email campaigns.
Agents should understand the contacts collected with this particular CTA will be in a longer nurture cycle within the overall marketing strategy because of the language used in the capture box. It alludes to developing a connection and planning for the move until the perfect opportunity arises for the particular client. Agents will also have to spend some time discussing the free analysis provided.
Real estate agents should prepare to offer more valuable content in addition to the landing page, like marketing materials that include information on the buying process, content on how market changes affect buyers, or just overall information on your expertise.
Example 8: Danielle Lazier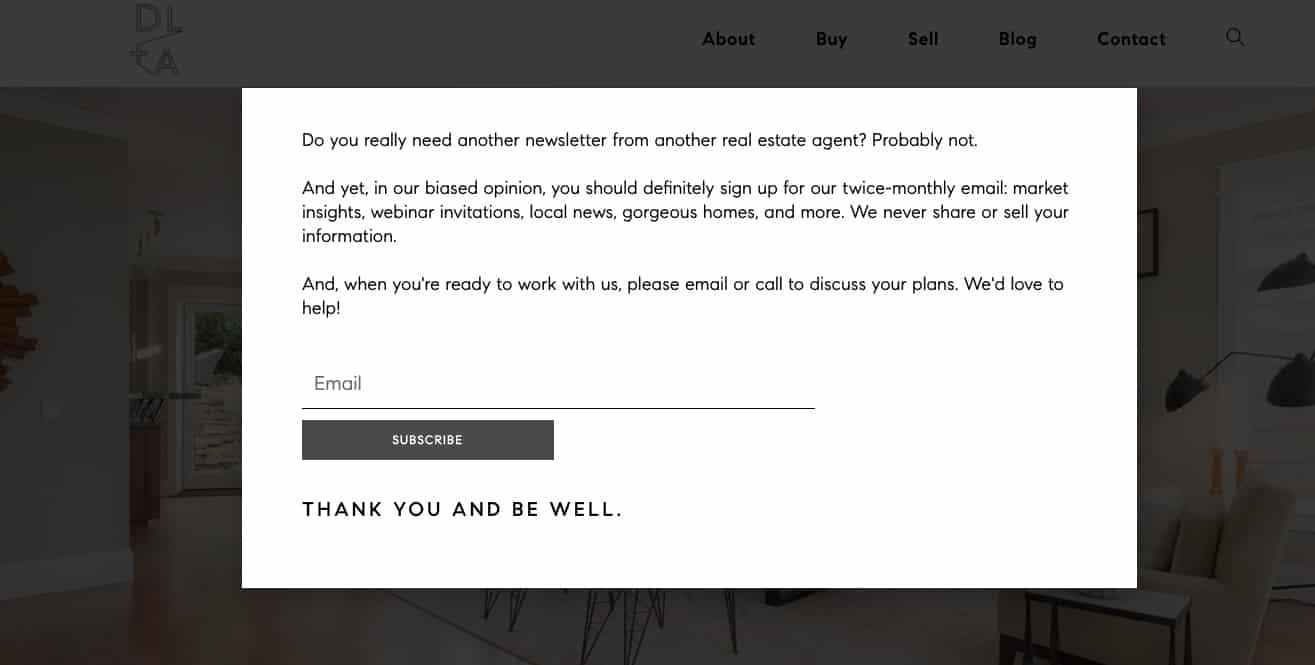 Many people are deterred from entering their emails because they want to avoid getting an endless stream of email solicitations. This landing page from Danielle Lazier spells out exactly what visitors will receive when they sign up and how often they will receive communication.
Being direct and upfront will be appreciated by clients because they'll know they won't be bombarded with other types of information on a daily basis. Additionally, promising not to share or sell information develops a deeper sense of trust, resulting in higher lead conversions from clients who fill out this form.
Example 9: The Bartic Group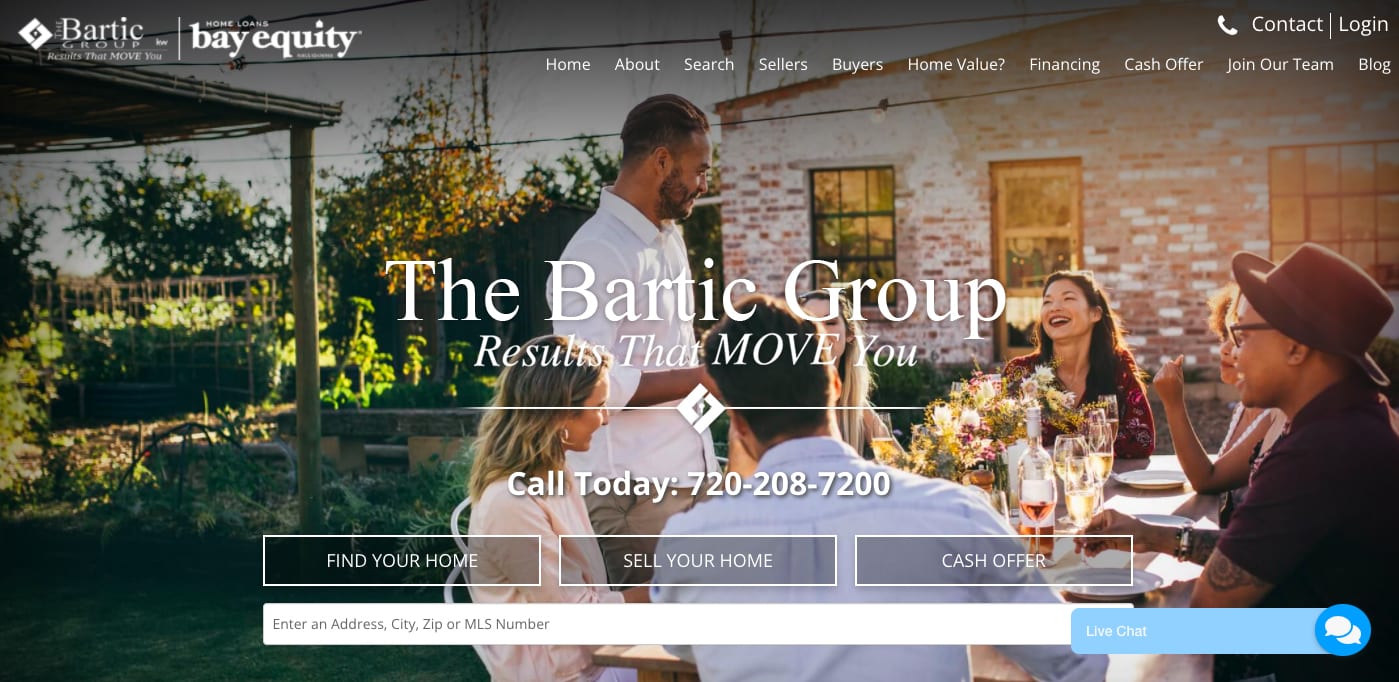 A multiple-option landing page gives visitors choices in the direction they want to take in their home search. This example page from The Bartic Group has a CTA for buyers to find a home, sellers to sell their home, and a cash offer, which is not prevalent on most real estate pages. It will attract the seller who wants to offload their home quickly.
Besides the cash offer button on the landing page, if visitors are interested in more traditional routes of buying or selling their home, they can click on those buttons, which will lead them to a more targeted page based on their interest. In the subsequent pages, you can include other buyer- or seller-specific CTAs to convert the lead. However, above all of the buttons and search forms, the phone number is front and center to drive calls for a better one-on-one connection.
Agents and brokerages can be successful with real estate landing pages by deploying multiple landing pages throughout their website. Each page will have its own purpose to increase your website conversion rates.
Real estate agents should tailor their landing pages to match their brand. They can do so with Placester, an IDX website system that provides customized landing pages. Agents can choose from a variety of templates that match their brand, or custom build a site without any prior coding knowledge. If building a website seems out of your skill set, you can even outsource some or all of the work to the Placester Services team.
Example 10: Jills Zeder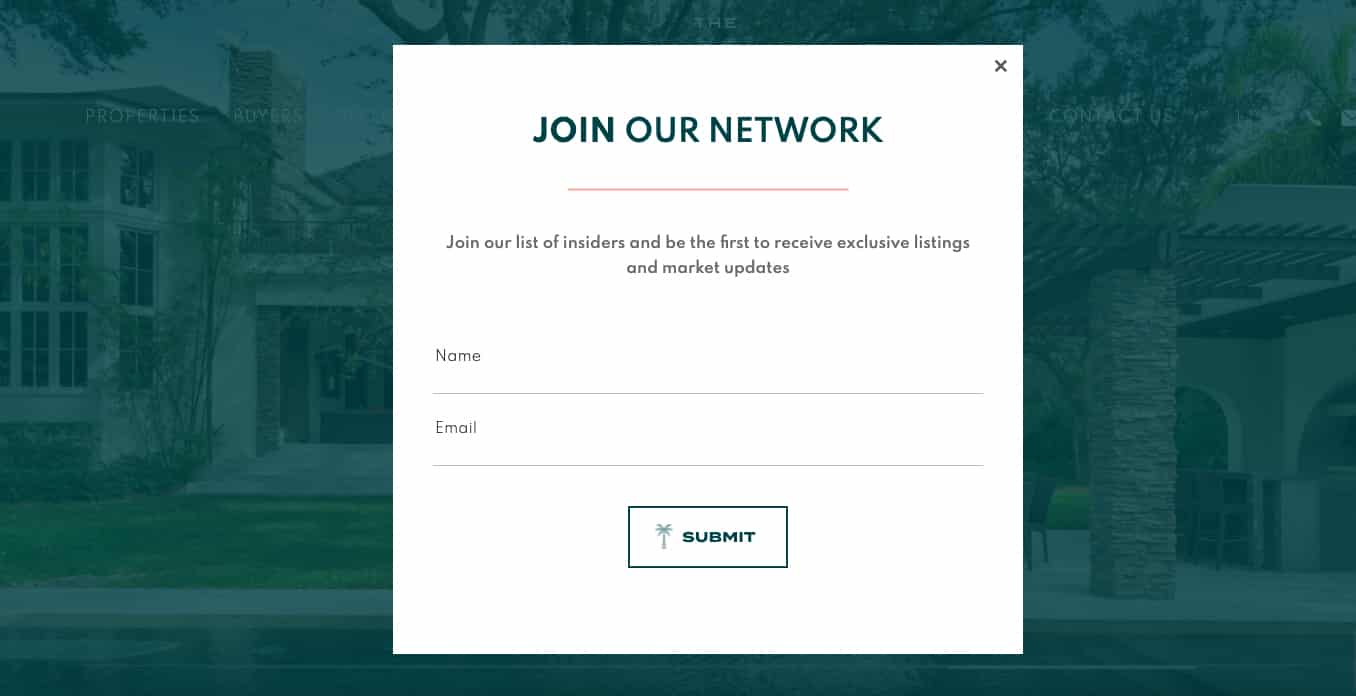 In addition to offering home valuation and market reports, agents or brokerages with exclusive listings can use this landing page CTA to give visitors access to their exclusive listings. Clients interested in receiving pocket listings that may not be on the market yet will be more willing to leave their information and be more receptive to the communications that follow. Additionally, keeping the contact form simple, like this example from Jills Zeder, will encourage visitors to leave their contact information.
To help manage the leads received through your website, iNCOM provides features for lead management and follow-up. The marketing suite contains newsletters, postcards, and email drip campaigns to stay top of mind with clients. The platform also provides premade content to distribute throughout the lead nurture cycle and analytical tools to understand website visitors' behavior.
Example 11: Kyle Blevins Real Estate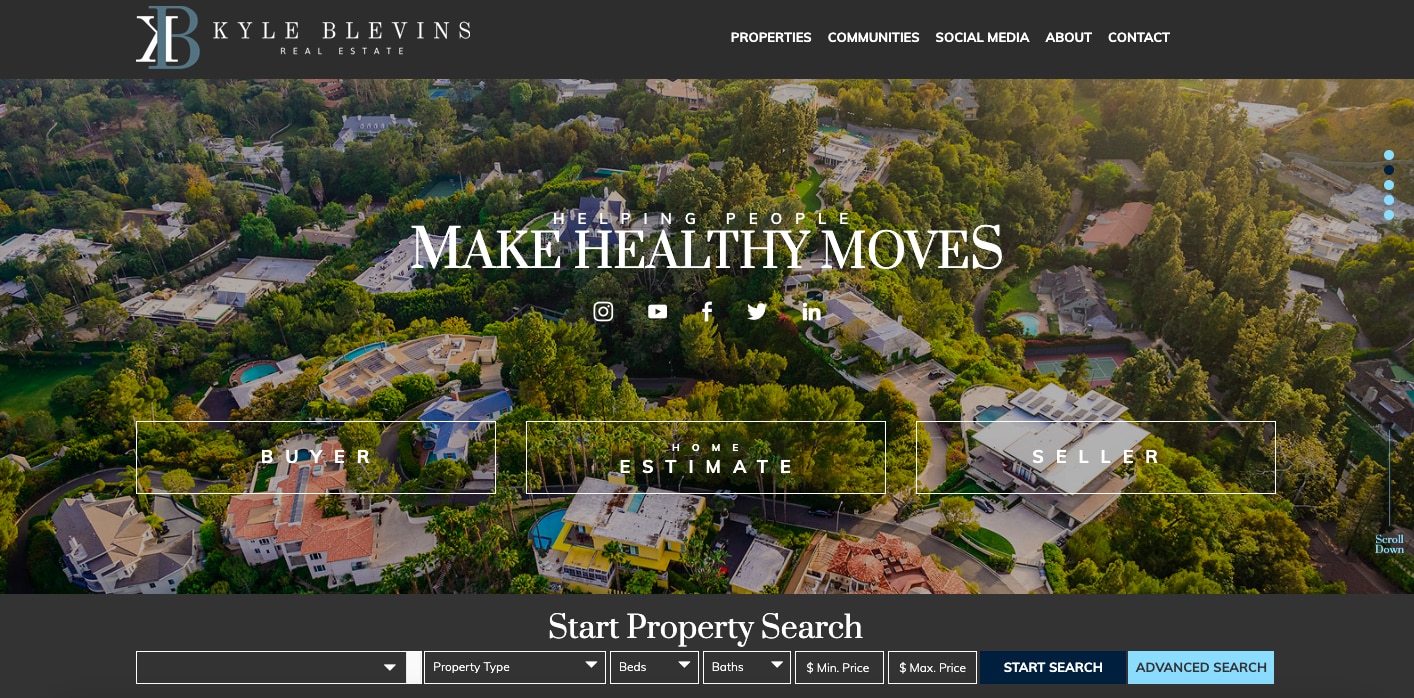 The direct headline on this real estate landing page from Kyle Blevins Real Estate captures the audience's attention, as the term "healthy" is not often combined with real estate. However, when you take a look at the biography of the real estate agent, you'll see he is really passionate about both real estate and health, so the direct headline reflects his brand and his niche clientele.
Kyle Blevins also serves the Beverly Hills area, which has a demographic that puts a high value on healthy living. This landing page uses engaging visuals with buttons that don't distract from the photo but still exist to direct website visitors. The photo adds to the lifestyle and imagery of someone's dream neighborhood and property type.
Example 12: Blake Rickels Group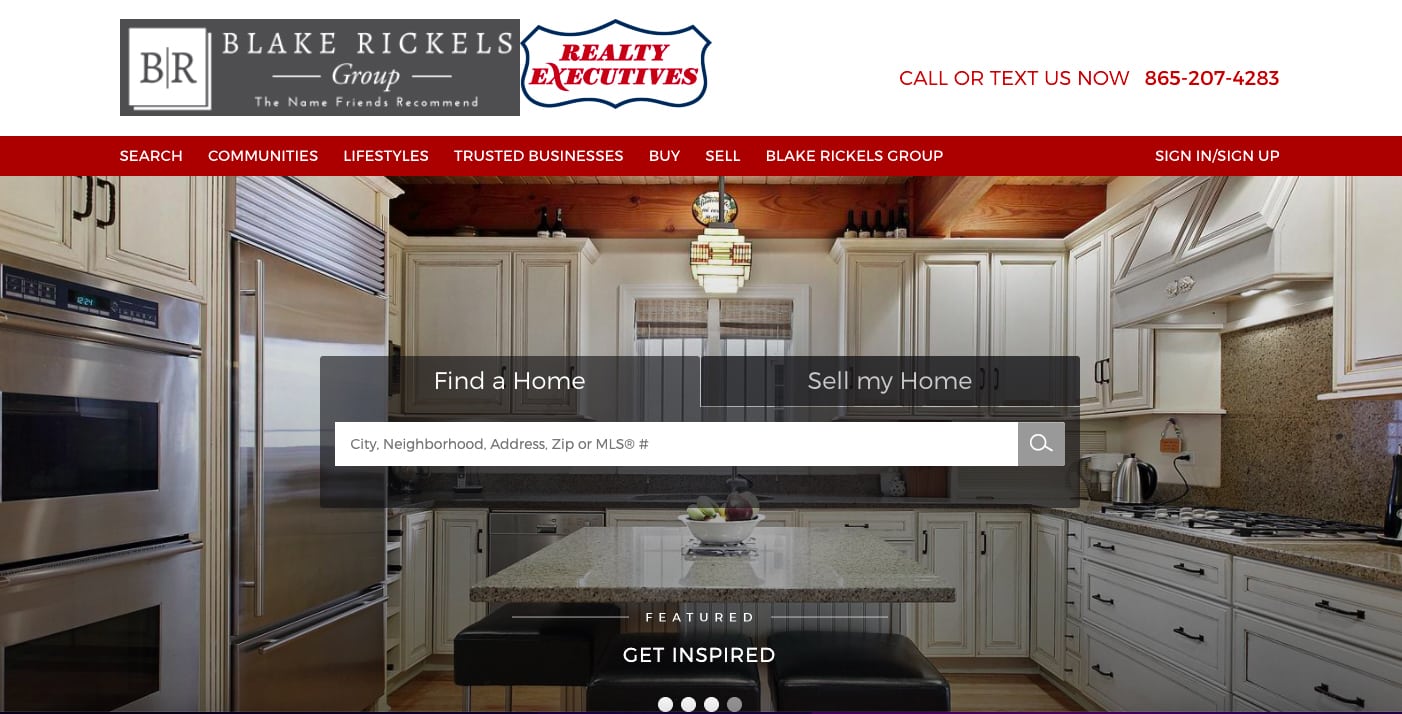 An IDX feed on your website ensures listings on your website are up to date and require less manual data entry for real estate agents and brokers. This example from the Black Rickels Group places the search bar front and center, allowing prospective clients to have access to the MLS listings, which isn't a public-facing database. It allows visitors to search and filter properties that are of interest to them.
Also having a CTA in the upper right corner displaying your contact information ensures clients always have your contact information ready if they see a property they're interested in. The page is very simple without any distracting text, which focuses the visitors' attention on the search form.
Example 13: HomeLight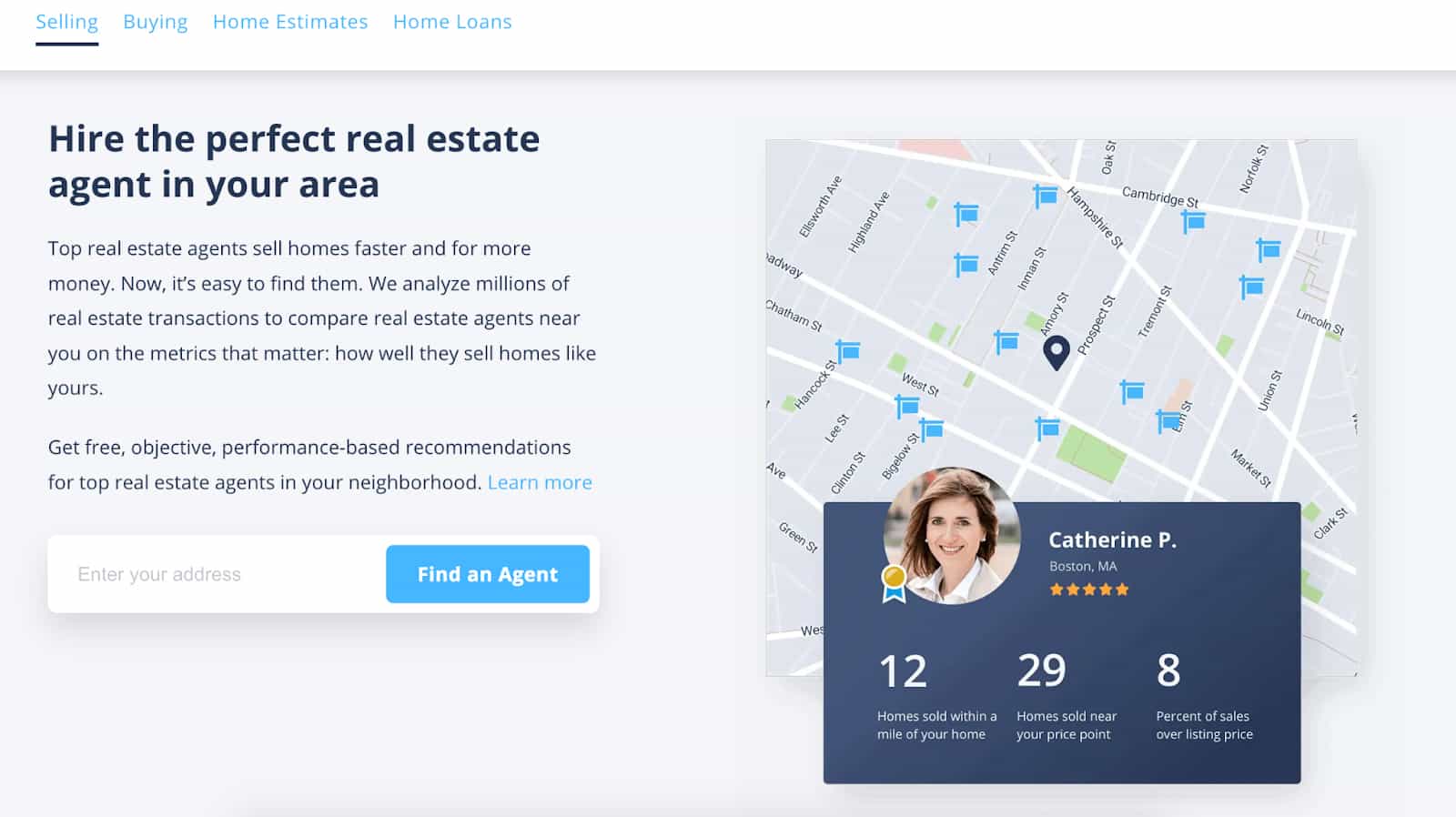 Another way to collect contact information is a landing page built for prospective clients looking for agent representation. This real estate landing page example from HomeLight is particularly helpful if you have a large team or cover a larger real estate area—enabling you to connect the client with the right agent to service them.
The landing page CTA is aimed at clients who are ready to transact and know how beneficial it is to have an agent represent them in a successful sales transaction. This contact form only asks for an email address, but agents should follow up with more specific targeted questions to connect them to the right agent.
Agents can automate follow-ups with a robust customer relationship manager (CRM) like HubSpot. When contacts are entered in the CRM, each lead can be assigned and scored to follow specific workflows. Based on a lead's behavior, the platform can help tailor and automate email messages, content, or offers to push contacts through the sales funnel and improve overall conversion rates.
Example 14: REX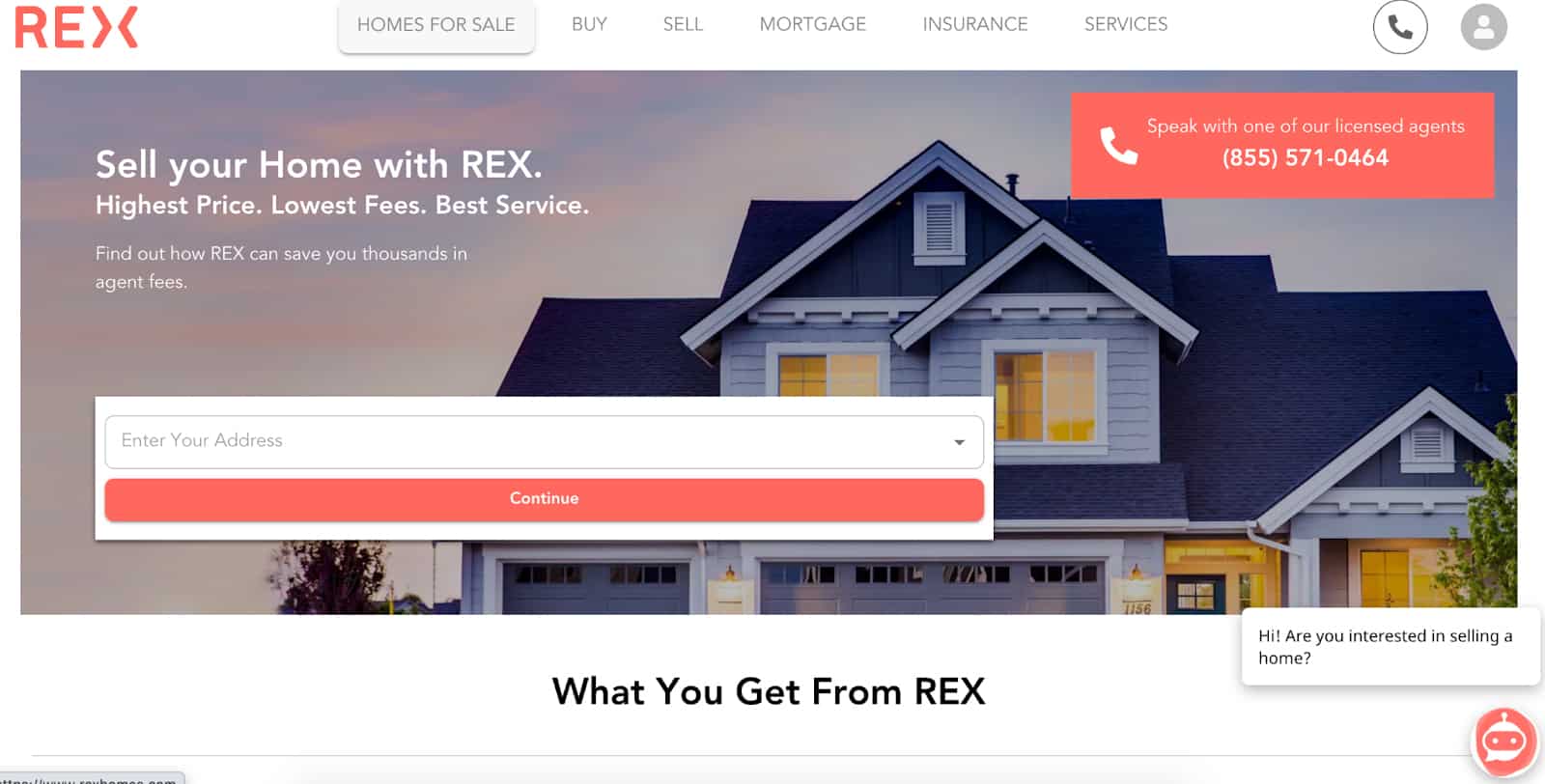 This particular landing page example from REX asks for a home address versus an email address. The home address is equally as valuable to an agent because they will know which property might be up for sale in the near future, and they can always target that address with direct mailers to help obtain the sales listing.
There are also contact icons in the upper right for visitors who would prefer to call and connect to an agent, or a chat pop-up in the bottom right for clients who prefer to handle the communication with the team electronically.
Example 15: McGraw Realtors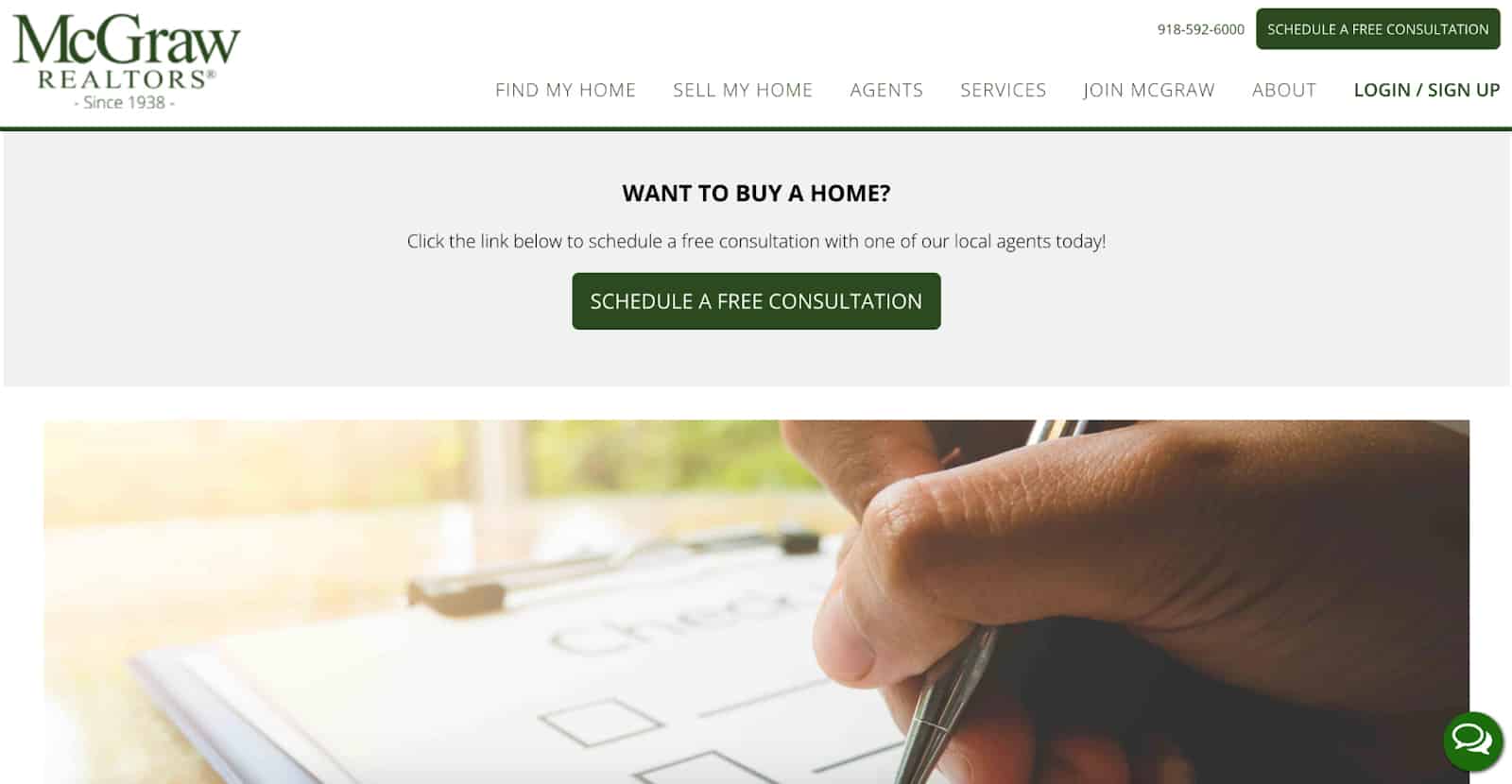 This landing page from McGraw Realtors is ideal to target first-time homebuyers by developing a deeper connection and creating an opportunity to educate your clients. The free consultation offer leaves it open to whatever is needed by the client, like educating them on the buying process or helping them pick the best neighborhoods based on their needs.
The scheduling tool is an effective idea to allow visitors to immediately schedule a time to speak to an agent on the phone, schedule a consultation, or make an appointment to view properties. It reduces cancellations for higher conversions and lets clients take control of the timing instead of back and forth scheduling.
Agents can use a scheduler like Calendly to show real-time availability to prospective clients. Agents can set their schedule on Calendly based on their preferences, allowing leads to schedule appointments in time slots that are convenient for both parties. Then, agents can embed the unique link on their website and let visitors schedule a time that adds to your calendar automatically.
Where to Create Real Estate Landing Pages
Various platforms on the market help agents create targeted landing pages and execute new real estate landing page ideas. The website builder used to create your website may already contain customizable landing pages, or your CRM can produce landing pages to connect to the database. Landing pages can also be integrated with email marketing and drip campaigns to drive traffic to those pages.
The following solutions will help you create targeted, engaging, and customization landing pages that convert your website visitors into leads:
Company

Best For

Creating an IDX website with attached CRM

Lead generation and marketing platform

Marketing automation once client contact is collected

Branding and lead generating tools

Key Features

Customizable templates
CRM integration
Connection to IDX

Social media integrations
Use for individual or team environments
Ability to launch Google Ads

Productivity dashboards
Available training guides
Mobile application for working on the go

Transaction management included
Brand building through advertisements
Lead automation tools available

Starting Price

$64 per month

$299 per month

$129 per month

$499 per month

Read More
Bottom Line
Landing pages can provide agents with a successful lead generation strategy. They should target the right clientele, offer valuable information, be engaging, and make it easy for clients to leave behind their contact information. Whether you are collecting leads into a CRM for lead nurturing or allowing prospective clients to search for available listings via the IDX, you want to make sure the landing page is simple and has a direct message to increase your chances of lead conversion.