Effective, lead generating real estate landing pages include a focused headline, an offer to the visitor, visually appealing photos, and a call to action (CTA). By strategically using the right elements on your landing pages, you'll build client trust and drive lead generation. To find inspiration for your website, we've gathered 14 real estate landing page examples and identified what makes each of them successfully convert leads.
If you're new to real estate landing pages, they are individual URLs on your website dedicated to gathering contact information from visitors, and in real estate, specific clientele like buyers, sellers, renters, or other niches. To learn more about what real estate landing pages are before creating one yourself, read Real Estate Landing Pages: A Guide to Generating Leads.
To start creating landing pages with ease, consider using Real Geeks. It's an all-in-one real estate marketing tool that provides IDX websites and custom landing pages. It also includes prebuilt landing pages for home valuation, coming soon listings, and market reports.
1. Corcoran
Key features:
Large photography of luxury listings
Clean and simple design
Memorable slogan
Search bar for buyers, sellers, and renters
Corcoran is an example of a home search landing page that is primarily targeted to generate buyer and renter leads. The page features large photos of luxury real estate properties, a simple search feature, and a headline, "Make yourself at home." As you scroll down the page, you see featured listings, featured neighborhood guides, and a call to action (CTA) to create an account.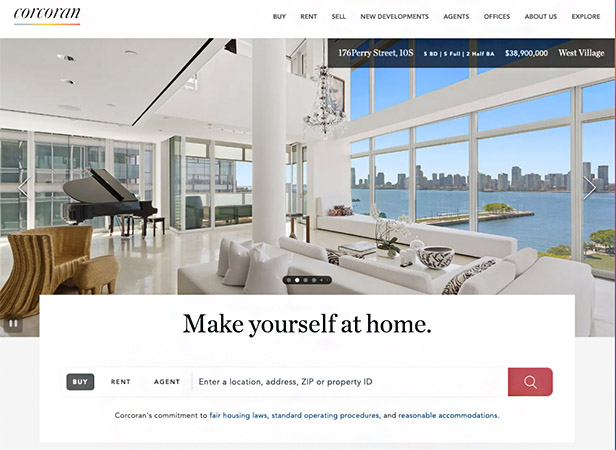 ---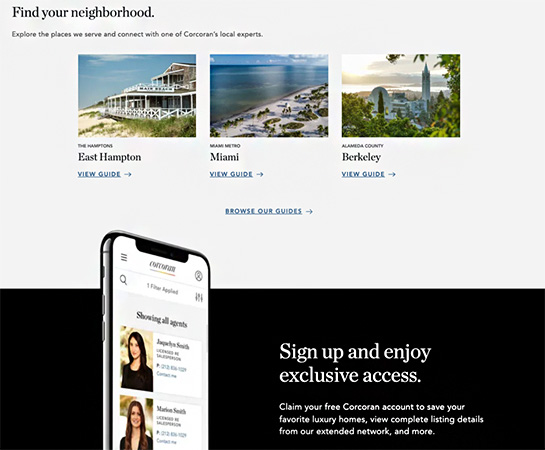 ---
Because of the photography and sleek design, this real estate landing page example shows exactly how to maximize conversions. It is not cluttered, yet provides multiple options for visitors to take the next step. This strategy, although quite simple, can be extremely powerful for building brand recognition and driving leads to take a specific action.
2. Danielle Lazier
Key features:
Directly addresses client concerns
Clearly and specifically states what you offer
Keeps the copy short, sweet, and clear
Simple subscribe button
Website visitors are generally bombarded with pop-ups and ads that ask for their contact information without offering anything valuable or specific in return. On this realtor landing page, Danielle Lazier has carefully crafted a pop-up that stands out by being honest, to the point, and directly addressing the user's concerns.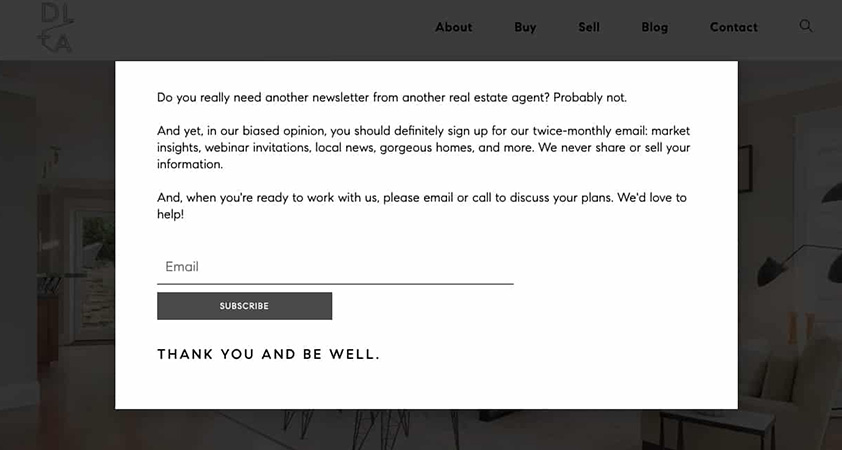 ---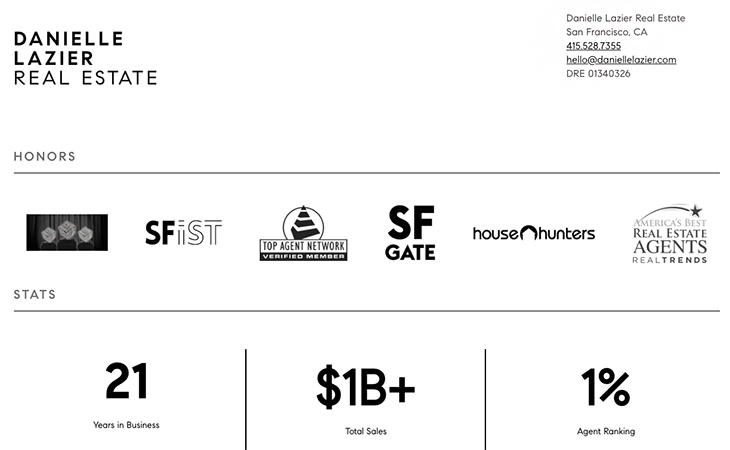 ---
Being direct and upfront will be appreciated by clients because they know they won't be bombarded with other types of information daily. Additionally, promising not to share or sell information develops a deeper sense of trust, resulting in higher lead conversions from clients who fill out this form.
3. The Bartic Group
Key features:
Multiple button options
Consistent branding and design
Specific landing pages for different types of leads
Many real estate professionals work with a few different types of clients, so a multiple-option landing page like this example is ideal. It gives visitors choices about how to interact with the website and work with this brokerage. Once the visitors choose an option, each button leads to subsequent landing pages that provide more specific information, resources, and calls to action for that type of lead. Overall, every page is specifically designed to meet the needs of different leads while using a similar design to provide a sense of consistency.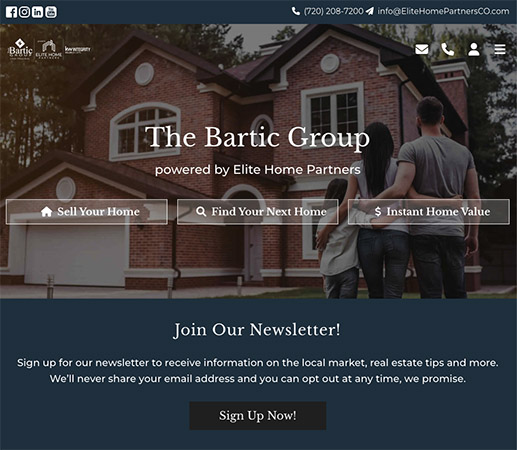 ---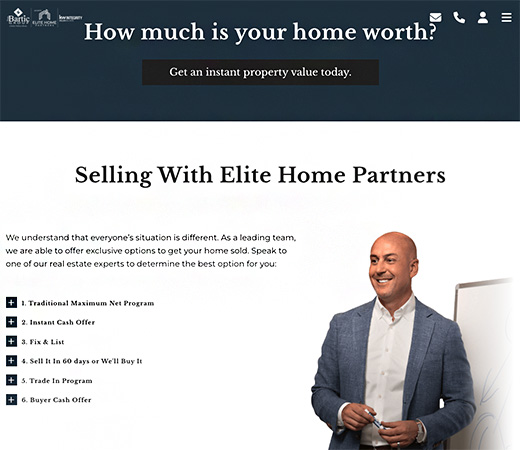 ---
For example, users who click "Sell Your Home" are directed to a landing page with an offer for a home valuation and detailed information about the process. On the other hand, sellers who click "Instant Home Value" are taken to a page that asks for their address to generate a home valuation. Buyers are presented with information about the steps to buying a home, the types of homes in the area, and multiple calls to action to contact the brokerage.
By using the right real estate landing page builder, it's extremely easy to be consistent on your pages. With Placester, you can choose from various real estate-specific website designs and customize them with your branding and ideal layout. Alternatively, you can work with a Placester professional to build, customize, or upgrade your site with an unlimited number of options. Plus, you can start using Placester for free.
4. LuxRE Keller Williams
Key features:
Targeted for homesellers
Consistent brand colors
Clear copy
This home valuation landing page is notably different from many other landing page examples for real estate. There is no real estate photography, dynamic sections, or menu options. Instead, it is an excellent example of a direct headline and CTA that prompts users to do one thing with no distractions. Although it may appear less visually appealing than other examples, real estate landing pages that convert don't need to be fancy or complex.
Keep in mind that even a simple page like this still requires a strong strategy. For example, using lighter-colored text and a brightly colored button on the plain black background focuses the visitor's attention on the form fields. Plus, the button color is the same color as the brand's logo, so it builds brand recognition.
To launch a real estate website with opt-in forms, consider using an all-in-one tool like Real Geeks. It provides customizable landing pages to capture leads on any page of your website and also provides preset landing pages for market reports, property landing pages, home valuation reports, and even an agent landing page. Plus, new leads are automatically imported into the customer relationship management (CRM) software.
5. Jills Zeder
Key features:
Well-organized menu
Consistent branding
Vivid imagery
Highly specific landing pages
The best real estate landing pages are effective because of a robust website and marketing strategy. For example, running targeted ads to a home valuation landing page will be more effective than sharing the page with all potential clients, whether they're current homeowners or not. That's why it's ideal to have multiple landing pages on your website to meet the needs of your ideal clients at every stage of the nurturing process.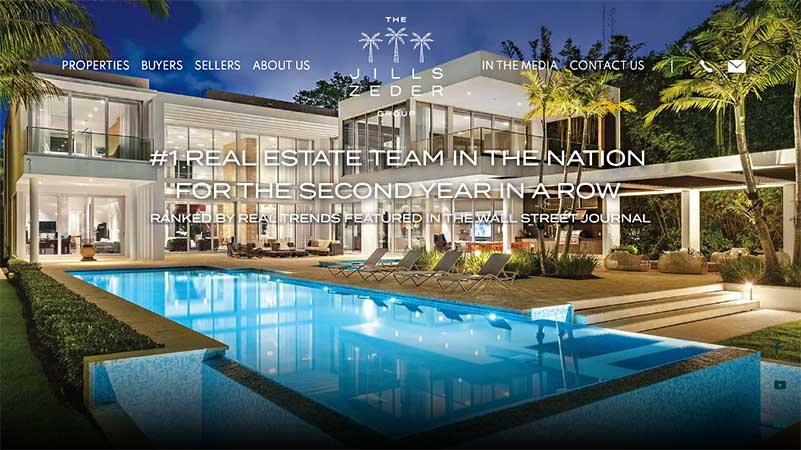 ---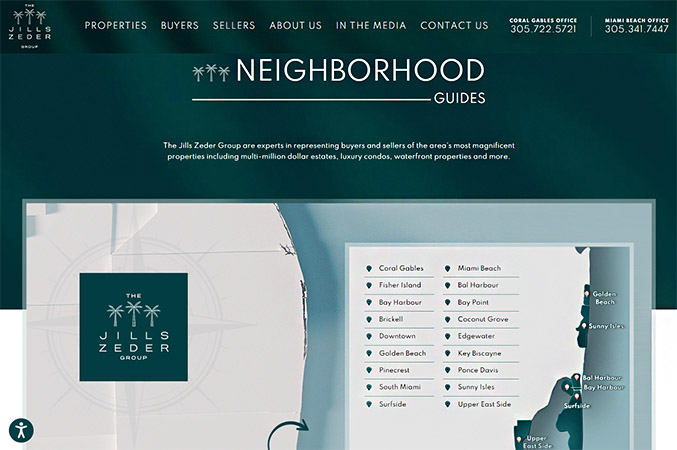 ---
Jills Zeder portrays this perfectly with a variety of real estate landing page examples. Its website menu provides links for buyers, sellers, and properties, and there are three to seven specific pages within every category. For buyers, there is a landing page about the buying process, an interactive neighborhood guide, and a page specifically for relocating clients. This is a masterclass on how to be successful in real estate by creating highly specific resources for leads and clients at every stage.
6. Opendoor
Key features:
Builds credibility with testimonials and publication links
Provides step-by-step visuals showing the process
Clear headlines and descriptions
Opendoor is another one of the real estate landing page examples that successfully use a simple approach. The landing page uses a large, appealing photo, a simple CTA, and a catchy slogan, "Sell your home. Skip the hard parts." The copy is simplified to just a few words, but the message is perfectly clear.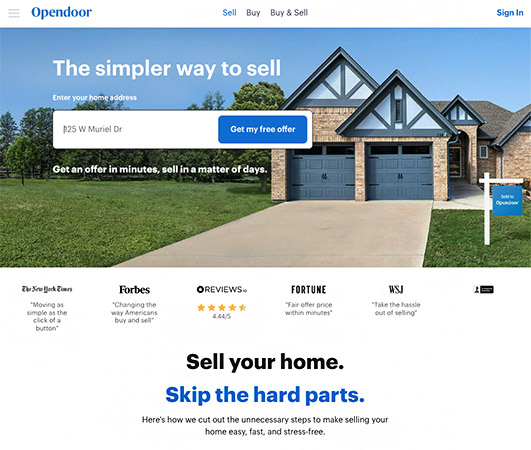 ---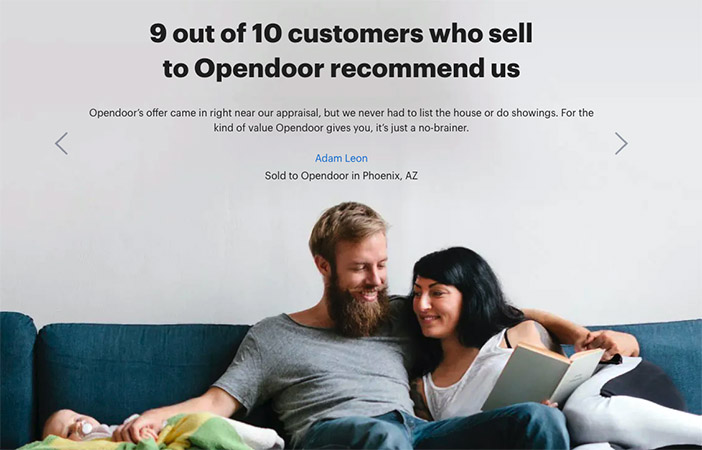 ---
This is also one of the best real estate landing pages for building credibility. There are positive comments from large publications at the top of the page and a dynamic number showing that over 1.8 million people have requested to work with Opendoor. Since Opendoor provides homeowners with an unconventional method of selling their home, its landing page is focused on building trust and educating visitors about the process.
7. Vacasa
Key features:
Clear call to action
Variety of resource options
Organized categories
This real estate agent landing page template displays a clear call to action and provides visitors with multiple options to easily find what they're looking for. Users who already know the location where they want to find a vacation rental can use the search bar without having to scroll or search the page at all.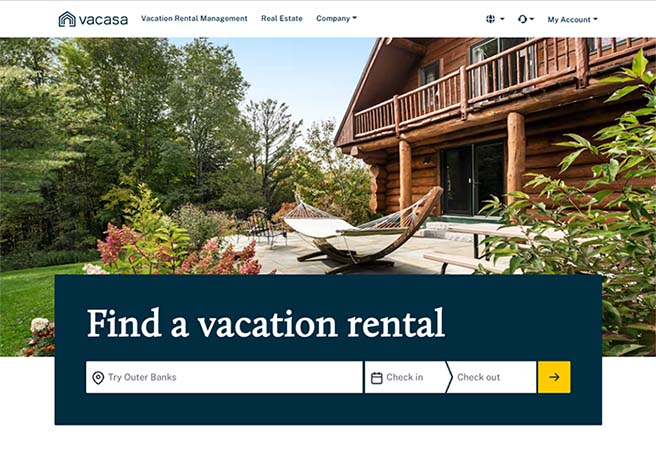 ---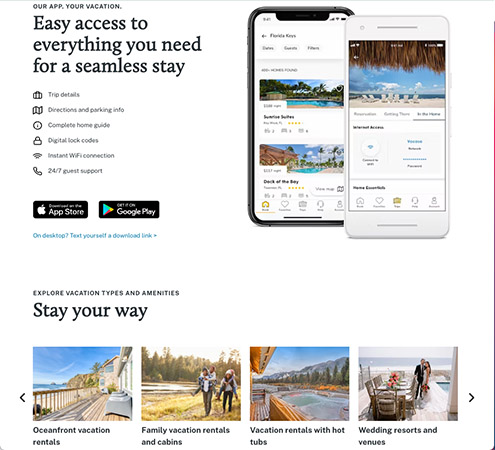 ---
On the other hand, for users who aren't decided on a location, Vacasa draws them in by providing a featured location as well as categorized vacation spots. These sections are dynamic, with "Trending spring break destinations" and "Trending spring skiing destinations" options. This landing page strategy could be used for real estate agents or brokers who use content marketing to build their brand and audience.
8. Liz Kroft
Key features:
Unique resources
Promote landing pages through other channels
Large, high-quality images
Clear headlines and calls to action
While offering home valuation or access to exclusive listings is valuable, it's also relatively common. There are many other unique ways to generate real estate leads with landing pages, and Liz Kroft exemplifies this. Her most unique offer is a home equity report, which attracts homeowners and potential sellers who want more than a home valuation that other agents provide.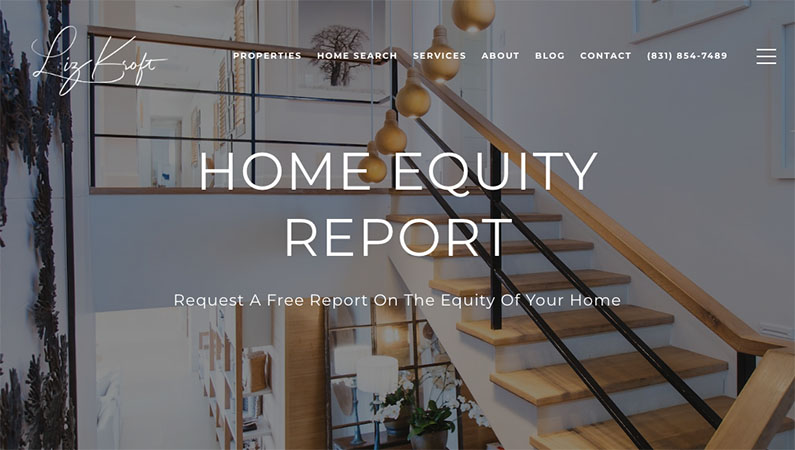 ---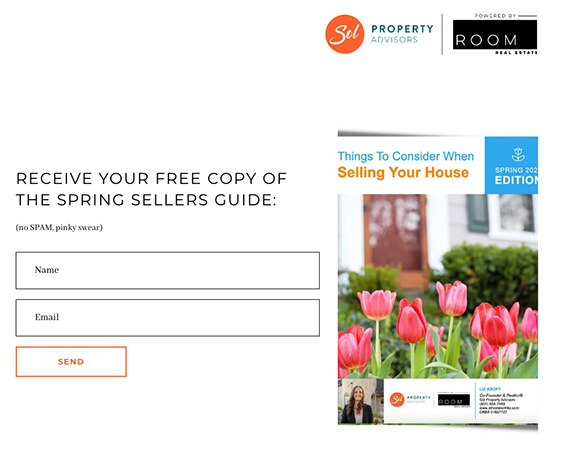 ---
In addition to specific landing pages with details about the buying and selling processes, she also provides buyer's and seller's guides. These e-books are updated every few months and heavily promoted on email and social media—simultaneously driving traffic to her landing pages and growing her email list.
9. Campion and Company
Key features:
Vivid imagery
Consistent branding
Well-organized resources
Data about the brokerage's accomplishments and awards
When it comes to landing page real estate examples for a luxury audience, imagery and simplicity are key. This boutique real estate agency's design features photography that spans the entire page. This stands out from other landing pages, which show a photo on only part of the page. It also provides a search feature, but that is not the only button featured at the top of the page. With each featured image, there is also a link to learn more about that location or property.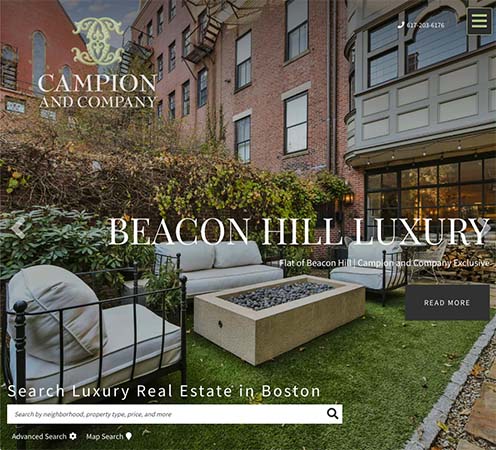 ---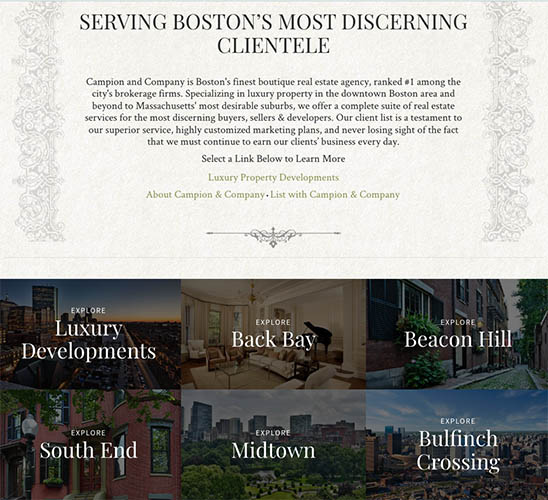 ---
As you scroll down the page, you see more information about this company's accomplishments, awards, and clientele. There is a beautifully designed menu for visitors to explore other areas and neighborhoods within the city of Boston. This realtor landing page effectively builds this brand's authority presence as luxury real estate experts by proving their expertise with hard data and providing valuable resources for clients.
10. Pardee Properties
Key features:
Clean, graphic design
Short but clear copy
Bullet points and links to more resources
When looking for real estate landing page ideas, make sure to consider unique designs. This landing page from Pardee Properties provides a step-by-step walk-through of how this brokerage works with homeowners and sells homes for the maximum value. Visually, the design is clean, simple, easy to read, and effectively makes a complex, detailed process easy to digest for potential leads.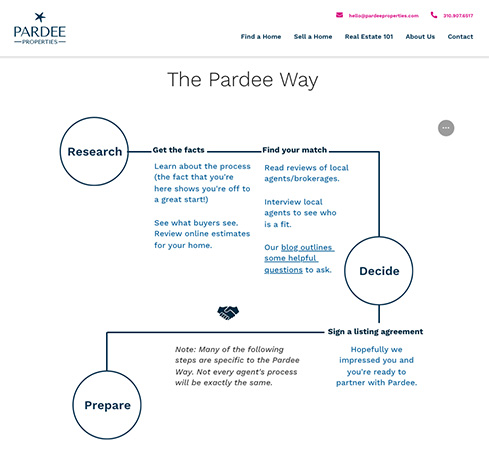 ---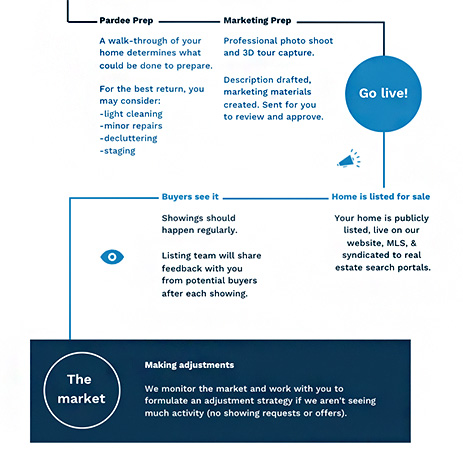 ---
As you create your own website, landing pages, and other marketing materials, you'll find that educating clients and making complex processes simple for customers can actually be quite difficult. To help you establish a strong marketing or design strategy, consider consulting an expert. With Fiverr, you can search for a real estate freelancer at any price point and view their previous work and testimonials before you hire them.
11. Kyle Blevins Real Estate
Key features:
Unconventional slogan to target a specific audience
Incorporates the agent's personal interests and expertise
Local real estate photography
This real estate website landing page captures the audience's attention with a unique and specific headline, "Helping people make healthy homes." The term "healthy" is not usually synonymous with real estate, so this clever slogan is crucial in differentiating this agent from his competition. He also includes a short realtor bio on the home page, which further describes his passion for both real estate and health.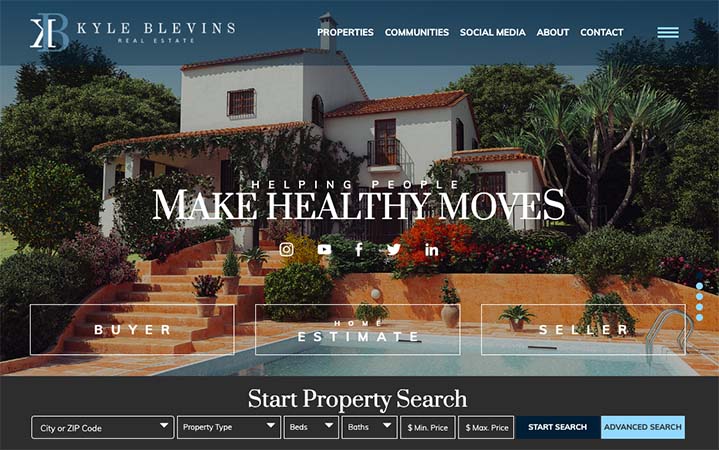 ---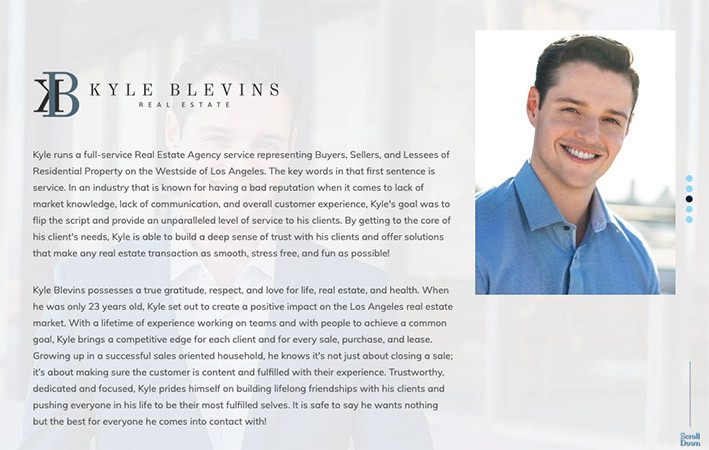 ---
In addition, this agent is located in the Beverly Hills area, a demographic that strongly values healthy living. By choosing a unique real estate niche and strategically creating a website design that communicates his expertise, this landing page is both engaging and memorable.
12. Blake Rickels Group
Key features:
Focus on listings search feature
Clear website menu
Accessible contact information
An IDX feed on your website ensures listings on your website are up to date and requires less manual data entry for real estate agents and brokers. This type of website is a somewhat common real estate agent landing page template, providing a menu on top and a search bar for buyers and sellers.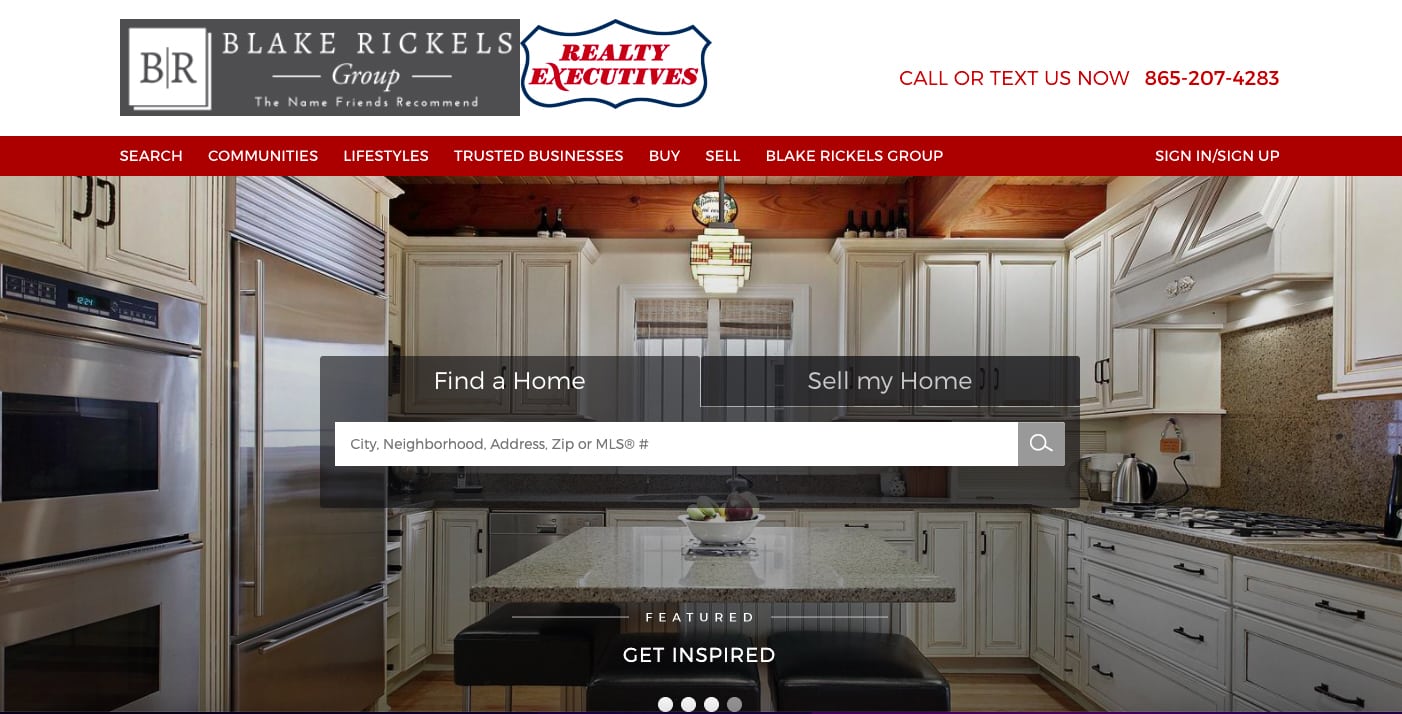 ---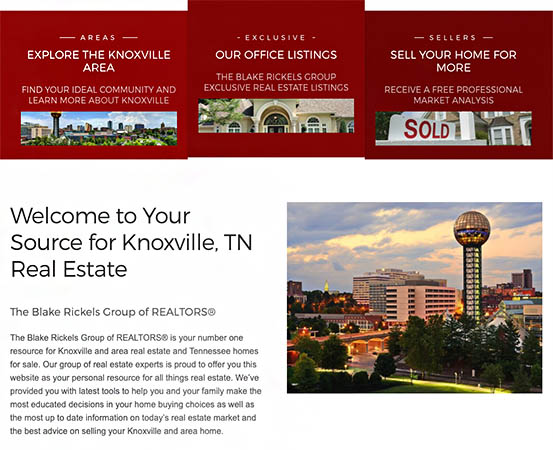 ---
Although there's no clear offer for website visitors above the fold, the broker's phone number is listed on the top right corner of every page of the site. This makes it easy for visitors to focus on browsing the website without having to search for basic contact information.
13. McGraw Realtors
Key features:
Focus on serving clients
Consultation CTA on every page
Clean page design with graphics and clear copy
This is one of the few real estate landing page ideas that is not focused on a search bar for listings. Instead of directing website visitors to listings, McGraw Realtors uses their landing page to clearly display their focus on serving their clients.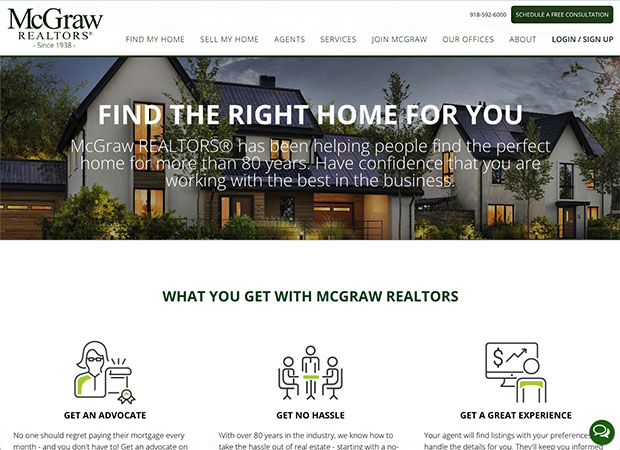 ---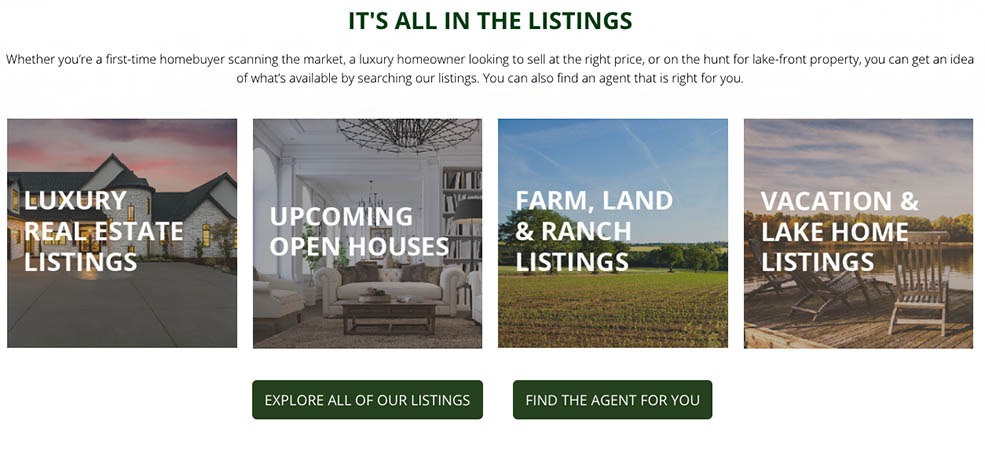 ---
Although there is no search bar or CTA at the top or center of the page, there is an offer for a free consultation at the upper right corner. By offering a consultation instead of a home valuation or another automated resource, this brokerage continues to show how they offer personalized support to each of their clients.
14. Christian Buys Houses
Key features:
Clear copy
Search engine optimization (SEO)-friendly titles
Multiple credibility markers
Personalized video
Before even reaching this landing page, visitors are likely to notice the title of this website, "Christian Buys Houses," because of its simplicity. In addition, the headline at the top of the first page further confirms what this real estate business does and how it can help users. This is a perfect example of combining keywords with strong messaging to optimize a page for real estate search engine optimization (SEO).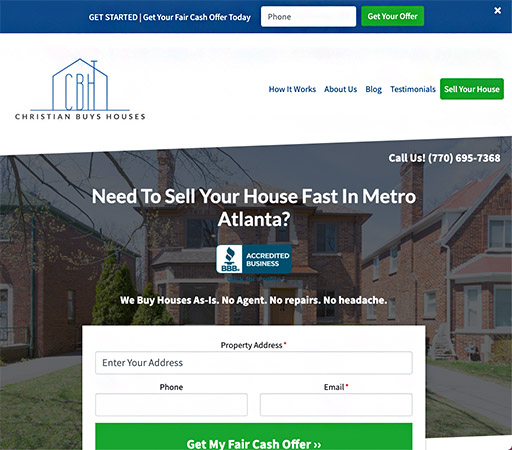 ---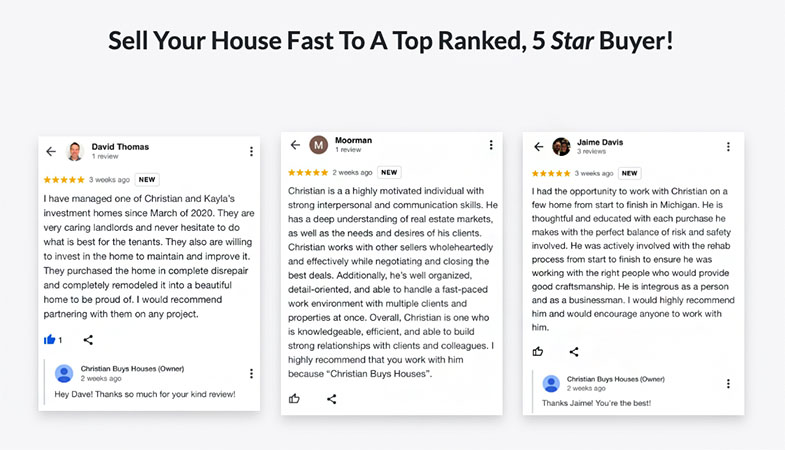 ---
The next section on this page features a video of the business owner sharing an emotional story about how he helped someone in the past. This is combined with a variety of elements that build credibility, like its 5-star Google rating, positive customer testimonials, and BBB accreditation. Overall, the combination of clean design, clear messaging, and multiple CTAs makes this wholesale real estate landing page incredibly effective.
How to Create Real Estate Landing Pages
There are a variety of methods to help agents create targeted landing pages and execute new real estate landing page ideas. The best landing page builders include customizable branding options, customer relationship management (CRM) software, and email marketing. Choosing the right tool will help you create effective and unique landing pages to grow your business.
The top real estate website builders include:
Company

Best For

Agents and brokers wanting to create a customizable IDX website with unlimited landing pages

Agents wanting an all-in-one marketing tool with IDX and landing pages

Agents and teams wanting customizable websites with marketing automation tools

Professionals wanting a user-friendly landing page builder with customizable lead generation tools

Key Features

Customizable templates
CRM integration
Connection to IDX

Social media integrations
Use for individual or team environments
Ability to launch Google Ads

Productivity dashboards
Available training guides
Mobile application for working on the go

Transaction management included
Brand building through advertisements
Lead automation tools available

Starting Monthly Price

$79

$299

$169

$499

Learn More
Bottom Line
Real estate landing pages can be used in a wide variety of ways, including providing listing information, neighborhood resources, seller guides, and building brand recognition and authority. They should make it easy for clients to leave behind their contact information with strategic design and copy. Whether you are collecting leads into a CRM for lead nurturing or allowing prospective clients to search for available listings via the IDX, you want to make sure the landing page is simple and has a direct message to increase your chances of lead conversion.
Frequently Asked Questions (FAQs)
All real estate landing pages should include a call to action (CTA) to gather visitors' contact information. Depending on the goal of the landing page, this information can be provided in exchange for a home valuation, exclusive listings, or a real estate newsletter.
---
Real estate landing pages are typically designed for homebuyers or homesellers, but there are many different ways to generate both leads. Three effective types of landing pages are home valuations, homes for sale (listings page), resources pages with guides for buying, selling, and maintaining a home, or other relevant information.
---
A website page can exist for a variety of reasons, like providing information, sharing about the real estate agent or brokerage, or even providing legal disclosures. Real estate landing pages are designed to accomplish one specific goal, like generating buyer or seller leads for agents.
---