Mastering the art of real estate landing pages is quickly becoming a crucial skill for Realtors in 2018. After all, what good is getting people to click on your Facebook ads if they never follow through and give you their contact information?
In order to demystify the landing page for Realtors, we wrote this guide to help you learn the basics of building, designing, and optimizing landing pages that convert visitors to leads. We'll also show you the four types of landing pages every Realtor needs to master for 2018, real world examples and templates, and the best software and tools available to build and track landing pages.
What Are Real Estate Landing Pages?
Real estate landing pages, sometimes called real estate squeeze pages, are simple single pages on your website that you link to from your real estate ads on Facebook, Google, Pinterest, or any other website. Once they click on your ad, they "land" on your landing page. Once there, landing pages have one purpose and one purpose only; to get that visitor to give you their contact information.
Because they have such a targeted purpose, real estate landing pages generally only have short, direct copy, a few images, and a contact form where your site visitor can leave their contact information.
4 Reasons Real Estate Landing Pages are so Important for Realtors to Master in 2018
If you want a real world analogy for a landing page, think of them as the closing rooms used in high pressure sales environments like timeshare offices or used car lots. They don't take you to the smaller room so you'll have more privacy, they take you to the smaller room because it narrows your focus and makes you easier to close. Since there are less distractions, it's easier to guide you into a making a decision.
Since the vast majority of lead generation is online in 2018, closing rooms are largely a thing of the past. Instead, we have landing pages, which work almost exactly like online closing rooms. Facebook is distracting.Your landing page is not. Luckily, the closing on your landing page isn't signing someone up for an overpriced hotel room in Miami. Instead, you just need to persuade someone to give you their contact information, and hopefully have them eager to speak with you.
Real Estate Landing Pages Work for Offline Ads Too
Another reason mastering real estate landing pages should be at the top of your skill building list is that you can drive traffic to them from many different sources. While they work great for getting contact information from leads who click on your online ads, you can also link to them from your social media accounts, or even with QR codes on your yard signs, postcards, billboards, or flyers. This is a great way to use technology to track how many people are visiting your website from your offline marketing strategies.
Landing Pages Let You Make a Longer, More Targeted Pitch
While most digital marketing experts (myself included) will say that your copy on your landing page should be as brief as possible, you can fit a heck of a lot more detail on your landing page than you can on a tiny square Facebook ad or sign rider. Even better, since you know they're in the bottom of your sales funnel, it's much easier to encourage them to give you their contact information. Think about it. If you send a lead right to your homepage, they may click around, get distracted by something, and never come back. Since landing pages are specifically designed to get contact information, you're much more likely to get a lead if you send them to one.
You Can A/B Test Your Landing Pages & Optimize Them Based on the Results
One of the most powerful features of landing pages is the ability to offer half your page visitors one page, and half another page in order to see what works better. For example, let's say you wrote two different versions of copy for you landing page but aren't quite sure which one to pick. You can set up your landing page to show half your visitors option A, and half option B and then run the one that performs best. You can keep doing this endlessly. With layout, pictures, different calls to action, or even the color of the button and contact forms. You might be suprised on what converts better! More on this later…
You Can Get Partial Leads With Landing Pages
While only getting an address or email may not be ideal, landing pages let you decide on how much or how little information your leads are allowed to leave. As you might imagine, it's much, much easier to get less information than more. Don't sweat it though. You can take a partial lead who only gave you their address for a free home valuation and add them to your postcard or door hanger campaign.
The 3 Types of Real Estate Landing Pages Every Realtor Needs to Master
Okay, now that you know a little bit more about what real estate landing pages are and why they're so important, let's take a look at the three types of landing pages every Realtor needs to master in 2018.
1. Home value landing pages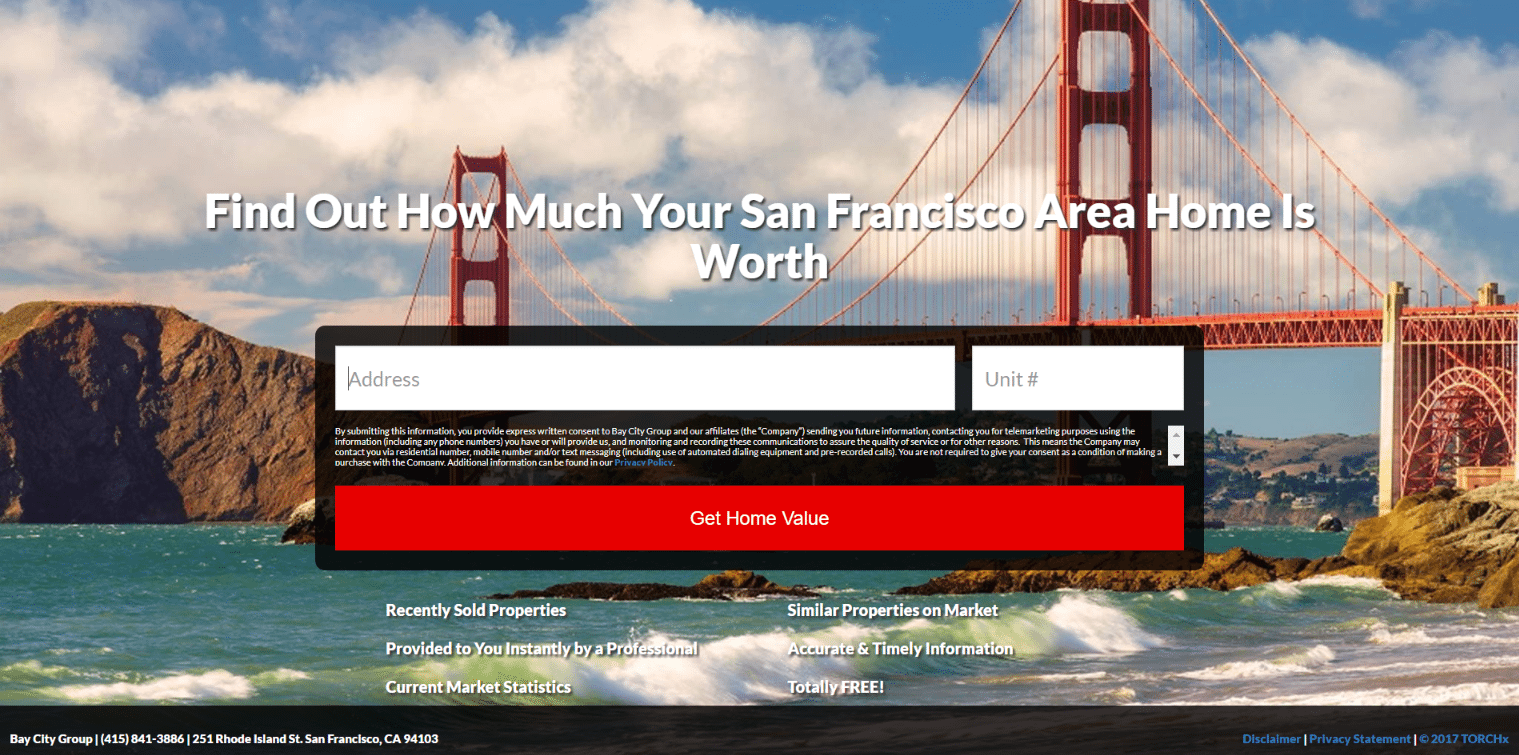 Lead type: Seller Leads
Benefits: Can have good conversion rate (number of people leaving their contact info)
Drawbacks: Can require a subscription to instant home value services
Home value landing pages are the most popular kind of landing pages that Realtors use in 2018 to get seller leads. Here's how they work: A Realtor puts up an ad targeting people likely to move or sell their home on Facebook. Generally speaking, the ad will offer them a free home valuation so they can find out how much their home is worth in today's market. When a potential lead clicks on that ad, they end up on a home value landing page. There are two types of home value landing pages.
Instant Home Value Landing Pages
Conversion rate (how many people leave their contact info): Medium/High
Benefits: Higher conversion rate
Drawbacks: More partial leads (e.g. just an address w/ no email)
An instant home value landing page offers potential leads an instant home valuation in return for their contact information. In order to set up an instant home value landing page, you need to be able to offer your potential leads an instant home valuation as soon as they enter their home's details and contact information.
Real Geeks offers a great home valuation tool which comes already embedded in all their property and market report pages. It not only provides one of the best ways to capture seller leads, but will also automatically send those leads bi-monthly market reports in order to keep them interested. Click here to sign up for a free demo.
The great thing about instant value landing pages is that the conversion rate (the percentage of people who leave contact info) is pretty high. After all, more people are willing to click through to something that doesn't involve a lot of their time or attention. This is especially true for people who are leery of getting spam emails or cold calls from Realtors.
The downside is that you end up with more partial leads. In this case, a partial lead will be someone who puts in their address and some details about their home, but leave no or fake contact information. While this is indeed an issue, you can always put them on a postcard or door hanger campaign so there is still a potential to turn them into a client down the road.
CMA Offer Landing Pages
Conversion rate (how many people leave their contact info): Low/medium
Benefits: Leads more likely to want a professional CMA
Drawbacks: Fewer people leave their contact information
A CMA offer landing page encourages a potential lead to give you their contact information in order to have a professional come up with a more accurate valuation of their home. While the pitch in your ads will be very similar; "Is Your Home Worth More Than You Think?", potential leads will be knowingly signing up to get your professional opinion on how much their home is worth.
As you can imagine, fewer people will be willing to schedule a call than get an instant home valuation. That said, these people will be more willing to work with a Realtor, and will also more than likely be more serious about selling their home. That's a better seller lead by pretty much anyone's definition.
2. Free Content Landing Pages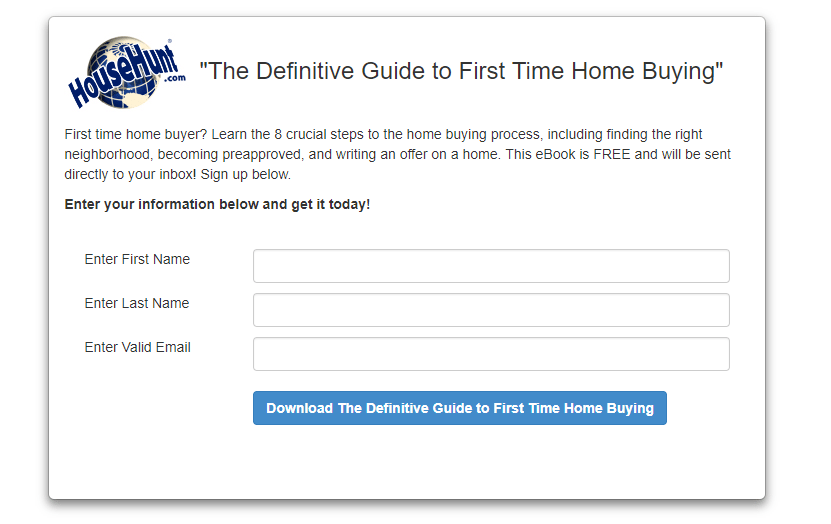 Lead Type: Seller or Buyer
Conversion rate (how many people leave their contact info): Medium/High
Benefits: Leads will be more likely to leave contact info
Drawbacks: Leads may be further away from making a buying or selling decision
Free content landing pages are real estate landing pages that offer potential leads something free in exchange for their contact info. In the world of digital marketing this is known as a lead magnet, as the offer of something free draws in leads.
Examples of effective lead magnets may be something like a buyer or sellers Ebook, a guide to off market listings in your farm area, a list of the top ten renovations with the best ROI, an updated list of foreclosures, or any other content a buyer or seller might want from a real estate professional.
While free content landing pages should have a relatively high conversion rate, there is a danger that the leads you end up with will be too high in the funnel to be if immediate use. While these leads aren't as desirable as motivated buyers or sellers, they can be easily nurtured with drip campaigns.
3. Home Search Landing Pages

Lead Type: Buyer
Conversion rate: Low
Benefits: Higher CTR (click through rate, aka how many people click on your ad)
Drawbacks: Lower conversion rate. People will search for listings on your site but may not sign up
Popularized by lead generation website companies like Real Geeks, home search landing pages are a great way to generate buyer leads. Here's how they work. A potential lead clicks on your ad offering a free listing search. They then click onto your home search landing page. Well, "landing page" isn't technically correct here, as these sites are generally fully fledged IDX websites that allow leads to search for homes and save their favorites. After a few minutes of searching, they are encouraged to leave their contact information to continue using the site.
Home search landing pages are great because you don't even really need a landing page, you can just use your homepage as your landing page. To get started, you can turn to a service such as Real Geeks that allows you to make any page on your site into your landing page. Visit Real Geeks and see the different types of landing pages they offer.
How to Design Real Estate Landing Pages That Convert Visitors to Leads
Before we dig into the software and tools you'll need to build your landing pages, let's take a look at the three factors that are common to all great landing pages: copywriting, overall design, and CTA (Call to Action).
1. Copywriting
When it comes to copywriting for your landing page, you want to briefly clearly outline your value proposition, and also demonstrate your authority in Real Estate. That means maybe a short paragraph on why they should download your ebook, schedule a CMA call, or whatever else you're trying to get them to do.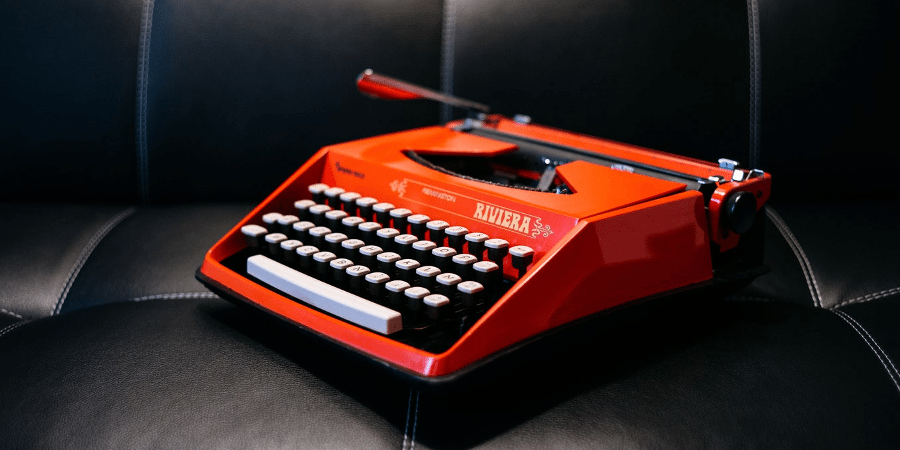 Keep it Simple
Remember that your potential lead has a very short attention span, so always keep your copy short and to the point. Use short declarative sentences. Complex sentences tire people out quickly. If they get bored, they might leave your page.
Break it Up
If you absolutely must have a ton of copy on your landing page, make sure to break it up with subheadings, icons, images, or bullet points. This will make it easy for people to skim the page and only read what they're most interested in. Remember the goldfish!
Less Important Info Belongs Below the Fold
When it comes to demonstrating your authority in the market, a few short sentences below the fold (this refers to the copy that is visible when they first land on your page. Anything they need to scroll down for is considered "below the fold" should do it. You can also include your designations, and testimonials from former clients.
Use Statistics & Timing Words
Since you have such a short amount of time to grab their attention and get them to convert, you need to pack as much punch into your words as you can. In order to do this effectively, always use statistics and timing words (call now etc) in your copy.
Here's a quick example:
Mediocre: "There are Lot's of Great 3 Bedroom Ranches in Your Area"
Better: "There are 97 3 bedroom ranches in West Cucomunga on the market right now"
Even Better: "There are 17 3 bedroom ranches under $400k that came on the market yesterday. See them before they get offers!"
Always Remember Your Goal
The most important thing to keep in mind when writing copy for your landing page is to always keep your goal in mind. Before adding another word, always ask yourself if it will help convince your lead to fill out the form and give you their contact information. If the answer is no, leave it out.
2. Overall Design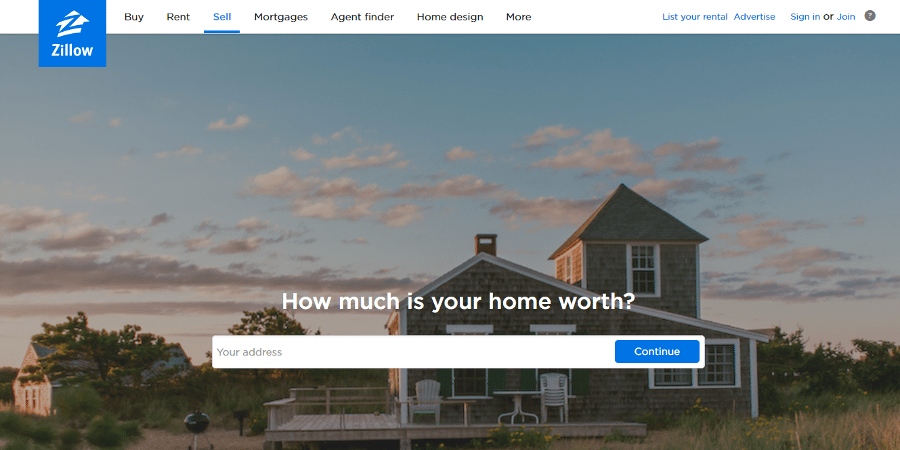 Like your copy, the design of your landing page should be simple, attractive, and help convince your leads to give you their contact information. Here are a few design tips to make sure your landing pages convert visitors to leads:
Don't Reinvent the Wheel: Use Landing Page Templates
Most people think graphic design is easy. After all, your brother's cousin has photoshop and went to art school for a year, how hard could it be? The answer of course, is that like all crafts, it can take a lifetime to master.
Instead of trying to reinvent the wheel, just customize one of the hundreds of landing page templates available from softare like Unbounce, or Instapage, or through lead generation services like Cloud Attract or BoldLeads.
CTA/lead capture should be main focus of page
Don't worry about making your landing page look pretty. Yes, you want something that looks professional, but professional is not always pretty. In fact, in some cases, "ugly" landing pages convert better than pretty ones. While this may seem somewhat counterintuitive, it makes sense when you think about it. People want to work with someone they can trust. Who would you trust more, a slick wall street investment bank or your local credit union?
Landing Pages Must be Responsive
In web design, a page is "responsive" when it looks good on desktop computers and mobile devices. As you might have guessed, you need to work hard to make sure your landing page looks great on mobile and desktop. You may need to create two separate pages. Luckily, you can do this pretty easily using landing page builders like Unbounce.
Less is More
Like with your copy, you should always ask yourself if the layout, fonts, or images you choose are going to help get more people to give you their contact information. In most cases, that means fewer images, fewer fonts, and fewer colors or other distractions.
Use Images to Get an Emotional Response
The images you choose for your landing page are just as, if not more important than your copy or call to action. When you're choosing images for your landing page, make sure they're of the highest quality you can find. Even more importantly, make sure they make your potential leads react positively to your page. Generally, that means gorgeous shots of well designed interiors (kitchens especially), exteriors, your headshot, or great stock photos work best.
Think about it, a picture of a beautiful house will probably produce a more positive emotional response than a picture of an ugly house. That said, a picture of a mansion may be intimidating to someone who lives in a lower income area. Always tailor your imagery to your audience.
Houses or People?
While pictures of houses are generally a safe bet for landing pages, images of people can be a little bit trickier. In a recent experiment, pages with images of real people performed 34% better than stock photos of people. If you have a great headshot, USE IT.
Here's a great tip for making your pictures of people help convert more visitors on your landing page. Whenever possible, use pictures of people that are looking towards your CTA and form. Never use pictures of people looking away from your CTA and form. Here's an example from Homelight. Notice where she's looking and the way her body is positioned.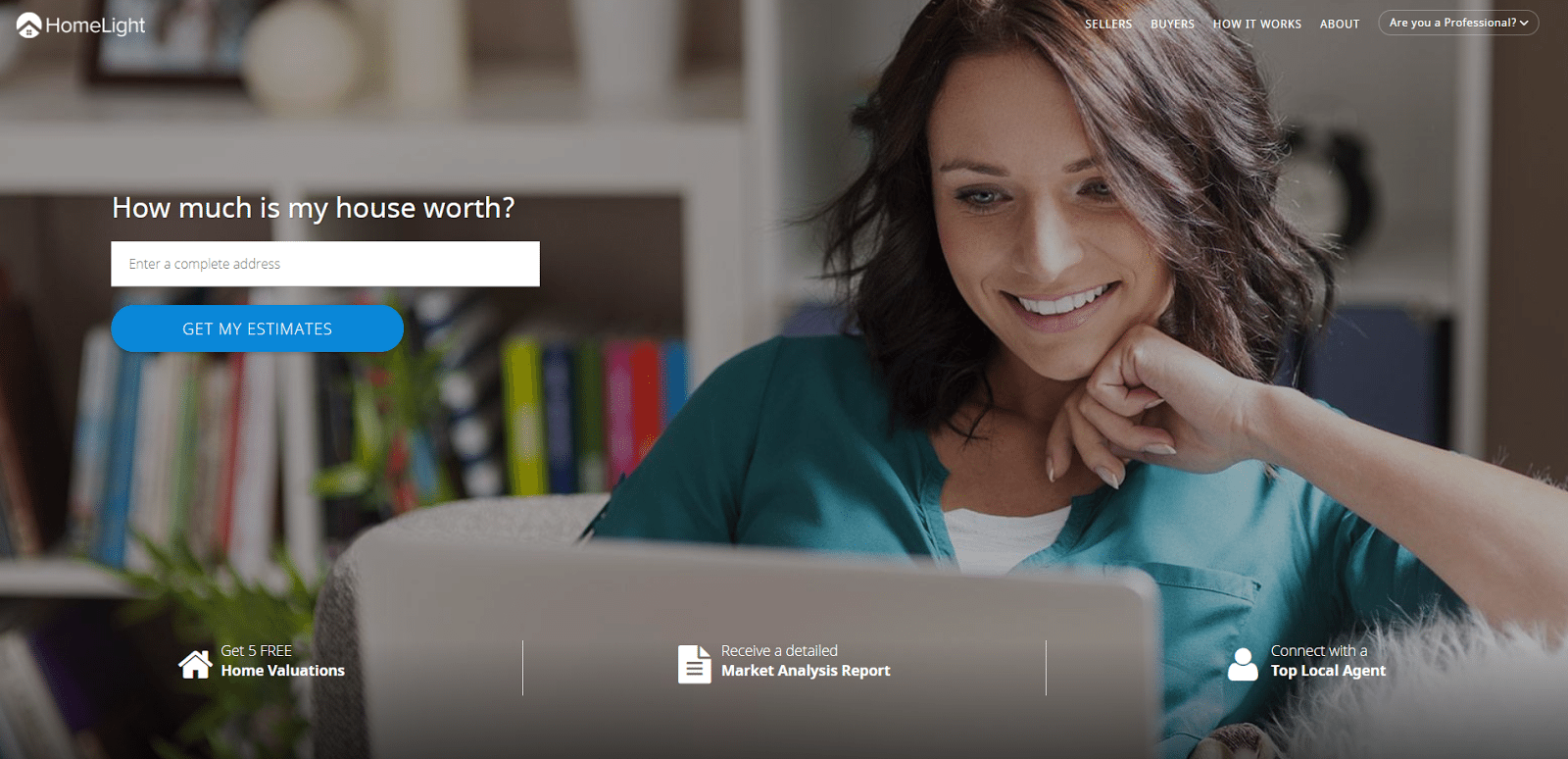 Now take a look at the landing page for freevalues.com.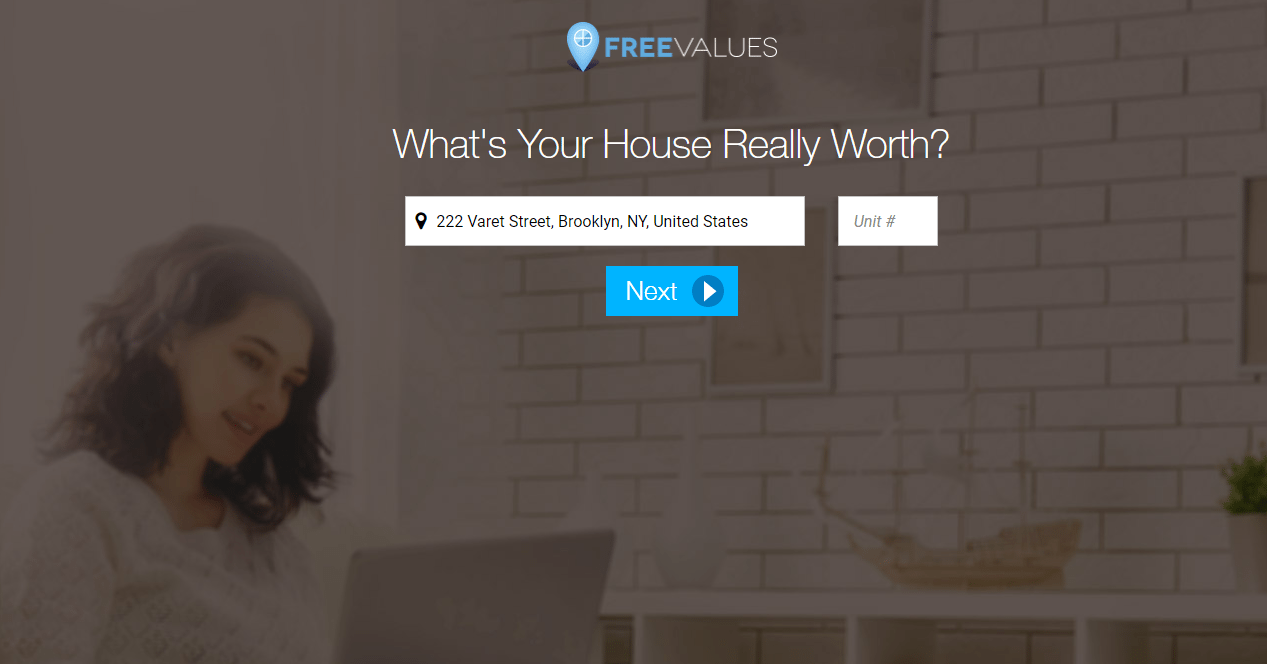 All Stock Photos are Not Created Equal
While the warning against stock photos is a good one, sometimes you can find stock photos that work amazingly well for landing pages. If you want high quality stock photos, you can use free sites like Unsplash, or pay for images from iStock or Getty. For an example of powerful stock images on a landing page, check out Trulia's landing page below. If you were searching for a home or trying to sell your home, do you think you could relate to the woman in the photo?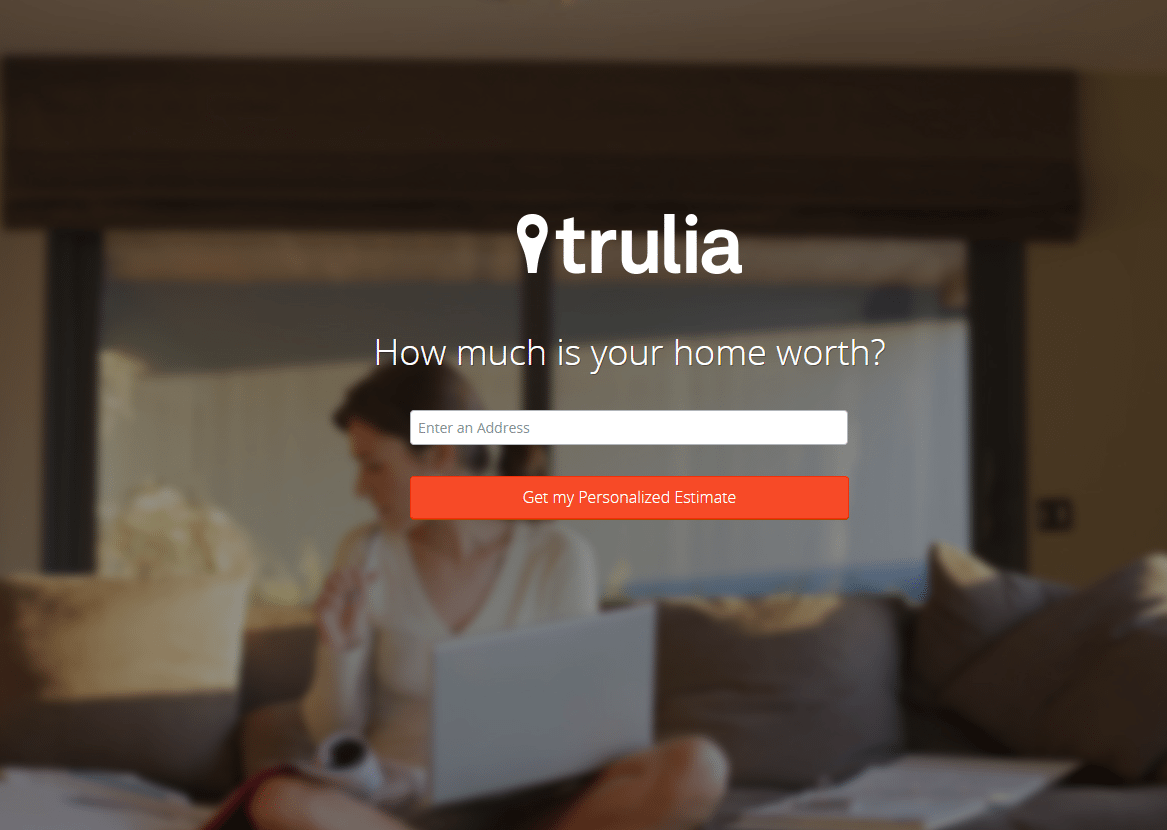 3. Mastering the Call to Action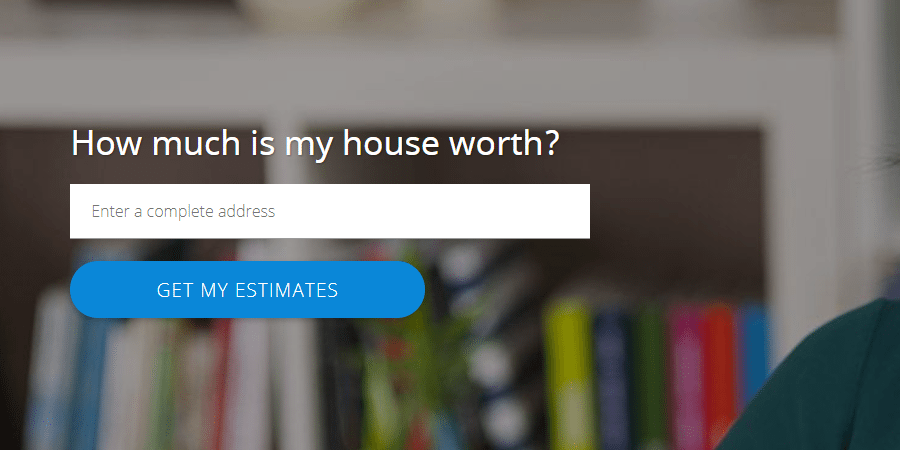 Okay, now let's look at the most important element of any great landing page. The call to action. A call to action is just what it sounds like. It encourages your visitor to take action. Not just any action, but a very specific action. To give you their contact information. Here are a few tips to create irresistible calls to action.
Keep Your CTA Above the Fold…or Don't
While it may not look great in your design, you should always keep the CTA above the fold. This will greatly increase the chances of someone converting. However, if you have a home value landing page where you are trying to get people to sign up for a comparative market analysis, then it might make sense to put your CTA below the fold.
The data actually proves this. In 2017 Marketing Experiments did an A/B test that found CTA's below the fold performed 20% better than above the fold CTAs on pages with more copy. It makes sense when you think about. People often need to be convinced to take action and this may take time.
Avoid Friction Words
Friction words are words that make your visitors will naturally have negative associations with. Generally these words make them think they have to do work. Avoid using words like submit, buy, sign up, or give in your call to action. Think about it. Who wants to "submit"? Doesn't "sign up" sounds like a commitment and possibly an invitation for spam?
If you need more evidence that this works, check out the chart below from Hubspot. You can clearly see that the word with the most friction, the dreaded "register" performed substantially worse than any other word for CTA buttons.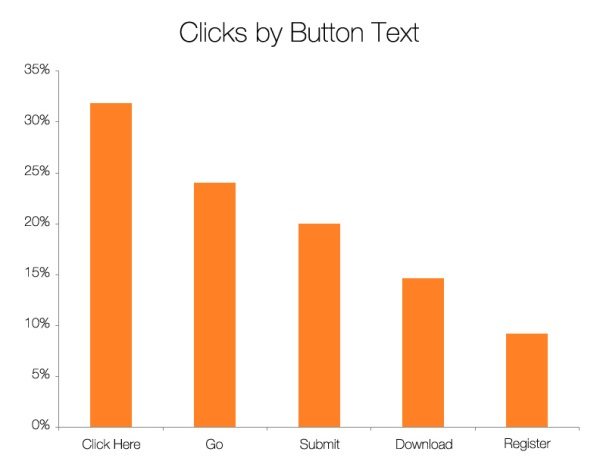 Make Your Button Stand Out on the Page
Have you ever wondered why so many buttons on websites and landing pages are boldly colored? The answer is simple. Your button should be the FIRST thing people notice when looking at your page. It should jump straight out at them and shout "CLICK ME!!"
Color
According to data from Optinmonster, red buttons performed better than green buttons. Optin Monster also suggests using complementary colors, which are colors that are the opposite of your dominant page color on the color wheel. This will help your button stand out and increase clicks.
Check out the CTA button on Zllow's landing page below. The primary color theme of the background image is a reddish brown so they went with a complimentary bright blue button.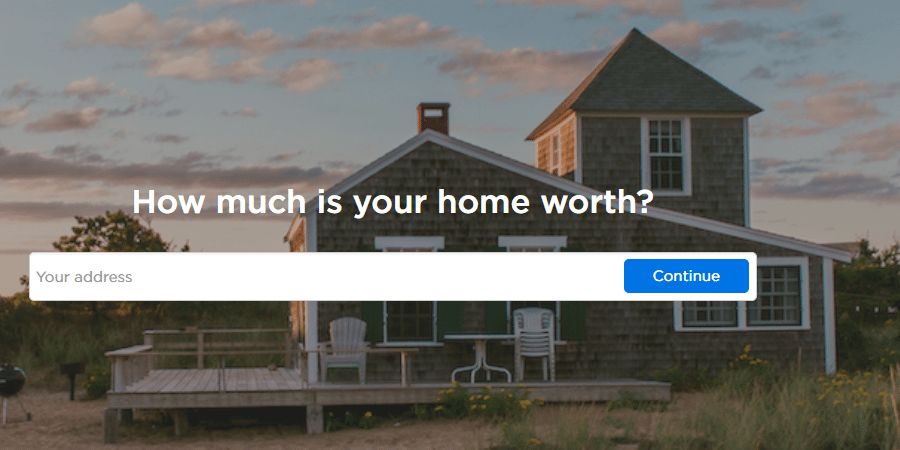 Button Text
In some cases, yor CTA may just be on the button itself with only a headline on the page. In that case, then you need to work very hard on crafting the right CTA in only a few words. When writing a CTA for a button, remember to avoid friction words, use timing words, and focus on the value for your visitor. Somthing like "Download my free CMA now" is perfect. Finally, remember to always use the first person when writing button text. For example, "download my free guide" works better than "download the guide."
The Lead Capture Form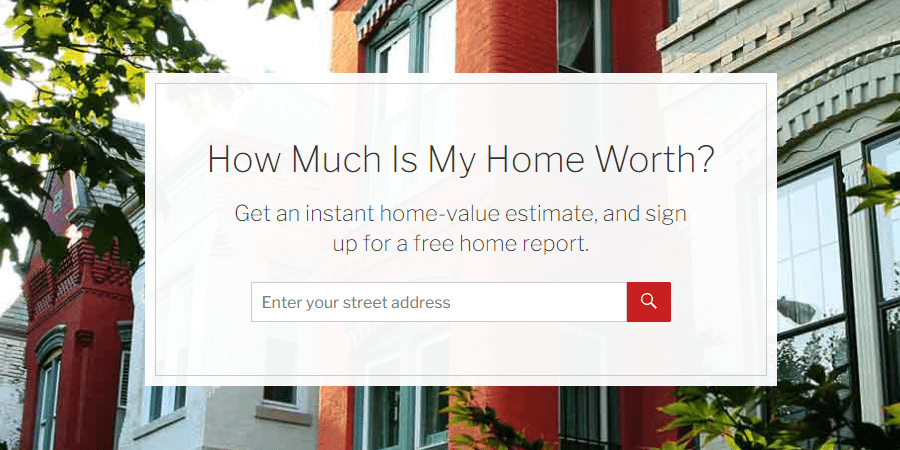 Many Realtors who design landing pages don't think too much about their lead capture forms. This is a huge mistake as they could be costing you leads. Generally speaking, it makes sense to present your visitors with only one or at most two questions to answer on your main page. While you may need or want more information from them, people get intimidated when looking at too many form fields to fill out.
Instead, you can only ask for very simple information on your landing page, then ask for more details on the confirmation page. Some landing page builders will let you only have one or two form fields on your main page, then present the visitor with more on the next page.
The Best Real Estate Landing Page Builders, Templates & Tools 2018
By now you're probably itching to get started on your own landing page. To get started, here are the best landing page builders, templates and tools for 2018.

Price: Starting at $79 per month
Favorite real estate landing page template: Salina Estates (lightbox)

Price: Starting at $68 per month
Favorite real estate landing page template: Roomtrek


Price: Starting at $25 per month
Favorite real estate landing page: Real estate 1
How to Build DIY Landing Pages
You don't need fancy software to build landing pages. Instead, you can just download a landing page template from a site like themeforest, and add a free plugin like Contact Form 7 to build your lead capture forms.
Of course with all of these options, you're going to need a website to put them on. If you don't already have one, check out our in-depth guide to building a real estate website with WordPress now.
Using Landing Pages With Real Estate Lead Generation Platform
If you sign up for real estate lead generation platforms like BoldLeads, Zurple, Boomtown, Real Geeks, Cloud Attract or Tigerlead, they will throw in landing pages for free. For most Realtors, this is the most economical way to build and use real estate landing pages.
11 Examples of Great Real Estate Landing Pages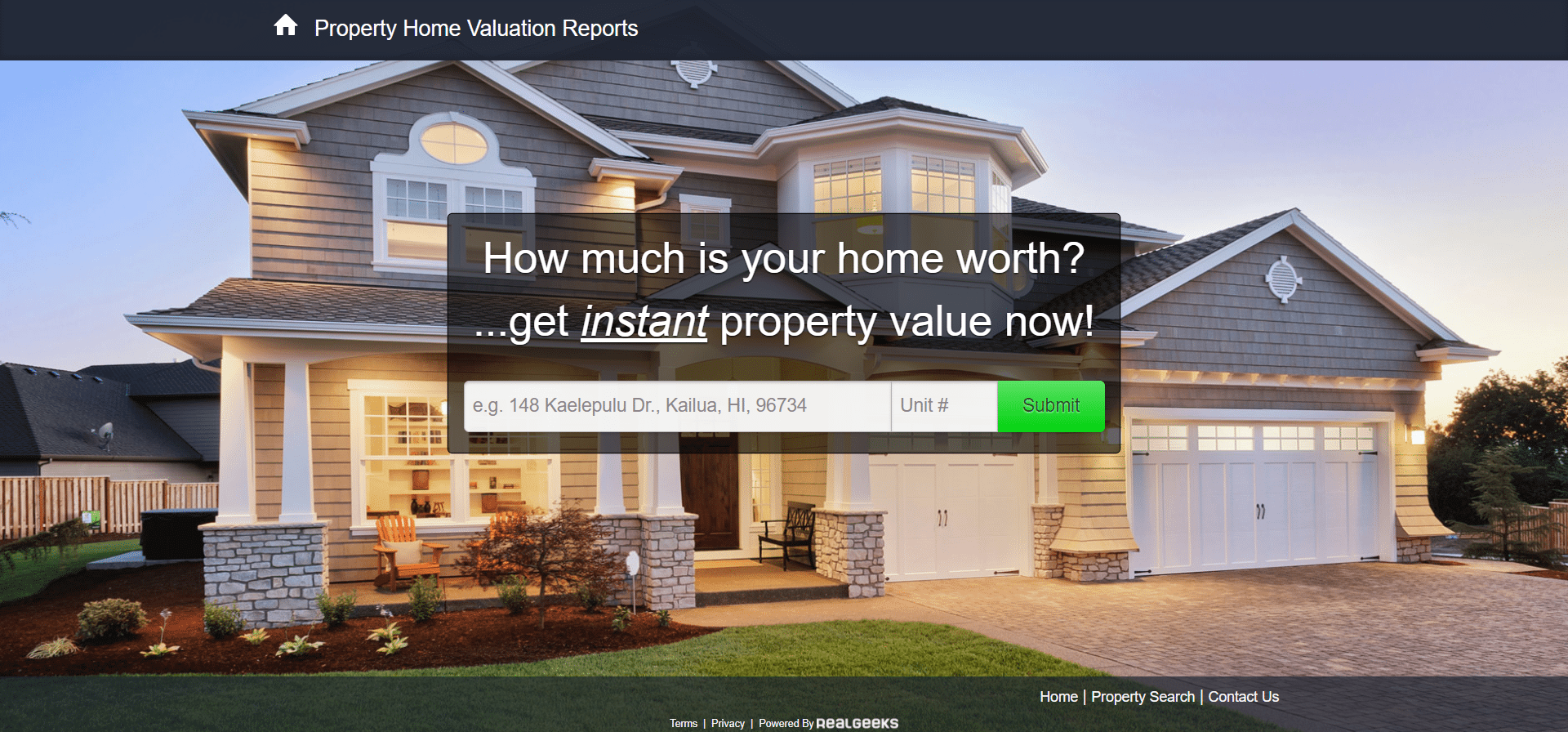 2. Redfin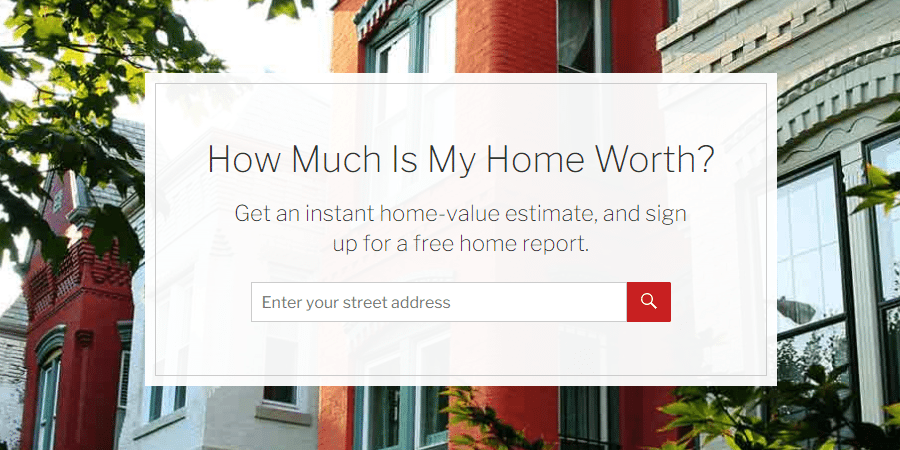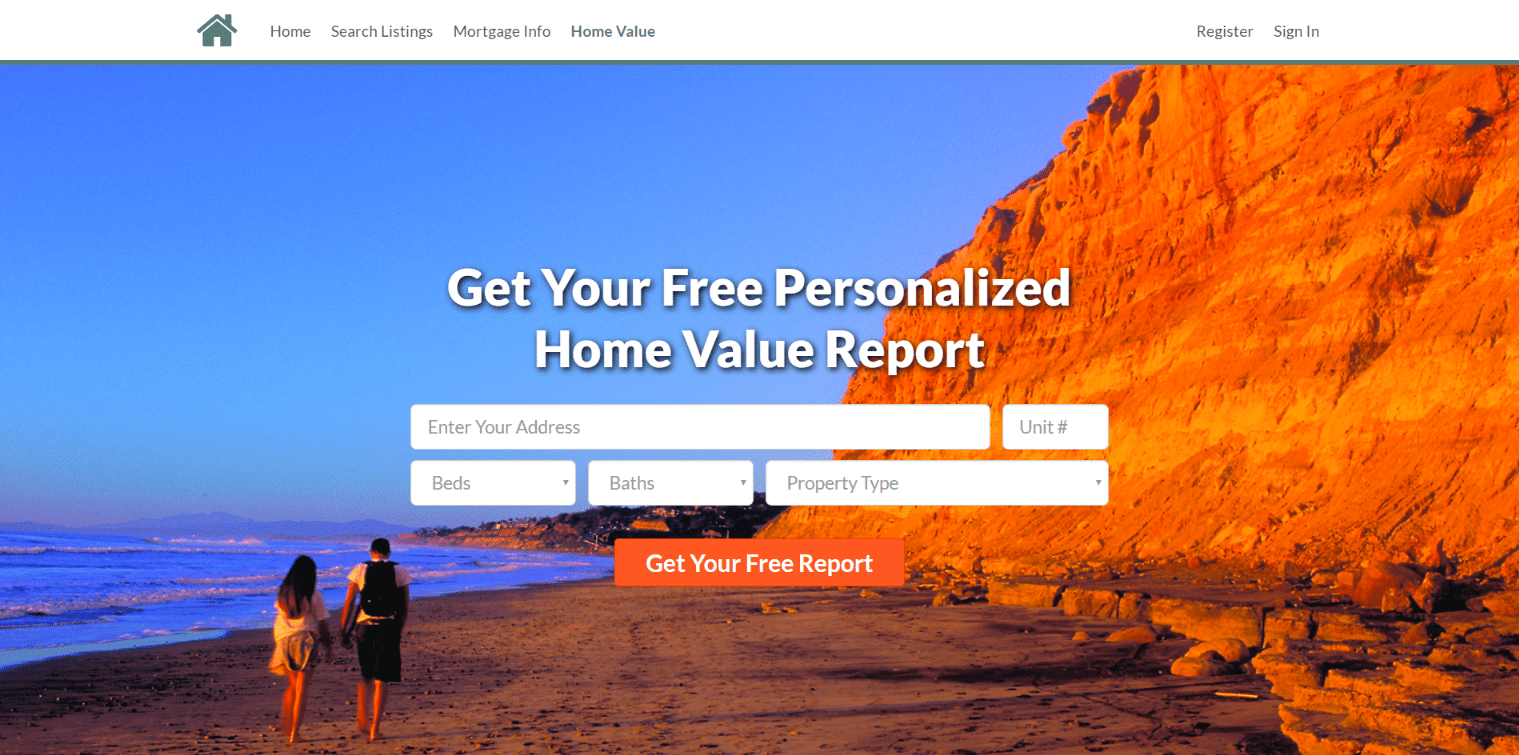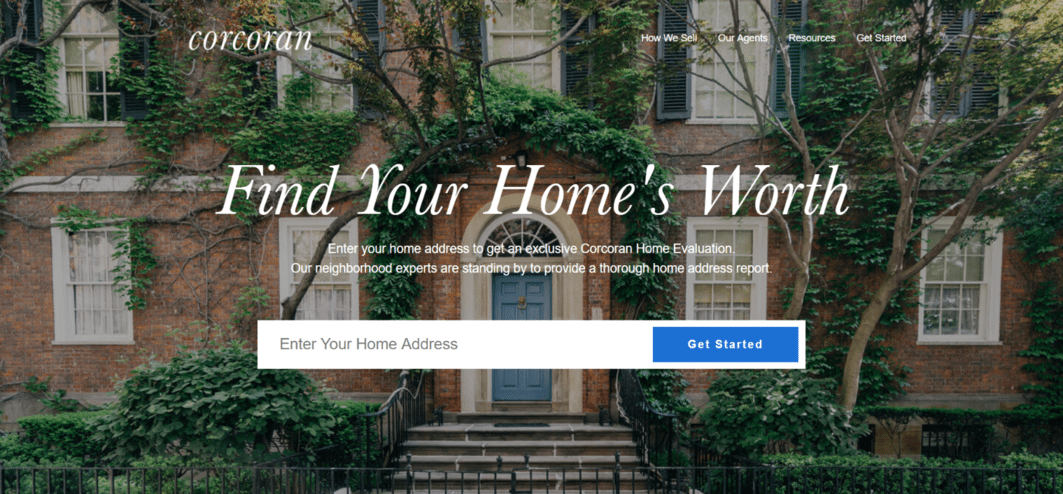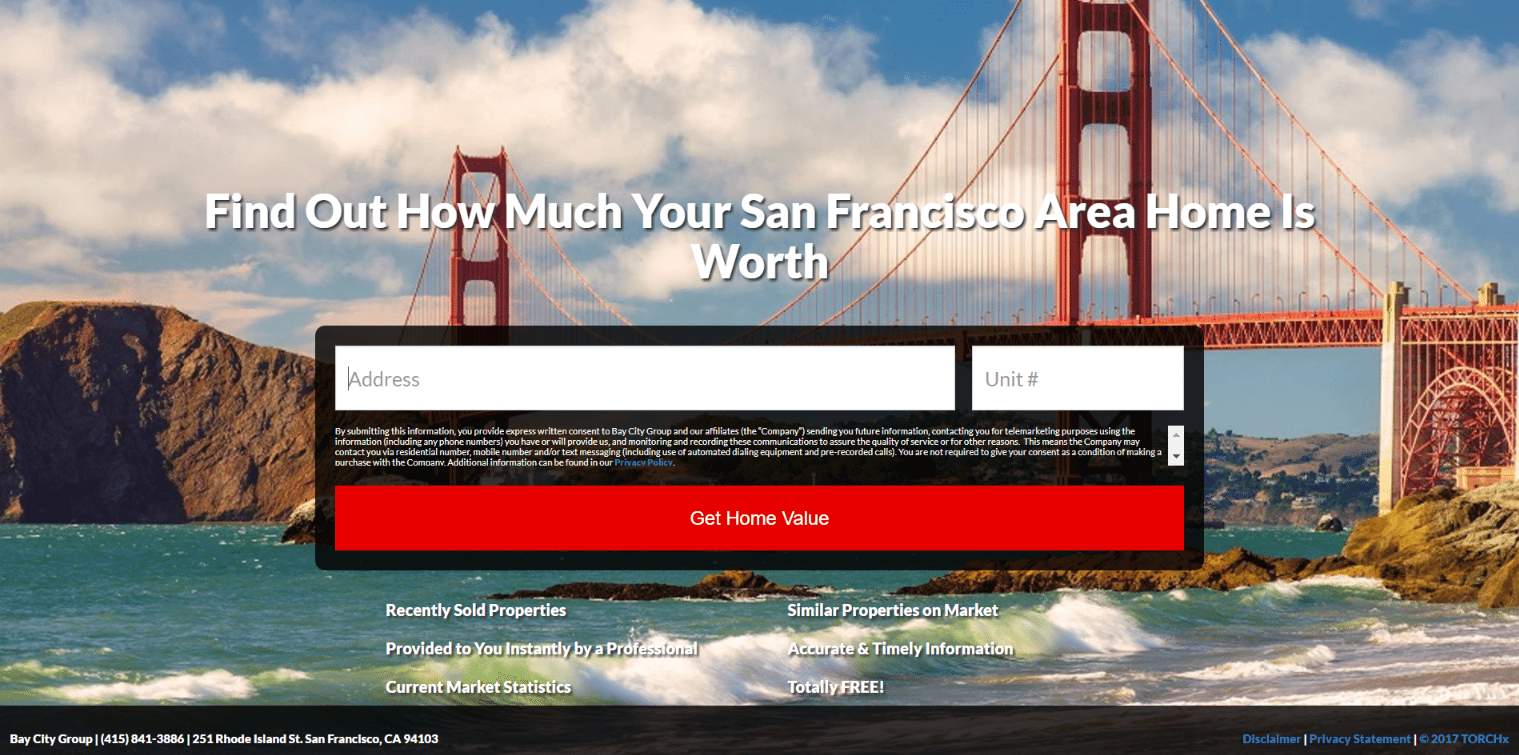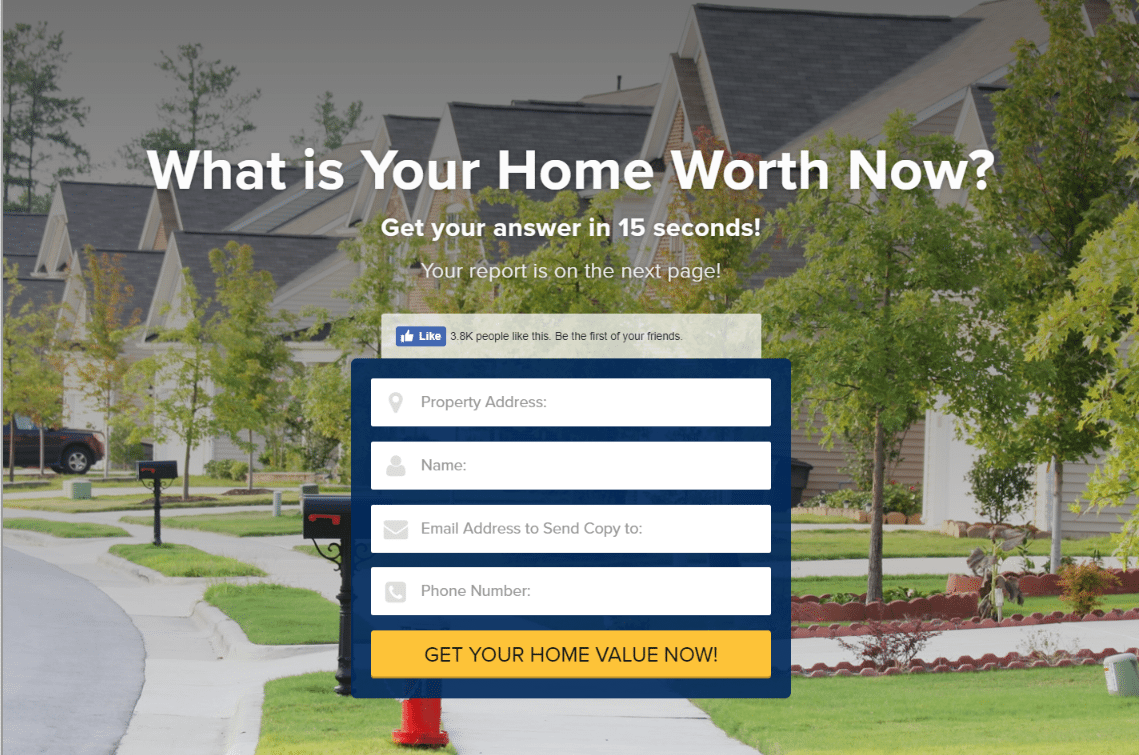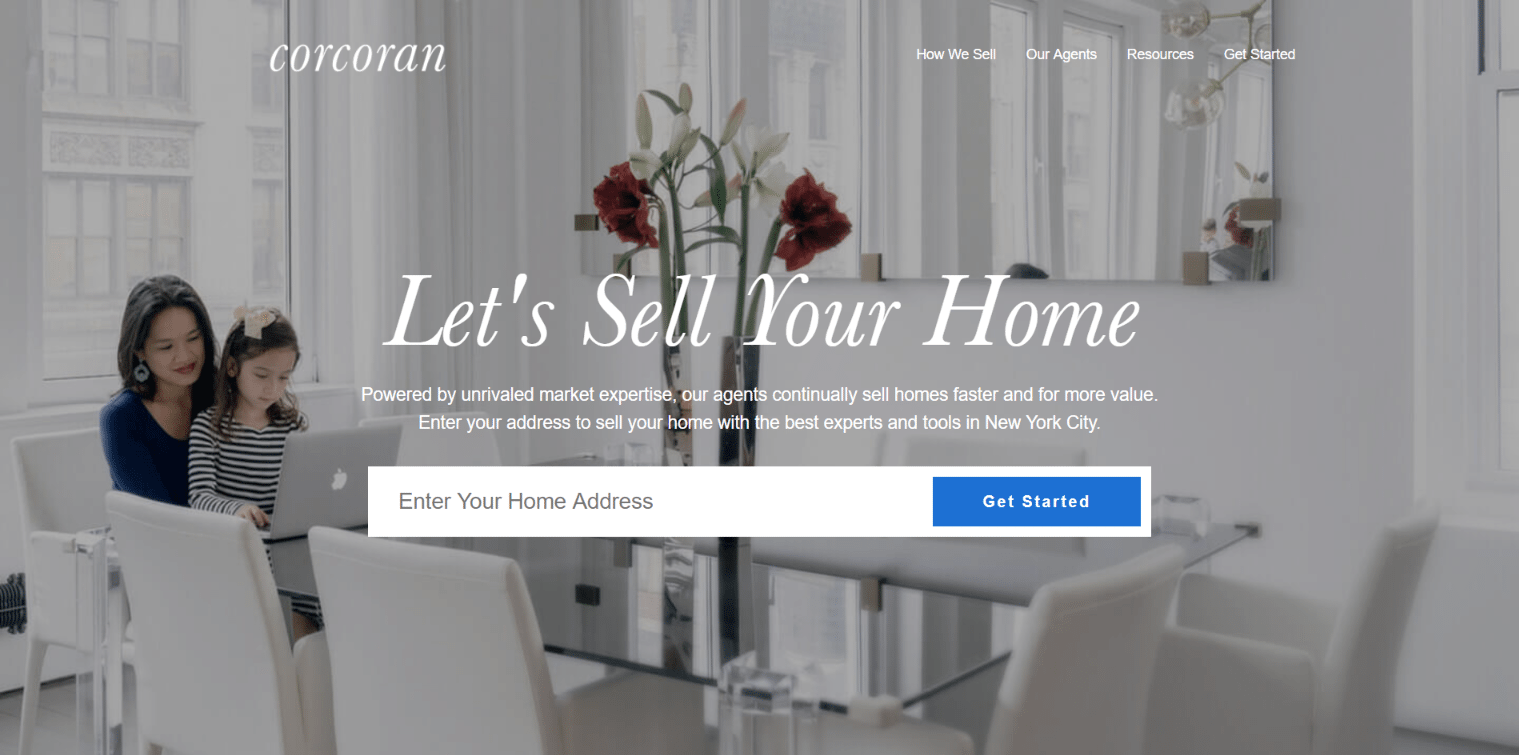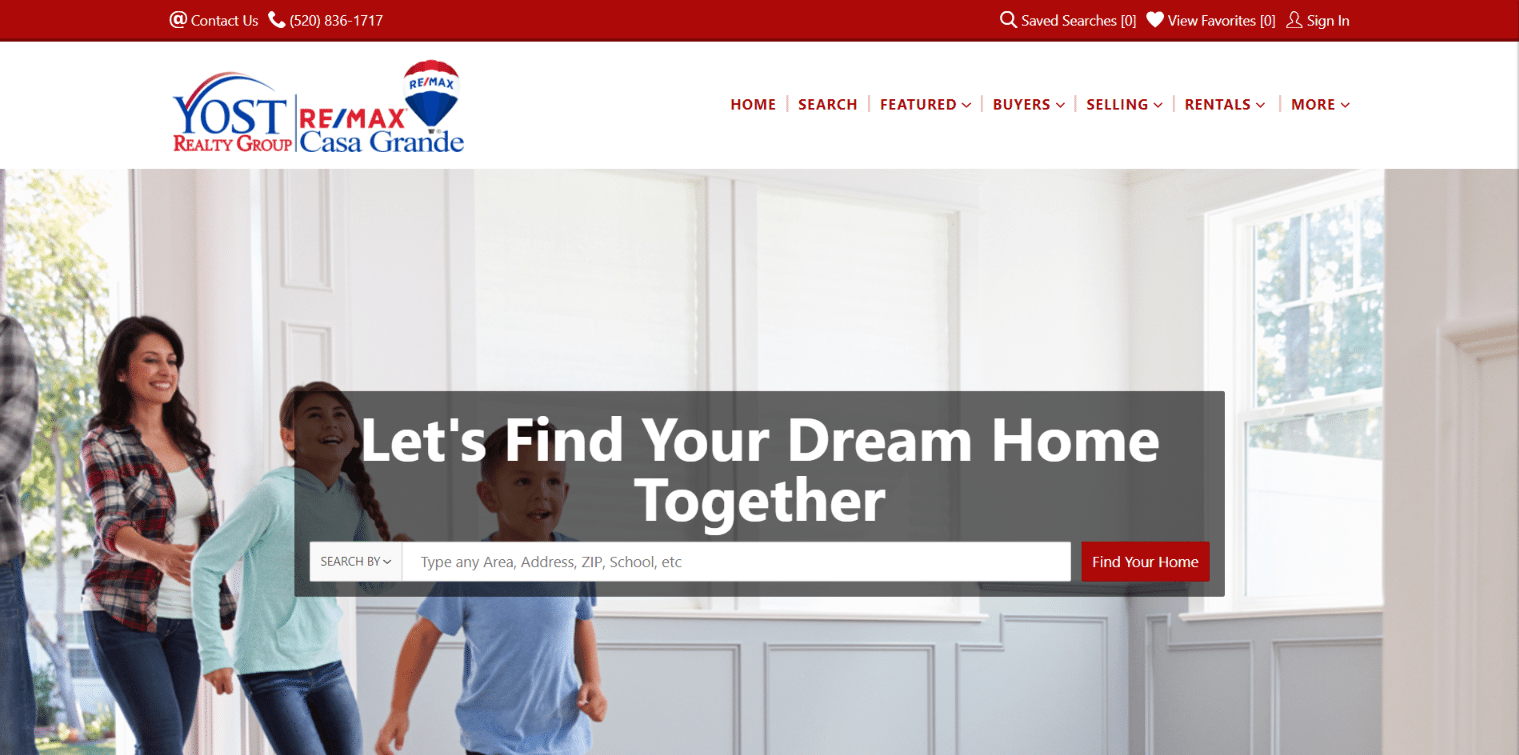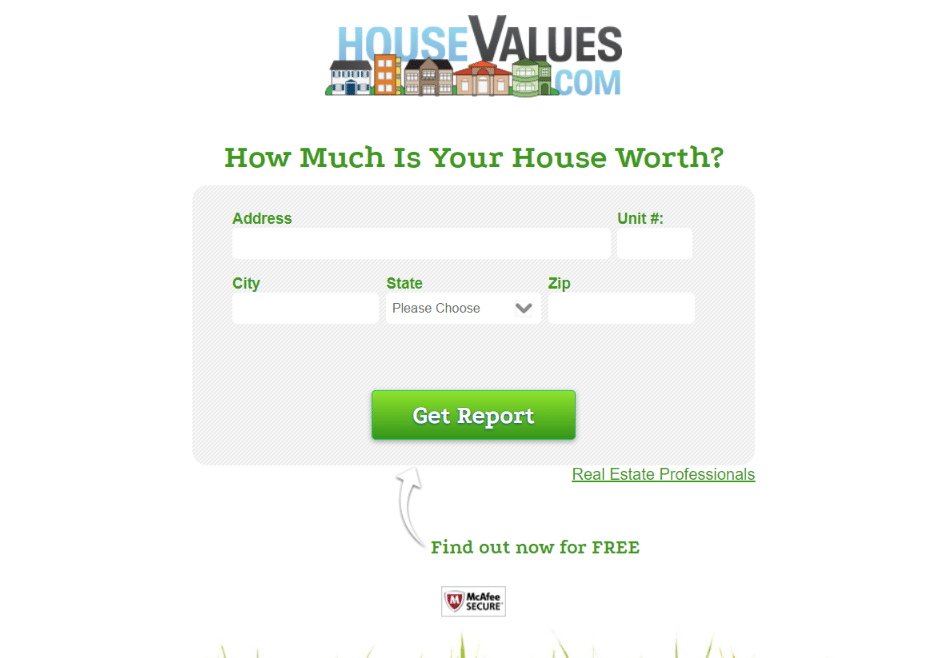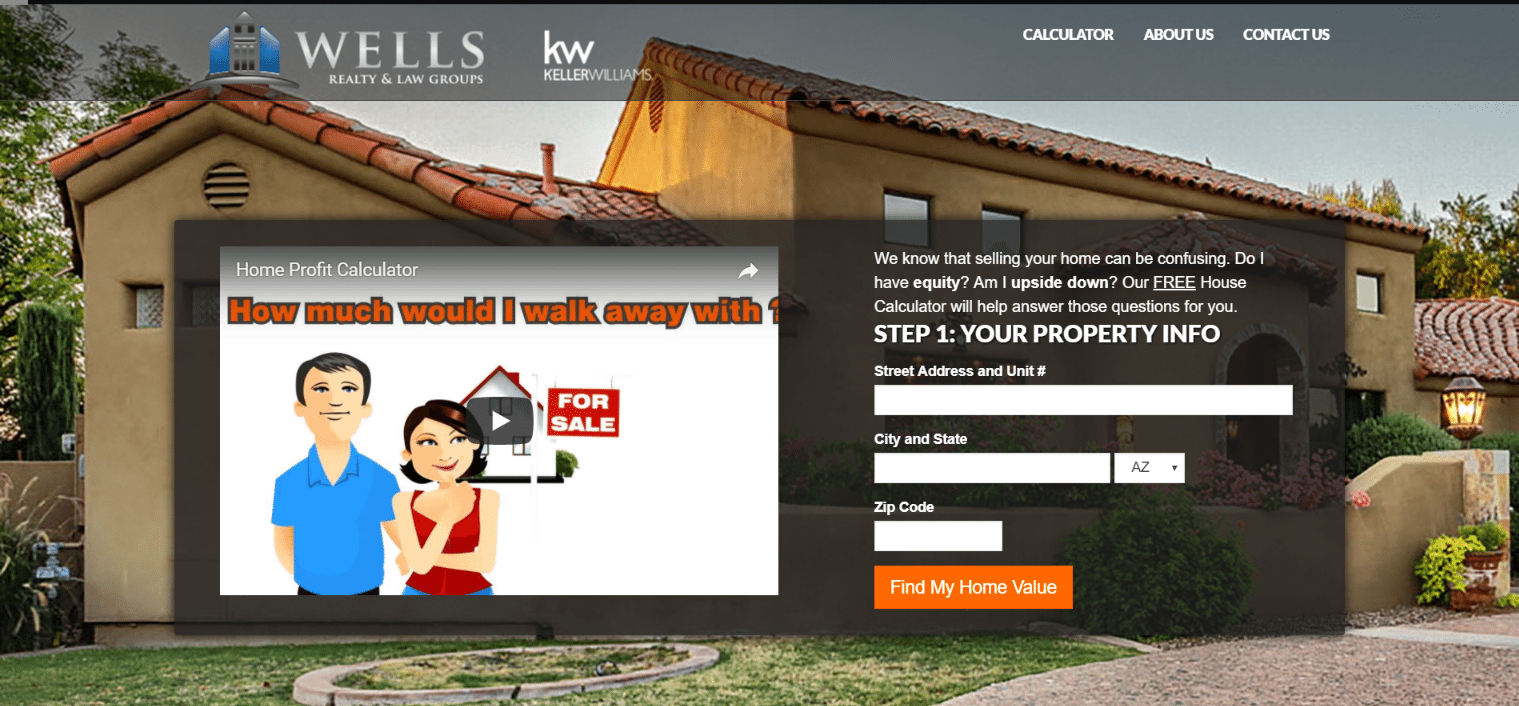 The Bottom Line
Mastering real estate landing pages is becoming more and more important for Realtors in 2018. When building landing pages make sure to know who you're trying to target, use short copy and minimal layouts. Make sure your call to action stands out with a bright button, and appealing copy. Finally, there are many ways to build landing pages, so choose what works best for your business."