To become a real estate agent in Arizona, you must meet state-specific prelicensing education requirements, submit paperwork, and pass the state exam with a score of 75% or better. Successful agents typically take practice exams as well as study state-specific laws to pass. Once licensed, complete the required continuing education credits every two years.
1. Determine If You Meet State Requirements
Arizona requires everyone involved in services related to buying, selling, and renting of property have a real estate salesperson license—not just those who want to be working directly with clients as a real estate agent. To become a real estate agent or real estate salesperson in Arizona, individuals must first meet the following eligibility requirements:
Age: Applicants must be at least 18 years of age when applying for an Arizona real estate license.
Education: Arizona is a nonreciprocal state, meaning they do not accept education credit from other states, so aspiring agents must complete 90 hours of "in classroom" real estate salesperson prelicensing education; online education is not approved for prelicensing education in Arizona.
Location: Arizona does not offer license reciprocity and is a physical location state. This means that while out-of-state agents may conduct real estate transactions in the state, they must do so remotely rather than in person unless they also apply for an Arizona real estate license.
Fingerprint clearance card: Fingerprinting is required, and a fingerprint clearance card must be issued by the Arizona Department of Public Safety, which may take eight to 10 weeks.
Disciplinary action disclosures card and checklist: Information and documentation relating to the applicant's background, including date of birth, Social Security number, and criminal history, must be provided upon application for licensure.
Contract writing class: Applicants must attend a six-hour real estate contract writing class.
Fees: The fee for a real estate salesperson license examination in Arizona is $75; the fee for a first-time license is an additional $60.
Real Estate Licensing Checklist
Once you are familiar with the basic state requirements, you can move on to the next step or use this checklist to answer your specific questions about how to get a real estate license in Arizona. This checklist covers all of the steps to getting your real estate license, ensuring your path to real estate success is as smooth as possible.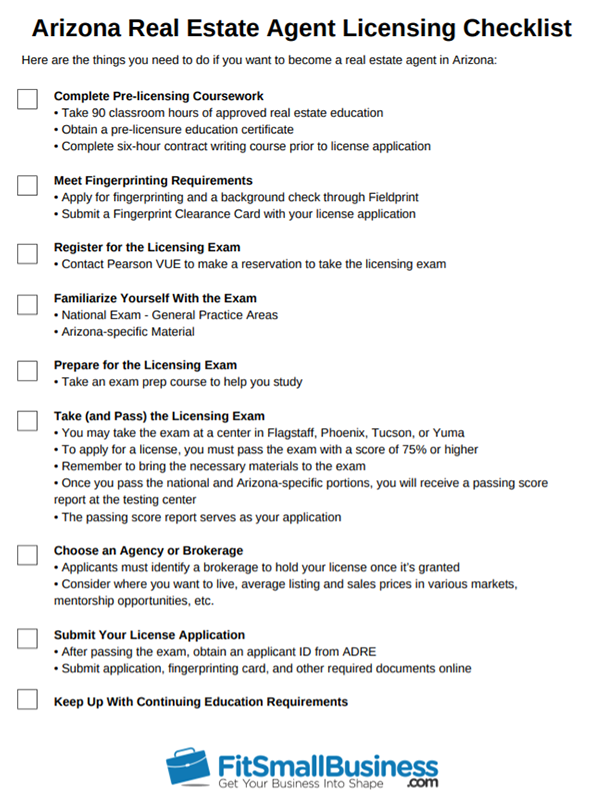 Download: PDF | Word Doc | Google Doc
2. Complete Prelicensing Coursework
Getting a real estate license in Arizona is rather easy compared to how to get a real estate license in other states, and you can take the necessary courses online. You only need a total of 90 classroom hours of commission-approved prelicensing courses. In comparison, to get a license in Texas, real estate licenses require applicants to complete 180 hours of courses.
To get a real estate license in Arizona, complete real estate prelicensing courses that cover:
Real estate principles and practices
Statutes and rules
Broker policies
Supervision
Contract writing education
Note that the contract writing course does not need to be completed prior to registration for the licensing exam or prior to passage of the exam. However, a certificate of completion must be included with your ultimate license application.
For information on where to enroll in prelicensing classes, visit the Arizona Department of Real Estate.
3. Register for the Exam
Once you have taken the required prelicensing courses, you will have to pass the real estate school's final examination. If you pass this exam, the school issues a prelicensure education certificate, which demonstrates that you have met all of the prelicensure education requirements. After you receive these documents, you can register for the state licensing exam online.
While, officially, you can reserve an exam spot a minimum of 24 hours before the testing date, claiming a spot that close to the exam date limits your ability to prepare. For this reason, it is a good idea to register to take the exam further out in the future so that you have the best possible chance of passing on the first try.
The fee to take the licensing exam is $75 for a real estate salesperson, whether you are taking the whole exam or retaking a portion. You can access the most current fee schedule on the Arizona Department of Real Estate website. Once registered, you will receive a registration confirmation number, which you must take with you to the examination center; the exam is currently only offered in Flagstaff, Phoenix, Tucson, and Yuma.
4. Study & Take a Practice Exam
The national and Arizona-specific portions of the real estate exam cover a broad range of topics, and you'll need to recall a large volume of information quickly and accurately to earn a passing score of 75% or higher. For that reason, it's important to take a practice course while you wait for your exam date and take practice exams in addition to the required prelicensing education. Check out our guide to Real Estate Exam Prep for a list of options.
For help studying for the test, we recommend Real Estate Exam Scholar's exam prep course. It offers top-notch exam prep for an affordable price. Even better, it also offers a money-back guarantee if you don't pass on the first try. Click here to learn more about how Real Estate Exam Scholar can help you prepare for the Arizona licensing exam.
Familiarize Yourself With the Exam
The Arizona real estate exam has two sections that test national and Arizona-specific content, and both are required to sell real estate within the state. The state of Arizona also allows applicants to take the exam as many times as needed, which makes it unique compared to other states, but you must reregister each time. If you fail to pass a portion of the exam, you can retake only that part.
Learn National Practice Areas
The national real estate exam consists of 80 multiple-choice questions, and test takers must answer 60 of them correctly to pass. Subject areas on the national exam include real property characteristics, property valuation and appraisal, contracts, buyer and seller relationships, and more.
The general subjects covered on the national real estate salesperson exam are:
Real property characteristics, definitions, ownership, restrictions, and transfer
Property valuation and appraisal
Contracts and relationships with buyers and sellers
Property conditions and disclosures
Federal laws governing real estate activities
Financing the transaction and settlement
Leases, rents, and property management
Brokerage operations
Review Arizona-specific Materials
The Arizona-specific section of the exam includes 60 multiple-choice questions, and test takers must answer 45 questions correctly to pass this portion of the exam. These questions cover topics including real estate statutes, property interests and tenancies, tax issues, and more. Generally, there are four questions in the Arizona-specific exam that require math calculations.
The general subjects covered on the national real estate salesperson exam are:
Real estate statutes
Property interests and tenancies
Water law
Environmental law
Land descriptions
Subdivisions
Encumbrances
Acquisitions and transfer of title
Disclosure and consumer protection
Regulated activities—rules and statutes
Finance and property tax
Leasing and property management
Math calculations
For a complete outline of the subjects tested in the national and Arizona-specific exam, check out a recent real estate salesperson exam outline.
5. Take the Real Estate Licensing Exam
Examinations are given by appointment only, and must be taken at a testing center in Flagstaff, Phoenix, Tucson, or Yuma. Arrive at the testing center at least 30 minutes before the exam is scheduled to begin and provide the original prelicensure education certificate you received upon completion of the prelicensing courses.
The materials you should also bring to the testing center include:
Two government-issued IDs with photo and signature
Prelicensing education certificate
Registration confirmation number
Calculator
When you finish the exam, you will receive a score report. You must receive 75% or higher to pass. After you receive a passing score report for both the national and Arizona-specific portion of the exam, you can use them to apply for a license.
Pro tip: Make sure you have all necessary identification and documentation for the exam before registering. If you get to the exam and do not have all the required materials, you may not be permitted to take the test, and will have to reregister and possibly pay the exam fee a second time.
6. Meet Fingerprinting Requirements
You must submit an Arizona fingerprint clearance card when you apply for an Arizona real estate salesperson license. The fingerprinting process must be initiated through the Fieldprint website, where applicants schedule an appointment at a Fieldprint location, pay the application fee, and complete necessary fingerprinting and background check requirements. Once completed, applicants must receive their fingerprint clearance card by mail before applying for a license.
7. Choose an Agency or Brokerage
To become a real estate agent in Arizona, you must identify a brokerage to hold your license once it's granted. If you plan to stay in your current market or already have a relationship with a successful brokerage, the decision will be easy. However, if you're considering a new market or need guidance regarding earning potential at various agencies, we compiled data for some of the top performing teams in the state.
According to Real Trends, some of the top companies in major Arizona markets include:
Phoenix
Company

Sales Volume (2018)

HomeSmart

$7,751,201,777

Russ Lyon Sotheby's International Realty

$3,779,141,778

West USA Realty, Inc

$3,706,577,654

Realty Executives Phoenix

$2,539,392,948

Last updated on 03/31/20
Tucson
Real Estate Team
Sales Volume

Long Realty/HomeServices

$2,531,594,781

Tierra Antigua

$1,562,959,071

Realty Executives Tucson Elite

$946,568,578

Keller Williams Southern Arizona

$827,996,119

Last updated on 03/31/20
When considering what agency or brokerage to join, you should contact multiple places and ask specific questions. To help you make the best choice, check out our in-depth guide to
choosing the right agency
.
8. Submit Your License Application
After passing both sections of the real estate licensing exam, you will receive a score report at the testing site; this report serves as the core of your application, which you can submit online. You have one year to apply for your license after completion of the testing requirements. After one year, you will have to complete the prelicensing courses a second time.
To submit your application, you must wait to receive an applicant identification number from the Arizona Department of Real Estate (ADRE). The ADRE will also provide login information for Arizona's Online Licensing System to submit your application, fingerprint clearance card, proof of contract writing course attendance, and evidence of legal presence in the state of Arizona. A full checklist for submitting your license application is available through the ADRE website.
9. Keep Up With Continuing Education Requirements
To renew their license, an Arizona real estate salesperson must take 24 hours of ADRE-approved continuing education (CE) courses every two years. All CE credits must be completed and uploaded to the Arizona Department of Real Estate website.
Required continuing education credits for a salesperson license include:
Agency law: Three credit hours
Contract law: Three credit hours
Commissioner's standards: Three credit hours
Disclosure: Three credit hours
Fair housing: Three credit hours
Real estate legal issues: Three credit hours
Real estate agents must also take an additional six continuing education credits that don't overlap with mandatory courses. Click here to search for continuing education classes in Arizona.
Frequently Asked Questions (FAQs)
How much does a real estate agent make in Arizona?
On average, real estate agents in Arizona earn a salary of $69,054 per year. Salaries range from $21,554 to $177,882, and depend on the number of transactions agents complete, the commissions paid to their brokerage, and how commissions are split as part of the transaction.
How much does it cost to go to real estate school?
The cost of real estate courses varies by state and depends on which provider you choose. In general, expect to pay $200 to $1,000 for real estate school prior to registering for the licensing exam. You may also wish to take an exam prep course, which ranges in cost from free to $200.
How long does it take you to get your real estate license?
It can take about eight weeks to meet the real estate education requirements for getting a real estate license in Arizona. However, depending on the courses you take, this time period can be reduced to several weeks or extended over six months. Applicants must also get fingerprinted, which can take eight to 10 weeks.
Can I get an Arizona real estate license online?
You cannot complete every part of the Arizona real estate licensing requirements online. First, there is no online option for the required prelicensing courses. What's more, applicants must take the national and Arizona-specific real estate licensing exam at one of the testing locations in Flagstaff, Phoenix, Tucson, or Yuma.
Bottom Line
Becoming a licensed real estate agent in Arizona requires completing prelicensing education requirements and passing the national and state-specific exam. Following the completion of state licensing requirements, aspiring agents should then identify a market and brokerage where they'd like to work and maintain the required continuing education credits every two years.