The Real Estate Listing Checklist for a Smooth Sales Process (+ Free Download)
Sales listings are a lucrative source of income for any real estate agent, but it can be difficult to manage marketing, negotiations, deadlines, seller expectations, and other tasks without a real estate listing checklist. Download our free real estate listing checklist that outlines the procedures from initial listing to close to ensure you fulfill your professional duties and establish a trusting relationship with your clients throughout the sales process.
Free Real Estate Listing Checklist Download
To save you time creating your own checklist, we compiled a detailed real estate listing checklist you can download and use. It outlines the tasks that occur within the pre-listing, active listing, and closing stages that you need to confirm are completed during the transaction. You can also download and print this free real estate listing checklist to share with clients so they are aware of each stage of the process and what each entails.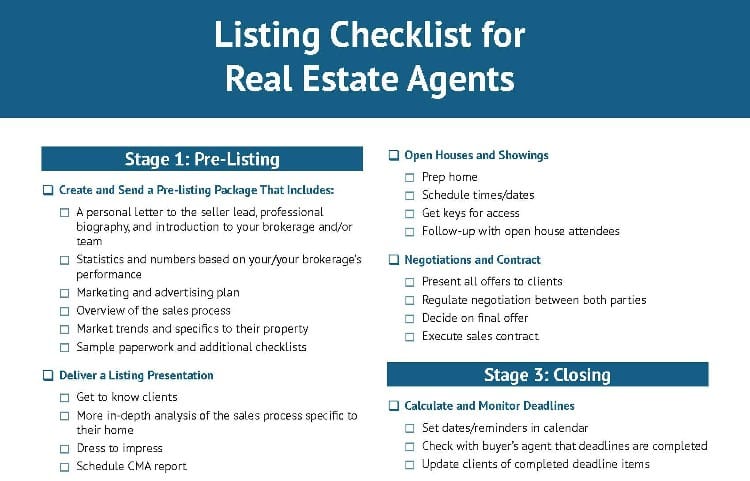 Thank you for downloading!
Quick Tip:
Market Leader is a real estate lead generation service offering exclusive buyers and seller leads.
The platform generates leads via Google, Facebook, and third-party networks that are ZIP code-specific, then assigns exclusive leads to agents without reselling.
Click here to learn more.
Choose which stage of the listing checklist you'd like to focus on from the drop-downs below or take a look at all three stages to fully prepare yourself for a successful property sale:
Stage 1: Pre-Listing Checklist
There are several steps you need to take before a property becomes your exclusive listing. The pre-listing stage requires you to establish trust, build rapport, and demonstrate your value as a real estate professional to potential sellers. By being organized and prepared during the pre-listing stage, you will be able to secure the listing and instill confidence in your abilities to provide a seamless transaction for your clients.
Present Your Pre-listing Package
First impressions are everything, especially when it comes to the stressful and complicated process of selling a home. When you first encounter a potential seller, your first instinct should be to send them a pre-listing package or pitch deck.
The goal of a pre-listing package is to introduce yourself and your real estate services so the prospect will decide to work with you or will at least invite you to continue the conversation. A well-organized and comprehensive pre-listing package can be the catalyst that turns a random lead into a loyal client. Your real estate pre-listing packet should include the following items:
Introduction: A personal letter to the seller, professional biography, and introduction to your brokerage and team
Statistics: Numbers based on performance; for example, how many homes you've sold, the average number of days on the market, percentage of homes sold over ask, and so on
Marketing and advertising: The basics of your marketing plan showing how you plan to gain maximum exposure for the property, and the tools you employ to generate qualified buyer leads
Sales process: An overview of the sales process so clients are aware of what happens during each stage, what they will have to do, and what you and your brokerage will do throughout the process
Information about the seller's property: Include market trends in the seller's area and an overview of the techniques you will use to price the property in your comparative market analysis (CMA)*
Paperwork: Samples of contracts and disclosures the seller needs to sign to employ your services and checklists with questions to expand their knowledge
*The CMA will be produced after you present your full listing presentation, or may be produced as part of your presentation if you've had a chance to fully examine the seller's property.
The pre-listing package is typically sent to a potential client by email, mail, or delivered in person. The right pre-listing package can set you up for success, so it's important to make sure it stands out from the crowd. If you need graphics and images for your pre-listing package, use Canva's pre-made templates and customizable images. Canva can take your simple pitch deck and elevate it to a work of art with stunning design elements that will impress clients.
For more information about the structure and organization of your pre-listing package, take a look at our article What to Include in a Winning Pre-listing Package.
Deliver Your Listing Presentation
After your prospect has reviewed your thorough pre-listing package, they'll be ready to invite you to prepare and deliver a full listing presentation. Although this is similar to the pre-listing package, and may contain some of the same elements, there are distinct differences between the pre-listing package and listing presentation.
The listing presentation is more specific to the seller's home than the materials presented in the pre-listing package. It will be presented in person or live through virtual means like Zoom, so dress your best and practice your pitch before you present it to the sellers. Other differences include a more in-depth description of your marketing strategy and samples of past materials, adding market statistics specific to their home and area, and talking in further detail about your pricing strategy for their home.
Most importantly, during the listing presentation, you will focus on the client and uncover their experience with the sales process, their motivation for selling, any fears they have, and their unique pain points. For instance, they may be moving because they purchased a home elsewhere and need to sell quickly so they can close on their new home within the next three months.
The pain point is the need to sell quickly, and they may fear not being able to do so and losing out on the home they want to buy. Focus your attention on that pain by telling them how to expedite the sales process and alleviate their fears by detailing the steps you'll take to make their transition between homes seamless. The ultimate goal is to show how your value as a real estate professional will complement their needs.
Do-it-yourself agents should check out our Ultimate Real Estate Listing Presentation (+ Free Template) to download a free listing presentation template and for creating winning presentations. To make your listing presentation visually appealing as well as informative, employ the services of the experts at 99designs. Whether you need help with a few graphics or the entire package, 99designs can assist with logos, websites, presentation design, and personal branding to make your listing presentation unique.
Produce a Comparative Market Analysis Report to Determine Price
Once you know your clients better and they have a deeper understanding of your services, you will produce a comparative market analysis (CMA) report to help them price their property correctly. The importance of this report can't be understated, as pricing the home correctly the first time saves you and your client time and money in the long run.
Your CMA will take into account the home's size and number of bedrooms and bathrooms, condition, overall property size, outbuildings, unique features, finishes and flooring, renovations, updates, and more, as well as current market trends and homes that recently sold or are currently on the market. By using all of these elements, you can compare the subject property to others in the area to determine the most appropriate list price.
It is in your best interest to review the CMA report with your clients, rather than send it via email, so they have a complete understanding of the thought process behind the facts and figures you've gathered. Allow them to ask questions and make comments to clarify the details. Also, allow them to weigh in and be comfortable with your suggested price to settle on the definitive list price as a team.
Sign the Listing Agreement
The final stage of the pre-listing process is for all parties to sign the listing agreement, solidifying the relationship between you and your client. The listing agreement gives you the exclusive right to list, advertise, market, and assist in selling your client's home within a certain time frame.
Once the listing agreement is fully executed, other agents will not be able to advertise or assist your clients without your consent. Showings, open houses, offers, communication, and all other aspects of the process must go exclusively through you as the seller's agent.
Each state and brokerage has its own versions of a listing agreement document. You can ask your brokerage where to find it and you can also find and download generic listing agreements online like this one from eForms.
Stage 2: Active Listing Checklist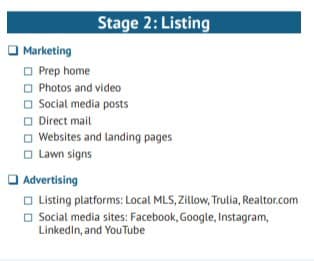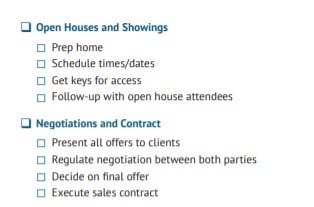 Once you've signed official paperwork the pre-listing stage is complete—but your role as a sales agent is just starting. In the active listing stage, you do the heavy lifting to get as much exposure as possible for the home. In addition to generating buzz about the listing, you'll also be able to generate viable buyer leads who may be interested in purchasing the property. This can be done in a variety of ways and will lead to offers and, eventually, an executed sales contract.
Implement Your Marketing Strategy
Marketing the property is a quintessential piece of the sales process because it maximizes the potential for your listing to reach your intended target audience and generate potential buyers. One of the most basic first steps is to install a lawn sign and a flyer box on the property, but that's not all.
There are many marketing strategies and techniques you can use to advertise an active sales listing. Some of the most commonly used tactics include:
Technique

Photography and Videography

Social Media

Direct mail and Email

Websites and Landing Pages

How It Helps to Market Your Property

Professional photos and videos are essential for all other homeselling marketing and advertising. They will also help your listing sell quicker, make the seller's home stand out, and attract buyers and sellers to your real estate business.

Facebook, Instagram, Twitter, LinkedIn, and other social platforms are free forms of marketing you can leverage. Each has a wide and unique audience makeup that enables you to reach thousands of people very quickly.

Promote listings using postcards, brochures, letters, emails, and newsletters. Send information about the listing to targeted audiences likely to be interested in seeing the seller's property.

Publish a website, landing page, or even a single-property website for the listing with stunning visuals, descriptive copy, and a solid call to action to attract buyers through lead capture forms.

Recommended Product

Key Product Features

Expert freelancers
Pricing options
Variety of marketing tools

Post creation
Premium designs and templates
Posting scheduler

Mailing scheduler
Targeted mailing lists
Customizable or pre-made materials

IDX website
Easy-to-use codeless website
Custom designs
For additional marketing tips, take a look at these easy real estate marketing ideas and strategies for selling success.
Advertise Your Listing
As part of your marketing plan, you'll also promote your listing through paid advertising services. Paid advertising enables you to reach very specific target audiences as well as extend your reach overall. You want to be conscientious of your budget, but also understand that when advertising brings potential buyers to your listing, it represents a great return on investment. This investment also demonstrates to the seller that you are fully committed to helping them sell their home for as much as possible, as quickly as possible.
Place the property on as many listing websites as possible to reach other agents as well as potential buyers. A few options include your local MLS, Zillow, Trulia, and Realtor.com. While the MLS is only available to other real estate agents, sites like Zillow appeal to active buyers who are working with an agent already or who may contact you directly. These sites are frequented by millions of users daily, so you can likely capture potential buyers who are interested in viewing your listing immediately.
In conjunction with posting on social media for free, you can also pay for advertising on platforms like Facebook, Google, Instagram, LinkedIn, and YouTube. On these sites, you can target ads by location, demographics, interests, and more to reach the buyers most likely to be attracted to your seller's property. While you are not required to advertise on every social media platform, plan to use two or three options so you can capitalize on as many seller leads as possible.
If you aren't particularly tech-savvy, you can use lead generation tools like those from Real Geeks to assist with your advertising efforts. Real Geeks has a built-in Facebook marketing tool that creates branded real estate ads for you in less time but can generate more qualified leads. Real Geeks also includes robust reporting to gauge your ad performance to make sure your ads are reaching the intended audience.
Schedule Open Houses & Showings
Once your advertising and marketing magic has done its job to attract attention to your listing, it's time to have potential buyers visit the property. In addition to making sure the property is prepped and ready, set specific times and dates with your sellers to hold both open houses and buyer showings.
In addition to in-person showings, you can also offer virtual tours on single-property real estate websites showcasing the seller's property. This can be especially appealing to out-of-town or relocating buyers, and gives you a chance to capture the contact information of buyer leads using web forms.
Individual buyer showings are generally scheduled as they are requested. Many consider Sunday afternoons to be the traditional time to hold an open house, so holding them during that time can help you attract homebuyers looking to drop by the property. Take a look through how to host an open house and download the free open house checklist to make sure you're ready to go.
Most importantly, make sure you provide an open house sign-in sheet or use a digital sign-in system like Spacio by Homespotter. Spacio will help to follow up with visitors and especially buyers who are interested in putting in an offer on the home. Generate reports that outline the attendees, quality of leads, and source to provide your sellers with detailed information on the progress of selling their home.
For more success with open houses, get memorable open house tips and ideas that will help bring in multiple offers.
Execute Negotiations & Contract
The negotiations phase tends to be the most stressful time for clients, but this is where your role as a real estate professional can excel. As the liaison between the buyer, buyer's agent, and your seller, it's important to strike a balance between being professional, assertive, and sensitive with all sides of the transaction.
Make sure you present all offers and have a discussion with your clients about whether they'd like to reject, counter, or accept each offer. Provide valuable insight and market knowledge to help your clients make an educated decision without being overbearing or heavily influencing the final decision.
While you are a resource and the messenger between both parties, your client should feel as though you and they are working as a team to accept an offer that helps them achieve their goals and one they are comfortable with. Once you've come to a conclusion, be sure to expedite contract documents for signature right away.
Stage 3: Closing Checklist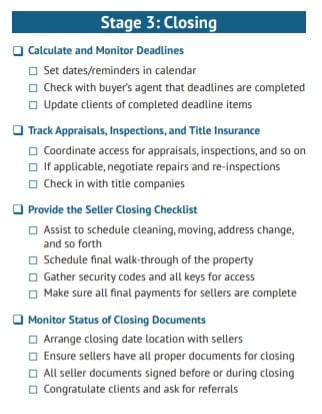 Now that you've executed a sales contract between the buyers and sellers, you're in the home stretch of the transaction, but there's still a lot for you to do. Many other players are introduced during the closing phase, such as appraisers, lenders, title companies, and even lawyers in some states. In the closing stage, your role is to act as moderator to make sure everything gets done and runs smoothly up through the final closing date.
Calculate & Monitor Deadlines
Part of your job is to ensure that the sale of your listing goes through according to the terms of the purchase contract. To do this, you need to identify and track important dates for disclosures, due diligence periods, and other closing requirements. Enter these dates on your calendar to make sure they have been completed and update your clients when deadlines have (or haven't) been met by the buyers. Timely communication between yourself and the buyer's agent is crucial to guarantee all items are checked off before the closing date.
While tracking these deadlines on your calendar can help you monitor transactions, real estate management software is a foolproof way to ensure you don't miss a deadline. Pipedrive CRM categorizes leads into pipelines and automates communication through calls, email, and activity.
You can add deals, list the deal value, and add expected close dates you need to monitor deadlines throughout the sales process. In addition, Pipedrive's Smart Docs feature sends and stores trackable documents to clients for signature to guarantee all the transaction's deadlines are met.
Track Appraisals, Inspections & Title Insurance
The buyer and their lender are generally responsible for scheduling and paying for appraisal and inspections, but as the seller's agent, you will coordinate property access for those inspections. Work with both parties to arrange access for the appraisal, home inspection, and additional inspections as needed for termites, lead paint, radon, and so on. After reports are released, you may also need to negotiate repairs or credits with the buyer's agent and track necessary repairs and re-inspections.
In general, title insurance includes owner's coverage, lender's coverage, and in some cases, extended coverage. Whether or not the buyer or seller covers one or more of these insurance costs depends on the seller's location. To adhere to standard practices in your area—and the terms of the contract—make sure your seller is meeting his or her title insurance responsibilities.
Provide the Seller Closing Checklist
While your sellers are sitting idle during the due diligence period, you can help them to prepare to move out of their home. This involves scheduling deep cleaning, a final walk-through, and making an inventory of needed keys and security codes. It is also helpful to provide sellers a list of tasks, like shutting off utilities after the closing date, changing their mailing address with the U.S. Postal Service, and making any outstanding payments to the homeowners association (HOA) and home-related service companies.
For details about what goes into a seller's closing checklist, check out the article Real Estate Closing Checklist for Buyers & Sellers and download the free buyer and seller checklists.
Monitor Status of Closing Documents & Close
Once the closing date arrives, it's your responsibility to make sure the seller provides all the necessary items and signs all the required documents. Keep in mind that closing documents are often provided to the seller prior to closing, and they usually don't have to attend in person on the actual day of closing. So this may need to be done a few or even several days in advance.
Sellers should provide:
The deed, if the home is paid off
A valid, state-issued photo ID, such as a driver's license or passport
A certified check (if required) in the amount requested by the escrow officer
Keys and security codes if possession of the house is granted at closing
Sellers will typically be required to sign the following documents (some vary by state):
Loan payoff: The amount of money left on the seller's loan that needs to be satisfied at closing
Property deed: The deed transfers the ownership of the home and property to the buyer on closing
HUD-1 settlement statement: An accounting of all the money involved in the transaction
Certificate of title: Sworn statement affirming the seller has the right to sell the property
Bill of sale: Itemizes any personal property the seller agreed to leave with the home
Statement of information: Sworn statement guaranteeing the identity of the seller
Mechanic's liens: Sworn statement that there is no possibility of a lien being placed against the property by a subcontractor or other laborer for money owed
Statement of closing costs: Signed statement confirming the seller was informed of various fees and closing costs ahead of time
While as the seller's agent you will not actually be signing documents, it is important to attend when your client signs closing documents for moral support and to make sure the transaction is completed correctly. Thinking back to stage one of the listing process, you promised your client an end-to-end experience―by fulfilling that promise, you are showing your true value as a real estate professional.
Bottom Line
While being a sales agent does not come easily, practice over time makes perfect. Download our free real estate listing checklist and use it to keep track of the pre-listing, listing, and closing tasks needed to seamlessly get you and your clients to a completed transaction. Knowing the ins and outs of the listing process and having the ability to guide a client through this process will produce positive reviews and word of mouth, ensuring a pipeline of sellers that can grow your real estate business.