Real estate listing marketing plans are a replicable strategy formulated to sell properties quickly. By creating a formulaic way to analyze and approach real estate listings, you can arrive at a strategy that can be refined and perfected to ultimately dominate even the most competitive markets.
Here are the ten steps to the ultimate real estate listing marketing plan.
1. Understand Your Buyer by Creating a Persona
Before taking any specific action, it is essential to consider who the potential buyers will be for your particular listing and create a buyer persona to better understand them. A buyer persona is simply a fictional character who represents your most likely buyer and determines what platforms you emphasize in your marketing efforts.
When thinking about the most likely customer that will buy this house, you have to consider that they will likely have characteristics that are very common to a large percentage of people already in your neighborhood.
If you want to learn more about how to create a persona for your potential buyer, please read our article on how to create customer profiles to give you a head start.
How a Persona Impacts Your Real Estate Listing Marketing Plan
The demographics of your likely buyer, such as age and income, will likely direct how you craft your advertising and what platforms you emphasize when implementing it.
For example, if you are selling an expansive country home, you may have already profiled your likely buyer persona as a mid to late-40's male who has a family and is likely purchasing this as a second property. In considering your marketing strategy, you may still want to be sure you place it on social media, but perhaps focus more effort on Facebook where the average age of the user is 40 years old, rather than Instagram, where over 90 percent of users are under the age of 35. Your listing video for the country property should have a more mature and refined tone than a small studio apartment, and your listing description and photography will likely emphasize elements of the property that would be important to those in the target age range.
The idea of creating this fictional buyer persona is that it will lead you through the next stages of your marketing plan. While the process of marketing is fairly similar from listing to listing, how you craft your listing descriptions, videos, and where you place the emphasis in your marketing dollars could certainly be impacted by the type of person you expect will ultimately be the buyer.
As you go through the rest of the marketing plan, be sure to keep your buyer persona in mind to determine which areas to focus on and how to craft your message. Whether through your listing photos or simply when writing your MLS description, your buyer should feel that your real estate listing marketing plan is speaking directly to them.
2. Hire an Expert for Jaw-Dropping Listing Photos & Videos
As soon as you've acquired the listing and have it ready for photography, the best investment you can make is to hire a professional to take some incredible pictures and video. Photography often makes the difference as to whether someone clicks on your listing or not, and is a potential buyer's first impression of the home.
Great photography highlights impressive elements of the listing. While many think of NYC apartments as cramped quarters, this West Village duplex in NYC is photographed to emphasize the sense of space and grandeur it contains. Listed at over $17 million with over 6,000 square feet of space and two loggia terraces, it is hard to believe it is contained in an elevator building.
Interior photos and video can often be done by the same person, so getting these tasks completed together makes sense to save time as you proceed with your real estate listing marketing plan. Be sure that before you even think of posting the home on the MLS, your website, or social media, you have professional photos as your first impression.
Prices of getting photography and video completed can vary widely by where you live and what type of services you're looking for. Our real estate photography pricing and hiring guide can help you estimate the cost of services no matter where you live for both photos and video tours.
3. Create Amazing Brochures
Creating brochures with your stunning imagery and home information isn't just for average open houses down the line. If you know that you'll be hosting a broker's open for this property a few days after listing, you'll want to have something beautiful for them to take away, along with some additional showing details.
Stunning brochures shouldn't be complicated or expensive, but they should be of high quality and make for an impressive presentation. For example, here is the real estate listing bifold brochure by ProspectsPlus.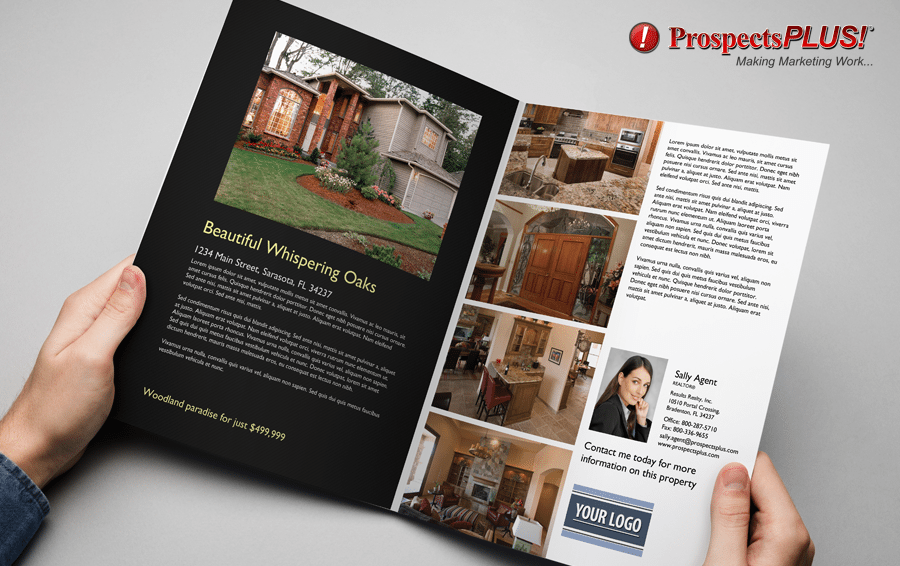 This type of brochure is already formatted and allows you to simply customize by dragging and dropping photos into the specific areas and including your personalized descriptions. Using the professional photography you've just garnered, as well as your well-crafted descriptions, can help brokers (and later potential buyers) remember the home long after the tour.
For your real estate listing marketing plan to be successful, it can't be just a digital play. Also give individuals something tangible that they can take away, look at, and hold. If you'd like to see more information on putting together an impressive brochure, we gathered the top 29 real estate brochure templates to get you started.
4. Craft the Perfect MLS Description
It takes time and effort to create the perfect listing description, and it's worth your while to get it right. A Zillow study found that approximately 250 words is the optimal length, and you want to use terms that describe the property assets rather than emphasize emotional elements. Here is the way to craft your description.
Use the Right Words
Remember that not all words are created equal. When you are describing your listing, the words you choose can have an unintended effect. For example, Zillow found that just using the word "granite" affected all listings positively, and even bottom-tier listings that used the word "luxurious" tend to beat their expected sale price by 8 percent!
Here are some words that Zillow suggests you try to use and avoid in your listings.
Highlight Key Features
There is certainly more to your listing descriptions than using specific words. Be sure that in your listing descriptions, you highlight the top reasons that make your client's home a wonderful place to live. While being descriptive, remember that you also want to make your listing description exciting and engaging. Talk about the front porch as a place to enjoy a hot cup of coffee in the morning, or the large kitchen as the perfect space for entertaining.
Upload Photos & Videos
Now that you have the perfect listing description, take the time to enter all of the details, and upload your professional photos and video walk-throughs. If you need to take the listing video yourself to add it to your listing, it's worth it.
5. Amp Up Your Zillow Listing
Often when your listings are syndicated to Zillow, they appear less complete than they could be. By tweaking your listing, being sure to include video, and even signing up as a Premier Agent, you can position your listing to gain more views and be favorably ranked, even among tough competition.
Become a Zillow Premier Agent
The first thing you should be doing if you want your listing to have advantages is to sign up to be a Zillow Premier Agent. The benefits are incredible. Even Fredrik Eklund from Million Dollar Listing is a Premier Agent. As well as being able to gain new clients by advertising on local listings provided by non-Premier Agents, you can be the exclusive agent displayed on listings where you're the seller's agent, which increases your odds of collecting both sides of the commission. Click here to get started.
Review Your Listing Descriptions & Details
To gain more views on Zillow, you can also be sure that your listing descriptions are completely filled out. While the descriptions are usually analyzed by Zillow's algorithm, it helps to add everything you can to the details section. For example, if you have a mid-century home you're trying to sell, be sure to add that to the details section (under "Construction") on your listing as well as the description to reinforce this in any searches.
Be Sure to Include Video
Do you know that you can also get three times the amount of views on Zillow by including a video? Buyers are attracted to it, and if you add video through your Zillow Premier Agent app, the listing also gets a higher rank. The Zillow system rewards users who use the Premier Agent app, so be sure to have that on your mobile. It allows you to take video from your phone and post it directly, or post a professionally shot video if you have that done. Also, consider adding a virtual tour to really showcase your listing.
Post Open Houses & Price Reductions
One last way to be sure to get more views on Zillow is to always list open houses and price adjustments, as both automatically bump up your listing when homes are searched in your area. If you play it smart in your approach, you can almost always remain relevant despite Zillow placing preferences on new listings. For example, list your open house a couple of weeks after listing (bump), and then if it's still on the market in two weeks, you may want to make a minor price adjustment (bump).
For more information on creating the best listing, you check out our article on the best real estate listing checklist.
6. Feature the Listing on Your Website
Having a website is an important tool for marketing your listings and agent discovery. Featuring the new listing on your website will give followers the opportunity to be informed of your latest inventory, and those searching the ability to find you. The type of website you have will dramatically influence the exposure your listings get.
A professional website like those built by Real Geeks can be a game changer for busy agents who want to have multiple channels to promote their listings and respond to inquiries. With a built-in CRM that tracks and nurtures leads, along with automated email drip campaigns, you can have a website that is also a listing promoting powerhouse.
With any real estate listing marketing plan, speed of response to inquiries is challenging but essential. Along with the general lead generation features, your website can also make responding to general inquiries about your listing easier. For example, Real Geeks even has an SMS autoresponder that you can set up so that any inquiries are immediately attended to.
Placing your new listing on a platform like Real Geeks offers is a completely different experience than simply throwing up a WordPress website because the back end supports help you to use it as a marketing tool. Along with the features mentioned above, there is even a tool that helps you post Facebook ads for your listings, track them, and nurture the leads from these. Generic WordPress sites can help you have a business card on the internet, but selecting the right website for your business can give you functionality that helps to get your listings sold and save you time.
In addition to your website and Zillow, you might also want to consider posting your listing on Craigslist. To help, there are many Craigslist posting services available to cut down on time and help you focus on what matters – getting leads and closing deals.
7. Hold a Broker's Open House
Usually in the first few days after a home is listed, you might want to hold a broker's open house if you feel it will bring more buyers to the table. Holding the broker's open house midweek and serving lunch usually brings the best turnout, and gives you access to the clients those real estate professionals represent.
There are three primary benefits of holding a broker's open house.
Tap Their Rolodex
The primary benefit of the broker's open house is that every professional who walks into your home represents a roster of potential buyers. As they walk through the home, they are simply scanning to see if the home might be a fit for any of them. Although you have one agent, that agent is truly touring for multiple people, and every agent has a motivation to bring a potential buyer to the table because they share the same goal of finding the perfect place, having happy clients, and gaining a commission in the process.
Create Scarcity
The second thing a broker's open house can do is to make the house a bit more compelling. Every agent in the room sees that there are others touring, so if it's a potential fit for their buyer, they are going to want to get to it quickly, knowing that someone else might get there first.
Be sure that you have the brochures that were printed earlier for each of them to take away, and give them any special showing instructions as an addition. Does the owner need additional time to get pets out of the house? Can the owner only show the home on certain days or times? These are important to note.
Get No-Holds-Barred Feedback
Lastly, even if you don't get a buyer from the broker's open house, you will definitely get an honest assessment of the property. Agents are rarely shy about sharing their opinion on pricing, aesthetics, and features compared to other homes on the market, and can give you candid feedback to take back to the seller that might even improve the chance of sale. For example, if most of the agents feel the home is overpriced, it might add credence to the pricing you suggested to the homeowner. Or, if there is something that would truly increase the attractiveness of the home, you might find some solid suggestions for a quick improvement.
8. Showcase the Listing on Social Media
Using Instagram and Facebook as an agent can help you with real estate lead generation for your listing, and new clients overall. It is absolutely imperative that you use social media in your real estate listing marketing plan. People's eyes and attention are on screens much of the day, so placing your listing in front of them has advantages.
Use Facebook
There are three primary ways to use Facebook to get the attention of potential buyers. You can post to your page, create ads, or post on forums and groups.
Post to Your Facebook Page
It's incredibly easy to post your listings to your Facebook page because it's just like sharing any other type of link. Just click the link button, paste the URL of your listing, and share some highlights about the property that might get people to click!
This is where it makes sense to be sure you're a Zillow Premier Agent, because if you post a link to the Zillow listing, you'll be the only real estate agent listed and will have a better chance of getting both sides of the commission.
Create Facebook Ads
The fantastic thing about running a Facebook ad is that you can target so many different characteristics. Among the different things that can be beneficial to target would be income, zip code and a myriad of other specific variables that would make your ad far more relevant to the group it would be displayed to.
We offer a guide specifically for real estate professionals on how to run a Facebook ad effectively and the specific steps to creating them. Spend a Saturday morning with a cup of coffee, and you can definitely run an ad on your own. However, if you're finding that you are too busy and want to source it out, there are plenty of companies that will do this for a nominal fee. For example, Hibu will help you run ads and get social media exposure across platforms.
Post on Facebook Forums & Groups
Most neighborhoods now have specific groups to announce things like street sweeping, snow plowing, or neighborhood events and concerns. Using this forum to post your listings is also a fantastic idea. Many people who live in neighborhoods they love also know friends who want to move there, and reminding others what you do can only help your overall business.
For example, in my neighborhood forum, there are two real estate agents who routinely post upcoming and current listings, apartments for rent, and other real estate-related content to great effect. Often they are sent private messages, and the properties always get a lot of positive comments and talked up!
Use Instagram
Instagram is practically handmade for real estate, so posting beautiful images and videos are a wonderful way to keep your listings top of mind. Two ways in which you can really shine on Instagram when posting for listings is through Instagram stories and regular posts.
Instagram Stories
Instagram stories are a great way to keep your account at the top of someone's attention (stories are displayed above posts), and often is a very engaging way to post a quick tour or behind-the-scenes look at your latest listing. Your story is available for 24 hours, which is long enough to have a potential buyer see it and refer their friends to also take a look.
Instagram Posts
Posts on Instagram should be eye-catching and get attention. If you have an open house, be sure to post it here, and use hashtags to help the right viewers searching those hashtags to find your property. Instagram is a fantastic place to show off the best features of the home you are listing, have it gain a bit of attention, and make it discoverable.
If you've never posted on Instagram before, created an Instagram story, or even have an account, we wrote an incredible piece that walks you through it in all the detail you'll need. Put aside some time you would usually spend prospecting, read Instagram for real estate, and get your account set up so you can take advantage of all the features and reach it offers.
9. Hold a Formal Open House for Buyers
When your house has had every benefit of promotion, now is the time to open the doors to the public. While you may have had a few private showings previously, this is the moment your listing finally has wider reach. Be sure the house is prepared properly, and is able to form the best impression possible.
Be Sure the Home Is Staged
While you may decide against using a professional staging company, being sure to do a once-over with the homeowners so that the house presents well is worth your while. Review the necessary elements with homeowners well in advance, and don't hesitate to give suggestions if rooms need to be less cluttered, if paint should be altered, pet beds removed, or other easy suggestions they could implement.
If you would like more tips on staging, we wrote the ultimate guide to home staging that will have you attracting buyers in no time.
Prepare Your Materials
Be sure that you have a sign-in sheet and your printed brochures available. While the house may or may not sell from an open house, the impressions that potential buyers have of you as an agent make doing these things right especially important.
Be sure to use high-quality brochures if possible, like those from ProspectsPlus, and have a sign-in sheet ready to capture information. Sign-in sheets range from basic information to more extensive questions. Feel free to check out our free real estate open house sign-in sheet templates.
Advertise Your Open House
The ultimate goal in your open house is gathering as many leads as possible. Be sure to advertise on your Zillow listing, Facebook, Instagram, and even through a postcard campaign at least the Thursday before (assuming it is on a Sunday), when people are making their weekend plans. While postcard campaigns can generate a lot of curious neighbors, those neighbors may also have friends looking to move into the area.
10. Follow Up on Your Leads
Prompt communication is the key to a successful follow-up. Hopefully you've been in communication with anyone who has shown interest in your listing as the process of your marketing has continued through your broker's open, Zillow, your personal website, social media, email campaigns or your open house.
Have a Process
Being organized about how you approach lead nurturing is one of the keys to doing it right. If you simply are waiting for leads to respond to you, you may find yourself not building the pipeline you should. Be sure to create a schedule, have planned and multiple channels of reaching out (email, SMS, phone), and be available.
Be Persistent
Persistence is everything. If you want to radically improve your pipeline as well as nurture those listing leads to a possible close, you have to be relentless. While it's estimated that 43 percent of people give up after their first contact fails, there is success that awaits those who persist and continue onward. Keep nurturing the relationship and having conversations.
The Bottom Line
Having a solid real estate listing marketing plan can help you approach your work methodically and with purpose. If you're able to replicate your plan with each listing, you speed up your process and also get into a groove that frees up your time and leaves you more organized and successful.
If you are looking for some out-of-the-box strategies to add to your arsenal, we share the top creative real estate marketing ideas you can feel free to add to the list.