If your association doesn't provide real estate lock boxes, finding a tough, durable lock box for your listing or fix and flip project can be challenging. Luckily, we're here to help.
We looked at four of the best real estate lock boxes on the market today, comparing their reliability, security, storage capabilities, and price. I've personally used all three of these lock boxes, so I have firsthand knowledge of their features. Read on for my review, comparison, and top recommendations.
Before we dive into the details on this topic, we suggest you check out Zillow Premier Agent, our #1 recommendation for generating qualified real estate leads. Click here to learn more.
We chose the KeyGuard SL-500 as the best real estate lock box because of its solid build quality and durability, weather protection, and ease of use.
Lock Box Comparison Table
Price

Learn More
$27.99
$20.21
$19.97
Materials

Learn More
Hardened steel and ABS plastic
Hardened steel and ABS plastic
Die cast zinc and hardened steel
Build Quality and Durability

Learn More
Great
Good
Good
Ease of Use

Learn More
Great
Okay
Good
Storage Capacity

Learn More
8 standard keys
30 standard keys
5 standard keys
Customer Ratings

Learn More
Amazon rating 4.1(520 reviews)
Amazon rating 4.2 (125 reviews)
Amazon rating 4.5 (2,618 reviews)
Main Features
Sturdy, large capacity, great weather protection, and and easy to use.
Very large storage capacity. Useful for contractors.
Industry standard mechanical real estate lock box. Weather resistant, sturdy, but can be difficult to open.
Buy the KeyGuard
Buy the WordLock
Buy the Master Lock
KeyGuard SL-500: Best Real Estate Lock Box for Realtors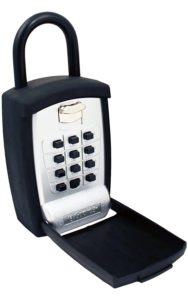 Let's face it, a good real estate lockbox needs to do three things:
Be secure enough to deter thieves.
Be durable enough to survive the elements.
Intuitive and easy to use for buyers agents, contractors, or anyone else who may need access to your listing.
While all the lock boxes we looked at are perfectly capable of pulling off all three tasks with ease, we felt the KeyGuard SL-500 offered the best combination of qualities for realtors and investors.
Durability and Safety
The plastic coated steel casing and hardened steel cuff means this lockbox will withstand quite a bit of brute force before being compromised. It's a heavy, solidly built lock box that will more than likely deter intrepid thieves or vandals. No lock is perfect. Even a hardened steel cuff can be cut in less than a minute with a battery powered angle grinder. If a thief really wants to get into the lock box, chances are they will. That said, with its robust build quality and design, the Keyguard SL-500 offers a formidable challenge for any thief.
Weather Protection
Given enough time, inclement weather can damage even the sturdiest materials. In order to mitigate damage from exposure, the SL-500 has a weather proof door that covers the keypad when not in use. It makes a tight seal ensuring no moisture can get into the unit.
The door has the added benefit of making the lockbox less conspicuous. From 50 feet away, it's hard to tell that the SL-500 is a lock box.
Ease of Use
One of the main reasons we chose the SL-500 is its alphanumeric keypad. Here's why. The tumbler style combination dials that most other locks use, including the other two we reviewed, work pretty well, but they can be very difficult to use with gloves on or by agents with nice manicures. Since more than half of all realtors nationwide are female, that means at least half of all your buyers agents will be too. Worse, the combination dials are also extremely ease to break into. More on this later.
WordLock KS-052-BK: Best Lock Box for Large Number of Keys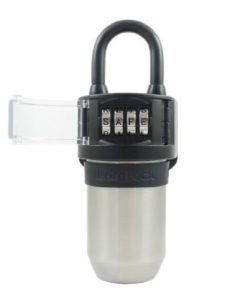 While its build quality leaves something to be desired, the WordLock KS-052-BK has the largest storage capacity of any real estate lock box we looked at. This can be especially useful for new developments with units not on a master key or that have multiple key fobs or access cards.
While it has great storage capacity, the WordLock's design is a little bit strange. The tumbler style combination dial is finicky, and the little plexiglass window that covers it from the elements is very easy to break. In contrast, the KeyGuard SL-500 is easier to use and has better durability and weather protection.
Master Lock 5400D: Best Lock Box for Realtors on a Budget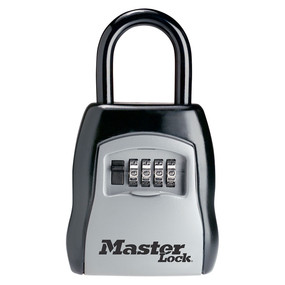 The Master Lock 5400D is the workhorse of the real estate industry. If you took a walk down a typical block in New York City, you'd more than likely see at least one on a doorknob or attached to a stair railing. There's a very good reason for this. The Master Lock is very durable and very affordable. While all models have a weather guard for the combination dial, newer models boast a rubberized cuff to protect doorknobs and railings.
The only reason we didn't pick the Master Lock as the best real estate lock box is its limited storage capacity (not a deal breaker for me, but might be for some) and fiddly combination dial.
In-Depth Lock Box Review and Comparison
Price
Manual lockboxes range in price from about $15 to over $50. While a very cheap lockbox might work, they are generally much easier to break, and combination dials will wear out more quickly. You should expect to pay $20 or more for a good quality lock box that will give you years of trouble free use.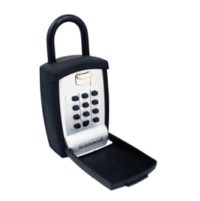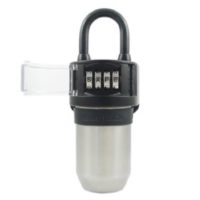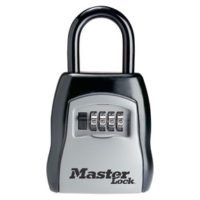 ---
Materials, Build Quality, and Durability
If you think any of the lock boxes available today will thwart all attempted break ins, I have some bad news for you. If a thief really wants to get into your listing or fix and flip project, they're going to get in. End of story.
30 seconds with an angle grinder will cut through even hardened steel cuffs like butter. Even if the lock box is so strong they'd need to use heavy duty power tools, they can simply break the doorknob, take the lock box home and get it open, and then come back with the keys. There is no perfect solution here.
Materials
All three lock boxes we reviewed use solid, high quality materials. The steel cores and plastic or rubber coatings mean durability and a lower chance of scratching up your front door.
Build Quality and Durability
There is, however, one flaw with lock boxes that use combination dials. Believe it or not, they are fairly easy to pick with a simple sliver of metal. Check out this video to see what I'm talking about.
If you think this is only an issue with combination dials or certain brands it isn't. There are videos of people "picking" pushbutton locks, keyed locks, and dial combination locks. I would be extremely surprised if someone hasn't also figured out how to hack into electronic lockboxes like Supra Ibox or Sentrilock by now. Again, the goal here is deterrence, not 100% infallibility.
You want to deter thieves long enough so that breaking in is simply not worth their time. As an aside, this is also why putting a lockbox in a conspicuous place on the front of the house is sometimes more of a deterrent than hiding it. The thief will be exposed to the street while trying to pick the lock. This greatly increases the odds of them getting caught. The best place to hide something is often in plain sight.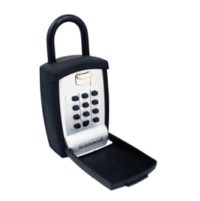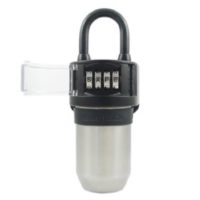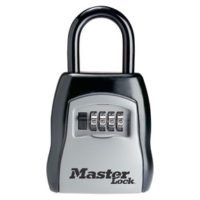 ---
Ease of Use
Ease of use should be at the top of your list when picking out a high quality lock box. After all, if you live in an area with inclement weather, you, buyer's brokers, and contractors are going to have to open the lockbox regularly. Taking off your gloves to touch an ice cold combination dial is no fun, nor is breaking a nail trying to spin one.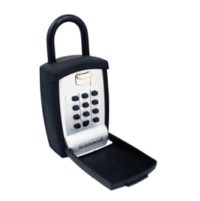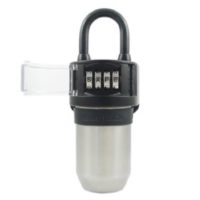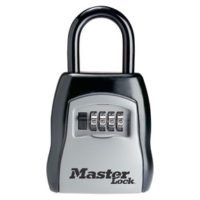 ---
Storage Capacity
While you may never need to store more than a front door key in your lock box, having a slightly larger capacity can be useful. Medeco keys, key fobs, and key cards are becoming more common these days so having the extra capacity is nice. Here's how the three stacked up for capacity.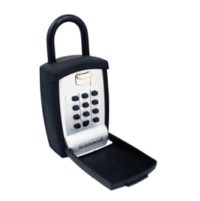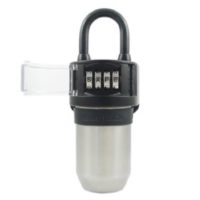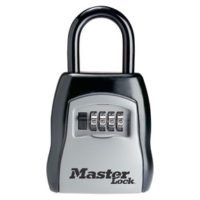 ---
Customer Ratings
All three lock boxes have great Amazon ratings. Since the KeyGuard has more than four times as many reviews and the Master Lock almost twenty times as many reviews as the WordLock, it is pretty difficult to compare them on ratings alone. But this is one factor to consider.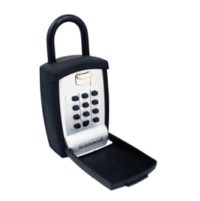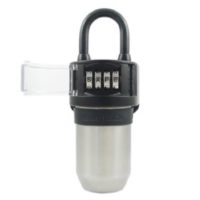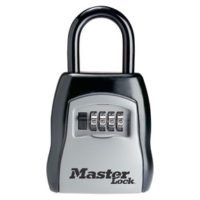 ---
Other Lock Box Options
For most real estate agents, the traditional lock boxes above will meet your needs. However, electronic lock boxes are the way of the future. Many of these are sold via MLSs or realtor associations, not directly to agents. They offer features like the ability to unlock with a mobile device and to provide scheduled access.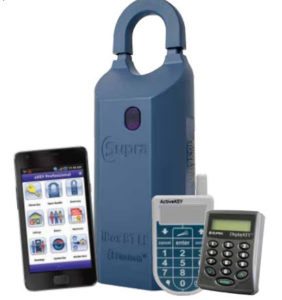 Supra is an electronic lock box manufacturer owned by General Electric. As of today, Supra lock boxes pretty much dominate most MLS areas. They're also provided as a member benefit by many Realtor Associations around the country.
The benefits of the Ibox over a traditional lock box are vast. You can give scheduled access to buyer's agents, get notified whenever your listing is shown, as well as schedule showing times when the lock box can be opened by other agents. Supra Iboxes can be opened with a smartphone, but you need a separate "ekey" fob in order to do that.
Unfortunately, Supra Iboxes are only available through local realtor associations. They are not sold individually.They are also pretty expensive at around $100 each.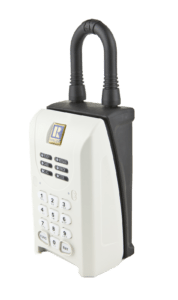 Sentrilock is a bluetooth enabled electronic lock box that is slowly gaining market share over the industry standard Supra Ibox. Owned by the National Association of Realtors, Sentrilock wisely made its lock box bluetooth compatible, which means agents can open it with smart phones or tablets.
Sentrilocks can also be assigned special short term codes so people with the smartphone app (or Realtor credentials) can be given temporary access to the lock box via its keypad. This is great for inspectors, contractors, cleaners, or anyone else who needs one time access to your listings.
Like the Supra Ibox, the Sentrilock is only available through local realtor associations and is not sold to the general public.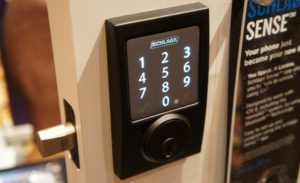 The Schlage Smartlock offers consumers a taste of a digital keyless entry system. The system allows owners to lock and unlock their deadbolt remotely, which makes giving access to dog walkers, contractors, or cleaners a snap.
The Prempoint app extends the functionality of the system and allows tracking, showing scheduling, and more. The merger between Prempoint and Schlage will be announced at the NAR convention and should roll out to consumers and realtors alike early in 2017.
The Bottom Line
While no lock box is going to keep your listing safe from a determined thief, the three outlined above will offer a good deterrent. While we judged the KeyGuard as the best overall real estate lock box, the WordLock is great if you need to store a large number of keys, and the Master Lock is a solid budget option.