How's that new real estate logo coming along? Maybe you're creating a new logo from scratch or trying to figure out how to design a logo for your team that works well with your brokerage. Either way, you're going to need some inspiration to get it right. After all, the quality of your logo says a lot about you and your brand and makes a first impression on potential clients. Well, you've come to the right place. We just put together a list of the top 25 real estate logos in the industry.
To create this list we looked at thousands of great logos from boutique brokerages to the big franchises, and pulled together the very best for your viewing pleasure. We'll also tell you which services to use to create a great logo, and give you 5 bonus examples from our readers. To get you started, here are the top 33 real estate logos for 2018:
Our Favorite Real Estate Logos for 2018
---
---
---
Using Nature Themes in Logos
Using nature as a theme, whether it be palm trees in Miami, seagulls in Cape Cod, or mountains in Colorado have always been used to give real estate logos a sense of place. If you use a nature theme in your logo, just make sure it either reflects your name (e.g. Two trees) or is representative of your local area.
Here are some more great real estate logos that use nature themes. Notice how each natural element they use not only represents their geographic area, but also gives the logo a different feeling. This is a great example of how important nuance is to creating strong brand marks. A whale can be drawn as intimidating or imposing, but for Daniel Gale's logo, it looks friendly and almost cute. This is not accidental.
---

---
---
---
---
---
---
---
---

---
---
---
---
Ebby Halliday was a Texan legend in the real estate industry and beyond. Not only did she create an amazing brokerage that still thrives to this day, but she was also one of the first successful female entrepreneurs in Dallas. Her original logo (on the left) is pure 1950's glam and works just as well in the updated version (on the right) that the company uses on their online branding today. This is a perfect example of the timelessness of a great logo.
It works well in color, and it works well in black and white. It works well as a thumbnail on the internet, and blown up on the roof of a building:
---
---
---
19. Douglas Elliman's Brand Mark
---
---
---
---
---
---
---
---
---
---
---
---
---
---
---
BONUS: Real Estate Team Logos
If you're starting up a real estate team, figuring out your logo can be tricky. After all, you want (okay, need) to trade on the brand of your brokerage, but still want to differentiate yourself with your own brand. One of the best solutions I've found is to just combine the two. The easiest way by far is to combine them like the examples below, but you can get creative if these don't work for your team's needs.
---
How to Create a Great Logo for Your Brokerage or Team
There is only one secret to getting a great logo and I'm going to tell it to you right now. Ready?
Hire a Professional
That's it. While you or your cousin's nephew's coworker may understand how to make a logo, this is akin to attempting to cut your own hair for your wedding day just because you know how it's done. I think we can all agree that although it may not be a complete disaster, your special day is far too important to leave in the hands of an amateur.
Luckily, Hiring a Professional is Easy
Very easy. In fact, using a site like 99designs, you can have dozens of talented graphic designers compete to make you the perfect logo. Here's how it works.
You put together what's called a "design brief" which is a fancy way of saying you write a paragraph or two about how you want your brand to be seen, and then include a few examples of logos you like so designers understand your aesthetic.
That's it!
Once you submit your design brief on 99designs, dozens of highly talented graphic designers from around the world will start working on creating your logo. Once they have something good, they will send you the results. Now you get to pick the winner from dozens of potential logos from dozens of highly skilled designers instead of just a handful from one designer. Even better, you can give feedback to each designer, and they'll make revisions until they get it just right. Sounds pretty easy right? Check out the results of previous contests below.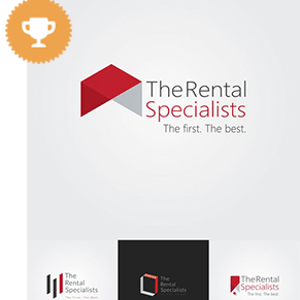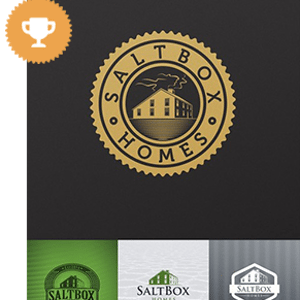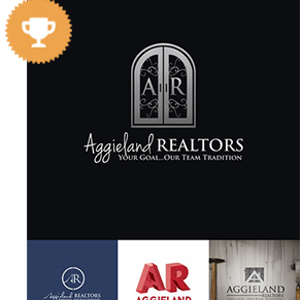 If you're on a tight budget, or have a very simple concept for your logo, you can also try hiring someone on Fiverr. While you won't get dozens of designers taking a crack at your logo, you can get someone with a decent amount of experience who can create your logo for $50 or even less. Just make sure to check out their portfolios to make sure their aesthetic matches what you're going for.
---
Bonus: 5 Examples of Great Real Estate Logos from Our Readers
Raminta Lilaite, Riviera Maya Property Consultants
---
Ivan Ciraj, Ivan Realty
---
Richard Barenblatt, CEO/Founder, Who Lends Here
---
Ryan Lockhart, group46 – Professional Brand Navigators
---
Ajla Subasic, PR & Communications Specialist, Venerate Media Group
---
Over to You
What are your favorite real estate logos? Let us know in the comments.