Top 19 Real Estate Mailer Ideas, Tips & Examples
Real estate mailers are an inexpensive yet effective method of generating leads, building name recognition, and growing your real estate business. They can be any type of direct mail, like flyers, brochures, door hangers, and postcards with a general introduction, listing information, or event details. To stand out from competition, try unique shapes and sizes, use colors that pop out, include relevant market data, and keep it simple.
For unique flyer templates and customizable products, Vistaprint is the ideal printing resource. It offers the widest range of customizable products for marketing and branding, with everything—from tissue boxes, pens, notebooks to blankets. See how Vistaprint can elevate your print marketing today.
Use promo code FSB25 at checkout to take 10% off $75, 15% off $100, 20% off $175, 25% off $300+
To help you get off to a successful start, read the top 19 real estate mailer tips and examples to dominate your farm area:
1. Be Consistent With Your Mailings
It's possible that sending out one real estate mailer can generate a few new leads, but that's just the tip of the iceberg. In order to be successful in real estate, you need a comprehensive plan that you can implement to show up consistently and efficiently.
Successful real estate mailers don't just happen by sending mail one time. A general rule of thumb for mailers is to send them about once a month or every few weeks. Keep in mind that most agents don't get a response until after about four or five mailers.
One way to stay consistent without spending additional time on your mailers and strategy is by using ProspectsPLUS! Market Dominator program. It automatically sends direct mail to members of your farm area every single month. You can choose to mail the automatically generated content from ProspectsPLUS! or customize it to your liking.
2. Create Listing Flyers That Pop With Color
One of the most clear-cut ways to make your real estate mailers grab attention is by using bright colors. Remember that the recipients of your mailers are likely receiving your postcards or flyers while flipping through a large collection of competing mail. Bright colors, particularly on a full-page flyer, can make potential clients stop and read through your message. Try browsing through this collection of real estate flyer templates for ideas.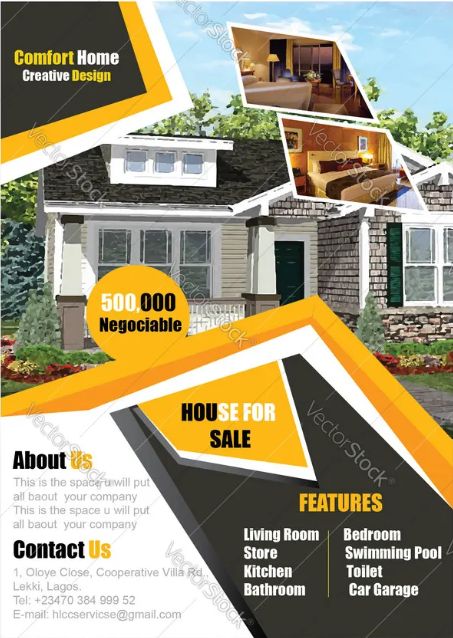 ---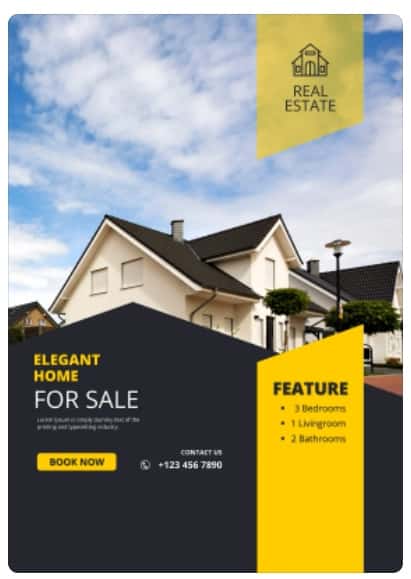 ---
3. Use a Unique Size or Shape to Stand Out
Another simple method of making your direct mail stand out is by printing it on paper with a unique shape or size. This makes it extremely difficult for recipients to set their mail in a pile and forget about it. Including eye-catching images in your template highlighting a listing is a winning strategy for active listings or just sold postcards.
The flyer template shown above is not only longer than the typical mailer, but it also uses multiple photos and an organized format for necessary information. On the other hand, the template below is a large, glossy flyer that appears like the cover of a magazine. Unique mailers like this one are ideal for luxury real estate agents who want to "wow" potential clients.
4. Use Drones to Capture Aerial Photos
By simply changing the angle of your photography, your real estate marketing materials can help give potential leads a new perspective on the listing. It's also an effective way to show how your skills stand out from the other agents in your area.
This postcard example dedicates most of its space to the aerial photo while leaving just enough room to list the property and contact details. While using a drone to capture photos, you can also use the drone to create virtual tours of your listings.
5. Provide Interesting & Relevant Data
Homeowners are naturally curious about the other homes in their neighborhood. Listing similar homes' median values, days on the market, and square footage is both useful and interesting for other members of your farm area. It simultaneously establishes your authority as a local expert.
Market reports are one of the best real estate marketing ideas because of the way they make it possible to advertise your skills without directly promoting or pitching yourself.
6. Present Additional Information With Trifold Brochures
Trifold brochures provide additional space in a small package. One way to use this space is to separate sections to deliver multiple, high-impact points for a variety of different audiences or services. In this first real estate brochure template, each column is separated visually to focus on three different elements of the property and the agent's business.
With this format, you could highlight yourself, your current listings, testimonials, the value of your newsletter or social media profile, or even a featured property with a beautiful real estate sign.
Another creative way to use trifold brochures is by turning them horizontally and using all of the space inside the brochure to include important details. This allows you to use a brochure in place of a flyer, newsletter, or even a prospecting letter.
7. Use Color & Format to Highlight Important Details
Whether you're using real estate postcards, flyers, brochures, or door hangers, it's important to design your mailers with intention. Start by defining a clear goal for each mailer, like generating real estate leads for yourself or a listing, or expanding your audience and building your brand. Choose the top one or two most important elements on your mailer, and then use color or placement to draw attention to those areas.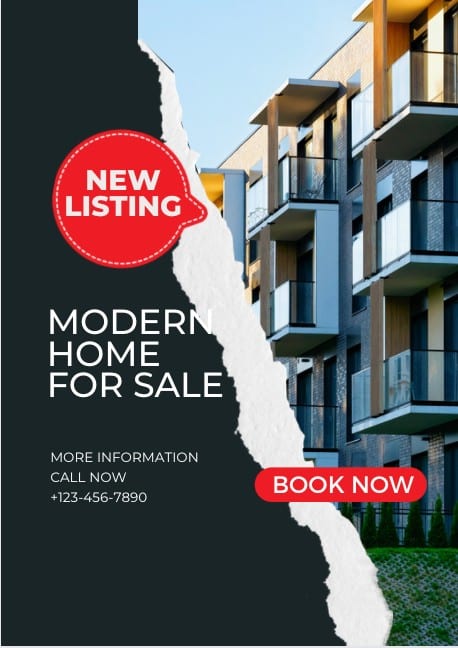 ---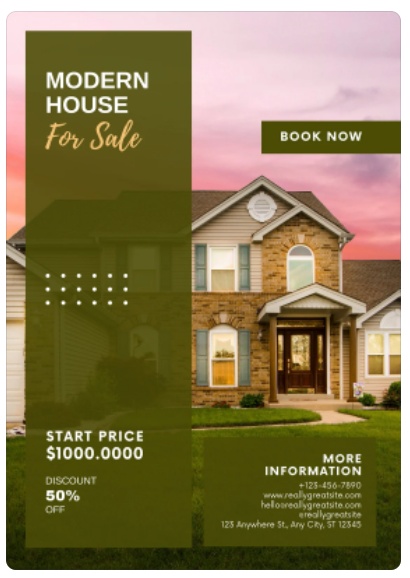 ---
In the first example above, the two red sections show which information is most important and how the agent wants the recipients to respond. This exact template is available for free on Canva, a graphic design program with thousands of templates and design elements. Start searching through Canva's existing library of real estate templates to start creating a beautiful and professional mailer for free.
8. Establish Your Local Expertise With a Community Newsletter
Newsletters are relatively common in the real estate industry, but their content can vary significantly. Sending a consistent community news flyer is just one of many real estate newsletter ideas. However, it's unique from the other types of newsletters because its hyper-local content is relevant to everyone within the community and doesn't necessarily focus on you or your services.
Instead, focus on local events, like pumpkin picking or tree lightings, and even open it up for contributions from other community members. In this way, you can make the newsletter a go-to source for everyone in the neighborhood while building authority and a sense of familiarity.
For free and paid newsletter templates as well as distribution for your newsletters read through our Top 13 Real Estate Newsletter Templates & Tools.
9. Create Formal Open House Invitations
Creating formal open house invitations is more personal than using a typical mass mailer and can make neighbors and members of your mailing list feel personally invited. Even though the invitation will be sent to many people, you can use a template like this one with a design that feels like a party invitation from a friend. An additional option is enclosing these invitations in a personally addressed envelope.
10. Showcase Your Homes on a Listing Sheet
Listing sheets have multiple purposes, like showing how you're dominating the area and presenting multiple listings to potential buyers. By using a listing sheet over a postcard for your farm area, more information and photographs can be shown. However, make sure you don't include too much information and keep your flyer's overall format and design clear.
This example shows how you can include a large amount of information, while still keeping the mailer clear and organized.
11. Keep Your Message Simple
Many real estate agents don't have any marketing experience, and they can feel like they need to use fancy language or techniques to build their business. In reality, simplicity is always better—especially when it comes to direct mail.
Keep your message extremely simple, thinking about those who may only give your postcard a few seconds of attention. In the example above, the first (and largest) line communicates the exact problem this agent can help with.
12. Market Your Unique Value Proposition
With so many real estate agents constantly competing for attention from the same leads, it's important to clearly define your unique value proposition, or what makes you different. This should be an integral part of your overall direct mail strategy, and some of your mailers should be dedicated to sharing information about you.
Telling your farm area what makes you different from others can help you resonate with targeted types of potential clients. People are far more likely to reach out when they feel that their needs are understood.
13. Send Your Pre-listing Materials in a Customized Folder
Want to take your direct mail up a notch? Customized folders are a very professional and upscale way to make an impression on leads before they ever meet you in person. Folders like these are ideal for sending out pre-listing materials for an upcoming appointment or luxury real estate marketing.
These folders from ProspectsPLUS! are completely customizable and even include a pocket to hold your sent materials securely for arrival.
14. Send Customized Note Cards to Thank Clients
Some of the best real estate mailer ideas aren't for potential clients⁠—they're for past clients. Don't forget to continually stay in touch with previous clients and remind them that you are a valuable resource that they can consult with questions, referrals, or future transactions.
Consider using customized or personalized cards to thank clients for trusting you with the purchase or sale of their home. Thank you cards are a classic way of showing your appreciation, and adding personalization adds a professional touch. With Vistaprint, you can even add customizable envelopes to the package.
15. Use Local Images Over Stock Photography
Most real estate mailer templates come with stock photography of houses. While these are free to use and may look beautiful to you, they can also make you seem disconnected from the community you serve. Instead of keeping stock photos, replace them with recognizable town features or even local events. If not, use photos of previous listings or home types that are common in your area so that all of your marketing materials feel familiar. Your mailers don't have to look fancy or show the best houses in your area to be effective.
16. Showcase the Listing, Not Yourself
Within a complete direct mail strategy, there will be times when you send a postcard or flyer focused on you. However, the majority of your mailers should be focused on local real estate, whether you're discussing the market conditions, tips for maintaining a home, or sending an open house flyer.
In these cases, it's important to use the available space to showcase the home instead of your credentials. The example above shows how you can effectively market your listings and build your brand in just a fraction of the overall space.
17. Send a Mailer Worth Saving
Many of the most successful real estate mailer ideas aren't actually focused on real estate. As an agent, you play a crucial role in your clients' day-to-day lives. Show that you truly care about the well-being of your friends and clients by sending mailers with valuable information.
Recipe cards are a favorite because they appeal to the vast majority of homeowners, but there are a variety of ways to send mailers worth saving or even posting on the fridge. ProspectsPLUS! offers hundreds of different postcards with educational content, inspirational quotes, and joke cards.
18. Be Festive
Holiday postcards are an inexpensive but thoughtful way to stay in touch with former clients and reach out to potential clients. While many real estate agents only think of sending holiday cards during the winter season, there are opportunities to stand out from the competition on every holiday.
For example, this postcard is designed for Easter, but you can send mail on Thanksgiving, the Fourth of July, Memorial Day, and even Valentine's Day. In addition, you could periodically add a brief, handwritten message to make a deeper connection.
19. Always Have Branded Mailing Material on Hand
Real estate mailers don't necessarily have to be formal and specific campaigns. Sometimes they can be off-handed notes of thanks or a personal follow-up with a prospect after a conversation. Take advantage of every unexpected opportunity by having branded marketing material on hand like custom note cards, announcement cards, letterhead, address labels, and envelopes.
To create a custom real estate marketing package with your branding, consider starting a contest through 99designs. While there are many places to find a graphic designer, 99designs uniquely allows you to submit a brief with your vision and requirements and then view concepts from multiple designers. In the end, you get to choose the absolute best design for your business.
Real Estate Mailer Tools & Resources
Even though real estate mailers have been used for generations, there have never been so many resources available to simplify the process. With so many options, you can choose the best solution to get beautiful mailers designed, printed, and mailed, whether you want to save money and do the work yourself or outsource the entire process from start to finish.
Make sure to look into all of the tools on the market to find what fits your business and goals the best. Start by looking into these top direct mail services:
Company

Best for

Agents wanting a wide range of templates and distribution options

Real estate professionals wanting the maximum customization capabilities on products

Agents or teams wanting to brand print materials and products like pens or notebooks

Key Features

Every Door Direct Mail (EDDM)
Massive library of niche content and campaigns
Multiple direct mail campaign options available

Highly customizable designs
Range of products available
User-friendly interface

Widest range of product options
Real estate-specific templates
Additional marketing services available

Starting Price

$0.27 to $2.78 for postcards

$.06 to $0.54 for postcards

$.04 to $0.45 for postcards
Bottom Line
In order to send effective mail that generates leads, builds your brand, and establishes your authority, make sure to implement the 19 tips above. The top mailers will be strategically designed for attention, focused on clients and listings, and include clear and simple messaging for maximum results.