6 Best Real Estate Marketing Companies in 2023
Real estate marketing companies help agents, teams, and brokerages generate more business by effectively marketing their services, listings, and brand. These companies provide tools like email marketing, social media, websites, and client relationship management (CRM) systems to expedite and automate marketing efforts. We've evaluated dozens of real estate marketing agencies to compile the top six options based on pricing, features, support, and customer reviews.
Best Real Estate Marketing Companies at a Glance
Company

Starting Price

Free Trial

Marketing Capabilities

Customer Support

$9.99

First 30 days

Customizable graphic designs
Social media ads
Built-in SEO tools
Landing pages

Phone, email, and chat

$110

First 30 days

Internet data exchange (IDX) integration
Customizable graphic designs
Website builder
Social media ads
Built-in SEO tools
Landing pages

Phone, email, and chat

$49.95

N/A

IDX integration
Customizable graphic designs
Website builder
Social media ads
Built-in SEO tools
Landing pages

Phone and email

$139

N/A

IDX integration
Customizable graphic designs
Website builder
Social media ads
Built-in SEO tools
Landing pages

Phone, email, and chat

$299

N/A

IDX integration
Customizable graphic designs
Website builder
Social media ads
Built-in SEO tools
Landing pages

Phone and online form

Based on each project; starting at $5

N/A

Customizable graphic designs
Website builder
Social media ads
Built-in SEO tools
Landing pages

Phone and online form
Constant Contact: Best for Affordable Email Marketing
Pros
No credit card required for the free trial
Public relations services included
Money-back guarantee available
Cons
No IDX integration
Website builder not provided
Customer service only during business hours
Constant Contact is an online real estate marketing firm delivering powerful tools to help clients build deeper relationships with their audience and execute digital marketing efforts. Real estate marketing tools like email marketing, ecommerce tools, SMS text messaging, and CRM help agents connect with prospective leads and convert them into opportunities. Automation and analytics tools increase audience engagement and let agents track which of their marketing efforts are successful.
The ease of executing email marketing efforts has made Constant Contact one of the best real estate marketing services for generating business through affordable email marketing. The presence of a free trial allows agents to test out the platform for 60 days before committing to a paid plan.
Agents can create visually engaging emails with the simple drag-and-drop feature and can set the platform to automatically send emails to new contacts, subscribers, or even a birthday email. The contact management system lets agents upload and store contact information and segment the contact list by tags, activity, and profile information.
Obtaining contact information for digital marketing outreach can be collected with Constant Contact through a few different methods. Social media and Google ads drive traffic to an agent's website, where lead forms can facilitate the collection of contact information. The lead generation and CRM features convert and nurture leads with retargeting ads, analytics, and automation tools.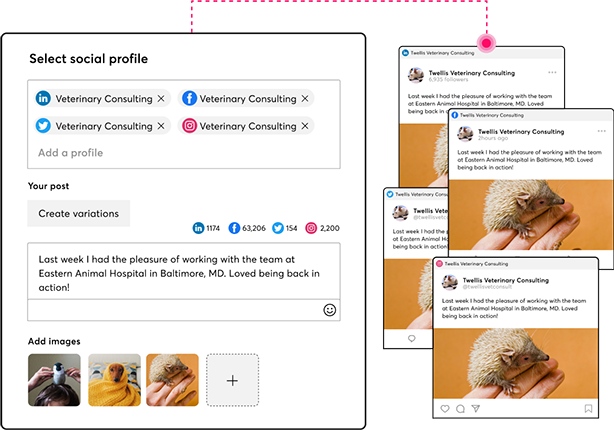 ---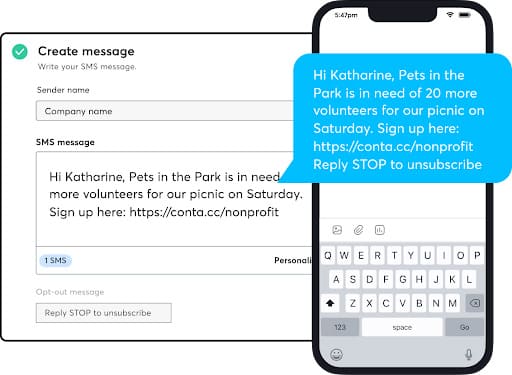 ---
Additional Constant Contact Features:
SMS marketing: Connect with clients on the go while they have their mobile phones nearby.
Analytics reports: See what marketing tactics are helpful and effective to improve productivity.
Task automation: Reduces manual effort and can encourage subscribers to take action.
Mobile application: Ability to keep in touch and reply to customers on the go.
Integrations: Grow contact lists and connect email marketing to different tech platforms.
Constant Contact Pricing:
Agents can choose from two different plans from Constant Contact. All plans have tiered pricing based on the number of contacts and can accommodate many users under a single account.
Email and Digital Marketing: Starting at $9.99

Core: Pricing begins at $9.99
Plus: Pricing begins at $45 per month

Lead Gen and CRM: Starting at $199. Each plan's starting price is for up to 5,000 contacts, and increases in price as your contact list grows.

Essential: Pricing starts at $199 per month
Advanced: Pricing starts at $599 per month
Ultimate: Pricing starts at $899 per month
Constant Contact Reviews:
The positive Constant Contact reviews gave the platform a 4.3 out 5-star rating. One user said the platform's functionality was what stood out to them. They felt that once they got set up, they could let the automation do the work and focus on other things. The customizable templates for different industries were also helpful for beginners without any email design experience.
Some users did mention the platform posed some difficulty when trying to implement more customized elements in the email templates. One of the biggest downfalls is the limitations of editing email templates and being able to copy and paste email features across different emails without starting from scratch. For users who do not have the patience to edit emails, utilize the freelance services from Fiverr to run email marketing campaigns.
Elevate: Ideal for Increasing Social Media Presence
Pros
Three subscription plan offerings
Print mail solutions available
Products aimed toward agents, teams, and brokerages
Cons
No money-back guarantee
Mobile application not available
Recruitment module for brokerages
Elevate supports real estate lead generation with digital marketing and technology client collaboration. There are six products available for agents to choose from: Social Pro, DMS, DMS Pro, Elite, Elite Pro, and Boss. Social Pro automates social media marketing, and DMS helps businesses grow by capturing, engaging, and converting leads. Elite is an IDX website with an attached CRM solution, and Boss is for brokerage productivity.
One of the standout products offered through Elevate is their Social Pro solution. It provides automated social media marketing services for real estate agents while growing their sphere of influence and subsequently increasing their business. Social platforms like Facebook, Twitter, LinkedIn, and YouTube can have customized real estate branding with automated posts of lifestyle content and listing content procured on behalf of the agent.
The automated creation of YouTube video tours and daily client emails of property reports are features of Elevate that help real estate agents engage with prospective clients. Elevate combines a handful of still pictures to create a YouTube video that resembles a property tour. Additionally, agents can automatically send clients a daily property report for specific properties of interest to add another touchpoint that keeps your contact information and services top of mind.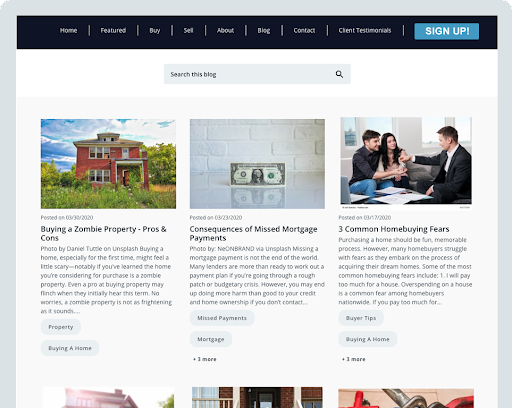 ---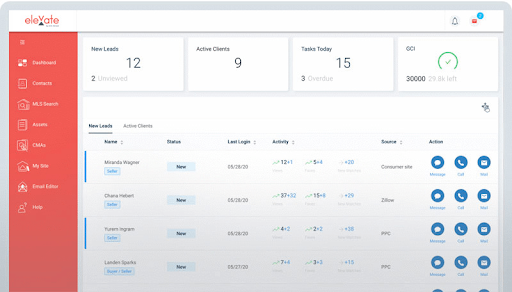 ---
Additional Elevate Features:
Boot camps: Covering topics from social media to lead generation, these boot camps are live webinars or in-person sessions across the country to learn more about topics covered.
Document storage: Property-specific documents can be uploaded and stored on the property website.
Blogs: Elevate offers curated blog posts that are written on the agent's behalf. Content helps increase agent credibility.
Design lab: Agents can create their own digital ads for social media platforms with the provided templates. Agents can customize the template as little or as much as they desire.
Elevate Pricing:
Real estate professionals must contact Elevate to get a platform tour and discuss pricing
Elevate Reviews:
There were few reviews online for Elevate; the 31 reviews we found gave the platform a 3.6 out of 5-star rating. One user gave their lead program and social media posts 5 stars, while another client said the ability to post on all social platforms at once saved them a lot of time and increased their online presence. Clients who received a website from Elevate found updating the site and adding business reviews was a simple process.
Many clients mentioned the customer service of the platform could improve. Some clients found the response time, particularly for billing questions or technical issues, took too long. Users are assigned an account manager but were disappointed they did not receive any contact from them. Agents looking for better customer service with a real estate marketing agency should consider Market Leader with phone, chat, and email support.
iNCOM: Great for Creating Lead Generating Real Estate Websites
Pros
Customizable landing pages included
SMS marketing available
Money-back guarantee provided
Cons
Free trial not available
No mobile application
Live chat support feature not offered
Customizable real estate websites and online marketing systems can be created with iNCOM. The all-in-one platform is designed for both individual agents and brokerages. The platform has pay-per-click lead generation through Google and Facebook Ads to generate buyer and seller leads, while the CRM collects and nurtures leads with automated drip email campaigns.
iNCOM also produces search engine optimized (SEO) real estate websites with tools like visitor registration, personalized landing pages, and lead forms to help generate and collect leads. The website can be launched by selecting various premade templates that are interchangeable with a simple click. iNCOM's real estate website was named one of the best marketing platforms to create lead-generating websites because of its ease to use and lifetime customer support.
iNCOM's fully optimized real estate website, combined with real estate landing pages, helps agents collect leads with targeted messaging. Agents can launch landing pages for new listings, showcase virtual tours, and even use the landing pages for recruiting purposes.
The landing pages integrate with the CRM, funneling all information into one storage location for nurturing. Landing pages are also designed to have high conversion rates, so website traffic is not wasted. The creation of a customizable landing page also comes with an unlimited revisions guarantee for any changes needed to be made if agents are not satisfied with the product.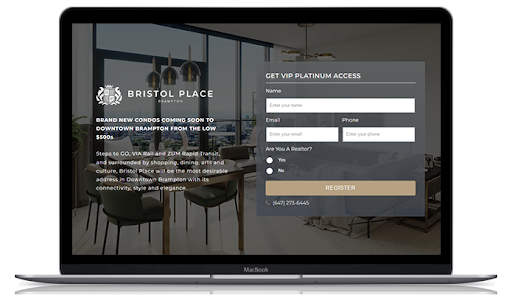 ---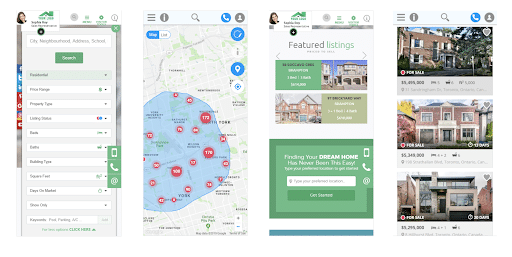 ---

---
Additional iNCOM Features:
ReCall marketing: This feature re-targets website visitors with ads to drive traffic back to your website.
SEO marketing: Helps websites appear higher on search engine results pages to increase the attraction of a website visitor.
Lifetime support: An in-house support team is available to assist via call or email at any time.
Testimonials page: Allows agents to highlight past client experience and share it with website visitors.
iNCOM Pricing: Starting at $49.95 per month
Agents can select between two plans at iNCOM: one for individual agents and another for larger brokerage teams. All plans come with CRM, website design, and lead generation tools. Agents also receive lifetime customer support, which includes training seminars and videos in addition to phone and email customer support.
Agent Plan: $49.95 plus $249.95 setup fee
Office and Brokerage Plan: $68.95 plus $350 setup fee
iNCOM Reviews:
On Google, customers have reviewed the iNCOM platform, giving it 4.8 out of 5 stars. The highest-rated reviews mentioned the iNCOM team was integral in helping agents launch their websites and provided quick response times for any concerns that arose. One user mentioned their Google marketing was set up quickly and began receiving leads right away. Users said that iNCOM's platform was one that actually produced the desired results.
Most of the negative reviews on the platform discussed the cost and the subscription terms. One client missed giving their 30-day notice and was renewed for another annual fee. Other users were unaware of the cost of product add-ons and were disappointed at the charges. Agents who don't want to be surprised by costs should consider Real Geek's flat-rate pricing model.
Market Leader: Excellent Listing Marketing Solutions for Seller Agents
Pros
Exclusive leads available for purchase
CRM provided
Websites are completely customizable
Cons
Money-back guarantee not offered
No free trial
Social media ads for additional fee
Market Leader is a marketing and lead conversion solution for individual agents, teams, and brokerages. It has lead generation solutions, like an IDX website, lead purchasing, CRM, and marketing automation, to drive continuous inbound leads. The platform also has a mobile application to allow users instant access to CRM contact information, emails, and the ability to respond to leads on the go quickly.
One of the best features of Market Leader is the listing marketing automation feature, which is a set of tools to launch a new listing and increase visibility. Agents can easily receive a customized marketing package for each available listing that contains a property website, customized listing email with the ability to target the right contacts, premade social media posts, and print materials.
These automated listing tools increase an agent's ability to market their listings, which is why it's one of the best listing marketing companies for real estate agents.
Market Leader features, like a professionally designed website, grab visitors' attention and encourage them to reach out and leave their contact information. The IDX search function gives website visitors the ability to use your search function as a resource in the housing search.
However, the CRM does the heavy lifting by capturing the leads in one location so you can easily manage contact information and execute lead engagement strategies. The Market Leader features support agents' daily marketing needs, eliminating the need for a large extensive marketing team.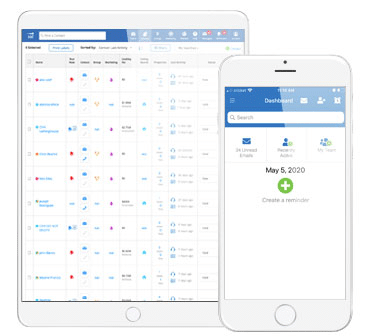 ---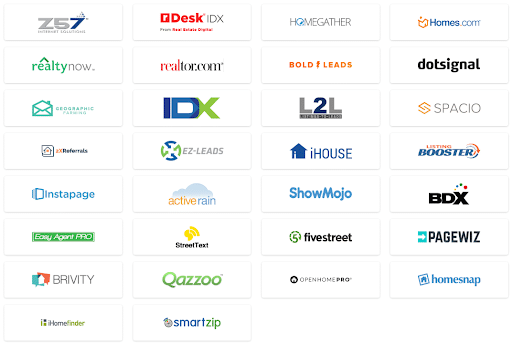 ---
Additional Market Leader Features:
Contact management: Manage all contacts in one central location, and easily add them to drip campaigns, newsletters, and holiday mailings.
Marketing campaigns: Multiple prebuilt campaigns are available and customizable, from email campaigns to postcard campaigns.
Lead source integrations: Collect leads from third-party sources and nurture and engage with them through the market leader platform.
Productivity dashboards: Shows you which team members are successful with leads and follow-ups, along with sharing which agents are not as productive.
Market Leader Pricing:
Market Leader's pricing plans start at a flat rate of $139 per month and increase based on the number of users.
Market Leader CRM: $139 per month
Team and Brokerage solution: Custom; call for detail
Market Leader Reviews:
Market Leader was rated 4.47 out of 5 based on 1,180 reviews. Some of the highest-rated features of the platform were the templates, pop-ups, and notifications, along with the ability to personalize and tailor the marketing platform to your business. Customer support was also praised, as many users found the chat, phone, and email support helpful in answering their questions.
One feature that received poor reviews was the marketing dashboard provided by Market Leader. One user said they weren't keen on the dashboard feature upgrades and found it difficult to navigate. Another user said they would prefer a dashboard showing their contact status all at once. For an extra fee, users found the cost of having the dashboard just wasn't worth the price. Users might prefer the activity dashboards provided by the Elevate platform instead.
Real Geeks: Premier Marketing Solution With a Robust CRM
Pros
Mobile application provided
CRM has multiple integrations
Connects to Facebook ads
Cons
No print mail solutions
Live chat support feature not available
Free trial not offered
Real Geeks is an all-in-one sales and marketing platform to assist real estate agents with generating and nurturing leads. It's one of the few marketing agencies that specialize in real estate lead generation. The platform allows agents to create IDX websites, capture leads in the CRM, and generate leads through paid-per-click online advertising. The combination of these marketing tools develops a strong online presence for agents to help grow business with buyer and seller leads.
The Real Geeks platform has a built-in CRM tool and automation features to help maximize lead generation efforts, particularly if an agent is using paid ads to generate leads through Facebook and Google. The CRM also has third-party integration features that allow leads from third-party websites like Zillow and Realtor.com to flow into one centralized database. Nurturing leads with a CRM is also effortless with email marketing and SMS text messaging campaigns.
Connected to the robust Real Geeks CRM is an IDX website that provides website visitors with the most updated market and listing data. The IDX integration is completely automated, which means you don't have to spend time updating the listing database manually.
The websites have high-converting landing pages that capture and collect prospective client information into the CRM. Additionally, prospective clients are also provided with a whitelisted mobile application that they can use to search, favorite, and save properties directly through the application.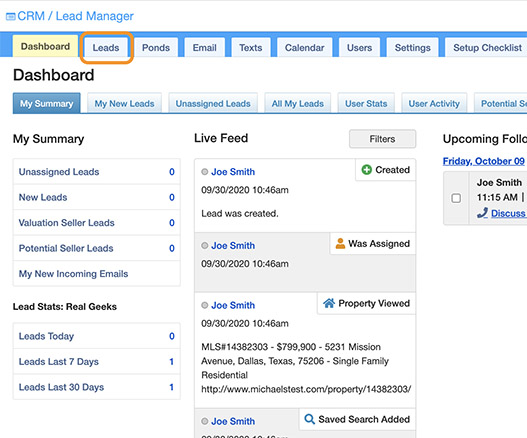 ---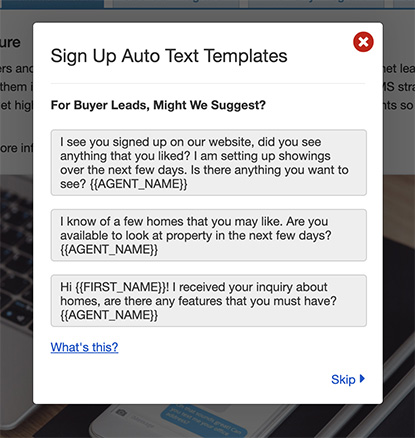 ---
Additional Real Geeks Features:
Drip campaigns: Automated drip campaigns run via email or SMS on assigned variables like lead source or location input into the CRM.
Text messaging: Connect with prospective clients on their mobile phones instead of sitting in their inboxes.
Home valuation tool: Creates an opportunity as website visitors will leave their address and contact information to receive a valuation report on their personal property.
Real Geeks integrations: Integrate with other lead sources so you don't have to switch between multiple platforms.
Real Geeks Pricing: Starting at $299 per month
The starting Real Geeks package includes a website, IDX search, CRM, SMS, and email nurturing. Agents can add a Real Leads package for pay-per-click advertisement management.
Website and CRM: $299 per month and $500 to sign up
Real leads: $550 per month for managed Facebook and Google ads
Real Geeks Reviews:
The lead nurturing process with Real Geeks was one of the top features that contributed to its 4.3 out of 5 rating. They found that Real Geeks engaged with leads immediately and ensured the conversation continued on your behalf. One user returned to Real Geeks after realizing they didn't give the platform enough time to execute their marketing strategies. However, since they've returned to the platform, they are taking advantage of the features, stayed consistent with client communication, and have reaped success from the platform.
Of the few negative reviews on the platform, some users mentioned the platform overall was not user-friendly. They wished they could see the status of their email marketing to see if the recipient opened the emails, which would allow them to follow up if there was any engagement activity. For users who would prefer more insight into their email marketing efforts, Constant Contact has great reporting features for better insight.
Fiverr: Best for Budget-friendly Marketing Team
Pros
Customer service available 24/7
Assistance with all social media platforms
No long-term commitment to projects
Cons
No free trial or subscription plan
IDX integration not offered
Phone support unavailable
Fiverr is an online marketplace to find freelance professionals to provide marketing services for real estate agents on a per project basis. Some popular professional services listed on the site are logo design, website creation, video creation, and voice-over work.
Unlike other marketing companies for realtors, Fiverr helps agents get quality marketing work done quickly and for an affordable price. All projects are priced on a per-project basis without any hourly rates. Therefore, agents will know the cost upfront, and payment will not be released until work is approved.
Agents with limited budgets can hire freelancers on the Fiverr platform to quickly launch and complete a la carte marketing projects. The 24/7 support provides peace of mind for answering questions at any time. Having freelance marketing professionals just a few clicks away means you can always satisfy your marketing needs, allowing you to build out a budget-friendly freelance marketing team.
One of the main features of Fiverr is that there is no limit to the marketing services that freelance professionals can fulfill. To select a trustworthy marketer, comb through their profile, see their project, and read reviews about them. With one click, you can contact freelancers to inquire further about their capabilities and services.
The services on the Fiverr website are categorized so you can filter your search based on keywords or popular services. One unique feature of Fiverr is seeing how many projects are in the queue for a freelancer. This information not only tells you how busy they are but if their services are in high demand.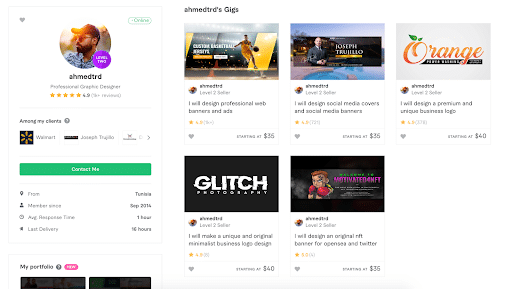 ---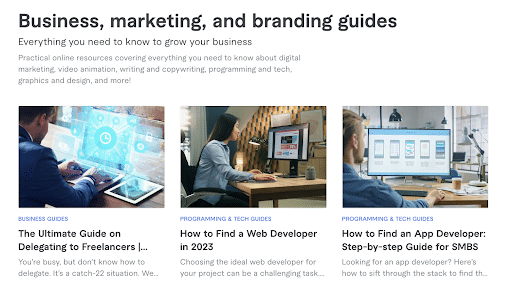 ---
Additional Fiverr Features:
No long-term commitment: Can change freelancers as often as needed if you are not satisfied with the work produced.
Mobile application: Can easily connect and communicate with freelancers on the go at any time.
Wide range of professional skills: Projects don't have to fit into one umbrella—you can find professionals from marketing to tech services.
Freelancer reviews: Ability to see the positive and negative reviews of a freelancer's past work and make a determination of their capabilities for your own projects.
Fiverr Pricing: Price per project start at just $5
Setting up a Fiverr account is free. The cost of each freelance professional depends on the project at hand and the professional's experience. Agents do not have to commit to any long-term contract and pay when the project is completed.
Fiverr Reviews:
Although each individual professional on Fiverr has their own personal review, the platform as a whole has been rated positively, with a 3.8 out of 5 stars with 8,489 contributing reviews. Given the high number of reviews, many professionals are using the platform's services. Reviewers say the platform makes it easy for businesses to find and connect with the services they need. The interface has been touted as straightforward and very user-friendly.
Many of the negative reviews received were about individual freelancers. In these cases, they weren't satisfied with the work produced and found that customer service could not assist with any issues that arose. Additionally, you will find some freelancer reviews on the platform discussing the outrageous requests that were made for the projects. If real estate agents are not ready to manage a freelance team, consider a marketing platform with premade templates and set marketing programs like Elevate's design lab.
How We Evaluated the Best Real Estate Marketing Companies
Each real estate marketing agency has its own niche for how they help you market and generate business. Agents should make sure that the marketing company they choose doesn't add to their workload, and instead allows them to focus on their work and makes it easier to connect and nurture their incoming leads.
Features like integrations and automation are key to making the marketing platform work for you behind the scenes. When deciding on the best real estate marketing company to use, agents should consider pricing, general features, niche features, and available help and support to find the best fit for your business.
In our evaluation, we determined Constant Contact was the best overall marketing platform due to the presence of a CRM, lead capture forms, successful marketing campaigns, social media ads, and the ability to try the platform before you commit. Customers agree with our determination considering it has a rating of high 4.3 out 5-star rating.
The following criteria were considered when determining the top real estate marketing companies for real estate agents:
20%
Advanced/Niche Features
30% of Overall Score
The marketing agencies evaluated provided all the general features to support real estate marketing efforts. We assess whether the companies provided IDX integrations, reporting and analytics, website builders, social media ads, third-party integrations, mobile applications, SEO tools, and landing pages.
25% of Overall Score
Some of the marketing companies evaluated offered free trials along with tiered subscription plans and money-back guarantees. We considered the length of the free trial along with the pricing of each subscription.
20% of Overall Score
To further evaluate the features of each company, we rated whether the marketing company offered real estate templates and had email marketing, lead forms, auto-responders, CRM integration, and print mail solutions.
10% of Overall Score
We wanted to make sure that agents were able to obtain the help and support needed to be successful in executing their marketing strategies. We rated if agents could reach out to support outside of business hours, as well as if phone, email, and live chat support were offered.
15% of Overall Score
Expertise in the field and firsthand experience with the providers allow us to evaluate the standout features, value for the money, and ease of use for each provider.
*Percentages of overall score
Bottom Line
Real estate agents must find the best real estate marketing agency to fit their needs. Having a set marketing plan helps you determine if your marketing objectives are creating brand awareness, collecting and nurturing leads, or developing a larger online presence. Each one of the real estate marketing companies evaluated is designed for real estate activity and has features that support business growth.