Real estate marketing companies enhance business for agents, teams, and brokerages by effectively promoting services, listings, and brands. They provide tools like email marketing, social media posting, website builders, and client relationship management (CRM) systems for streamlined efforts. We've evaluated multiple real estate marketing agencies and narrowed the top six based on pricing, features, support, and reviews.
Best Real Estate Marketing Companies at a Glance
Constant Contact

Overall Score 4.93 out of 5

Starting at $12 per month

Customizable graphic designs
Social media ads
Landing pages and built-in SEO

Elevate

Overall Score 4.86 out of 5

Contact the company for pricing

IDX integration
Social, email, and text campaigns
Social media boot camp

iNCOM

Overall Score 4.34 out of 5

Starting at $49.95 per month

Personalized website
Buyer and seller campaigns
Social media ads

Market Leader

Overall Score 4.32 out of 5

Starting at $139 per month

Single-property websites and IDX
Print and digital materials
Landing pages

Real Geeks

Overall Score 3.71 out of 5

Starting at $299 per month

Mobile app
Market reports
Custom landing pages

Fiverr

Overall Score 3.63 out of 5

Starting at $5 per project

Experienced freelancers
Expert graphic designers
Social media ads and landing pages
Utilizing a real estate marketing company will help agents market their properties, services, and personal brand while saving time and effort. Take our quiz to see which real estate marketing company is the best fit for your needs.
Which real estate marketing company is right for you?
Best for Generating Business With Affordable Email Marketing

Pros
60-day free trial
Public relations services included
Money-back guarantee
Pros
No IDX integration
Website builder not provided
Customer service only during business hours
Our Expert Opinion on Constant Contact
Easily executed email marketing campaigns make Constant Contact one of the best real estate marketing services. Its robust tools enhance audience connections and digital campaigns, and it also offers ecommerce, SMS texting, and customer relationship management (CRM) functionality for successful lead conversion. Features like social media and Google ads drive traffic to agent's websites, and its automation and analytics tools help to boost engagement. This top real estate marketing firm could improve by adding IDX integration.
SMS marketing: Connect with clients on the go while they have their mobile phones nearby.
Analytics reports: See what marketing tactics are helpful and practical to improve productivity.
Task automation: Reduces manual effort and can encourage subscribers to take action.
Mobile application: Ability to keep in touch and reply to customers on the go.
Integrations: Grow contact lists and connect email marketing to different tech platforms.
Positive reviewers rated the platform 4.3 out 5. One user said its functionality stood out, and once they got set up, they let the automation do the work so they could focus on other things. The customizable templates for different industries were also helpful for beginners with no email design experience.
Some users mentioned that the platform was complex when implementing customized elements in the email templates. One of the biggest downfalls was the limitations on editing email templates and copying and pasting the email features across different emails without starting from scratch. For users who do not have the patience to edit emails, find freelance services from Fiverr to hire someone for email marketing campaigns.
Email and Digital Marketing:

Lite: $12
Standard: $35
Premium: $80

Lead Gen and CRM: Starting at $449
Prices reflect base pricing and are paid per month.
Best for Increasing Social Media Presence

Pros
Three subscription plan offerings
Print mail solutions available
Products aimed toward agents, teams, and brokerages
Cons
No money-back guarantee
Mobile application not available
Recruitment module for brokerages
Our Expert Opinion on Elevate
Elevate is the best real estate marketing firm for helping agents increase their social media presence to build brand awareness. Elevate's Social Pro stands out, automating agents' social media marketing, expanding influence, and improving business through customized automated posts on platforms like Facebook, Twitter, LinkedIn, and YouTube. It also enhances real estate lead generation with digital marketing and client-tech collaboration. Elevate offers a variety of products for automating social media marketing, driving growth with lead capture and engagement, merging your IDX website and CRM, and boosting brokerage productivity. Adding a mobile app would be an excellent enhancement for this provider.
Boot camps: Live webinars or in-person sessions nationwide to learn how to use the platform to succeed in real estate.
Document storage: Property-specific documents can be uploaded and stored on the property website.
YouTube: Elevate combines still pictures to create a YouTube video that resembles a property tour.
Blogs: Curated blog posts on the agent's behalf. Content helps increase agent credibility.
Design lab: Agents can create customized digital ads for social media platforms with the templates provided.
Reviewers gave Elevate a 3.5 out of rating. One user gave its lead program and social media posts 5 stars, while another client said the ability to post on all social platforms simultaneously saved them time and increased their online presence. Clients who got an Elevate website noted that updating the site and adding business reviews was simple.
Many clients expressed that customer service could improve. Some clients found the response time for billing questions or technical issues took too long. Users are assigned an account manager but were disappointed they did not hear from them. For agents looking for better customer service with a real estate marketing agency, consider Market Leader with phone, chat, and email support.
Contact Elevate to get a free demo and discuss pricing
Best for Creating Lead-generating Real Estate Websites

Pros
Customizable landing pages
SMS marketing
Money-back guarantee
Cons
Free trial not available
No mobile application
Live chat support feature not offered
Our Expert Opinion on iNCOM
iNCOM is the best real estate marketing service that enables customizable real estate websites and online marketing systems for agents and brokerages. It is one of the best real estate marketing companies incorporating pay-per-click (PPC) lead generation through Google and Facebook Ads alongside a customer relationship manager (CRM) facilitating automated drip email campaigns for lead nurturing. iNCOM's search engine optimized (SEO) websites feature visitor registration, personalized landing pages, and lead forms. The platform's simplicity, interchangeable templates, and lifetime customer support make it a top venue for creating lead-generating real estate websites.
ReCall marketing: Re-targets website visitors with ads to drive traffic back to your website.
Landing pages: Integrate with the CRM, funneling all information into one storage location for nurturing.
SEO marketing: Helps websites appear higher on search engine results pages to increase the attraction of a website visitor.
Lifetime support: An in-house support team can assist via call or email anytime.
Testimonials page: Allows agents to highlight past client experience and share it with website visitors.
Customers gave iNCOM 4.8 out of 5 stars. Many users mentioned that the iNCOM team was integral in helping launch their websites and provided quick responses to concerns. One user said their Google marketing set up quickly, and they began receiving leads right away. Users noted that iNCOM's platform produced their desired results.
Negative reviewers were unhappy with the cost and subscription terms. One client missed the 30-day notice, and the subscription was renewed for another year. Other users were unaware of product add-on costs and were disappointed at the charges. Agents who don't want surprise costs should consider Real Geek's flat-rate pricing model.
Agent Plan: $49.95 plus $249.95 setup fee
Office and Brokerage Plan: $68.95 plus $350 setup fee
Prices are per month plus a one-time setup fee.
Read how our experts feel about this real estate marketing service in our iNCOM review.
Best for Listing Marketing Solutions for Seller Agents

Pros
Exclusive leads available for purchase
CRM provided
Websites are completely customizable
Cons
Money-back guarantee not offered
No free trial
Social media ads for additional fee
Our Expert Opinion on Market Leader
Market Leader caters to agents, teams, and brokerages with marketing and lead conversion solutions. It encompasses IDX websites, lead purchasing, CRM, and marketing automation for consistent inbound leads. A standout feature is its automated listing marketing tools, including property websites, customized listing emails, targeted contact lists, premade social media posts, and print materials. This makes Market Leader one of the best listing marketing companies for real estate agents. It could improve by giving consumers a free trial.
Contact management: Manage all contacts in one central location and easily add them to drip campaigns, newsletters, and holiday mailings.
Marketing campaigns: Multiple prebuilt and customizable campaigns, from email to postcards.
Search capabilities: The IDX search function allows website visitors to use your search function as a resource in the housing search.
Lead source integrations: Collect leads from third-party sources and nurture and engage with them through the market leader platform.
Productivity dashboards: Show which team members are successful with leads and follow-ups and share which agents are less productive.
Market Leader is rated 4.47 out of 5. Some of the highest-rated features were the templates, pop-ups, and notifications, along with the ability to personalize and customize the marketing platform. Customer support was also praised, as many users found the chat, phone, and email support helpful in answering their questions.
One feature that received poor reviews was the marketing dashboard. One user said they weren't keen on the feature upgrades and found navigating difficult. Another said they would prefer a dashboard showing their contact status simultaneously. Users found the added cost of the dashboard wasn't worth the price. Users might prefer the activity dashboards provided by Elevate.
Market Leader CRM: $139 per month
Team and Brokerage solution: Custom; call for details
NEW FEATURE ALERT: Engage more efficiently with buyer and seller leads using Market Leader's new feature, Network Boost. Network Boost has shown a 40% increase in agents successfully connecting with leads. Market Leader social media experts design highly targeted and optimized ads for your Instagram and Facebook. As visitors engage with your ads, they will be prompted to complete a form and funnel directly into your Market Leader client relationship manager (CRM). This will also trigger an automatic marketing campaign that nurtures your clients and lets you know they are ready to engage with you personally. Try Market Leader's Network Boost today or read our Market Leader review for more information.
Best for Nurturing Leads Through a Robust CRM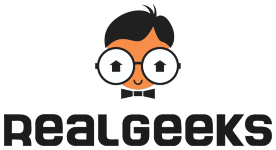 Pros
Mobile application provided
CRM has multiple integrations
Connects to Facebook ads
Cons
No print mail solutions
Live chat support feature not available
Free trial not offered
Our Expert Opinion on Real Geeks
Real Geeks, an all-in-one sales and marketing platform, specializes in aiding agents with lead generation and nurturing. It facilitates IDX website creation, customer relationship manager (CRM) lead capture, and paid-per-click online ad-driven lead generation. This toolkit strengthens agents' online presence for enhanced buyer and seller lead growth. The integrated CRM and automation optimize lead generation through platforms like Facebook and Google. Third-party integrations centralize leads, while email and SMS campaigns simplify lead nurturing. Adding print mail options for agents would be a helpful upgrade.
Drip campaigns: Automated campaigns run via email or SMS on assigned variables like lead source or location imputed into the CRM.
Text messaging: Connect with prospective clients on their mobile phones.
Home valuation tool: This creates an opportunity as website visitors will leave their address and contact information to receive a valuation report on their personal property.
Real Geeks integrations: Integrate with other lead sources, such as Zapier, Realtor.com, Zillow, and LionDesk, so you don't have to switch between multiple platforms.
Real Geeks lead nurturing was one of the top-rated features contributing to its 4.5 out of 5 rating. Users found that Real Geeks engaged with leads immediately and ensured the conversations continued. One user returned to Real Geeks after realizing they didn't give the platform enough time to execute their marketing strategies. Since their return, they have taken advantage of the features, staying consistent with client communication, and have reaped success.
Of the few negative reviews, some users mentioned the platform was not user-friendly. They wished they could see email open rates, allowing them to follow up if there was engagement activity. Constant Contact has great reporting features for users who would prefer more insight into their email marketing.
Website and CRM: $299 per month and $500 to sign up
Real leads: $550 per month for managed Facebook and Google ads
Read how our experts feel about this CRM for real estate agents in our Real Geeks review.
Best for Building a Budget-friendly Marketing Team

Pros
Customer service available 24/7
Assistance with all social media platforms
No long-term commitment to projects
Cons
No free trial or subscription plan
IDX integration not offered
Phone support unavailable
Our Expert Opinion on Fiverr
Fiverr is an online marketplace to find freelance professionals to provide marketing services for real estate agents on a per project basis. Freelancers offer logo design, website creation, video production, and voice-overs. Unlike traditional real estate marketing companies for realtors, Fiverr offers fast, affordable, per-project solutions. Costs are upfront, and payment is made upon approval. This platform is perfect for agents on a budget, allowing them to quickly launch marketing projects with 24/7 support and build a cost-effective freelance marketing team. Adding Fiverr phone support would help agents resolve issues rapidly.
No long-term commitment: Change freelancers as often as needed if not satisfied with the work.
Search tools: The services on the Fiverr website are categorized so you can filter your search based on keywords or popular services.
Mobile application: Easily connect and communicate with freelancers on the go at any time.
Freelancer reviews: Ability to see the positive and negative reviews of a freelancer's past work.
Professionals on Fiverr have individual reviews for their services, but the platform has a positive rating of 3.8 out of 5. Reviewers say the platform makes finding and connecting with their needed services easy. The interface was touted as straightforward and user-friendly.
Many of the negative reviews received were about individual freelancers. Dissatisfied clients were unhappy with the work produced, and Fiverr customer service couldn't assist since the responsibility for resolution was on the freelancers. Additionally, some freelancers complained about customers' outrageous requests for their projects. If real estate agents are not ready to manage a freelance team, consider real estate marketing firms with premade templates and set programs, like Elevate's design lab.
Create a free account, then prices per project start at $5
Read how our experts feel about this online freelance marketplace in our Fiverr review.
How We Evaluated the Best Real Estate Marketing Companies
Each real estate marketing agency has its niche for how it helps you market and generate business. Agents should ensure that the marketing company they choose doesn't add to their workload but allows them to focus on connecting and nurturing their incoming leads more easily. When deciding on the best real estate marketing company, agents should consider pricing, general features, niche features, and available help and support to find the best fit for your business.
In our evaluation, we determined Constant Contact was the best overall marketing platform due to the presence of a CRM, lead capture forms, successful marketing campaigns, social media ads, and the ability to try the platform before you commit.
The following criteria were considered when determining the top real estate marketing companies for agents:
20%
Advanced/Niche Features
30% of Overall Score
The marketing agencies evaluated provided all the general features to support real estate marketing efforts. We assess whether the companies provided IDX integrations, reporting and analytics, website builders, social media ads, third-party integrations, mobile applications, SEO tools, and landing pages.
25% of Overall Score
Some marketing companies that we evaluated offered free trials, tiered subscription plans, and money-back guarantees. We considered the length of the free trial and each subscription's pricing.
20% of Overall Score
To further evaluate the features of each company, we rated whether the marketing company offered real estate templates and had email marketing, lead forms, auto-responders, CRM integration, and print mail solutions.
10% of Overall Score
We wanted to ensure that agents could obtain the help and support needed to execute their marketing strategies successfully. We rated if agents could reach out to support outside business hours and phone, email, and live chat availability.
15% of Overall Score
Expertise in the field and firsthand experience with the providers allow us to evaluate the standout features, value for the money, and ease of use for each provider.
*Percentages of overall score
Bottom Line
Brokers and agents must find the best real estate marketing agency to fit their needs. A set marketing plan helps you determine if your marketing objectives are creating brand awareness, collecting and nurturing leads, or developing a larger online presence. Each real estate marketing company evaluated is designed for real estate activity and has features supporting business growth.