6 Best Real Estate Photo Editing Software
Real estate photo editing software gives real estate agents and brokerages the ability to correct and make improvements to their property photos through an easy-to-use editing interface and premade templates. Quality real estate photo edits will visually attract prospective clients to your listings and services, as well as make you stand out from the competition. We've found the six best photo editing software for real estate agents and brokerages based on pricing, general features, customer support, and ease of use.
Best Real Estate Photo Editing Software at a Glance
Software

Starting Price

Free Trial

Training / Tutorials

Customer Support

Free or $12.99 per month for 5 users

✓

Free forever but with limited features

✓

Email

$7.99 per month

✓

Free until image is downloaded or shared

✓

Email

$20.99 per month

✓

30 days

✓

Phone and live chat

$49 per month or pay-as-you-go for $1.50 per credit

✕

✕

Phone, live chat, and email

Free or $7.99 per month

✓

30 days

✓

Email

$47 per month

✕

✓

Email
Which real estate photo editing software is right for you?
Answer a few questions about your business, and we'll give you a personalized product match.
Canva: Recommended for Agents With No Design Experience
Canva is a graphic design platform that can be used to create social media graphics, presentations, posters, videos, and branding logos. Real estate agents can leverage Canva to create visually appealing marketing materials to increase their lead generation. It allows even the most inexperienced graphic designers to perform real estate photography editing and insert them into preset templates and content from the Canva library.
The easy-to-use design interface with drag-and-drop features allows agents to refine their real estate photos by applying textures, image cropping, and adding text overlays to make their images stand out. The textured backgrounds in Canva are generated from real world papers and fabrics that help accentuate the images. Cropping images can make photos look clean and trim to fit appropriately into the marketing materials or highlight a specific area of a listing.
The platform has collaboration tools for larger real estate teams for increased success. Agents can invite specific individuals or an entire team to allow edits, receive feedback, and get final approvals. The Team folder helps keep projects organized, and agents can create, schedule, and launch any social media-related images. The integrated team communication tools help keep communication lines open across various departments.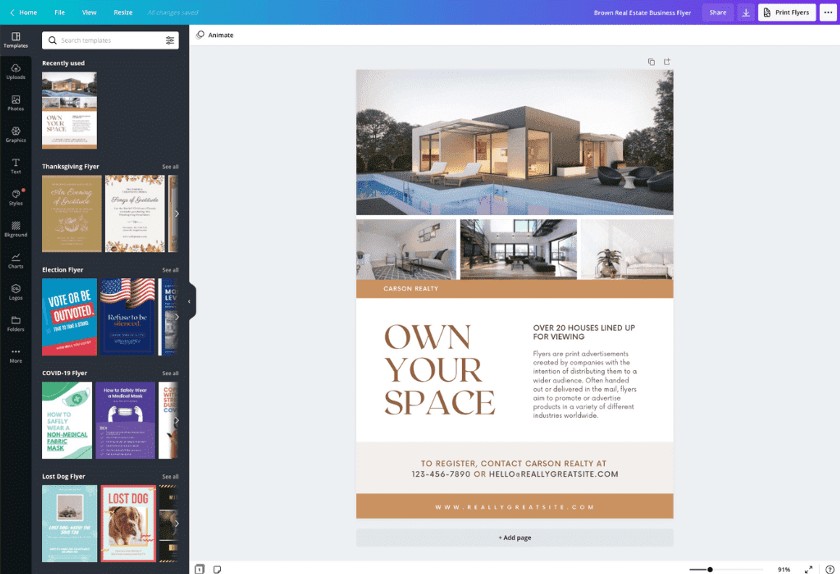 ---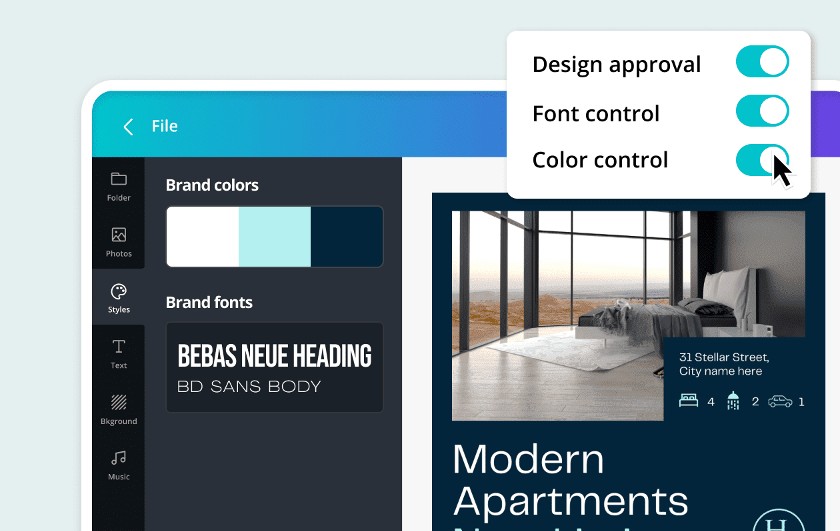 ---
Canva Features
Premium stock images available
Free templates, fonts, and logos
Ability to export designs in multiple formats
Built-in social media sharing mode
Team collaboration tools available
Cloud storage included in free and paid plans
Mobile application available
Canva Reviews
Canva graphic design and video editing software was rated 4.7 out of 5 by its users. Many mentioned the Pro account contained a lot of extra helpful features, and the software was easy to use and learn. The ability to change the text, colors, and layouts on marketing materials was useful to many small business owners. Users also found the price point was affordable compared to other editing software.
A few negative reviews mentioned the platform was slow or would crash when handling more complicated graphic projects, including the animated images. One user mentioned the need to pay extra to use certain fonts, which became frustrating. For a real estate photography editing software without any additional charge for fonts, consider PicMonkey, which allows users to upload their own fonts.
Canva Pricing
Free: Access to templates, stock photos, and design types to get started
Pro: $12.99 per month for unlimited access to premium tools and content
Enterprise: $30 per person for teams over 25 individuals
PicMonkey: Ideal for Editing Photos With the Mobile Application
PicMonkey is one of the best real estate photo editing software for agents on the go. The mobile application contains a photo editor, design maker, touch-up tool, and background eraser in one spot. Real estate agents can even use the mobile app to edit photos and videos as well as add graphics and text. Connect the application to your social media accounts for easy exports directly to Instagram, Facebook, and Twitter.
In addition to adding filters and cropping photos, agents can choose from a large selection of stock photos for their marketing efforts or upload their own photos. These photos can be edited to make them more appealing. You can also make use of design templates for creating real estate listing social posts, logos for specific properties, and infographics to help market your listings.
The branding tools within PicMonkey help create a brand identity for agents and brokerages. The tools can create a logo and business cards, along with watermarking your images for brand recognition. The Brand Kit allows agents to store fonts and logo colors to be easily accessed in one spot. Fonts can be selected from the available options, or agents can upload their brand-specific fonts into the software for cohesive branding.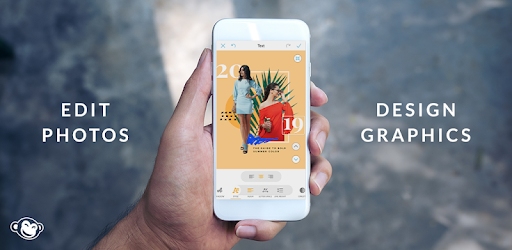 ---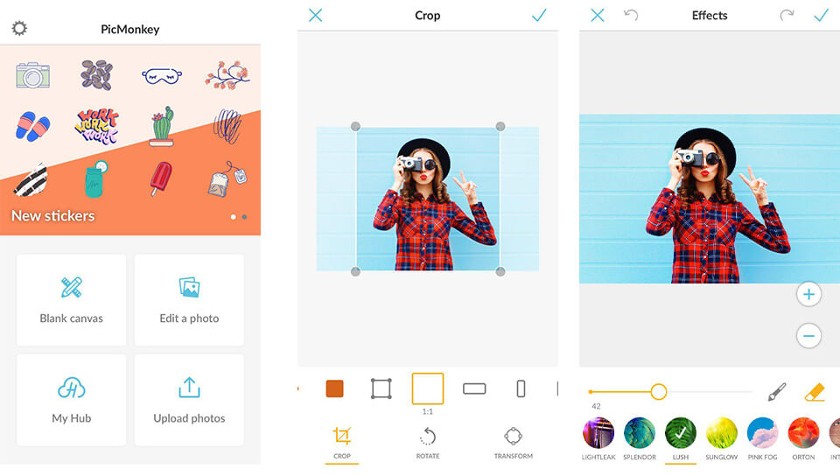 ---
PicMonkey Features
Cloud storage included in plan
Font library available
Premium templates, effects, and touch-up tools
Email support
Team collaboration tools for Pro and Business plans
Supports JPG or PNG in all plans
iPad application for larger work area
PicMonkey Reviews
The ability to remove an image's background with just a single click has resonated well with users. They've rated the platform a 4.5 out of 5, highlighting its ability to enhance social media posts and keep content new while being easy to use. One user mentioned increased click-through rates with PicMonkey created images.
Some users mentioned its limited capabilities when it came to obtaining a specific brand color or the limited graphics available to use. In addition, some features on the desktop version are not available on the mobile application. For a more advanced real estate photo software, Adobe Photoshop would be the best alternative for elaborate editing tools.
PicMonkey Pricing
Basic: $7.99 per month for photo editing software for beginners
Pro: $12.99 per month includes unlimited storage and brand fonts
Business: $23 per month for added collaboration tools
Adobe Photoshop: Best for Advanced Agents With Graphic Design Capabilities
Adobe Photoshop is one of the more advanced programs for real estate photography editing. It's considered one of the leading graphic design tools in the digital art world, allowing its users to create images, graphics, paintings, and even complicated designs.
The software is available on the desktop or iPad with advanced editing and retouching tools like photo layering and effects, which can be used for digital drawings and painting. Agents can also use Adobe Photoshop to create web designs. They can edit social posts, retouch listing photography, create banners, and even create memes to generate leads and drive engagement with clients.
Features like quick-click selections allow agents to select a portion of the image by hovering over and selecting it. Agents also have the ability to collaborate with their teams through the collaboration and commenting tools, allowing your team members to provide feedback on the designs.
Adobe Photoshop Features
Ability to import and export artwork
Can edit using mobile application
Drag-and-drop features
Extensive editing tools
Premade templates available
Collaboration tools for larger teams
Adobe Photoshop Reviews
A few users of Adobe Photoshop mention their increased social media presence using Adobe edited imagery. Some say it's a platform that allows them to express their creativity with a variety of features compared to a drag-and-drop photo editor. The positive reviews contribute to the platform receiving a rating of 4.6 out of 5 stars.
There were no reviews below a 3-star rating for the software. However, a few users complained about the computer processing power required to run the software. Others also reported a steep learning curve until one becomes acclimated with the software. For an easier platform to launch for photo editing, consider Pixlr, which has a browser-based photo editor.
Adobe Photoshop Pricing
Photoshop plan: $20.99 per month
PhotoUp: Best for Agents to Outsource Photography Editing & Marketing
PhotoUp is one of the few photo editing services geared specifically toward real estate photography and marketing. The platform is built on outsourcing all photography, editing, virtual staging, and marketing to an external team. Real estate professionals can choose a dedicated or shared editor depending on the amount of work required. A dedicated photo editor can support a larger team and provide consistent editing style, whereas a shared editor can be hired on-demand for one-off assignments.
The PhotoUp team can perform additional services, including virtual assistants to help coordinate transactions or provide administrative services. The team can also support video editing and help create listing specific property websites.
Depending on the type and amount of services needed, agents will have to decide if they would like a monthly plan or on-demand pricing plan. Services are charged by credits, so agents should determine their volume of work required monthly.
PhotoUp Features
Listings websites to market listing
Virtual staging to show vacant units
Outsource photo editing opportunities
Virtual assistance services
Create house portrait gifts for clients
PhotoUp Reviews
Users who have used PhotoUp's services rate it a 4.5 out of 5. They found the services to produce impressive results with a quick turnaround time. One user mentioned the customer support received made them a happy customer, and the affordability was a big factor in the continued use of the services. Most users say they received very high-quality results from the offshore team along with fast response times when questions arose.
It was difficult locating a negative review about the services. Perhaps its on-demand pricing structure and affordability of the lower monthly plans contributed to the positive reviews. For agents who would like a similar monthly cost and edit photos themselves, Canva is an easy-to-launch option.
PhotoUp Pricing
On-Demand: Pay-as-you-go for $1.50 per credit; includes 5GB of storage and customer support
Micro: $49 per month for 40 credits
Starter: $99 per month for 100 credits
Pro Lite: $199 per month for 200 credits
Larger plans available for higher monthly credit amounts
Pixlr: Design Tool Best for Preset or Custom Animation
Pixlr is a free online photo editor that agents can use in their browser, desktop, or mobile phones. Although there are paid plans at Pixlr, the free account has an abundance of features available, including an animation feature. The feature turns static images into animated content that is dynamic and captures an audience's attention
Other standout features include the background image remover. Agents can remove background images in headshots or property photos. The remover is artificial intelligence (AI)-powered and removes backgrounds of images with a single click. If agents are unsatisfied with the background remover, they can use manual tools to fine-tune the removal.
Customizable design templates on Pixlr can help create anything—brochures, newsletters, and business cards. It also contains preset templates for social media, so agents can quickly create social media content tailored toward Instagram, Facebook, YouTube, and Pinterest. The templates are presized and contain content featured on each platform. For example, templates for Instagram stories contain templates for motivational quotes, sale announcements, and holiday templates.
Pixlr Features
Customizable templates
Option to import and export photos
Social media integration
Image animation tools
One-click background eraser
Ability to add and modify image text
Mobile application available
Pixlr Reviews
Clients rated Pixlr 4.4 out of 5 stars. Users of Pixlr found the editing useful and liked the ability to make edits on the mobile phone. They found it to be an extremely powerful photo editor that could go up against more advanced tools on the market. Some found the interface to be easy to understand, and the clear buttons helped guide you through the editing.
One reviewer mentioned the platform did not have advanced brush features to help fine-tune some of the editing work, and the ads on the free account were somewhat distracting. Others found the software to require a larger learning curve and wasn't as intuitive as other AI platforms. If AI editing is a factor, then clients should try Skylum for photography editing.
Pixlr Pricing
Free: Includes basic editing tools, limited overlays, and stickers, and is supported by advertisements
Premium: $7.99 per month for full access to Pixlr X and E
Creative pack: $29.99 per month for everything in the Premium package plus unlimited access to stock content, premium support, and a legal guarantee of $25,000
Skylum: AI-powered Photo Editor for Beginner Agents
Skylum is an artificial intelligence-powered photo editor. It uses AI to automate many routine and complex tasks to assist new and professional photo editors. The platform provides unique templates and editing tools to help users enhance, retouch, and remove unwanted objects from photos. Its AI capabilities can suggest the best templates for each image, so agents with limited photo editing experience can still produce eye-catching photos.
To reduce the time and complexity of editing photos, Skylum allows users to create a style for their images and easily replicate it onto an album of photography. This functionality enables you to create photos that represent your brand, make it easily recognizable, and create cohesiveness across your social media accounts. The moment an agent uploads a photo, it's instantly analyzed by AI, and agents can choose from the list of photo edit recommendations.
Skylum Features
Ability to crop and transform photos
Custom textures available for use
Easy to share to social media
Supports JPEG and TIFF files
Object and background removal tool
Multiple photo filters
User can create preset image editing
Skylum Reviews
An inexperienced photo editor said Skylum had simple workflows so users could quickly process raw photography with just a few clicks. The ease of the platform is why most users rated it 4.2 out of 5. One user said the platform doesn't require a lot of technical skills and has the ability to make a basic photo into something visually appealing.
Although the AI creates amazing results, one user said the drawback to using AI is the lack of speed. There is a lot of computer processing power required to run the software. Users said it could take a little longer for the images to switch over with AI. Therefore, a lot of time is spent waiting for the platform to catch up. For a non-AI platform, perhaps some users would be interested in outsourcing some of the work using PhotoUp.
Skylum Pricing
Luminar: $47 for a lifetime license for one computer
Aurora HDR: $99 for a lifetime license along with tools for all HDR editing, layers, masking, and batch processing tools
Luminar Neo: Starting at $79 for a lifetime license; includes an image editor driven by AI
If you prefer a subscription-based option, check out Skylum's website to get detailed information on its pricing offers.
How We Evaluated the Top Real Estate Photo Editing Software
When considering which real estate photography editing software to use, agents must consider which platform fits their capabilities and produces the desired results. Visually captivating photography can help agents attract prospective clients to their listings and increase their brand power. We've taken into consideration the price, general features, customer ratings, ease of use, and available customer support to determine the best platforms to edit your real estate photos.
Given the categories evaluated, we've selected Canva as the best platform, receiving a score of 4.28 out of 5. Factors that contributed to this decision include the affordable pricing structure and free trial available for agents to try before committing to a monthly plan. The platform also has drag-and-drop features to support agents of all design levels along with collaboration tools as agents begin to grow their team.
Additional criteria used to evaluate real estate photography editing software:
30% of Overall Score
We compared each software's monthly costs, including if there was an option for a free trial and if there is a cost to use stock photos.
25% of Overall Score
The general features evaluated included editing tools, video editing, branding tools, and if effects and animations were included. We also considered if the platform supports real estate virtual staging and floor plan creation.
15% of Overall Score
Based on customer feedback for each product, with particular attention given to reviews of the product and popularity of the provider, to certify the software meets user satisfaction.
15% of Overall Score
Each platform was scored based on available training and tutorials, satisfaction guarantee, and if collaboration tools were present. We also took into account if there was a mobile application or available assistance from an in-house editor.
10% of Overall Score
Expertise in the field and firsthand experience with the software allow us to evaluate the standout features, value for the money, and ease of use for each photo editing tool.
5% of Overall Score
We looked into the convenience and attainability of customer service for technical support and photo editing assistance.
*Percentages of overall score