Real estate referral fees provide opportunities for real estate agents to generate passive income for clients they are unable to assist. If a client is not located within your practice area, outside your expertise, or you're too busy at the time, you can send that client to another agent for a fee in return for sharing the lead. Referral fees can range from 20% to 35% of earned commissions.
When sharing a lead with another agent, follow our five steps for a smooth and easy way to collect referral fees.
1. Formalize Your Referral Agreement Contract
The first step in handing a referral client to another agent is to prepare a contract. A referral agreement contract is a formalized document that outlines the terms of the referral transaction between the referring and receiving real estate agent. It's a legally binding document that protects both parties and ensures both parties are clear of their roles and responsibilities in the transaction.
Here is a free downloadable template that you can use for your referral contract:
Having a well-drafted referral agreement contract in place helps real estate professionals create a smooth and transparent referral process. This agreement also mitigates potential misunderstandings between two agents. Every real estate agent should have a template contract available in the event they want to refer out or receive a referral from a colleague. The following are the main elements to include in a standard referral agreement contract:
Contact information: This section should include names, addresses, and contact information for all parties involved, including clients, referring agent/broker, and receiving agent/broker. It also helps to include license information for both the referring agent/broker and the receiving one as well.
Referral fee percentage: This is the percentage of commission due to the referring agent. This piece should be concise, identifying if the percentage is gross commission, net commission, etc.
Payment terms: Identifies when the payment is due.
The scope of services: Outlines services expected from the receiving agent.
Agreement duration: Real estate transactions can be a long process, so having an end date to the agreement with an extension clause can ensure you get your referral fee if the transaction drags on.
Agents can include additional language in the agreement that addresses any potential disputes, confidentiality clauses, and termination conditions. It's key that once an agreement is drafted, have both the referring and receiving parties sign the agreement to make it a binding contract. There are often different referral real estate transactions that may require a specialized agreement. The different referral types are:
Referrals to an agent in another state or location: Real estate referrals follow the same rule across neighborhoods and state lines. The standard realtor referral fee applies, with minor variations, depending on your broker or situation.
Referrals for commercial transactions: In order to work with commercial properties and clients, you need to be familiar with how commercial transactions work. If one of your residential clients comes to you seeking help with a commercial transaction, you can refer them to a commercial agent if you are unfamiliar with the process.
Referrals to relocation companies: These companies offer an all-in-one service, helping people moving to a new area buy a new home. They can sell their old home and support them during the move. The standard referral fee percentage for relocation companies can be much higher than the standard rate of 25%, but working with relocation companies can be a steady stream of income.
Referrals from non-agents: Sometimes you will receive referrals from your sphere of influence. However, you cannot share your commission with someone who is not a licensed salesperson. Instead, you can give them a gift in return for their referral. Check with your broker about the guidelines because monetary gifts can be limited.
2. Get Client Approval
Before sharing your client with other real estate agents, talk to the clients first about the person or program you are referring them to and why. After they've agreed to the referral arrangement, get all the details about where they are relocating, their timeline for selling their home and/or buying a new one, their financial status, and what they'll be looking for. You'll need to share this information with the agent you are referring the client to so they are equipped to work with them.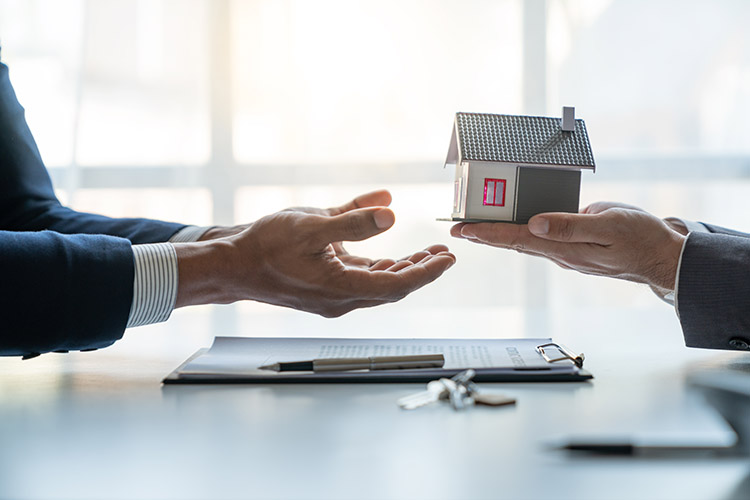 Even though referrals can be a great way to make money in real estate, remember that your client is the most essential part of the referral process. Not only must they work with the referred real estate agent for you to receive a fee, but you also should take care to provide them with a genuinely trustworthy agent. You should periodically check in with both your client and the agent you referred them to stay aware of where they are in the process.
3. Find & Enlist an Agent You Trust
Finding a trustworthy agent to share your client's real estate needs will ensure you are compensated for the real estate referral. The best way to find other agents you trust is through networking, where you can build genuine relationships. However, even the most social real estate agents don't always have a go-to real estate agent in every location.
Here are a few of the top online networks you can use to find a reliable agent:
Do your due diligence when referring clients to agents you don't know. Do this by checking the MLS (multiple listing services) transaction history to ensure the agent is active and has recently closed on properties in your client's prospective area or real estate needs. You can also schedule a call or video chat with the receiving agent to speak with them about your client before agreeing to a referral.
In addition, many online referral companies use the typical real estate agent referral fee of 25% but also require a sign-up fee to be part of the network. The exception to this rule is the Zillow Flex program, which is completely free to join.
It is not part of the Zillow Premier Agent program, but it connects home shoppers who have verified that they are ready to purchase a home with a top-performing agent in their area. The agent and the client are even introduced by Zillow over the phone. You only pay a referral fee when you successfully close their listing, which is another reason why this program is superior to many others.
4. Calculate Your Referral Fee & Negotiate as Needed
The main question realtors ask about referrals is, "How much is a referral fee in real estate?" The standard real estate referral fee is 25% of the final commission. However, before agreeing to a specific realtor referral fee amount, you can calculate the amount you'll receive with this simple equation:
(Sales Price x Total Sales Commission Percentage) x Referral Rate Fee = Your Referral Commission
Or use our real estate referral fee calculator to compute the referral fee amount:
Sales Price: Input the sales price of the listing that is being purchased or sold.
Total Sales Commission Percentage: The receiving agent agrees with the buyer or seller to receive a commission percentage once the real estate transaction is complete. This is typically 1% to 3% of the sales price. Input that number.
Referral Rate Fee: Input the percentage that was agreed upon between yourself, the referring agent, and the receiving agent on the referral fee agreement contract.
Example 1: The home is being purchased for $300,000. The receiving agent is collecting a 3% commission from the transaction. You and the receiving agent agreed upon a 25% referral fee. You will receive $2,250 as a referral fee.
Example 2: The home of the referred client is being sold for $1,200,000. The receiving agent is collecting 1.5% from the transaction. You and the receiving agent agreed upon a 30% referral fee. You will receive $5,400 as a referral fee.
There are times when you can negotiate the fee and get a higher or lower percentage of the final commission check. Your commission should be commensurate with the amount of work you've already done with the client and the amount of work the referral agent will do.
Factors to Increase Your Fee

Factors to Decrease Your Fee

When a client is already prequalified for a mortgage or has funding readily available to transact
If a client has already sold their previous residence and is motivated to purchase
When your client is making a higher-value purchase
You consistently send a particular agent high volumes of successful referrals

If your client is uncertain about their timeline or is not entirely motivated to move
If the client is looking to purchase in an area where home prices are relatively low, therefore commissions are lower
When a client doesn't require too many resources in their home search
When you want to encourage the receiving agent to accept the referral if your client's search is complex
The decision to increase or decrease the referral fee should be carefully considered when drafting the referral agreement. Agents should take into account the transaction, circumstances, and interests of all parties involved.
5. Make the Referral
When you reach out to the referral agent, have the details of your client's search and their approval along with a drafted contract and plan to transition your client to their new agent. Whether you introduce your client and referral agent by phone, email, in person, or virtually, connect all three parties together to help them start their relationship off successfully.
Here is an email template to make a smooth connection and build trust:
Dear [Receiving Agent] and [Client(s)],
I'm writing to introduce everyone formally so you can begin your [home search/home sale] in [location].
[Client(s)], this is [Receiving Agent] who will be assisting you with this transaction. I am confident that [Receiving Agent] will be a valuable asset to your [search/sale] because of their extensive knowledge and experience working with buyers and sellers in [location].
[Receiving Agent], this is [Client(s)], who is(are) excited to be [purchasing/selling] a home in [location]. As discussed, here are the details of [Client(s)] [home search/home sale]:
[Add details in short paragraph or bullet form.]
Now that you've been introduced, I will let [Receiving Agent] take it from here! As always, please feel free to reach out with questions, and I will be happy to help out in any way I can. I look forward to hearing about your progress and will check in to see how things are going.
Sincerely,
[Add your signature]
Once you've made the introductions, follow up with both parties individually after a few weeks to check in about how the process is going. This will prove that you genuinely care about the individuals involved in the transaction. After all, you still want to keep this client as your own for any future transactions you can assist them with.
Pros & Cons of Real Estate Referrals
The main benefit of referring a client to another agent is the ability to make money from a real estate transaction without actually working with the clients, also known as passive income. The process of referrals helps you collaborate with other agents, which not only helps your personal growth but also ensures your clients receive specialized expertise tailored to their specific needs.
Here are some pros and cons of referring your clients to outside agents:
Referring Clients to Others

PROS

CONS

Referral deals tend to have higher conversion rates
Only receive a partial commission for the transaction
Receive referrals back from the agent you refer to
Referring leads to another agent doesn't guarantee a successful transaction
Builds a deeper level of trust with clients
Process can be time-consuming
Ability to expand your professional network
Clients may choose not to work with your referral agent or decide to postpone their search or sale
Could help you determine if you need to expand your niche or expertise in a particular real estate area
You are putting your trust in someone else to pay you your fee
Additionally, receiving referrals is also a great way to generate more real estate leads for your business. Most of the time, referrals can be better quality leads since they are looking to transact in the near future. There are additional pros and cons to receiving referrals leads for your own business:
Receiving Referral Clients

PROS

CONS

Successful and free lead generation opportunity
Damage to your reputation if the referred client is not transferred properly
Minimizes marketing spend to obtain clients
Reduces your overall commission income because of referral fee to referring agent
Referrals often come from trusted sources, leading to a higher likelihood of successful transactions
Referrals can come with heightened expectations from referring agent and client
Shorter sales cycle because they are more motivated clients
Referral transactions are not guaranteed to close
In general, agents who are successful with real estate referrals develop a tried-and-true system with the steps listed here to maximize their and their client's chances of success.
Real Estate Referral Fee Statistics
It is well-known in the real estate industry that referrals are beneficial to businesses. Providing referrals to others gives you passive income, and receiving them saves you time and money while building your business and income. Here are a few statistics to give you more confidence in referring and receiving referrals:
Agents who do not focus on generating real estate referrals are missing out on opportunities to increase their overall business and income. Agents can use referral real estate leads to supplement their current lead generation efforts. However, if an agent has enough leads coming in through their personal network, they may not need to generate new leads outside of that.
Agents should implement the right tools to keep track of incoming and outgoing referral leads. Using the right real estate email marketing tool and CRM can make the process of following up on past clients and asking for referrals automatic and stress-free. In fact, Pipedrive uses a visual pipeline, so you can always see where your leads are in the sales process and keep your past and current clients up to date. You can even try Pipedrive for free.
Bottom Line
Realtor referral fees are a valuable opportunity for agents to expand their network and generate additional income. By understanding referral fees, real estate agents can better leverage these opportunities to grow their business and service to their clients. Although there are pros and cons to realtor referrals, when you approach them with the right expectations and utilize the steps above, they can become a win-win for everyone involved.