A real estate referral occurs when someone personally recommends you to someone who needs your services as an agent. Referrals are the most affordable and impactful way to grow your business, so knowing how to generate them is essential. From hosting events to community involvement, networking, nurturing relationships post-transaction, and referral partnerships, these ideas will generate real estate referral leads so you can win more clients.
Growing your business through referrals requires staying in touch with past clients and nurturing new leads. Use a real estate client relationship manager (CRM) to effectively manage your contacts and new connections. For example, Market Leader automates client emails, sends you reminders for manual follow-up tasks, and organizes your contacts based on detailed search filters.
1. Consistently Follow Up With Past Clients
According to the National Association of Realtors, referrals are the primary method that homebuyers use to find a real estate agent. Plus, 67% of all homebuyers and 85% of all homesellers say they would be happy to recommend their agent. Learning how to get referrals in real estate is an essential part of becoming successful in real estate.
To leverage your sphere of influence (SOI) and generate realtor referrals, you need an automated system to help you consistently reach out to all of your previous clients and track communications without letting anyone fall through the cracks. The right CRM software makes sending personalized and automated emails, texts, and calls easy. It should also have reminders for manual tasks that need to be done periodically and easy-to-understand reporting features.
Here are a few of the best real estate CRMs to manage your referrals:
CRM Software

Best For

Real estate agents wanting a customizable and user-friendly sales CRM to grow with their business

Professionals looking for a real estate-specific CRM with exclusive leads and built-in marketing tools

Real estate professionals seeking a robust CRM with advanced marketing tools

Agents and teams wanting to start with a free platform with robust contact and task management

Key Features

Omnichannel communication
Built-in team collaboration and sales tools
Extensive third-party integrations

Customizable real estate IDX websites
Content suite for digital and print materials
Automated email and text marketing

Free plan with limitations and free marketing tools
Expansive email marketing tools
Detailed and user-friendly reporting

Affordable pricing for multiple team members
Sales pipeline management
Multiple communication channels like chat, phone, email, and text

Starting Price

Free plan; $14 per user, per month

$139 per month

Free; paid plans start at $50 per month

Free plan; $15 per user, per month

Learn More
2. Focus on Referrals in Your Niche
As you generate referrals more consistently, you'll find that not every referral is a great fit for your business. For your business to grow, clearly define your target clientele and focus on transactions that contribute to your long-term business goals. Developing a specialty or real estate niche will enable you to get through transactions more successfully and with more ease. It also helps you become the go-to agent for your target audience. Therefore, your approach to referral generation should be tailored based on the type of clients you want to work with.
Instead of making generalized statements when you ask for referrals, start providing specific information about the clients you are looking for. Focus on making connections within your niche. For example, if you want to develop a commercial real estate niche, reaching out to families or new college graduates is going to be ineffective. Instead, focus on nurturing the professionals and entrepreneurs in your SOI who are interested in acquiring commercial property.
3. Incentivize Real Estate Referrals
Ideally, your clients and business connections are so confident in your services that they happily and consistently bring up your business in their conversations. However, even your most enthusiastic client is unlikely to do so without reminders. This is why it's helpful to send your previous clients gifts from time to time to remind them to refer others or thank them for referrals.
Creating these incentives doesn't have to be extremely time-consuming or expensive. There are a variety of real estate pop-by gift ideas that are unique, entertaining, and affordable, like:
Packaged food, like popcorn, a s'more kit, goldfish, or a jar of jelly with a clever tag relating to referrals
Wine
Plants
Flower arrangement
Candy
Seasonal gifts like Easter eggs or a Christmas ornament
Toys or treats for your clients' children or pets
Another way to streamline the process of gift-giving is by using a service like EvaBot. EvaBot is an automated system that connects to your CRM and sends regular gifts and personalized notes to your sphere of influence (SOI) without having to lift a finger. You can even add notes on each of your contacts, and EvaBot will send gifts customized to their preferences.
4. Host Events for Clients & Professionals
Your success in real estate is heavily reliant on your ability to build and manage your network of previous clients, potential clients, and other professionals. Hosting events is an ideal method of prospecting real estate clients because it positions you as a real estate expert and highlights your mutual connections with new leads. A successful event can become a strong realtor referral program and is arguably the most effective way to quickly build your "know, like, and trust" factors with new leads.
For example, a few types of events you could host include:
Housewarming parties for clients after they close on their new home
Client appreciation gatherings like cookouts or cocktail parties
In-person or online workshops on real estate topics like buying a home, selling a home, or financing
Niche topics like what to do after your listing expires or home improvements with the highest return on investment (ROI)
When hosting events, consider sending physical invitations as well as online invitations or flyers to make it feel personal. This can be extremely simple with a service like PostcardMania, which offers an incredibly wide variety of customizable designs as well as design services. Plus, you can even run your postcard designs as Facebook and Google ads.
5. Get Involved in Your Community
It will be difficult to generate referrals in real estate if potential leads never see you, either online or in person, with your local community. Be as involved as you can in your target community by sponsoring events, participating in or attending local events, or volunteering with charity. This may be a walk-for-a-cause, dog adoption event, food drive, or a fair in support of the local fire department.
Active participation in your community can be better than using a real estate agent referral program because it provides valuable exposure and networking opportunities. When you sponsor events, your logo and contact information are shared and displayed throughout the event and printed materials. Plus, your name will be associated with an organization or charity you care about and will help you build strong connections and attract similar-minded people.
6. Encourage Real Estate Referrals on Social Media
When considering how to get real estate referrals, social media should be one of the first tools to come to mind. It is an incredibly effective tool for building your brand and increasing your reach, but it's also one of the primary methods you can use to connect with previous clients and leads from their referrals. You can use social media as a real estate agent referral network by encouraging your clients to support you online in a few specific ways, like:
Post about their experiences with you on real estate social networks
Engage with your posts with likes and comments
Share your posts with their friends
Tag you in posts about their home or their real estate transaction
Don't forget to make it easy for referrals to contact you by consistently checking your messages and leaving a link to your website or landing page to capture new leads. In addition, tag your clients when you post about home showings or closings so you will appear on their friends' feeds. Finally, don't forget to periodically share a post directly, asking your followers and friends to refer you to others.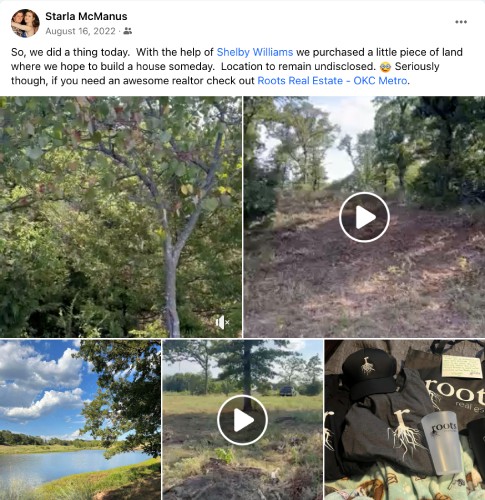 ---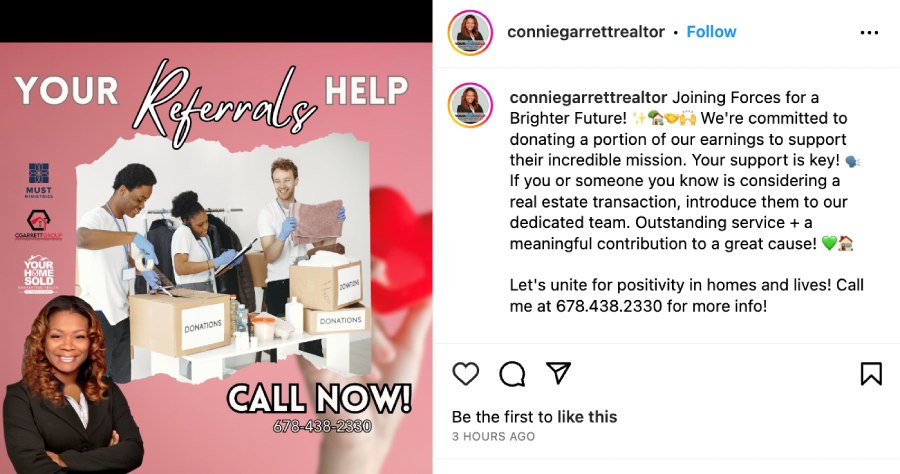 ---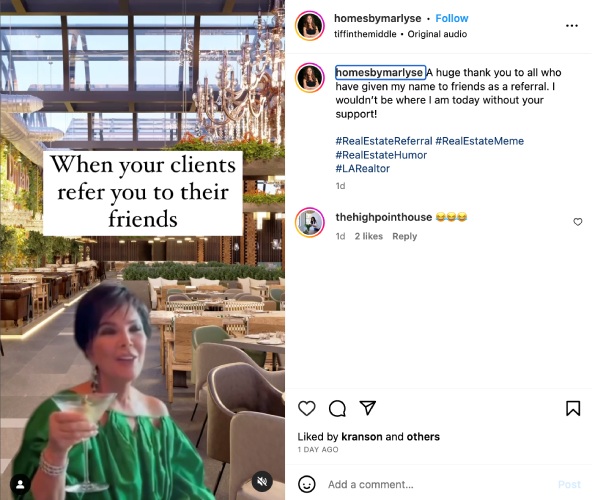 ---
7. Join an Agent Referral Network
A direct way to build professional agent-to-agent referrals is by joining real estate referral programs. For example, Referral Exchange connects each potential real estate client with three top agents in their desired location and allows them to choose the agent they prefer. It also tracks the transaction's progress and allows you to build a strong reputation with other agents, therefore encouraging more referrals.
Alternatively, you can make individual partnerships with other agents or brokers. Another benefit of creating or joining agent referral programs is the potential to generate passive income. If you find a client who isn't an ideal fit for you because of their location, needs, or another reason, you can offer them to another agent for a real estate referral fee. This allows you to focus on finding and working with the most ideal types of clients while still supporting other buyers, sellers, and agents.
8. Co-market With Real Estate-related Professionals
Forming collaborative relationships with other industry professionals can be a win-win situation for you, your partner's business, and your clients. Instead of searching and finding multiple professionals, clients can get plugged into a team that works well together for their benefit. These partnerships include real estate attorneys, divorce attorneys, title companies, contractors, inspectors, and appraisers.
Successful partnerships can also expedite your marketing efforts since you and your partner will each have separate SOI contacts. For instance, sending joint direct mail ads with a mortgage broker will associate you with their friends, family members, and clients who already know and trust them. Likewise, co-hosting events widens your potential reach to multiple audiences, and, in effect, your partnership conveys an endorsement of each other's services.
Pro tip: If you have a strong business partnership, hold a workshop or training specifically for the leads they refer to you. For example, if you consistently receive leads from a divorce attorney, plan an event that discusses all of the housing questions and concerns divorcees typically have. You can drastically increase your conversions by being a resource with the answers they need.
9. Consistently Produce Excellent Marketing Materials
Having a strong real estate brand and staying top of mind is essential to maximize your referral opportunities. The more previous clients and connections see or interact with you, the more likely they will remember you when someone they know needs a referral. There are countless ways to continually nurture your SOI and market to new leads, including:
Although you must know how to ask for referrals in real estate, keep in mind that some of your referrals may look through your online presence before reaching out to you. This makes it especially important to be active online and to use your real estate website as a home base for your marketing strategies. Therefore, you need a professional, engaging, and functional website to gather leads and convert them into clients.
Luckily, Placester makes it easy to create a beautiful and highly optimized real estate website in a matter of hours. You can start with one of its website templates and customize it with the simple drag-and-drop editor, or use the Placester Services Marketplace to build a custom design for you. Placester also has built-in search engine optimization (SEO) tools and a variety of additional services available, from email creation to flyer design.
Types of Real Estate Referral Sources
Referrals are one of the most important sources of real estate lead generation. Statistics show that referral leads have a conversion rate that is three to five times higher than any other lead source and is four times more likely to refer other clients to you. Another advantage is that multiple types of realtor referrals give you more options to connect with homebuyers and sellers.
These are the three primary types of referrals for real estate agents:
The most well-known type of real estate referral is when a member of your sphere of influence (SOI), like a family member or former client, tells one of their connections about your services. When this connection is considering or starting a real estate transaction and they contact you, they are a client-to-agent referral.
You should aim to provide such valuable service that your clients develop a strong sense of loyalty and desire to tell others about you. However, even when your clients openly express how happy they are with your help, you shouldn't leave this up to chance. Make sure to follow up with these clients consistently and personally to ask for referrals. Referrals from one client can potentially generate leads and clients for months and years to come.
Local businesses are another excellent source of referrals. This is especially true when you create referral partnerships with other real estate-related businesses, like mortgage brokers, banks, attorneys, home inspectors, and appraisers. Business owners interact with a large number of local residents, so they can be an incredibly valuable source of referrals if you can earn their trust.
Business partnerships can be made with or without a formal agreement for compensation. Even without a referral agreement, building relationships with business owners in every field is always good, from restaurants and coffee shops to professional services like lawyers, doctors, and financial advisers. When a new lead or client shares that someone referred them to you, always follow up with a personal note and a small gift to keep the relationship open and encourage continual referrals from that business.
Most agents have a real estate farm area—a neighborhood, city, town, county, or even a specific type of client on which they focus their marketing efforts. When one of those clients moves to an area outside of your farm area or expertise, agent-to-agent real estate referrals are a great option. They provide your clients with a trusted and knowledgeable connection while allowing agents to work together to generate leads and income.
Notably, the agent-to-agent referral process works differently than others. The agent who sends a potential client to another agent typically receives a real estate referral fee as a commission for their work. Therefore, agent referral relationships require a written referral agreement that clearly states who the contact is, their contact information, and whether they are buying or selling. It is usually sent to the receiving agent's broker or office manager to sign.
For an agent-to-agent referral, you must use a referral agreement to solidify the transfer of the client and the payment that will be made when a deal is closed. The agreement should contain the financial arrangement, or referral fee, set up between agents and explain how it is calculated. The standard rate for a referral fee is 25% of the commission paid, but it can be negotiated between each agent.
Frequently Asked Questions (FAQs)
The foundation of generating real estate referrals is having a group of people who trust you based on their personal or professional relationship with you. This is your sphere of influence (SOI), and they are the most likely people to provide you with real estate referrals.
In order to get referrals from your SOI, you must stay in touch with them consistently and directly ask them to give you referrals. Utilize social media, email marketing, text message marketing, and networking to stay in touch with past clients and remind them of your services.
---
According to the National Association of Realtors, 38% of all buyers and 36% of all sellers found their agent through a referral, making it the primary method that all real estate clients use to find an agent. Plus, 39% of homesellers worked with the same agent who helped them buy their home. This shows that your previous clients are the most valuable sources of new leads and can become repeat clients as long as you stay in touch with them.
---
Some agents grow their businesses using almost nothing except real estate referrals from their network and previous clients. Learning how to build a real estate referral business is important because it generally provides more valuable leads, and referring clients to other agents can provide passive income. To build a referral business, start by offering an exceptional service. Then create a plan to consistently ask for referrals, stay in touch with your network, and build a strong online reputation.
---
Bottom Line
Referrals are the most effective and affordable way to generate leads and get new clients, whether from previous clients or other professionals. Learning how to get real estate referrals is a crucial skill for every agent who wants to develop a successful business. With some time and effort, you'll be able to create an efficient and effective system to generate and nurture referral leads.