8 Most Effective Real Estate Agent Resume Writing Tips (+ Free Templates)
Although the real estate industry isn't like other corporate jobs, it's still important to have a resume on hand for interviews and potential clients. It can be difficult to write a real estate resume that persuades readers to work with you, but using a skimmable format, brief summary, and proper phrasing help emphasize your sales and marketing experience—putting your skills at the forefront. Let's dive into eight steps you can take to ensure that your real estate resume is effective, professional, and eye-catching.
Download our resume templates and let's dive into eight (8) steps you can take to ensure that your real estate resume is effective, professional, and eye-catching.
1. Choose a Scannable Resume Layout
Most people naturally scan a resume before actually reading the details, so starting with a clean, organized layout is key. Think of your resume like any other marketing material: the goal is to answer "What's in it for me?" or "Why should I hire this agent?" Whether you're showing your resume to a potential broker or client, they should be able to understand how they will benefit from working with you almost immediately.
Make your resume scannable by making use of the following elements and styles:
Bullet points
Spaces between lines or sections
Use bold, italics, and underlines to highlight sections or headings
Large font for titles and headings
Graphic elements to separate sections
Bold colors to draw attention to items you'd like to showcase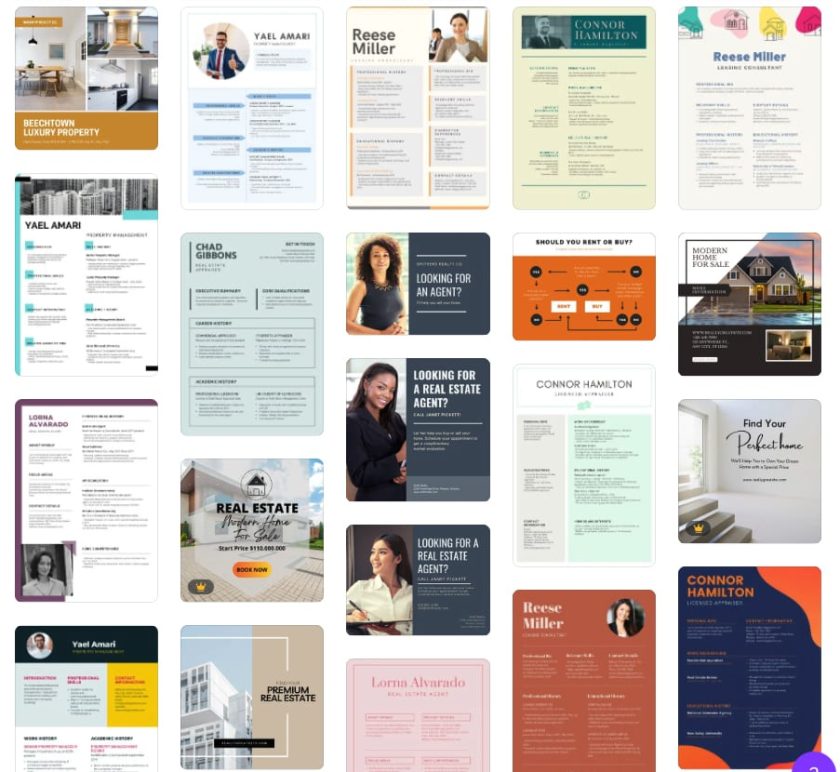 ---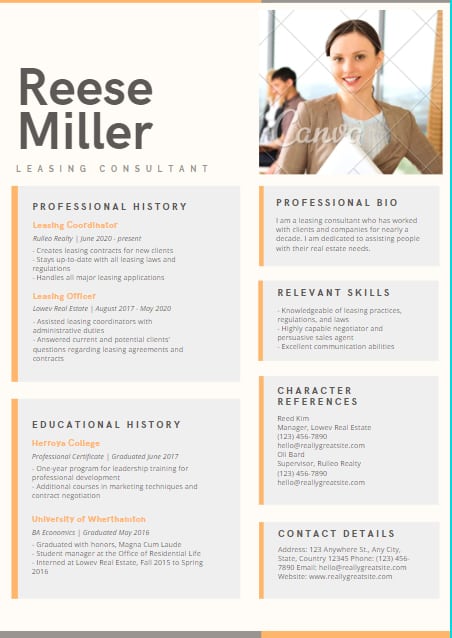 ---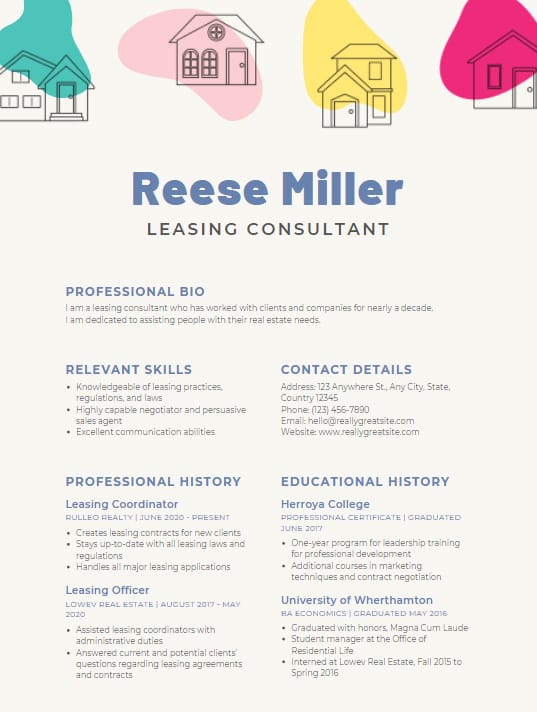 ---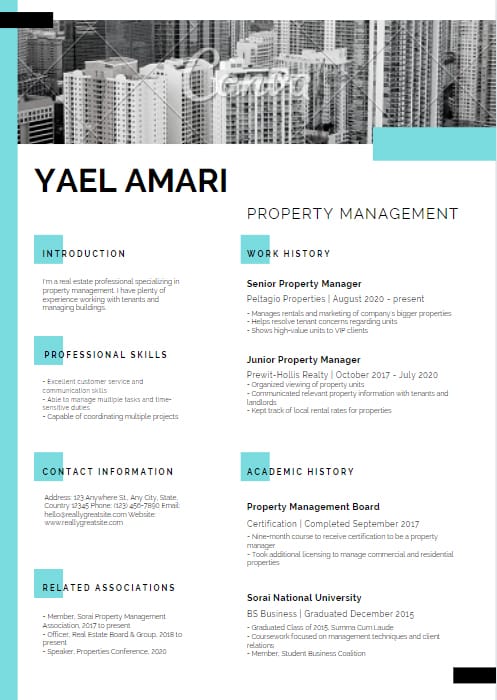 ---
By using a graphic design tool like Canva, you can take advantage of this strategy without having to create two or three different real estate agent resumes from scratch. You can start by using one of Canva's premade templates, then simply edit the information. It's completely free to start using Canva, and it has hundreds of thousands of real estate-specific templates.
2. Prominently Display Contact Information
Your contact information should clearly stand out on your resume layout. Especially because as a real estate professional, your contact information is how you build a pipeline of clients for your business. Those who are reading your real estate resume may be looking at multiple candidates, and it can be easy for them to confuse your unique qualities with someone else if your name isn't prominent on the page.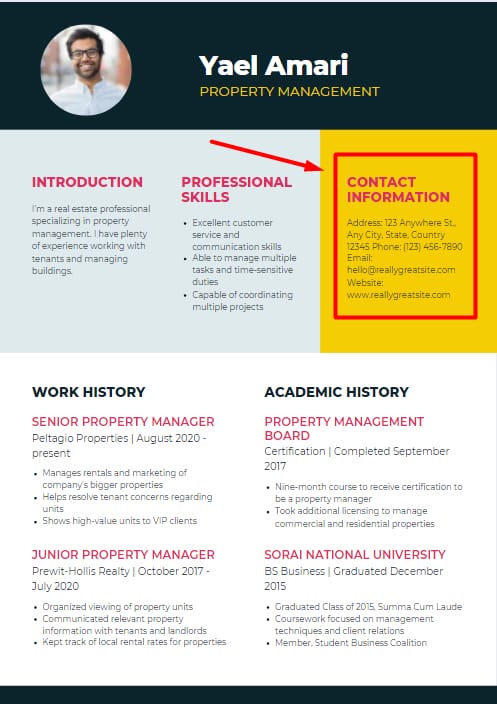 ---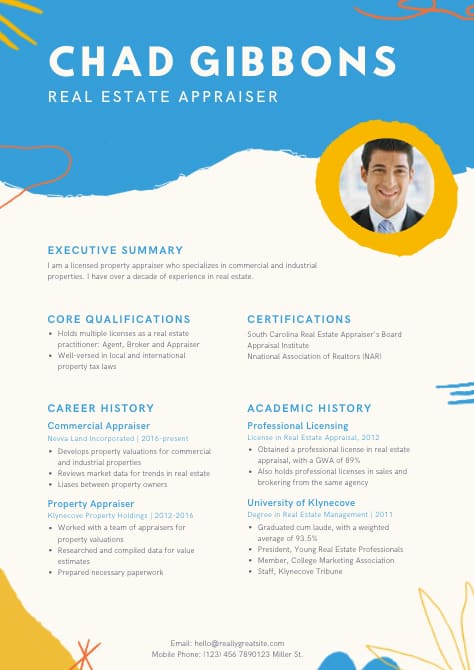 ---
Even though both of the resume examples above have bright colors and skimmable layouts, it's difficult to find the contact information on the second resume. The contact information is separated from the other sections, but does not have a title and has a font that is far too small to catch a busy broker or client's eye. In contrast, the first resume includes the contact information at the top of the resume and draws attention to it with a clear heading and a yellow box.
3. Start With a Real Estate Resume Summary
It's common to include a real estate resume objective, but consider using a summary instead. Whether a broker or potential client is reading your resume, its objective is probably obvious and doesn't actually add any value. On a one-page resume, every word and section should be intentional and further express why the reader should work with you.
For example, the first resume's objective doesn't provide any value for the person reading the resume. It simply states information that they already know, instead of making a case for the agent's unique and standout qualities.
A great summary should only be a few sentences long and provide context about your background, along with what's unique and valuable about you. It could be labeled as a "career summary," "real estate profile," or it doesn't need to have a label at all. In the second example, the agent specifically highlights her customer services and sales experience.
4. Include Employment History Emphasizing Sales & Marketing Experience
In order to become a practicing real estate agent, you need to find a real estate brokerage to work with. As a newly licensed agent, it can be challenging to communicate how your past employment outside of the real estate industry will help you in a new career. On the other hand, agents who have been working in real estate for a number of years won't find it difficult to specify their strengths and weaknesses in the real estate industry.
Regardless of your previous work experience, it's important to focus on the right things and use the right wording on your resume. Simply naming your real estate company isn't enough to persuade readers to work with you, whether they are brokers or potential buyers and sellers. Make sure to highlight the most relevant elements of your past employment, like sales, marketing, technology, and communicating with clients.
Here are a few tips and examples for making your experiences stand out:
Quantify Your Achievements
Be specific about your accomplishments by using hard numbers and data. By including specific numbers, the reader can easily understand the scope of your achievements.
Bad Examples

New Agent With No Real Estate Experience

Experienced Real Estate Agent

Successfully sold widgets.
Successfully represented sellers.

Increased sales of widgets by 15%.

Sold 70+ homes for 15% over ask in 2021.
Use Action Words
Instead of using typical resume jargon like "responsible for" or "tasked with," choose action verbs that focus on your contributions. This keeps the focus of your resume on your individual achievements and shows your ability to take initiative and work independently.
Bad Examples

New Agent With No Real Estate Experience

Experienced Real Estate Agent

Kept track of website traffic.
Reviewed solutions for website traffic.

Evaluated organic website traffic using

Semrush

and addressed potential problems.

Generated three qualified seller leads per week through organic website optimization.
Pro tip:
If you're at a loss for different action words you can use, take a look at Bloom's Taxonomy, which was originally invented for educators to classify learning objectives. Resume writers can use action words to classify the tasks they've completed in previous or current positions.
Highlight Experience Working Independently or Taking Initiative
Using action verbs is one way to show that you are a go-getter and don't wait to be told what to do. In addition, highlight any specific instances where you take initiative, like a company project or working with freelance clients.
Bad Examples

New Agent With No Real Estate Experience

Experienced Real Estate Agent

Supported the marketing team with social media scheduling.
Scheduled meetings to discuss social media.

Analyzed data to propose and create new social media channels and content.

Built social media accounts and increased the rate of Instagram leads by 35%.
Highlight Technology Usage
Real estate is an increasingly tech-driven industry. Applicants with skills in social media, digital photography, video editing, and web design have a leg up over applicants who don't.
Bad Examples

New Agent With No Real Estate Experience

Experienced Real Estate Agent

Tasked with taking team member headshots for website profiles.
Hired photographers for listing photos.

Photographed and formatted photos for online advertisements to increase traffic and click-through rate by 15%.

Shot and editing listing photos that decreased the average listing time on the market by three days.
Include Accomplishments & Awards
Don't forget to include any achievements on your real estate agent resume, like salesperson of the month or most improved. If you don't have any specific awards to share, include personal milestones and achievements instead.
Bad Examples

New Agent With No Real Estate Experience

Experienced Real Estate Agent

Experience with sales.
Won multiple awards.

Named Employee of the Month in 2019, 2020, and 2021.

2021 Keller Williams Top Producer
5. Add Education
In this section, indicate where you received any college or professional degrees. Make sure to include any leadership positions you held while in school, as well as extracurricular activities. If you had a good GPA (a minimum of 3.5), note it on your resume, but leave it off if your GPA wasn't strong. Even if your education is not sales or real estate-related, showcasing your education is important in displaying your background to a potential broker or client.
6. List Credentials, Certifications & Designations
There are a ton of real estate designations and certifications you can get, like National Association of Realtors E-PRO, Certified Residential Specialist (CRS), and Accredited Buyer's Representative (ABR) certifications. They should have a prominent spot on your real estate resume, like a bullet point section or title next to your name. Your credentials prove that you've made an effort to gain experience and education to constantly improve your skills, and they go a long way to prove your authority.
Don't forget about continuing education or professional development classes. Include relevant classes or certifications on digital marketing, public speaking, finance, or any other topic. These show that you take initiative and strive to always improve your skills. You should also include any memberships, like the local community board, Mayor's council, PTO, or rotary club.
7. Highlight Applicable Skills
Real estate is an industry that isn't dependent on higher education, and anyone with the right work ethic and strategy can gain massive success. This is why it's especially important to have a "skills" section on your real estate resume where you can bring attention to the specific qualities you bring to a new role.
As you make your list, make sure to differentiate between your skills and your attributes. Most people think their skills and attributes are in the same category, but it's important to know the difference when writing a resume. While attributes are extremely important to your real estate career, they describe natural and personal qualities, like empathy, creativity, positivity, and being self-motivated.
On the other hand, skills are more tangible qualities that have been learned through work, education, or personal experience. Although some of them sound similar to attributes on the surface, skills should be backed up by specific experiences and examples. Some important skills for real estate resumes are communication, negotiation, time management, and technical expertise.
8. Use Proper Grammar & Proofread Your Resume
Even with a beautiful and organized resume, multiple grammar mistakes or typos can make you look unprofessional. One proofreading trick to catch errors is to read the resume backwards. This can help you catch mistakes that are easy to miss when you look over them the first time.
Make sure to use spell check or Grammarly on your resume, but don't depend on these tools for perfection. Sometimes, even correctly spelled words aren't in the right place, like writing "broken" instead of "broker." Online tools won't catch these mistakes, so it's worth taking extra time to proofread and read over your resume.
A great option to ensure your resume is mistake-free is to hire a professional proofreader or resume reviewer to look it over. With Fiverr, you can access thousands of freelancers and specialists with a variety of skills in any industry, and view their profiles, previous work, and reviews to choose the right one. There are hundreds of specialists available at affordable prices to proofread, edit, or format your resume. Search for a resume specialist right now.
Optimize Your Real Estate Resume
Since brokers, clients, and partners will generally value different things, consider creating multiple versions of your resume to have on hand for every need. For example, potential listing clients will be more interested in your ability to sell properties for the best value, while brokers may want to know about your work ethic and certifications.
Here are a few ideas to optimize your resume for different needs:
Brokerage interviews: Obviously, interviewing for a sponsoring brokerage is one of the top reasons to have a real estate resume. In addition to details about your sales records, include your marketing skills and software experience. If you don't have real estate experience, make sure to tailor your resume to highlight skills and experience that will make you an excellent real estate agent.
Potential buyers: Focus on your ability to evaluate potential properties, find homes that fit different buyers' needs, and negotiation skills.
Listing presentations for potential sellers: Highlight your listing marketing strategy and properties that you sold for over the asking price or in record time. Mention your tools, resources, and network that help you sell houses for the maximum value.
Referrals: Emphasize your past successes with clients to show that you are trustworthy, plus highlight any communication skills or systems you put in place to make the process as easy as possible.
5 Real Estate Resume Templates & Why They Work
When you think about creating a real estate resume, it can be easy to feel overwhelmed. However, by using the tips above and the right resume template, you can streamline the process and make it easy to compile all of your skills and experience into a beautiful and effective resume.
Look over the following templates and examples to get more ideas:
1. Simple Real Estate Resume Template
Source: Canva
Cost: Free or $12.99 per month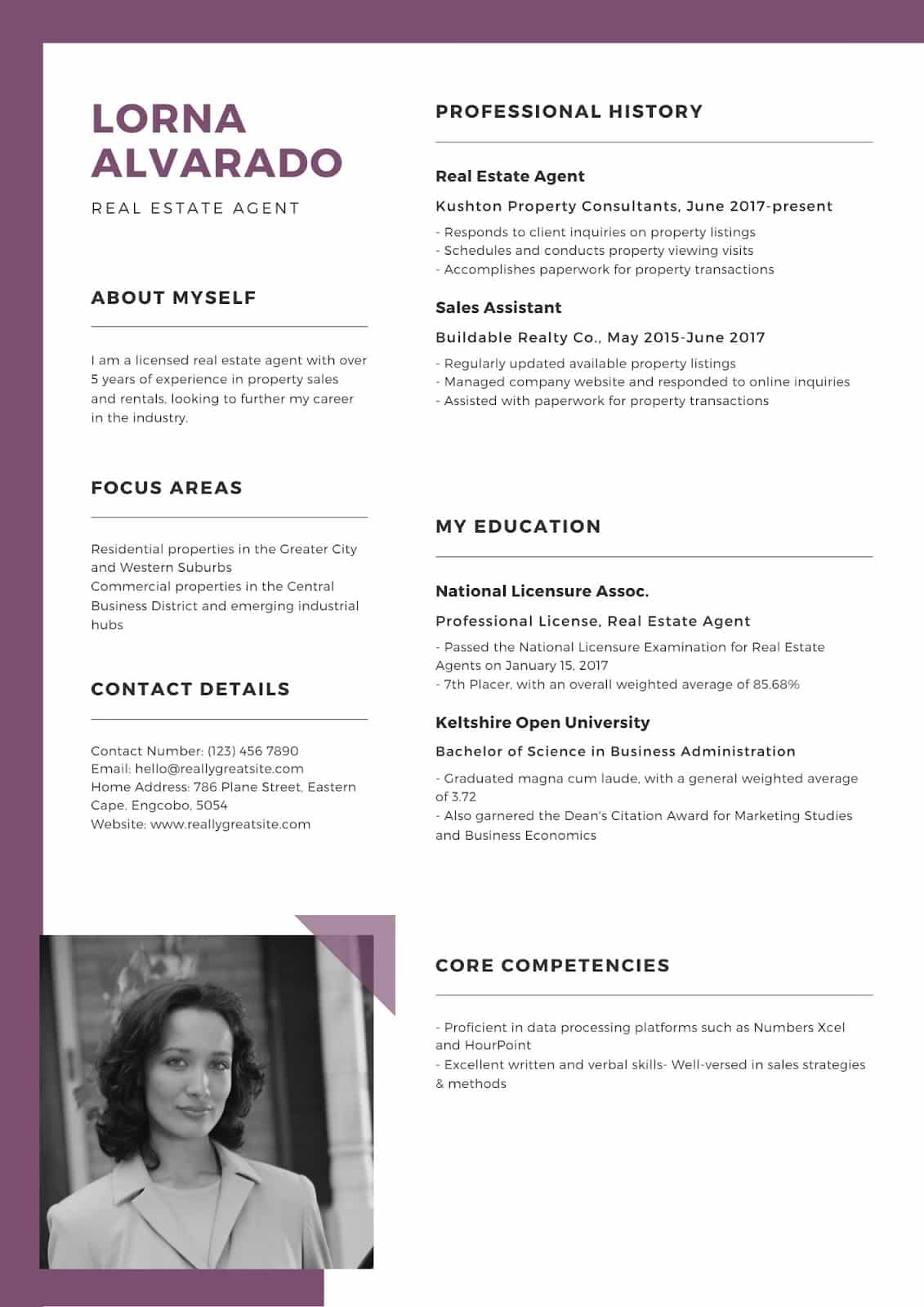 This real estate resume template is very well organized and shows the power of simplicity. It includes six different sections and is easily scannable for potential brokerages or clients. The organized sections even leave room for an agent headshot, and the use of a single color helps this resume stand out from others. Since this realtor resume template is from Canva, you can easily change the purple color to any color of your choice for free.
2. Realtor Resume Example
Source: Novoresume
Cost: Free (one-page resume/predefined layouts) or $19.99 per month (up to 10 pages per resume and custom layouts)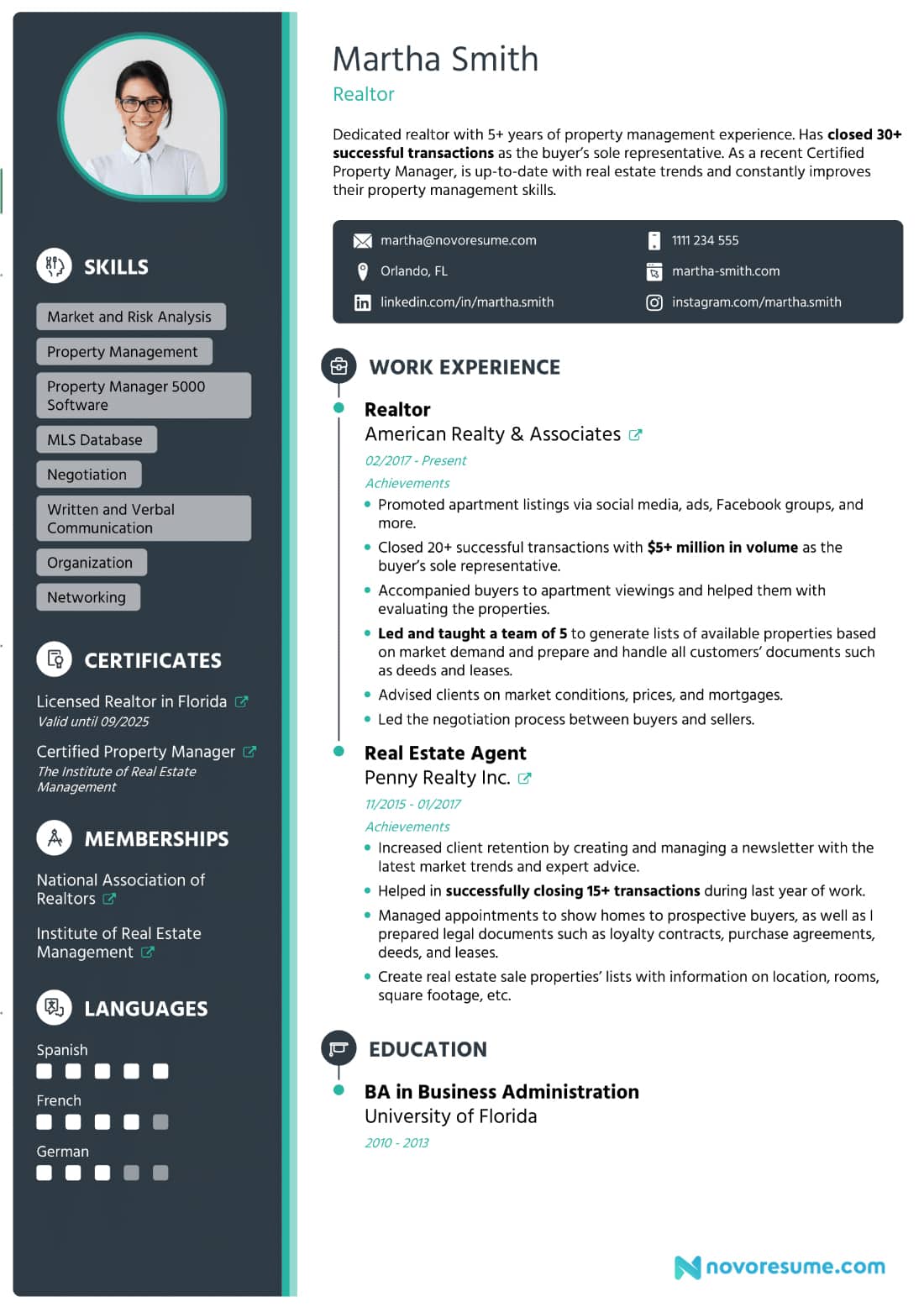 This realtor resume example from Novoresume uses a thick, dark-colored margin on the left side to cover some of the most important information, memberships, certificates, and skills. It also uses the same dark color to highlight the realtor's contact information, including her social media pages. It shows how impactful a summary can be, with specific information like "5+ years of experience," "closed 30+ successful transactions," and "certified property manager."
3. Color-blocked Resume
Source: Template.net
Cost: Free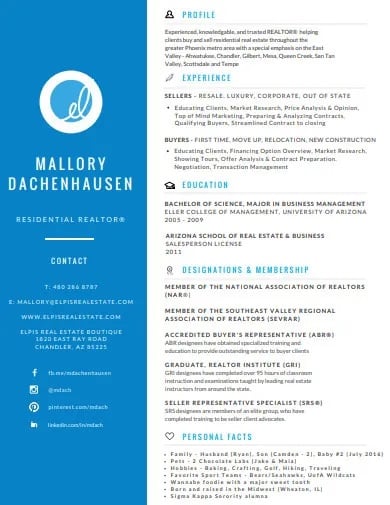 This realtor resume template from Template.net uses a similar left-hand margin to distinguish the agent's logo, contact information, and social media pages. It also uses a section titled "Profile" to summarize her position and specific areas of expertise. Instead of having a section with her skills and attributes, she includes a bulleted list of "personal facts," with details about her family, hobbies, and interests.
Although this isn't a requirement for all resumes, it shows her personality and can help her stand out in a sea of other faceless real estate resumes. In general, this resume template shows how small details can increase the feeling of professionalism, like the small graphics on the titles.
Another option is to deliver or hand out your resume in a customized presentation folder. VistaPrint makes it extremely easy to create a customized folder with your logo, brand colors, and contact information. It's also the best source of customized print materials for direct mail, real estate signs, tissue boxes, clothing, and unique client gifts.
4. Classic Black & White Resume Template
Source: Creative Market
Cost: $14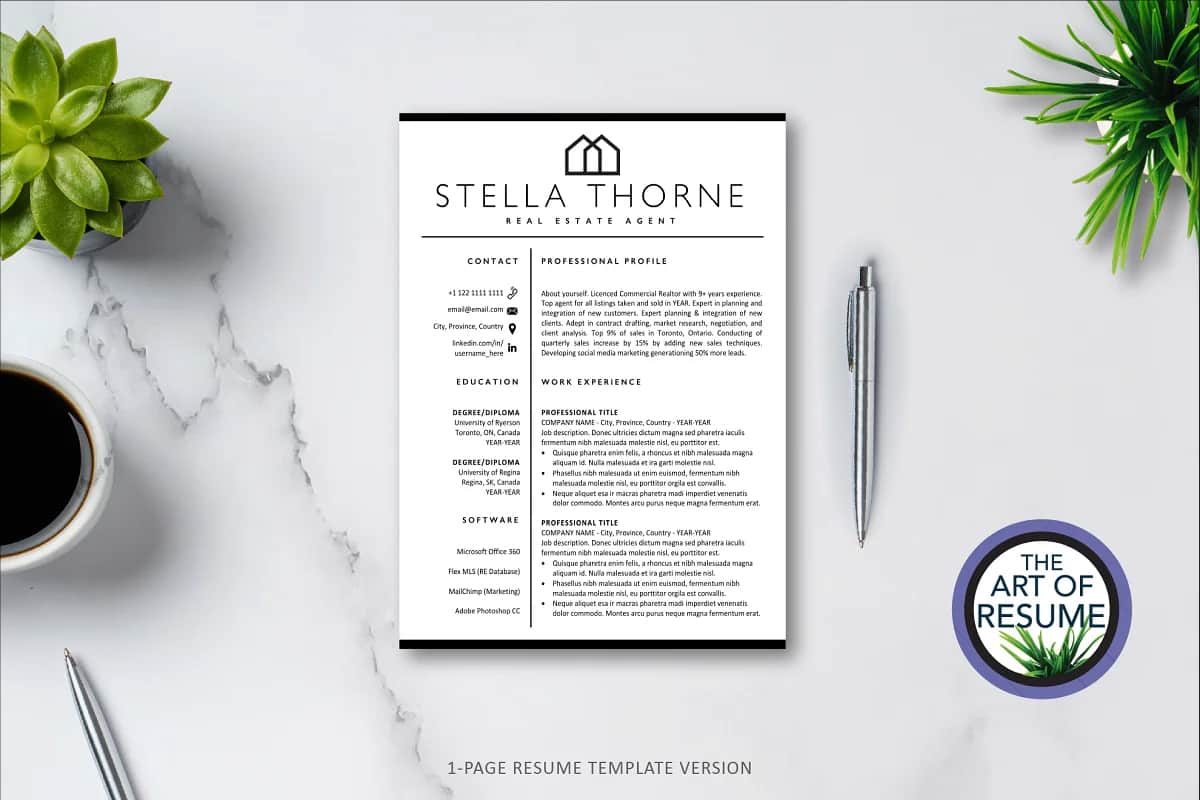 If bright colors don't fit your personality or brand, you can stand out just as much with just black and white. This resume template from the Creative Market uses a bold black line and black logo. It shows the agent's name in a large font to stand out and show her professionalism. It's also well-organized, with clear sections for a summary, work experience, education, and contact information.
This template also includes a "software" section, which could be a unique addition to your resume if you are particularly tech-friendly or if you're applying for a real estate company that is highly focused on technology, like Real or Keller Williams.
If you're applying with multiple real estate brokerages, make sure you read our guide about how to choose a real estate company to work for. You'll learn the differences between types of brokerages and commission plans, plus the most important questions to ask during your real estate interview.
5. Infographic Real Estate Agent Resume
Source: 99designs
Cost: Varies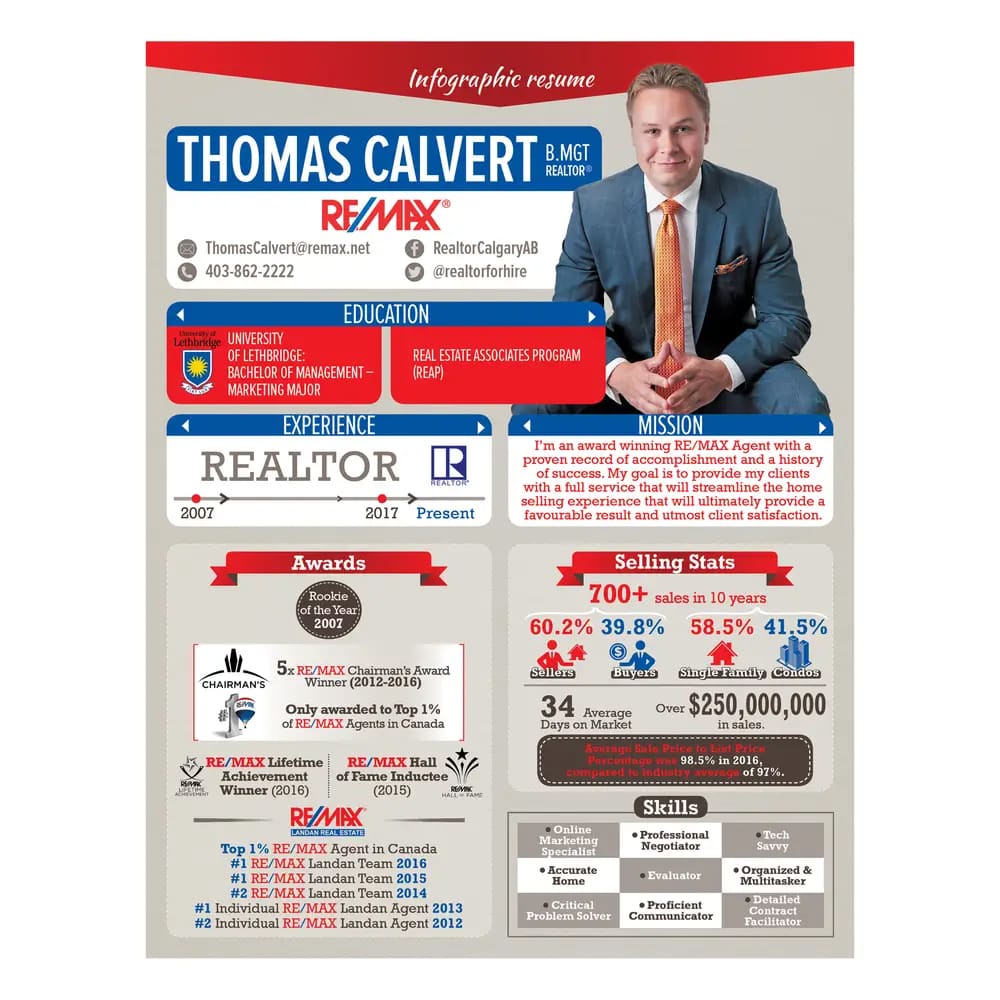 Being a real estate agent means that you are also a salesperson. Thus, numbers and data are particularly important. This real estate resume from 99designs is significantly different from the others because it's formatted more like an infographic than a typical resume. Instead of listing this agent's previous employment, it's much more focused on his achievements and sales states. Since it incorporates the branding of his brokerage, this type of resume is most effective for potential buyer or seller clients.
If you have a unique idea for your resume, you may prefer getting a professional, customized design over using a template. Consider using 99designs, which is a unique platform where multiple graphic designers compete to design the best resume for your needs. You'll submit a brief to describe what you want, and then designers will submit their concept ideas, like the ones below. In the end, you get to choose the perfect design for your exact needs.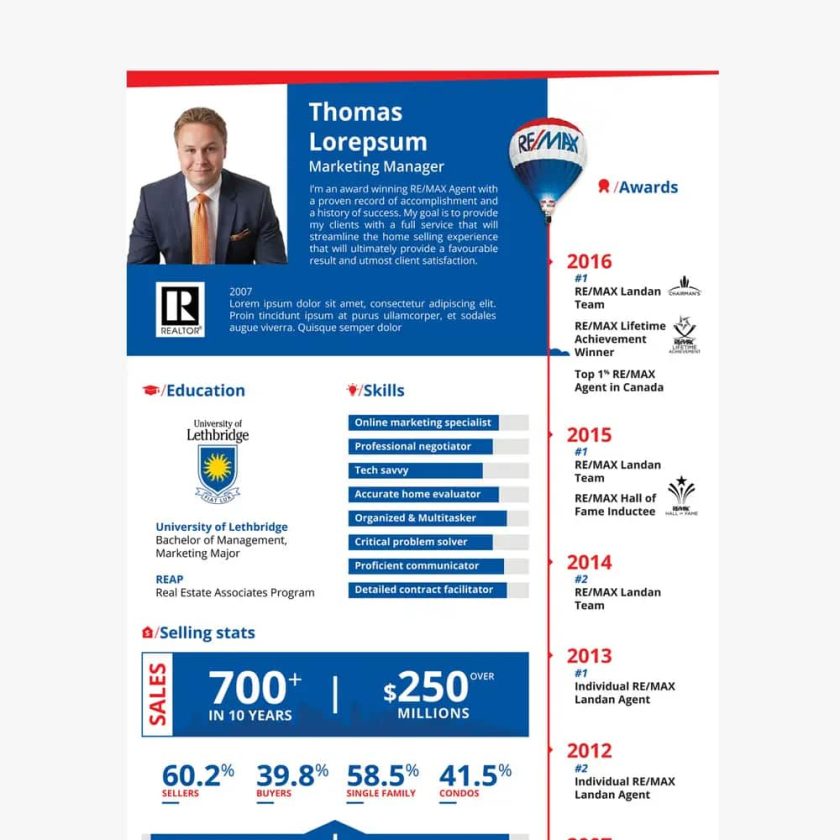 ---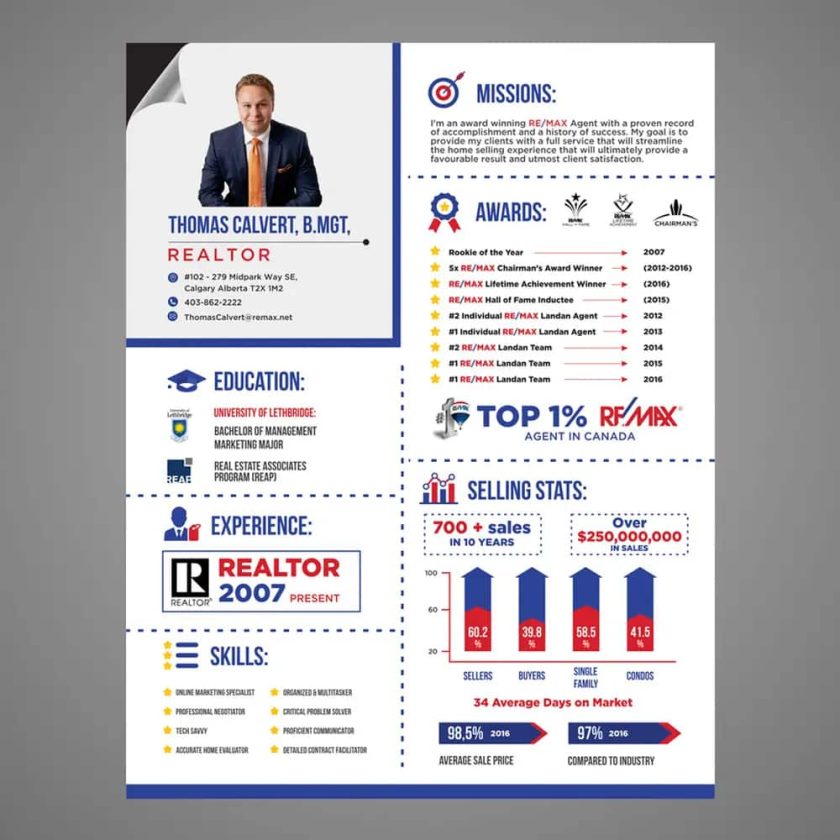 ---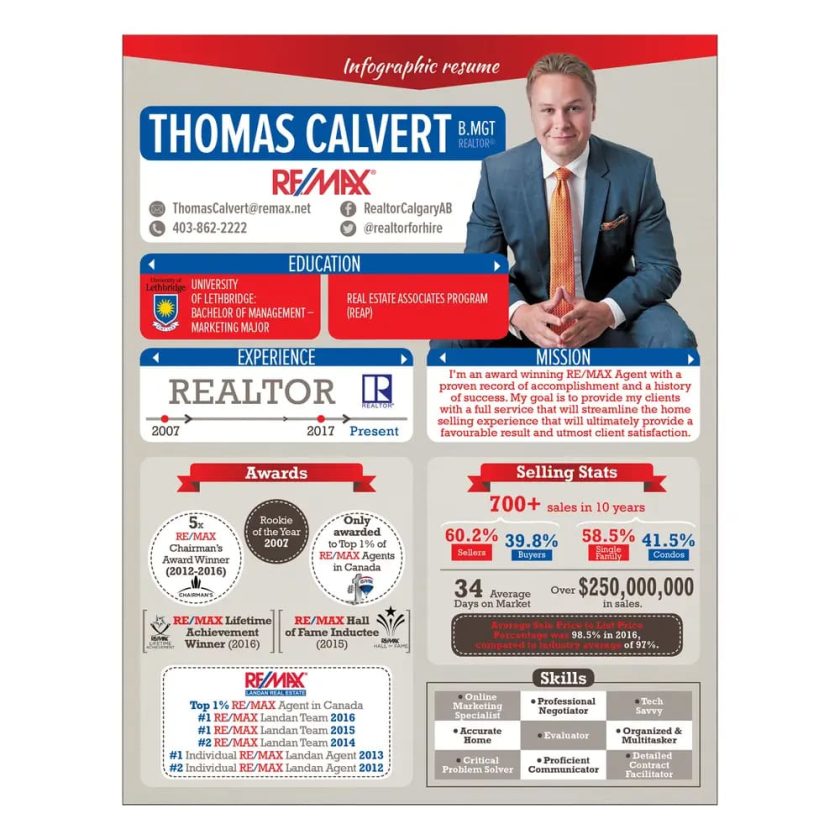 ---
Bottom Line
Whether you're a brand-new real estate agent or have years of experience, you need to take your real estate resume seriously. Start creating or improving yours by writing a concise summary, focusing on your sales, marketing, and technology skills, and using a professional template or design to "wow" your audience.