In this guide, I'll explain the best practices for writing a real estate resume both for new agents and experienced agents, and provide you with a free downloadable real estate resume templates and samples you can copy and edit for your resume.
To get started, here are two resume templates, one for new real estate agents who just got their license, and one for experienced agents or Associate Brokers.
Free Real Estate Resume Templates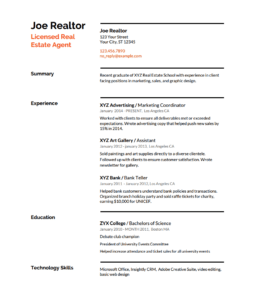 Real Estate Resume Template For New Agents
Click Here to View Document as PDF
Click Here to Download Microsoft Word/Google Docs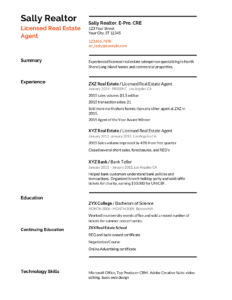 Real Estate Resume Template For Experienced Agents and Associate Brokers
Click Here to View Document as PDF
Click Here to Download Microsoft Word/Google Docs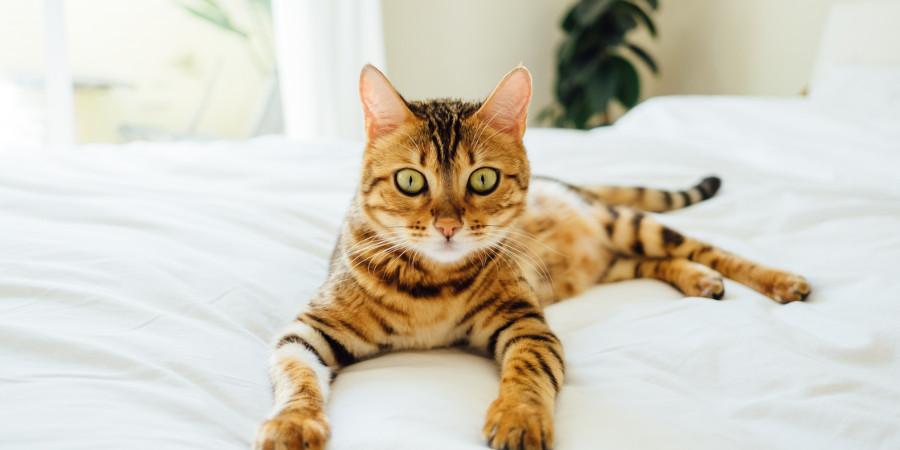 4 Steps to Writing a Great Real Estate Agent Resume for New Agents
If you've never worked in the industry before, writing a real estate resume can be pretty intimidating. What should it say? Will they ever call back? Don't worry, we have you covered. Let's take a look at each section of the real estate resume template for new agents:
1. Start With a "Summary" or "Professional Summary" Instead of an "Objective"
Your "objective" is obvious. After all, you're applying for a job as a real estate agent. Starting off your resume with that objective is redundant. Since they already know what your objective is, you should focus on telling them quickly why they should hire you. Start your summary with the fact that you just got your real estate license, and briefly highlight relevant skills and experience (e.g. sales, marketing, technology).
2. Experience (Emphasize Experience in Sales or Marketing)
Whatever your last few jobs were, you need to be able to describe them in a way that highlights your sales or marketing skills. For example, if you were a Marketing Coordinator, you might have split your time between working in PowerPoint and helping clients. You need to emphasize the side of your job that dealt with sales or marketing. Here are some more thing to keep in mind for the Experience section:
Use Specifics
Generally speaking, you should be as specific as possible when talking about your past success. Saying you "increased sales of widgets by 15%" is much better than saying "successfully sold widgets."
Emphasize experience working independently or taking initiative
If you have any experience working independently or on a freelance basis during your career, highlight those roles in your resume.
If you're a new graduate with little professional work experience…
Don't sweat it. Everyone needs to start somewhere, and many brokers will still be happy to talk to you. Instead of previous work experience, you can highlight your GPA or extracurricular activities that are relevant to marketing or sales (creative writing, photography etc).
3. Education
Indicate where you received any college or professional degrees in this section. If you had leadership positions while in school or participated in relevant extracurricular activities, mention that here. If you had a good GPA (3.5 plus is a good benchmark), note it on your resume. If your GPA wasn't that strong, consider leaving it off.
4. Highlight Technology Skills
Real estate is an increasingly tech-driven industry. Applicants who have skills in social media, digital photography, video editing, and web design have a leg up over applicants who don't.
4 Steps to Writing a Great Real Estate Agent or Associate Broker Resume for Experienced Agents
After you've survived as a real estate agent for a year or two, it is much easier to transition to a new firm and get interviews. However, you still need a great resume. With a stellar resume, you will be able to negotiate better commission splits and also improve your chances of interviewing at very competitive boutique firms.
1. Start with a "Summary" or "Professional Summary" instead of an "Objective"
Remember, the goal of any persuasive writing project is to answer W.I.I.F.M. as quickly and effectively as possible. Your "objective" is obvious. After all, you're applying for a job as a real estate agent. Starting off your resume with that objective is redundant. Since they already know what your objective is, you should focus on telling them quickly why they should hire you.
2. Experience
If you did well at your last firm, include sales volume or number of transaction sides. After all, brokers looking for experienced agents want agents who have a proven track record. You can put sales volume under each job description, or better yet, include it in your cover letter.
If You Didn't do well at Your Last Firm, Emphasize Sales Volume Growth.
Let's face it, the first few years in this industry are tough. All brokers understand this, so having a less than stellar sales volume for your most recent year in the industry is not a deal killer. Instead of putting exact sales volume you can say something like, 'increased sales volume from third quarter by 35%".
Mention The Farm Area You Focused on.
If you specialized on working in a certain neighborhood, include this information on your resume.
Include Accomplishments and Awards.
If you won salesperson of the month or year or most improved, you should definitely put this on your resume. If you didn't win any awards, you can also put personal milestones or achievements. "Highest sale price in XZY neighborhood for 2015" or "Listing sold in record time" are examples of accomplishments you can include on your resume. The only caveat is to be honest. Never lie on your resume.
3. Include Continuing Education and Memberships
Have you taken any useful continuing education classes like web design or public speaking? Include them on your resume. This can be a separate section if you'd like.
Are you a member of the local community board? Mayor's council? Rotary club? Include these on your resume as well.
4. Include Designations & Certifications
There are a ton of certifications you can get as a licensed real estate agent. If you have NAR E-PRO, CRS, or ABR certifications, include them in a separate section on your resume (you can include these next to your name or in a separate section). If you're looking for a great guide on what kinds of certifications are available to real estate agents, check out this in-depth guide on real estate agent designations.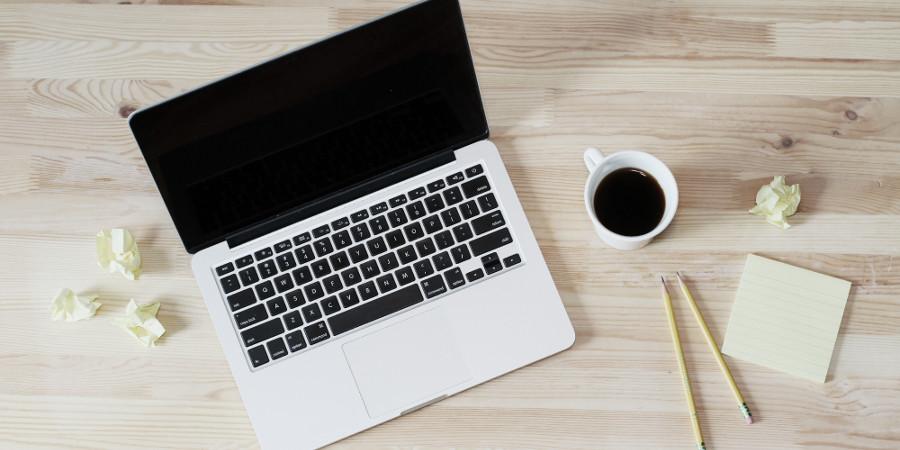 7 Real Estate Resume Writing Tips for All Agents
Remember that first and foremost, your resume needs to answer the question W.I.I.F.M. (What's In It For Me?) for the hiring broker. In order to do this effectively, you need to have a clean, attractive, and easy to read resume. Here are some tips to get you started.
1. You Don't Have to Reinvent the Wheel
In addition to the two free templates above, there are thousands of free, easy to read, attractive resume templates online. You can get templates for Google Docs, Microsoft Word, or high-end templates for Indesign on Graphic River.
2. Remember to Update Your LinkedIn Profile
Many brokers will check out your Linkedin profile to see if you are linked to anyone in their network, so make sure to update your Linkedin page when you update your resume. Your resume and LinkedIn profile should go hand in hand.
3. Try and Stick to One Page
While in the vast majority of cases your resume will never be printed out, you should still try and stick to one page. If you can't, don't use very small typefaces to make it fit. Use two pages instead.
4. Make it Scannable
Remember, successful brokers are busy brokers. Your goal is to answer W.I.I.F.M as quickly as possibly. Chances are, they are going to quickly scan your resume to see if it's worth their time before reading it. This is why you need to use a well-designed template like the one above.
5. You Probably Shouldn't Include a Headshot
In most cases, probably not, since your appearance is not really relevant to the job. That said, if you have a great headshot and an attractive template to use it with, it can't hurt. Click here to check out our in-depth guide on taking the perfect real estate agent headshot.
6. Proofread, Proofread, Proofread, then Proofread Again
There is simply no excuse for spelling errors, grammar errors, or mistakes on your resume. You need to take the time to make sure it is as accurate as possible. One proofreading trick to catch errors you may have missed is to read the resume backwards. You may be surprised to find mistakes you missed the first time you proofread.
7. Don't Rely on Spellcheck to Find Your Mistakes for You.
Just because a word is spelled correctly doesn't mean it belongs there. For example, you may have meant "broker" but instead wrote "broken." Spell check won't fix that mistake for you as the word broken is spelled correctly.
Why Your Real Estate Agent Resume Matters More Than You Think
The real estate industry is a bit unusual. Since brokers don't pay their agents a salary, they will generally hire anyone who they think can sell houses regardless of experience. Because of this, agents, especially new agents, think their real estate resume doesn't matter. However, nothing could be further from the truth. Your resume matters more than you think. Here's why.
Instead of paying you a salary, brokers are investing something far more valuable in you: their time and effort. This is why good brokerages hire selectively. As an experienced New York City real estate agent, I can tell you that you need a great resume to get your foot in the door. You also need a good cover letter.
The Bottom Line
Whether you're a brand new real estate agent or an experienced Real Estate Agent or Associate Broker, you need to take your real estate resume seriously if you want to associate with a great brokerage. That includes writing a great summary, focusing on tech skills, including continuing education and designations, as well as highlighting your CGI or GCI improvement if you're new.