Real estate scheduling software helps real estate agents and brokers coordinate their busy schedules with multiple parties, set appointments, and integrate with their MLS system. We looked at the most popular and up-and-coming software that covered the range of options for real estate agents and brokers in terms of their features and ease of use.
Best Real Estate Appointment Scheduling Software Summary Table
| Name | Best For |
| --- | --- |
| ShowingTime | Traditional real estate agents and brokers who want theoption of personal scheduling but may prefer emphasis on desktop models. |
| | Boutique firms or those who value the personalization offered by a voice and person-centric model of coordination. |
| | New agents who are technologically savvy and want a cost-saving method that functions primarily through SMS. |
How We Evaluated Appointment Scheduling Software
Real estate appointment scheduling software is used primarily to coordinate open houses between parties efficiently and effectively. We evaluated the best real estate scheduling software companies based on price, features, ease of use, mobile friendliness, and customer support.
Here is the criteria on which we based our evaluations:
Price. Although the cost of appointment scheduling software is often absorbed by the brokerage, we evaluated costs by examining individual users.
Features. The features most important to real estate appointment scheduling software included how effectively showings could be scheduled across devices, availability of scheduling, what types of data were available from the scheduling software, and any other specific features that made the software stand out from its peers.
Ease of Use. Real estate appointment scheduling software should be easy to use, set up, navigate, and use quickly during the course of the day.
Mobile Friendliness. The average real estate agent spends considerable time at appointments, showings, and traveling, which requires mobile options.
Customer Support. Effective customer support can mean the difference in getting a showing scheduled quickly and losing a potential buyer because of unnecessary delays or technical difficulties.
As any agent knows, there are really only two primary players in the real estate scheduling software space right now: ShowingTime and Centralized Showing Service. Our review focuses on these two and includes a disruptor that is attempting to be adopted by MLS systems across the country and attempting to schedule differently to allow agents a cost-friendly and text-based alternative.
Our review only includes these three companies due to the paucity of competition in this real estate software space.
Best Appointment Scheduling Software for Traditional Real Estate Agents & Brokers: ShowingTime


We recommend ShowingTime as the best appointment scheduling software because it was easy to use, permeated the MLS market, offered a wide range of features and access points, had an accessible price point, and solid customer support.
ShowingTime Pricing
ShowingTime pricing was competitive with other large companies offering similar services, such as Centralized Showing Service (CSS), but was not able to compare in price to the free services of Agent Inbox. Given that Agent Inbox does not offer the range of features that ShowingTime provides, the pricing is considered competitive and reasonable for established agents or traditional firms.
Pricing for an individual agent:
$50 set-up fee, then $29 per month for 10 listings and $6 per listing thereafter
Upgrades include: Appointment Center Plus and ShowingTime Front Desk (please contact for pricing)
ShowingTime Features
ShowingTime allows you to schedule through multiple methods, have numerous options to confirm showings, and gives agents further information, like showing feedback and listing activity reports, that helps agents to position their property to win. Organization is everything, and ShowingTime allows complete, full-service management.
| Features | ShowingTime |
| --- | --- |
| Methods to request showings | Phone, app, desktop |
| Methods to confirm showings | Phone, text, email, app, desktop |
| Listing Activity reports generated | ✔ |
| Listing Feedback reports generated | ✔ |
| Monthly reports generated | ✔ |
| Mobile friendly | ✔ |
| Dedicated assistant option | ✔ |
| Calendar integration | ✔ |
| Text availability outside of showings | None at this time |
| Ease of use | Easy |
| Contract terms | Month-to-month available |
| Customer support | Phone 8:00am-9:00pm CST (M-F), 8:00am-5:00pm (Sat-Sun), email, and live chat available |
While other real estate appointment scheduling software, like CSS and Agent Inbox, include accessibility around the clock, the attention to detail that ShowingTime provides is unparalleled. For example, an agent can notify sellers when they have left the office for a showing, keeping everyone in the loop.
We also appreciated the full-service approach that ShowingTime takes to their scheduling software. They offer the ability to schedule showings through a phone call, mobile app, etc., and offer five options to confirm listings (live call, two-way text, email, web, and mobile app). While ShowingTime and CSS both offer many ways to request and confirm showings, ShowingTime came in at a better price point for similar options.
CSS placed an emphasis on calling, Agent Inbox stressed a mobile-first approach, while ShowingTime seemed to integrate the best features of both. ShowingTime presents the option of live scheduling, but offers a solid platform for other communication options such as via desktop, text or email.
ShowingTime goes the extra mile to help you close deals along with providing the showing scheduling we would expect. ShowingTime helps you close deals by automatically sending price adjustment emails to agents who have previously shown the property, generating listing activity reports, and giving you interesting graphics like "feedback at a glance," which offers a quick look at the interest your property generated from a showing.
ShowingTime Mobile App
The ShowingTime mobile app offers agents an on-the-go solution to the hassle of setting up and confirming showings, with options to share reports with sellers and set up particular showing instructions. These features were also shared by CSS.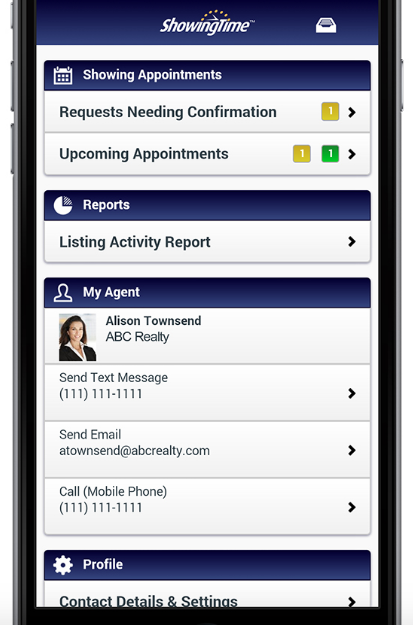 While ShowingTime as a company gets consistently positive user reviews, we find that the mobile app remains a bit buggy. The agents we spoke with and some online reviews report they have had no issues using this service on their computer's web browser or in their customer service experiences, but that the mobile app experience has not been consistent. This is why we see an up-and-coming competitor like Agent Inbox as a possible scheduling software app option for agents and brokers when adopted more widely by the MLS.
ShowingTime Customer Service
ShowingTime customer support is solid and offers a variety of methods to contact them. Users have the option to contact customer service by phone, email and live chat seven days a week. Though restrictions do apply on their phone availability, they offer times during all seven days of the week that correspond to when agents might need them most.
Customer support on both ShowingTime and CSS was superior to Agent Inbox, which had availability only Monday through Friday to answer questions via phone (when it is well known that agents primarily have showings on weekends).
What's Missing from ShowingTime
ShowingTime has a variety of features that make it one of the leading scheduling software options available, but the reliability of its mobile app could use improvement. The features the app offers could be expanded too—for example, texting outside of showing set up (such as Agent Inbox allows)—and reliability in the mobile app needs to improve given how much agents use their phone on the road.
Reliability and operational functioning in ShowingTime's desktop and other services are spectacular, so getting the mobile app up to par would make their service very tough to choose against in the future.
What Users Think About ShowingTime
Although user reviews for ShowingTime contained much praise for the efficiency of scheduling, the unpredictable functioning of the mobile app was the most common complaint we discovered. For example, the ShowingTime app received 3¼ stars out of 5 when reviewed on Google Play (out of 666 reviews).
While some users find the app functions flawlessly, others stated that the app continued to give them difficulties. Aside from this one complaint, users generally loved the service and found it to function seamlessly outside of the mobile space.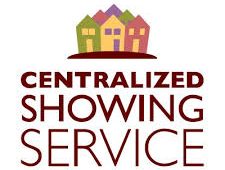 We recommend Centralized Showing Service (CSS) as the best real estate scheduling software because of the level of personal service it can provide. You can schedule online and have many of the specific scheduling features of ShowingTime. However, their personal service is perfect for boutique firms looking to provide a white glove experience.
Centralized Showing Service Pricing
Centralized Showing Service (CSS) provides competitive pricing to ShowingTime, but cannot compete with the free pricing of Agent Inbox. However, CSS is widely adopted by the MLS and offers a range of features and personalization that Agent Inbox can't match. For those looking for a full-service provider, CSS is a solid choice at a solid price point.
Pricing for an individual agent:
$50 set-up fee, then $35 per listing or $55 per month for five listings, and $10 per listing thereafter
Centralized Showing Service Features
| Features | |
| --- | --- |
| Methods to request showings | Phone, app, desktop |
| Methods to confirm showings | Phone, text, email, app, desktop |
| Listing Activity reports generated | ✔ |
| Listing Feedback reports generated | ✔ |
| Monthly reports generated | ✔ |
| Mobile friendly | ✔ |
| Dedicated assistant | ✔ |
| Calendar integration | ✔ |
| Text availability outside of showings | None at this time |
| Ease of use | Easy |
| Contract terms | 3-month contract terms |
| Customer support | Live phone assistance 24/7/365 for showings, with technical assistance daily during 8:00am-9:00pm CST with email and live chat available |
The features of CSS include multiple methods to schedule and confirm showings as well as a listing activity and listing feedback reports. To make life easier, it also features a dedicated assistant, calendar integration, and is mobile-friendly to use. The emphasis of CSS, however, remains on the level of their personalized services.
While ShowingTime also has a phone service, CSS live attendants are known for going above and beyond. They have a staff of 650 operators in four call centers across the United States, and even provide introductory calls to sellers so that they can establish a rapport while navigating the scheduling process. For elderly clients, the agent can even leave notes to schedulers to speak slowly or note hearing difficulties so that the client experience is seamless and customized.
With CSS, one call can do it all. Calling to schedule or reschedule appointments is simple, and a central number is used to reach an assistant who will do all the work that you require to make even multiple showings happen. While this can be wonderful for any agent, it can be particularly useful for high volume agents who prefer a more personal exchange with only one call to make. Much like ShowingTime or Agent Inbox, you can receive emails or text messages for showing requests.
Centralized Showing Service Mobile App
Given their attention to personalized service, Centralized Showing Service describes their app as a "mobile assistant." Their mobile app is comparable to ShowingTime in the things it can do, such as scheduling and managing showing requests, giving feedback, and viewing listing activity summaries.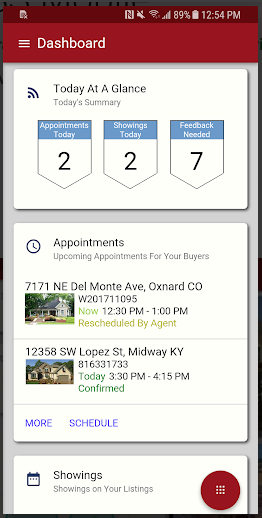 While CSS has received praise from dedicated users on their desktop app, this did not translate to mobile. Unfortunately, just as with ShowingTime, the app falls short on expected performance, garnering poor user reviews. Neither CSS nor ShowingTime can compare on mobile app performance or features to Agent Inbox.
What's Missing from Centralized Showing Service
While some find the Centralized Showing Service heavy emphasis on personalized service a "must-have," others find this model a bit outdated and prefer more emphasis on the automated and technological elements like texting. This will likely be market- and client-specific. However, much like ShowingTime, we found that the CSS mobile appointment scheduling software has room for improvement in the consistency of their app performance.
What Users Think About Centralized Showing Service
Users found Centralized Showing Service to be a quick and effective way of scheduling open house showings, but much like ShowingTime, the primary difficulty users report focuses around mobile app functionality. For example, out of 295 reviews of the app on Google Play, the CSS mobile app received three of five stars.
Most reviews find that CSS works best when used via phone or desktop, and the app was heavily criticized for being slow to load or having other more significant issues in functionality. Of those who used the CSS voice service or desktop scheduling, people found the service incredibly useful and effective.
Visit Centralized Showing Service
Best Appointment Scheduling Software for New Agents: Agent Inbox


Agent Inbox understands that for many modern agents, your phone is your office. Even with a smaller market share (in 37 states and growing in MLS adoption), Agent Inbox is already getting far better user reviews as a truly mobile real estate appointment scheduling software, with more consistent performance than the apps of established industry leaders like ShowingTime and Centralized Showing Service.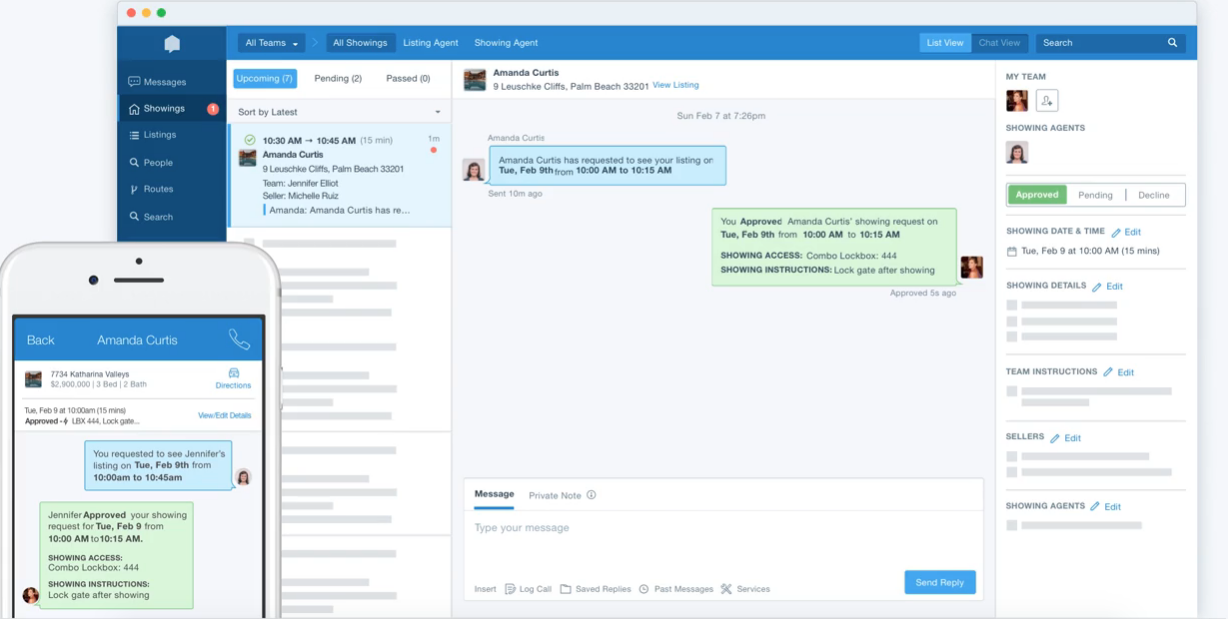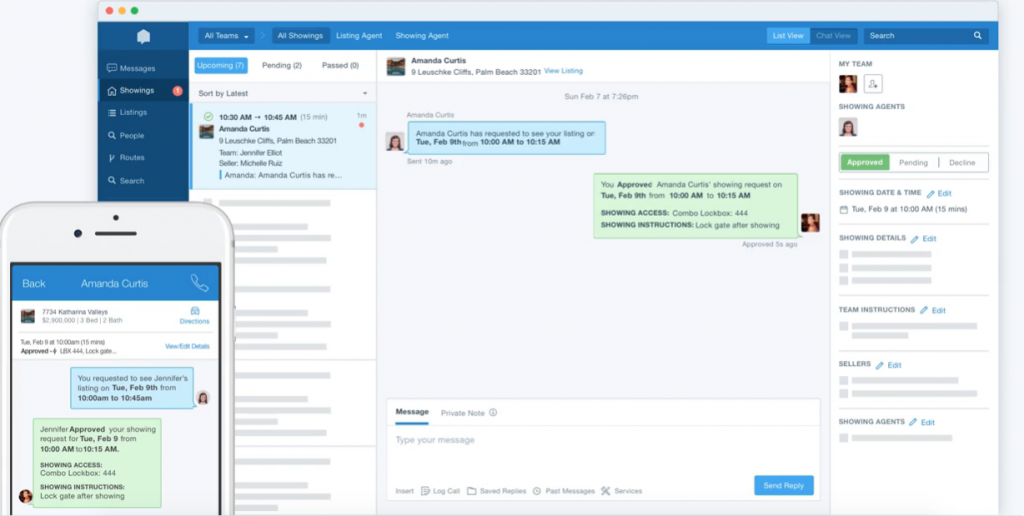 Agent Inbox Pricing
Agent Inbox is currently absolutely free. While the breadth of features cannot rival those of ShowingTime and Centralized Showing Service, what they do, they do well. Currently, they brand themselves as a text-based real estate messaging platform because, as you'll see in the features below, this is where they primarily operate and shine.
When speaking with company representatives at Agent Inbox, although they currently do not charge for their services, it is apparent that they will continue to evolve in their offerings and develop increased features, all of which they intend to price affordably.
Agent Inbox Features
Although it has desktop scheduling and ability, Agent Inbox is a primarily text-based platform that moves away from emails and phone calls. The strength of Agent Inbox is that it makes scheduling and conversations in the real estate business far closer to how we do communicate today in our everyday lives.
| Features | |
| --- | --- |
| Methods to request showings | Desktop or text |
| Methods to confirm showings | Desktop or text |
| Listing activity reports generated | None |
| Monthly reports generated | None |
| Mobile friendly | Yes, this is the strength of Agent Inbox |
| Dedicated assistant | None |
| Calendar integration | ✔ |
| Text availability outside of showings | ✔ |
| Ease of use | Medium |
| Contract terms | Free, no contract required |
| Customer support | Phone, live chat, and email available 9:00am-5:00pm EST (M-F) |
| Additional noteworthy features | Compliance audit trails, text-based collaborations, team conversation channels |
We appreciated that agents could contact and chat with agents of other listings for quick questions about properties without having to formally schedule a showing, while ShowingTime and CSS primarily offered only showing scheduling contact.
While connected to the MLS primary data feed, you have instant access to agents in an organized fashion that allows you to communicate with them quickly and directly. When showing requests are approved, they are automatically added to your calendar. There is no phone-based scheduling available at this time, but Agent Inbox can be accessed by desktop as well.
Agent Inbox also has its eye on accountability for agents and brokers alike. It offers compliance audit trails, where your thread history is time-stamped and stored, and also allows for text-based collaborations on transactions and team conversations in dedicated channels. These are features neither ShowingTime nor CSS offered.
For brokers, Agent Inbox would seem to contain some wonderful features, saving them time and money if normally utilizing ShowingTime or CSS. However, all agents and markets are perhaps not yet ready for this type of pull away from the notion of voice contact that the other two provide.
Agent Inbox Mobile App
We live on our phones, and any appointment scheduling software for real estate agents and brokers has to keep this at the forefront of their considerations. Mobile is the area Agent Inbox was able to shine by providing a platform where agents can not only contact other agents about showings, but text agents about quick questions that are outside of the showing spectrum.
While CSS and ShowingTime both have mobile apps and availability, this was the area that Agent Inbox really was able to shine. While having desktop availability, Agent Inbox is, at its core, a communication platform built entirely for those who use their phone as a mobile office.
The emphasis on mobile communication and the ease of this was apparent in how Agent Inbox compared to others in their scheduling software mobile experience. Agent Inbox, for example, even allows you to contact other real estate agents through the MLS for quick text messaging inquiries or questions, even if not scheduling a showing at that time. Both CSS and ShowingTime do not have this feature available.
What's Missing from Agent Inbox
Agent Inbox does not offer any voice scheduling or personal contact. While most agents are familiar with technology in today's world, there can be difficulties to not having a personal option that both ShowingTime and CSS provide. While maybe not the case in large metro areas, other markets may function with a norm of personal contact, and appreciate having that option—whether with agents themselves or those they communicate with.
Another option to consider is the technological preferences of how many real estate agents operate and the clients they serve. While real estate agents are getting younger, the median age of agents is 53 years as of 2017. While there is accessibility on desktop, some areas, agents, and clients may not be ready to take the leap into more of a fully mobile, text-based experience. Services like CSS provide an incredibly personalized service, and ShowingTime can offer a voice contact when needed.
The final drawback we found with Agent Inbox is that its newness might prohibit use. If your MLS does not partner with Agent Inbox, it is unfortunately not even available for your adoption. Luckily, Agent Inbox continues to grow its adoption rates rapidly, with 37 states already on board. When speaking with Agent Inbox, they assured us that more states are expected to be onboard soon, but this would be an area to further investigate should you want to try this product.
What Users Think About Agent Inbox
Agent Inbox is getting impressive early reviews from users for their service both on the desktop and through their app. For example, their app received 4.4 stars out of 5 in the Google Play store (out of 25 reviews). Agent Inbox had the highest performing app we reviewed.
While the service that Agent Inbox offers is not as comprehensive as ShowingTime and CSS, users seemed thrilled that the service was free, functional, and had both a desktop and mobile app that performed well to help them schedule showings and talk to other agents.
The Bottom Line
After reviewing three distinct real estate appointment scheduling software packages—ShowingTime, Centralized Showing Service (CSS), and Agent Inbox—we found ShowingTime to be the best real estate scheduling software on the market today.
While CSS focused heavily on operator phone service, and Agent Inbox leveraged mobile communication, we found that ShowingTime integrated both of these strengths in their own unique formulation while providing the option to upgrade even further to alleviate scheduling hassles. ShowingTime Appointment Center Plus, for example, includes a dedicated personal assistant to schedule appointments for inspectors or appraisers.
If you aren't a large brokerage with in-house showing coordinators or an agent with your own personal assistant, real estate scheduling software is a must-have item for your business.
If you are looking for a place to keep those leads while making your office more efficient, see our reviews on the best real estate CRM.