14 Key Real Estate Social Media Marketing Strategies
Real estate social media marketing is an extremely powerful—and largely free—tool to grow your audience, build a trustworthy brand, and ultimately increase your income. With strategies like repurposing content for each platform, sharing testimonials, and implementing tools to increase consistency, any real estate agent or broker can find an audience on social media and grow their clientele and revenue.
Start by reading these top 14 tips for effective real estate social media marketing and implementing them into your strategy.
1. Develop a Real Estate Social Media Strategy From the Beginning
Even though 96% of small businesses use social media, many could multiply their leads and business growth with a strong strategy. It may seem obvious, but no successful real estate marketing strategy happens on its own. Learning how to market yourself as a realtor on social media requires a definitive strategy and consistent execution to see results.
Before you hit publish, here are a few basic questions to answer that can help form your real estate social media marketing strategy:
| Strategies to Consider | Example |
| --- | --- |
| What you want to be known for | Commercial real estate agent, expert in real estate investments, selling expired listings for above the asking price, first-time homebuyers |
| Who your audience is (and isn't) | Young professionals, empty nesters, first-time buyers, veterans |
| Where your audience spends time | Facebook vs Instagram vs LinkedIn vs TikTok |
| Which platforms you'll use | Facebook, Instagram, LinkedIn, TikTok, Twitter, YouTube |
| How to use each platform | 30-second education Instagram Reels and TikToks, blog snippets on Twitter, photos and tips on Facebook page, listing photos on Instagram |
| What you'll offer to social media followers | |
| How often you will post on each platform | 3 times per week or daily |
| How much money you will spend (or not spend) | $0 for organic posting vs a few hundred dollars a year for automation and research tools vs a few hundred dollars a month to directly outsource tasks |
By using social media with a long-term strategy in mind, it will be easier for you to build a niche and authority while keeping content interesting and lighthearted. It will help you clearly define your brand and post more effectively and consistently with less stress.
2. Outsource Your Real Estate Social Media Marketing Management
When you are ready to take your social media marketing efforts to a new level, you may find that you don't have the time or energy to do it all yourself. After all, your priority should be on serving clients to the best of your abilities. For most successful real estate agents, there will inevitably come a point when it's best to hire a social media marketing real estate professional.
Luckily, plenty of professionals and companies offer this service, so you can find one that best fits your needs. Here are a few of the top real estate social media marketing companies:
Companies

Key Features

Real estate-specific content categories
Customizable posting frequency
Dashboard to view analytics on multiple social media platforms

Custom social media management and strategy
Dedicated account manager
In-depth reporting and analytics

Real estate-specific content
Affordable pricing
Website and additional marketing options

Starting Price

$99 per month

$750 per month

$69 per month

Read More
3. Keep Branding Consistent Across All Online Platforms
As you build a social media presence, your followers should naturally flow between your profiles and your website without confusion. Achieve this by keeping your branding consistent on every social media platform as well as communication channels like email and your website. Your real estate branding includes:
In addition, make sure to frequently talk about and link to your website and social media pages. Publish interesting blog posts, offer freebies, videos, and property information on your website, then give teasers about that content on social media.
If you don't have any branding materials, don't worry. You can easily find a design or branding professional to create cohesive branding on Fiverr. It is a freelance platform that allows you to easily find and connect with branding experts who can take care of this task for you. Plus, services on Fiverr start at only $5.
4. Post Consistently
With a solid social media marketing strategy for real estate and consistent posts, leads can start feeling connected to you just by scrolling through your page. Keep in mind that being consistent on each platform may mean different things. For instance, it's optimal to post one to two videos per day on Facebook, but only three to seven times per week on Instagram.
To efficiently plan and post content without spending hours at your computer, consider content batching. Set aside a few hours to plan, film, photograph, or write content for the next few weeks. Grouping your content this way will save time and increase productivity, allowing you to focus on other activities like cold calling, community outreach, or connecting with past clients. To find the most effective posting times and frequency for your audience, try using a social media marketing tool that provides details on optimal posting times.
Sprout Social allows you to schedule content on multiple platforms at the optimal times for each platform and your audience. It also uniquely provides a social listening tool to gain valuable insight into what your audience is currently talking about. This integrates with the scheduler, making it even easier to publish highly relevant content that maximizes engagement consistently.
5. Repurpose Content for Each Platform
Every social media channel is made differently, so they should each be used differently. Instead of taking the same approach to all of them, repurpose your content for each platform. This does not mean simply copying and pasting content, but intentionally tweaking each post to fit each platform. Using this strategy will help you more efficiently reach different audiences on Facebook, Instagram, Twitter, TikTok, and so on.
Remember that while repurposing content is a time saver, stagger your posts if you are using similar content across platforms. This will guarantee your followers stay engaged with your content and keep them from seeing the same information repeatedly.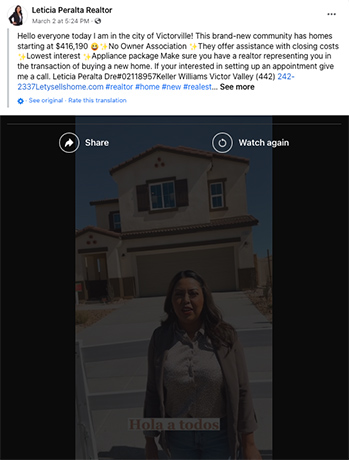 ---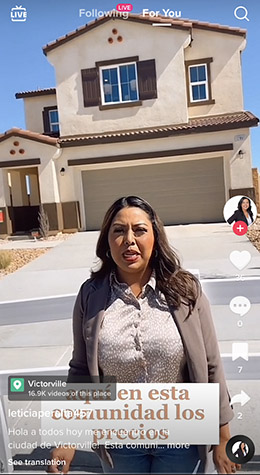 ---
For example, here's how you could differentiate your social media strategy for real estate on specific social platforms:
Facebook business page: Your realtor Facebook page is great for posting market updates, active listings, funny memes, and links to blogs or landing pages on your website.
Facebook groups: Groups are one of the best ways to generate Facebook leads because they consistently get engagement rates of up to 80%. Consider creating a Facebook group for your sphere of influence and local audience, posting more casual and personal content, and interacting more frequently with members. Don't forget to invite members to ask and answer questions of their own.
YouTube: Create a library of property videos, or edit and repost Instagram stories or Facebook live videos.
Twitter: Use Twitter as a news syndication source to stay top of mind. Share short snippets from your blog posts or real estate memes.
Instagram: Use interactive polls and questions on Instagram stories, or repost YouTube videos, tutorials, or property walk-throughs on IGTV.
LinkedIn: Use LinkedIn for real estate to connect with other professionals and potential partners, and to generate leads by adding a link to your profile.
TikTok: Create short videos with popular music to attract real estate leads on TikTok, and reshare videos on Instagram Reels.
6. Save Time With Automation & Scheduling Tools
Most real estate agents and brokers are already extremely busy, so the idea of posting on multiple social media channels every day—sometimes multiple times a day—is overwhelming. This is why one of the most valuable social media tips for real estate agents is to use a scheduling tool.
The right tool will provide a content calendar so you can visualize how your content will appear to followers over time. It also automatically publishes your posts at the optimal time, so you can be consistent online without sacrificing your priorities.
Constant Contact makes it easy to create and plan out your social media posts for multiple platforms in advance, which saves hours of your time. It also uniquely provides both email and SMS marketing to make sure that you reach your audience no matter where they are. Learn more about how Constant Contact can boost your social media presence.
7. Encourage Social Media Engagement
In order to substantially grow your audience, reputation, and clientele through social media, you need to engage with your followers. Engaging is one of the most important real estate social media tips because it's key to building authentic relationships online. Plus, engaging with your own content is helpful for social media algorithms.
Here are a few ways to encourage engagement on social media channels:
Respond to every comment or message you receive
Like and comment on your follower's posts
Use features in Instagram stories like polls, questions, and sliders
Ask fun and unique open-ended questions
Go live to answer questions
Promote a live Q&A session or "town hall"
Don't be afraid to use your personality and humor while staying professional
Use social media to intentionally stay in touch with your past clients. Send a personal friend request or follow request, and you can support them when they post life updates or interesting content. This helps you to stay top of mind and helps you continue to build a natural relationship with clients, which makes it easy for them to send you referrals.
Pro tip: One of the most powerful ways to promote your social media page is with an engagement strategy developed by Gary Vaynerchuk called $1.80. Find 10 of the most relevant and important hashtags in your industry, then comment—or leave your "two cents"—on nine of the top posts within each of the designated hashtags. You may be shocked at how quickly this strategy skyrockets your following and engagement.
8. Utilize Video to Increase Reach & Build Connections
Video content is more important than ever before. Videos get 21.2% more engagement than images, and 93% of social marketers say video is key to their social media strategy. While many real estate agents readily use YouTube to generate real estate leads, the idea of taking videos is intimidating for others.
However, you do not need to buy fancy production equipment and become a professional filmmaker or YouTuber overnight. In fact, many successful videos are simple, like Instagram stories, Reels, TikTok, and Facebook Lives. In fact, the short-form video gets 2.5 times more engagement than the long-form video.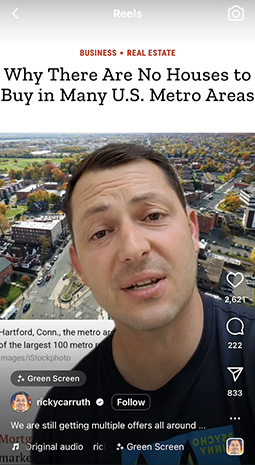 ---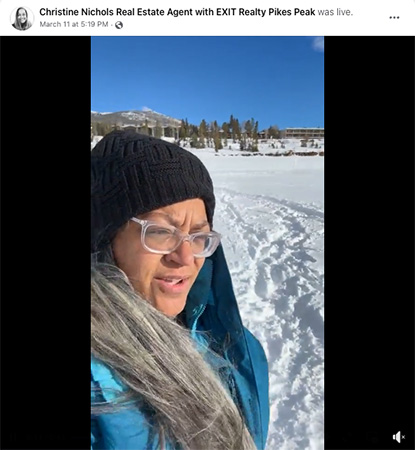 ---
Even if you're uncomfortable on video, it's arguably the best way to personally connect with your followers. In fact, people generally prefer to see real estate agents speak naturally—like on Instagram stories—instead of always publishing big video productions. It makes people feel like they know you, and it can be a great (free) marketing tool to help promote events such as an open house.
9. Reach a Targeted Audience With Social Media Ads
Advertising on social media can be a great way to supplement your overall real estate social media marketing strategy. The most common type of online real estate advertising is Facebook, where 89% of Realtors are active.
Real estate Facebook ads have an average cost per lead of $9.76, and you only pay when someone interacts with your ad. Plus, it offers a ton of audience targeting options, so you can hone in on your ideal client by area, interests, other sites they've recently visited, income level, and more. If you're interested in using Facebook advertising, make sure you read our full guide on How to Create Real Estate Facebook Ads.
However, don't start Facebook ads simply because they are the most common. Instead, determine which platform is the best for your specific audience and business goals. Social media advertising also includes Instagram, LinkedIn, YouTube, Twitter, and Pinterest.
If you aren't sure where to begin, consider using Hibu to create highly effective social media ads. Hibu is one of the most affordable social media management agencies with custom solutions. You'll work with online advertising experts who personally manage your account, so you're bound to see the growth you're looking for.
10. Use Testimonials to Highlight Past Successes
You may be confident enough to share your strengths on your website and social media, but nothing builds trust and authority quite like testimonials. A 2023 survey showed that 46% of consumers trust online business reviews as much as personal recommendations from friends or family. Think of your social media page like a review page and expect every potential client to Google your name before reaching out or accepting your offers for help.
Therefore, ask your clients for a testimonial after every successful real estate transaction—the more specific they can get, the better. Then, share those testimonials directly on any social media platform. Another great option is to take a picture with your clients at closing and tag them on social media. Since this is a major life event, these posts frequently receive a high level of engagement from their friends and family—giving you free exposure.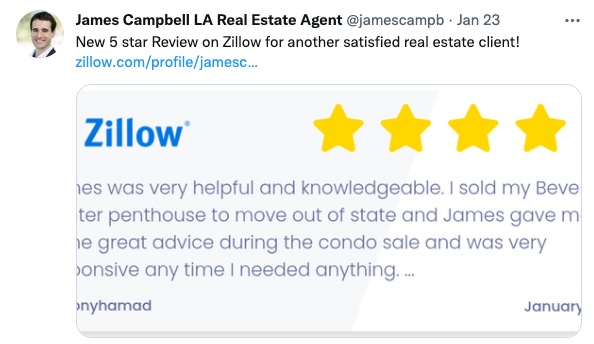 ---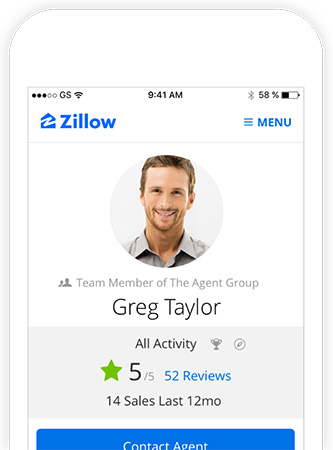 ---
One way to do this most efficiently is by creating a Zillow Agent profile. Since Zillow is the top real estate platform with 60 million monthly visitors, it makes sense to gather your positive testimonials on this platform. Plus, as a Zillow Premier Agent, your profile and positive reviews will be shown on any local listing that isn't already claimed, making it an easy path to gathering ready-to-convert leads. Don't miss the opportunity to be a Zillow Premier Agent to get more leads and testimonials.
11. Enhance Your Social Media Photos With Virtual Staging
When looking for interesting social media content, look no further than your past and current listings. Even if the homes are vacant or full of dated furniture, you can easily update them with virtual staging. Virtual staging is a process that uses software to add digital renderings of furniture to help buyers see the full potential of a property.
Virtual staging software looks extremely realistic and usually takes only a day or two to complete. Displaying staged photos of your listings will naturally grab your followers' attention. Plus, showing how you can successfully market properties is a great way to generate more real estate leads.
12. Target a Niche Audience With Your Social Media Marketing
One of the most critical real estate social media marketing tips is to be clear and specific about who your audience is. Many real estate professionals make the mistake of over-generalizing their audience. If you try to attract and speak to everyone, you won't resonate with anyone.
Social media can be an ideal place to market specifically to a niche audience, like FSBOs, veterans, downsizing empty nesters, first-time homebuyers, or investors. By establishing a niche, you separate yourself from general residential real estate agents.
Although it's not easy for your local audience to remember every real estate agent, they will remember unique or highly targeted messages. For example, it would be unlikely that a single would forget a realtor who helps single moms buy investment properties. The more specific you understand and market to your niche audience, the more powerful your results will be.
13. Increase Exposure With Tags & Hashtags
Tags help social media posts gain exposure on essentially every platform. Therefore, pay attention to opportunities to tag relevant accounts to your posts. For example, if you're an agent with Sotheby's, tag Sotheby's Instagram account in your posts. By tagging well-known brokerages, your post shows up under their tagged posts, extending your outreach.
Additionally, consider tagging other relevant accounts. For example, if you're promoting a high-end listing in Santa Barbara, tag local magazines, such as the Montecito Journal, so that your post is displayed in their tagged photos, and they can repost your post.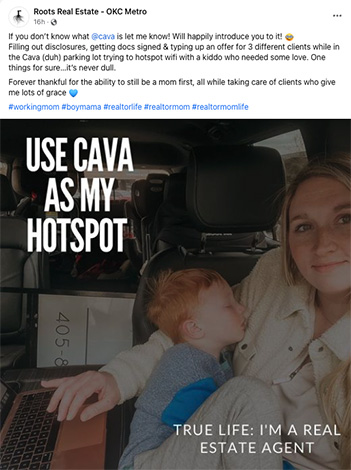 ---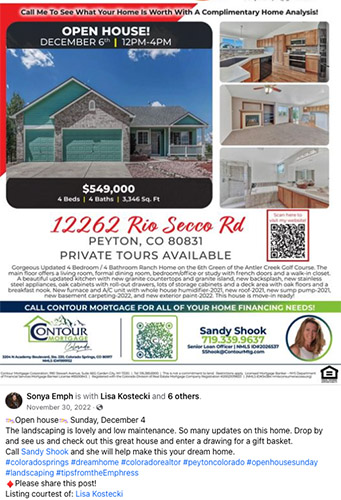 ---
Of course, hashtags are another tool for gaining exposure on social networks like Instagram and Twitter. Hashtags give the social media algorithms some context on your post, which helps them show your posts to people who are interested in that topic. Hashtags can range from general topics, like #realestate, to many specific topics, like #OKChomesforsale. If you're not sure where to start, check out the best hashtags for real estate.
14. Measure Results & Improve Your Strategy
Even with a robust marketing plan, you are unlikely to succeed overnight. Social media marketing for realtors takes time, consistency, and improvement. If you continue to use a social media strategy that isn't effective, you will end up wasting your time, energy, and money and become frustrated. Instead, your initial strategy should include a period to look at your results and tweak your strategy.
You can do this on your own by looking at simple analytics like views, likes, and shares. However, it will be much more impactful if you choose a social media tool that provides detailed analytics and reporting that is easy to understand.
Sprout Social provides extensive social media analytics on an easy-to-use platform. Its reporting capabilities are customizable, so you can track the data that is most relevant to your business and use it to make smart decisions. Learn more about how Sprout Social can help you grow your social media presence today.
Real Estate Social Media Practices to Avoid
Along with learning the best real estate tips for social media, you should also be aware of the real estate social media strategies to avoid. Unfortunately, many real estate professionals only implement a handful of social media practices without learning what to do and what not to do. Ultimately, this prevents them from getting the results they want and leads to wasted time online.
Here are a few common mistakes to avoid in your real estate social media strategy:
Only sharing listings: The most common real estate social media mistake is only sharing when you have a listing for sale. This shows your social audience that you're only active when you want them to buy something, and not that you are available to connect with new people.
Forgetting about video content: As discussed above, video content is incredibly powerful on social media. If you aren't comfortable taking videos of yourself, there are many other ways to leverage this type of medium. Check out a few examples of real estate video marketing for inspiration.
Forgetting about past content: It isn't enough to share something once. Social media is incredibly saturated—over 293,000 statuses are updated every minute on Facebook alone. Increase your reach by simply resharing old posts, especially posts that celebrate client wins or provide important information for your audience.
Not connecting with past clients: Stay engaged with your previous clients on social media, and tag them in posts and comments. This increases the visibility of your posts and continues to build relationships with valuable members of the community.
Assuming information about your audience: Think specifically about the audience you want to reach before creating content. Without doing this, most agents post generalized content, often for first-time homebuyers, that isn't memorable. The more you can understand the people you want to reach, the more effectively you can create content that appeals to them.
Spreading yourself too thin: Although there are opportunities on every social media platform, it's unwise to start five different social media channels at once. An agent's first priority should always be serving clients, so choose your social media channels wisely. You can always expand to other platforms after you've mastered the first one.
Bottom Line
Real estate social media marketing can be an incredibly powerful way to grow your business by attracting clients who want to work with you. With a strong strategy, social media marketing for realtors can generate leads, build your authority, and increase your income. By using the social media marketing tips in this guide, any real estate professional can create a successful online brand.