Real estate text message marketing is proven to be one of the most effective and low-cost ways to reach your audience and nurture your leads. Short texts that convey the right message add an incredible amount of trust and authority when building relationships with leads. By having text message templates prepared for every situation, like when you meet new buyers or follow up after an open house, you can nurture leads consistently without any added stress.
Start using SMS for real estate marketing with these text templates and strategies.
1. General Inquiries & Website Visitors
When you receive general inquiries from new leads online, you may have no information about where the lead is in the real estate process. Sending a simple follow-up text with a personable, open-ended question helps you make personal contact with these leads and prompt them to respond to your question.
Hi [Lead], thanks for visiting our website! Is there anything specific you are looking for?
Even though you generally want to avoid broad or open-ended questions in texts, your goal for general inquiries is simply to make contact. Therefore, this example works because it initiates a natural conversation while still asking a direct question.
2. Meeting Prompts
It can be intimidating for real estate agents to ask leads to meet with them. However, to be successful in real estate, you need to find effective methods to convert leads from names on a screen to in-person contacts. Using text messages for this purpose is ideal because it's low pressure.
Hi [Lead], are you free this evening? Let's set up a 15-minute phone call to chat!
This text is particularly effective because it's short, sweet, and direct, and clearly communicates that the phone call or meeting would be only 15 minutes. You can also offer to meet clients virtually via Zoom, making it more convenient and accessible.
3. Buyers
Writing real estate texts for buyer leads can be challenging because they can have vastly different needs at each stage of the buying process. Make sure you are prepared to nurture new buyer leads as soon as they reach out to you when you are starting the home search process and throughout the process of searching for new homes. Make sure you consistently check in, especially when they don't take action on listings.
Hi [Buyer], I'm setting up an automated search for four-bedroom houses near Main Street for you. What else should I include?
Hi [Buyer], I'm setting up a home search so we don't miss any new properties. Take a few minutes to set up your preferences on my website: [link]
Thanks for customizing your house wishlist! I have a search set up. Let's get you pre-approved so we're ready to visit houses. Here are the lenders I recommend: [link]
4. Sellers
Homeowners have a slightly different process to consider than homebuyers. In order to get the most profit from the sale of their home, it's necessary that sellers choose the right time to sell their home, taking both the local market and their personal needs into consideration.
Hi [Seller], it's a great time to sell in your neighborhood. How soon are you thinking of selling?
It's good to be direct while easing sellers into the process with a question like the example above. Having this answer can help you best support the sellers, whether they want to move in a matter of days or months. It is also a great way to expand on your expertise in the area and provide context for sellers about the current market conditions.
5. Share Open House Details
Sending open house flyers is an amazing way to spread the word about a listing to many people. However, sending texts with open house details feels much more personal, like an invitation. This text is effective because it uses natural language to personally invite a potential buyer to your event.
Hi [Buyer], here's a house you might like! I'll be there for the open house from 1-3 p.m. on Sunday. Can I plan to see you there? Here are the details: [link]
6. New Listing
When you list a new property on the real estate market, you should have a detailed listing marketing plan to spread the word. Make sure that you're prepared to send it to your existing pipeline by having a text template to share new listings with active buyers.
Hello [Buyer]! I just listed this three-bedroom house in [location], and I wanted you to be the first to know. See all the listing details here: [link]
This text message template can also be repurposed to show potential listing clients how you will market their property to buyers. In fact, you could even take a screenshot of buyers who responded well to this message in the past and show it to sellers in your real estate listing presentation.
Hello [Seller]! I just listed a new property in your neighborhood, here is the listing link: [link] Let's talk about how I could market your property to sell quickly, just like this one!
7. Home Valuation Leads
Since homesellers often want to pick a strategic time to list their home on the market, offering a home valuation is a perfect way to generate seller leads. This text is meant to reach new leads as soon as they request a home valuation from your website or landing page.
Hey [Seller]! I'll be sending your home valuation over in just a few minutes. How soon are you thinking of selling?
Home valuation pages are listing lead generation machines, and you can have one up and running in just a few hours with Placester. Placester is a real estate website design service that offers an automatic home valuation tool and a variety of professional and easy-to-customize website and landing page designs. It also uniquely allows you to customize the page yourself or browse the Placester marketplace to hire a professional to do the work for you. Try Placester free for 30 days.
8. Meeting Reminders
Texts are an ideal channel to send meeting reminders since 98% of text messages are opened and read. This template can also be used for reminders for listing appointments. Depending on which text message software you use, you may also include a confirmation request, like "Reply 'C' to confirm or 'R' to reschedule."
Hi [Lead]! I'm really looking forward to meeting you at [location] tomorrow at [time]. Make sure to bring any questions you have for me. See you soon!
9. Listing Price Changes
In addition to sending new listings by text, you can also send updates when there are changes to active listings that your buyers are interested in. This could be price changes or when listings are put back on the market. This is a smart way to keep your leads highly engaged with your texts.
Hi [Name]! Guess what! The asking price for [address] just dropped from $300,000 to $295,000. Should I schedule a showing?
Pro tip: When you use SMS for real estate marketing, consider your personal real estate brand in the language you use. If you have an approachable brand and work with families and young buyers, casual language can help you build connections. On the other hand, using language like, "Guess what!" may not be fitting for more professional or corporate agents who work with commercial clients or celebrities.
10. Resource Notifications
A successful real estate marketing strategy should be cohesive. The texts you send to leads and clients should blend well with your other communication channels, like email and social media. When you create new content, whether it's a resource for your existing clients, an infographic on social media, or a blog post, make sure to share it with your audience by sending a text.
Hey [Name], I just sent my first-time homebuyer guide to your email to help explain the process. What steps have you taken so far?
Hi [Name]! I just created a neighborhood guide for the [city] area and thought it would be helpful for you. Read it here: [link]
11. Buyer Follow-ups
Learning how to send a strong follow-up text in real estate is an essential part of converting leads into clients. To follow up with buyers receiving listing updates but who haven't responded, ask them directly what they've thought about the listings. You could keep this follow-up text extremely short and sweet or consider adding a potential solution.
Hi [Buyer], have you seen any listings you liked so far?
Hi [Buyer], have you seen any listings you liked so far? We can update the search criteria if none of them have been a good fit!
12. Seller Follow-ups
After you connect with a potential listing lead, make sure to consistently check in with them. Homeowners may need time to mentally and physically prepare to list their home, so don't rush them into a decision. However, keep offering yourself for support to stay top of mind.
Hi [Seller]! How have you been since we talked about your house last week? Are you still planning to sell, or do you have any concerns?
13. Open House Follow-ups
Open house follow-up messages are vital, whether your primary goal is to sell a listing or connect with buyer leads to gauge their interest in the property. This real estate follow-up template briefly introduces you and then directly asks for the lead's thoughts on the house.
Hey [Lead], it's [your name] from the open house this weekend. It was great to meet you! What did you think of the house?
14. Testimonial Requests
Even though agents can feel uncomfortable asking for reviews or testimonials, it's an important part of building a trustworthy brand. In fact, 46% of consumers say they trust online business reviews as much as personal recommendations from friends or family. Send a text that provides a convenient way for your clients to leave a review, and honestly express how it will help you personally.
Hello [Client]! I loved helping you find your new home. If you felt I was helpful during the process, you can support my business by leaving a review here: [link]
15. Ask for Referrals
According to the National Association of Realtors (NAR), 89% of buyers and 73% of sellers say they would be happy to recommend their agent to others. However, most clients don't always remember to share your information. Make it easy for them to send you referrals by sending friendly reminders on every communication channel. In fact, make your reminders fun by sending real estate memes that ask for referrals.
Hello [Client]! I'm looking to help more people buy or sell a home, and my best clients come from referrals! Do you know anyone who needs real estate help?
16. Neighborhood House Sale
Many agents send real estate newsletters with local market reports, and this is an effective way to build brand recognition in your community and target seller leads. However, full market reports would be too overwhelming to send in a text message. This template uses a similar idea, leveraging a nearby home sale to check in with potential sellers and offer an opportunity to work more closely with you.
Hi [Lead], look at this house in your neighborhood that just sold! It was only on the market for a week. Should we take another look at your home value?
17. Pop-by Gift Notification
A unique and effective way to stay top of mind with clients and build their loyalty is to send pop-by gifts around holidays, anniversaries, or even on a random date. Pop-by gifts can be simple and affordable, like a postcard attached to candy. Accompanying this marketing strategy with a text builds a strong and personal connection to your leads.
Hey [Client], I just left something in your mailbox. Thanks for being an amazing client!
18. Out-of-office Hours
One of the reasons why real estate agents fail is because they think they need to be available to clients 24/7. With automated text marketing, you can respond quickly to clients and establish a strong sense of communication even when you're out of the office.
Thanks for reaching out! I'm unavailable tonight, but I'll respond after 9 a.m. tomorrow. If you have an urgent question, call our office at 555-5555.
Best Practices & Strategies for Real Estate Text Messages
Once you have a variety of real estate text message ideas, make sure you implement them strategically in your marketing plan. SMS for real estate marketing is proven to be incredibly powerful, but it will fall flat if you only send one text every month or don't provide a clear call to action.
When using text marketing for real estate, make sure to follow these best practices:
Be consistent and strategic: Real estate text messages are most effective when sent within a thorough marketing strategy because leads will recognize your name, learn to trust you, and stay engaged with each message you send. See an example text marketing strategy below.
Keep it short: Text messages should be under 160 characters.
Make texts clear and concise: Make sure you have a clear message and purpose in mind, and don't beat around the bush.
Use proper grammar, but avoid real estate jargon: Text messages are a more laid-back platform, so don't use highly technical or professional language. However, it's also important not to use slang or abbreviations to keep a balance of professionalism.
Be personal: Make every message feel like a personal conversation by customizing each message to your specific audience members
Segment your audience: Personalized emails have 50% higher open rates. Dividing your audience into different types of leads helps you consistently write more personalized messages in both text and email marketing.
Include a clear next step: Don't leave text messages close-ended. Give recipients a clear path forward, which could be a call to action, a link to your website, or a specific question to answer.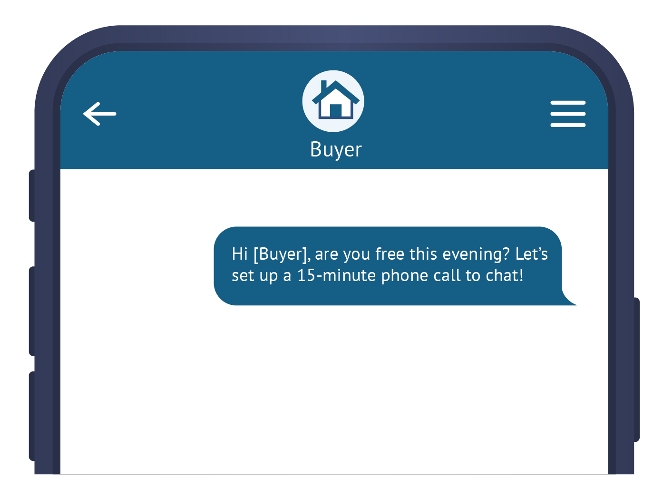 ---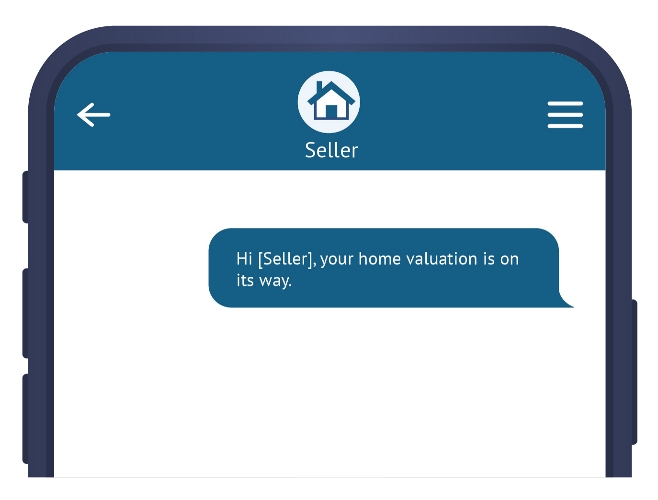 ---
Learning how to write effective messages and incorporate them into your marketing strategy can be simple. For example, you could start by sending a text to new leads to create an appointment on your calendar. Your meeting will help you determine what type of lead they are, and you can continue sending them relevant real estate messages.
Here's an example real estate text message strategy you could use for new leads:
Send a text with a link to create an appointment
Send an appointment reminder the day before
Take note of their property requirements for buyers, and send automated texts with new listing information
Promote open houses that fit buyer requirements
Send example marketing materials to sellers who are looking to list their property
Invite them to events, like first-time homebuyer or seller seminars
Pro tip: Short codes are five- to six-digit phone numbers that people can text to get information about a specific property. Add these short codes to your print marketing materials, like open house signs, flyers, and listing magazines, so prospective leads can reach out to learn information about your properties. When choosing text message marketing software, check if they provide short code capabilities.
Best Real Estate Text Message Marketing Providers
There is no shortage of platforms available to help you start using SMS for real estate. However, not many text marketing-specific tools are built with the needs of real estate agents in mind. As you research the following SMS marketing platforms, consider your existing marketing strategy, tools, and your goals for growth to help you choose.
Company

Best For

Brokers wanting a complete follow-up system with easy team collaboration tools

Agents wanting an all-in-one lead generation and nurturing system

Professionals wanting extensive texting tools and integrations

Agents seeking an affordable CRM solution with multi-channel marketing tools

Key Features

Automated text and email campaigns
Photos or video text
Integrates with lead providers

IDX real estate website
SMS auto-responder
Landing pages

Text campaign automations
Texting template and design tools
Third-party integrations

Free trial
Bulk texting manager
Video text capabilities

Monthly Starting Price

$69

$299

$19

$33

Read More

 



Real Estate SMS Marketing Statistics
Real estate text message marketing has grown in popularity over the last few years. It's been proven to reach potential clients more effectively than other channels, helping agents generate real estate leads and nurture them efficiently. Real estate text messages can be used for a variety of purposes, like following up and nurturing past clients, sending information, and building trust by connecting and providing relevant resources.
To further prove why text marketing is worth your time, here are a few real estate SMS marketing statistics:
Bottom Line
Real estate text message marketing is an incredible tool to help you build trust and rapport with new leads and nurture past clients. With these real estate text message templates, you'll be able to keep all of your leads consistently engaged in the sales cycle. Use the tips and examples above to avoid making first-time texting mistakes and start seeing the results of text message marketing.