Real estate video marketing companies help solo agents and teams promote listings using personalized and informative videos. To evaluate the best real estate video options, we considered pricing, video quality, editing capabilities, and marketing tools offered by each company. We then narrowed it down to the six best real estate video marketing companies for 2019.
Top 6 Real Estate Video Marketing Companies for 2019
| Real Estate Video Marketing Company | Best For |
| --- | --- |
| | (Best Overall) Real estate teams needing easy-to-record videos for text and email drip campaigns |
| | Solo agents who want unlimited free videos without the bells and whistles |
| | Real estate agents and brokers who want video inspiration from easy-to-edit storyboard templates |
| | Agents who needing pre-recorded videos and music with a built-in editor |
| | Large brokerages that need full-service, professional marketing materials for luxury properties |
| | Agents who need help with individual projects and don't want to subscribe to monthly services |
How We Evaluated Real Estate Video Marketing Companies
We evaluated video marketing companies to identify options that make it easy to create and share videos with your leads. To do so, we looked at features like video quality and length, editing tools, video sharing, and more. We also considered which platforms will help you make listings stand out with premade templates and beautiful content.
To evaluate the best real estate video marketing companies, we considered criteria such as:
Pricing: Where possible, we compared monthly and annual pricing for each option to determine whether the platform is good for your overall real estate marketing plan.
Video quality: We evaluated which plans include high-definition video to ensure your leads are seeing the highest quality content.
Number & length of videos: Most video marketing platforms enable users to create unlimited videos; however, the maximum length of each video varies between providers and plans.
Templates & prerecorded content: Templates and prerecorded content make it easy to create promotional videos using your own listing images and photos or generic content.
Ease of use: We tried each option's video editing tools to evaluate the user-friendliness of each platform.
Customer support: We evaluated how easily users can access online resources and a customer support team for each option.
Based on the criteria above, we chose BombBomb as the best overall real estate video marketing company. The platform's price point, user-friendly interface, and video text capabilities make it an excellent option for solo agents and real estate teams. Check out BombBomb's free demo if you want comprehensive services including the ability to easily text videos to leads.
Best Overall Real Estate Video Marketing Company for Small Businesses: BombBomb


BombBomb is a video creation and marketing platform that lets you film and share content from a phone, tablet, or computer. The platform offers a real estate-specific package with advanced marketing tools like prewritten emails and nurture campaigns that incorporate personalized videos. Try BombBomb if you want a turnkey solution including full email marketing campaigns with video.
BombBomb Pricing
BombBomb's video marketing platform offers three plans: Individual ($468 per year), Individual Plus ($588 per year), and Prompt ($1,499 per year). Pricing is based on the number of contacts and the scope of marketing tools needed for your small business or agency. However, if you're a real estate agent who wants comprehensive real estate-specific tools, opt for Prompt.
BombBomb Features
BombBomb users can send unlimited video emails to a set number of email contacts depending on the plan. All of BombBomb's packages also include a mobile app, video email tracking capabilities, and customer support and tutorials via group coaching sessions. You can also take advantage of automated follow-ups, advanced tech support, and real estate-specific tools like nurture campaigns and A/B testing.
BombBomb Tiered Features
| | Individual | Individual Plus | Prompt |
| --- | --- | --- | --- |
| BombBomb Pricing | $468/Year or $49/Month | $588/Year or $69/Month | $1,499/Year + $500 Setup Fee |
| Video Emails | Unlimited | Unlimited | Unlimited |
| Contacts | 2500 | 3500 | 3500 |
| Gmail App & Chrome Extension | ✔ | ✔ | ✔ |
| Mobile App | ✔ | ✔ | ✔ |
| Tracking Capabilities | ✔ | ✔ | ✔ |
| Group Coaching Sessions | ✔ | ✔ | ✔ |
| Automations & Video Forms | ✕ | ✔ | ✔ |
| Front-of-the-line Phone & Email Support | ✕ | ✔ | ✔ |
| Personalized Set-up & Educational Training Videos | ✕ | ✕ | ✔ |
| Pre-Written Real Estate Emails & Custom-Branded Email Design Tools | ✕ | ✕ | ✔ |
| Buyer & Seller Nurture Campaigns | ✕ | ✕ | ✔ |
| Automatic A/B Testing | ✕ | ✕ | ✔ |
| Home Purchase Anniversaries, Birthday Greetings & Holiday Emails | ✕ | ✕ | ✔ |
| Private Facebook Group | ✕ | ✕ | ✔ |
BombBomb's packages include Individual, Individual Plus, and Prompt tier levels.
Individual
BombBomb's entry-level package is for small business owners or solo agents who want to add custom videos to their marketing strategy. The Individual package includes unlimited video emails, 2,500 email contacts, and access to the BombBomb mobile app. The platform also enables users to track email engagement with real estate leads so you can optimize features through group coaching sessions.
The Individual plan does not include real estate-specific features and email marketing tools are limited to basic functions like sending and tracking. Some solo agents and small real estate teams may be satisfied by the Individual plan, but it does not include as many premade storyboards as options like Animoto and Promo.
Individual Plus
Individual Plus includes more advanced real estate video marketing tools than Individual and was designed for sales professionals. This plan enables users to send emails to more contacts and includes automation tools and video forms to simplify video marketing. The mid-level Individual Plus plan has more advanced customer service options like front-of-the-line phone and email support.
As with the Individual plan, BombBomb's Individual Plus plan is not real estate-specific. However, Individual Plus does help sales professionals stay on top of their contact lists by automating marketing emails.
Prompt
BombBomb's real estate-specific package, Prompt, offers agents and brokers a comprehensive marketing platform with advanced features. The plan features all of the advanced video tools included in Individual Plus and a variety of marketing tools. Specifically, real estate agents can take advantage of 16 made-for-you and sent-for-you campaigns, automated follow-ups, A/B testing, and one-on-one onboarding and lead uploading.
For the most comprehensive real estate-specific tools, should choose the Prompt option. Not only does the option include more extensive email templates and design resources than other BombBomb packages, but it is one of the few truly real estate-specific video marketing options we considered.
BombBomb Customer Support
BombBomb provides varying degrees of customer support depending on the package you choose. The Prompt plan includes the most extensive support, including front-of-the-line phone and email support and personalized set-up and educational training videos. BombBomb's one-on-one customer service features are the most advanced of the options we considered.
What BombBomb Is Missing
BombBomb does not provide professional editing services. Instead, the platform specializes in videos that can be used to follow-up and nurture leads easily from your phone or other device. Though it lacks professional editing, the innate simplicity of BombBomb makes it easier to send personalized video messages to your clients using just your cell phone.
What Users Think About BombBomb
BombBomb has excellent reviews for features, ease of use, and customer service. Not only is the dashboard streamlined, but the software is user-friendly and enables users to increase lead conversions using truly personalized communications. Even so, some BombBomb customers find that custom email templates are difficult to modify—a problem not encountered in some of the options we reviewed.
Best for Free Unlimited Real Estate Videos: Hippo Video

Hippo Video is a pay-as-you-go video creation service that lets agents create unlimited videos for free. Hippo isn't realty-specific but includes customer relationship management (CRM) tool integrations, making it easy to nurture and convert real estate leads. Plus, Hippo's free plan is perfect for solo agents or small teams that want to experiment with video marketing before committing to a service.
Hippo Video Pricing
Hippo Video offers users pay-as-you-go services, including a free package and paid packages from $29 per month to $99 per month. Packages offer a range of video lengths, editing and personalization tools, search engine optimization (SEO), and analytics. Hippo Video also offers a 14-day free trial and, once you sign up, you can upgrade, downgrade, or cancel at any time.
Hippo Video Features
Hippo Video offers users unlimited videos/month with a range of recording limits depending on the package. Agents who use Hippo Video can also integrate with a variety of third-party apps like Freshdesk and Salesforce to help nurture leads with eye-catching videos. Hippo Video offers unlimited 30-minute videos for free, making it a great option for solo agents on a budget.
Hippo Video Tiered Features
| | Free | Starter | Pro |
| --- | --- | --- | --- |
| Pricing | Free | $29/month | $49/month |
| No. of Video Recordings | Unlimited | Unlimited | Unlimited |
| Recording Limit | 30 Minutes/Video | 60 Minutes/Video | 60 Minutes/Video |
| Video Quality | HD | HD | HD |
| No. of Video Imports (1GB/Video) | 3 | 10Import additional videos for 25¢/video per month | 20Import additional videos for 25¢/video per month |
| Video Editing | None | Quick | Professional |
| Custom Branding | ✕ | ✔ | ✔ |
| Video Copy | ✕ | ✔ | ✔ |
| Video SEO | ✕ | ✔ | ✔ |
| Custom Player Themes | ✕ | ✔ | ✔ |
| Video Categories | ✕ | ✕ | ✔ |
| Stock Image & Music Library | ✕ | ✕ | ✔ |
| Viewer Reports | ✕ | ✕ | ✔ |
| Video Testimonials | ✕ | ✕ | 5/month |
Hippo Video packages include Free, Starter, and Pro tier levels.
Free
The Free plan includes an unlimited number of 30-minute, high-definition videos and three imported videos up to 1GB each. However, unlike other Hippo packages and other options we considered, this plan does not include video editing tools of any kind. In addition, the free plan does not let agents use Hippo's stock image and music library or custom branded videos.
Starter
Hippo Video's starter plan lets agents create an unlimited number of 60-minute videos and import 10 existing videos. What's more, the plan includes quick editing tools and more customization options than the free plan, including custom branded videos, SEO tools, and custom player themes. However, this package still doesn't offer access to the platform's content library—a feature that comes standard with other options we evaluated as part of this list.
Pro
The Hippo Video Pro package stands out because it offers professional editing, which lets you add unlimited tracks, background music, narrate over your videos, adjust clip settings, and markup videos for review. This is also the first Hippo Video plan that includes access to the platform's video categorization tool, content library, and reporting tools.
Hippo Video Customer Support
Hippo Video offers customer support via phone, email, and live chat. We contacted their support team through the live chat feature on their website and received a helpful response in less than five minutes. What's more, Hippo Video has an informative blog with sales and marketing advice as well as content to help you optimize the software.
What Hippo Video Is Missing
Unlike BombBomb, Hippo Video does not let its users send their videos via text. However, videos can be shared via email, on your website or real estate blog, and social media. So, choose Hippo Video if you want a free video recording and sharing platform and don't need the added ability to text videos to your leads.
What Users Think About Hippo Video
Hippo Video users give the platform high marks overall and give them five out of five stars for ease of use and customer service. Specifically, users love that Hippo lets you capture screenshots, video, and audio straight from Chrome rather than using additional software. However, many users report that the editing tools and effects are limited so it may be more difficult to create professional videos than with other platforms.
Best Real Estate Video Marketing Company for Storyboard Templates: Animoto

Animoto is a video marketing company that helps real estate agents create eye-catching videos with premade content and easy-to-use editing features. Animoto also provides easy-to-edit storyboard templates to help you get started. Try Animoto if you want to create videos but don't have content or editing experience to get started.
Animoto Pricing
Animoto offers three monthly packages: Personal for $5, Professional for $33, and Business for $49. The Personal plan offers the ability to create and share basic videos and may be enough for solo agents. However, Professional offers the best value because of the more extensive access to music, photos, and videos from Animoto's content library.
Animoto Features
Animoto features drag-and-drop, customizable video storyboards that are prebuilt to make video editing easier. All three of Animoto's plans include unlimited video but video quality, content, and templates vary among the plans. Make the most of Animoto's templates by choosing the Professional plan and using custom colors and branding.
Animoto Tiered Features
| | Personal | Professional | Business |
| --- | --- | --- | --- |
| Pricing | $5/month (billed as $60/year)OR $9/month | $33/month (billed as $396/year)OR $65/month | $49/month (billed as $588/year)OR $94/month |
| Number of Videos | Unlimited | Unlimited | Unlimited |
| Video Quality | 720p | HD 1080p | HD 1080p |
| Pre-built Storyboards | 12 | 50+ | 50+ |
| Music Tracks | 350+ | 2,000+ | 3,000+ |
| Photos & Videos from Getty Images | ✕ | 1,000,000+ | 1,000,000+ |
| Professional Fonts & Custom Colors | ✕ | ✔ | ✔ |
| Custom Branding | ✕ | ✔ | ✔ |
| Accounts for 3 Users | ✕ | ✕ | ✔ |
| 30-minute Consultation with a Video Expert | ✕ | ✕ | ✔ |
Animoto package options include Personal, Professional, and Business tier levels.
Personal
Animoto's entry-level Personal package is $9 per month or $60 per year for unlimited 720p videos. To create videos, agents have access to 12 prebuilt storyboards and over 350 music tracks. However, unlike other Animoto packages, Personal does not include the extensive library of Getty photos and images, professional fonts and custom colors, or custom branding. Instead, videos feature Animoto's logo, which may be viewed by clients as unprofessional.
Professional
The Professional plan lets agents truly customize their videos using over a million photos and videos, over 2,000 music tracks, and all of the platform's prebuilt storyboards. Users can further personalize content using professional fonts, custom colors, and custom branding, rather than Animoto's logo.
Business
The Animoto Business plan is great for small teams of agents that need more than one user per account. Business plan agents can have accounts for up to three users and will receive a consultation with an Animoto video expert so they can learn how to better use the software for their business.
Animoto Customer Support
Like BombBomb, Animoto's customer support offerings vary depending on the plan you purchase. All Animoto users have access to the Customer Success Team, but contact is limited to email, and a phone line is not available. However, agents who subscribe to the Business level plan have access to a 30-minute consultation with a video expert.
What Animoto Is Missing
Like some of the other options we considered, Animoto is not a real estate-specific platform. However, the platform does offer some drag-and-drop templates that are built for real estate and can be used to create beautiful and professional listing videos and property walkthroughs. You can also add quotes from past clients on top of your photo slideshows or videos to promote your listings and improve your SEO—even without any other real estate tools.
What Users Think About Animoto
Animoto boasts excellent reviews for its features, ease of use, and customer service. In general, Animoto users find that the platform is extremely user-friendly and that the numerous templates simplify the video creation and editing processes. However, other users have pointed out that the platform is best for quick videos meant for sharing on social media and in blogs and not on platforms that demand longer, more professional video content.
Best Real Estate Video Marketing Company for Prerecorded Content: Promo by Slidely

Promo by Slidely is a video advertising platform that lets you create promotional videos for real estate lead generation. The platform offers customizable templates and a huge selection of prerecorded video, music, and images. Check out Promo if you want to focus your marketing campaign on short videos that feature eye-catching content and fully-licensed music.
Promo Pricing
Promo offers three plans ranging from $49 to 359 per month. Users can save $10 to 110 per month by paying for the entire year upfront. Promo's monthly plans don't require commitments so you can upgrade, downgrade, pause, or cancel without penalty. Plan prices differ based on the degree of branding, customer support, and resale and sharing rights.
Pricing packages include:
Basic: $49 per month or $468 billed annually ($39 per month)
Standard: $99 per month or $828 billed annually ($69 per month)
Pro: $359 per month or $2,988 billed annually ($249 per month)
Promo Features
Promo by Slidely stands out from other options we considered because of its prerecorded content. Not only does the platform provide several real estate video templates, but you can also choose from numerous home-related video clips and then fully customize your video with the font, text style, and color most consistent with your brand. Choose one of Promo's paid plans to add premium video, more font options, and a logo watermark.
Real Estate Templates
Promo offers a great selection of real estate-specific templates that make it easier to create relevant videos quickly. Choose from themed templates such as "Bigger House," "House+Pool," and "Have Everything" to create a video that meets the needs of your real estate marketing campaign. Then, personalize it using a variety of prerecorded videos chosen for real estate-specific marketing.
Prerecorded Content
In addition to providing users numerous real estate-specific video templates, Promo gives agents access to images, millions of prerecorded videos, and music tracks. All of the prerecorded content available through Promo is licensed so you can use your videos for as long as you want. This means you can create general promotional videos without having to record your own content or worry about use restrictions.
User-friendly Editing
Promo excels because of the platform's user-friendly editing dashboard. Users benefit from a simple drag-and-drop editor that allows you to select and arrange photos within predesigned templates and then add custom text and music that fits your brand. You can also choose from widescreen, square, or vertical, choose fonts and text banners, and easily move frames to make your videos one-of-a-kind.
Custom Branding
You can modify Promo's templates with a number of fonts, colors, and text styles to create videos that are consistent with your branding. With Promo's paid plans, you can also upload a logo for a video watermark and unlock more media content to help your videos stand out and appeal to local homebuyers.
Promo Customer Support
Promo offers users 24/7 customer support via email. The customer support options are more limited than other platforms we evaluated, but user reviews reveal that the support team is extremely helpful and very responsive. In fact, the reviews of Promo's customer service describe it as fantastic and responsive.
What Promo Is Missing
Promo lacks the analytics and reporting tools offered by some video platforms like BombBomb. What's more, the software focuses on prerecorded videos, music, and images, so it's not as personalized as agents need for most property-specific videos. Even so, Promo is a great tool for creating videos out of listing photos or highlighting an agent's expertise.
What Users Think About Promo
Promo has great reviews across the board because of the platform's excellent selection of stock videos, templates, and industry-specific content. Users love that the tools make it easy to create videos for social media—and, particularly, Facebook Ads because of how easy it is to integrate with BombBomb. Negative reviews indicate the platform is somewhat pricey, not as flexible as platforms like BombBomb, and is better for short video clips than longer, personalized videos.
Best Real Estate Video Marketing Company for Luxury Brokers: Rise Media

New York-based Rise Media offers full-service marketing and video production services for real estate agents and brokers. Pricing is based on specific needs so you can build a package that works for your budget and brand. Choose Rise Media if you need beautifully filmed and edited listing videos, floor plans, renderings, and more for your luxury properties.
Rise Media Pricing
Rise Media's pricing is totally custom and not available online. For that reason, the platform is better for luxury brokers who want professionally filmed and edited, full-feature content plus marketing services to promote your brand. Contact Rise Media or place an order through their website to start planning your next real estate video marketing project.
Rise Media Features
Rise Media is a full-service real estate video marketing agency that offers totally custom services. Instead of templates and drag-and-drop editing, Rise Media produces all of the real estate content you need to promote your listings, educate home buyers, and convert leads into sales. For that reason, Rise Media is an excellent option if you have a large or luxury brokerage and want your properties to stand out from the competition.
Because Rise Media creates unique content for each of its clients, you can brand your videos to meet your needs and won't encounter impersonal logo placement. Editing services through Rise Media mean you and your agents won't have to spend time tinkering with lighting, shortening and combining clips, or finding music to complete your videos. Their team of video production experts will create and edit videos ranging from 15-second social media ads to agent profiles, drone videos, and animated photo slideshows.
Rise Media Customer Support
The fact that Rise Media offers truly custom video marketing services means that customer support is also personalized. If you have questions about Rise Media's services, you can contact them via phone, email, or online chat. Once you're a client, you'll be able to work with their team one-on-one as they create your marketing content.
What Rise Media Is Missing
Rise Media is a great choice if you need professional listing videos to market your luxury properties. However, the company offers full-service editing, not the ability to create quick videos to send to leads. Therefore, if you're looking for a way to create a large volume of fast, personalized videos via text or email, Rise Media likely isn't for you.
What Users Think About Rise Media
There aren't many reviews available online for Rise Media. However, reviews on Facebook are all positive, and the company has a five-star rating for its services. Plus, with a focus on custom video production and luxury properties, Rise Media is likely to meet the needs of the most demanding agents.
Best Real Estate Video Marketing Company for Individual Projects: Fiverr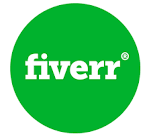 Fiverr is a platform that lets professionals hire freelancers to perform specific projects. Unlike other options, Fiverr doesn't specialize in video marketing, so you'll have to vet freelancers before hiring them. However, Fiverr freelancers charge by the hour, so it's a great option for individual projects rather than long-term video campaigns.
Fiverr Pricing
Fiverr pricing varies depending on the freelancer and is related to experience and reviews. Pricing is on an hourly basis, so users don't have to commit to a month or year of video marketing services like with other options we evaluated. Expect to pay anywhere from $5 to $100 or more per gig for video services through Fiverr.
Fiverr Features
Like Rise Media, any real estate video marketing services you purchase through Fiverr will be custom. What's more, you can choose from a wide range of freelancers with different specializations. For that reason, real estate video features available through Fiverr are varied and enable you to choose the freelancer best for your project at a price that fits your budget.
Unlike platforms that include their own branding in entry-level packages, Fiverr freelancers can incorporate your branding into all of your video content. This lets you expand your online presence through social media and ensure that potential homebuyers always know who to call about your listings. Fiverr also makes real estate video editing easy by helping you hire a full-service video production professional rather than learning an online editing platform.
Fiverr Customer Support
Customer support will vary depending on the freelancer you hire through Fiverr's online platform. Fiverr does let you select gigs based on the turnaround time, number of revisions, and reviews, which can help you choose a more responsive freelancer. However, user reviews for Fiverr's general customer service reveal that the platform itself is not very helpful at addressing user complaints.
What Fiverr Is Missing
Fiverr doesn't specialize in video marketing or real estate marketing. For that reason, it may be more difficult to identify a freelancer who has extensive and focused experience in real estate marketing videos. However, with the broad range of professionals available through the site, you can likely find the freelancer that meets the needs of your project.
What Users Think About Fiverr
In general, Fiverr users report that the platform is reliable because you can choose freelancers based on the extensive rating system. Some Fiverr customers find that there is insufficient vetting of freelancers, but this can be avoided by evaluating ratings and communicating with potential freelancers.
The Bottom Line
Real estate video marketing is a way to promote your listings by sending prospects personalized video content. Everyone from solo agents to large brokerages can increase lead conversion using targeted and informative video content. Not only will video marketing improve the visibility of your listings, but you can also integrate it into existing email marketing campaigns easily.
If you want an all-around real estate video marketing platform, try BombBomb's Prompt plan. The platform is user-friendly and includes comprehensive and real estate-specific marketing tools for you and your agents. Try BombBomb's free demo to find out if the platform is a good fit for your team.