Real Geeks Review: Is It Right for Your Real Estate Business?
Real Geeks is an all-in-one sales and marketing platform with a built-in client relationship manager (CRM) to manage leads from end to end. We ranked it as one of the best real estate CRMs with a score of 4.59 out of 5. We based this score on 33 factors such as features, pricing, customer reviews, ease of use, and our expert score.
Based on Real Geeks reviews, customers like the CRM tools and automation capabilities, making it an efficient solution for real estate agents looking to solidify and build their brand with an online presence. Continue reading our review of Real Geeks to see if it's the right solution for your real estate business.
Pros
Customizable IDX website
Third-party integration with lead generation platforms
Ability to drive leads through social media platforms like Facebook
Multiple types of landing pages to target specific clients
Managed Facebook and Google pay-per-click ads
Cons
Only for buyer and seller leads
Does not specialize in niche leads (like expired, foreclosure, or FSBO leads)
No live support chat function
Direct mail marketing limited to postcards
Recommended For
Independent agents looking to build an online brand through unique IDX listing websites, landing pages, and online ads for lead generation
Agents who have experience nurturing leads and want to take advantage of Real Geeks' automated email drip campaigns
Agents who prefer to generate leads through paid online marketing platforms like Facebook and Google Ads to target niche clients and bring them to the real estate website
Not Recommended For
Agents who want transaction management solutions
Agents with listings that need to create marketing materials to maximize listing exposure
Salespersons who already have a steady stream of business through their referral networks
Monthly plan: $299 per month (plus $250 startup fee), includes access to IDX website and CRM for up to two users, $25 per additional user
Paid online advertisements: Starts at $600 per month plus ad spend per plan; includes IDX website and CRM plus Real Leads
Geek AI: $200 per month per plan, includes texting assistant
---
---
Real Geeks Reviews: What Users Think of Real Geeks
Is Real Geeks worth it? Real Geeks real estate reviews show that customers admire the platform for robust website features and easy-to-navigate CRM. One Real Geeks review liked the preset workflows already created to keep leads engaged. Another client was extremely delighted with how their website ranked on the search engines. An agent also valued Real Leads, its paid search and social marketing program, for generating high-quality leads and new businesses. Its customer service also received excellent reviews for being responsive and efficient.
G2: 4.1 out of 5 based on 61 Real Geeks reviews
Google Reviews: 4.7 out of 5 based on 136 Real Geeks reviews
There are several negative Real Geeks website reviews. One client mentioned they were unable to see if their email recipient opened their email campaign. Since signing up with Real Geeks is a one-year contract, some users were frustrated with the hefty cancellation fee when they canceled before the term. Real Geeks also has limited marketing customizations, unlike other lead generation platforms like Market Leader and BoldLeads.
Would Our Expert Use Real Geeks?
While Real Geeks pricing is not the cheapest, we found the platform a worthy investment for agents looking to generate and convert leads through customized IDX websites, auto-responder SMS features, and email drip campaigns. A standout feature for us is its lead tracking system that monitors leads who are engaging on the website in real time, allowing agents to focus on clients who are ready to convert. We also like the automated email drip workflow, which makes lead follow-up easier as prospects move in their conversion journey.
We identified several areas for improvement regarding Real Geeks' website customization. Web templates are limited, which could frustrate agents who want a specific design for their websites. Blogging resources and the content management system are also limited, unlike a fully customizable website like Squarespace. An alternative like Market Leader can help you find exclusive buyer and seller leads while also providing you with a CRM, customizable IDX websites, and marketing automation.
Real Geeks Alternatives
Real Geeks is a useful lead generation tool for real estate agents. However, at $299 per month, you might want to consider other platforms to find a better fit for your business. Here are four of the best lead generation software to consider aside from Real Geeks:
Software

Best For

Agents looking to farm specific areas

Agents and teams who need a professional website to attract leads

Agents needing robust sales automation features

Agents who want to gain leads from the industry's most visited website

Key Features

Available real estate training guides
Dashboards showing team productivity
CRM integrations with 40+ lead sources

Customizable IDX website
Code-free site editor
Unlimited pages and posts
Lead generation and capture

Easy-to-use visual sales pipelines
Artificial intelligence (AI)-powered sales assistant
Extensive third-party software integrations

Obtain buyer leads on non-exclusive listings
Listings appear on multiple leading real estate sites
Track lead conversion and performance

Monthly Pricing

$169

$99

$21.90

$20 to $60 per lead

Learn More

Or

Or

Or

Or
Real Geeks Plans & Pricing
How much does Real Geeks cost? Real Geeks' pricing starts at $299 per month, with a one-time startup fee of $250. The plan is good for up to two users, plus $25 per month for each additional user. For this price, agents have an IDX-enabled website and CRM along with landing pages, SMS text marketing automation, mobile application, email drip campaigns, and property valuation tools. You also have access to a library of how-tos and strategy guides for how to use Real Geeks tools.
Plans

Monthly Plan

Monthly Plan Plus Add-ons

Who Plan Is Best For

Agents just starting out who want to brand their business with a website and generate leads through landing pages

Best for agents who want to capture leads not available through most lead generation websites

Monthly Price Range

($/Month)

$299.00

Starting at $600.00 plus ad spend

IDX Website

✓

✓

Landing Pages

✓

✓

CRM

✓

✓

SMS Auto-responder

✓

✓

Mobile Application

✓

✓

Automated Email Drip System

✓

✓

Property Valuation Tool

✓

✓

Real Leads

✕

✓

Facebook Marketing

✕

✓
Add-on Services
Real Geeks also provides additional services like paid online advertisements, Real Leads, and a texting assistant to amplify your lead generation efforts.
Real Leads is a paid search and social marketing program that utilizes Facebook and Google pay-per-click (PPC) marketing to increase the number of buyer and seller leads going to your website. Through Real Geeks' Facebook marketing feature, a team will assist you in ad creation. They will then deploy advertisements on Facebook with advanced audience targeting that ensures each lead is qualified and contains the right contact information. You can choose different ad sets that target one area.
Real Geeks' Google PPC drives seller and buyer leads to your IDX website that is optimized by Real Geeks' experts. The team will run a variety of ads focusing on your target areas. All campaigns will reflect areas and types of homes you'd like to focus on in your market. Your Real Geeks website will further have the ability to capture lead information. The length of commitment for Real Leads is six months. After six months, the commitment continues month-to-month with a 30-day notice. Contact the sales team for comprehensive Real Geeks pricing.
For $200 per month, you can enjoy Real Geeks' Geek AI. Geek AI is a texting assistant that makes following up with new leads easier, helping you keep up with all the leads coming into your CRM. Once you subscribed to Geek AI, the texting assistant will automatically start and send a follow-up text message when a lead from your selected sources registers.
Using buyer and seller-specific scripts, Geek AI will automatically engage with new leads via texts. To prevent conflicts with your automated workflows, Geek AI will automatically skip all text message sent from other lead capture campaigns, like Drip and Lead Manager, to prioritize your responses. Geek AI will send you an email and text notification to inform you of the best time to take over the conversation so no leads fall through the cracks.
General Real Geeks Features
Pipeline management
Internet data exchange (IDX) website
Communication automation
Marketing features
Mobile app
Real Geeks' robust features enable you to build a strong online presence that positively impacts the success of your real estate business, especially when you want to generate organic leads without additional advertising costs. Through Real Geeks' fully functional IDX listings website and targeted landing pages, you can showcase your expertise while nurturing strong relationships with prospects. The CRM also has built-in tools to help convert leads through email marketing and SMS text messaging campaigns.
Real Geeks' communication automation and personalized mobile app further enables you to be more efficient as you create deeper connections with prospective leads.
Additional Real Geeks Features
Real Geeks has abundant tools and resources to support real estate agents, teams, and brokerages. Click on each tab below to learn more about Real Geeks' standout features.
Lead generation
Multiple landing pages
IDX listing capabilities
Custom design editor
Real Geeks' internet data exchange (IDX) websites provide multiple design options and easy-to-edit templates so you can build brand awareness by differentiating your website. It comes with a custom design editor to customize your website's colors, layouts, and other design elements based on your branding. The IDX will connect listings from your local Multiple Listing Service (MLS) automatically and update listings every 15 minutes, ensuring up-to-date and accurate information.
Also, embeddable widgets can be added to your site with a call to action (CTA). You can include a lead magnet or free item or service for visitors, such as a home valuation report, contact form, or search widget to capture lead information from your website. Additionally, Real Geeks provides other features to drive traffic, like an interactive map function attached to the IDX searches, fast-loading pages, and saved searches.
---
Variety of landing page templates
Target specific audience
Capture leads in different sales funnel stages
Have one or multiple landing pages
Real Geeks has several customizable landing pages you can use to target niche clientele more effectively. Each landing page automatically captures lead information into the CRM and identifies which prospects were generated through each landing page. This helps you sort leads based on their specific needs. From there, you can deploy the appropriate campaigns to nurture and convert them.
The following are the types of landing pages you can incorporate in your Real Geeks website:
Property listing landing page: Showcase a specific property listing on your property landing page and use them on your social media ads to drive interest in a specific property.
Market report landing page: This landing page draws the attention of sellers who are looking to understand the current market. Market Reports are also fully integrated with the Real Geeks CRM so you can easily monitor leads.
Coming soon listing landing page: Use this landing page for off-market or pocket listings before you put it into the MLS to draw more opportunities and create higher demand as you prepare to launch a listing.
Agent landing page: Highlight yourself, your team, or brokerage to drive interest from website visitors.
Home valuation landing page: The home valuation tool helps sellers get a valuation of their current property and learn more about its potential sales value. Use this on your social media ads to attract potential seller leads.
Custom lead capture forms: Create custom lead capture forms for your website and landing pages—edit the fields and calls to action as needed.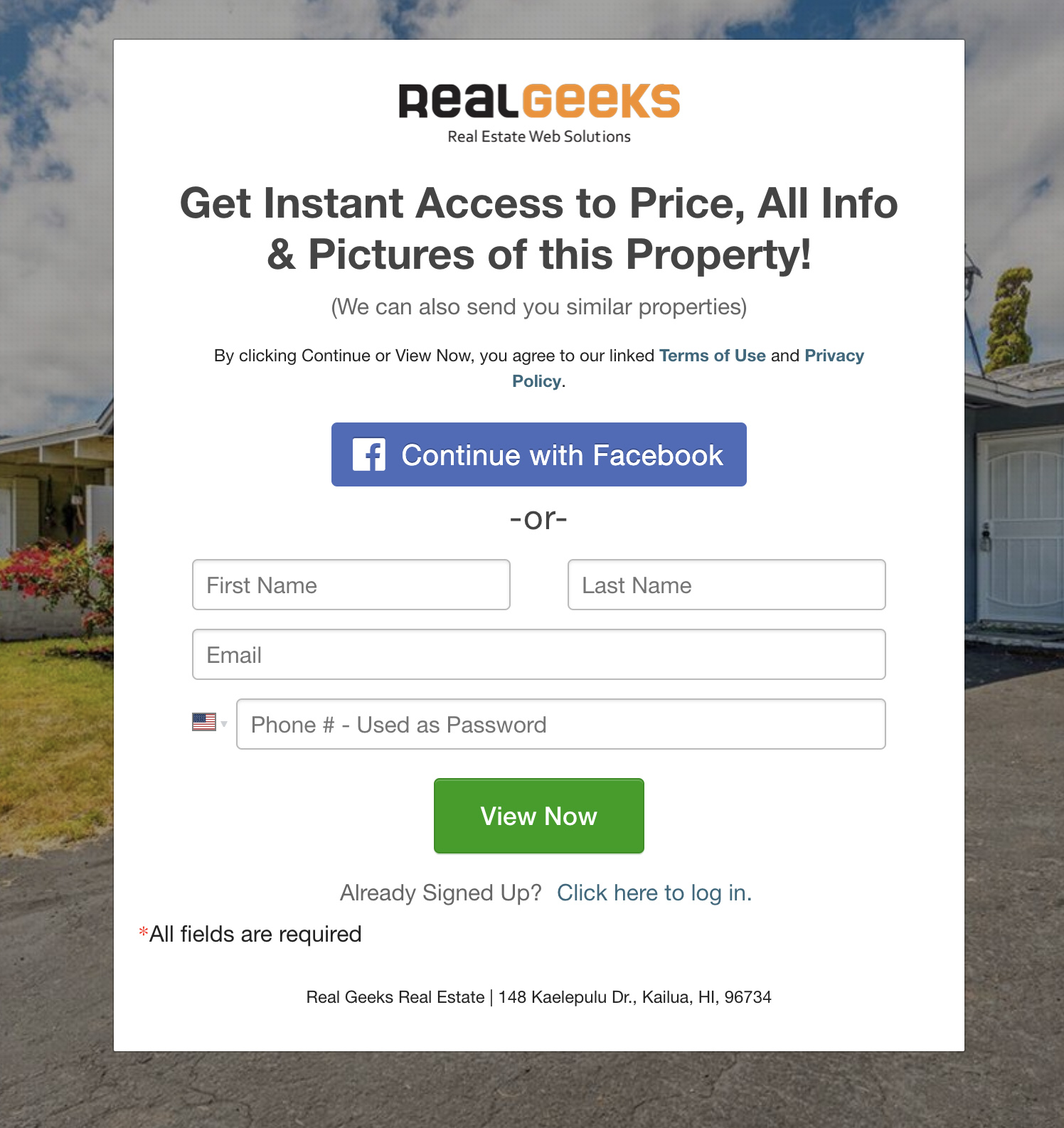 ---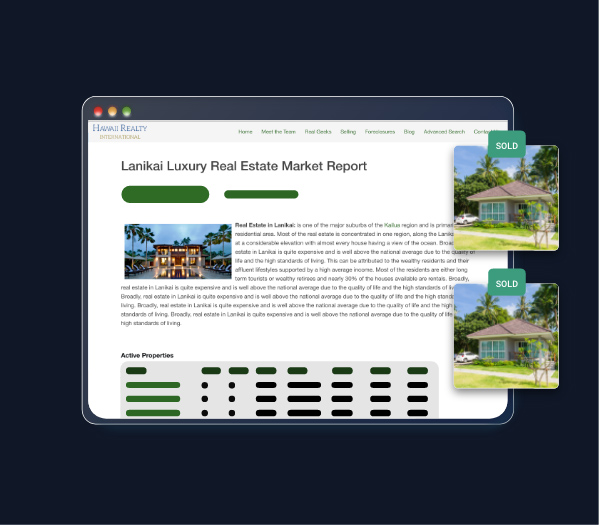 ---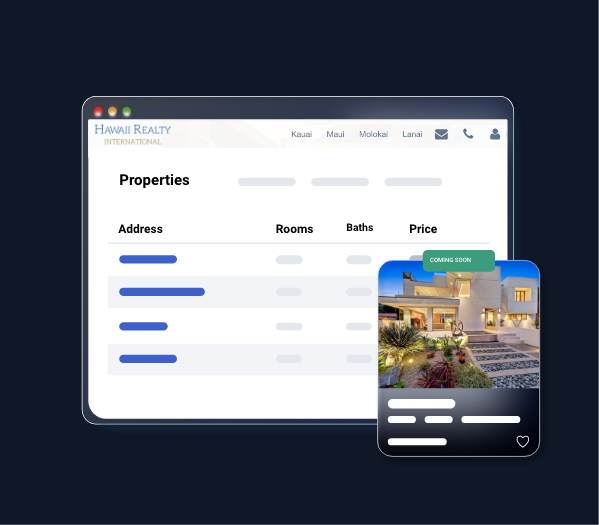 ---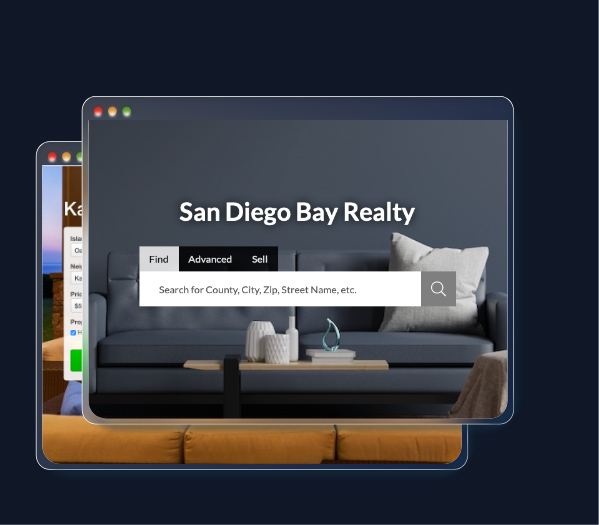 ---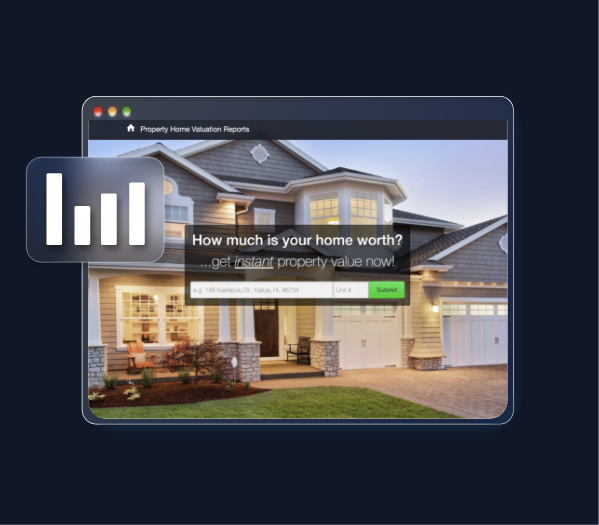 ---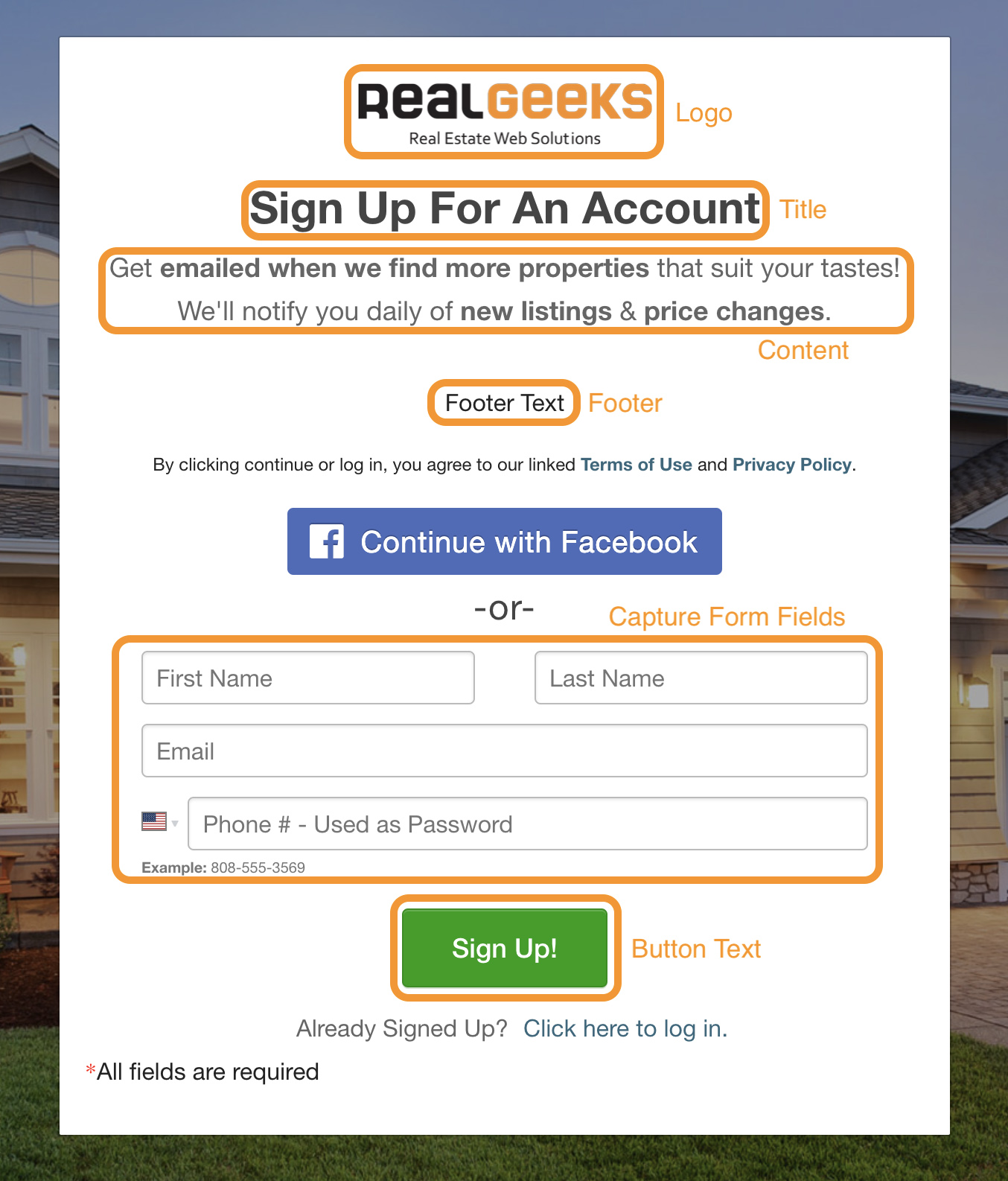 ---
---
Track lead activity
Third-party integrations
Lead and client insights
Real Geeks' CRM is designed with robust features so agents can monitor real-time activity, know when leads engage on the website, and get notified to follow up on high-engaging leads. With its live feed feature, you can track real-time activity as leads visit your site. Advanced search filtering enables you to filter leads based on their behavior, properties viewed, location, and time on the site. By tracking lead progress through the lead scoring system and market insights, you can prioritize and hyper-target highly engaged leads.
If you have multiple sources of inbound leads, Real Geeks' CRM not only allows you to gather the contact information from your website, landing pages, and widgets, but also collect leads through integrations with third-party lead sources like Trulia, Zillow, and Realtor.com. Additionally, Real Geeks CRM offers insights gleaned from your leads' social media platforms to help you engage better by understanding their interests.
Other notable features of Real Geeks' CRM include its lead routing, lead reassignment, and agent activity dashboard, which monitors team performance and improves agent accountability. The CRM also holds call logs, notes, and appointment reminders to ensure everyone on your team has access to information and no leads fall through the cracks.
---
Automated messages
CRM syncing
Premade templates
Real Geeks' automated SMS responders and text messaging feature helps you turn leads into appointments and convert contacts into sales. Utilize SMS text messaging through the CRM to conduct conversations with multiple leads simultaneously. You can respond directly on your desktop if you're in the office or on your mobile phone for texting on the go. Texting ensures information doesn't get lost in an inbox and captures the attention of prospects by giving them quick updates, such as new listing announcements.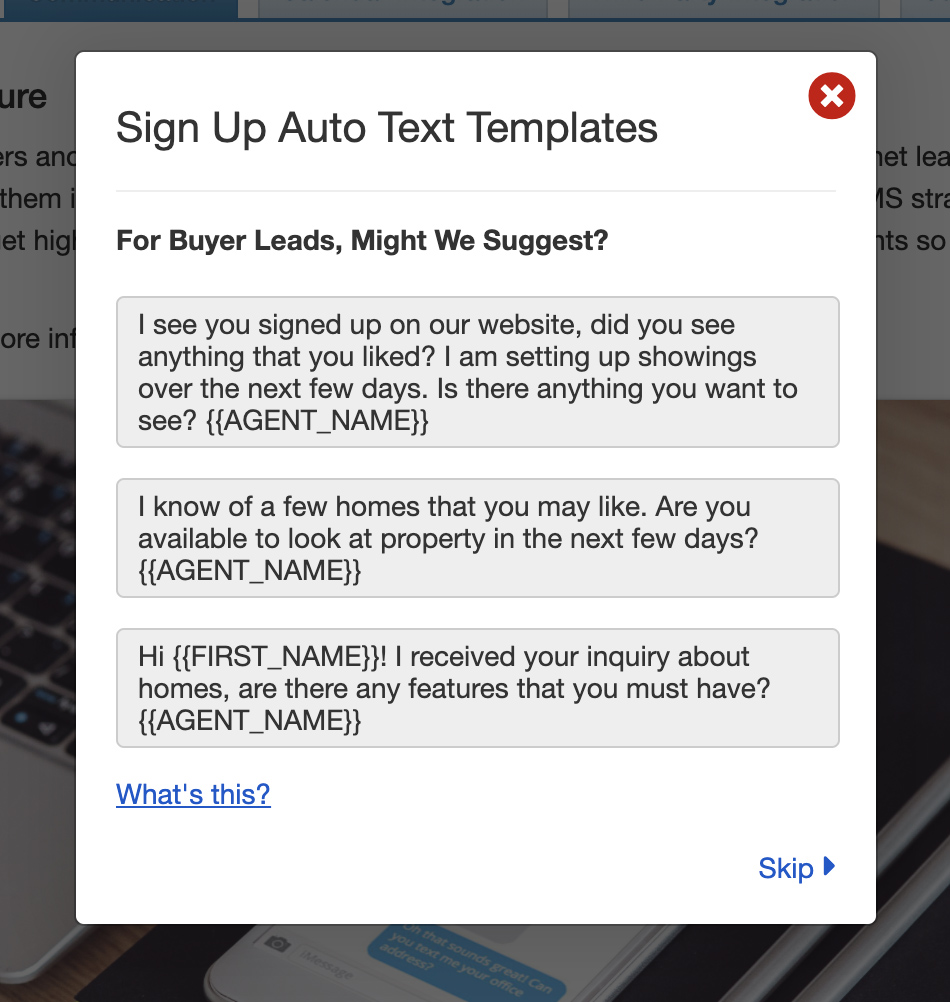 ---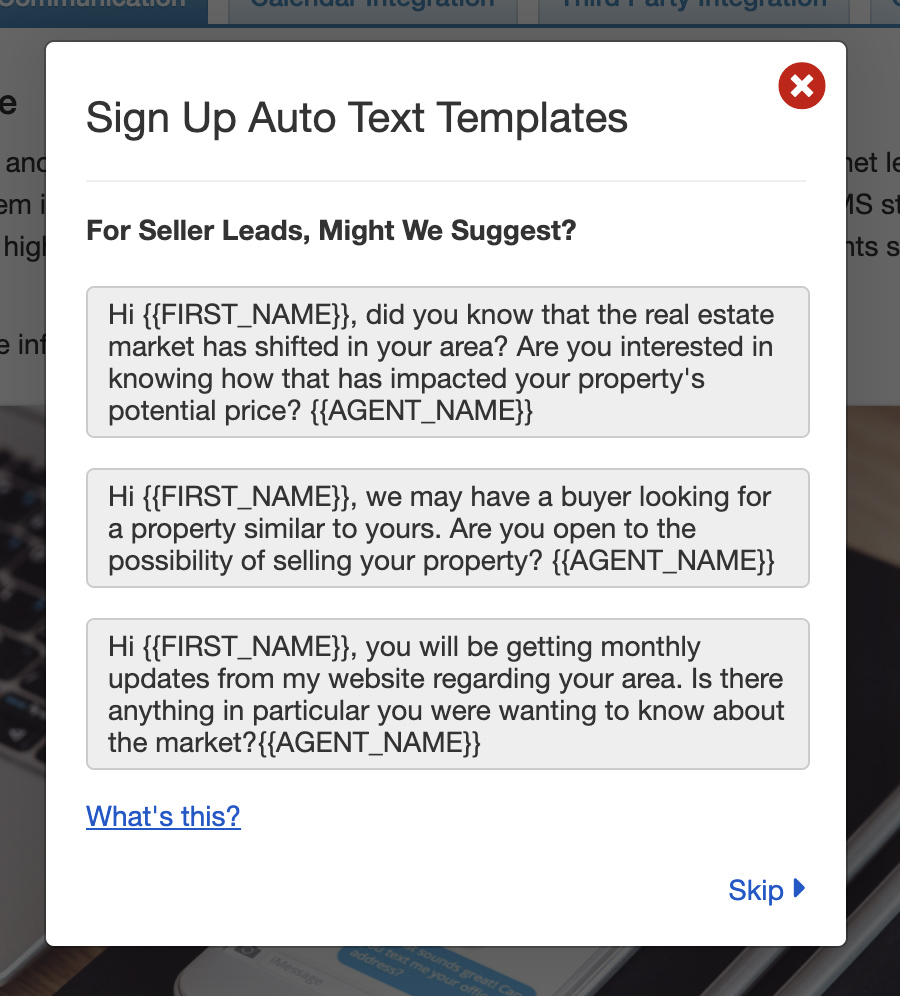 ---
Based on a recent study, 77% of users said that checking, sending, and answering text messages is the phone activity they're most engaged with throughout the day. Moreover, 70% of consumers subscribe to SMS marketing, which increases your chances of converting leads through Real Geeks' SMS Autoresponder.
With Real Geeks' SMS responders and text messaging features, you can automatically follow up on leads. The Texting Tool Wizard allows you to select an Autoresponder message from Real Geeks' library, which you can immediately apply to your website sources. Customize these messages to add your personal touch.
When site visitors submit their information on a landing page, the Autoresponder will send the lead a text message. Once leads respond, you can engage them based on their search criteria and set up appointments for a listing presentation. What's great about this feature is that the website source where the lead's contact information is collected is stored in the CRM, making it easy to determine the lead's intent, like if a buyer is interested in a specific property.
---
Schedule preset emails
Drip campaigns
Email automation per lead type
Automate your marketing campaigns by setting up a workflow drip system on your Real Geeks CRM. This email marketing automation sends drip email campaigns through the CRM on your behalf, which enables you to target specific leads as emails are sent based on criteria outlined in your CRM.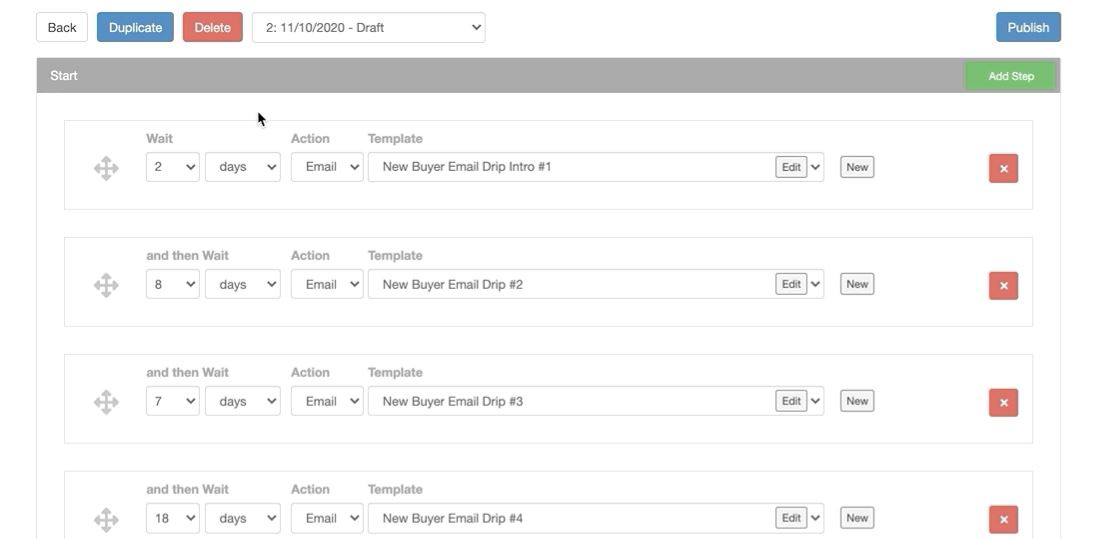 ---

---
Set up a series of emails to be sent at specific intervals using preset content from Real Geeks' library and automatically send an email after a landing page form is submitted to engage the new prospect. You can further set up general follow-up emails on your workflow drip system to nurture prospects as they progress in their real estate journey.
---
IDX listing site
Shareable between clients
Syncs with CRM
Push notifications
Real Geeks provides agents with a personal app, so they stay connected with clients as well as manage and organize leads on the go—at no added cost. Leads are automatically logged into the app from the site, and the source of lead activity is tracked in the CRM. This means prospects can log into your application and access listing information without having to go to other third-party websites.
Based on recent statistics, 72% of homebuyers used a mobile or tablet device for their property search. Prospective clients can use the app to search, save, and mark listings as "favorites." The application also sends push notifications related to a lead's selected listings—this information is also fed into your CRM, so it's available to you during your communications. Having your own website and mobile app showcases your skills and makes it easy for clients to share your app or website with their networks.
---
Ease of Use
Real Geeks' automation tools make it easy for agents to capture and follow up on leads. Its IDX websites have customizable templates you can tailor according to your branding preferences. You can add, customize, and change widgets for a personalized website minus the complicated coding.
The CRM platform further provides advanced filtering to help you target multiple clients at a time with lead nurturing campaigns. Though there's a bit of a learning curve to familiarize several features, Real Geeks Support Center will help you navigate through the different tabs.
Conveniently, integrations between the website forms, landing pages, and third-party vendor leads feeding directly into the CRM minimize your data entry work so you can focus on closing deals and prioritizing strong leads. Moreover, you don't have to obtain outside sources to deploy the ads on your behalf as Real Geeks' paid advertising service will feed leads into the CRM through strategic Facebook and Google pay-per-click (PPC) marketing.
How We Evaluated Real Geeks
The best real estate CRMs provide real estate professionals with tools that assist in generating leads and converting them into clients. We researched real estate CRMs based on the following criteria:
25% of Overall Score
When evaluating each real estate CRM, we considered access to free account options, varying subscription plans, and whether or not monthly billing plans are available.
25% of Overall Score
We reviewed features that are staples to most real estate CRMs like customizable pipelines, reporting and analytics, contact management, task assignments, and integrations.
15% of Overall Score
Features like a mobile app, lead rotation, email and other marketing tools, listing management, data tracking, team collaboration tools, website and landing page creators, and deal management were considered as they are highly beneficial for real estate businesses.
10% of Overall Score
Based on customer feedback for each CRM, with particular attention given to reviews and popularity of the product, to certify the CRM meets user satisfaction.
10% of Overall Score
The functions of any application are only as beneficial as it is usable. These criteria were analyzed by knowledge required to set up the CRM, skills needed to operate the platform, and the intuitiveness of the user interface.
10% of Overall Score
In addition to our first-hand experiences with the providers, we evaluated what other users say about each of the best real estate CRM platforms. These criteria consider how customers feel based on their reviews to gauge ease of use, value for money, and how beneficial some built-in features are to users.
5% of Overall Score
Extensive support and service can prevent issues a user might encounter. These are evaluated in terms of customer service hours and availability of support through various channels like phone, live chat, and email.
*Percentages of overall score
Bottom Line
Regarding capturing leads and automating follow-ups, Real Geeks stands out as a real estate marketing platform. With customizable IDX websites, landing pages, and an automated workflow system, agents can manage leads from end to end in one single platform. CRM automation further ensures agents focus their energy on qualified clients who are ready to convert. Based on Real Geeks reviews, users enjoy the platform for its tools that help grow their online presence and generate leads to scale their business.