After Zillow, Realtor.com is the second largest real estate site on the Internet. On average, 60 million people visit Realtor.com each month to look for new homes or to find out how much their current home is worth. Best of all, Realtor.com only allows listings from licensed realtors, so you don't have to compete with For Sale by Owner listings.
With a potential audience this large, every agent should understand how Realtor.com works in order to use it effectively.  
What You Get With a Free Realtor.com Account
A free account on Realtor.com offers some very attractive benefits for new agents. Since you're not paying anything to claim your account, signing up for a free account is a no-brainer for new agents. Here's what you'll get with a free Realtor.com account:
Realtor.com Profile Page
Your Realtor.com profile page can be a great way to market your business. Free profile pages include your headshot, bio, reviews and recommendations, current and recently closed listings, and contact information.
While your Realtor.com profile page is no replacement for a well made IDX enabled personal website, it will be the first place house hunters on Realtor.com will go to research you. More importantly, it will show up in the first few results when people run a Google search for your name. This means that you should take the time to make your profile page the best it can be.
How to Set up a Profile Page that Gets Results
If you need help getting the perfect headshot for your profile page, check out our in-depth guide here. If you want some inspiration from the pros on writing a great real estate bio, we have a great article on the subject as well. Finally, if you need help getting reviews and managing your online reputation, check out our guide on getting great reviews here, or have a look at our guide on how to ask for real estate reviews without sounding desperate.
Mobile Listing Website Builder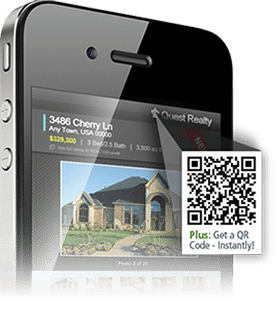 Realtor.com's Mobile Listing Website Builder allows you to create free single property mobile websites for your listings. While they won't win any design awards, sellers love them. A free single property website is a nice perk. 
One great feature of the mobile websites generated by the Mobile Listing Website Builder is that they generate automatic QR codes. QR codes allow house hunters to quickly get information about a house when they scan the code with their smartphone. These can be great for sign riders, flyers, or postcards.
The only caveat here is that you need to get Showcase Listings in order to display a call now or email now button on the site. More on this below.
Housing Trends eNewsletter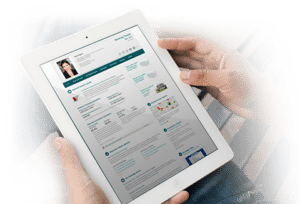 Housing Trends eNewsletters are free, monthly, customized local market reports that you can edit and send out to your leads.
Since the local market data here is from NAR and other reputable sources, these eNewsletters are perfect for your drip marketing campaign for cold leads.
If you want to learn more about email marketing for realtors, check out our guide on the five emails every agent needs to master here.
Social Connections Facebook App
The Social Connections Facebook App, also available with your free Realtor.com account, gives you a pretty powerful (and free) Facebook business page. The social connections app allows you to feature your reviews and recommendations, current and recent listings, and links to other social media.
You can also upgrade your Social Connections Facebook page with automatically updating content from Market Snapshot and lead generation features from Top Producer.
Already have a Social Connections page and want help setting it up? Check out Real Estate Radio's tutorial here.
Free Open House Kit Courtesy of Top Producer
Your free Realtor.com account also includes this open house kit. It has tips on how to run an effective open house as well as a free open house sign in sheet and home buyer's guide you can send out to your leads.
Listing Presentation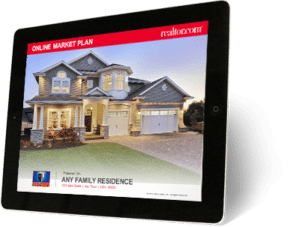 Realtor.com also includes a free listing presentation for all members. The listing presentation works on your Ipad or Android tablet, or it can be printed out. In addition to adding pictures of your listing, market data, realtor.com online marketing solutions, NAR statistics on buying habits, and visuals on pricing a home effectively.
Marketing Assessment and Ultimate Business Plan
The Marketing Assessment and Ultimate Business Plan are tools that allow you to come up with strategies to improve your marketing and overall business plan.
What You Get With a Paid Realtor.com Account
From branding your listings to customized seller lead generation, Realtor.com has many different packages to help agents make more money.
Showcase Listings   
Showcase Listings are Realtor.com's way of allowing listing agents to fully brand their own listings. Instead of having an unbranded "contact agent" button that sends leads out to agents who are signed up for Connection for Co-Brokerage, Showcase Listings give you the ability to add your headshot, toll free contact number, and brokerage information on the listing. This means you'll get leads that would otherwise be sent to multiple agents.
You also get the same in-depth lead information that agents signed up for Connection for Co-Broke agents get. That means contact information, last three searches, saved properties, and demographic and social media information when available.
Connection for Co-Brokerage   
Connection for Co-Brokerage is Realtor.com's buyer lead generation service. Like Zillow Premier Agent, Connection for Co-Brokerage gathers leads from site visitors and sends them off to participating agents.
How It Works  
When listings are added to Realtor.com, listing agents have the option to add their own personal contact information, brokerage information, and headshot to the listing. This then creates a "Showcase Listing." Listing agents pay a small fee to realtor.com in order to have a showcase listing.
If the listing agent doesn't opt for a showcase listing, instead of the listing agent's contact info, there is just a "request more details" button which sends the lead to agents who sign up for Connection for Co-Brokerage.
How Leads are Distributed
In order to use Connection for Co-Brokerage, agents simply choose which zip codes they would like to get listings from and then pay a monthly fee to Realtor.com to recieve leads. The only caveat you need to be aware of is that leads are sent to multiple agents (3 or more) who signed up for the same zip code, so contacting leads immediately is essential to conversion.  
What Kind of Leads do They Send?
One great feature of Connection for Co-Brokerage is that Realtor.com does not require leads to register with the site before requesting more information about a listing. This means that they are providing their contact information voluntarily. Leads from this system actually want to be contacted by agents.
Another great feature of Connection for Co-Brokerage is that they provide much more than just a name and email. They also provide useful background information for each lead whenever possible. Here's what they give you:
Home buyer's name, email address and telephone number

Image and description of the property they are interested in

Descriptions of the home buyer's three most recent searches and recently viewed listings

Homebuyer's profile information including age, job title, years at current residence, and links to social media sites when available.
Upgrades
You can also upgrade your Connection for Co-Brokerage account to integrate with Top Producer CRM. This give you the ability to send automated, personalized lead responses, as well as consolidate leads from over 50 sources.  
Connections for Sellers  
Connections for Sellers is Realtor.com's seller lead generation option. When you sign up for this program, you get seller leads sent right to your inbox.
How Connections for Sellers Works
Home sellers who are looking to find out how much their home is worth put their contact information into Realtor.com's home valuation landing page. They can then fill out a form to get a local agent's opinion. They have the option to send their request to one, two or all agents on the page. Yet another reason why your free profile page is so important!
Digital Advertising Package
Digital advertising packages allow agents and brokerages to build their brand by advertising on the side of Realtor.com's listings results page.
Other Paid Options from Realtor.com's Partners
While these products are not a part of any Realtor.com packages, they are all designed to integrate seamlessly with Realtor.com.
Top Producer CRM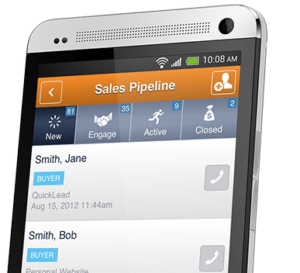 Top Producer CRM is one of the best real estate specific CRMs on the market. It also integrates seamlessly with Connections for Co-Brokerage and Connection for Seller leads.
If you want to learn more about real estate CRM's check out our in-depth guide here.
Market Snapshot offers local market information that can be sent automatically in a drip campaign to engage your leads at any stage of the sales pipeline. This is a lot like the Housing Trends eNewsletter, except with a lot more information and sent automatically to your leads.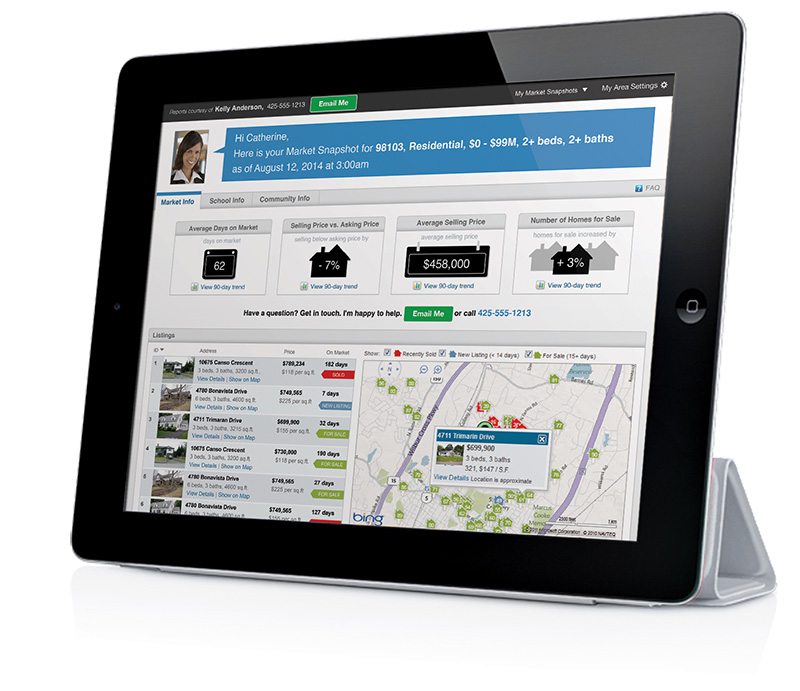 Tiger Leads Hand Raiser

Tiger Leads Hand Raiser get you leads a bit earlier in the sales funnel to create a longer term relationship. This is beneficial for a number of reasons, but most importantly it allows you to steer them to preferred lenders and other service providers.
Tiger Leads Home Search

Tiger Leads Home Search is a fully featured lead generation and nurturing platform. They do this through a targeted PPC ads on Google, IDX enabled lead capture websites, and automated drip campaigns. Best of all Tigerleads Home Search integrates fully with Top Producer CRM and Realtor.com.
FIveStreet

FiveStreet offers automated lead follow up. You can send text messages or emails to incoming leads instantly. It handles leads from Realtor.com, Zillow, BoomTown, Homes.com and more.
The Bottom Line
Since Realtor.com only allows listings from licensed realtors and has slightly less traffic than Zillow, competition for leads is lower. This means a better chance of landing buyer and seller leads and a better chance at making more money. If you haven't already, you should consider showcasing your listings or buying leads from Realtor.com.