Recruitee Review 2023: Pricing, Deciding Factors & Alternatives
This article is part of a larger series on Hiring.
Recruitee is a multinational recruiting software that provides career page branding and applicant tracking features as well as smart tools for job promotion and candidate sourcing. It's available on both mobile and web. Best for growing businesses, its paid plans start at $269 per month for 10 job slots (with a 16% discount for annual billing).

Pros
Unlimited users
2,900+ job board posting
Easy even for non-technical users
Smart job promotion and talent sourcing
Cons
Doesn't offer a free plan
Lacks phone support
Minimum 10 job slots per month
Automation features are available only in more expensive plans
What We Recommend Recruitee For
Recruitee helps you find the best candidates with customizations, AI support, and hiring workflows. It links with over 2,900 job sites and includes employee referrals in its highest plan. With up to 10 job openings for its most affordable plan, Recruitee earned a slot in our best recruiting software.
Overall, Recruitee is best for:
Fast-growing businesses: Users can customize their plan according to their recruiting needs. As more job listings are required, clients can add more in five-slot increments while keeping the same features. Recruitee's automation features and smart campaigns are also helpful in simplifying the hiring process so HR teams can focus on matters apart from candidate communication and tracking.
Businesses with multiple locations and remote jobs: Recruitee allows users to post and advertise their jobs to different locations and supports posting remote jobs to international job boards. Additionally, in its more expensive plans, you can set up a career page site in different languages—including English, Dutch, French, and German—or add other languages.
When Recruitee Would Not Be a Good Fit
Businesses looking for a free plan: While Recruitee offers a free 18-day trial, it lacks a free plan, even with limited features. If you're looking for a free program with robust features, consider using Freshteam, which allows posting of up to three jobs at a time. Find out more about it in our Freshteam review.
Businesses with minimal or sporadic hiring: Recruitee's minimum plan includes 10 slots and is expensive if you don't need that many job openings at a time. If your hiring needs are sporadic, then try Indeed—it allows you to post jobs for free and sponsor them at a pay-per-click scheme as you need it. Learn more about its features in our in-depth Indeed review.
Recruitee Deciding Factors
Pricing:

Launch: $269–$539/month, 10–20 slots
Scale: $479–$959/month, 10–20 slots
Lead: Custom pricing, slots

Standout Features:

Supports multiple languages
Workflow automation
Drag-and-drop career page builder
AI job promotion
Candidate videos
2,900+ job boards

Ease of Use:

Strong mobile app
Extensive help section with video
Webinars, courses
120+ integrations
Users praise its easy interface
Recruitee Top Alternatives at a Glance
| | | | |
| --- | --- | --- | --- |
| | | | |
| Best for | Companies looking to centralize their HR processes | Growing businesses wanting a scalable end-to-end talent acquisition platform | Small businesses needing to post jobs and track applicants for free |
| Monthly fees from | Free for 50 users; paid plans start at $71 + $1.20/employee | Free for <11 employees; custom pricing | Custom; determined by job and applications |
|   | | | |
Recruitee Pricing
Since our last update, Recruitee's pricing and plans have changed. The plans are more expensive but offer more features and more job slots.
Although Recruitee lacks a free plan, it does offer an 18-day free trial of the Scale plan. Pricing depends on the number of job slots you need each month.
Launch ($269–$539/month, 10–20 slots): 2,900 job boards, smart campaigns, career sites, hiring management, candidate videos, mobile app, unlimited users and data, talent sourcing, quick evaluations, social media connections, team notes, API access
Scale ($479–$959/month, 10–20 slots): Launch + EEO compliance, multilanguage career sites, questionnaires, webhooks, workflows, calendar meeting rooms, screening questions, automations, event and job schedulers
Lead (Custom Pricing): Scale + external data imports from ATS, tailored onboarding and rollout, regular consultations, dedicated representative, testing sandbox, referrals hub, custom contracts, SSO, business intelligence connector
Recruitee Features
Since our last update: Recruitee has added more than 1,000 job boards to its list—but this does not mean it automatically posts to every board. Some are free, while others would require you to pay for a subscription. It also added an AI job description writer and internal pages to the career page.
Recruitee ranked among our best recruiting software with special mention for growing businesses in a hiring surge. In that guide, we called out its candidate video capabilities, unlimited users, and intuitive interface.
Click below to learn about its other great features.
Recruitee offers a strong set of recruiting tools to get the word out about your job openings.
Drag-and-drop career page editor: Accessed via the CareersHub dashboard, there are customizable elements you can add and edit to spice up your career page. Its library has ready-to-use text, images, and videos. In March 2023, it added the ability to create internal pages; these are great for storing documents, like employee guidebooks, that can only be found with a direct link.
AI job description writer: Added in April 2023, Recruitee added OpenAI's GPT technology to write job descriptions based on your prompts. It's a great way to work a draft that you can edit and personalize to your business needs.
Job board posting with AI management: Recruitee helps post jobs to over 2,900 job boards. Whether you plan to post on free job boards or paid ones, this tool has you covered. While this feature is typical of a recruiting program, Recruitee stands out by using artificial intelligence (AI) in determining relevant job boards for your vacancy listing.
Employee referral program: Not only can you request that your employees refer others for current openings, but you can even gamify the process with rewards and levels.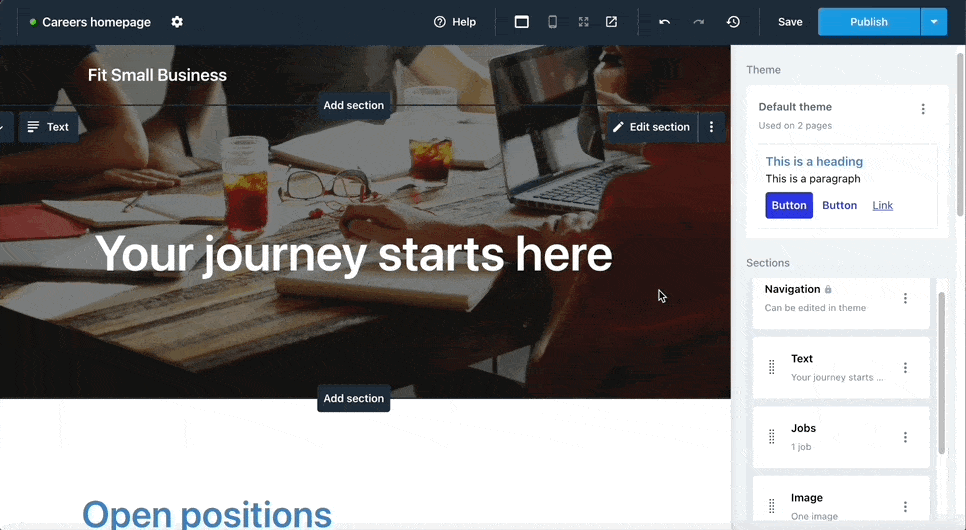 ---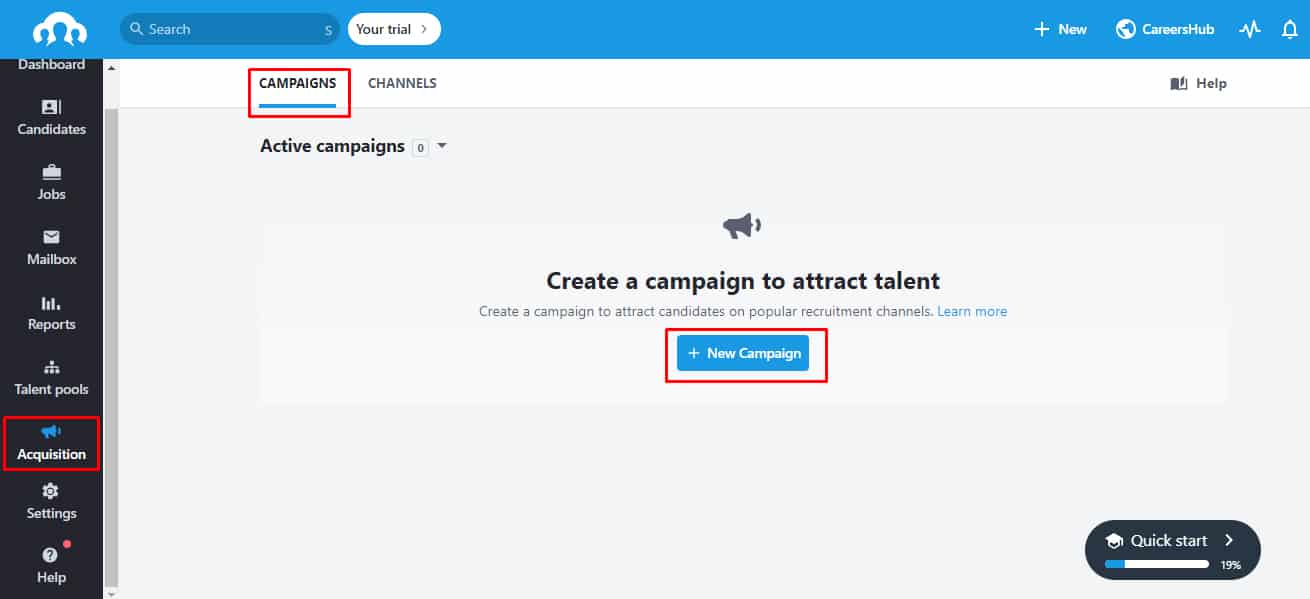 ---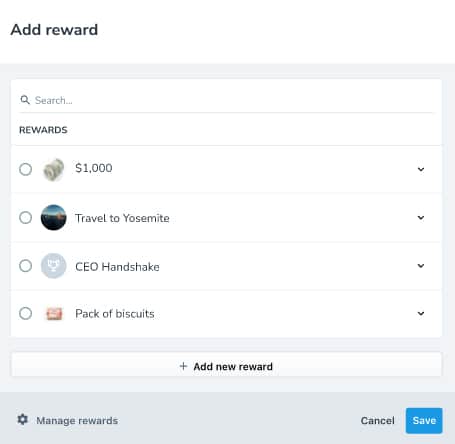 ---
---
Recruitee lets you create hiring workflows that are unique to each position. Recruitee offers default stages that you can use (sourced, applied, phone interview, on-site interview, evaluation, offer, and hired), or you can create your own. These are put on a Kanban board for easy tracking.
You can add team members to the workflow and allow or restrict access to certain actions for each member, such as being able to delete a candidate or move them to the next task on the Kanban board.
Under Recruitee's Workflow settings, you can manage the disqualification reasons across all jobs. You can use the default reasons provided, add your own, or edit the existing ones.
---
There are a few ways to screen candidates beyond the application.
Screening questions: You can create screening questions using Recruitee's set of default questions or creating your own. You can use this at the beginning of the process (to ask questions about clearances, veteran status, etc.), during the reviewing process (to evaluate skills), or after to get feedback on the experience.
Evaluation templates: Create evaluation templates so your hiring team uses the same criteria when assessing a candidate.
Remote interview: Conduct video interviews by integrating with Zoom, Google Meet, or Teams. The scheduling tool lets you find the best time for everyone, and you can meet in Recruitee's meeting rooms to discuss a candidate.
---
With the more expensive plans, Recruitee allows you to automate most of the hiring tasks. You can:
Schedule emails
Check team members' availability to determine the best times to do interviews
Set actions and triggers
Automate GDPR consent and candidate deletions (a big help for EU companies or candidates)
Create and automate knockout questions to remove unqualified candidates
Automate webhooks
---
Recruitee has a highly rated mobile app that lets you check on jobs and review candidate applications and progress, manage your recruiting tasks, and communicate with candidates and your hiring team.
It earned a 4.2 out of 5 on iOS and a 3.8 out of 5 on Android. It has very few recent reviews, but aside from one complaint that the app didn't open after an update, users seem generally satisfied.
---
Recruitee Ease of Use & Integrations
Simple setup
User-friendly interface
Visually appealing layout
Video tutorials
Help center
FAQs
Webinars
Recruitee is very user-friendly. After signing up for an account, you get immediate access to the tools and features under your chosen plan. Recruitee offers over 120 integrations, including onboarding, HRIS, job advertising, talent sourcing, assessments, background checks, productivity and communication, and e-signature tools.
The walkthrough and accompanying introductory videos of some features make it easy to get acquainted with the new software. The "Help" section also contains helpful video guides, a "What's New" section to inform users about the latest updates, Help Center access, webinars, and on-demand classes to learn how to make the most of your software.
Popularity: What Users Think About Recruitee
Users Like

Users Don't Like

Easy to set up
Automation features available to more expensive plans
Kanban board for the hiring stages
Filters need improvement
Customization options
Would like more visualization tools in reports
Easily accessed tutorial and help pages
Referral hub in the most expensive plan only
Alerts on the latest features
Users that left Recruitee reviews are mostly from small and midsize businesses. They find the user-friendly interface helpful. Many users said the software is simple and has become invaluable to their recruiting process. Most of the complaints were requests for additional tools, like more report visualizations or other ways to screen candidates.
Recruitee has a Roadmap, where users can leave their feedback. Recruitee's development team uses client feedback to resolve issues or develop new features.
At the time of publication, Recruitee earned the following scores on popular user review sites:
Bottom Line
Recruitee is a feature-rich recruiting software that handles job promotion, talent sourcing, and applicant tracking. You can use it to collaborate with team members at all stages of the hiring process, communicate with the candidate in-app, and more. Recruitee can post in over 2,900 job boards and offers a smart job promotion campaign, automation tools, and a browser extension for finding candidates. However, this provider doesn't have a free plan.
Sign up with Recruitee for an 18-day free trial—no credit card required.