A 2015 study by the National Retail Federation found that of the $44 billion in inventory losses, almost as much was attributed to employee theft as it was to shoplifting.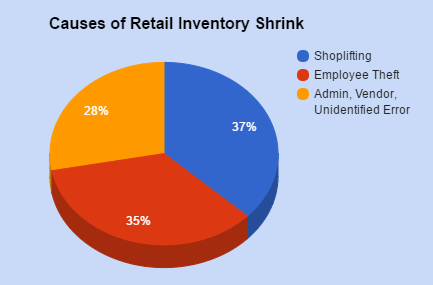 Shoplifters typically just take products or cash. The theft is relatively straightforward. There are ways you can discourage this kind of shoplifting which we have covered before.
Employee theft is harder to catch, as it often manifests itself in subtler ways than just stealing products or cash. For example, employees can manipulate sales transactions, falsify refunds, and even manually alter sales or inventory counts.
Before we dive into the details on this topic, we also suggest you check out Square, a free POS system that can manage inventory, process credit cards and so much more. Visit Square to learn more.
Modern POS systems like Lightspeed are powerful tools in helping you fight employee theft. They let you keep closer tabs on your employees' transactions, instantly update your inventory, and access current sales reporting in seconds. This allows you to identify inventory shrink problems instantly and implement solutions before losses mount.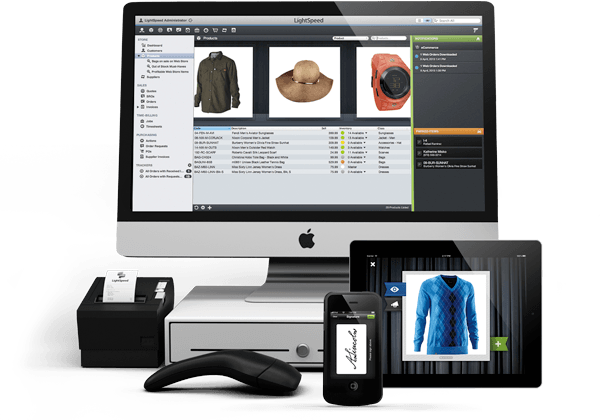 Lightspeed POS users are able to:
Track all employee interactions with the POS though unique pins

Limit access to specific employees or roles

Enforce pricing, including sales and discounts

See up to the moment sales reports and inventory levels

Monitor employee hours and sales

And much more…
Individually, these abilities are nifty. But together they are a game changer. You'll have everything you need to reduce employee theft using Lightspeed POS.
Here's the 6 Steps you need to follow to start using Lightspeed POS to fight employee theft in your store today.
Now let's look at how to do each in detail.
Step 1: Set Up Your Employee Profiles
Setting up an profile for each employee will allow you to record that every employee interaction with Lightspeed POS. This is the first step in transitioning from unaccountability to accountability. It is also required if you're going to control access to, and interactions with certain, aspects of your POS.
First, go to settings and then select employee setup.
You'll see a screen which lists all your current employees.

In the upper right corner, you can add a new employee. Along with adding that employee's basic contact info, you can assign the employee a role (associate, manager, etc). This will allow you to apply position wide rules to them. If you have multiple locations you can even assign the employee to a specific store.

Moving down one tab to Sign In, you can set user name and login information as well as a unique four digit PIN for the employee.

With this basic employee profile set up for all employees, you have increased your ability to control their access to your POS system and also monitor their activity.
Step 2: Setup Your Employee Roles
Lightspeed makes controlling access to your POS and inventory management system easy.  Rather than having to micro manage access, you can set up permissions by roles, and then assign employees to those roles.
This includes controlling who can:
Make sales

Open/close registers

Handle Returns

Do line item discounts

Void sales

Change prices

And much more.
Certain employee roles will naturally come with more responsibilities and require greater access to your POS than others.
To make sure access to your POS is granted according to position, go to settings, scroll down to the bottoms and select employee roles.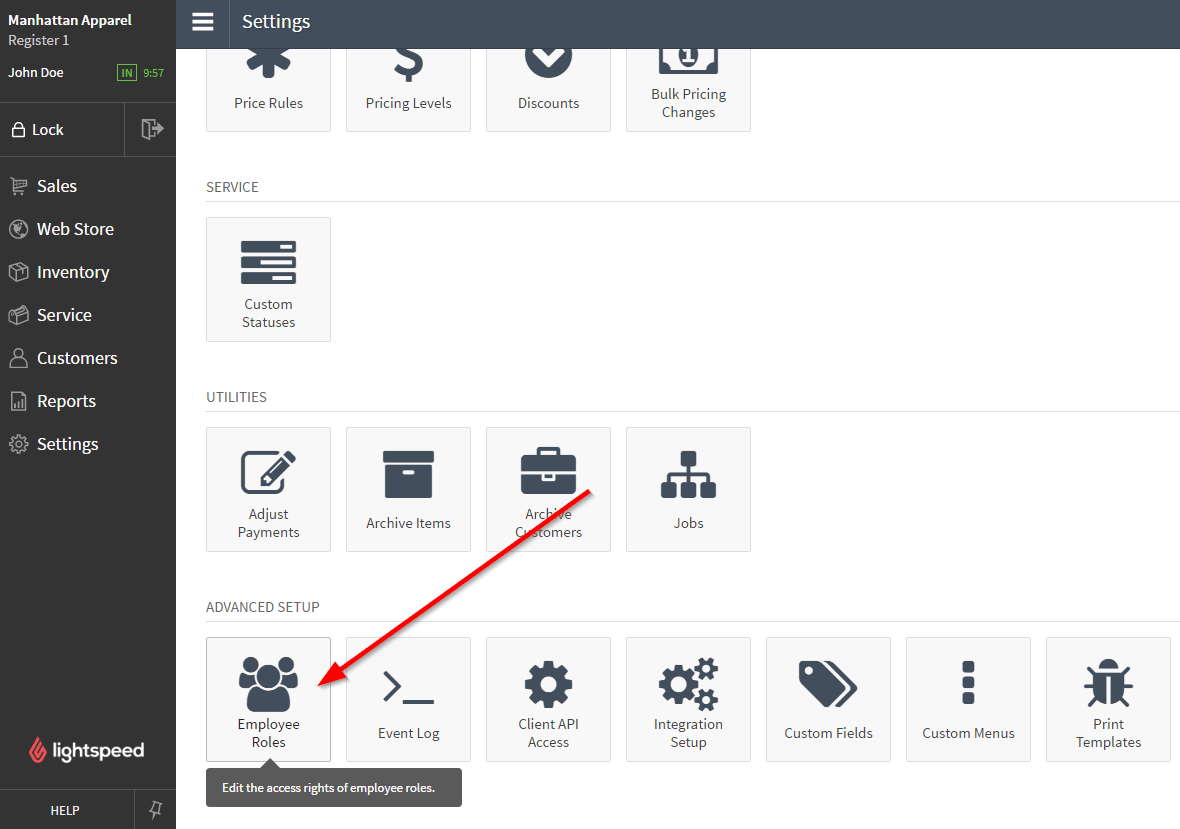 From there, just select the employee role that you would like to edit.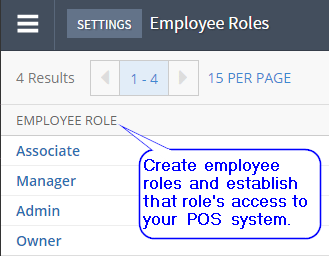 For example, maybe you don't want your associate level employees to be able to run reporting,, change product prices, or changing inventory. I can simply leave those capabilities unchecked.  
Now your employees' actions within your POS very much reflect your intentions.
By limiting the actions and access of certain employee roles, you instantly reduce the number of employees who can steal from your store in more creative, harder to detect ways.
Combined with good inventory management, these steps will allow you to have a much clearer sense of if theft is occurring and, if so, when it occurs and who had the required access to do so.
Step 3: Require Employee Logins via PIN
Because I have assigned my employees unique PINs I can choose to leave the register open to anyone, have employees login and logout which they change shifts, or enter their PIN for each sale.
This is great because it eliminates confusion over who made a certain sale.
From the settings tab select general options.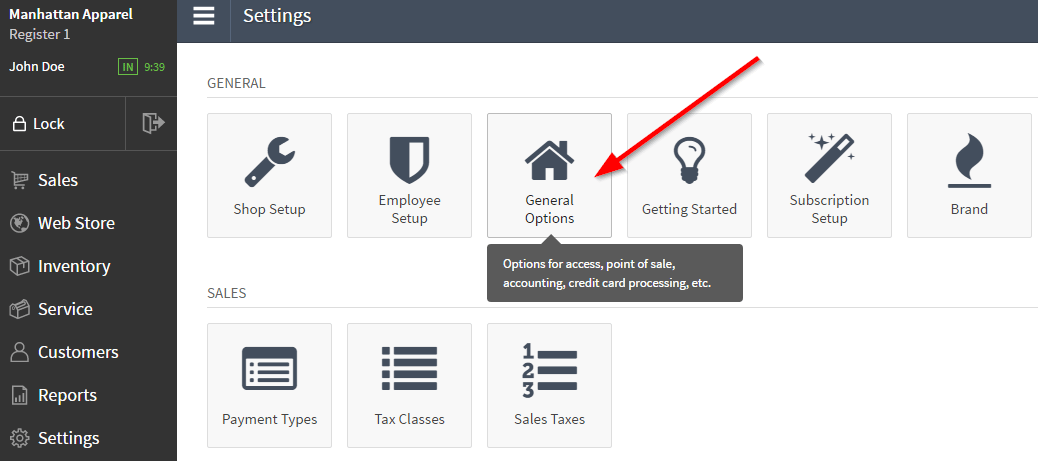 Next, select enter PIN. You can also restrict when kind of refunds can be allowed and how frequently the POS screen will go to sleep and require a PIN entered to be back in business.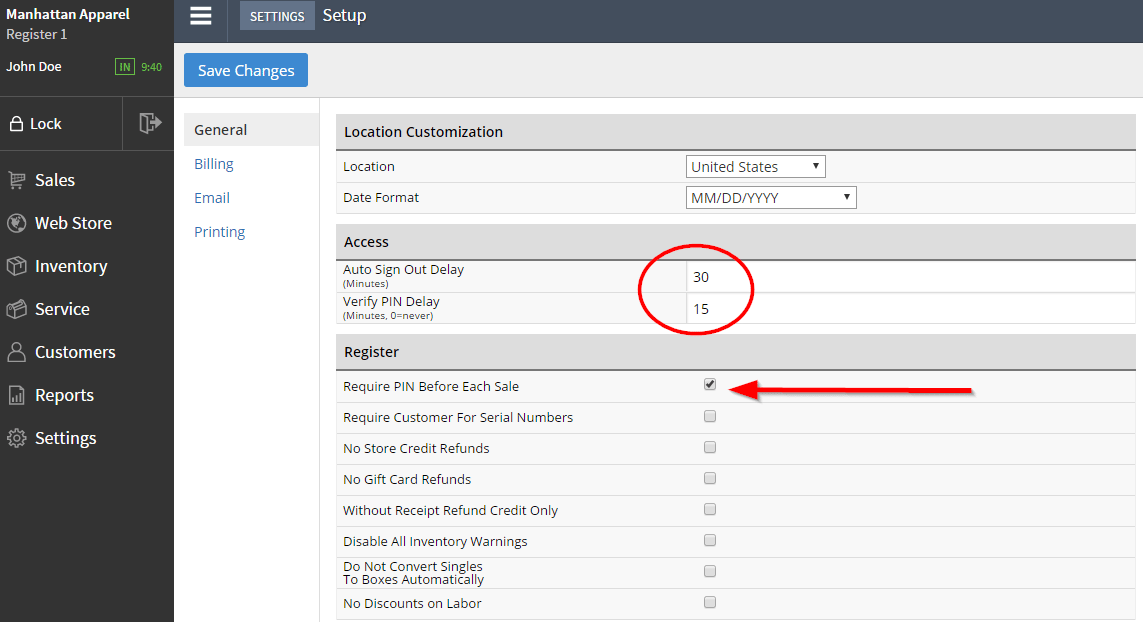 Requiring an employee to log in to the POS system and to also enter their unique PIN ensure that every sale is accurately tracked. This greatly reduces the likelihood that any transactions are misattributed.
Will entering a PIN slow down your employees and the transactions? Not likely. Think about how quickly your employee can unlock their phones when a text comes in. They'll be fine.
Step 4: Reconcile Your Inventory Regularly
Using Lightspeed to quickly and accurately do physical inventory counts and comparing those counts with what your POS says you should have will give you a number for shrinkage.
As long as you're current on physical counts, you can go to Reports and check for discrepancies by selecting Missed Items. For more information on how to use Lightspeed POS to manage inventory and to physical counts go here.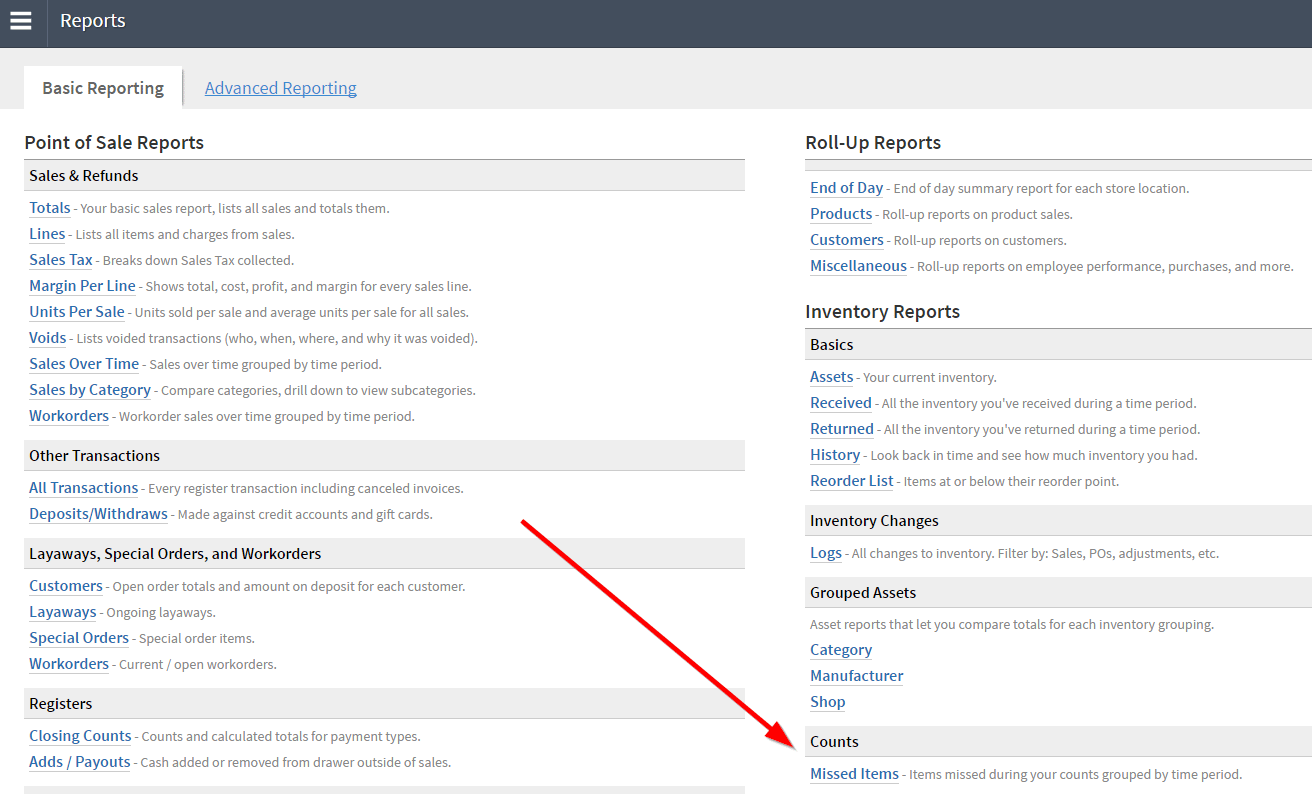 Then you can adjust the time span you're reviewing or search just for specific products.  

This reporting takes seconds and can be done anywhere you have an internet connection.
Reconciling these figures is important for ordering new inventory and accounting, but it is also important to identify what products are disappearing and when they're going missing.
By doing this, you will have insights into what is most often going missing from your stores. You can then determine if there are patterns. For instance are your missing products all come from one department, one location in your store, or are they all one brand?
These will be valuable insights in and of themselves, but you can combine them with even more information.
Step 5: Run Sales Reports Regularly
The sales reporting offered by Lightspeed is extensive. So any sales insight you're looking for, you likely have available to you. For instance, you can look up sales by product, by department, by sales person, or by cash register. Wherever you think there might be an issue, you have optics thanks to Lightspeed.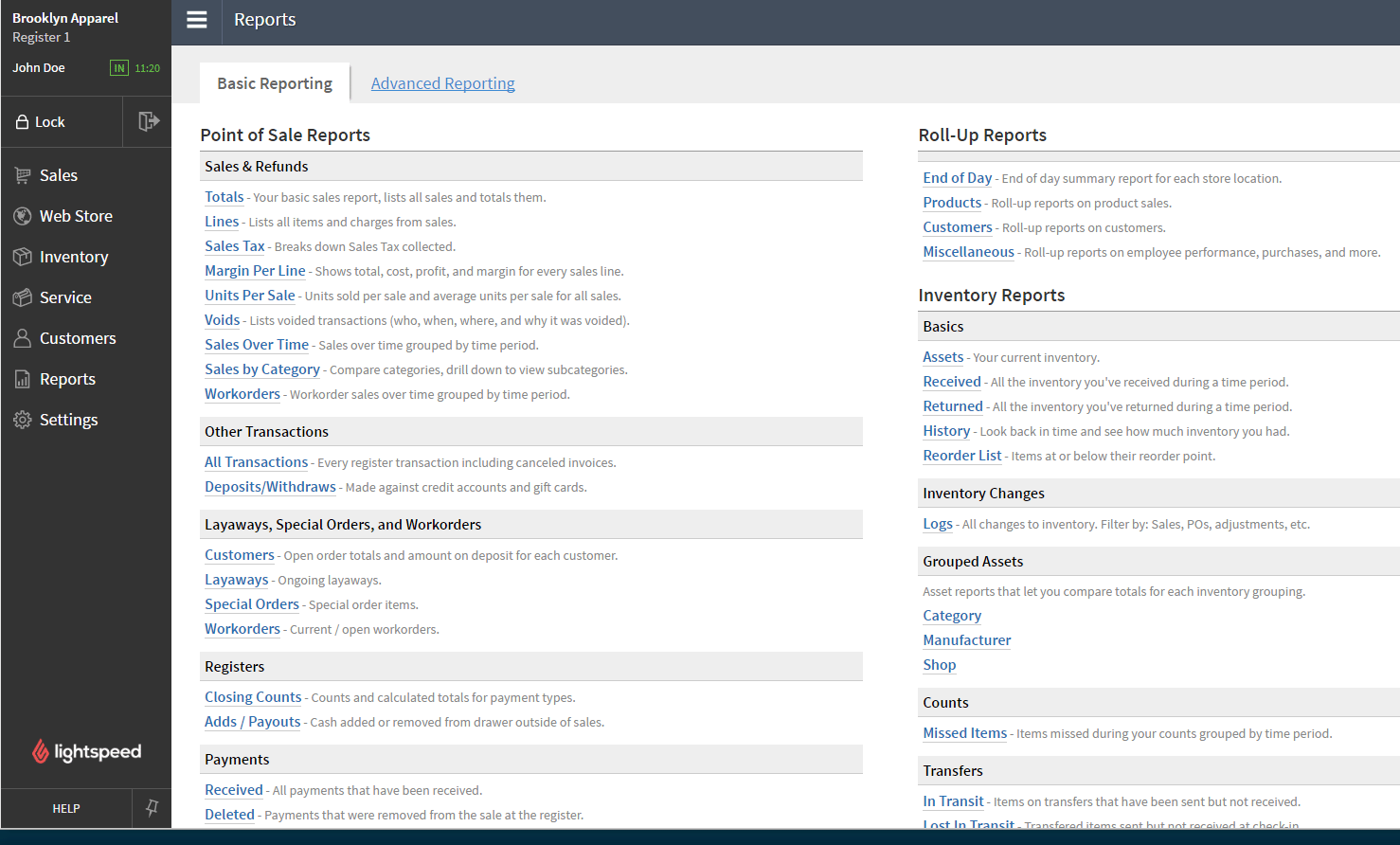 While many of the sales reports were intended to offer you insights into boosting sales and profits, combining them with your issuing item data and trends you can also do more to help prevent theft.
For example, if you run a Totals sales report you will get all of the sales information based on the filters you select. If you want to see all of the sales information for the day, you'll see something like this: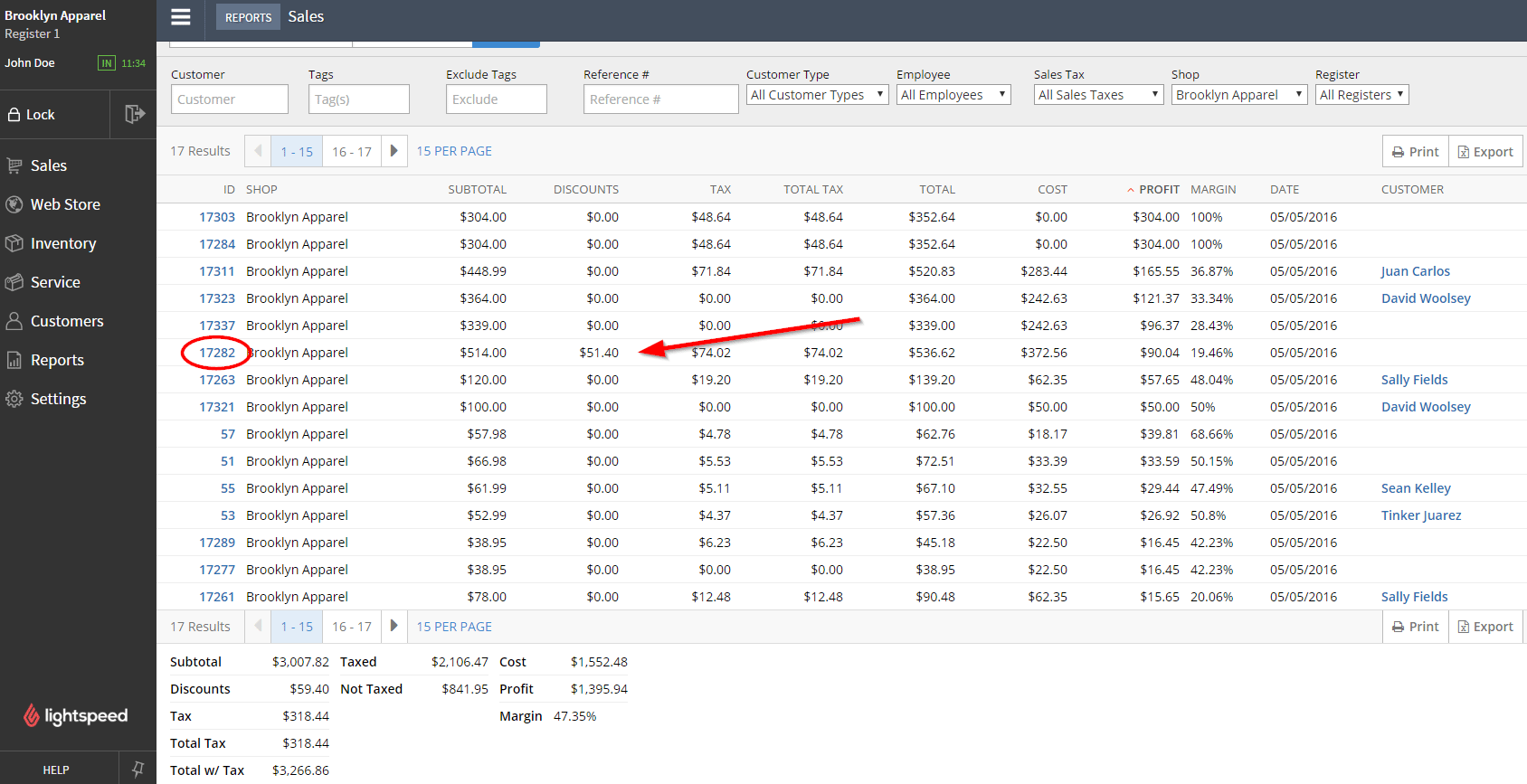 If you notice only one discount logged for the day, you might want to look further into that. By clicking on the transaction ID number, you will get all the details you would want.

But taking a closer look you can see a 10% discount given on both items in this transaction.  If you're not running a 10% discount at the time then you have spotted an inaccurate charge. If this fits a larger pattern for the employee who processed the sale, you may may have identified a subtle form of employee theft.
Lightspeed's reporting can break down sales by the item or category, by the day, by the employee, even by the discount amount.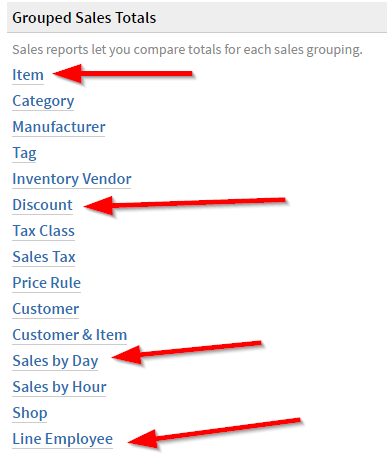 All of these reports are starting points. It allows you to focus in on one specific metric right away. If you're not interested in the total sales for the day but instead want to zero in on an employee's transaction history during a time period where your business saw unexplained shrinkage, you can do so in seconds.
Step 6: Repeat
When you begin using your POS system to reduce retail theft, the goal will be collecting information and identifying baselines and trends.
As you maintain access limits to your POS based on employee role and continue regular inventory counts and sales reporting, you'll be able to identify abnormalities quickly. Odd discounts, low sales, or inventory changes/reconciliations will jump out at you. Plus, the employee responsible for each transaction will be recorded and you can be confident that actions are correctly attributed to employees because you have set up and required employees to login with unique PINs.
It's the ease and speed of a system like Lightspeed POS that will allow you stay current on these reports. It's as easy as checking your team's box score or glancing at Facebook or email. A quick look will let you know whether your attention is needed or whether things look like business as usual.
Summary: Reducing Employee Theft with Lightspeed POS
Inventory shrink caused by theft is a significant problem for retailers. But it doesn't take upgrading security system to Ft. Knox levels to reduce your losses. In fact, the inventory management, employee management, and reporting capabilities of many new POS systems, like Lightspeed POS, can actually do a lot to limit theft.
For more on preventing retail theft see our articles below:
Best Security Cameras Article