Rehab loans help real estate investors fund the purchase and renovation of residential properties. They're used by short-term investors to fix-and-flip properties as well as long-term investors who need renovation financing for rental properties. A rehab loan combines property purchase and rehab costs into a single short-term loan with quick funding and interest-only payments.
If you're looking for a rehab loan, be sure to check out LendingHome. They're a nationwide lender that offers rehab loans to fix-and-flip investors. It offers competitive rates as low as 6.99% to prime borrowers and can get you prequalified online in a few minutes.
3 Types of Rehab Loans
There are generally three types of rehab loans: hard money rehab loans, permanent rehab mortgages, and investor lines of credit. Short-term investors use hard money rehab loans to purchase a property quickly, renovate, and sell it. Long-term investors use these loans to rehab and season properties before refinancing. Permanent rehab mortgages are used solely by long-term investors. An investor line of credit can be used many times over to purchase and renovate property.
Common Types of Rehab Loans
| Type of Rehab Loan | Best For |
| --- | --- |
| Permanent Rehab Mortgage | Long-term investors who want to renovate a property and then hold it as a rental |
| Investor LOC | Investors who want a revolving line of credit to purchase and rehab properties |
| Hard Money Rehab Loan | Investors who want to fix-and-flip a property quickly without traditional qualifications |
To find a lender in your state, go to our hard money lender directory.
Permanent Rehab FHA 203(k) Loans
In addition to traditional home mortgages, the Federal Housing Administration (FHA) offers loans that are intended to finance both the acquisition and rehab of owner-occupied properties. These FHA 203(k) loans are available for properties that require at least $5,000 worth of work and allow purchasers to use part of their loan funds at closing and part to pay rehab expenses.
FHA 203(k) loans are distinct from HomeStyle Renovation (HSR) loans, which can be used by owner-occupants to finance properties with between one and four units. However, these HSR loans also allow investors to finance a one-unit investment property that is separate from their primary residence.
Investor Line of Credit
Investors who already own property outside their primary residence may be able to borrow against existing properties to finance additional purchases or renovations. These investors can often use investment property lines of credit to tap equity they already have in investment properties. By establishing a line of credit, investors can create a revolving credit line that they can draw against as necessary and pay down when they can.
If you're considering a home equity loan, don't waste time reaching out to one lender at a time. Visit an online marketplace, like LendingTree, and compare offers from multiple lenders at once. Save time, shop smart, and find a home equity loan that fits.
Hard Money Rehab Loan Rates, Terms & Qualifications
Hard money rehab loans are offered by a wide variety of lenders. Smaller local hard money lenders typically offer a wider range of rates, fees, terms, and qualifications because they're able to work with unique projects and borrowers. National lenders, on the other hand, generally have standardized costs, terms, and qualifications.
Hard Money Rehab Loans at a Glance
| Maximum Loan Amount | 75% of ARV |
| --- | --- |
| Interest Rates | 6.99% - 12% interest-only payments; not fully amortized |
| Points (Lender Fees) | January 10, 2019 |
| Loan Term | 12-36 months |
| Qualifications | 20% of ARV cash savings2-3 months personal bank statementsCredit score of 550 + (check yours free here)Purchase contractList of past projects Business planScope of rehab work Contractor bids or rehab budget Appraisals Upfront costs and fees |
| Property Type | Single-family home, multi-unit property |
| Prequalification | As little as 3 minutes |
| Time to Funding | As quick as 10-15 days |
| Learn More | |
Hard Money Rehab Loan Rates & Terms
Interest rates on hard money rehab loans generally run between 6.99% to 12%. While these rates are higher than conventional mortgages, they reflect the additional risk inherent in rehab projects and the short expected loan duration. In almost all cases investors make interest-only payments and repay the full principal at the end of the loan.
Rehab loans rates, fees, and terms typically reflect the following:
Points on a rehab loan are part of the cost of borrowing the money. They are part of your closing costs and usually range from 1% to 10% of the amount of the loan. Most lenders will negotiate this fee depending on the interest rate and term you receive.
Rehab loans generally have repayment terms of 12 to 36 months. This time frame is usually enough for investors to complete their renovations and execute their exit strategy. What's more, there is typically no prepayment penalty, so investors can pay off their loan early to reduce holding costs if they finish their rehab early.
To learn more about the costs of a hard money loan, be sure to check out our article on hard money loan rates.
After Repair Value
Rehab loans combine funds for purchasing and renovating a property into a single loan. Hard money lenders typically set a maximum loan amount using a property's ARV ratio. The ARV ratio represents a percentage of a property's expected fair market value (FMV) after renovations have been made.
When you're purchasing a property in good condition, lenders typically lend up to 90% of the property's purchase price. This ratio of loan to purchase price is called the loan-to-value (LTV). When you're investing in a property that needs renovations, rehab financing is usually based on a percentage of a property's expected ARV. In general, the largest rehab loan amounts offered by private money lenders are approximately 75% ARV.
Investors with extensive rehab experience and sound credit profiles can sometimes achieve higher ARVs. However, even experienced real estate investors should expect to cover at least 25% of a property's ARV with their own cash.
Additionally, some rehab financing providers also require investors to pay for renovation costs up front. Investors then submit invoices to the lender, after which the lender reimburses the investor for rehab cost. Rehab loans are often structured like revolving credit lines. This ensures that investors have enough "skin in the game" and helps protect the lenders from default.
Hard Money Rehab Loan Qualifications
Rehab loan qualifications vary, but most lenders require some real estate experience, at least a 25% down payment, and bank statements to verify assets and income. Properties being purchased or renovated with rehab loans also typically need to be in certain areas that are acceptable for lenders.
Rehab loan qualifications include:
Where to Find Rehab Loans
Rehab loans, also known as hard money loans, have a bad reputation. In fact, many reputable companies offer them, and many successful real estate investors use them. Rehab loans can be found at small local lenders as well as national online lenders. They're beneficial for both long-term investors and short-term investors.
If you want to find a rehab hard money loan quickly, check out LendingHome. It can prequalify you online in a few minutes, fund you within 15 days, and it offers competitive rates as low as 6.99% for prime borrowers.
6 Steps of Renovating a Property Using a Rehab Loan
Investors who want to use rehab financing to renovate a property must follow certain steps. The application process for a rehab loan varies among lenders, but investors must follow the process to qualify for a loan and use it renovate a property. Failing to follow these steps can keep an investor from qualifying for a rehab loan or closing on a property.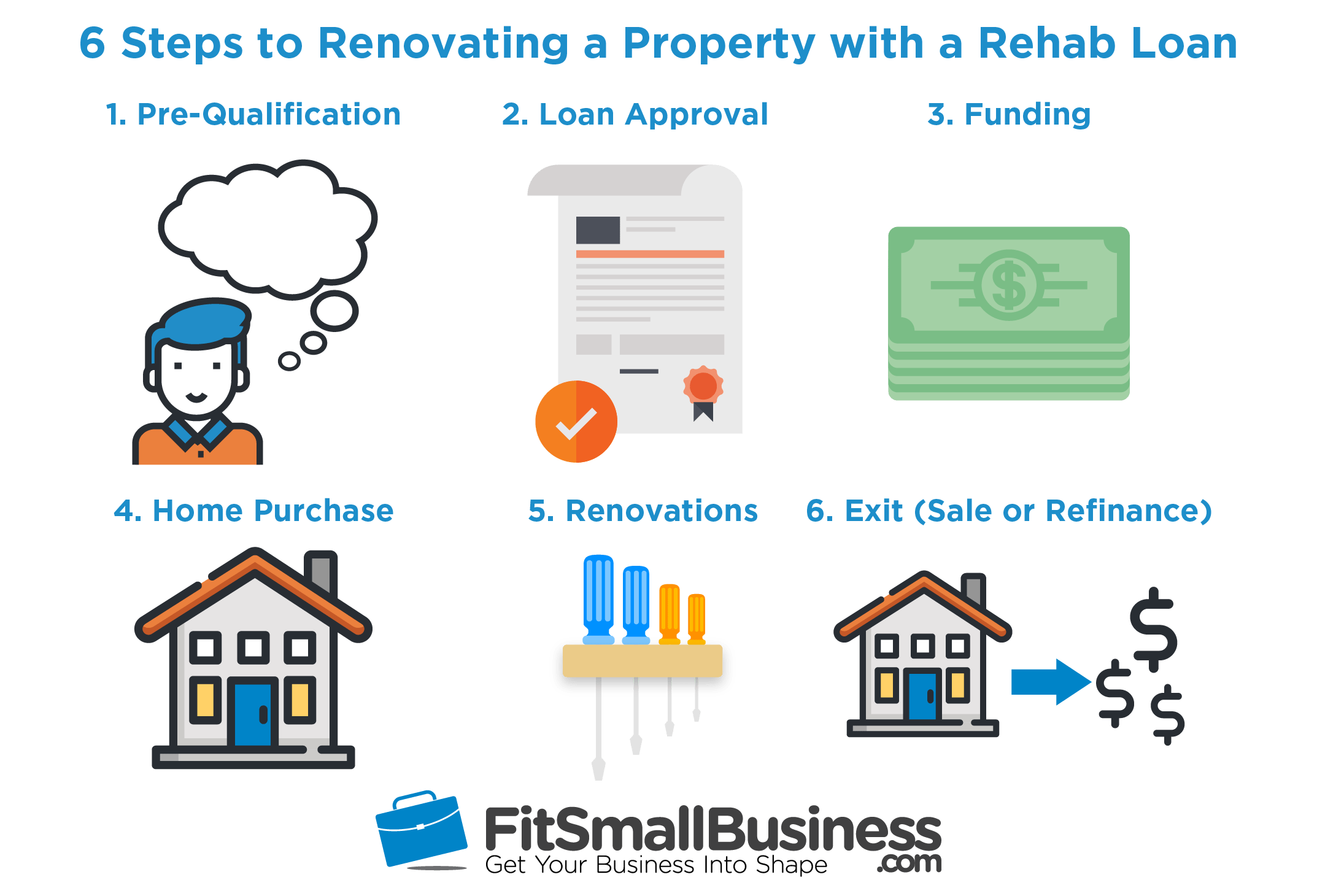 1. Get Prequalified With a Hard Money Lender
Hard money lenders usually have a prequalification process that helps investors determine an expected ARV ratio, costs, fees, and other terms. The prequalification process takes a few minutes, is nonbinding, and allows real estate investors to move forward with confidence that financing for their project is available.
In general, you can expect to provide the below information during prequalification:
Once you provide the lender with your financial information and the address of the property you're considering, and they will check your credit score and determine whether you're prequalified. If they prequalify, you can move forward with the loan approval process.
CoreVest offers a streamlined approval and funding process that enables investors to access capital quickly and without hassle. If you are ready to start your rehab project today complete CoreVest online form and get pre-approved for in minutes.
2. Receive Approval for a Hard Money Rehab Loan
After you're prequalified for a rehab loan, you have to work on getting final approval for the loan. You will need to narrow down your property search to a specific property and prepare additional documents including your purchase contract and a list of past projects.
You should already know your maximum loan amount when you start working on formal approval, so this will narrow down your property search. Once you identify the right property and have the property under contract, provide your lender with the contract so they can move forward with loan underwriting. Your lender will need to approve each additional property that you find, even if you're already prequalified for a particular property.
Purchase Contract
After you've made an offer on the property, send the purchase contract to your lender via email or fax. Then, you will fill out loan an application and pay any application fees, which can be up to a few hundred dollars. You may also be asked to submit proof of prior rehab experience and a renovation budget for the property you're trying to finance.
Purchase contracts are standard documents that hard money lenders will need to see. Contracts should include the agreed-upon sale price and the terms of the purchase. In most cases, the agreement will be signed by the buyer and seller and may stipulate that the purchase is contingent on final loan approval.
Property Appraisals
Most hard money rehab lenders order their own appraisal to determine a property's current fair market value as well as its expected ARV. Hard money lenders have approved lists of appraisal companies or in-house appraisers.
When completing your application, the lender usually conducts two appraisals as part of their due diligence: an "as-is appraisal" and an "ARV appraisal." These two appraisals will tell a lender current fair market value of a house as well as the expected value after all renovations have been made. Appraisals are typically paid for by the borrower upfront.
List of Past Projects
One of the most important things a hard money lender uses to assess rehab loan applications is to list of the investor's past rehab experience. If you expect to complete your renovations yourself, lenders will want to see that you have completed at least two projects previously.
To prove your past projects, lenders may want to see prior purchase agreements, rehab invoices, and proofs of sale or refinancing for each project.
If you're a new investor looking for a hard money rehab loan and aren't going to make the improvements yourself, you can work with a licensed contractor in lieu of experience. In this case, hard money lenders will want additional information on the contractor including the company name, license number, scope of rehab work, overall bid, and timeline for completion.
Scope of Rehab Work
The scope of a rehab should detail what renovations you plan to do. A property's expected scope of rehab work is important because it helps determine its ARV. The scope of rehab work can either be determined by yourself ― if you have prior experience ― or by a licensed contractor. You will also use your scope of work to determine your rehab budget.
Lenders will typically require a contractor to perform the work if it's a complex rehab project but let you do your own renovations for simple projects. If you're using a contractor, the scope of rehab work is typically included in his or her bid. If you're doing the rehab yourself, you can prove the scope of work with estimated material costs as well as a time for completion.
Contractor Bids
For inexperienced rehabbers and fix-and-flippers, lenders will require contractor bids as part of the scope of rehab work. This helps determine the cost of the expected rehab, the scope of work, and timeline. These, in turn, are used to calculate a property's ARV in the ARV appraisal.
For experienced rehabbers doing their own work, the scope of work and expected budget typically suffices. There's no need to engage contractors in this case.
If you need more information on choosing a neighborhood and selecting a property to flip before you get a rehab loan, then check out our guide to finding a property to flip.
3. Get Financing
Once a lender approves you for rehab financing, it will provide a breakdown of fees, interest rate, and an estimated closing date. If you accept the rehab loan terms, the loan will be funded in 10 to 15 days. Lenders typically send initial loan payments to an escrow or settlement company that distributes the funds to the seller and transfers title ownership.
When it's time to pay for renovations, your lender will distribute funds in the form of draws. The lender pays for the acquisition cost of the property at the closing, but the renovation costs will be paid to you separately as the work is completed.
Hard Money Rehab Loan Financing Example
For example, if your flooring budget is $10,000, you may get half of that when it's time to install the floors and the other half after they're done. Each lender does things a little differently, but it's rare that a lender will give you all of the rehab money up front.
Typically, you get a credit line for rehab costs, and you have to submit invoices before you get the funds. Make sure your contractor knows this so he or she can expect net terms. Otherwise, you'll have to cover the costs out of pocket and wait for reimbursement.
4. Purchase the Home to Flip
Once the rehab loan is in underwriting, the title company runs a title search and orders title insurance, which are required by the lender. Your rehab lender or real estate agent can recommend a title company, and they all provide the same services at generally similar costs.
You will receive a commitment letter from your lender letting you know when they can close the loan, and the title company will schedule the date, time and location of closing. Closing is often done at the title company's office so that printing and copying are easy, and checks will already be there for distribution. Once the closing is over, you will have legal to the property, meaning the deed is in your name, and the property is officially yours.
Remember that the total purchase costs don't stop with lender points and application fees. Purchasing a property also means covering the closing costs, usually between 2% and 5%. At an average of 3.5% and assuming that the property is $120,000, you will have to pay an additional $4,200 in closing costs.
($120,000 purchase price) x (3.5% closing costs) = $4,200
RCN Capital offers multiple loan products for fix-and-flips and rental property rehabs. It has in-house underwriters and can get you approved in as few as 10 business days.
5. Complete Rehab Renovations
Now that you own your rehab property, you can get started on your planned renovations. Remember, the renovations should be done right but also quickly because the longer you hold onto the property, the higher your carrying costs and the lower your profit. You should have a renovation timeline ― 60 days, for example.
The lender lets you know up front how they will fund your renovations. Keep in mind, you need to inform contractors up front how and when they will be paid, and this is dependent on how the lender distributes the funds. If you need to cover the rehab costs, you can use either cash savings, float the costs on credit cards, or negotiate net payment terms with contractors or suppliers.
At the end of the rehab, you should receive your entire renovation budget from the lender. This will be in the form of draws or in a lump sum once you show contractor invoices and receipts of completed work. At this point, you can replenish your savings, pay off credit cards, or pay contractor and suppliers.
However, during the rehab, you will be required to make monthly "holding cost" payments, which are costs that add up while you rehab your property. The first of the holding costs are the monthly, interest-only payments to the rehab lender, which we illustrate in the example below:
($130,000 loan amount) x (10% interest) / 12 months = $1,083 monthly interest payments
Multiple $1,083 x 2 and you get $2,166 for the two months you spend completing the rehab.
During the rehab, you will also have to cover any property taxes and utilities. If property taxes are 2% and utilities are roughly $100 per month, you can expect additional holding costs of:
$333 property taxes + $100 utilities = $433 per month
Multiply this number by two and add it to the $2,166 in interest payments, and you get $3,032 in monthly holding costs while you rehab the property. Keep in mind that this doesn't include your rehab costs, and also doesn't include any landlord insurance or homeowners' insurance premiums.
6. Exit the Property by Selling or Refinancing Your Rehab Loan
Now that you have successfully renovated your property, you need to proceed with your exit strategy. This is typically done by refinancing into a permanent loan for a long-term investor or selling the property for a profit for a short-term investor.
Fix-and-flippers will want to sell the property as fast as possible to avoid incurring additional holding costs. Long-term investors looking to buy, hold, and rent will want to find a renter quickly and refinance into a conventional mortgage. Either way, the goal is to pay off the hard money lender.
Having a renter in the property for six months or more is referred to as seasoning, and some lenders require it before they will make a loan on an investment property. Unfortunately, exit strategies can take time. It may take two months to either sell the property or find a renter and refinance to a conventional mortgage. During this time, the investor continues to incur additional holding costs.
If you're looking for a long-term investment property loan to refinance your hard money loan, then head to Visio Lending. Its rates are competitive for prime borrowers, and it can prequalify you in a few minutes. Contact it today for more information.
How a Rehab Loan Works for Investors
When an investor wants to purchase a distressed property, fix it up, and then sell it for a profit, they need short-term money to buy the property and renovate it quickly. Conventional mortgages make this challenging due to long closing times, complex underwriting processes, and restrictive property qualifications.
Rehab loans help investors who are strapped for cash and want to renovate multiple properties at a time. Lenders that offer alternatives to traditional banks loans are often called hard money lenders. They have less-restrictive qualifications and can fund loans fast but charge higher interest rates.
To qualify for a rehab loan, lenders want to know how much experience you have renovating property so be prepared to document previous projects. There are a few hard money lenders that will work with first-time rehabbers. Interest rates will be influenced by experience and equity. Investors with more equity in a deal will get a better interest rate. For more information on where rehab hard money loans, check out our ultimate guide on hard money loans.
Rehab Loan Alternatives
Some investors won't qualify for a rehab loan due to lack of experience or lack of equity. With that in mind, there are several alternatives to rehab loans if you are willing to be creative and or patient. Alternatives like credit cards may have higher interest rates than hard money loans but lower closing fees.
Alternatives to rehab loans include the following:
Rehab Loans Frequently Asked Questions (FAQs)
This article covers some of the best ways to get rehab loans. Below are a few of our most frequently asked questions regarding rehab loans.
1. Can You Get a Business Loan to Flip Houses?
Business loans are typically long-term loans and require business income history to qualify. That said, if your business is rehabbing, and you can document consistent income from that business, you may qualify for a business line of credit. However, with no collateral, the line may not be large enough to fund entire projects.
2. What Is a Bridge Loan?
A bridge loan is a short-term loan that funds a borrower's transaction from one point to another, typically from buying a house to selling a house. It may include funds to purchase and renovate with the goal of selling or resource to use the equity in one property to purchase another until the original property sells.
3. Can You Flip a House With No Money?
There are ways to flip a house with no money, but if you don't have cash, you will need to bring another value to the table. You can also look into wholesaling, working with investment networking groups, or if you have contracting experience, using that experience as your equity in a project with a partner.
4. What Is Title Seasoning for Rehab Properties?
Title seasoning may be required on refinances with conventional lenders. Typically lenders require a minimum six months of title seasoning, meaning the title must stay the same for at least six months before it will be eligible for a refinance. Many hard money lenders offer three-month seasoning requirements for their long-term financing.
5. Can You Use a Line of Credit For a Down Payment on a House?
You can use a line of credit, credit card cash advance, or a personal loan for a down-payment on most purchases. However, the new loan payment will count towards your debt-to-income ratio and, keep in mind, some of the lines of credit will carry higher interest rates than your long-term mortgage.
Bottom Line
Rehab loans are great for fix-and-flip businesses and buying rental properties that need a little work done. Rehab loans offer investors a short-term loan with interest-only payments, quick approval times, and facilitate both the purchase of a house and the renovation financing in a single loan.
If you're ready to begin your next rehab project, check out LendingHome. It can get you prequalified online in just a few minutes, and it offers competitive interest rates for prime borrowers.